This article may contain affiliate links; if you click on a shopping link and make a purchase I may receive a commission. As an Amazon Associate, I earn from qualifying purchases.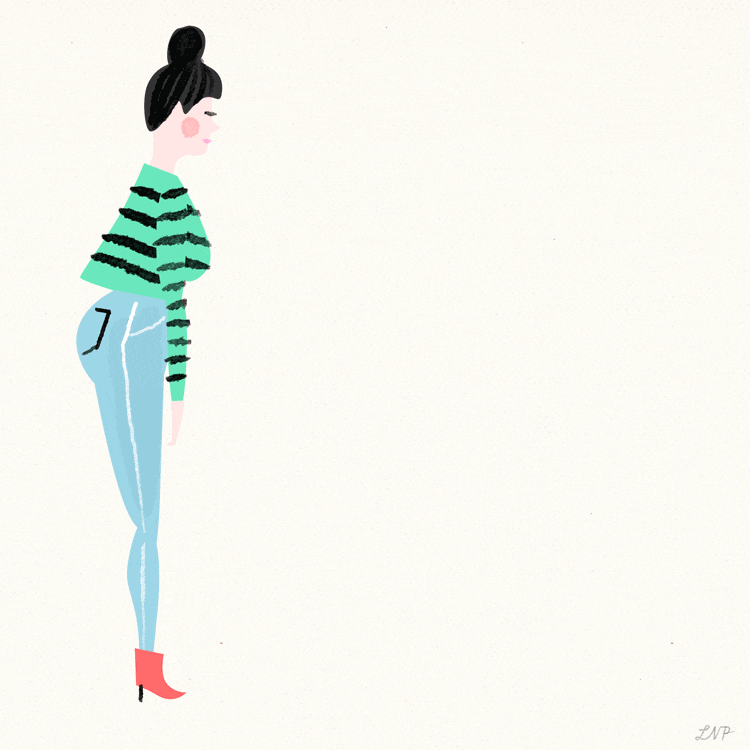 Looking back on this week, I feel the theme was "I don't shine if you don't shine," which is taken from Shine Theory. Ann Friedman and Aminatou Sow (well known for their fab podcast Call Your Girlfriend as well as individual projects and an upcoming book) coined Shine Theory, which is collaborating rather than competing against others. It's easy to forget this concept, but each time I get too into myself or feel jealous, or get all caught up in the opinions of others the universe reminds me of Shine Theory and it changes my perspective.
Tuesday started with a 9am showing of the luxury plus size clothing brand Pari Passu. My friend Rosana and I met with co-founder Shanna Goldstone while she was visiting DC and got to see a capsule of this unique collection. Shanna was so knowledgeable, and totally got the need for such a collection in the plus size fashion space. Think Theory or Jil Sander not only in larger sizes, but three different shapes to accommodate the variety of women's bodies. It's not your standard 14-32, but you go through a survey to find your fit and they have sizes to fit up to a 52.5″ waist and 55″ bust. Rosana is a stylist, I am a blogger, and we both know how desperately a line like this is needed and how few brands believe that there are women out there who wear these sizes and will spend for luxury suiting and separates. Shanna was so proud of what she created and so psyched that we got it and were thrilled about it. We only met for about an hour, but the excitement of us three, the energy that grew in that hotel suite over the collection kept me on such a high all day. Stay tuned local yokels, we're looking into hosting a trunk show so you too can experience Pari Passu. And if you are interested in purchasing Pari Passu (hello free shipping and returns), Shanna has offered promo code WARDROBE20 to get 20% off your order of New Arrivals!
That same day, I met with Sara Damelio, founder of the DC-based organic skincare line Skincando. She came to DC 20 years ago with only $300 in her pocket and has built this amazing brand without sacrificing her ethics and while supporting our troops. Listening to her passion and learning more about how she does her business (like buying essential oils from a woman in the area who distills them herself, choosing bottles from a local manufacturer, still having all the products handmade in the area) was so inspiring and it made me so happy to see all of her much-deserved success. It doesn't hurt that I love her line (Karl and I fight over this cleanser!).
Wednesday, I spoke to MBA students at The University of Maryland at College Park. I went to Maryland, and though I live not too far away it was surreal to see how drastically the campus has changed. I was on a panel with Barnette of The DC Fashion Fool and Danny of Eat the Capital and we discussed influencer marketing with a class of super savvy students who asked really good and complex questions. Barnette, Danny, and I have drastically different platforms and goals which made for a very cool discussion. It also was a great reminder that even though we three hold the same job title, we're all on very different paths and it's pointless to compare myself to any other influencer. We're all so very different with different goals and the only way to succeed is to focus on ourselves and our community. And for those who think the influencer bubble is going to burst… I don't think that's happening any time soon. MBA students are studying us, brands are becoming savvier, I just think like any form of marketing and advertising it will morph over the years with trends and technology.
I was on such a high from these inspiring experiences I reached out to a fellow DC-based influencer who I think is KILLING it. Amazing content, really cares about community, clear aesthetic and brand. We're already friends, and we have always been supportive of one another. This influencer is where I was two years ago, declining amazing opportunities because of the day job. I offered to be a mentor of sorts; she has campaigns in the bag but I have more years with with affiliate, SEO, finances, etc. and maybe can help her in some way move to full-time. I believe in her, I want to see her shine even more brightly than she already is (and dang this woman GLOWS). All day I was hearing Ludacris in my head but instead, he was saying, "When I shine you shine, just like that."
Thursday was a tough day. Full moon, first day of my period, and we photographed several outfits (which is my least favorite part of blogging). I was almost three hours into editing monitor-sized photos of my face, my hair, my body, my expressions, my style choices… and it just felt like too much. And then I got a nasty (now deleted) comment on my blog that hit a nerve. That high I had from all the awesomeness earlier in the week was gone and I was feeling super low. I shared a rant on Instagram Stories and almost immediately a reader emailed me to thank me for what I do here on Wardrobe Oxygen. I logged back into Instagram, and another reader DMed sharing how I help her with her style. Okay, I'm totally tearing up again just recalling the messages they sent me. It was just what I needed at the right time to get back into the right headspace, remember why I'm doing what I'm doing, and I deleted that rant. I experienced some Shine Theory myself, and it got me right to keep doing it for others. I went looking for a graphic for this post and stumbled upon an article about Shine Theory that used the same GIF I used on the blog in this post from 2017. I went to Facebook and saw my sister commented in a Facebook group about Shine Theory. It's Friday afternoon and it just started raining when I typed the period for that last sentence. The windows are open and I turned off Spotify so I can enjoy the sound as I complete this post for tomorrow. I hope you all have a fantastic weekend, you deserve it.
Sale Alert
It's a holiday weekend and no matter the reason for the holiday, brands are allll about the sales! Here's the best I've seen taking place:
LOFT is having their Friends and Family sale with 40% off with promo code FRIENDS. I've shared a lot of picks from LOFT in previous Weekend Reads, but they have some phenomenal New Arrivals and all my picks are available in Plus as well as Straight sizes:
Kohl's has 20% off today with promo code BASKET and they're doing Kohl's Cash which can be redeemed starting the 21st. If you follow me on Instagram Stories you know I tried a few pieces from Kohl's:
Lord & Taylor has their Friends and Family also going on; 30% off almost everything and 15% off beauty. I shared my picks in a recent Weekend Reads but this time… this is a good sale for underpinnings. Bras, panties, shapewear 30% off and L+T carries great brands like Wacoal, Spanx, and Natori that are included in the promotion.
Macy's is offering 20% off most things, 15% off other things, they usually have sort of confusing but worth it sales like this, the promo code is SALE. I do know they have 20% off Nike which is awesome as they have cool yet high-performance shoes and activewear and fab deals like less than $20 for on-trend slides. I also think it's worth it to peruse their bags; they offer amazing brands and many in-house exclusives that are great prices.
Weekend Reads
Love Paula's Choice skincare? Frustrated by how it has changed over the past 25 years? Either way you may be interested by this piece on the brand. (Business of Fashion).
Netflix is launching its first African animated series and is searching for women writers. (Black Girl Nerds)
A really interesting history of the brand Canadian Goose, how it's become a status symbol, and how they will work to remain relevant. (Forbes)
"Accepting your own mediocrity is a kind of small death — you are waving goodbye to the life you might have had, one in which you got to sing "99 Luftballons" with your college acapella group (I dream big). But it also opens a window to something arguably better: the soft, warm bath of ease, the freedom to do a thing just because you really like it. Just because it feels good." (Man Repeller)
A conversation between Janelle Monáe and Lizzo, two badass women; definitely worth reading! (Them)
I shared this piece in the WO2 Community earlier this week: how Facebook Groups are awesome and the only reason why Facebook isn't completely toxic. (Buzzfeed)
I've been a fan of Hanky Panky for many years and found this piece on the brand and how they plan to appeal to Gen Z really interesting. (Glossy)
For Your Entertainment
If you haven't heard of Billie Eilish yet, you will soon hear about her absolutely everywhere. I have to admit her first few releases just left me feeling the generations between us; this music is not for me but for teens and young adults. And that's okay, her music is what I would have loved when I was an angsty 17-year-old with badly dyed black hair and too much kohl liner. And then Eilish came out with "Bad Guy" and this video… and maybe I'm not too Gen X to understand this Gen Z artist?