This article may contain affiliate links; if you click on a shopping link and make a purchase I may receive a commission. As an Amazon Associate, I earn from qualifying purchases. 
Every year around this time, fashion blogs, sites, and magazines offer their opinion on great music festival fashion.
And every year around this time you'll find me shaking my head and getting ragey.
Their fashion advice SUCKS. Sorry magazines, blogs, and sites that I love… don't give advice on something you know nothing about. You can't base festie fashion advice on what Emma Roberts wore to Coachella, or what an Olsen sister wore to Bonnaroo. The thing is, celebrities have VIP areas – places with air conditioning, cushy seating, real bathrooms, places to get a bottle of icy water and have a moment to freshen up. They see shows either from the very front row (without having to shove through thousands of sweaty bodies), or from the side of the stage. They roll around the grounds in golf carts, and have shady places to rest and sip a beer.
Fergie, Paris Hilton, Dita Von Teese, and Emma Roberts all wearing celebrity-specific fashion at Coachella 2012
If you've been to a music festival, you know this is not how the majority of people roll… and therefore we regular folks need to dress differently.
Music festivals take place during warmer months – even if it's April, there's a good chance that it will be blazing hot. If it's not blazing hot, there's a good chance it will be raining. What started off as a lush green pasture in just a couple hours' time will become a dusty dirt pit or else a mucky mud pit. As for the bathrooms? Well get used to very well-used porta-potties that have been sitting in that blazing heat (and are surrounded by that mucky mud).
While fashion experts will suggest white crocheted sundresses, rompers, and wedges, here's some advice on what to wear to a music festival when you are not on the A List.
1. Flat Shoes. Be they flip flops, leather sandals, or boots… a music festival is NOT a place to wear a heel, a wedge, or even a flatform. You will be walking a lot, and on bumpy, dirty, and possibly muddy terrain. You will be standing a lot, and you won't have an opportunity to switch out your footwear.
For a single-day festival, a flat sandal that has already been broken in is a great choice. Many like flip flops, but I have seen mucky mud suck flops right off people's feet. Having a few straps to hold your shoe in place is the best bet. This is a time where TOMS, Vans, Chucks, desert boots, and other lightweight lace-up shoes are a great choice.
For multiple-day festivals, choose comfort over style. A shoe with cushioning, arch support, and protection from mud as well as dry scratchy grasses is perfect. Again, a desert boot or lightweight sneaker is stylish yet comfy; I wear my DUO "Bern" boots to fests and add new inserts for extra cushioning.
Whatever you do, don't wear your favorite shoes. They may get muddy, may have beer (or something worse) splash on them, and will be pretty beat up come the end of the festival. Choose shoes that can handle a beating (or at least a tumble in the washing machine).
2. Sunhat. So you have a base tan. Maybe you're a lifeguard and are in the sun all the time. Even if you slathered on the SPF 55, the sun can be brutal at a music festival. To accommodate the crowds, the venue is usually pretty free of trees and shady spots and you will spend the majority of your time uncovered. Keep your head cool and your skin safe with a hat.
While some just like a fedora or baseball cap to look cute and have a bit of shade on the skull, a music festival is a perfect place to look chic in a large-brimmed floppy sunhat. This is a venue where such a hat will be admired, so don't be afraid to go bright, quirky, or big. Not only will you have people coming up to you complimenting you on your accessory, you will be sun-smart and be better able to enjoy the festival.
3. A Comfortable Bag. You won't have a place to stash your stuff while standing in line for the porta-potty or rocking out to your favorite band, so you need a bag that is comfortable when worn for long periods of time, and also can hold a lot. While I have been known to sacrifice style and wear a Camelbak, you can also consider a crossbody, which will leave your hands free to take pictures, drink a beer, and put your hands up with the crowd. Test such a bag before going – pile in a bunch of stuff (a jacket, full bottle of water, camera, sunscreen) and see if it digs into your shoulder or inhibits your ability to walk and dance before taking it to the music festival. As with everything else, be sure your bag is one you don't mind getting dirty or damaged.
4. Porta-Potty Friendly Fashion. I don't know WHY every fashion outlet encourages rompers at music festivals. Who wants to strip down naked in a porta-potty? Those locks don't always work, and you'll have drunken people with bursting bladders trying anything to find a free john. My friends and I have often accidentally walked in on someone who forgot to lock the porta-potty or had one with a busted lock, imagine how awful it would be to have that happen to you while your entire outfit is at your knees.
Along with this, keep in mind that porta-potty floors are pretty disgusting and there is rarely a shelf or hook available. You need a bag that you don't need hands to hold, and clothes that won't drag when you are doing your business. This means overalls, maxi dresses, white and light colored dresses, fitted jeans and pants, and long fringe are poor choices unless you don't mind wearing the floor muck for the rest of the festival.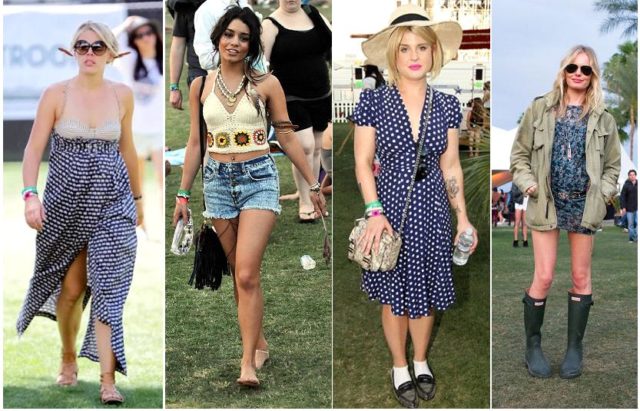 Celebrity fest fashion that is actually wearable – Busy Phillips, Vanessa Hudgens, Kelly Osbourne, Kate Bosworth
What I Do Suggest:
Cotton Sundresses. They're cute, they're breezy, and they can look adorable with comfy shoes like TOMS and boots.
Denim Cutoffs. This is something fashion experts suggest and I can agree on. As long as they aren't skin tight and cover your rear, they are durable enough to withstand a music festival, and may even look better after the experience!
Bikinis. If you have the figure, a music festival is a place to flaunt it. A bikini top makes a cute pairing with denim cutoffs or even a gauzy peasant skirt and swimwear means you can hop in a fountain or water activity, hose down after a muddy mosh pit, and you can cover and support your bust without additional layers.
Cheap Sunglasses. Leave your Chanels at home and head to your local Target (or even gas station) for a pair of oversized aviators or big plastic shades. Your sunglasses can get lost, broken, scratched, stolen, or dulled from dusty winds, it's not worth it to take the designer shades. Also, this is an environment where a pair of neon yellow faux Wayfarers can actually look cool.

For more music festival fashion advice, check out my post, "What to Wear to a Music Festival."
Follow Me | Twitter | Facebook