This article may contain affiliate links; if you click on a shopping link and make a purchase I may receive a commission. As an Amazon Associate, I earn from qualifying purchases. 
I've been wearing the LOFT Custom Stretch Trousers for several years. They're machine washable, a classic professional cut, match some blazers, and the 14 petite is the perfect length for me with low heels. However, I craved a change of silhouette and on a whim tried the Banana Republic Ryan pants (also in 14 petite). These are the kinds of pants I have always steered clear from – they have side pockets which usually emphasize my lower belly, they're ankle length which can shorten me and draw attention to my thick ankles, they taper slightly which is against the rules for tomato body figure flattery. But I got them… and I love them (see me wear them in this post). They were worn usually 2-3 times a week all winter and I loved how when I broke my toe they looked cute with my brogues and other flat shoes.
So when I saw the Ryan pants were available in navy pinstripe, I bought them (and the matching jacket). Before they arrived to my home, I regretted the purchase. I rarely wear navy pants because shoe choice is so tough. And I have a wardrobe based on black, how is navy going to work? Well they work, and they work better than the black pants.
Who would have thought a black basics-loving gal like myself would choose navy pinstripe over black?
Who would have thought navy pinstripe pants could be so versatile?
It's easy to stick to basics. Black goes with everything, right? True… but it can get boring fast. A slightly different color, print, texture, or silhouette can really change things up in a good way. Going against the grain can give your wardrobe a new life and help you see the beauty that is already residing in your closet. How many times have you felt like you have nothing to wear yet have a wardrobe full of clothes that fit? It's usually because what you own is either too boring, or you're not shopping with your life or current closet in mind. In this day and age of capsule wardrobes being the cure-all, it's usually the former. We buy what we think is versatile and simple, but after a couple months it can get worn out – literally, or emotionally. Enter the unexpected, the navy pinstripe ankle pant.
Below I've made eight different outfits that I have worn with these pants. There's plenty more I have worn, and likely more I will create as the weather gets warmer. But it's a good way to see how a non-traditional "basic" can be quite versatile. It also shows how you don't need a capsule for cohesiveness in your wardrobe. Note how I don't have a ton of variety – bold silver or delicate gold and the same shoes (which also mostly adhere to that non-traditional basic idea) can work in a variety of ways.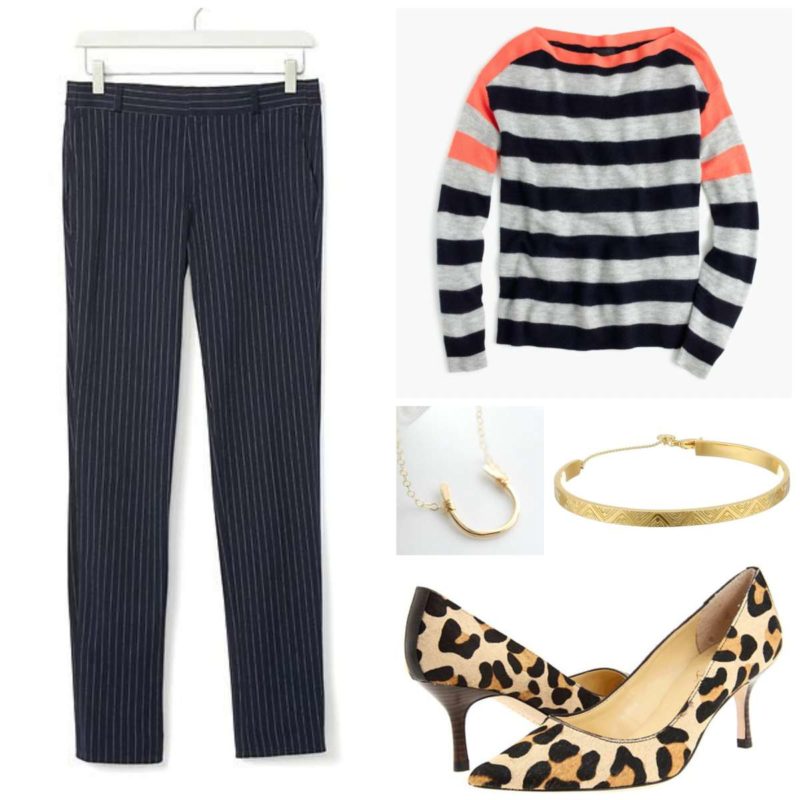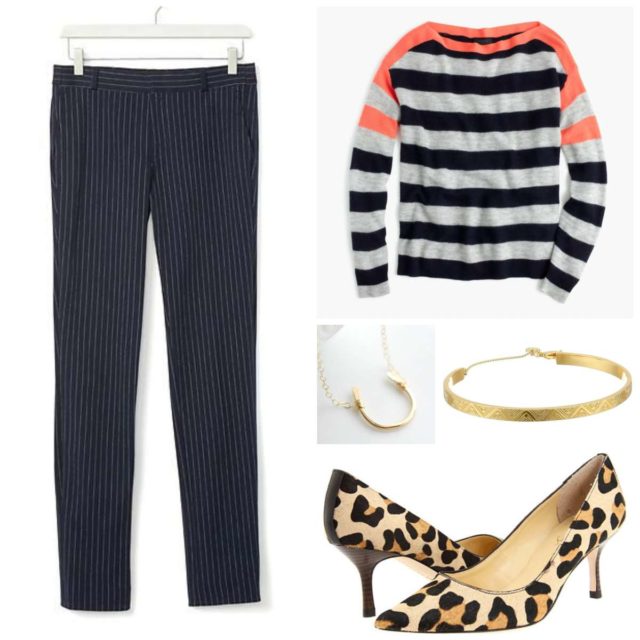 pants | sweater | necklace | bracelet | shoes
The outfit is essentially what I wore in this post and have worn to work a couple of times.  This look shows how you can mix stripes with stripes.  I recommend mixing very clearly different stripes – a smaller striped top won't give the same effect as a rugby stripe.  And leopard print is a neutral, adding these shoes gives a very purposeful look.  Delicate gold jewelry is added for polish but they're small enough to not compete with all the other prints.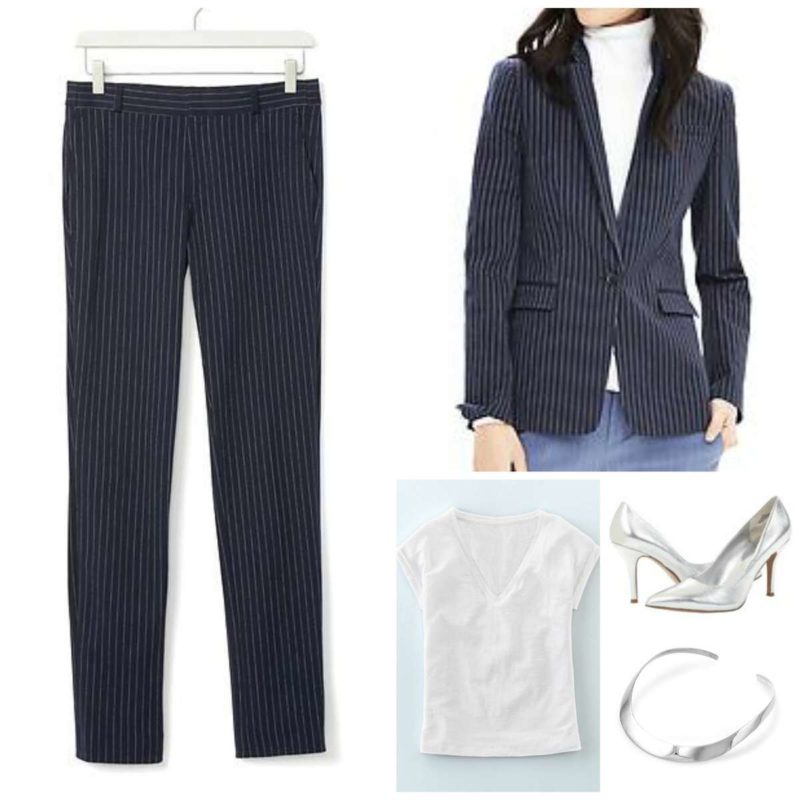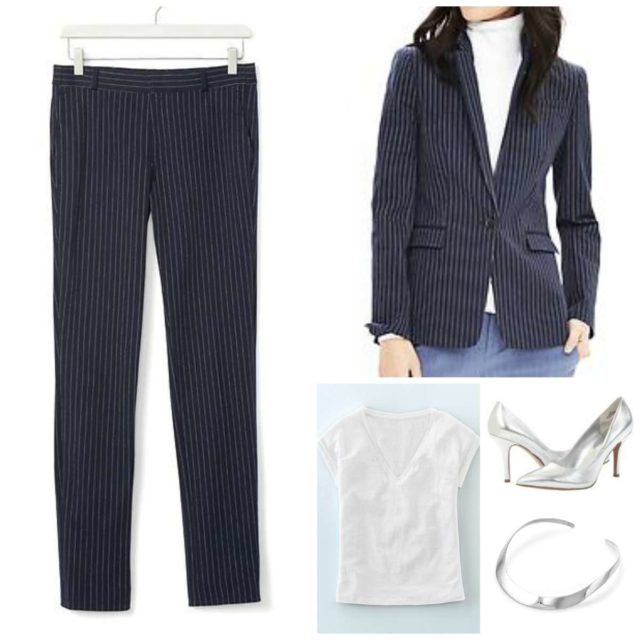 pants | blazer | tee | shoes | necklace
Again, this is a variation of an outfit I have worn on the blog (see here).  While that outfit was done with gold accessores, I've most recently worn this to work with silver pumps and a silver collar necklace.  If your office is more conservative, this look can be achieved with a silk or crepe shell in most any color and a shoe in a light colored snakeskin.  I chose white, but consider pale pink or coral, and come fall this would look chic with burgundy or mustard and a cognac or camel shoe.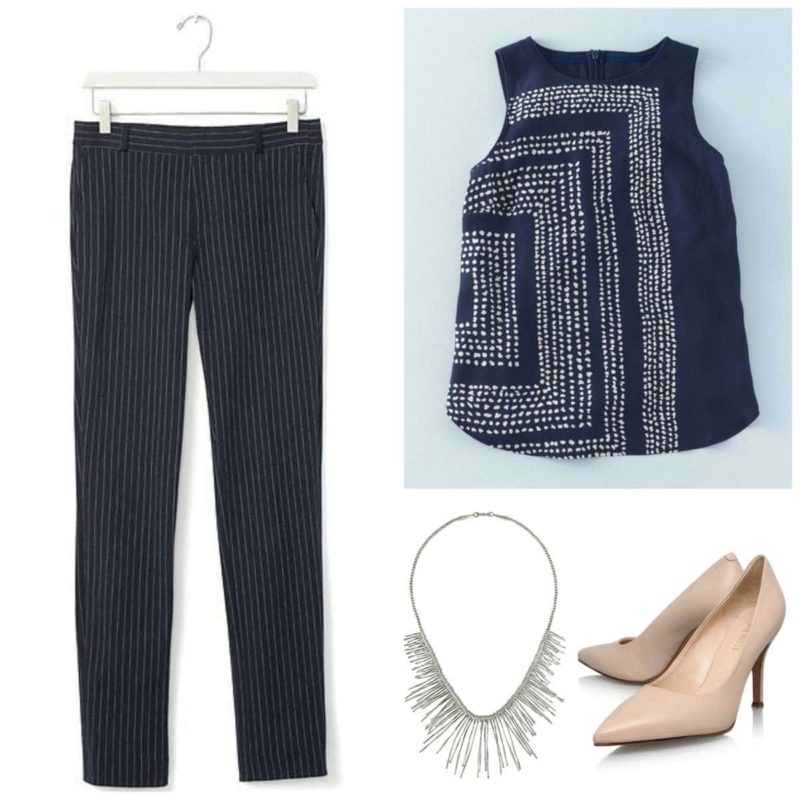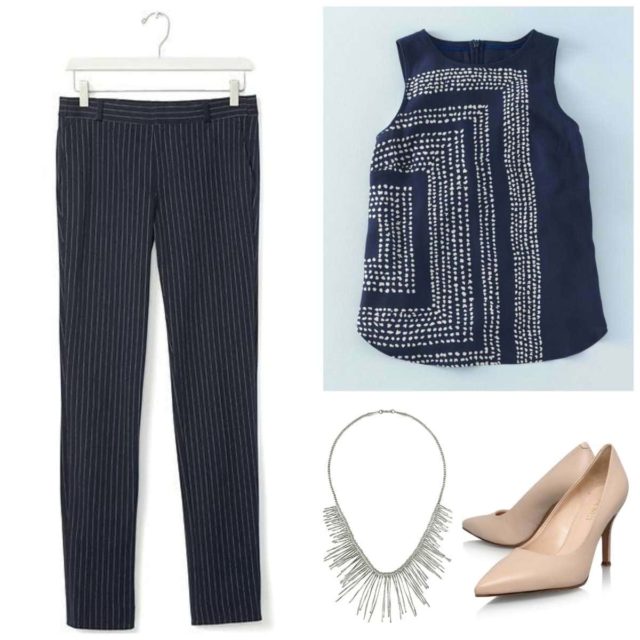 pants | top | necklace | shoes
This outfit I am wearing as I type this. I recently got this shell from Boden, and liked how the print worked with the pinstripe.  It shows how a pant like this can easily transition into summer.  I half-tucked this shell; it's tucked and bloused out in front and left untucked in back.  I also added this silver watch for a bit more shine.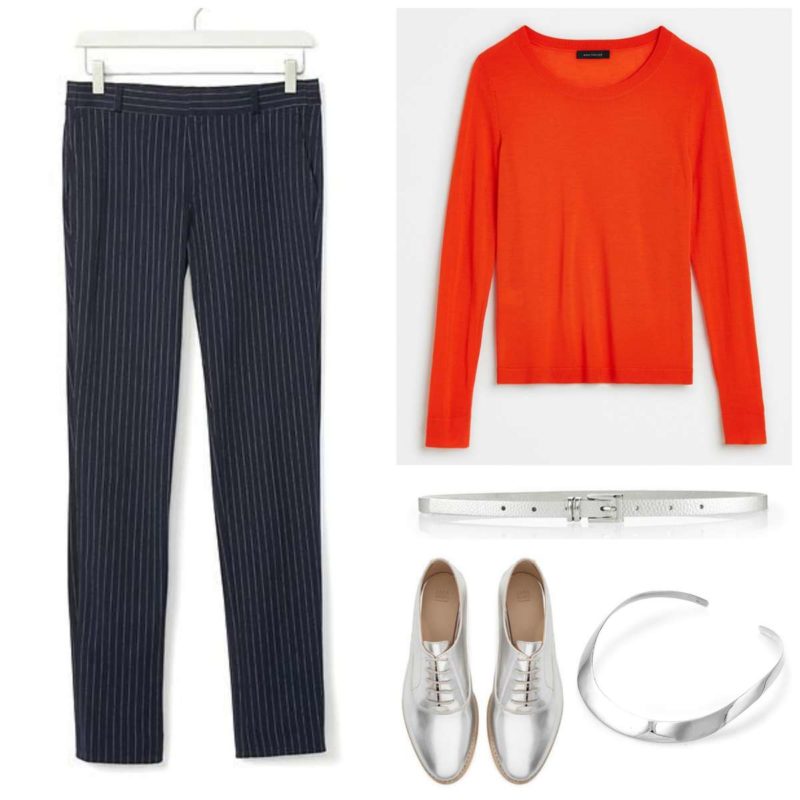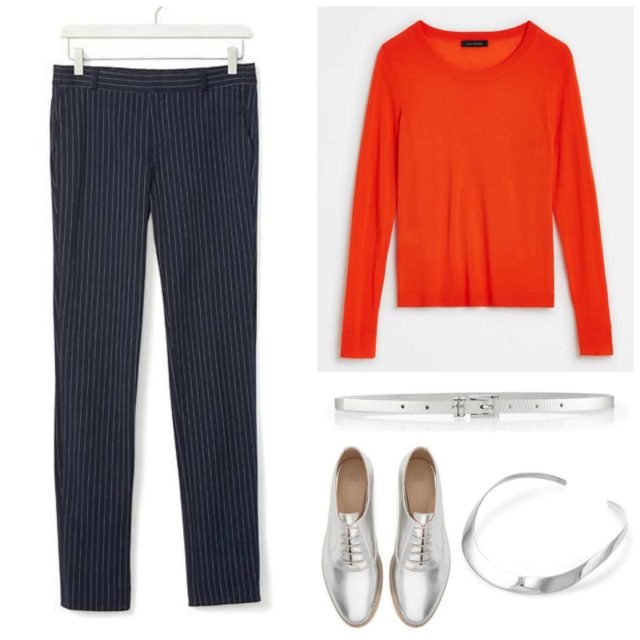 pants | sweater | belt | shoes | necklace
Blood orange is my signature color and I regularly look for pieces in it to add to my wardrobe. The color looks great with black and denim, but it also makes a great contrast with navy. This lightweight sweater from Ann Taylor is spring-friendly, but this look could be done with a blouse or knit with any sleeve length. The color could be different too, but the goal is a contrast and bold shade that takes the spotlight. Hot pink, turquoise, mustard, coral… choose the color that makes you feel good. I've also done this with nude pumps and a statement necklace.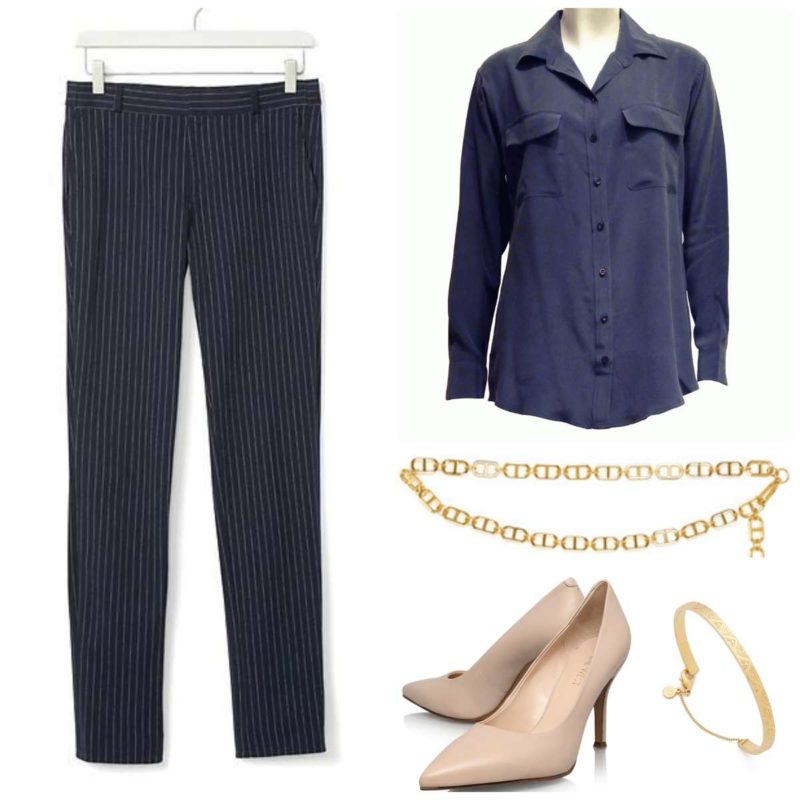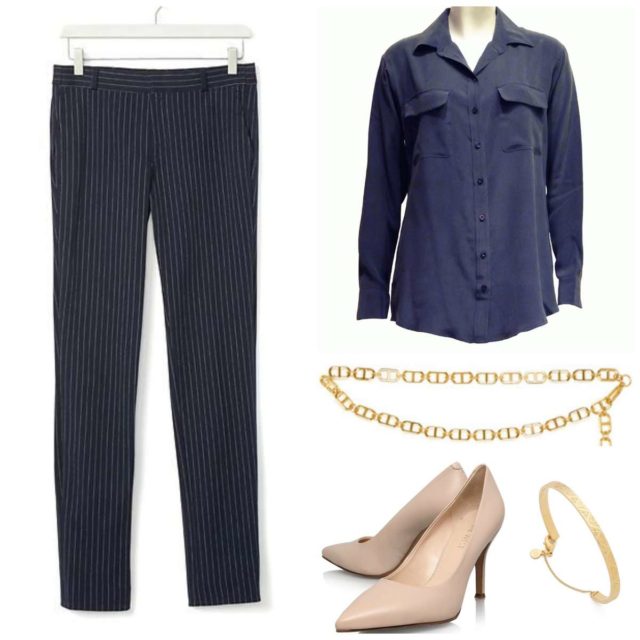 pants | shirt | belt | shoes | bracelet
I wear this look almost weekly because it's effortless yet chic looking, polished but comfortable. I bought a navy silk camp shirt at Ann Taylor several years ago and it has been a good buy, working with a surprising number of pieces in my closet (and I love it with black skinny jeans and black boots!). The gold chain belt is what pulls it together and makes it elegant, not disheveled.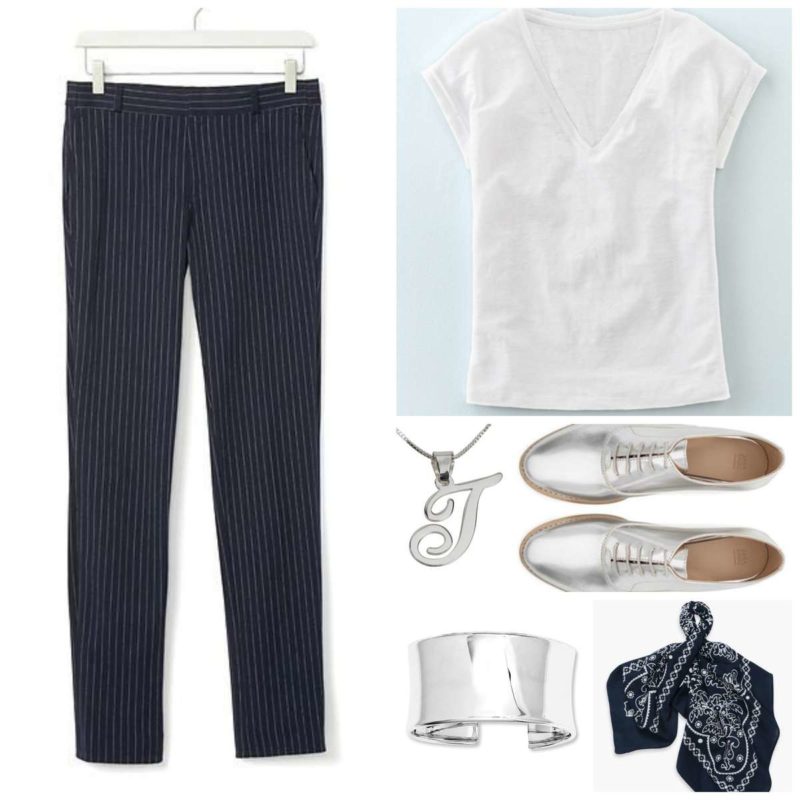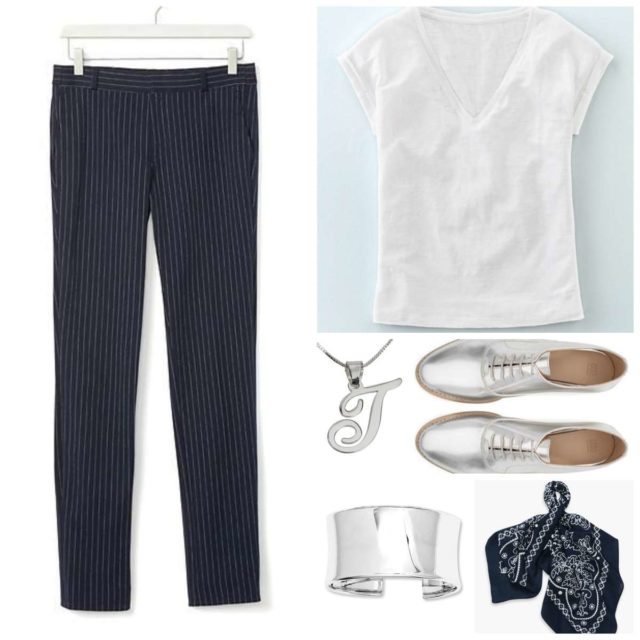 pants | tee | necklace | shoes | bracelet | bandana
I work in a casual office; I can only wear jeans on Friday but during the week it's not surprising to see coworkers in casual chinos and slip-on sneakers. So this is a look I can wear to the office, but have also worn on the weekend. I'll wear the scarf cowboy style; you could easily switch it out for a silk scarf and tie it at the throat for a different effect.  This could be dressed up with a sleeveless blouse in place of the linen tee, or dressed down with a pair of slip-on sneakers in place of the brogues.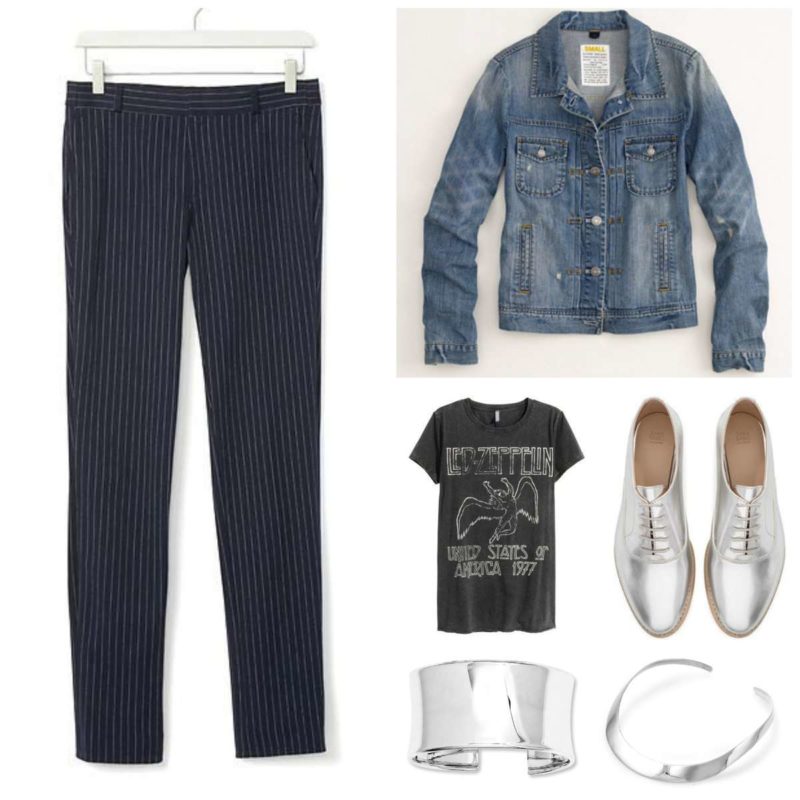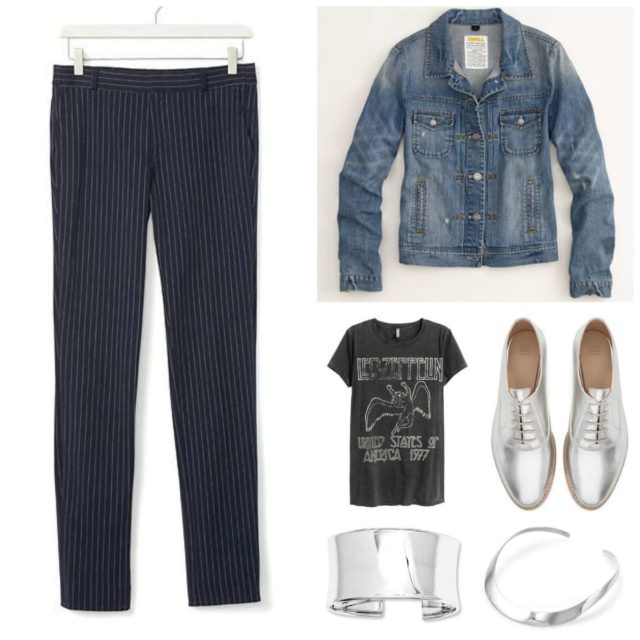 pants | denim jacket | tee | shoes | bracelet | necklace
Pinstripe is a work-friendly pattern that can have a punk or rock and roll edge. I like pairing it with casual pieces like band tees and distressed denim. This is a look I would wear on a Friday or the weekend, and have switched out a band tee for an ironic message or graphic pattern or even a solid v-neck. Adding the denim jacket is a way to temper a stripes with stripes look or a very bold colored top. This too would look cute dressed down with some Chucks or Vans.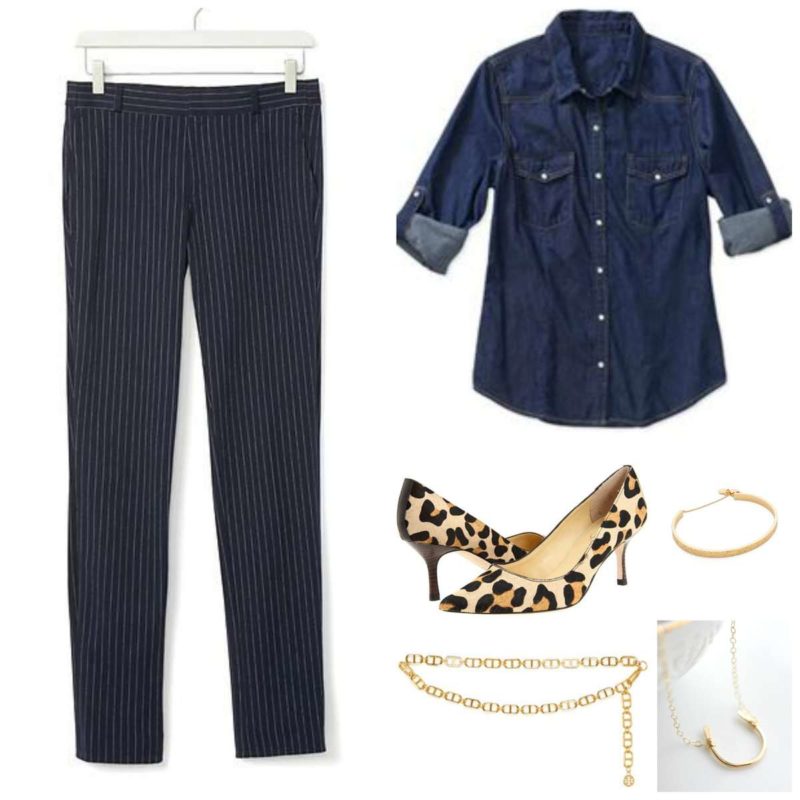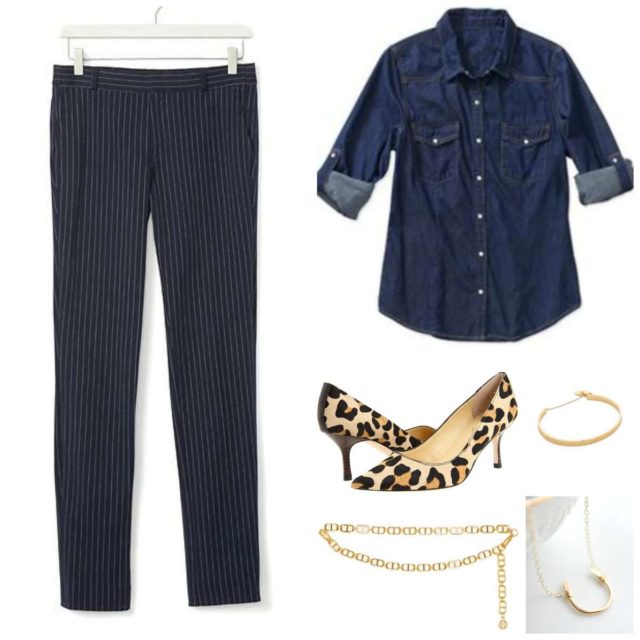 pants | shirt | shoes | bracelet | belt | necklace
Speaking of denim, this look was put together when I grabbed in the early morning light what I thought was my navy silk camp shirt but realized it was my dark denim Banana Republic shirt. The shirt is soft and drapes nicely, and I ended up really liking the combination. The heavier fabric needed a stronger shoe; the leopard calfhair is up for the challenge while still keeping the look appropriate for a business casual office. The gold accessories make the denim purposeful. Do note I tried later with my lighter colored denim shirt that has Western details and it did NOT look as good.  This works because the denim shirt I have is low on details, dark in color, and soft fluid material.  You could instead switch out this shirt for a button-front in white or even a bold color.
While my example is navy pinstripes, this could work with so many different things – a pair of red work trousers, a leopard print pencil skirt, cobalt ankle pants, or another neutral pattern like grey pinstripe, tweed, or windowpane plaid.  It's appealing to take a capsule wardrobe and use it like a recipe to sartorial freedom, but it can often shove you in a box that doesn't take into consideration your figure, your lifestyle, and your personality.  Use a capsule wardrobe as a concept to see how you can make a variety of looks from a few pieces in your closet, but know there is versatility past a monochromatic minimalist look.  You can have color, whimsy, and your personality and still create a lot of fashion without a bursting closet!
Shop the Post: