This article may contain affiliate links; if you click on a shopping link and make a purchase I may receive a commission. As an Amazon Associate, I earn from qualifying purchases.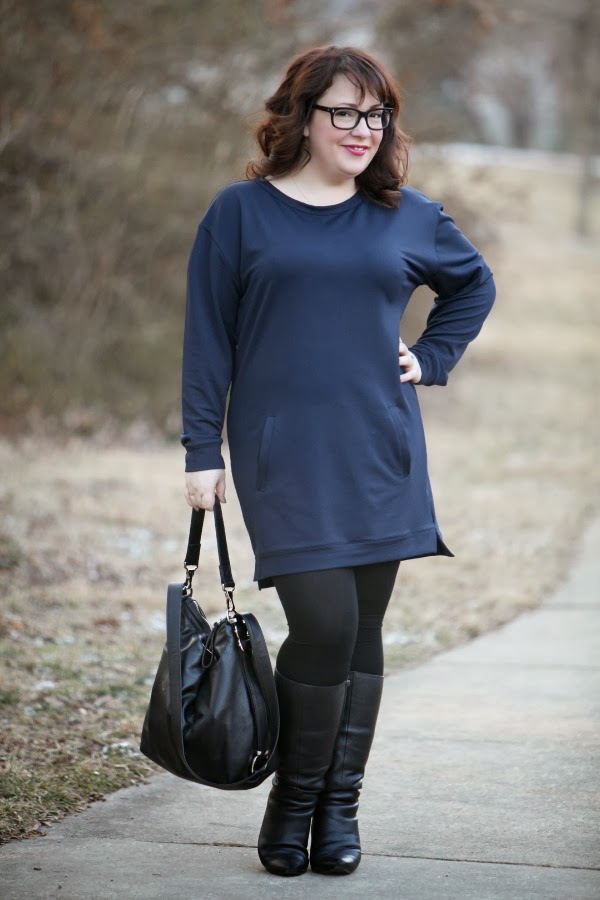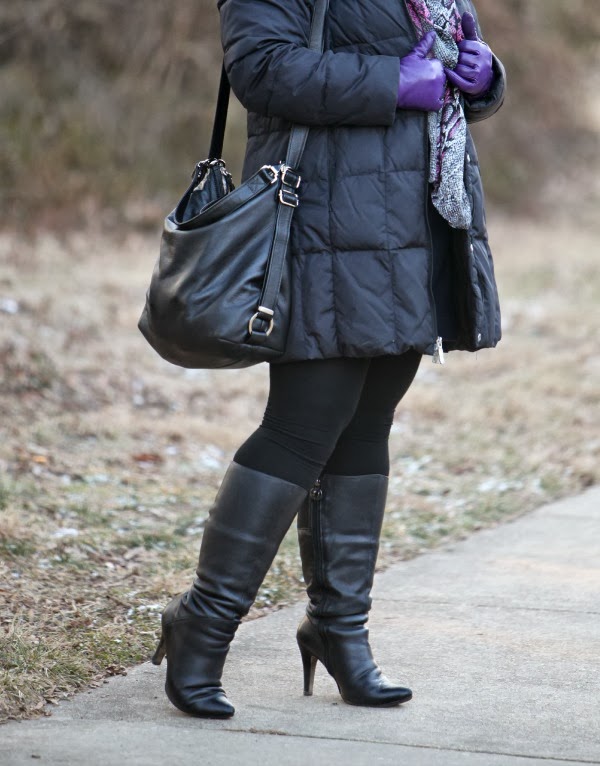 With the weather this frigid, my priority is not to look fun or fashionable at work, just to be warm. My desk is surrounded by windows which makes for a sunny workplace, but I'm regularly chilly. No meetings today, so a fleecy-on-the-inside sweatshirt dress with fleece tights. So perfect, I'm rewearing the same darn look from Saturday (see Instagram).  I've always loved navy with black and am so happy to see that this combo is being embraced on the runways and the retail stores.
The bag is new, a gift I gave myself for my birthday.  I've been trying to shop small, local, with more thought and Etsy is a great place to find such businesses.  I came across Rough & Tumble Bags and fell in love.  Made in Norway, Maine by Natasha Durham, Rough & Tumble Bags are high quality leather, crafted with care, smart, chic, but trend-free.  I've always preferred a bag that doesn't scream a logo, a fashion trend, a designer.  A bag that I can carry now and a decade from now.  I think this bag does just that.  My black leather hobo from Sabina was bought on clearance at a very nice price, it's a nice bag, but it's not quite perfect.  I dreamed of a black leather bag with shiny silver hardware that could be a crossbody or a shoulder bag, zip close, be big enough to be my purse for a long flight holding all my essentials, but be a comfortable everyday purse.  A bag that will get worn over the years, but that weathering will just add character.
This is the Rough & Tumble Large Hobo Pack; it's a shoulder bag, a crossbody, even a backpack.  It zips close with a clean pocket-free exterior, but inside is where the magic happens.  A pocket for an 11″ laptop, a large size zipper pocket like most bags but with a smaller pocket inside, a pocket for your iPhone, a pocket for your passport, a pocket for your business cards, a couple other pockets for other things, a removeable keyfob, a light colored lining so you can find all your stuff.  And with a quick switch this bag can become a backpack, which is awesome for travel!  All this, and the price is far less than what you would pay for a mass retail bag of a similar size and quality, made in the USA, supporting a woman business owner.
Follow Me | Twitter | Facebook | Instagram