This article may contain affiliate links; if you click on a shopping link and make a purchase I may receive a commission. As an Amazon Associate, I earn from qualifying purchases.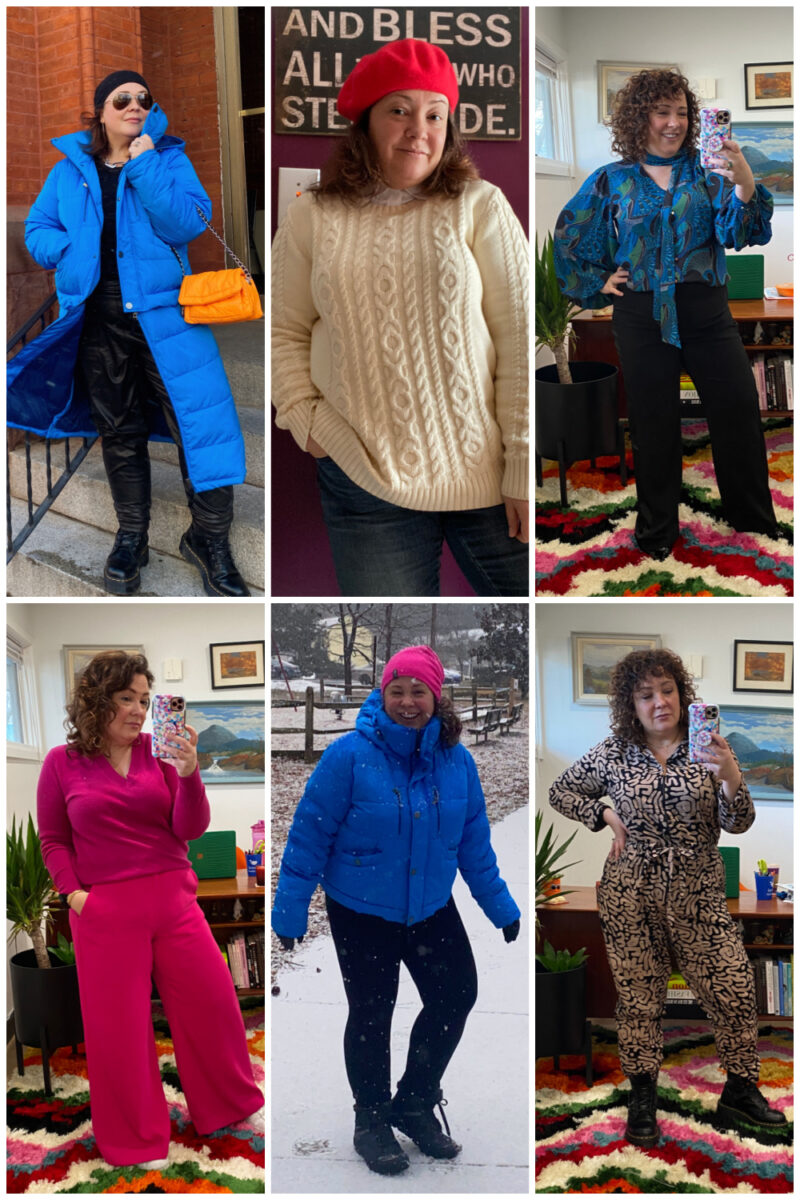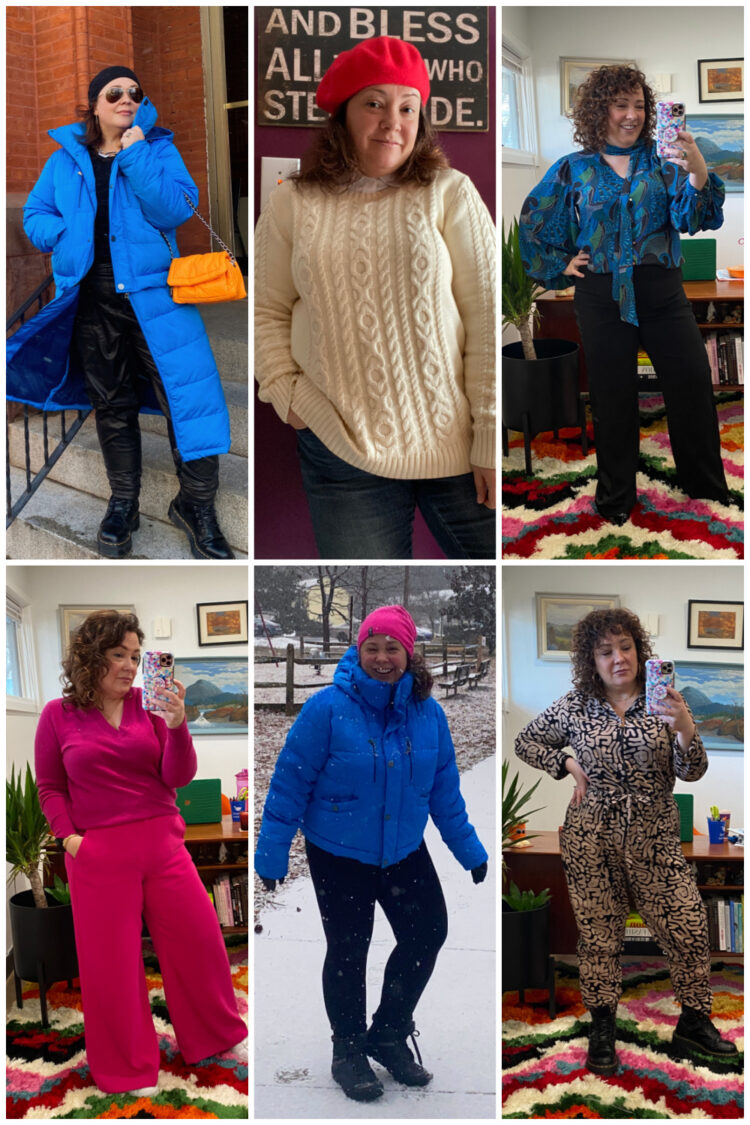 The first What I Wore recap of 2022 is kind of small because this has been a month where I haven't done a lot or gotten dressed up a lot. I've been trying to catch up from the holidays and our lake house vacation, and it's Birthday Central. My sister, mom, daughter, me, and a few good friends all have their birthdays this month. And on top of it, I am my daughter's Girl Scout Troop Cookie Manager which right now feels like a second job. Lots of snow and wind and cold and I've been wearing a lot of cozy knits, slippers, and hats indoors.
But I have left the house a bit and here is what I wore…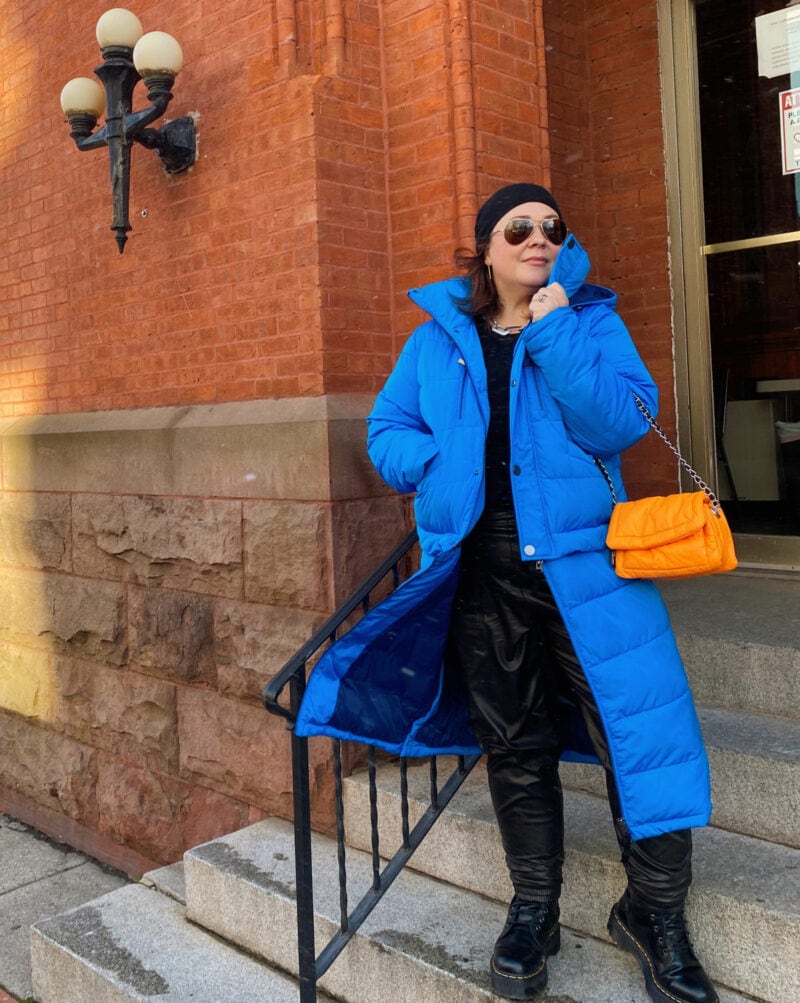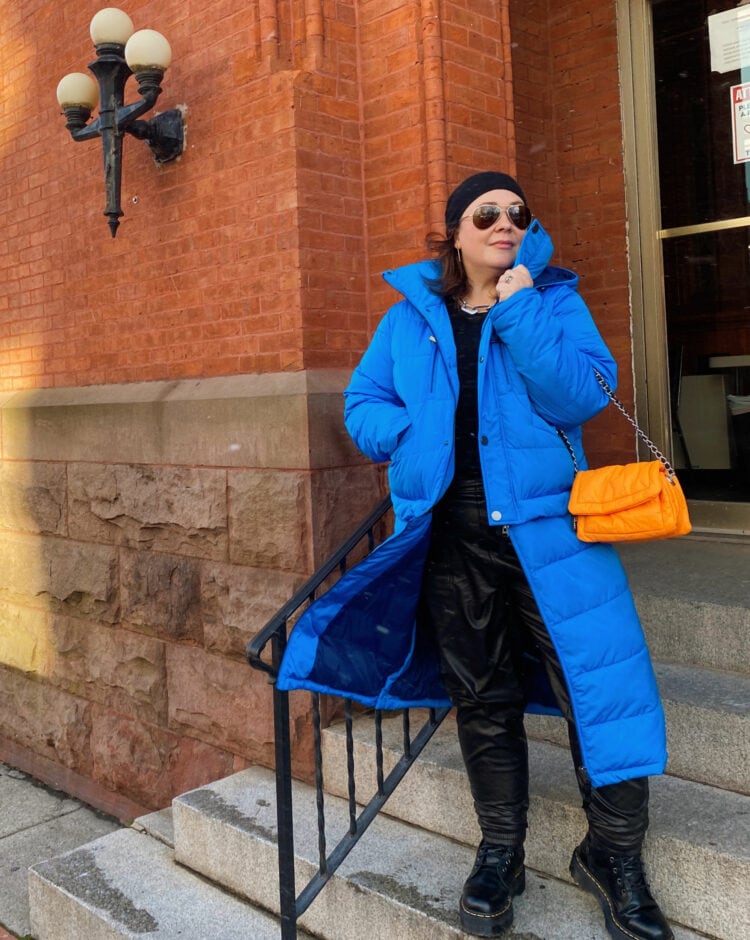 Earlier this month was my daughter's birthday. It's hard to celebrate a 13th birthday in the winter with COVID, so we promise we'll do a fun outdoor activity with her friends once the weather warms. But to celebrate we said she could anywhere she wanted for a meal and she wanted Le Diplomate. We booked a family lunch on their heated outside terrace. I was coming from an eye doctor appointment with dilated eyes on a day that started with snow and ice and wanted to looked polished yet warm for eating outdoors.
I wore a now-discontinued black merino crewneck from Universal Standard (this one looks similar), my black faux leather joggers from Spanx, and my black Doc Martens boots. Underneath I had wool socks and a Lands' End Thermaskin tank. I wore the full length of my Universal Standard 4-in-1 Hybrid Puffer, an old cashmere beanie (this is similar), and my ROKA aviator sunglasses to protect my dilated eyes.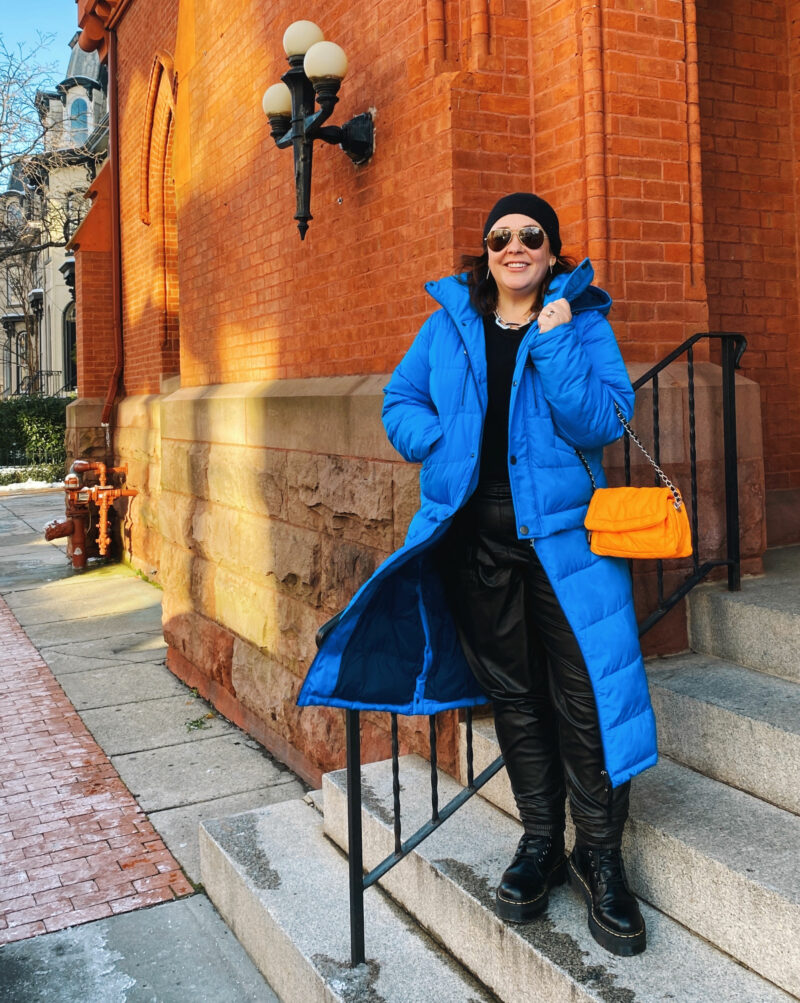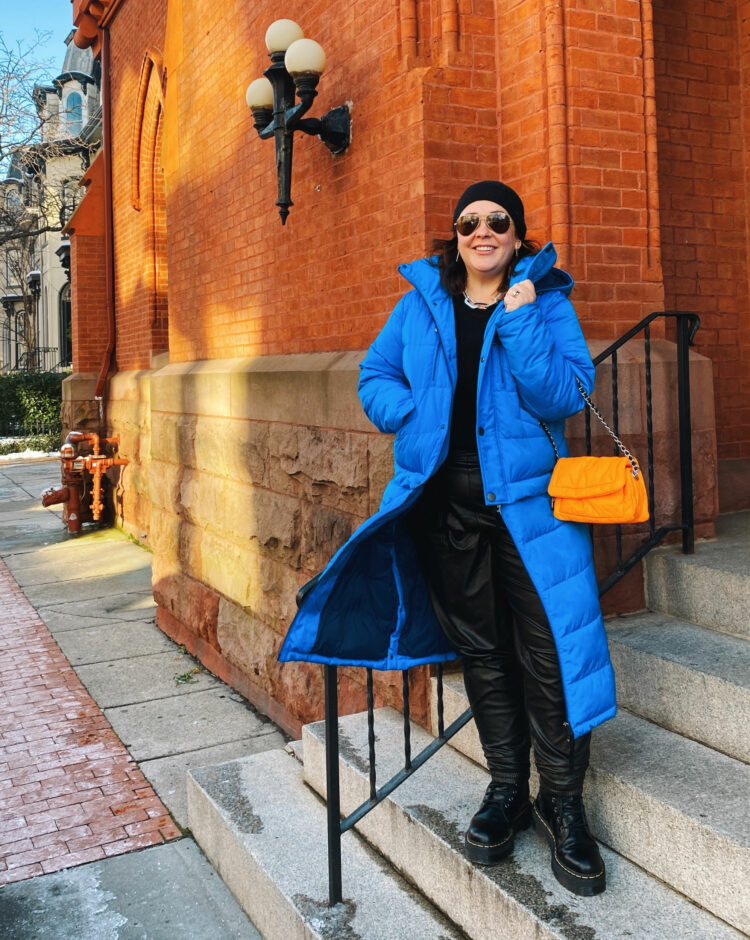 The bag is Marc Jacobs. I rented it from Rent the Runway and loved the pop of color and the puffer theme with the coat. My earrings are discontinued Jenny Bird (these are a similar concept) and the necklace is also discontinued Jenny Bird (try as I might I can't find anything similar online though this is a less chunky option).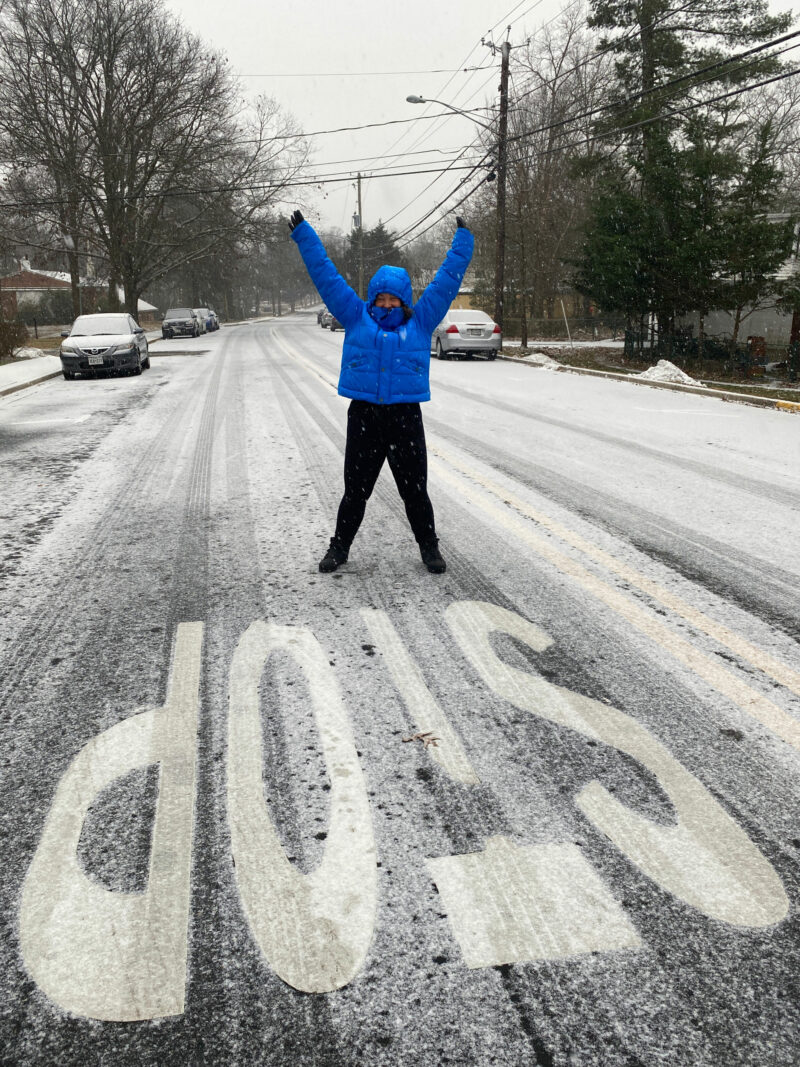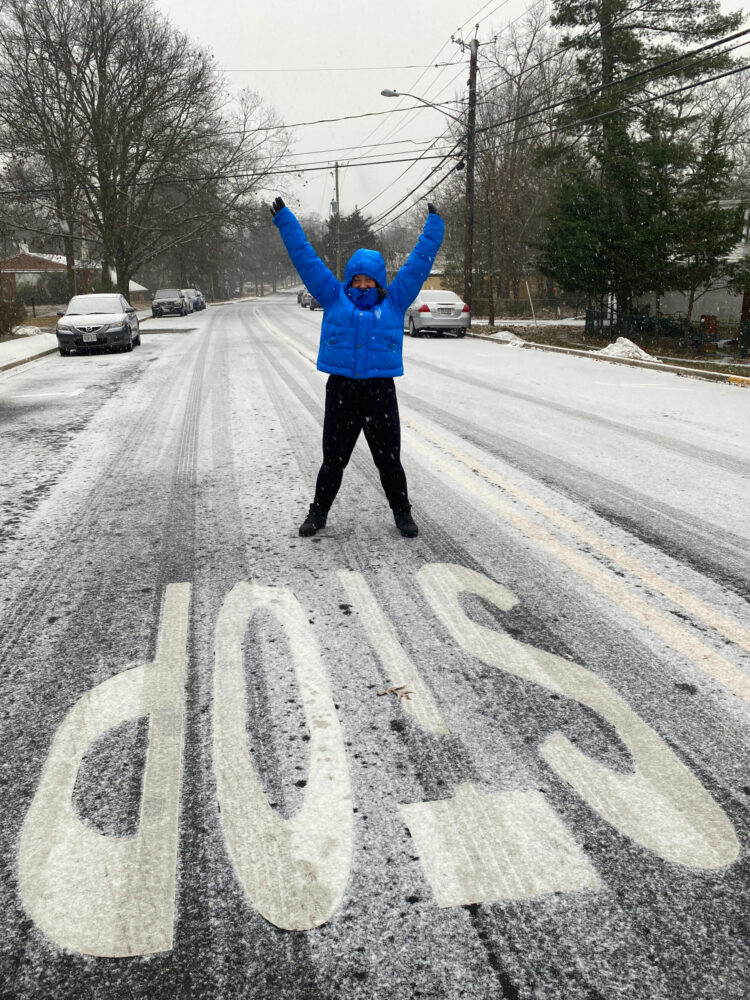 Same coat from Universal Standard, but with the "skirt" zipped off. It snowed in our area, and I went for a walk in it before it really stuck and made a mess. For those curious, I find this to be my warmest coat in my collection, choosing over my Lands' End Squall for such situations. I know it's warmer in Maryland than much of the country, but this coat keeps me cozy in 20 degrees even when it's super windy or there's wet snow like on this day.
With it I'm wearing a North Face beanie I got on clearance at REI about a decade ago (similar), black leather gloves, Athleta Rainier tights (size L petite) and Merrell Arctic Grip boots I got back in 2016 (these look like a 2022 version). I slipped on black ice in 2014 and shattered my right radius (lower arm). I went through over a year of surgeries, physical therapy, and crap because of it and it resulted in me being hella paranoid about icy situations. My husband's friend recommended these boots and they do give me a lot more confidence. They grip, but don't damage floors if you wear them indoors.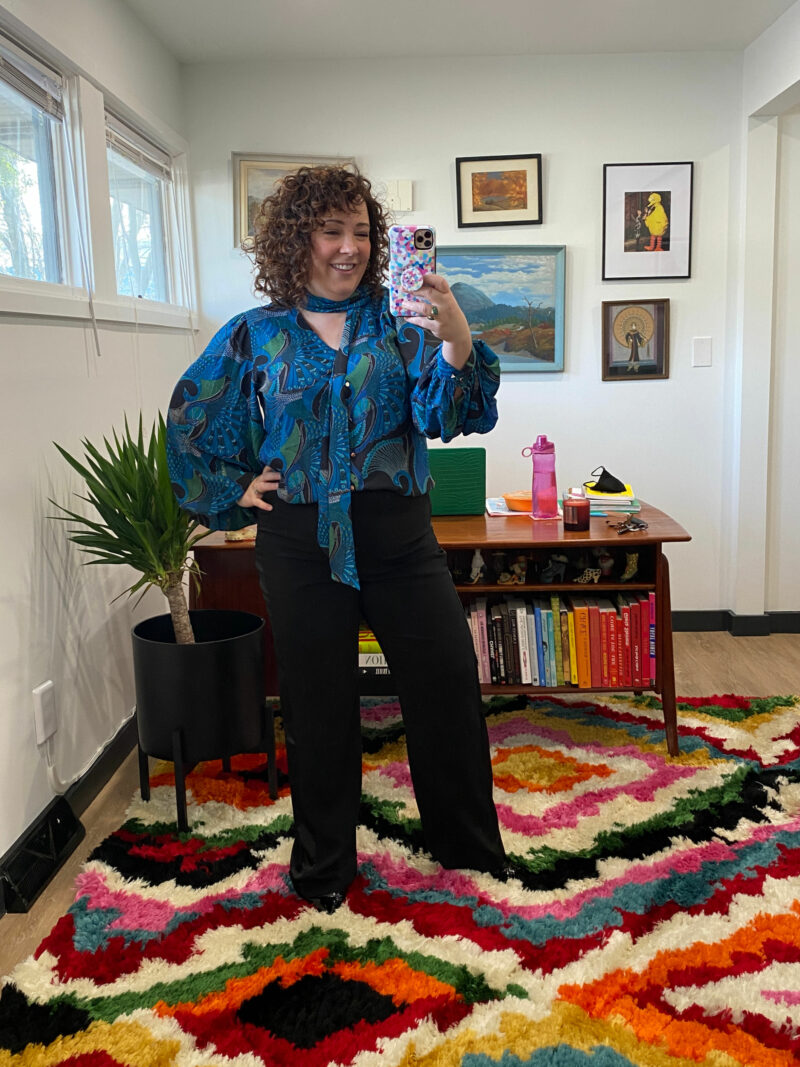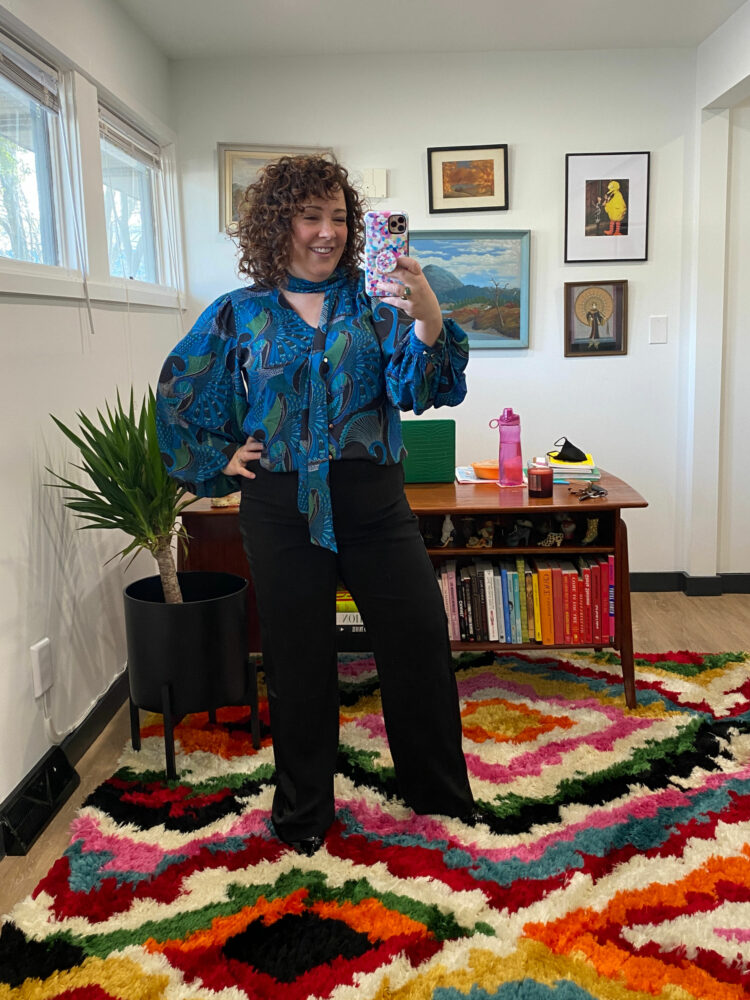 After a couple of weeks away, this was my first day back in my office and I wanted to celebrate with my attire. The blouse and pants are both from Chico's… but they're not really available. The pants at the time of writing this are still in stock but only in size 6. The blouse in this print is sold out, but they still have it in a red print and an animal print. For reference, I am wearing a size 2 in the blouse and 14 in the pants. This blouse is really nice, you can tie it in a bow, throw it over the shoulder, tie it like a tie or leave undone. The pants are a side zip with a tux stripe.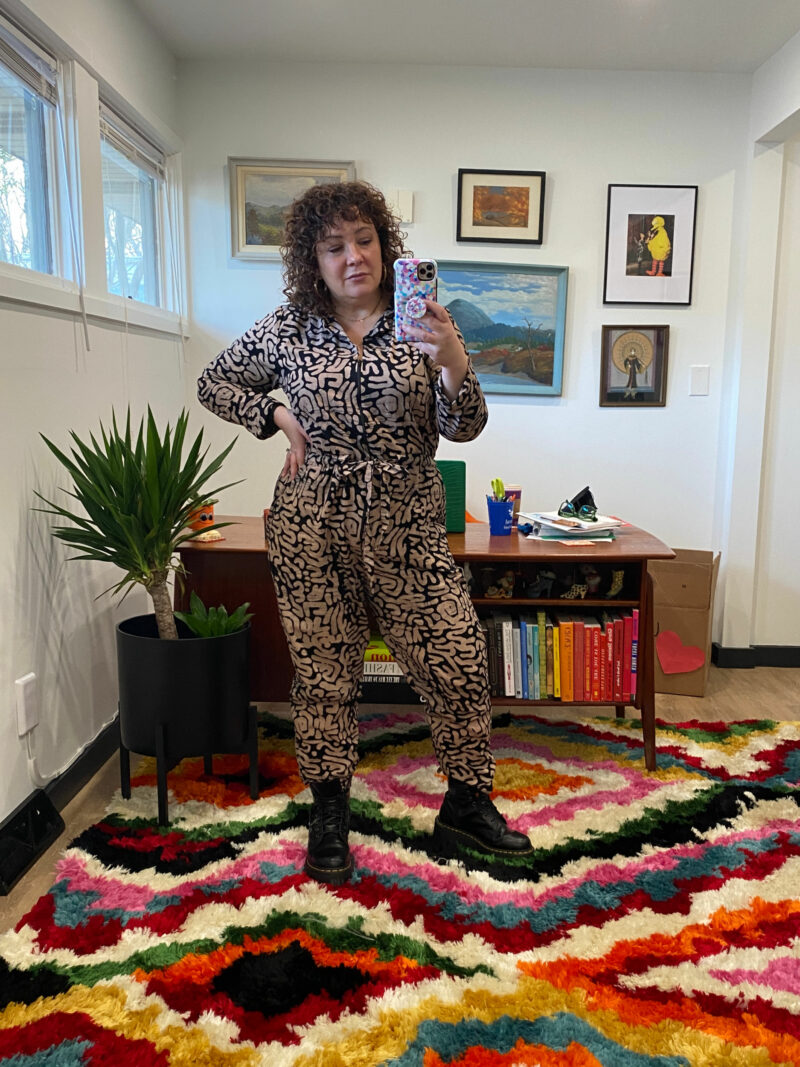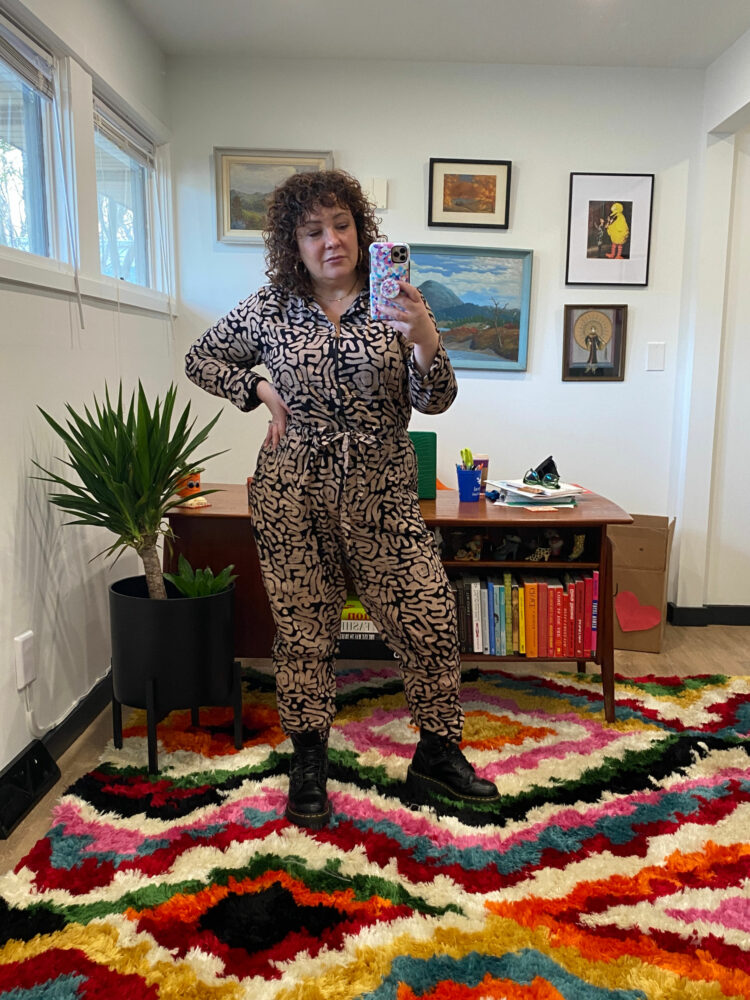 Another day at the office last week, wearing a jumpsuit from Osei Duro in size XL. This exact jumpsuit print is no longer available but Osei Duro has other prints available in sizes XS-3X. With it are the same Doc Marten boots worn in the first look. Earrings are these hoops from BaubleBar which continue to be a favorite after a year for making a statement without being heavy.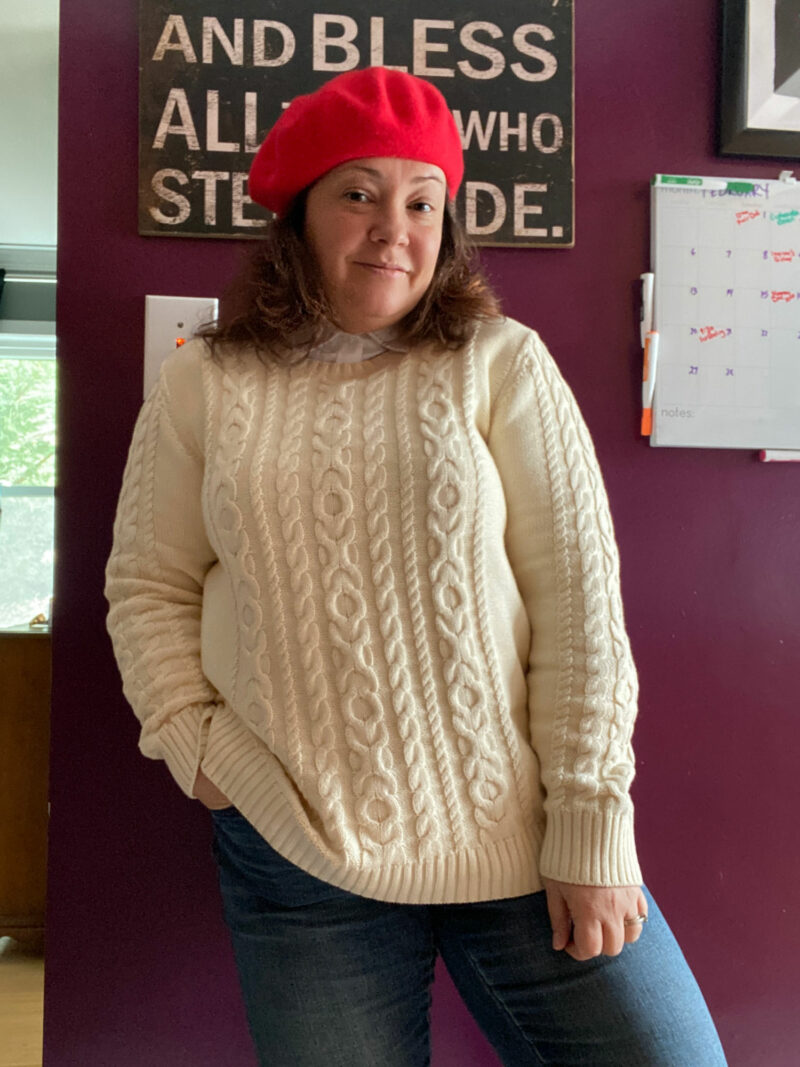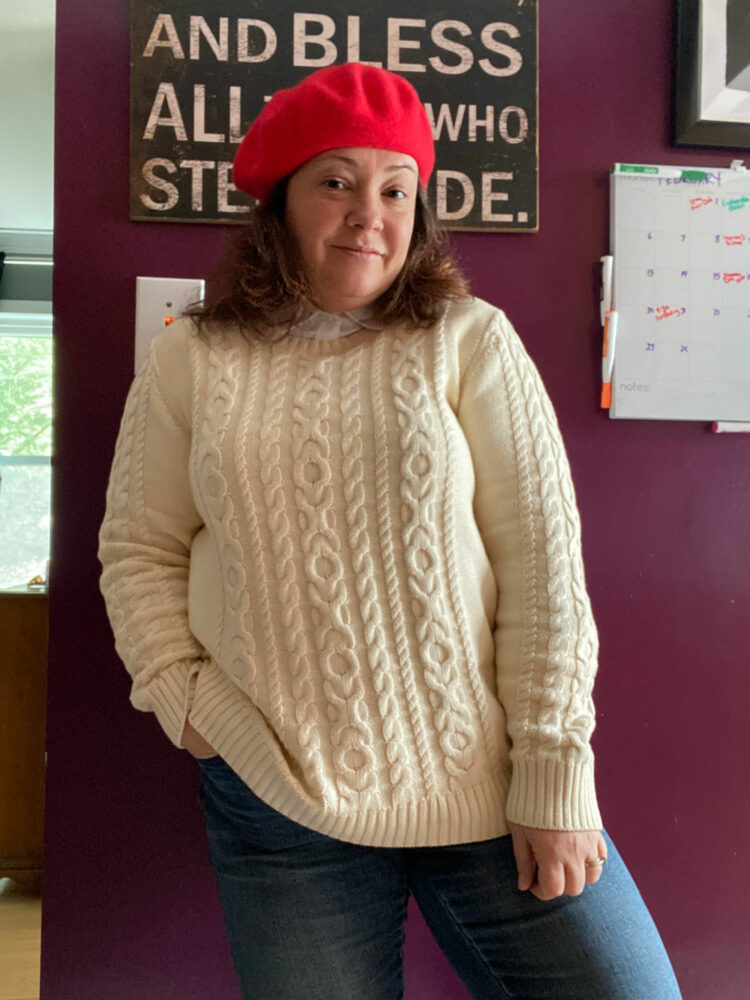 Keeping it real with a day where I worked from home. I ordered a sweater vest after writing this piece about the sweater vest trend, and went to try it on with this white shirt (size 2.5). I hated the vest (this one in XL); it was both too long and too short, too wide in the shoulders, and buckled weird on the side where the label was sewn. But I liked the mix of the white shirt with the cream knit so I switched it out for my L.L. Bean cableknit (XL).
I am wearing a beret (old; this is similar) because it's cold in the house and with my recent conch ear piercing, beanies can aggravate it. It's why my one ear is peeking out! And my earrings are from The Freshwater Pearl Company. They're truly beautiful and what's cool is you can remove the pearl drop and wear the hoops solo so it's like two pairs of earrings in one for less than $50!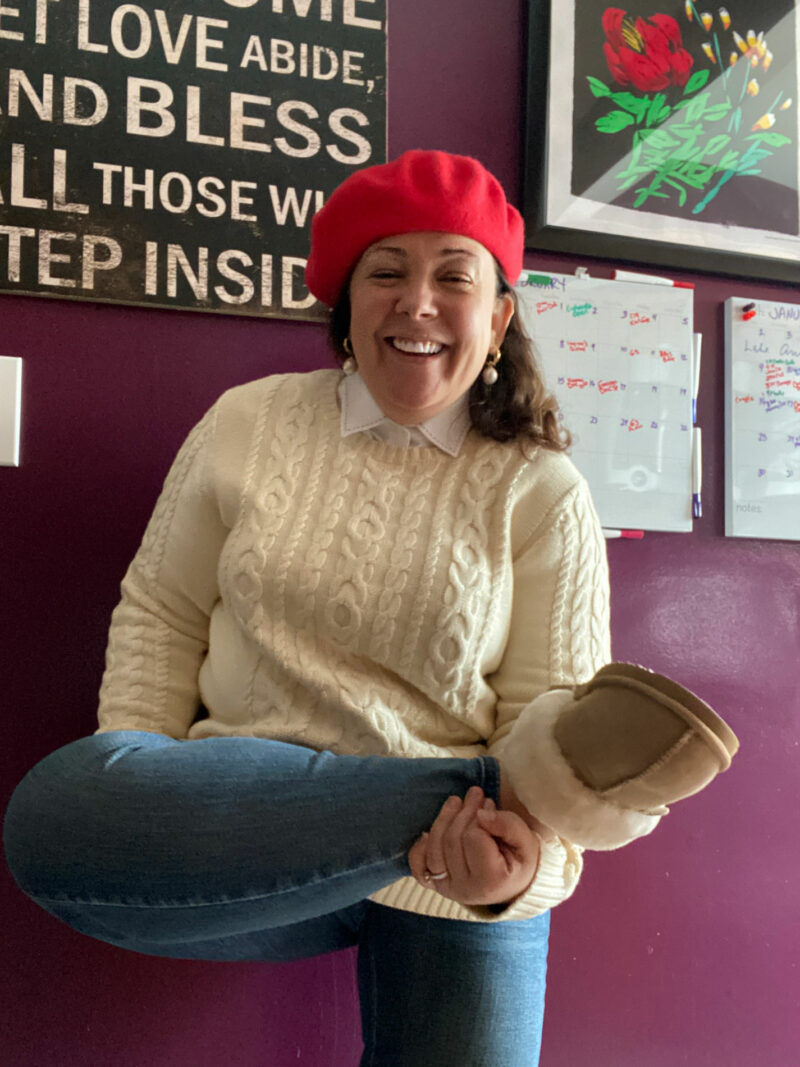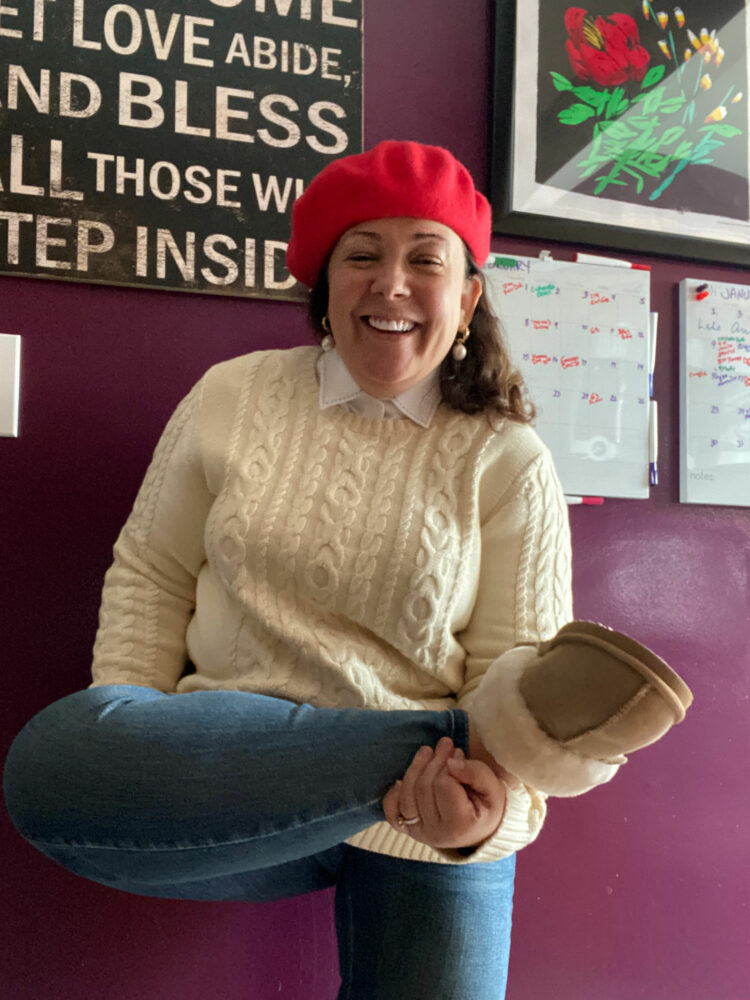 My jeans are Universal Standard Seine High Rise in 10 Regular, and on my feet are these slippers which I got pretty much because they were available in wide widths and under $50. I end up destroying my slippers; I wear them outside accidentally, I have sweaty stinky feet, I spill things on them… I do better with cheaper slippers. I actually think they're really nice, almost as nice as the similar UGG slippers I had a couple of winters ago. And so far they're holding up really nicely!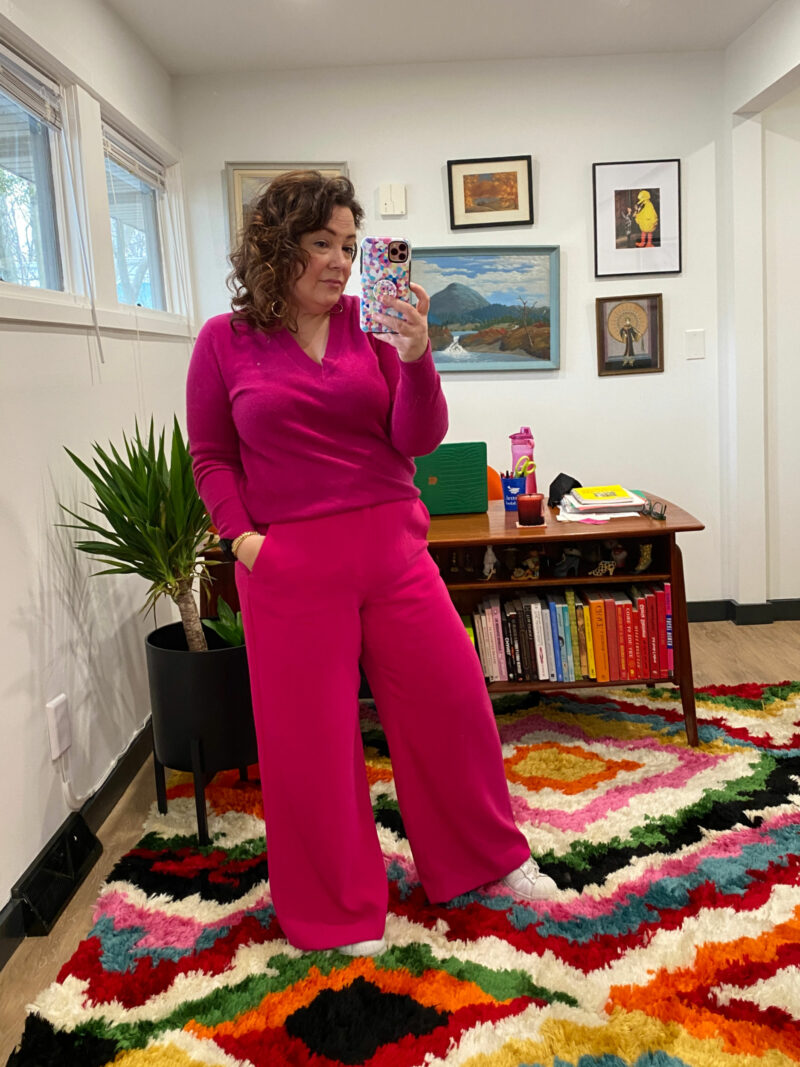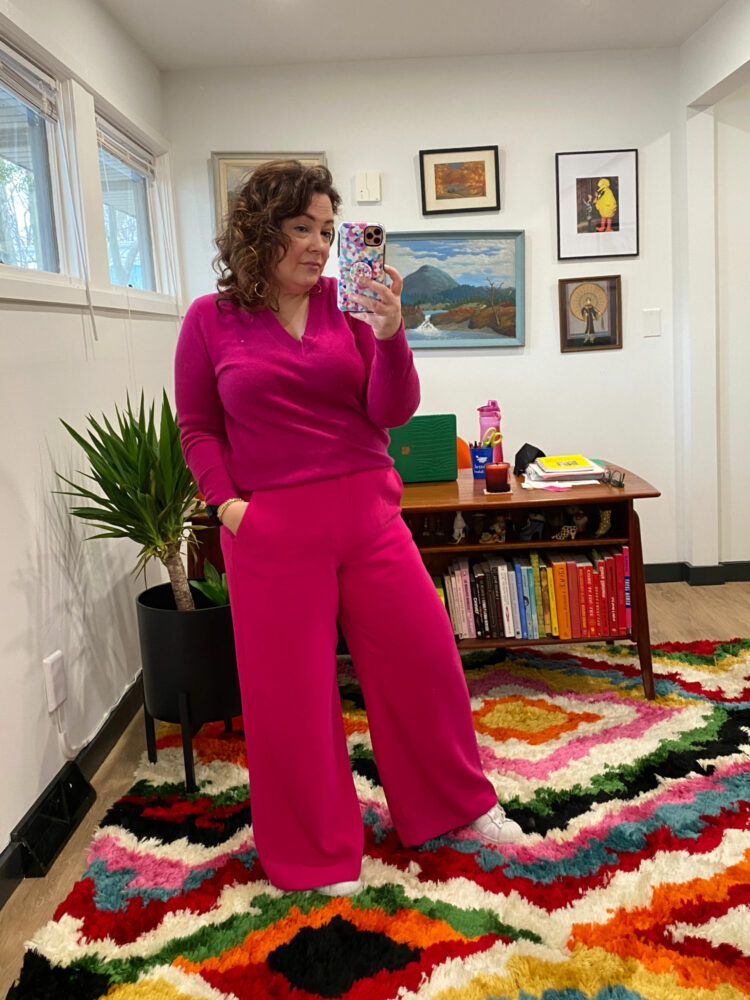 I have learned to not buy multiples just because I like something. I usually like it for that certain color/wash and then the additional items never get enough play to justify the cost. But gosh I wish I bought these pants from Banana Republic in more colors! They have just the right amount of stretch while looking super polished. They fit if I'm closer to a 16 or closer to a 12 and have pockets deep enough to hold my phone. Oh, and they're machine washable.
The sweater is the Universal Standard cashmere v-neck in XS. In Facebook groups, I have seen these cashmere sweaters get mixed reviews. Yesterday I gathered a few of my cashmere sweaters in pretty colors to take to the office to film some content. I had ones from J. Crew, Universal Standard, Nordstrom, and Talbots. The only ones I didn't have to shave before having them on camera were the Universal Standard ones and my J. Crew one. But my J. Crew one I have worn FAR less and it has yet to be laundered and these US ones have been washed at least once (I think this pink one has been laundered twice).
My shoes are Adidas Superstars, my earrings are now discontinued Jenny Bird. These aren't the same but they achieve a similar effect and are a nicer price.