This article may contain affiliate links; if you click on a shopping link and make a purchase I may receive a commission. As an Amazon Associate, I earn from qualifying purchases.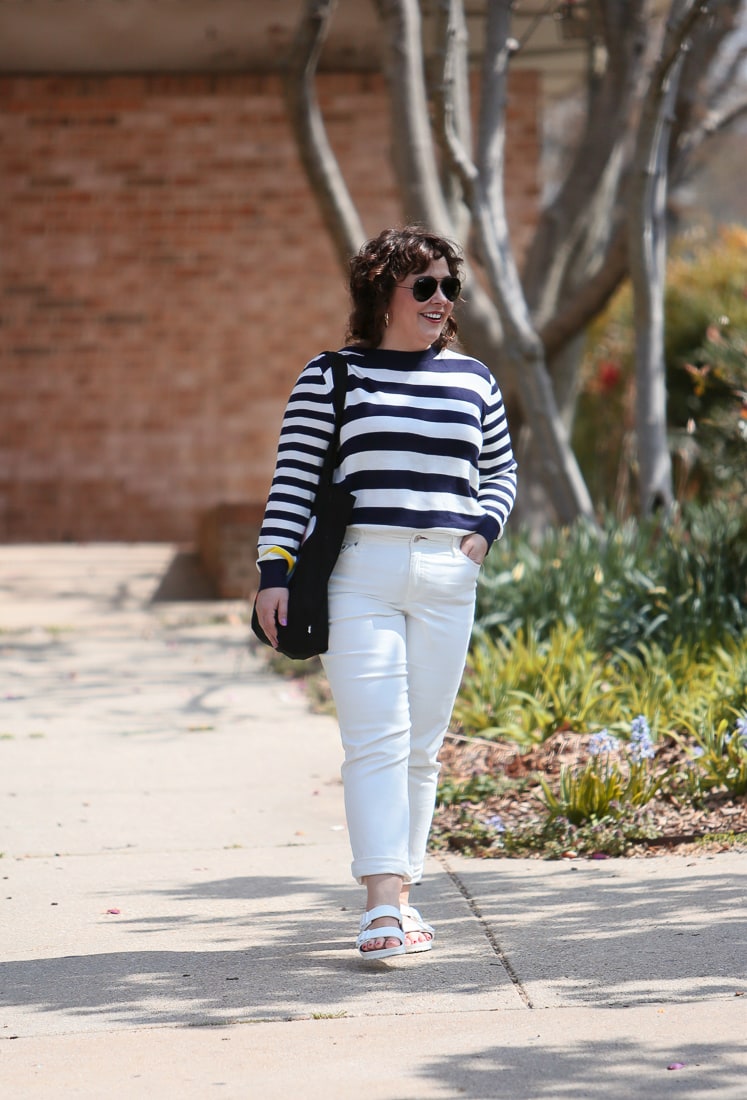 If you follow me on Instagram and watch my stories, you know I've been thinking a lot about the cost and accessibility of fashion. I've let my privilege get in the way of offering a broad variety of brands and price points on Wardrobe Oxygen. Also, I have boycotted certain brands because of my personal feelings about them; thing is when researching many of these brands do nothing worse than other retailers I feature and many of these brands offer inclusive sizing, reasonable price points, and are more accessible to those not near major metro areas. I've heard you; I've read your comments, DMs, and emails and have decided to expand the brands featured here and to expand my view on what retailers offer great fashion.
This post is sponsored by Walmart.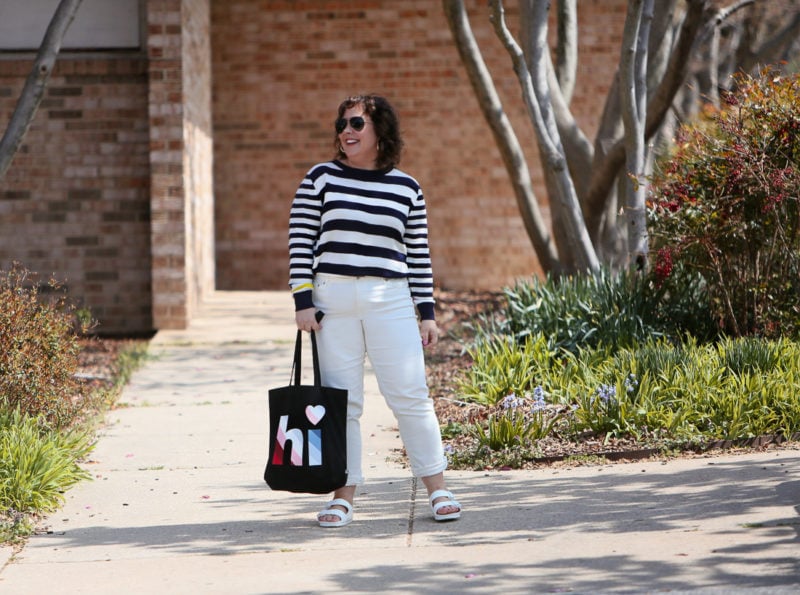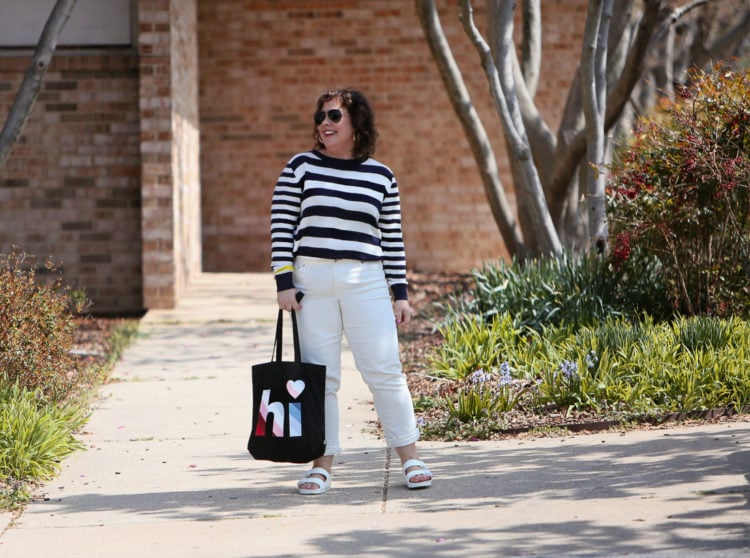 jeans | sweater | similar tote | similar shoes | similar sunglasses | similar earrings
I've been thinking about this, pitching to new brands and doing research when Walmart reached out inviting me to style a look for the blog. I saw it as a sign. To be honest, I haven't been in a Walmart for many years and while I still wear a pair of denim shorts I picked up in a location in South Carolina almost a decade ago, I haven't considered them as a destination for fashion. I was wrong, and the current Walmart fashion offerings surprised me. In fact, Walmart has a new campaign entitled, "We Dress America" and it's a collection of brands and styles for a range of trends and sizes for men, women, and children.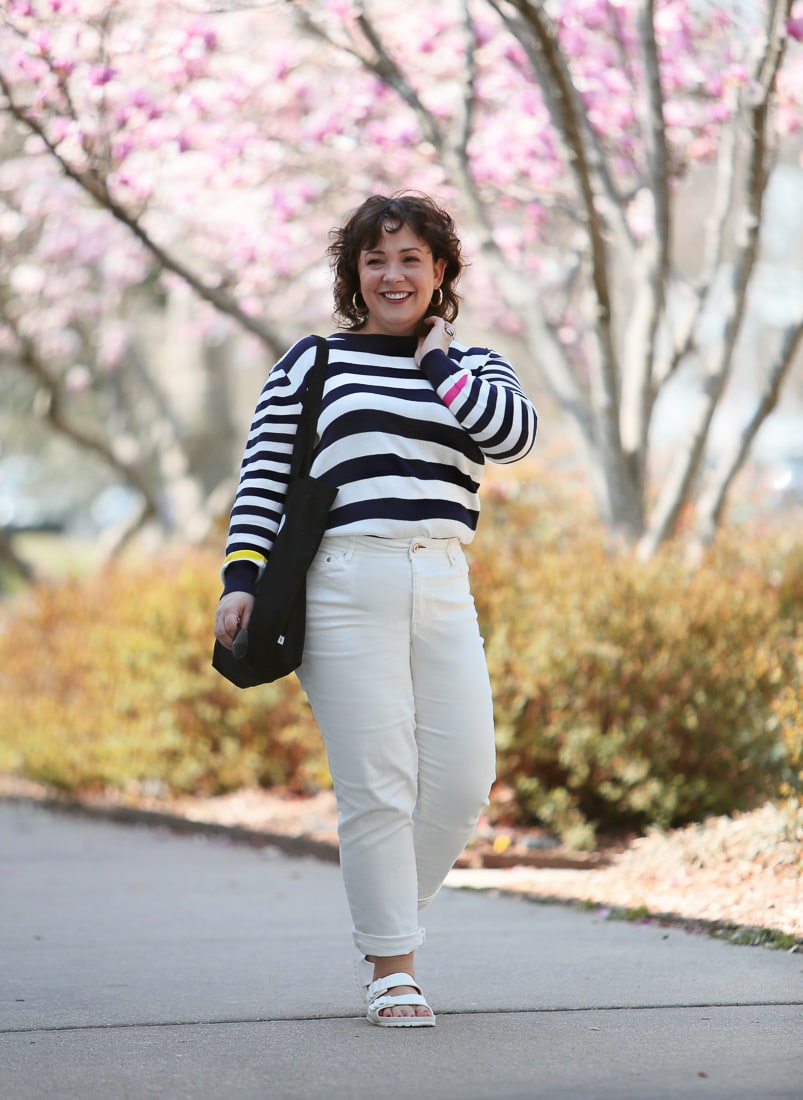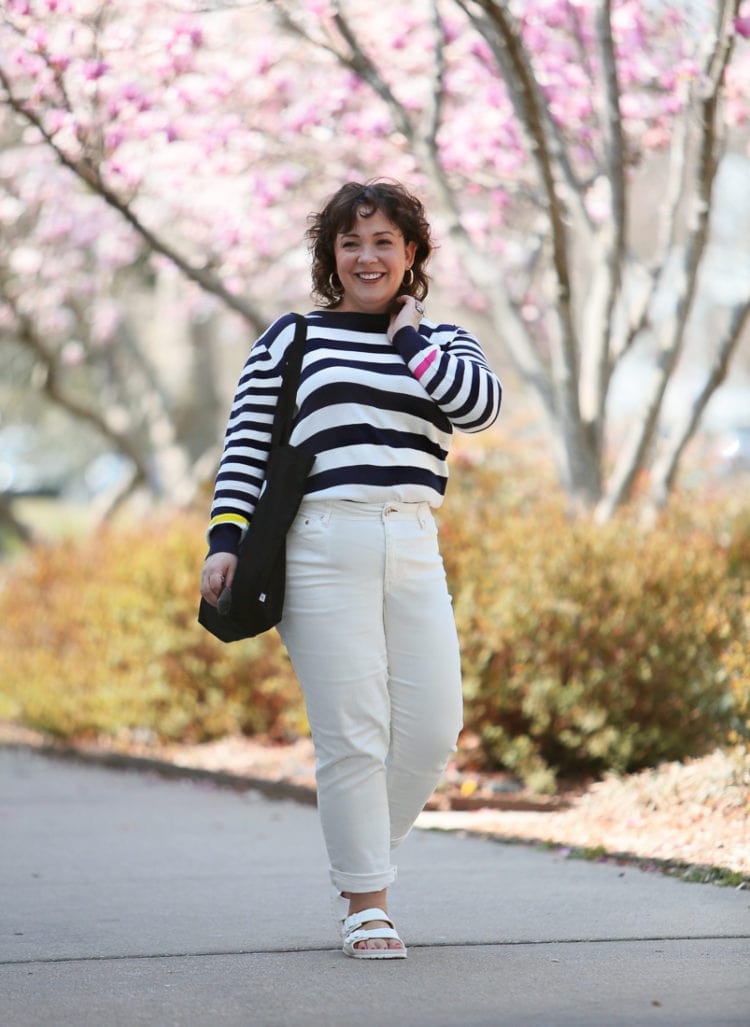 Jeans: EV1 (14; wish I chose 12) | Sweater: EV1 (L) | Shoes: similar | Sunglasses: similar | Tote: EV1 (sold out; similar) | Earrings: similar
White jeans are one of the hardest things to find. They're too sheer, they're too thin, they bag out, they're too tight, they don't showcase you figure in the way it deserves. But white jeans are an amazing way to update a wardrobe for spring and summer. They look dressier than traditional denim or even colored denim. They make wintry colors like black, gray, and navy look fresh for the warmer months. They give a crisp, polished effect even when styled with sandals and a t-shirt. I have a white jeans review coming up – I've ordered over a dozen pairs of jeans from a variety of retailers including Walmart. And you know what? The pair of jeans in this post, from Walmart, are some of the most opaque, comfortable, and quality fabric I've found. All that and they're only $22!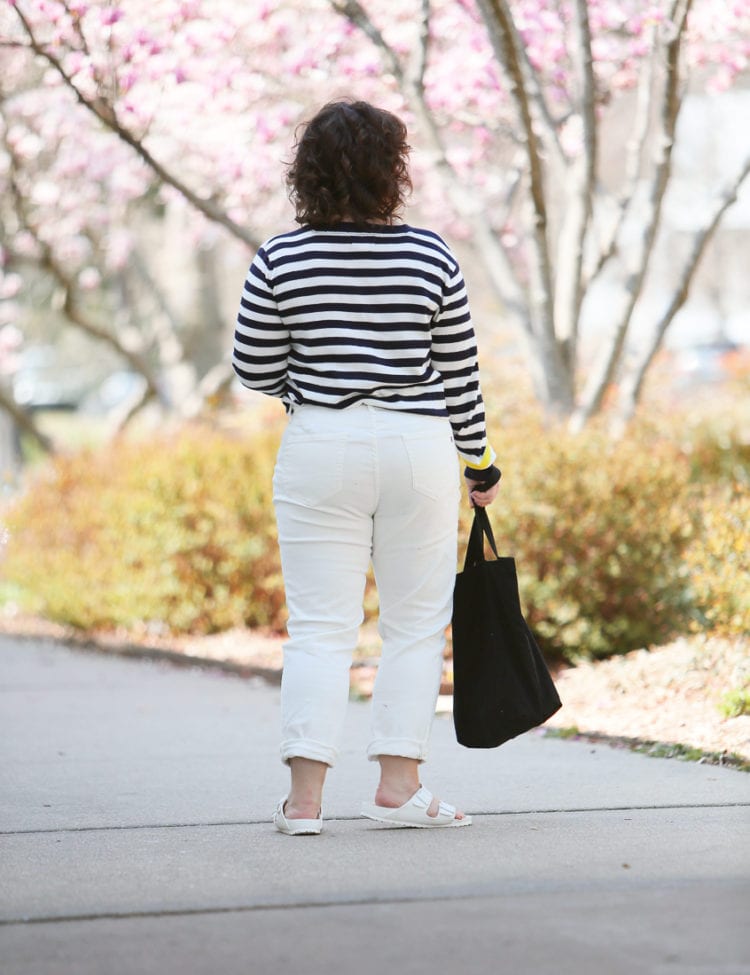 Shop My Picks from the Walmart EV1 Line: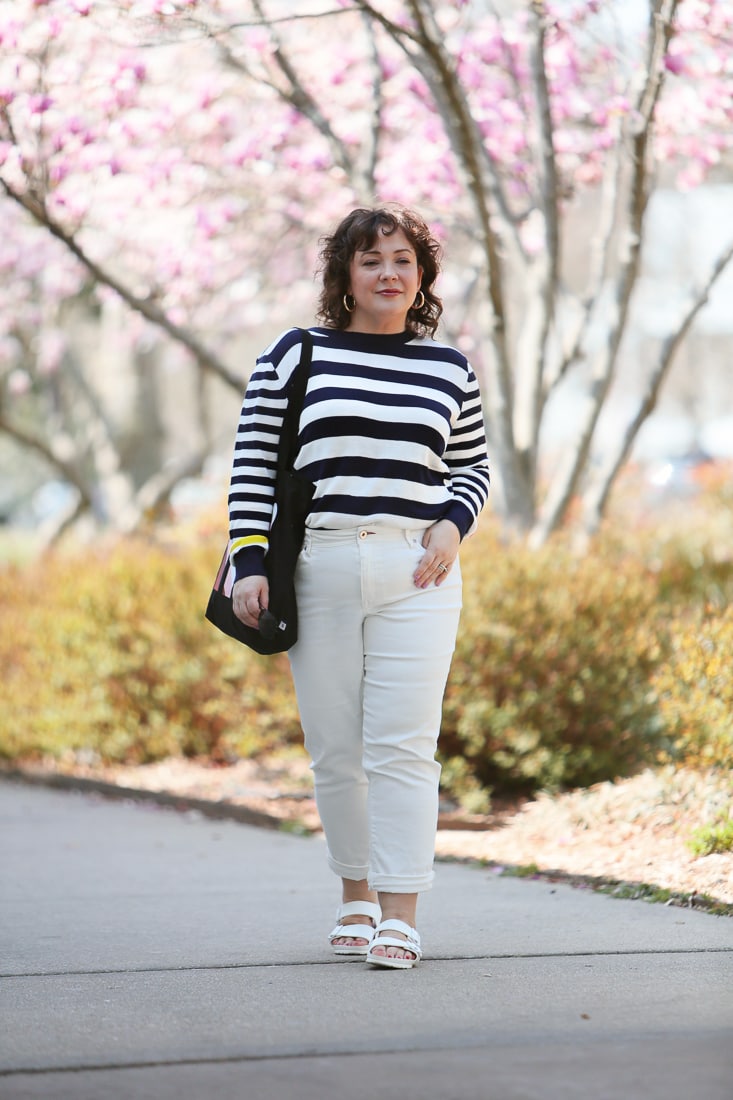 I vary between a 14 and 12; since I wasn't familiar with the brand I chose size 14. I wish I chose 12, as these are generously sized and have a more relaxed fit. If you are interested in a slimmer fit, they also have these skinny white jeans in the same fabric. These jeans as well as the sweater and tote are all from Ellen DeGeneres' line for Walmart, EV1. The name stands for everyone, and it's a line of clothing for women that goes up to size 20 or 3X.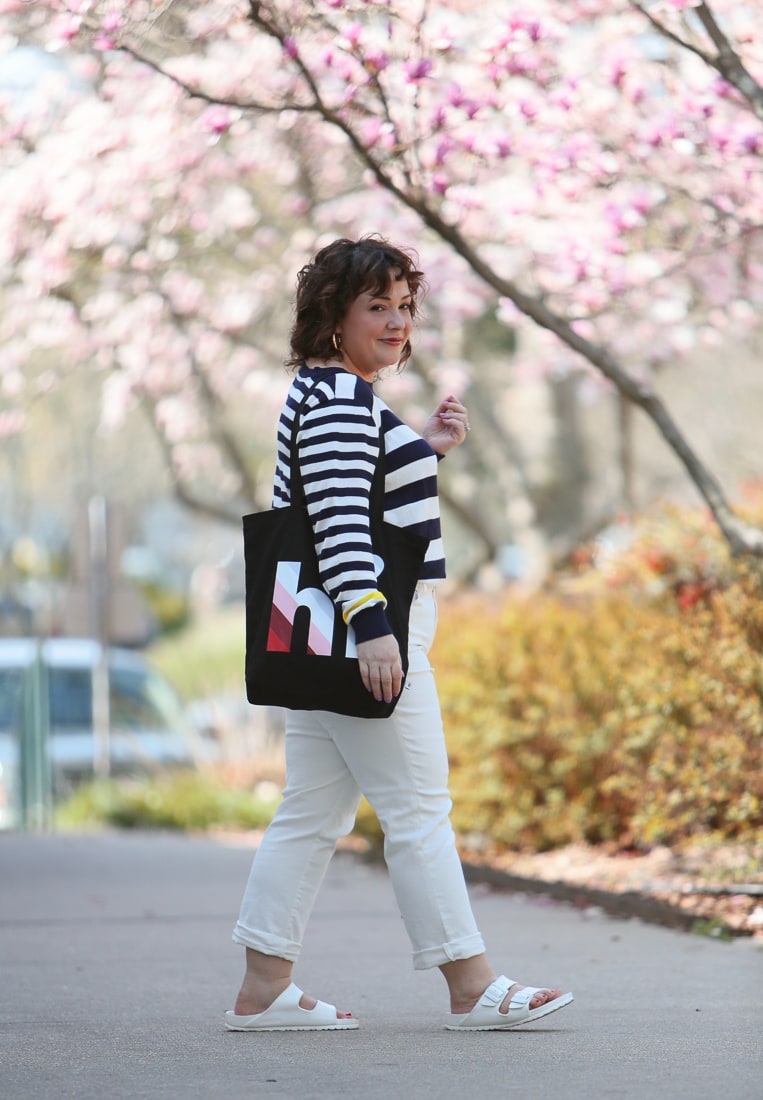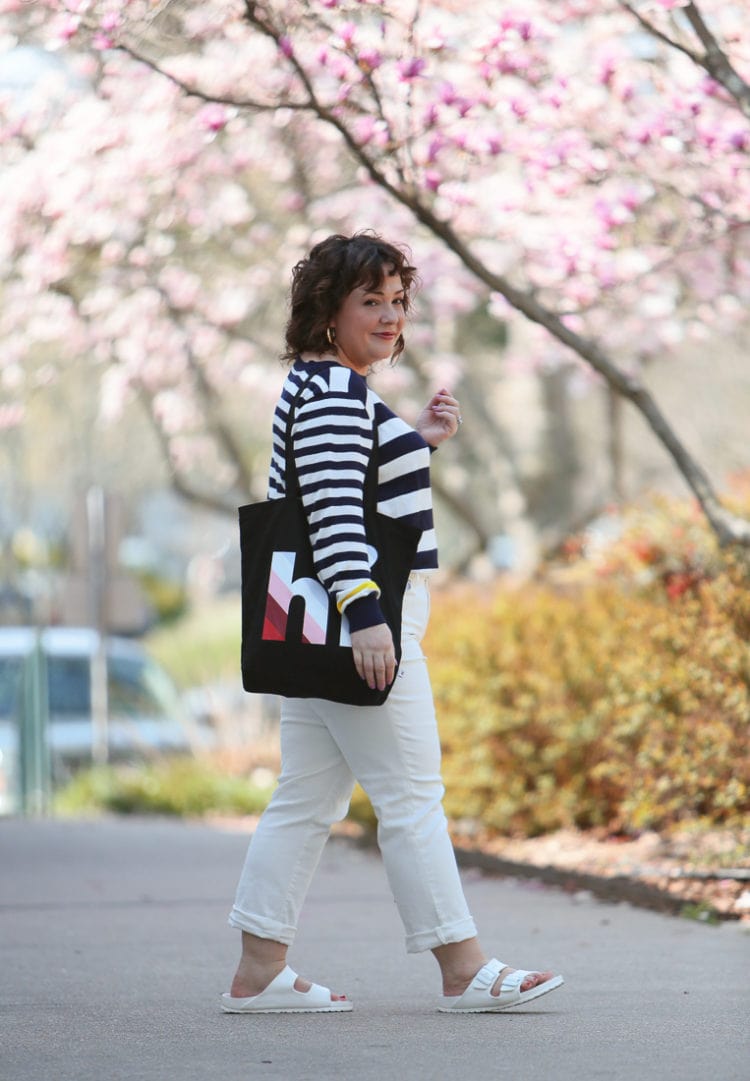 As for the sweater… highly impressed as well. It's thick, fits great, and I love how it's classic with a pop thanks to the brightly-colored stripe on each cuff. It's the kind of sweater you throw on over your tee and shorts for a breezy evening at the beach, but you can also style with navy ankle pants for the office or white jeans for the weekend. I tried several pieces from the EV1 collection at Walmart and found the quality to rival or exceed that of brands I regularly feature on Wardrobe Oxygen. This is just an example that you can't judge quality by the brand or the price on the label.
Shop the Look: