This article may contain affiliate links; if you click on a shopping link and make a purchase I may receive a commission. As an Amazon Associate, I earn from qualifying purchases.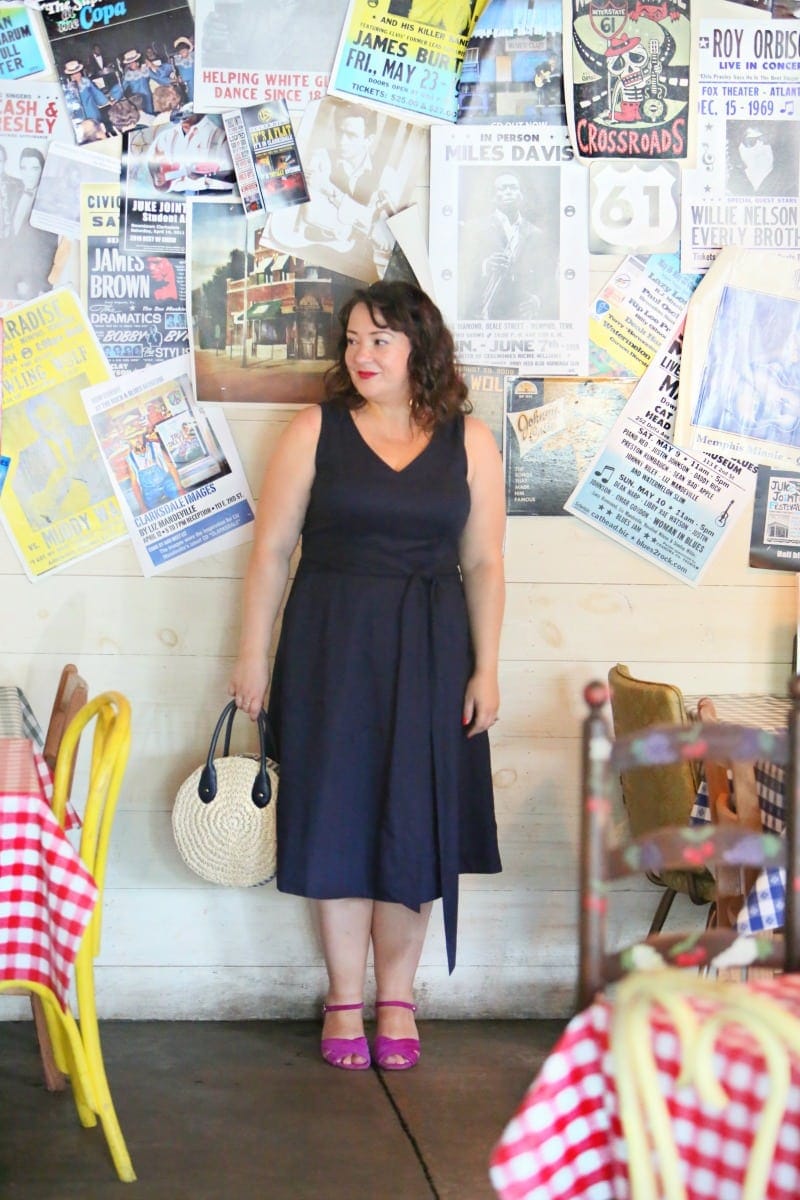 I'm always on the hunt for the perfect summer dress. That dress that doesn't require special undergarments, will cover my bra, will hide sweat stains, isn't too tight but isn't a muumuu, not too long but I can pick something up off the ground without flashing the world, can dress up and down with ease, isn't made of a sweaty sticky fabric, can be put in the wash, and has pockets. Am I expecting too much? It always seemed so, such a dress is hard to find that is also flattering but I found it this summer at Boden.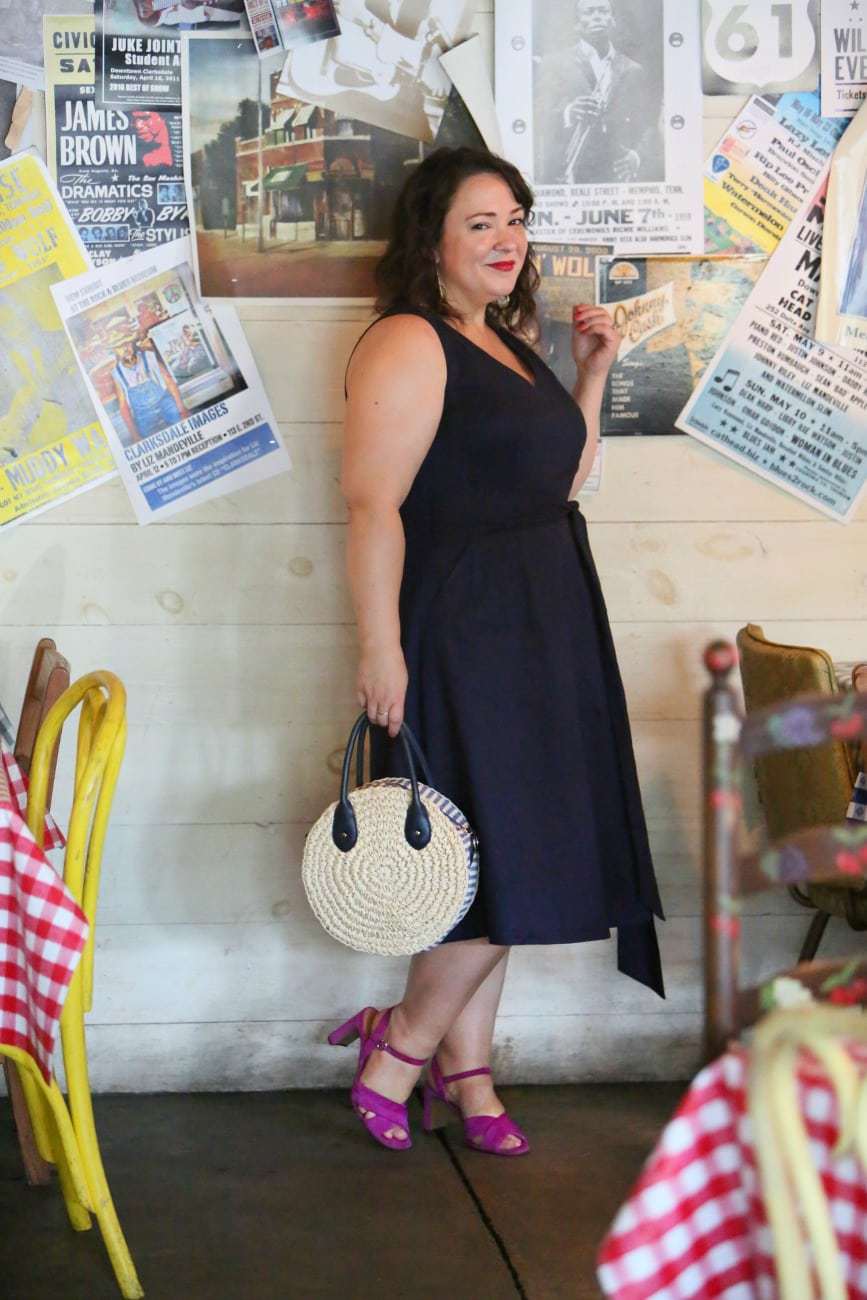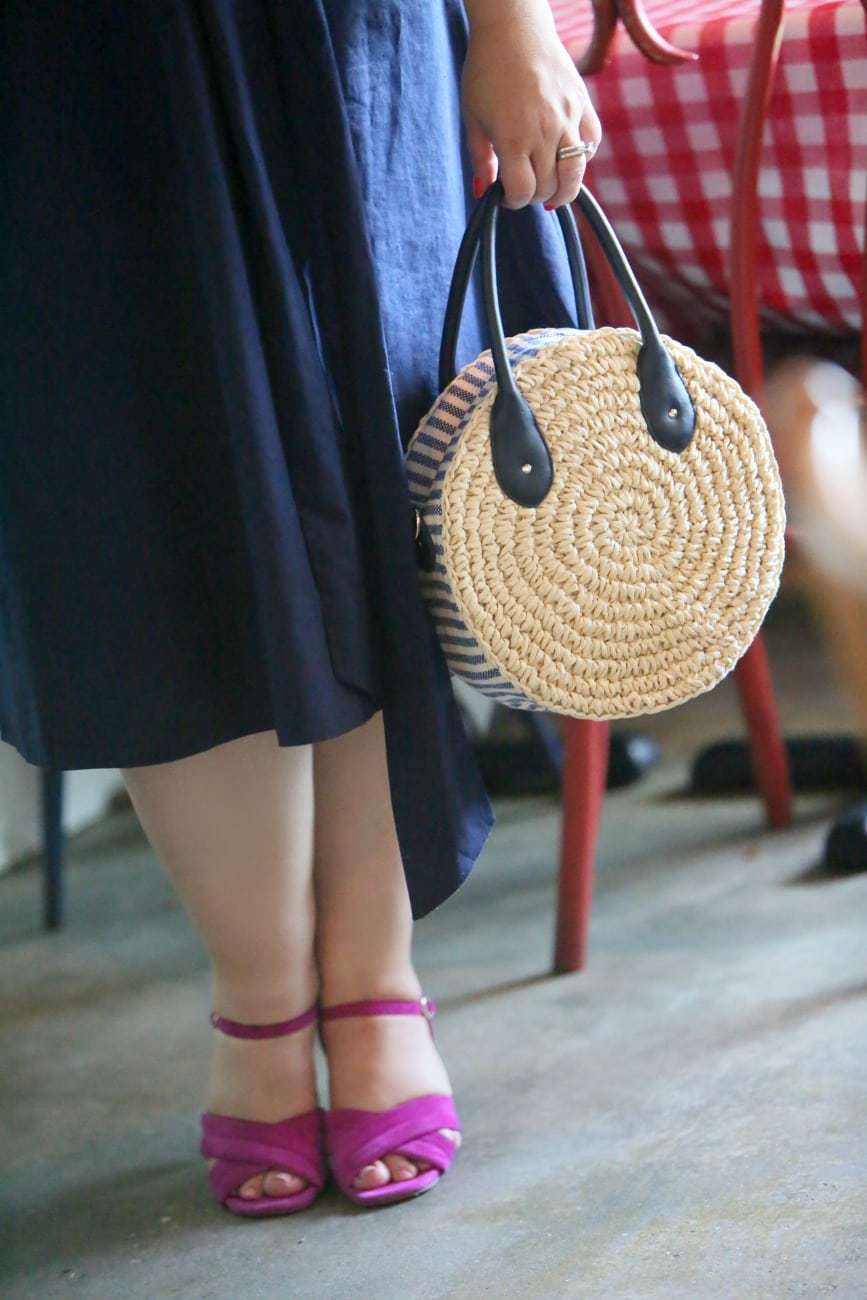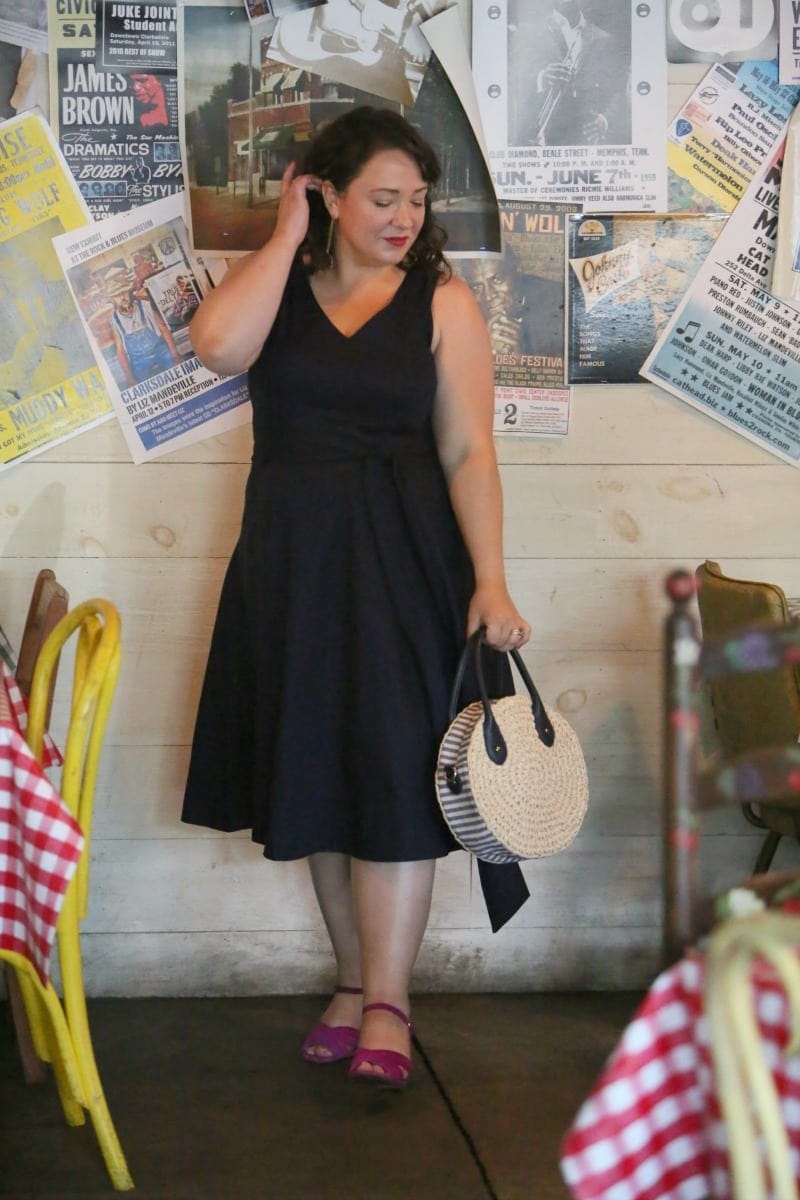 Dress: Boden (12, comes in petite and long options, click here for a plus size alternative) | Shoes: SARTO Franco Sarto | Bag: c/o Talbots (no longer available, similar concept) | Earrings: Jenny Bird | Lipstick: Lancome
This is the Jade Dress from Boden in Navy. This dress is available in five different colors and patterns, petite and long options. It's 55% linen, 45% cotton, with a 100% thin cotton voile lining. Back zipper, pockets, belt is two separate pieces attached at the side seams. While I tied the belt in a knot in front, it's long enough you can get creative with it. Tie in the back, wrap around the body for shorter tails, tie in a big bow in the front, hold the ties with a brooch.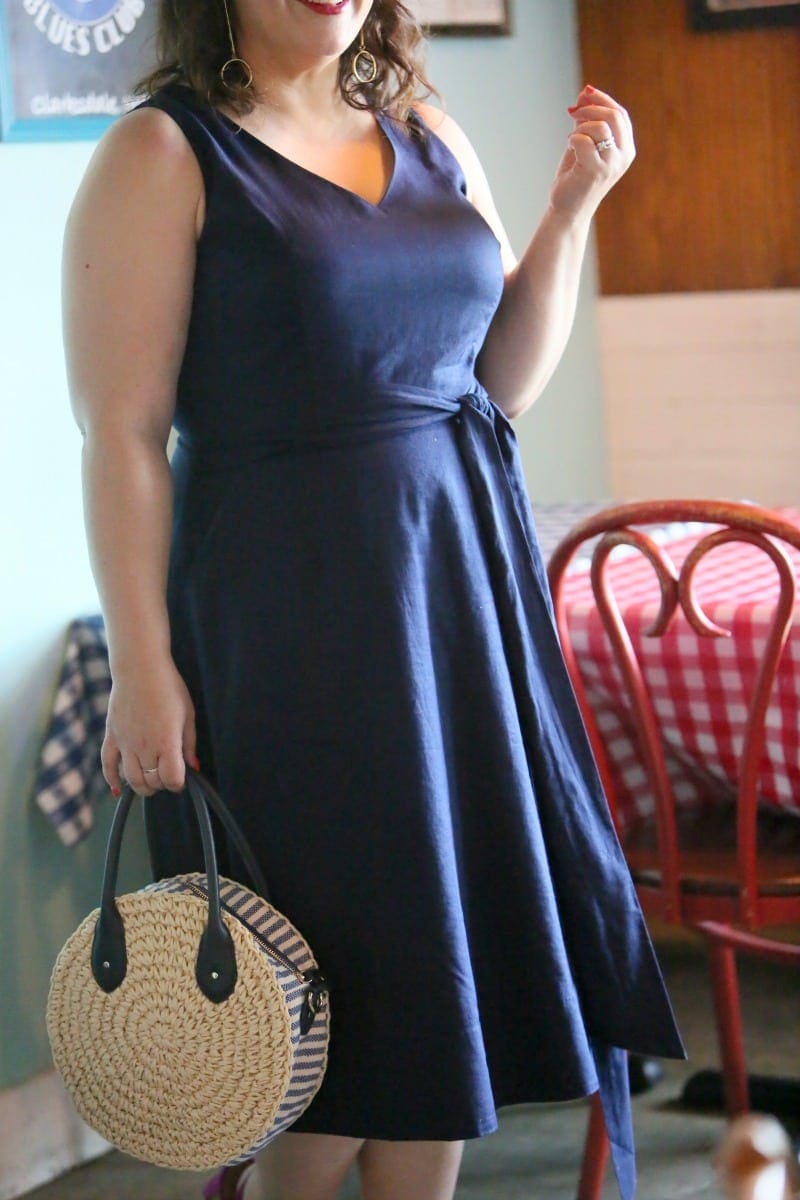 When the dress arrived it was pretty wrinkled, but the creases came out great with my travel steamer. I wore this dress for about an hour before this shoot. I was in a car, sat, walked around in the heat and it didn't wrinkle up again. In fact, I got lazy and after the shoot didn't take the dress off. It's four hours after the shoot and I'm still wearing the dress and there's no crotch creases (you know what I mean when you wear a cotton or linen dress and sit for a long period of time).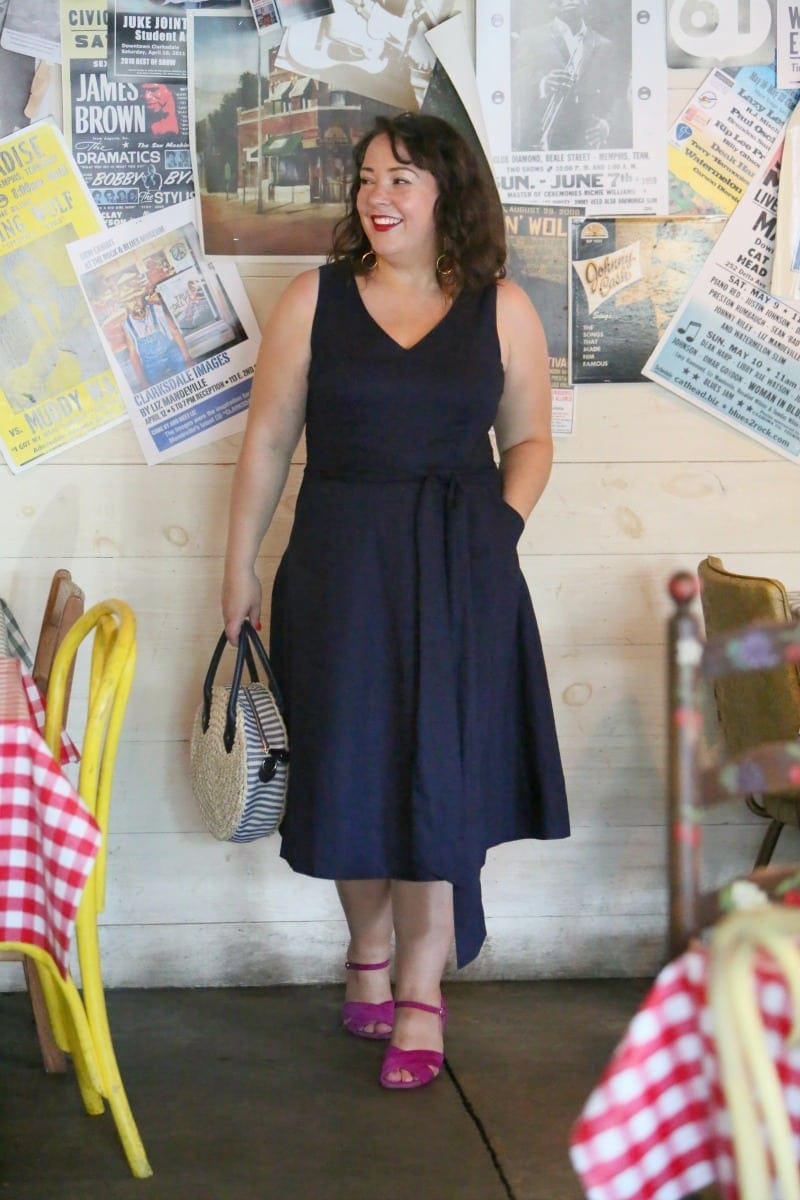 This is the kind of perfect summer dress you can throw on with sandals or Birkenstocks on the weekend, wear to the office with flats, or to a day wedding or night out with heels. I wore it out to dinner with my cork wedges, but for this shoot I thought it would be fun with a pop of color. These shoes have been some of the hardest working pairs in my summer wardrobe. I wore them this weekend with a dress over jeans, wore them with linen pants and a silk shirt, and find they look great with pants and jeans as well as skirts and dresses. They're so comfy I even bought them in a second color!