This article may contain affiliate links; if you click on a shopping link and make a purchase I may receive a commission. As an Amazon Associate, I earn from qualifying purchases.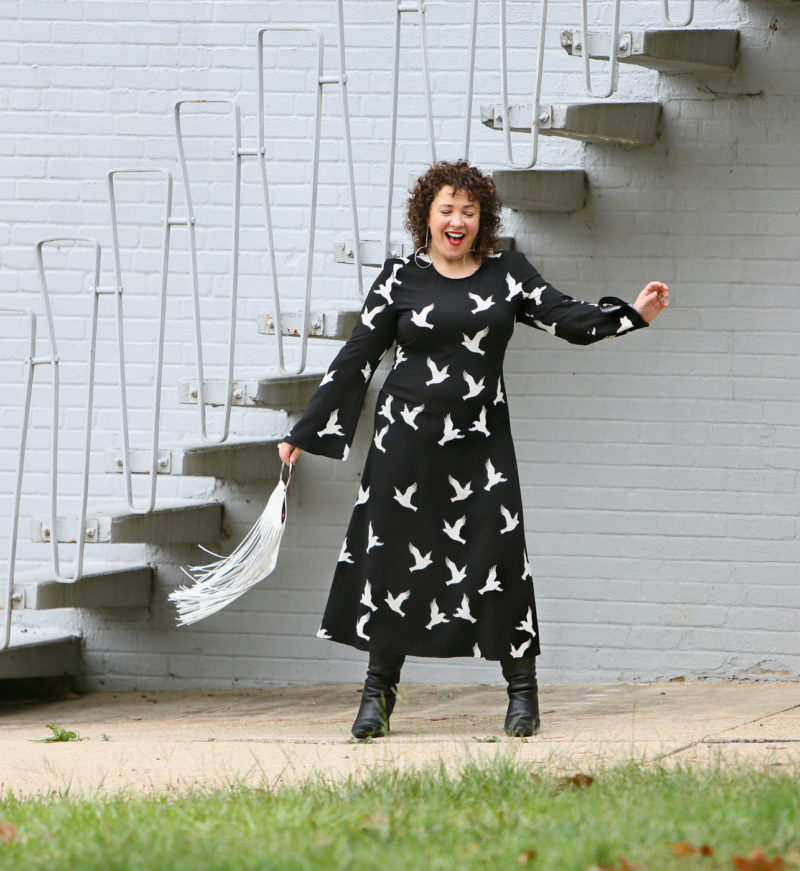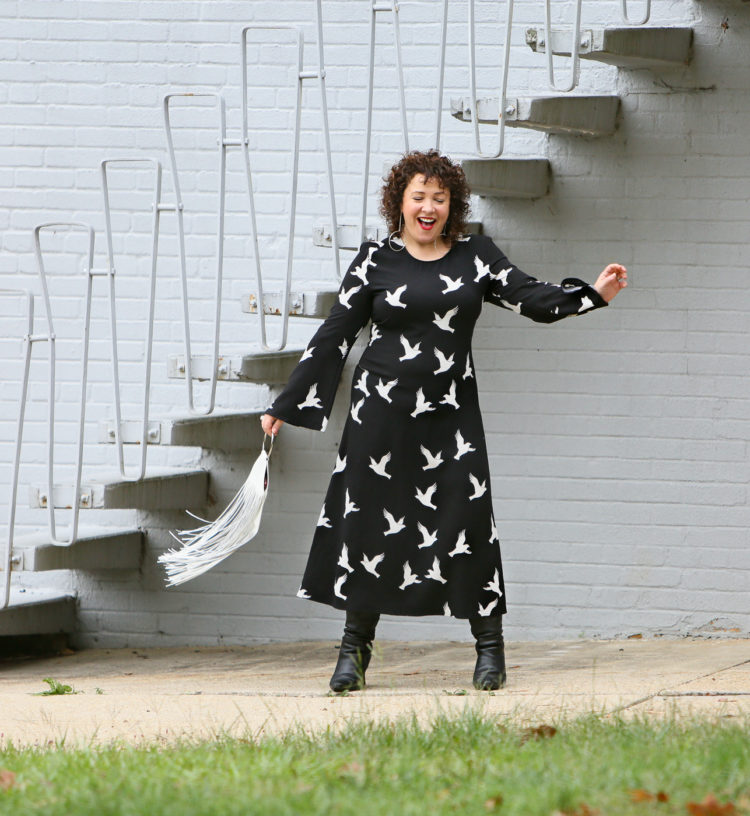 Most of us have a clothing weakness.  For some, it's fun printed pants, for others it may be a fit and flare dress.  I know many have a signature color and will buy an item even if they don't need it or love it on them because it's in the perfect shade.  I'm a sucker for leopard prints and statement dresses.  My leopard and dress weakness has caused me to buy things I really didn't need, cuts I really didn't love, fits that really didn't feel comfortable on my frame.  Since joining Rent the Runway Unlimited, (new customers can use code RTRDC22F051 for $100 off the first month), I get to feed my clothing weakness without having retail regret.  Now I can rent it, keep it as long as I want, and long enough to have the fog clear and I can realize the item does not deserve space in my wardrobe or it's a worthy purchase. Full disclosure, I am a Rent the Runway Unlimited partner and have a free membership though I previously paid for my membership.. If I tally up all the retail regrets in my closet or in a pile to put up on Poshmark, it's several times more than a Rent the Runway Unlimited membership.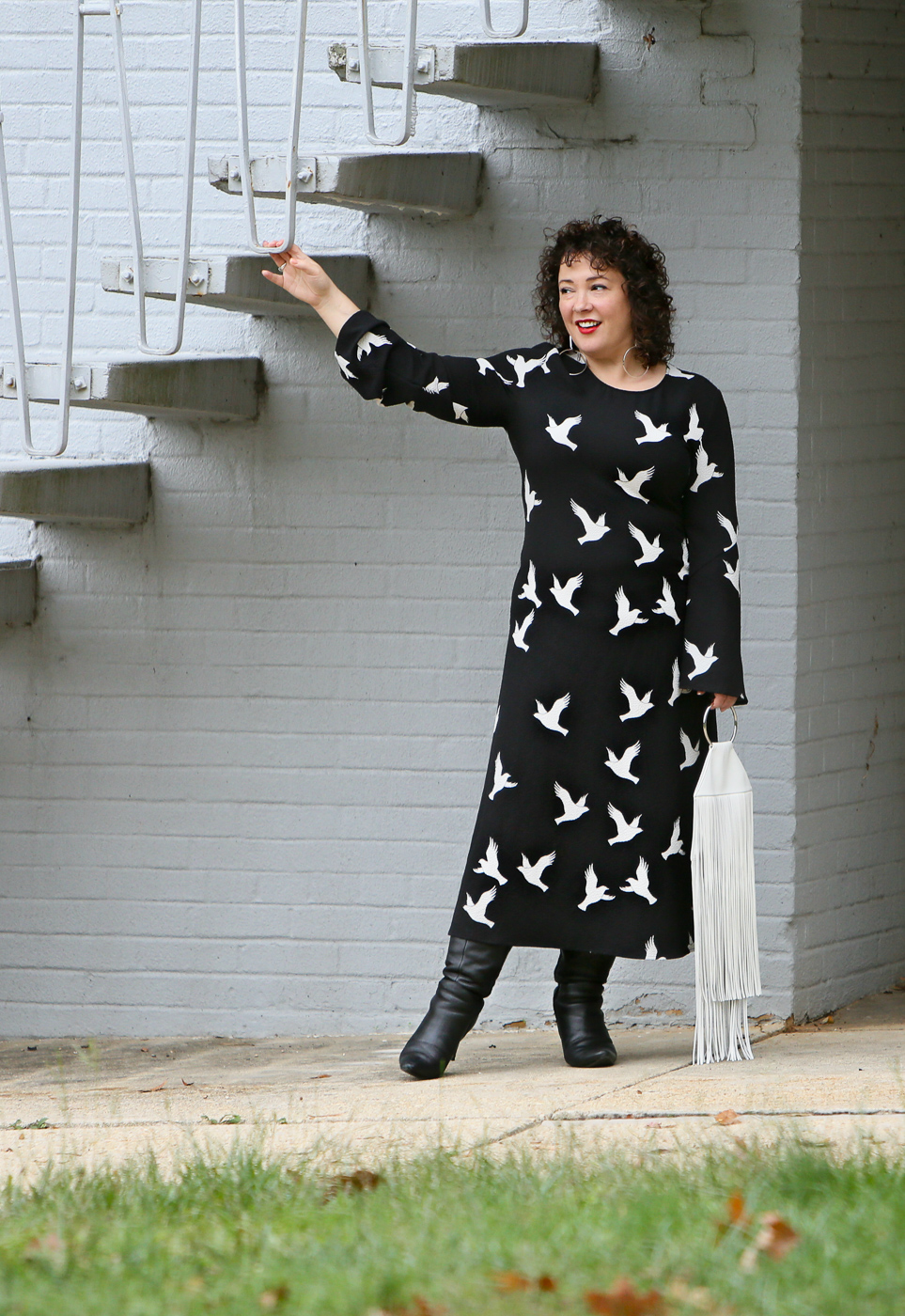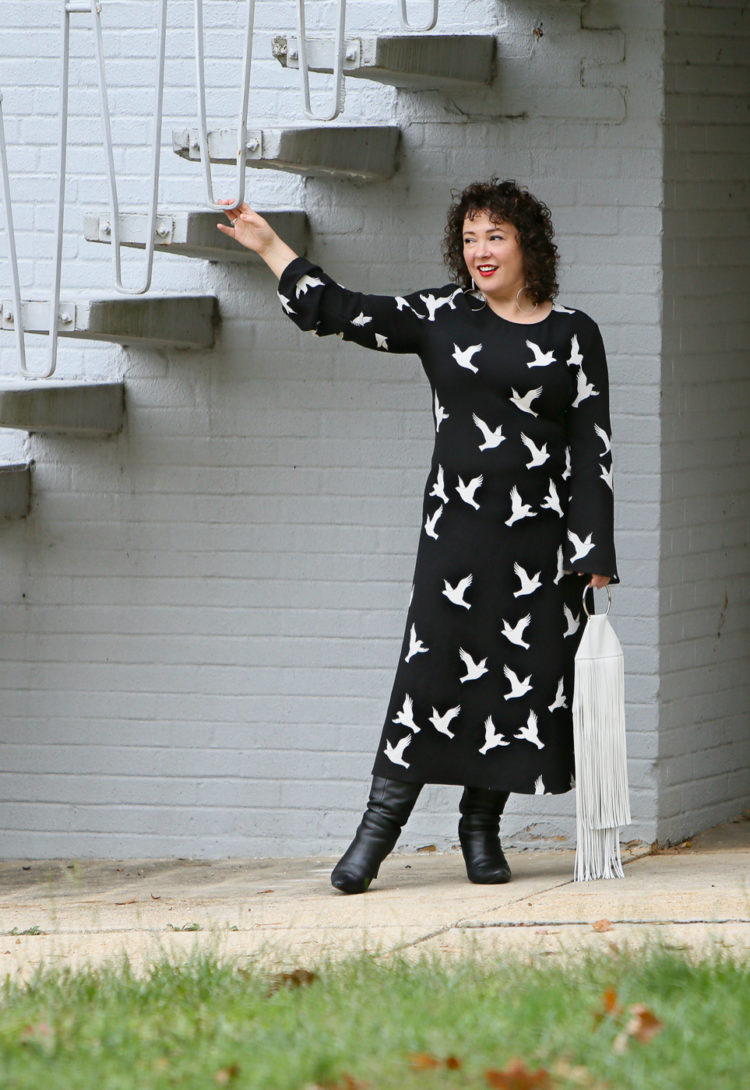 Dress: Stine Goya via Rent the Runway (XLR) | Boots: Ros Hommerson (old; similar and FYI I ordered and will have a review soon) | Earrings: Jenny Bird (old; smaller version) | Bag: KARA (old; similar concept) | Lipstick: L'Oreal in Eva's Red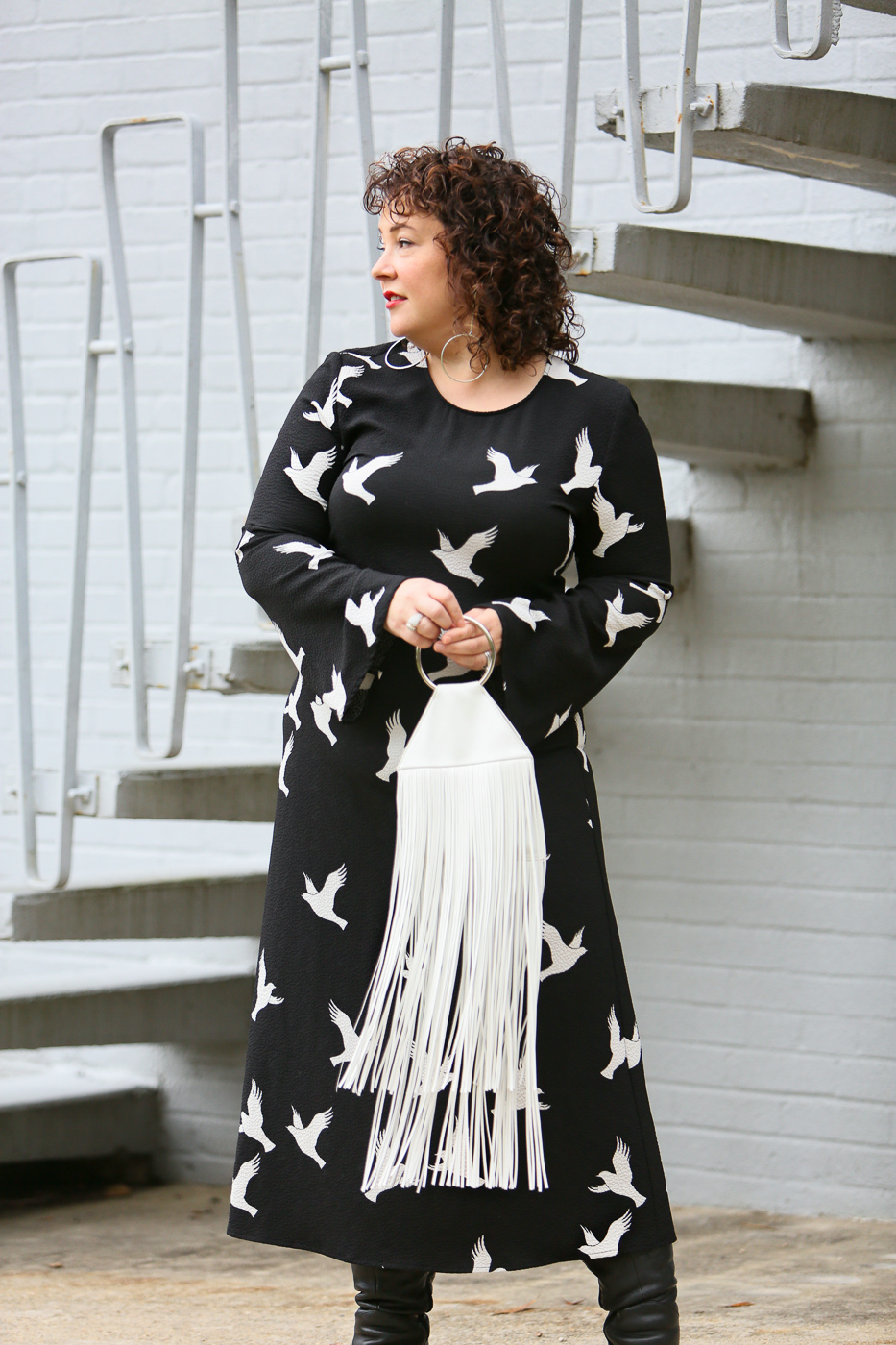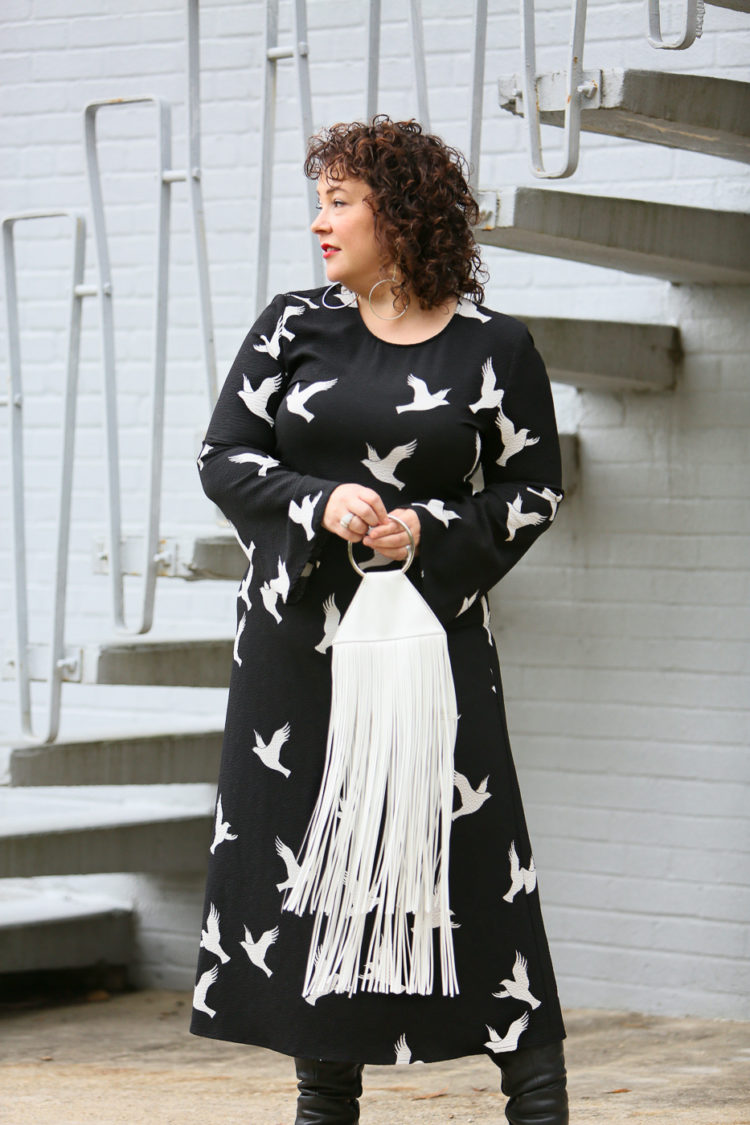 This is the kind of dress that in the past I would have purchased.  The bell sleeves, the bird print, the funky vintage-inspired I think I'm Christene Barberich silhouette… I always gravitate pieces like this. I put them on and feel moody and modern.  Maybe I can get away with air-dried hair and just a bit of mascara and brows.  I think this would look so chic with a pair of combat boots, and mismatched earrings, and maybe a sculptural ring.  I put it on, I do The Pose (I know I am not the only one who does a certain pose in the mirror every time they try on clothes), I get into this zone.  I've learned to know when I am in this zone, and look for a reality check from my husband, my sister, and a couple of friends who won't roll their eyes when I, a professional fashion blogger send them a mirror selfie asking their opinion. For this dress, my husband was there to give me tough sartorial love.  No, the combat boots with it made me look like I was wearing a witch costume.  My boobs are causing the top portion to hike up. The length is a bit odd, the sleeves are too long, the fabric doesn't look luxe how much is it again?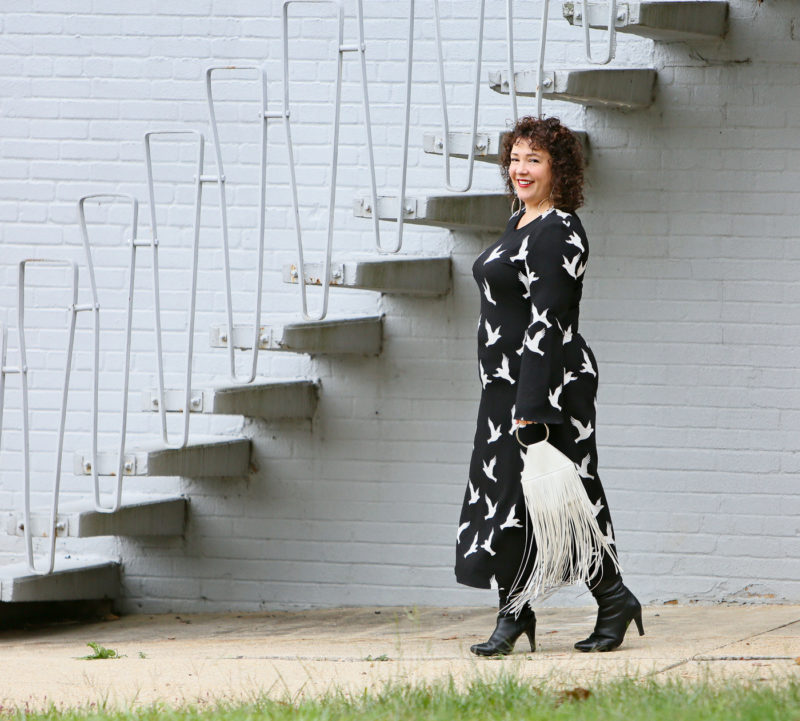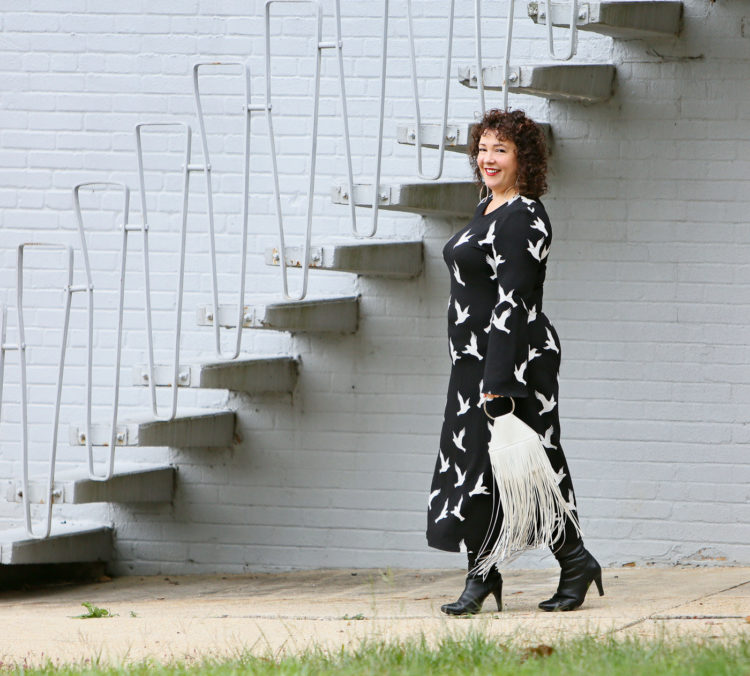 I changed to a more slender tall boot with heels, removed the mismatched small artsy earrings and put on more of an "Allie" statement pair. Removed the ring which seemed to be competing with the sleeves. Added some color with red lipstick. Way better, kinda fun… but still not worth buying.  Glad I rented it.  I can wear it once, maybe twice, then put it back in the reusable shipping bag to get another item in a few days.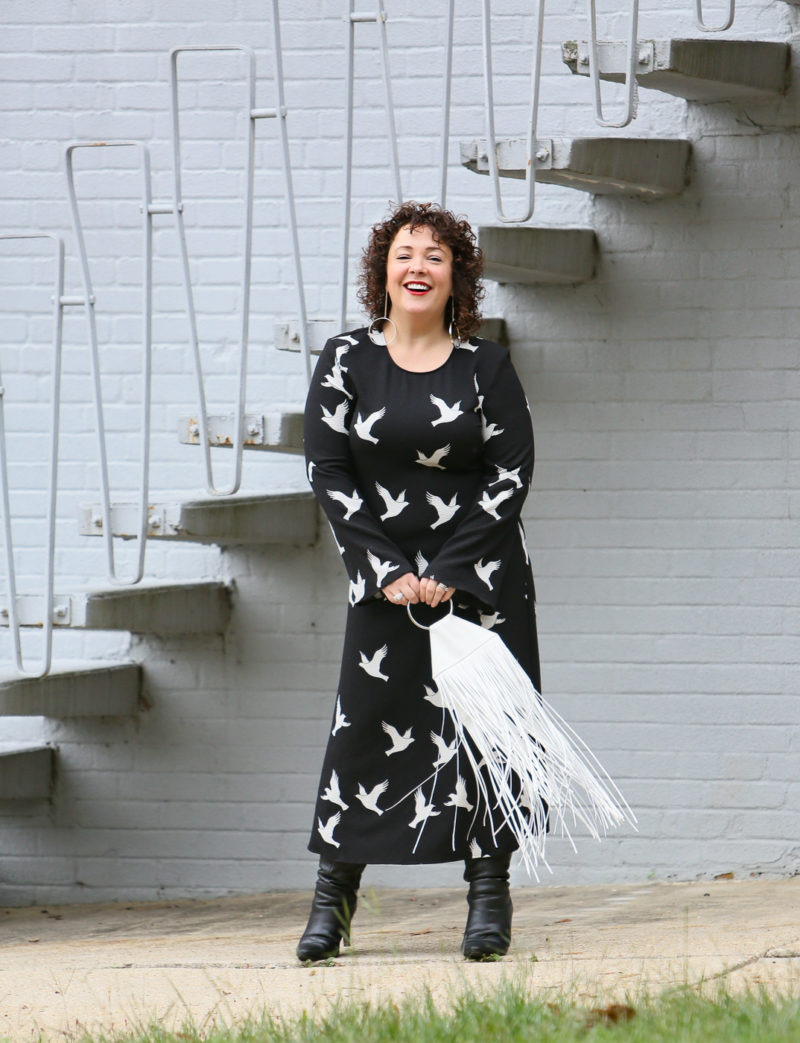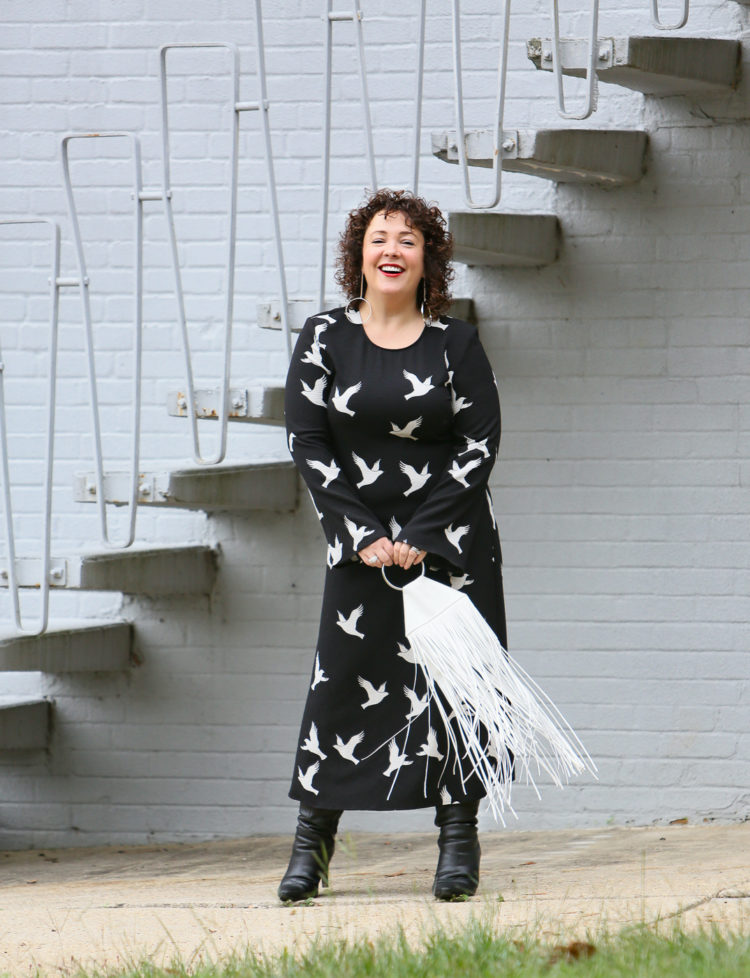 If you go through my closet, it looks drastically different from what it did two years ago.  Sure, I now work from home for myself so I have less need for work trousers, dressy sweaters, and pumps.  But I have also reduced my printed dress collection.  By renting and having the freedom to admit I made a bad decision or am trying to justify only a mediocre piece that is a good buy or has a difficult return policy, I've saved money, shrunk my wardrobe, and have learned to become more discerning with any purchase I make for my wardrobe.
Shop Black and White Modern Print Midi Dresses: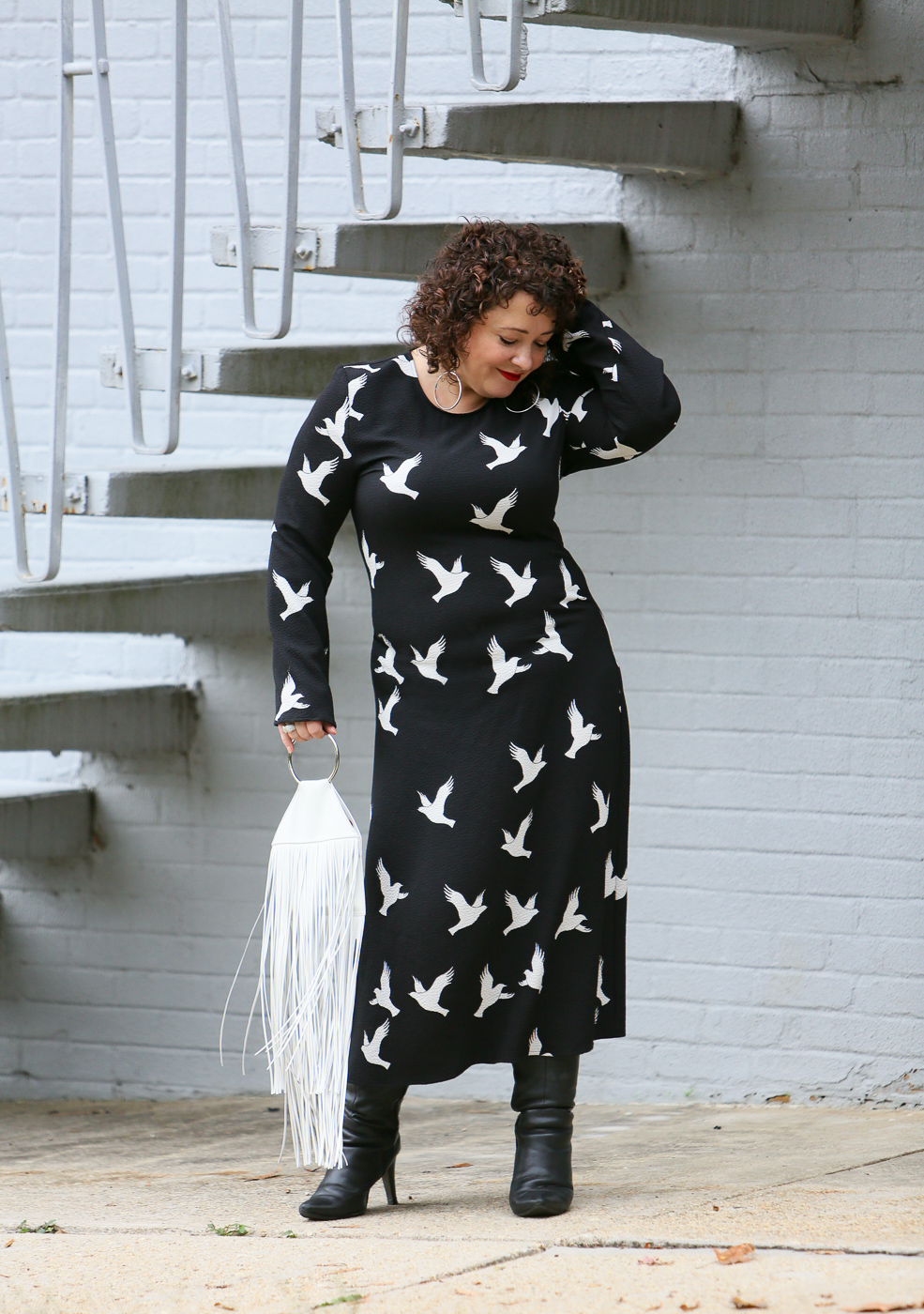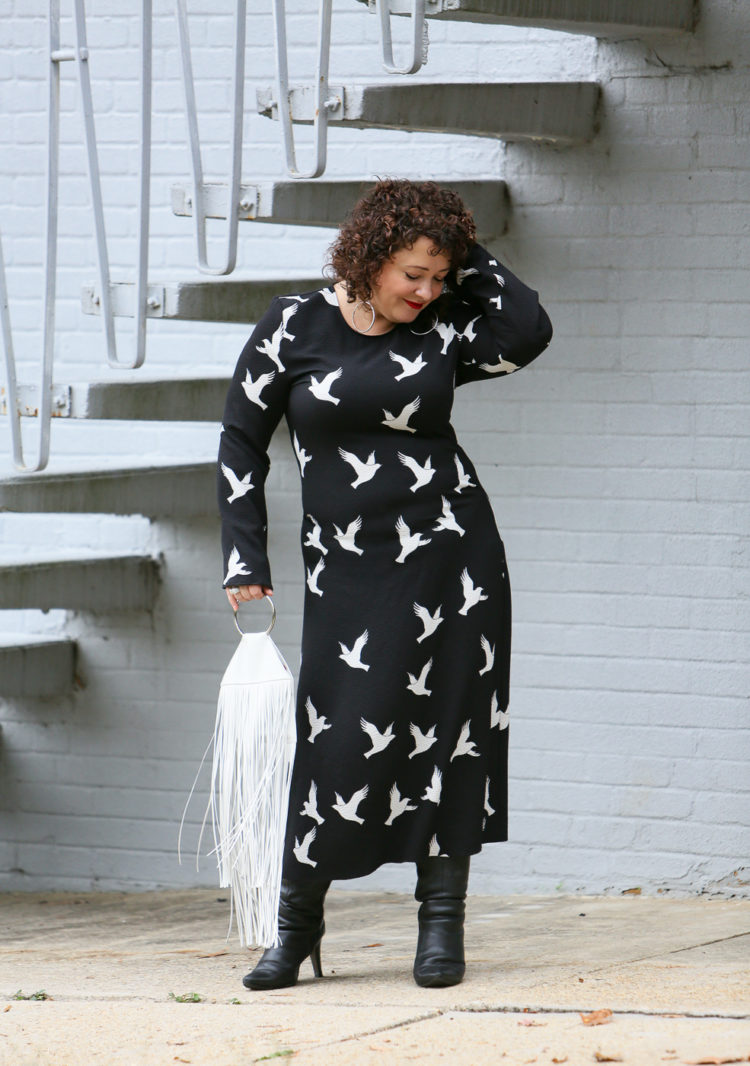 Rent the Runway can be frustrating for my size.  I'm not a boutique brand size, but I am not plus-sized.  I'm also 5'3″ and curvy.  This dress arrived in a delivery with a pretty badass looking blazer from Tanya Taylor and a sequin belted blazer from Badgley Mischka.  I'm not familiar with Tanya Taylor and went with a 14; it was so boxy it fit like I was still a tween and borrowed it from my dad.  The Badgley Mischka blazer was another piece I would have purchased and regretted it.  Super sparkly, so fun, and stretchy too!  I pushed up the sleeves, belted it, loved it with my bra peeking out with some jeans and heeled boots.  But it was a bit too boobalicious because each time I sat, the neckline, which was gaping because the waist was in the wrong place because it was made for a taller person, would open so much a breast would almost fall out.  So I put on a cami, and suddenly I looked like Vegas Performer at a Board Meeting.  I tried a silky collared shirt, a different cami, even a turtleneck and all of it was terrible.  It made one appearance in an Instagram post (second photo) and then went back to Rent the Runway.  This often happens with the brand, but it often happens when shopping in a mall or online.  The difference is I don't try to justify my choice, or blame my body for it fitting wrong.   But every so often, there is such a winner I don't want to send it back.  This jumpsuit was fun to wear several times.  This dress as well.  And this bag I still have in my possession and really enjoy wearing this fall.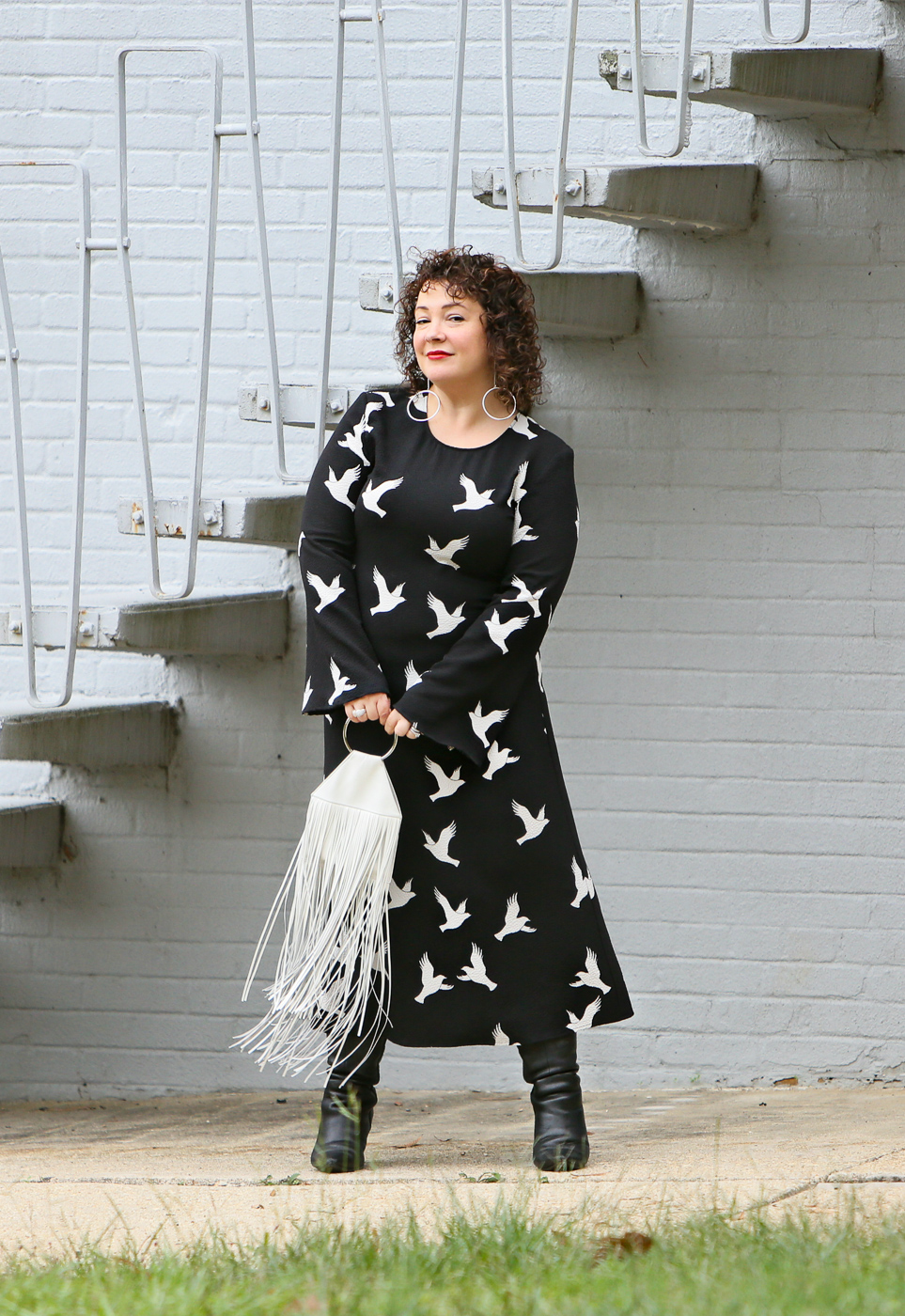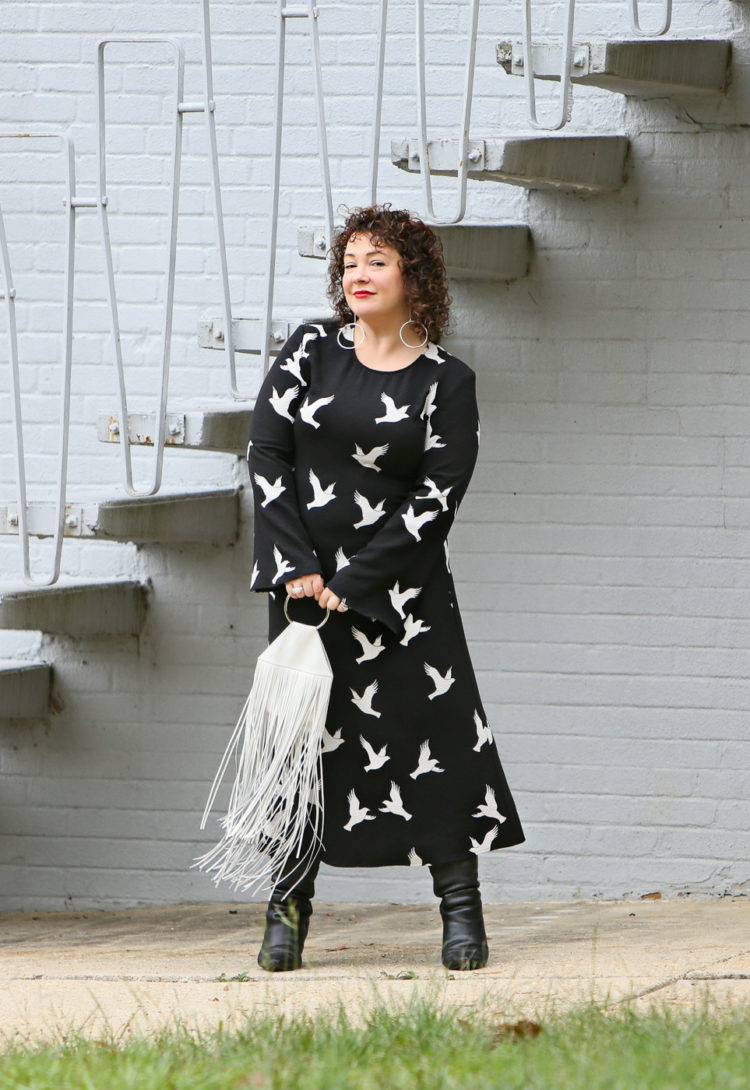 Rent the Runway Unlimited isn't for everyone, but I am enjoying my experience with it.  If you do want to try it, you can use my code RTRDC22F051 and get $100 off your first 60 days. The perks a Rent the Runway Unlimited partner (who I am hence my free membership) vary; for each person who signs up with my code I can get things like another spot in my account or another month free.  I do not get paid by Rent the Runway nor am required to write this post. The links within this post are affiliate links; if you use them I may make a small commission off your purchase.  For more information on affiliate links and promo codes, this post delves into how blogs and other websites make money.
Shop the Look: