This article may contain affiliate links; if you click on a shopping link and make a purchase I may receive a commission. As an Amazon Associate, I earn from qualifying purchases. 
For the fourth year, cabi has hosted cabi Blogger Day where they invite a handful of influencers to cabi HQ for a bit of a behind the scenes, a sneak peek of the upcoming collection and a lot of fun. I have worked with cabi for a while and was honored to be one of the bloggers invited to this year's cabi blogger day.
Cabi flew me to LAX airport, where a driver was waiting for me to take me to the Belamar Hotel in Manhattan Beach, California. A beautiful boutique hotel, my room came with a record player and you could borrow vinyl from the front desk and bikes available for rent. I unpacked and decided to take a walk around Manhattan Beach to stretch my legs after the flight.
Through cabi, I've made friends with bloggers from all over. I love how cabi doesn't randomly pick influencers to work with, but ones that fit their style, their demographic, but also their personality. Every blogger I've met through cabi has been so kind, so giving, and so much fun. This includes Lisa and Jenna from the Canadian blog Savvy Sassy Moms. I first met them at cabi Conversations last year, then at the Scoop. I was psyched they were also invited to cabi Blogger Day; they texted me when they got to the hotel and we got together for bite and some sips before heading off to our rooms to rest up for the next day.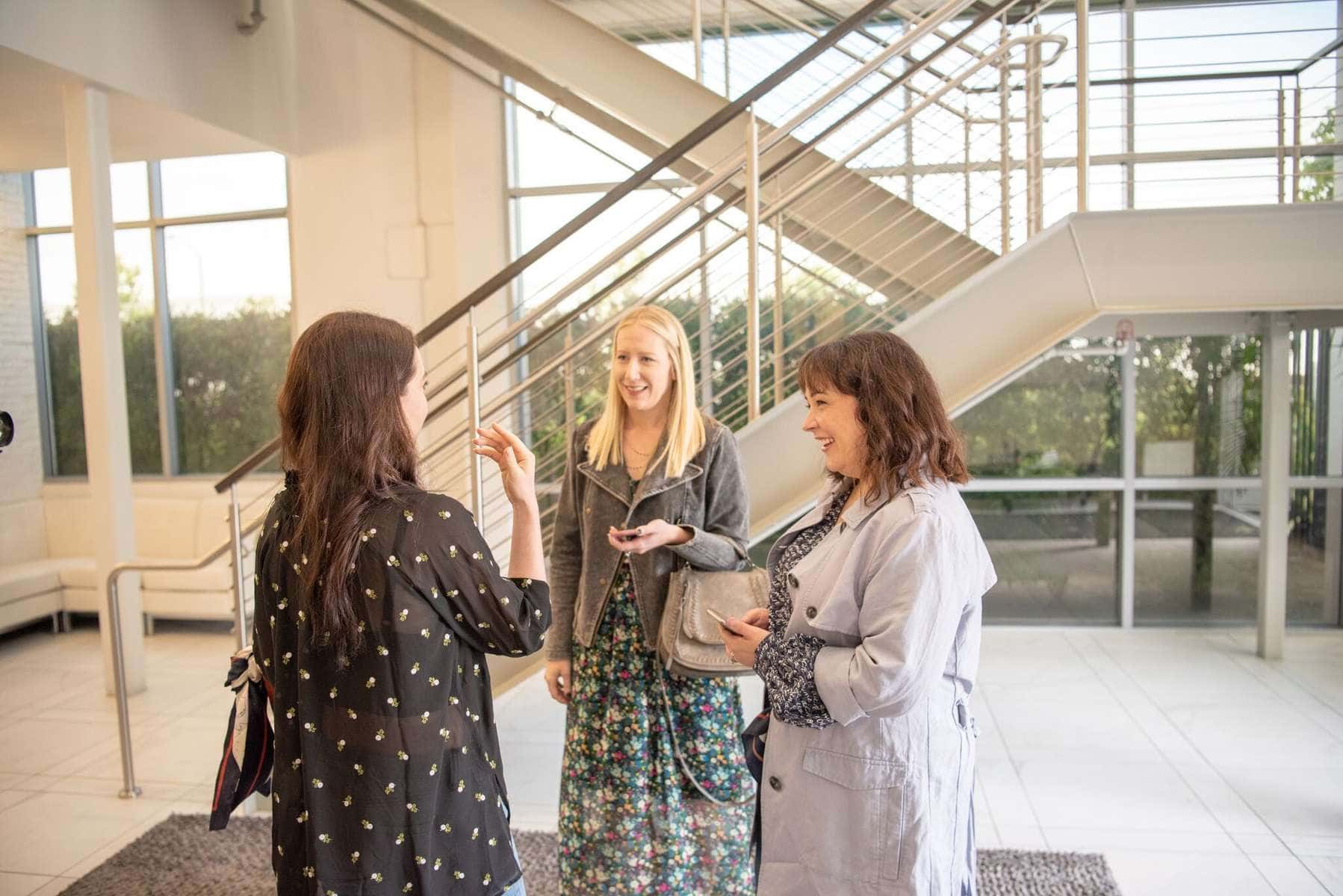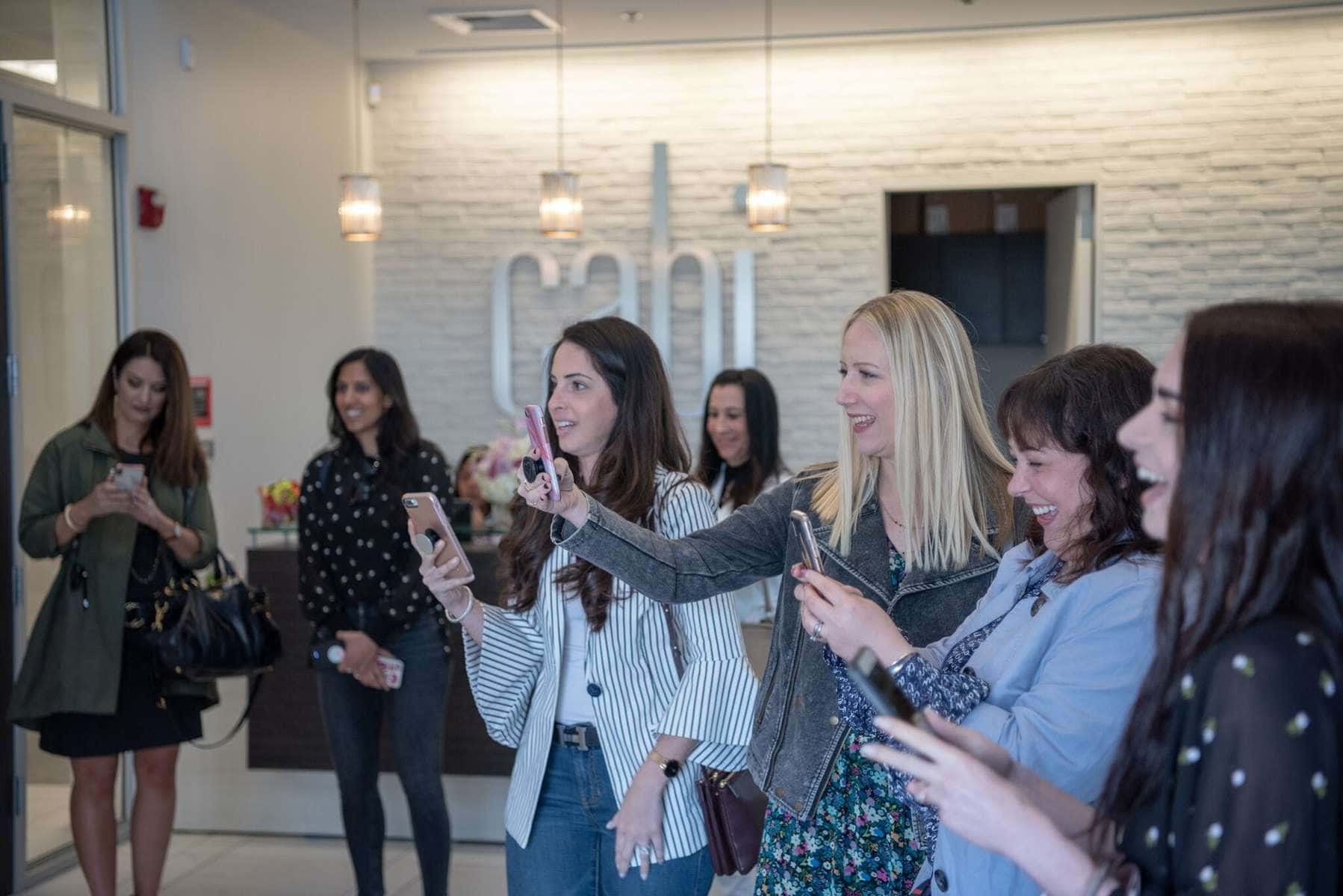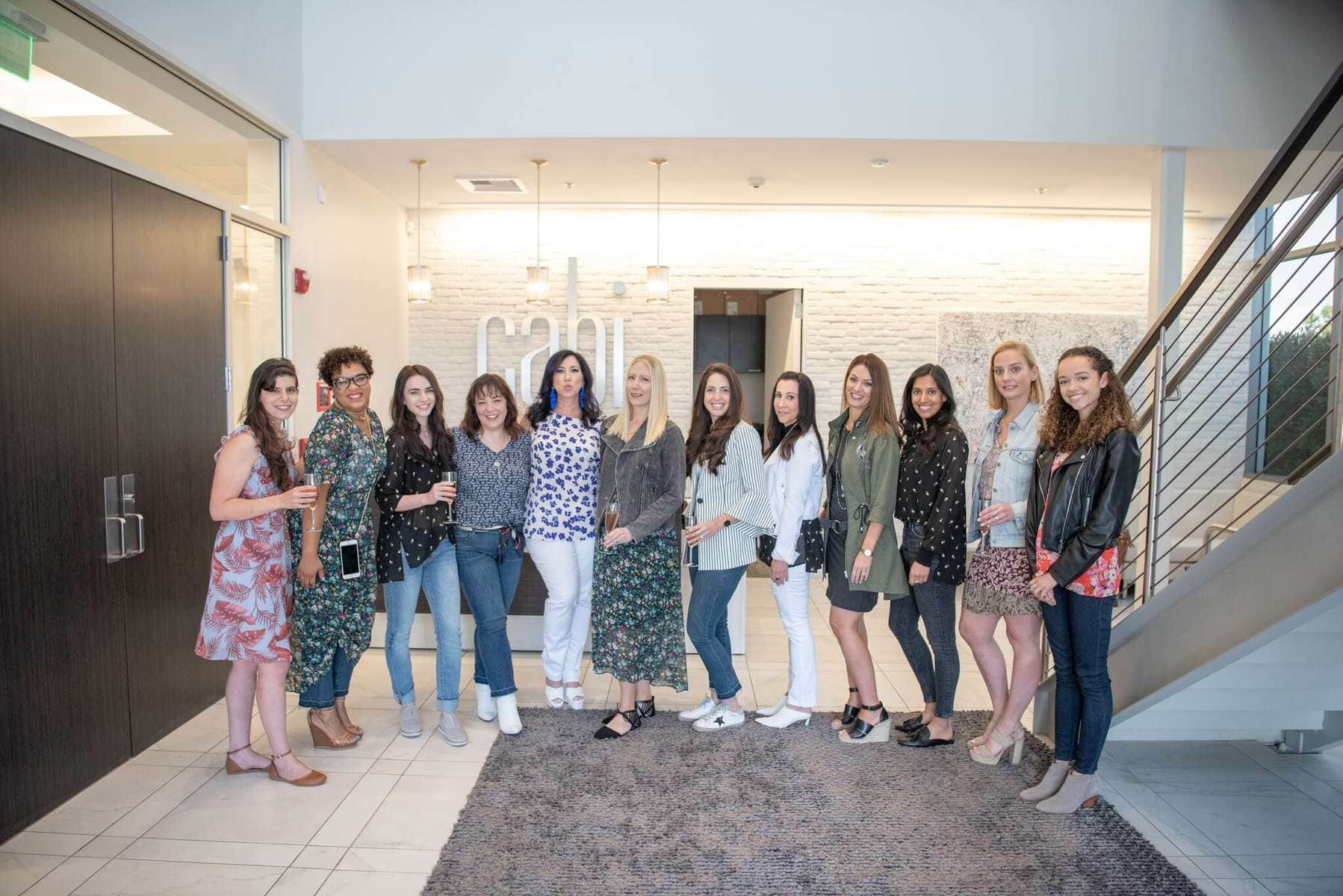 The next morning all decked out in our favorite looks featuring cabi's Spring 2018 collection, those of us bloggers from out of town met in the hotel lobby. It was me, Lisa and Jenna from Savvy Sassy Moms, and Lauren Toews along with some members from the PR company. We took a car to the cabi offices in Carson, California. Eboni, a previous blogger and now the Senior Digital Marketing Manager for cabi met us in the lobby. I remember Eboni from her blogger days and I've seen her move up at cabi and do great things. It's always a pleasure to hang with her. There we met up with Sharon from Cupcakes and Cutlery and Romy from Romy Raves who I met at cabi Conversations and were introduced to Nancy from Happily Ever Nancy, Alyssa Mopia, and Alicia Spaulding, a local cabi Stylist.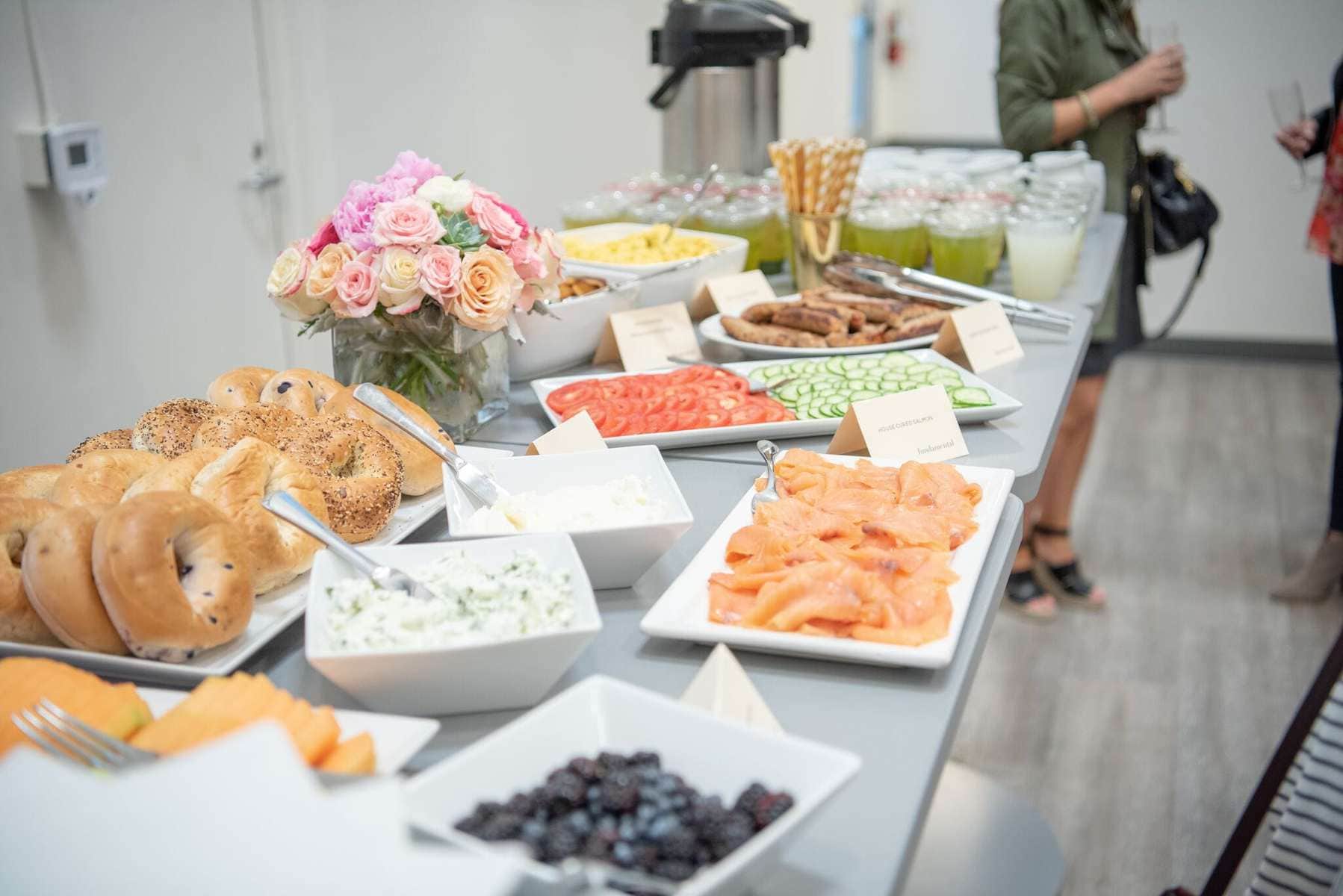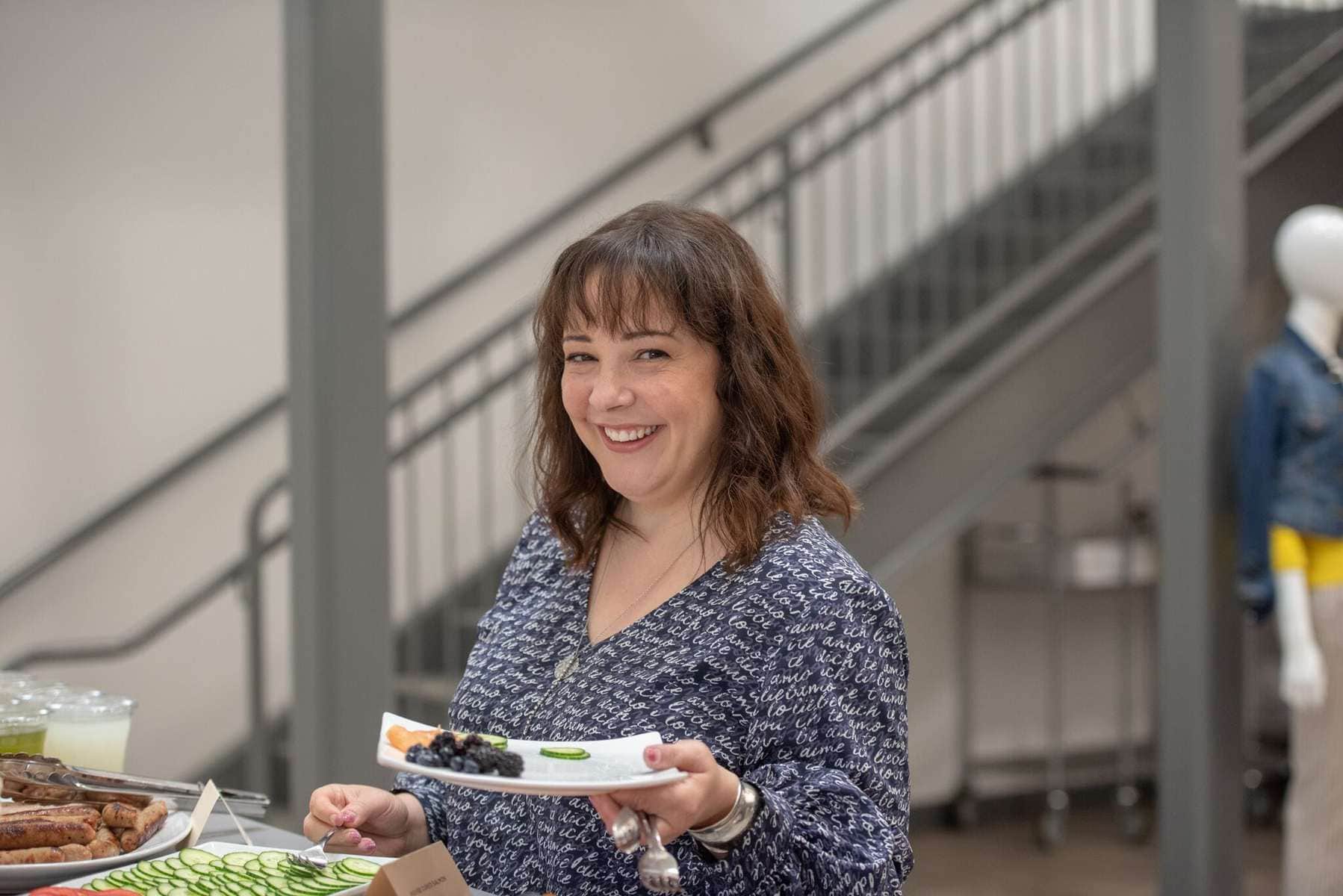 Cabi provided us with a gorgeous breakfast. Many members of the cabi exec team including Lynne Coté, cabi CEO, joined us. I love how they make themselves so accessible to us, answering questions honestly, chatting about life, cracking jokes. As a blogger, I have had the opportunity to connect with designers and exec teams of brands, and cabi continues to stand out as some of the most genuine, personable folk. I was impressed to see throughout cabi Blogger Day that cabi was using most of the same photographers, videographers, hair, and makeup pros that they used at different events even with those events in different states. I've been the person hired for such positions and I've been the one to hire for those positions and to see continuity even with the cost associated with it is impressive and a good example of how cabi values relationships and those they work with.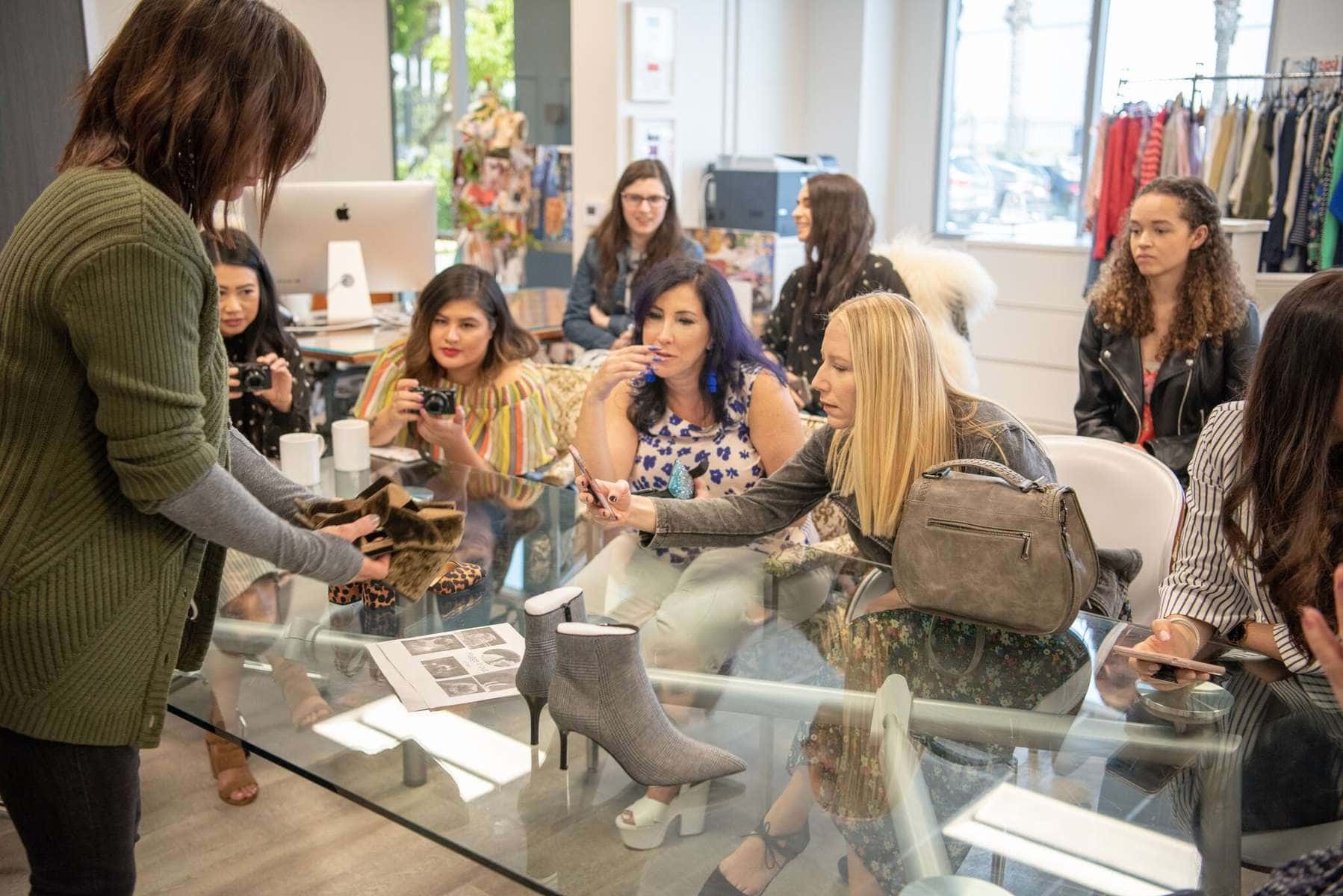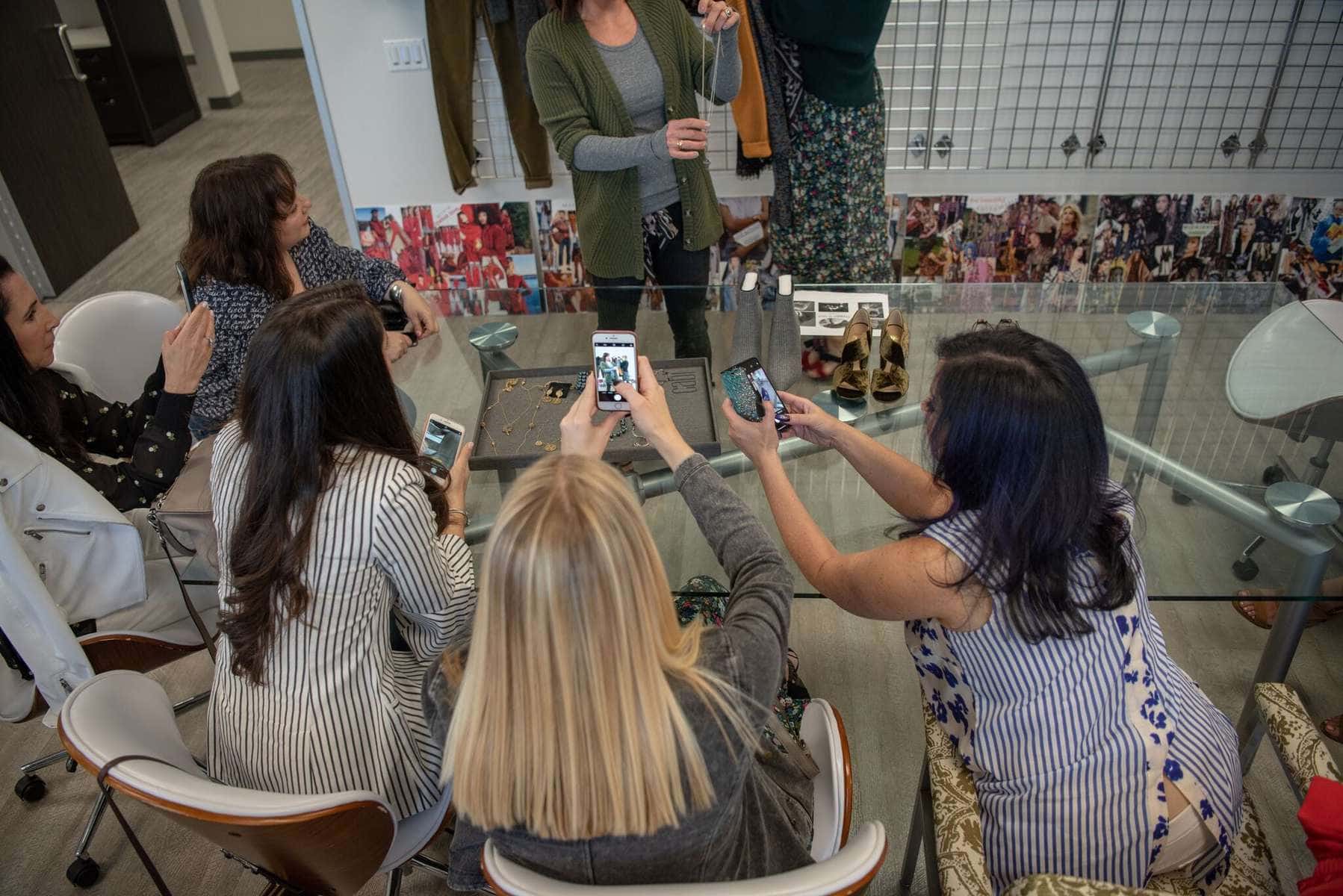 We then met with cabi Chief Design Officer, Kat Woodside, and Fashion Director Becky Jantzen. They gave us a sneak preview of the Fall 2018 collection. We saw mood boards that showed their thought process, got to see and touch the collection, and learn the versatility of the pieces and ways to style them. I am excited about this collection, there's a lot of great pieces and it's hard to see their awesomeness just on pages of a website or catalog.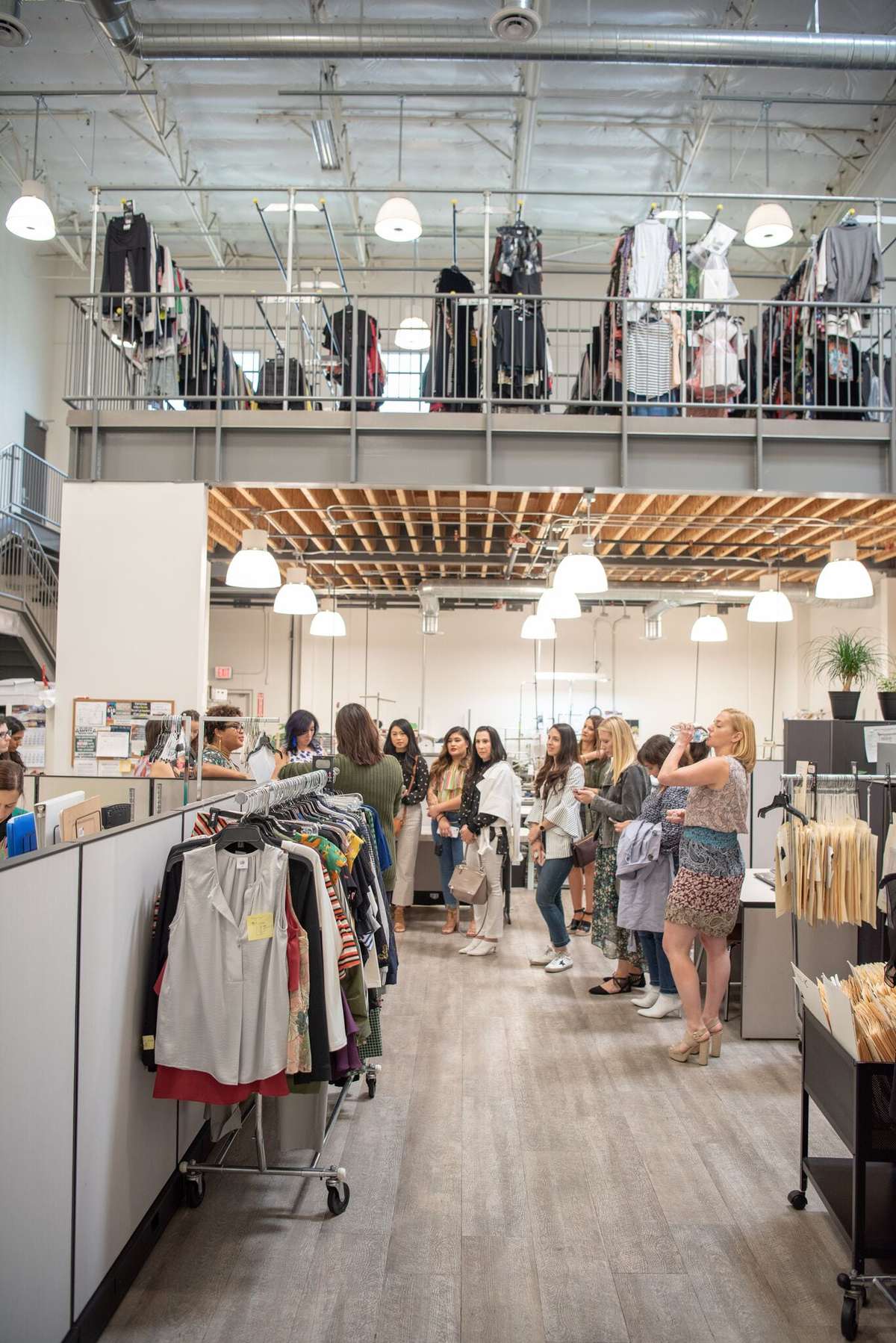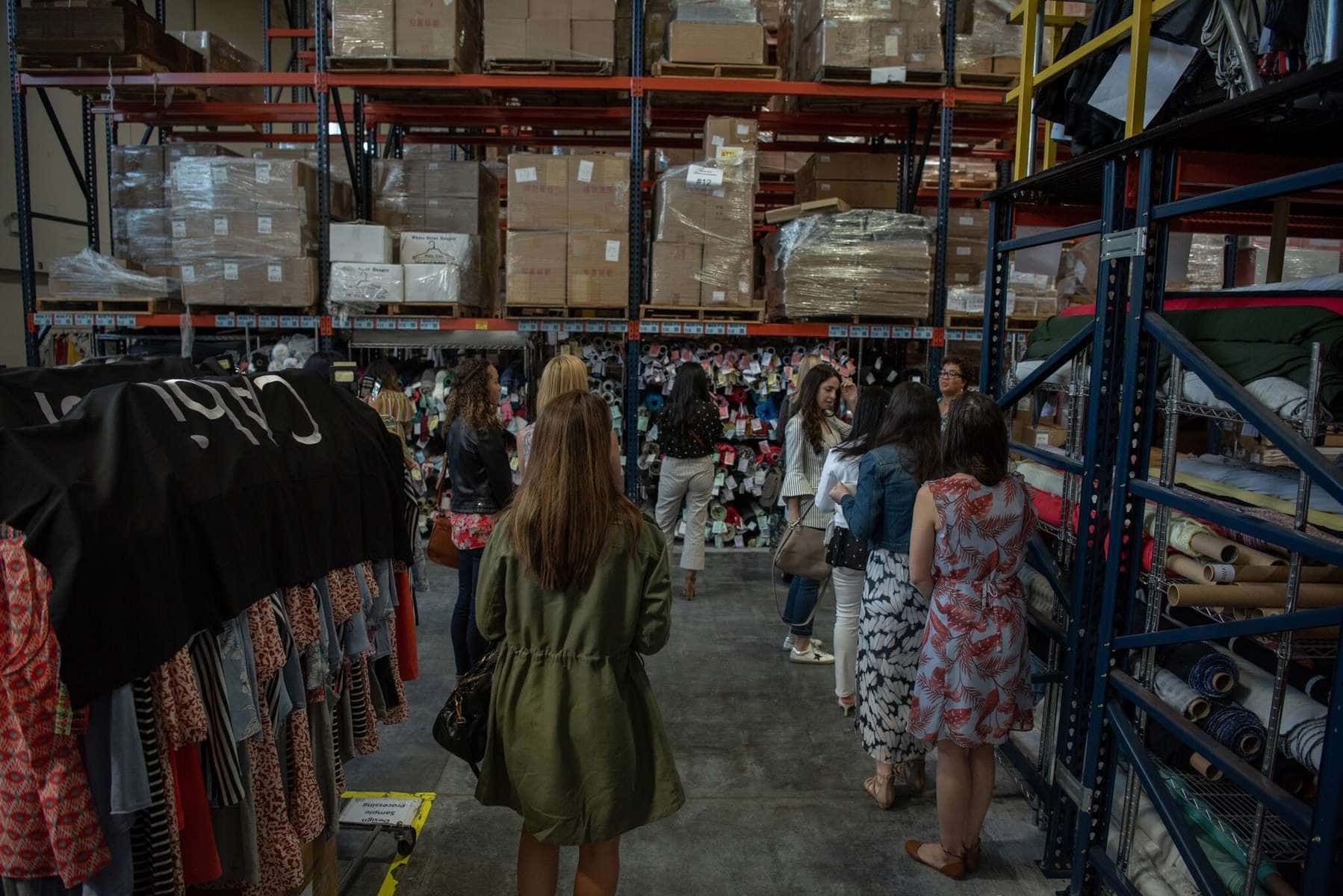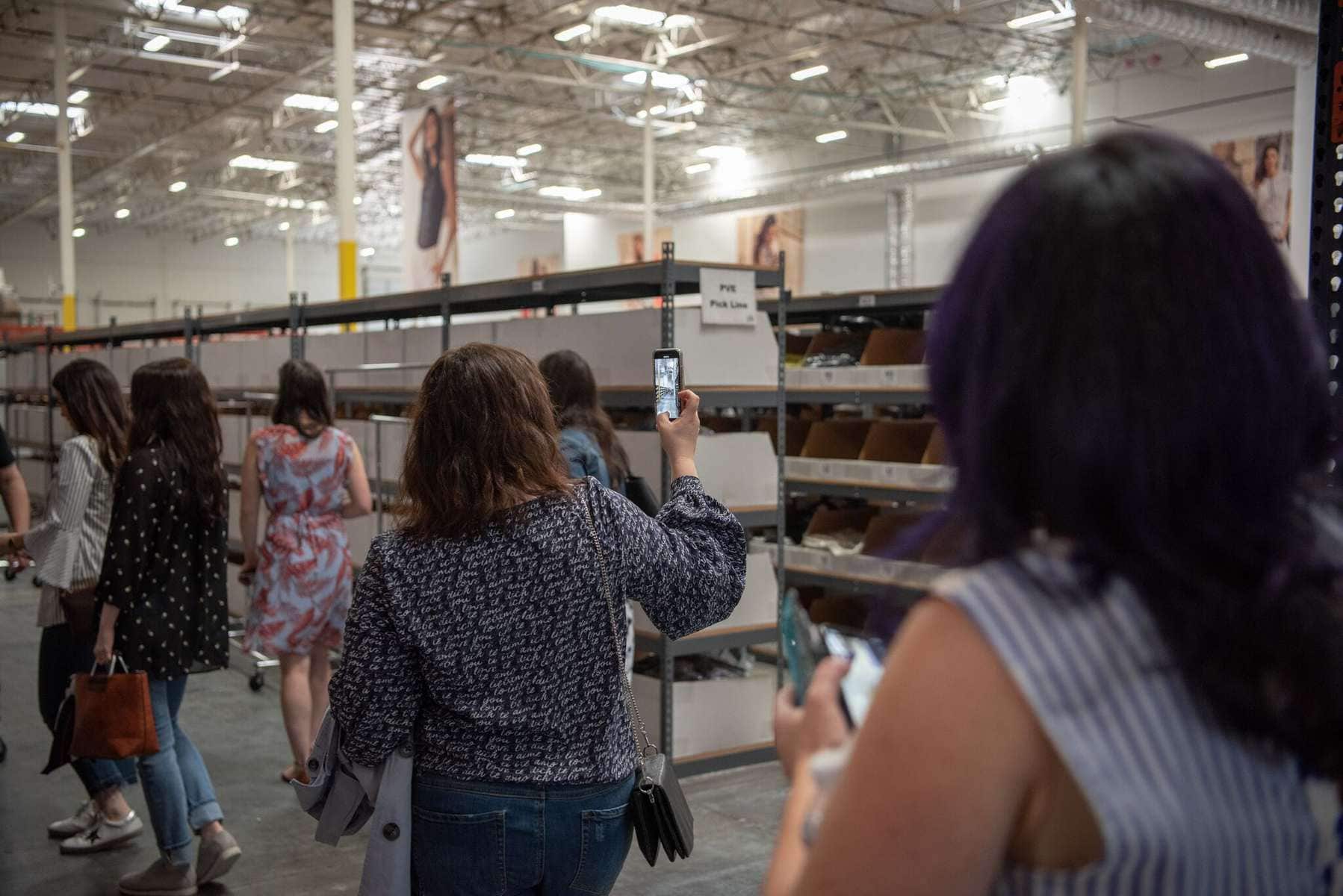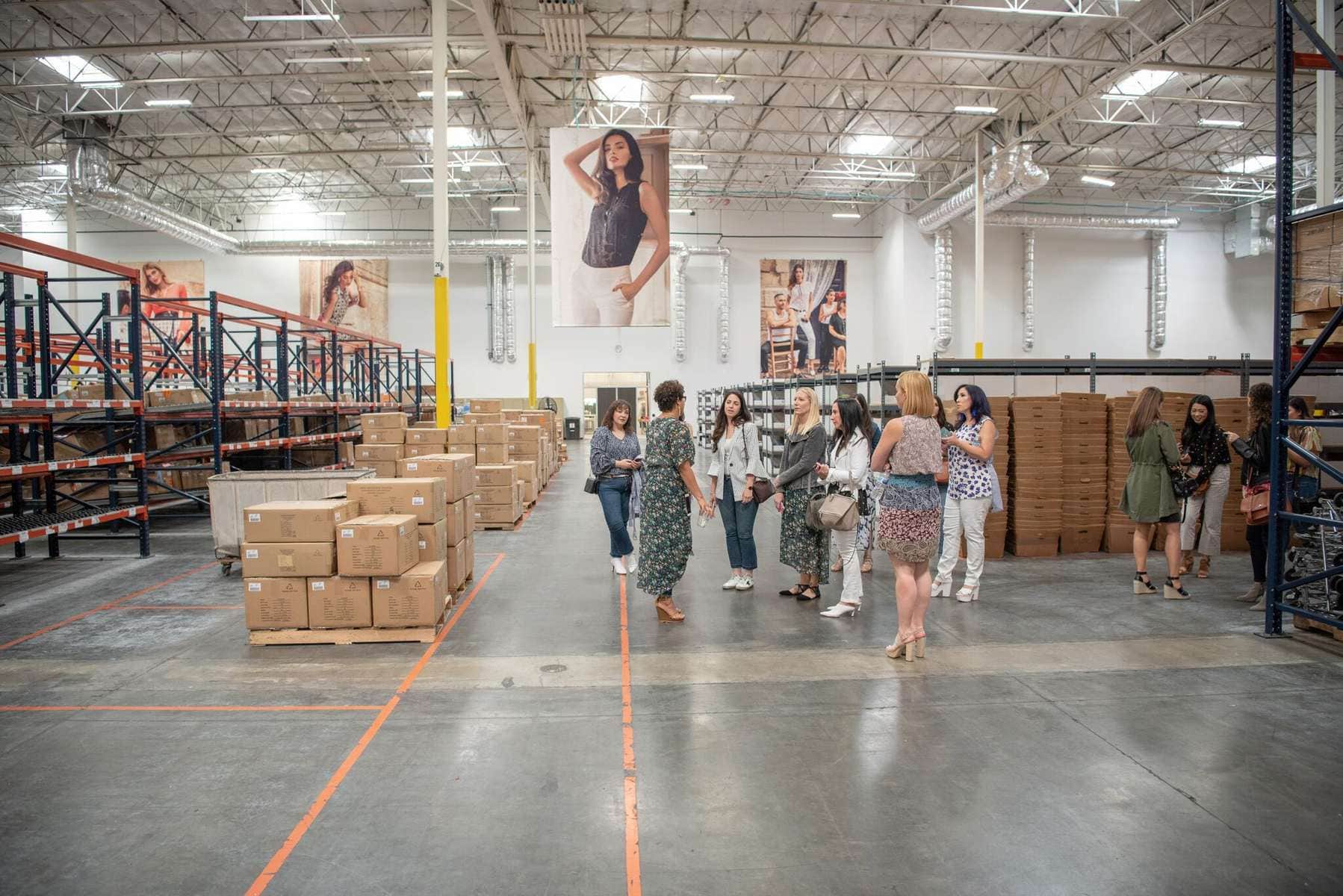 We then got a tour of the cabi offices and warehouse. We met the pattern makers, saw where the samples are sewn and crafted, walked past the archive of all previous cabi looks, saw the bolts of fabric, and more. All cabi clothing is designed in-house. Samples are created right there in California, analyzed, edited, perfected. Though cabi has become a huge company, you get the feeling of a small business at their offices. Everyone knows one another, there isn't a lot of turnover, it's a very friendly and relaxed environment and they are all uber passionate about the business.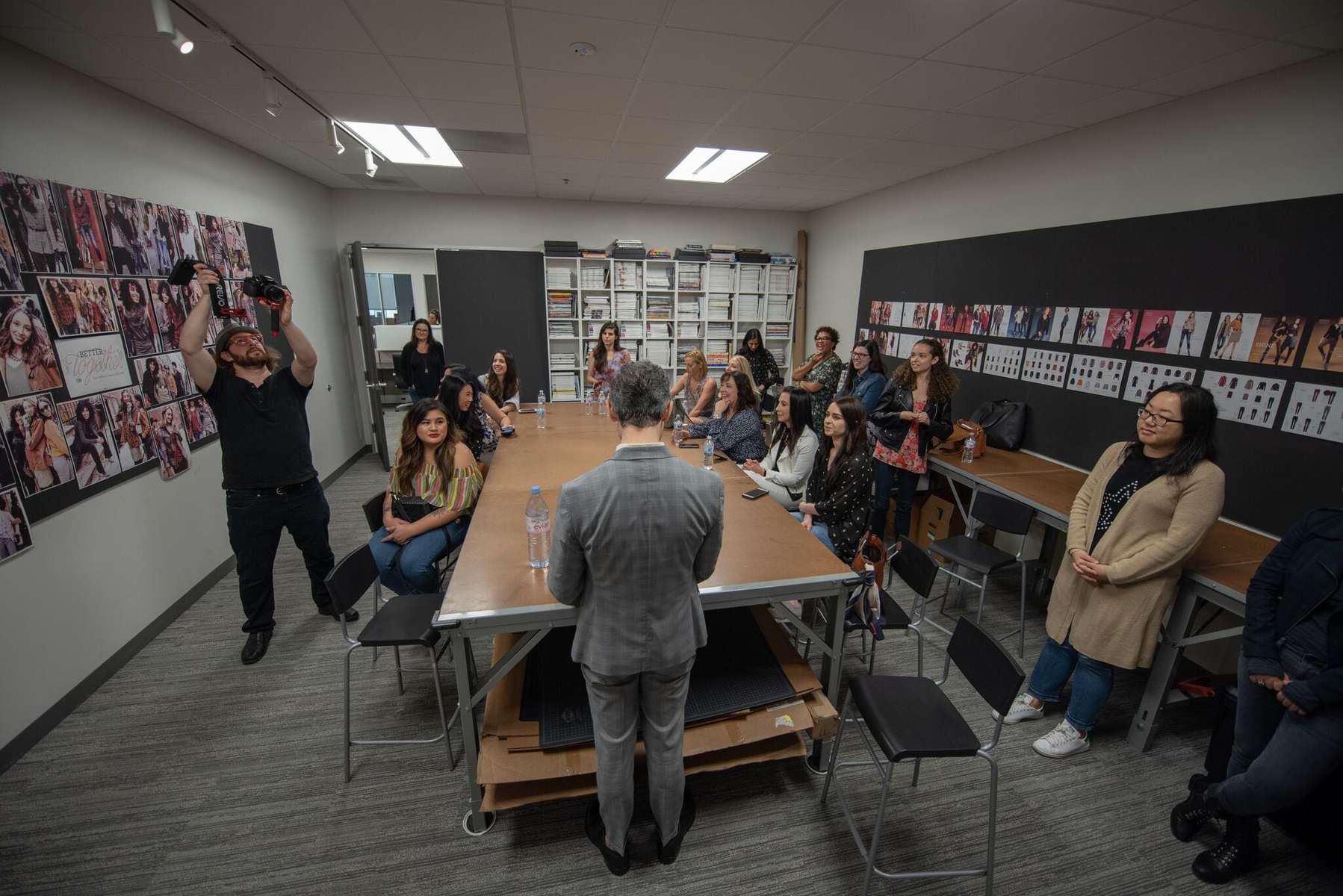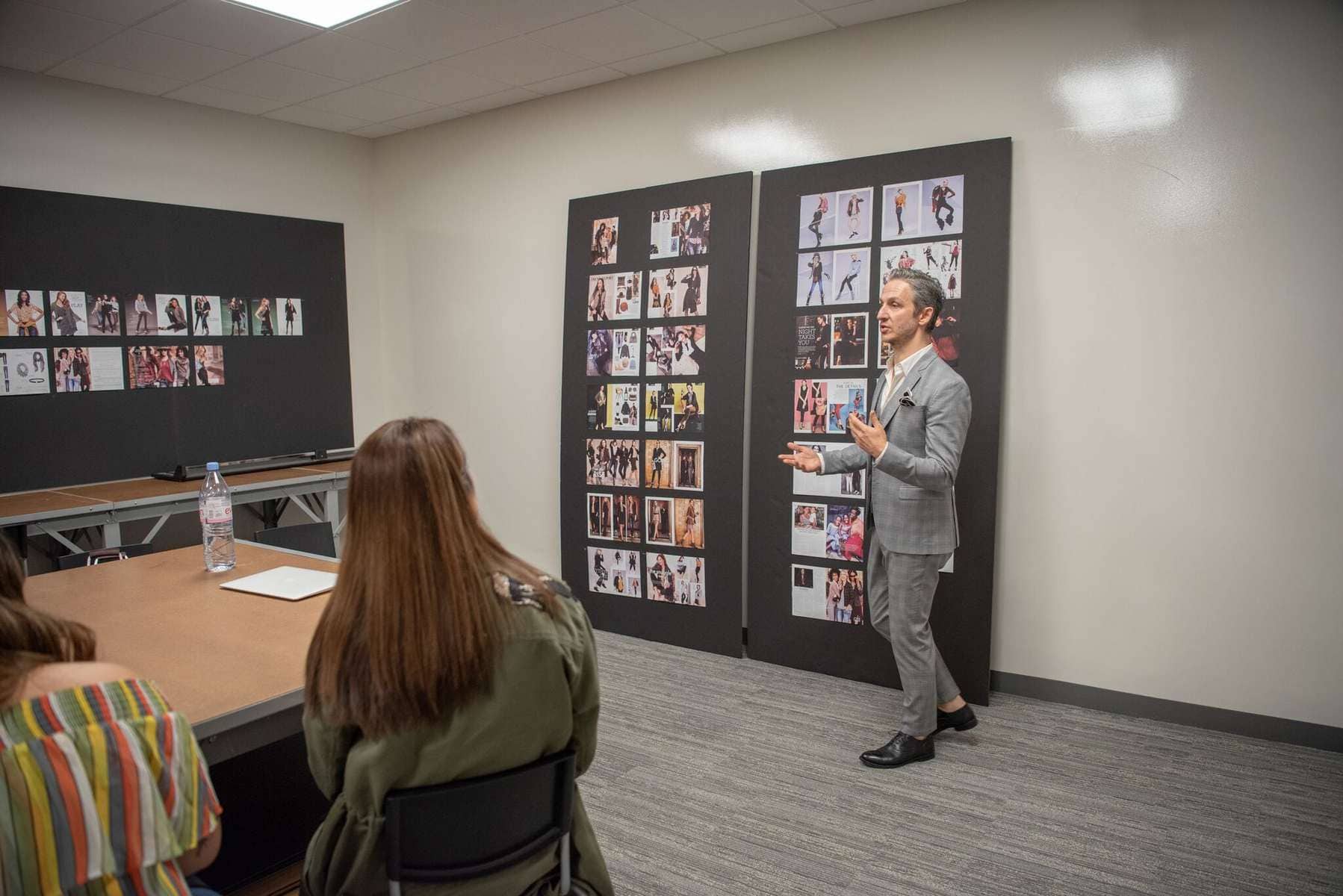 We then headed into a room that had a wall of bookcases filled with magazines. Executive Creative Director Daniele Trussardi joined us in there, he said the magazines offered him inspiration and tucked in the bookcases were rare old issues of Vogue and other fashion magazines. On the other walls were photos of the fall line, pages from cabi's lookbook and their magazine The Notion. I loved seeing such a variety of models, not everyone a size 2, women of many ages, and a mix of ethnicities. We got to learn how the lookbook is put together and get a preview of the fall video (you can see it here).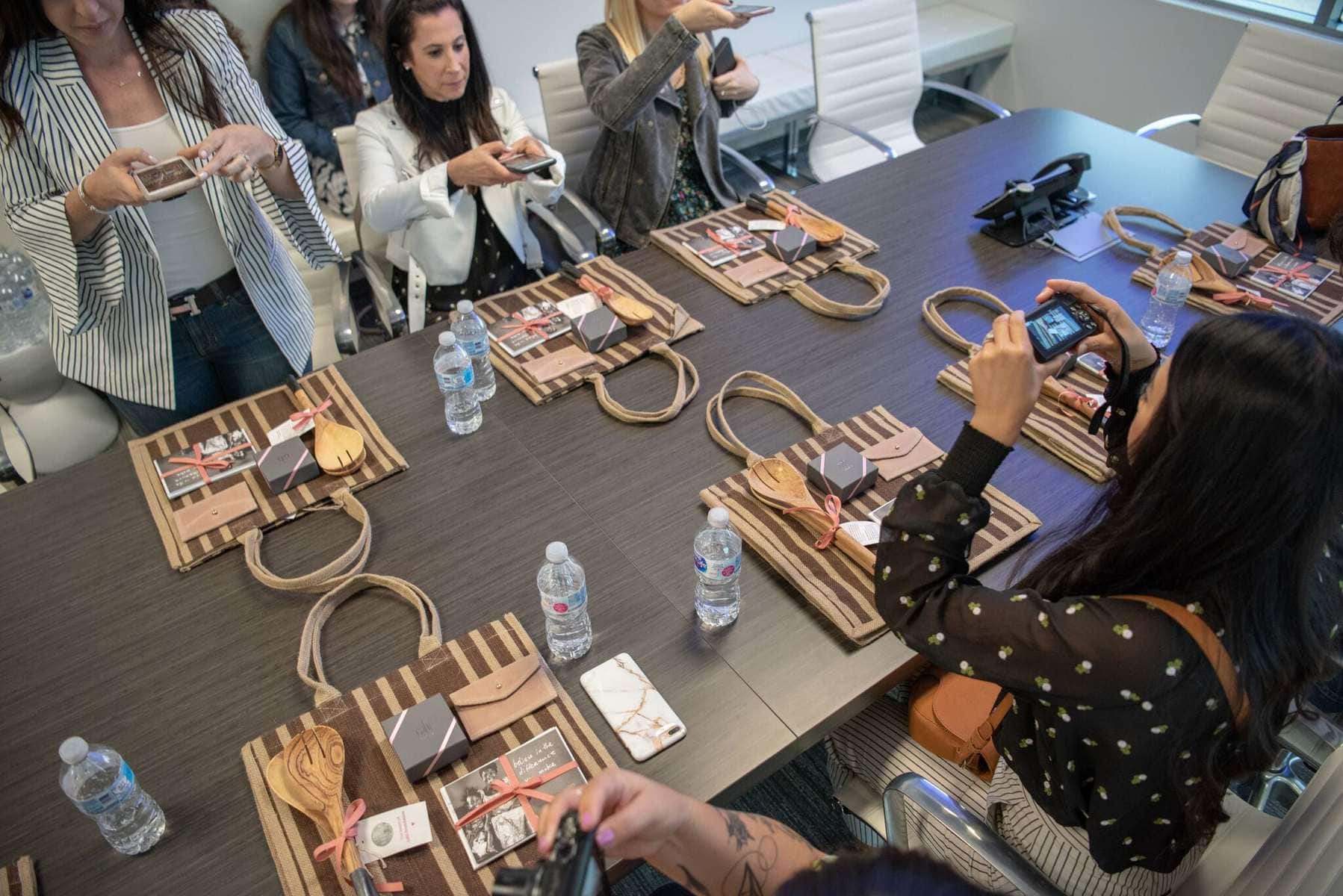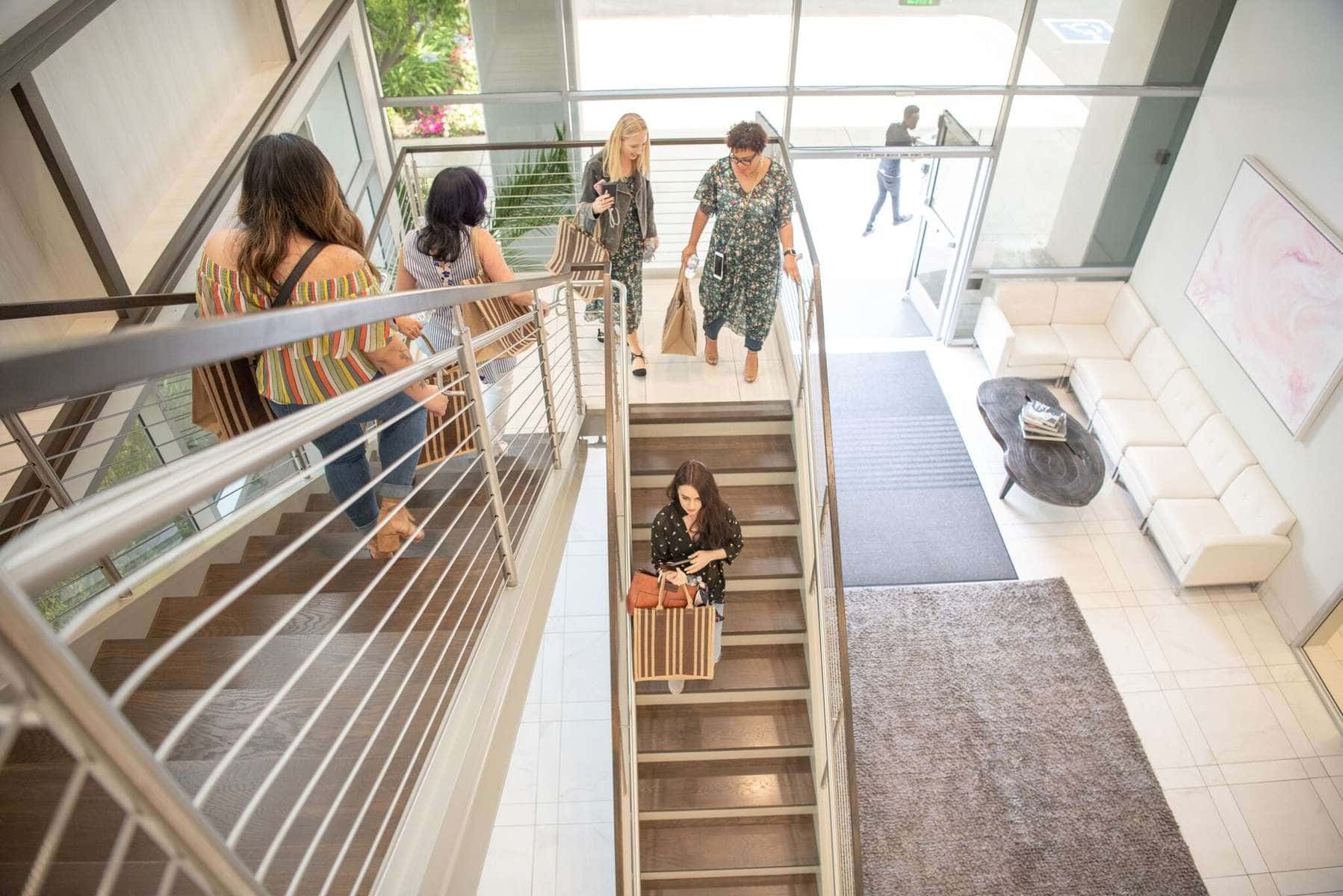 Emily Sanders, Director of Brand Messaging & Content Strategy for cabi then taught us about the Heart of cabi Foundation and all that cabi does to empower women around the globe. Each Stylist that joins cabi is partnered with a woman entrepreneur somewhere in the world. Cabi provides that woman with a microloan. Cabi Stylists invite their customers to round up their purchases, that bit of change is sent to that Stylist's sister entrepreneur to help her start a business and be able to support her family and improve her community. We were given gifts of bags, bracelets, and other items made by the women who have benefitted from the Heart of cabi Foundation.
After this presentation was lunch. We headed to the same place where we had breakfast to find place settings with small succulents holding tags with our names. A delicious meal, plenty of rosé and macarons, and plenty of fun conversation.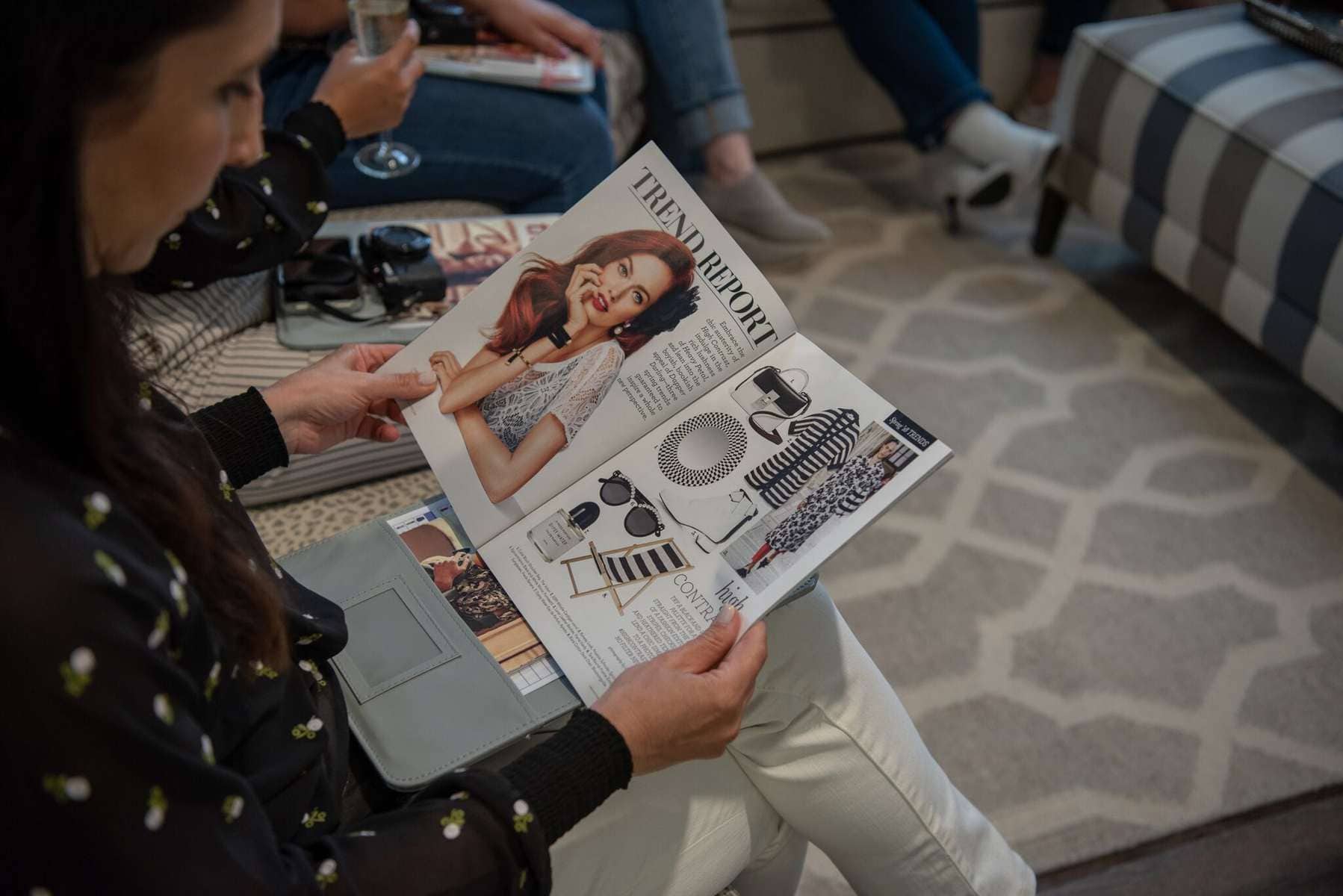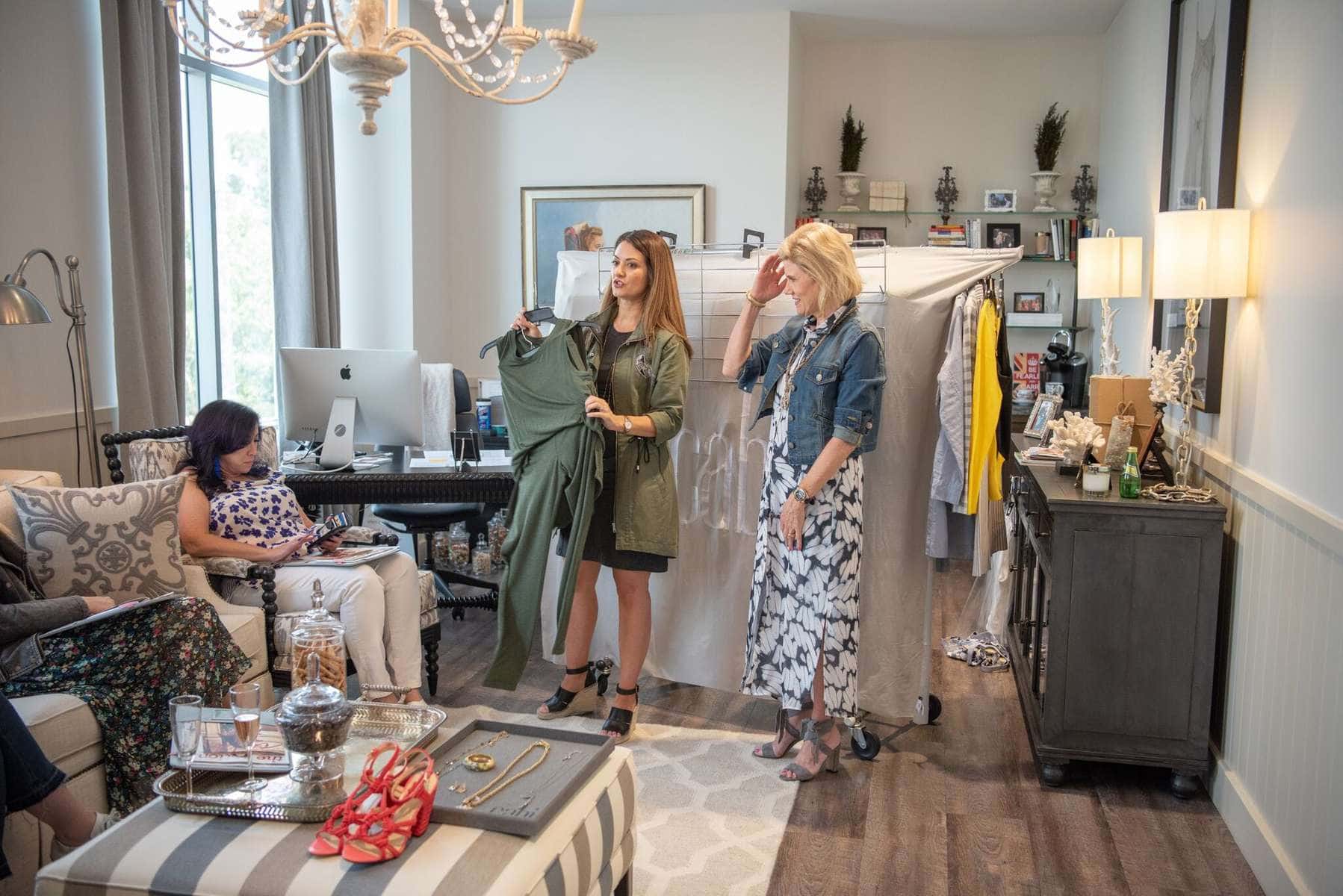 We then were invited into the office of VP of Sales & Stylist Services Cheryl Higgins (who used to be a cabi Stylist in the DC area) to experience a cabi Fashion Experience. Cheryl's office feels like a living room with couches, a coffee table, and beautiful décor. Alicia Spaulding, a local cabi Stylist was invited to do a mini version of an at-home party. I was the only one in the group who had attended a cabi Fashion Experience before (read about hosting a cabi party back in 2011, and here's my recap of attending a cabi Fashion Experience), so this was a cool opportunity for all the bloggers. We all learned more about the current spring line and it helped us see pieces in a new light (and make me want to add more pieces to my wardrobe!).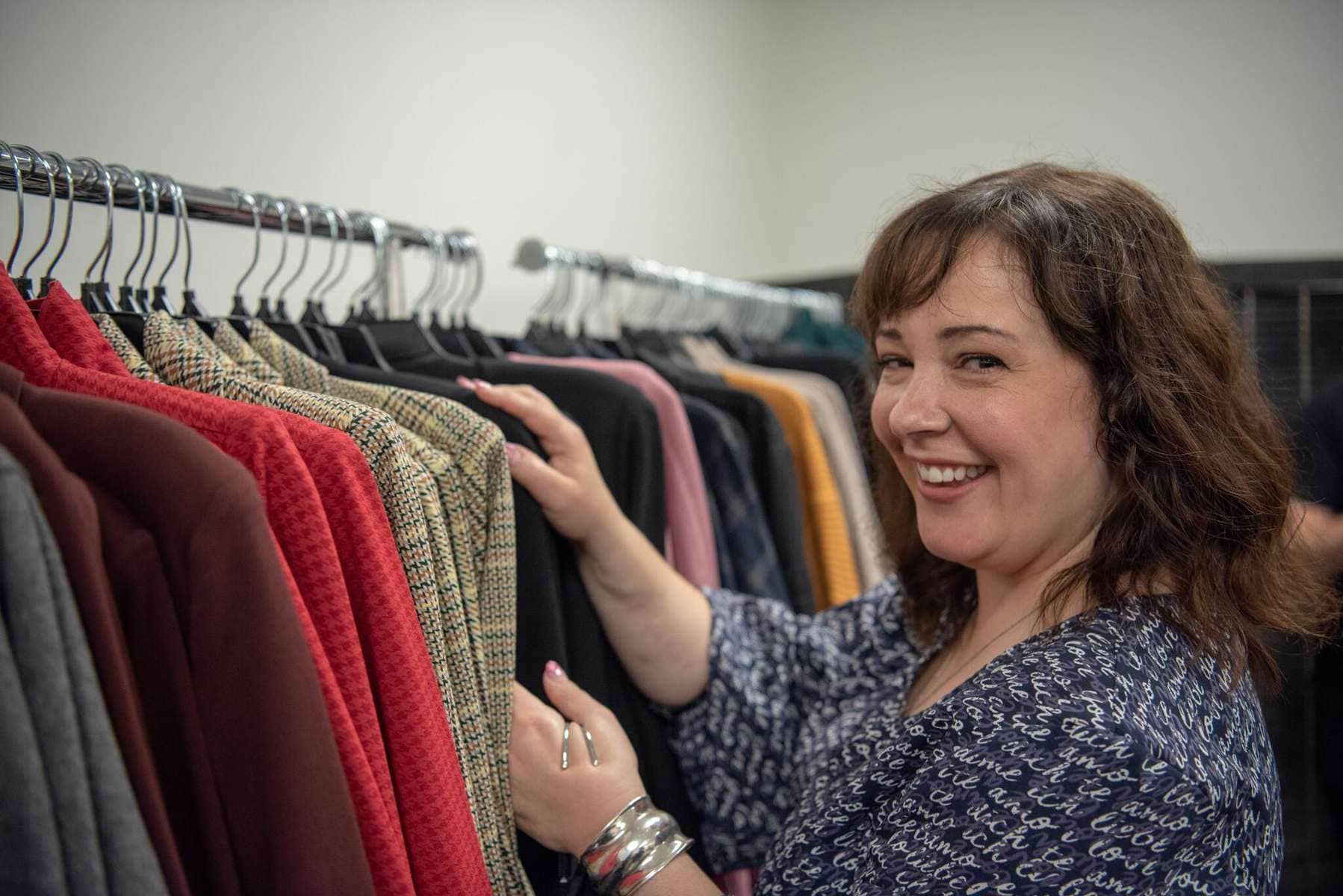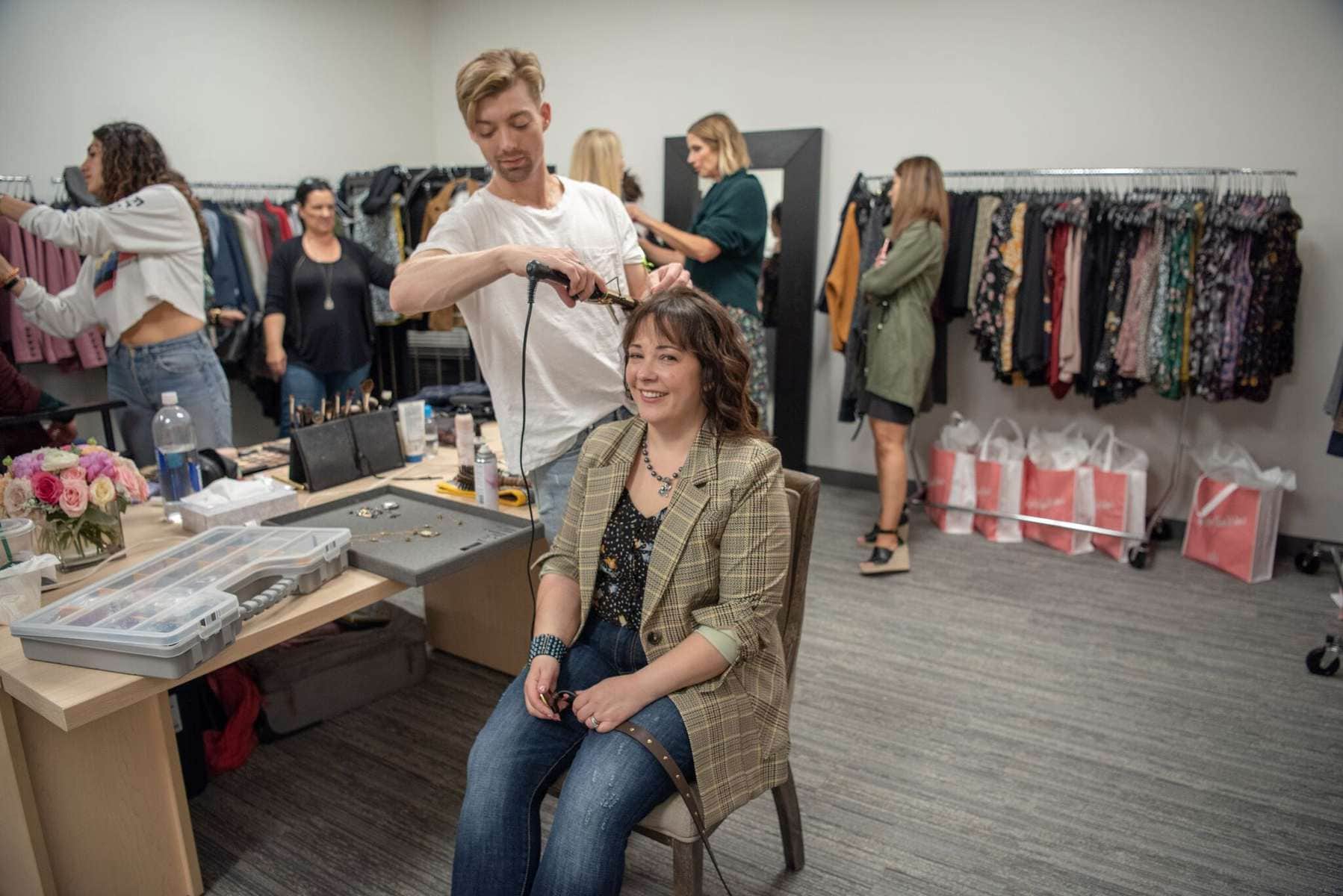 The day ended with us having the opportunity to experience the Fall 2018 cabi collection up close and personal. We entered a room that had the full fall collection in every size, all the accessories from the collection, as well as other accessories to complete looks. And these other accessories were amazing; we're talking Louboutin shoes, Fendi purses, chic vintage pieces, and some of the most gorgeous sunglasses. We were getting dressed for a photo shoot, but also knew we'd be gifted the look we were wearing (the cabi pieces, unfortunately, the designer accessories had to stay) so we were all a bit anxious to get the "right" outfit. Fashion Director Becky Jantzen was on hand for styling tips and us bloggers were having a blast styling one another and offering suggestions. There were some pieces that all of us gravitated towards, I can't wait to share the whole collection with you. It was cool to be able to try on so much in person and have it available in my sizes. Again, I can't stress how much this collection should be seen in person and tried on. There were pieces I thought amazing that I tried on that weren't the best on my shape, but many more that looked just fine in the photos or the hanger but UH-MAY-ZING when on the body. I was especially excited about one pair of shoes that was sooo my style AND fit (I find cabi shoes run narrow but these were comfy). I decided for the shoot to pick something different from what everyone else was wearing and that was a bit fun and funky.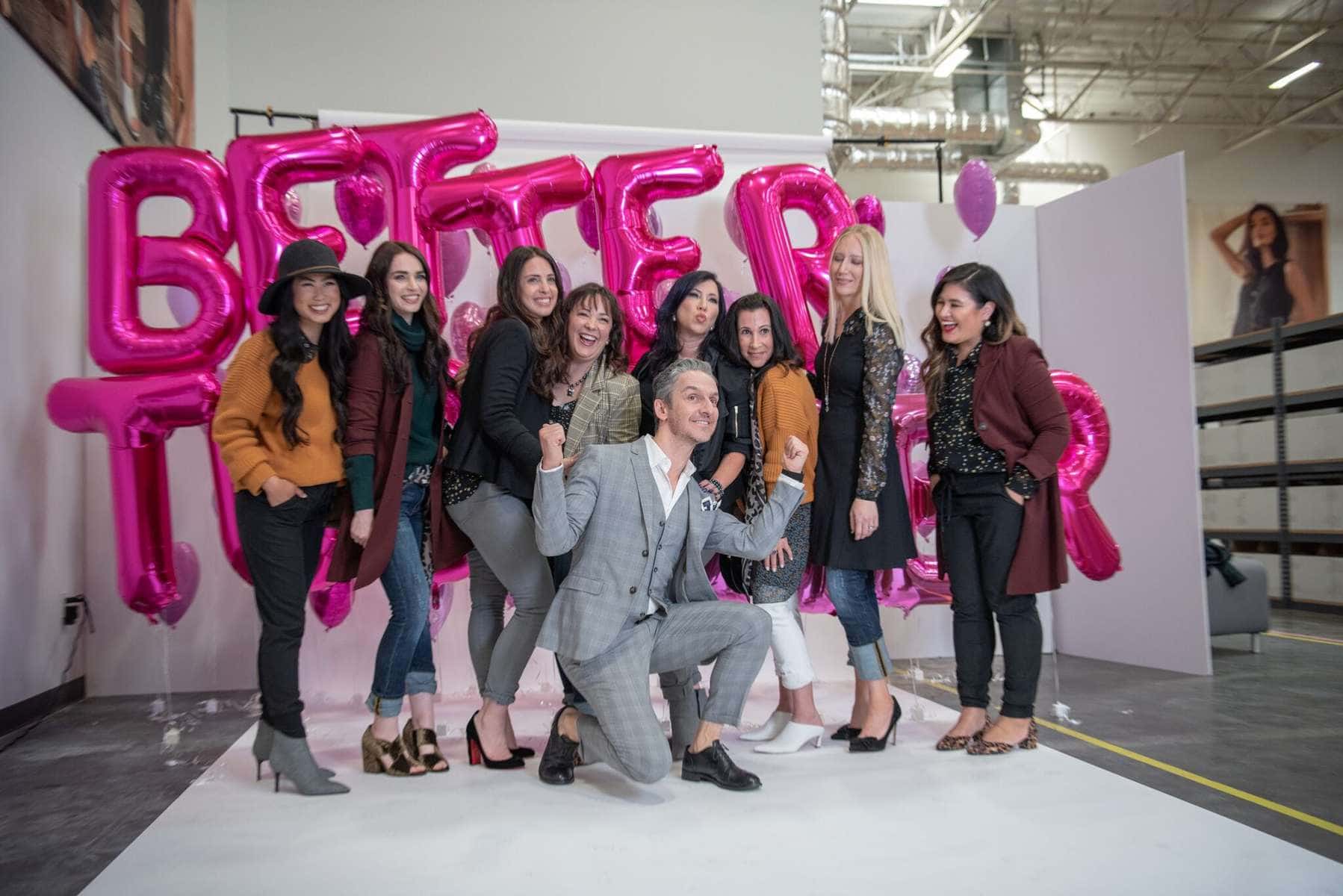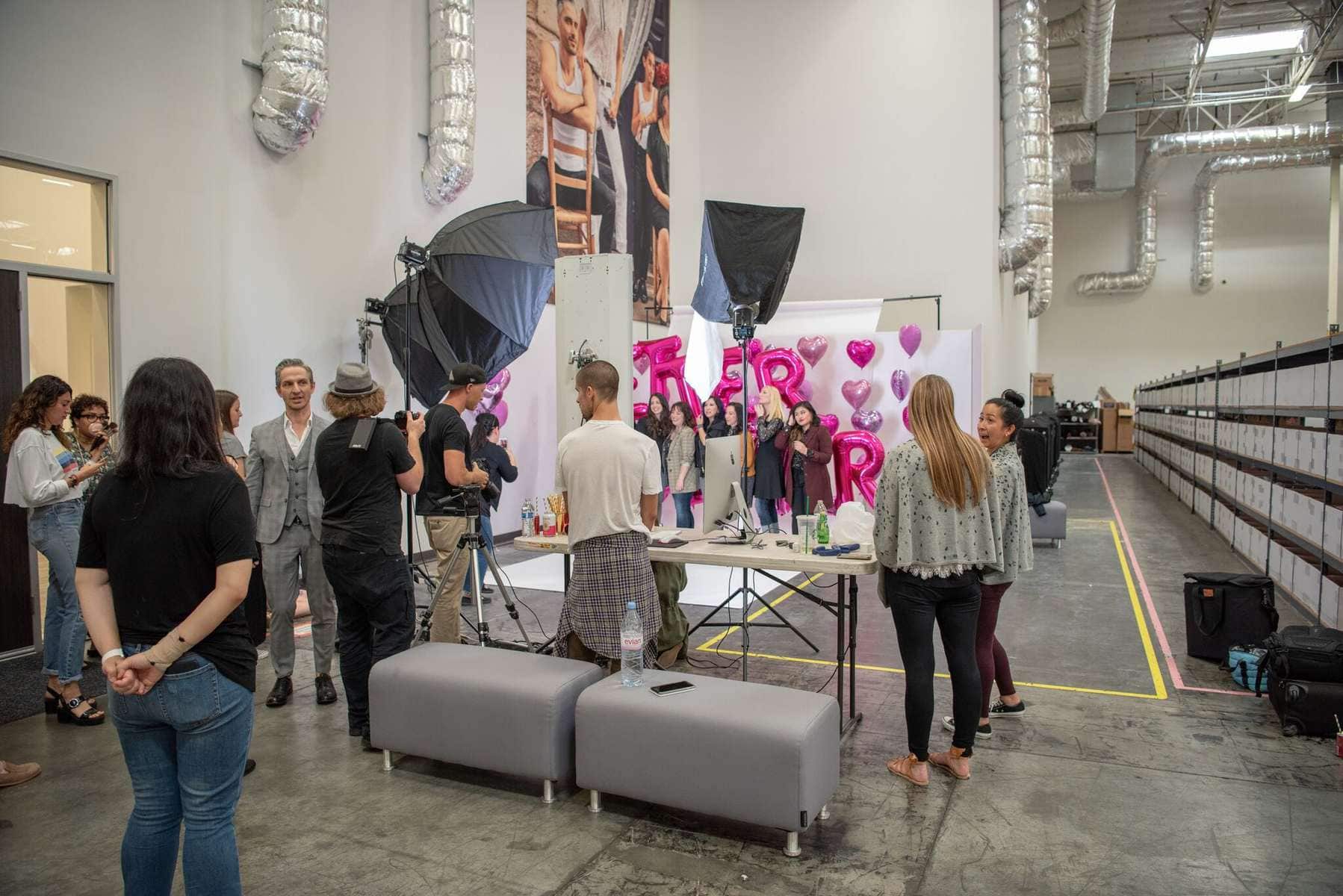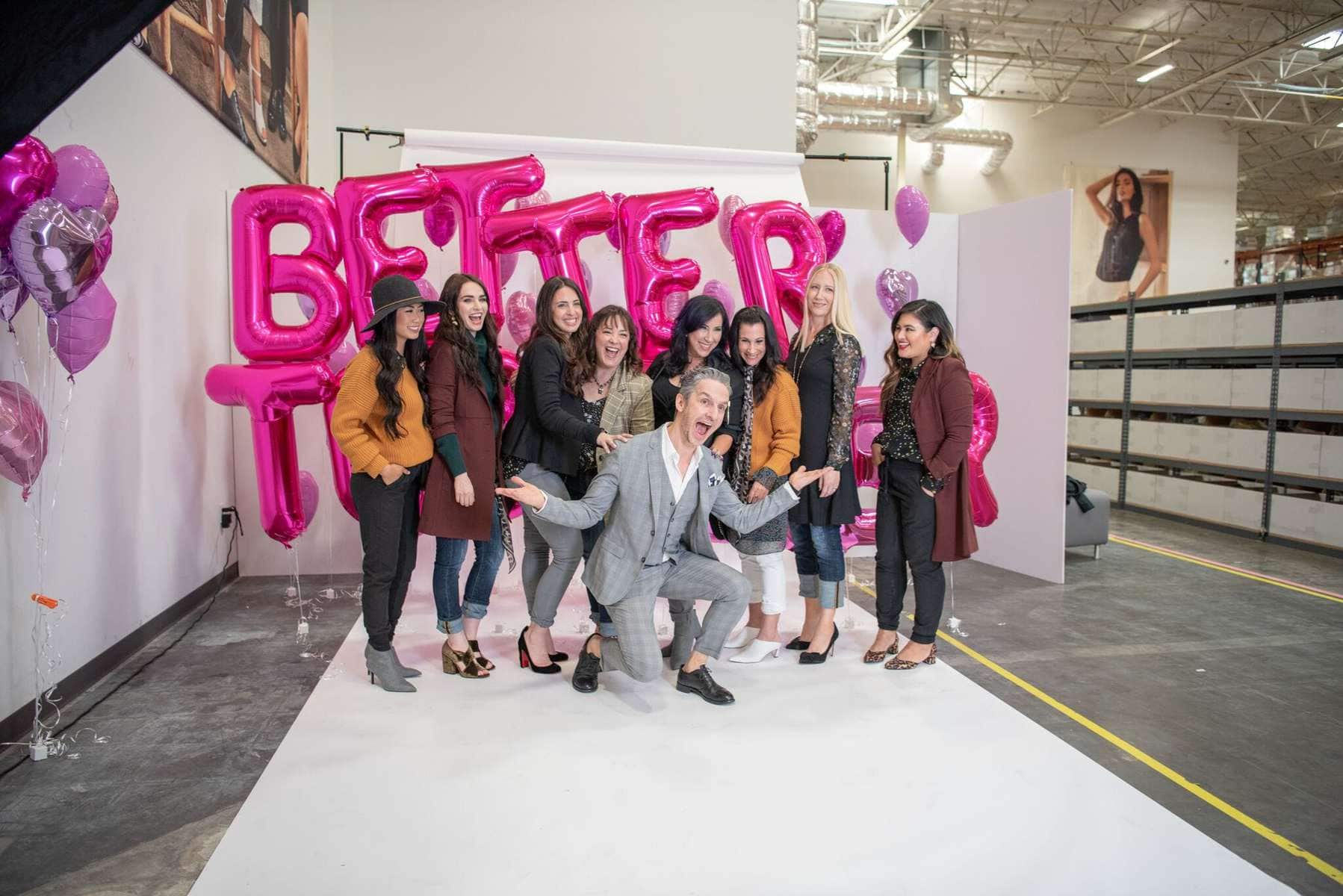 The shoot was a blast. We did group shots, and then they shot us individually. There was a whole team, but we had spent a good part of the day with some of them so I didn't feel too nervous. I'm often in front of the camera, but my husband is my photographer and I am the final editor. It's completely different when I'm with strangers and am not the one choosing the shots. Music was playing, they were cheering us on, they made the photo shoot very fun and comfortable. It was surreal having hair and makeup on set giving me touchups, Executive Creative Director Daniele Trussardi there adjusting the cuff on my jeans and the pop of my collar. I can't wait to see how the shoot turned out!
After the shoot, I went back to change into my clothing and the let me know I could also choose a second outfit as a thank you for coming to cabi Blogger Day. I'll be sure to share it when it arrives, but spoiler alert the majority of the look is ponte knit (you KNOW I love this fabric and there's a whole capsule of ponte pieces in cabi's fall collection) and there's a blouse that I think every single blogger at the event fell in love with and wanted in their life ASAP.
Cabi then had us driven back to the hotel to freshen up, then invited those of us available (some local bloggers had responsibilities back home) out to dinner at Nick's Manhattan Beach. It was a mix of us bloggers, the folks from the PR team who have become friends over our time with cabi, and Eboni from cabi. It was a fun dinner where we got to know one another better, talked a bit of shop (it's nice to be in a group where we're happy to share advice and tips with fellow bloggers without competition or cattiness), and had an amazing meal. After dinner, we were all exhausted and headed back to the hotel.
I learned from previous cabi trips to ask for a flight that leaves no sooner than noon. Jet lag and an early wake time have destroyed me in the past. I was able to sleep in a bit, hit the gym, and get a proper meal at the hotel restaurant before my car arrived to take me back to LAX.
Last week, cabi sent me the video and the photos from the event and it just reminded me again of what a magical experience I had at cabi Blogger Day. Since becoming a full-time blogger I have become even more selective with the brands I choose to partner with. I continue to work with cabi because I truly think they are a company with heart. How they treat their staff, how they empower women, their business practices, and yes how they treat their influencers is top notch. The accessibility of their exec team, the tools they offer to their Stylists, the longevity of their corporate staff, the way they work with us influencers letting us have creative control and trusting our style and judgment… it's rare in this day and age. And I am honored that they continue to partner with me. Thank you again cabi, for letting me be a part of cabi Blogger Day. I can't wait until your Fall 2018 Collection launches!