This article may contain affiliate links; if you click on a shopping link and make a purchase I may receive a commission. As an Amazon Associate, I earn from qualifying purchases. 
Allie I found you on Pinterest through your list of what to wear to Paris. I'm going to England and Europe for two weeks and need help knowing what to pack. No offense, can my capsule have some actual color and no leopard? I love bright colors and want to fit everything in one suitcase. Can you help me?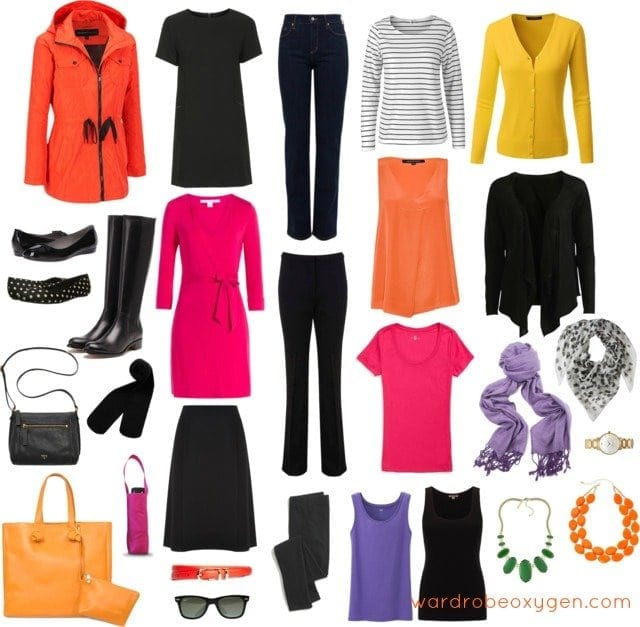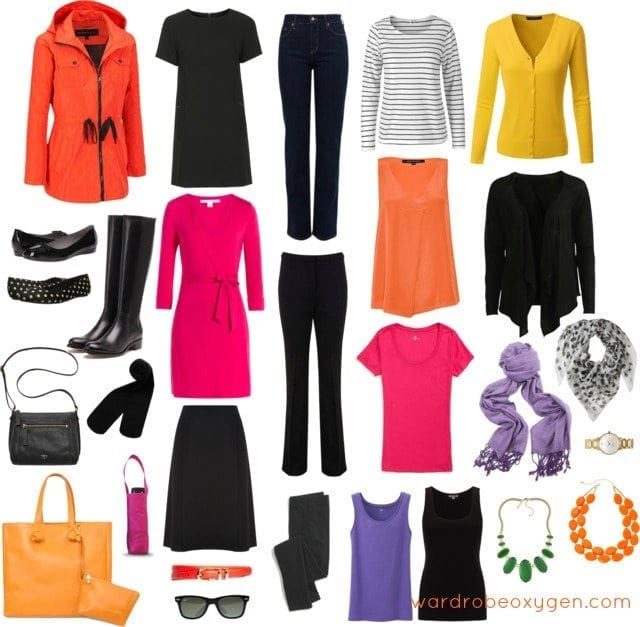 When I travel I usually stick to primarily neutrals (okay to be honest, it's primarily black) with a couple pops of color because I find it hides stains, is more versatile, and dresses up and down with ease. However, I do know I often rely too heavily on black so for this wardrobe is a base to showcase the colors and keep everything cohesive. Last year I made a capsule wardrobe of what to wear to England in the spring, but this capsule is for warmer weather and with brighter colors. I'll admit I made this capsule a month ago but it got lost in my files and I hope isn't too late for your travel. You didn't specify what parts of Europe and England you'll be visiting or what sort of activities you will be partaking in, so I made some assumptions and geared this towards sight-seeing, but also visiting nice restaurants and possibly staying with friends and family.


A jacket is a must when traveling; while I often feature trenches in capsules because of their classic elegance, an anorak can also work if it's a longer length and has clean lines. Look for something water resistant which will also resist wind; a hood is a lifesaver and also provides warmth. Packable versions can handle being shoved into the bottom of a tote when seeing museums and will take up less space in your suitcase. This is an item where it's a great idea to choose a favorite color; while it may not dress up as easily, it's far more enjoyable to wear a cheery hue than khaki or black on a gloomy day!


Dresses and skirts are a great idea for travel; they take up less space, can dress up easily, and are quite comfortable and wrinkle-resistant if you choose fabrics carefully. Matte jersey, modal, silk jersey, and ponte are all fabrics that give and stretch to continue to look great after being shoved in a suitcase and then worn for several hours. Solids are less memorable and easier to mix and match. While the tee shirt dress and skirt are black, consider them base pieces to feature colorful tops and accessories. I love wrap dresses, which are figure flattering and usually made of matte jersey, a very travel-friendly fabric.


I recommend always bringing a pair of trousers as well as jeans. While jeans have become more commonplace across the globe, a pair of pants are an easy way to make your knits look more dressed up. Choosing a pair of pants in a ponte knit means they won't stretch out or wrinkle with wear, and are easy to spot clean. A pair of leggings don't take up a lot of room and are a godsend under dresses and skirts if the temps drop, are great to have for any athletic activities, and make for comfy loungewear. As for jeans, a hint of lycra stretch will be more comfortable for long bus rides or days on your feet.


With tops, go for pieces with a bit of Lycra which will resist wrinkles. A striped tee is quite versatile, can be tucked into a skirt, worn under a jacket with jeans, or left untucked with leggings. A flowing tank or shell in silk or a synthetic with a hint of shine can look casual with jeans or dress up nicely with the trousers or skirt. Knits with interesting necklines (scoop, surplice, etc.) immediately look more dressy than a standard tee and are also more flattering. A few tanks tucked in your bag are great for changing the look of a wrap dress, slipping under other tops for warmth, wearing under jackets and sweaters, or on their own if there's a heat wave. As for cardigans and toppers, I recommend going with lighter knits which fit better in your bag and can more easily tuck into a tote if it gets warm. Merino wool is a great choice for warmth without bulk, plus it repels odors and water.


Accessories are a great way to switch up the look of a capsule wardrobe. A pashmina is a travel must – wear looped around your neck for the flight and have it as a blanket for the plane. Wear to change up your outfits, as a shawl when it's chilly, or to cover shoulders when entering a house of worship. Scarves are a great accessory to purchase while on your trip – they don't take up much space in your suitcase and each time you wear you will remember your vacation. A couple bold necklaces will dress up simple knits. A watch is stylish as well as handy. Bring along a slim belt in a contrast color to switch up the silhouettes of dresses, cardigans, and untucked tops. A pair of classic wayfarers are chic sunglasses that will go with everything in your suitcase. A tote and a small crossbody in black leather are all you need – use the tote as your carry-on or fold into your suitcase. The tote can be for sightseeing, lounging by the pool, and shopping. The small crossbody carries essentials close to your body to prevent pickpockets, but can also dress up for the evening. Tights and an umbrella don't take up much room but can be very useful is the weather isn't on your side.


As for shoes, if you keep them all around the same height they will work with skirts as well as all the pants and jeans in your capsule wardrobe. While sneakers seem like a smart choice for a lot of walking, you can find just as much support and comfort from brands like Sofft, Naturalizer, and Clarks yet a style that will be more elegant and more able to dress up. Depending on the time of year you attend, a pair of tall boots can be a great choice; protect with a waterproofing spray before you go and they will be great for inclement weather.