This article may contain affiliate links; if you click on a shopping link and make a purchase I may receive a commission. As an Amazon Associate, I earn from qualifying purchases. 
After years in different jobs in the corporate arena, I have learned to have a staple career wardrobe.  These are pieces that are versatile, work with one another, and have me ready for whatever my job throws my way.  Below I address three common work situations and what to wear for these events.  You'll see I reuse the same pieces – there's no need for an enormous wardrobe to be stylish and professional.  If you shop smart, knowing when to invest and when to budget, you can have a hard-working career wardrobe that will support you through all work experiences, including the ones below.
The Interview
Each great job starts with a great interview.  While dress code will vary depending on the field of work, you can't go wrong with a well-tailored black pantsuit.  Black is a versatile color that can then be used in other aspects of your life – you can dress up with silk heels and sparkly jewelry for a cocktail party or wear the pieces separately in your everyday work wardrobe.  A pantsuit is a safe bet that will keep you from stressing over hosiery and will be appropriate no matter the time of year.  Buy a suit free of adornments, embellishments, and memorable details so it can be worn over and over for many years to come.  Popular retailers like Ann Taylor and J. Crew sell quality suiting at reasonable prices – stalk their clearance racks and you may be able to find a classic and stylish suit for up to 50% off retail.
Don't be afraid to show your personality in your interview ensemble – choosing a shell in a signature color with an interesting neckline will help your interviewers understand you better as a person.  A solid color is a better choice as it will also be more versatile in your everyday work wardrobe.  Be sure that no cleavage is showing and that you can take off your jacket without exposing lingerie or too much skin.  A sleeveless or short-sleeve blouse will be more comfortable when you're sweating or getting hot with the stress of the situation.  This is a piece you could find at any pricepoint – as long as it fits well and is modest, you could find a great blouse anywhere from Goodwill to Target to your favorite department store.
As for accessories, keep them simple, polished, and classic.  A structured handbag large enough to hold a copy of your resume or laptop is a wise choice – as with the suit keep it free of too many details so it is professional and timeless.  As for shoes, any heel height can work as long as the shoe has structure, simple details, and a polished finish.  A leather pump with anything from ½" to 3" heel is appropriate, choose a closed toe so that it is appropriate no matter how conservative the office environment.  This is a type of shoe that can be worn anywhere from the office to a wedding to a funeral so it's smart to invest in a pair that fits well and is crafted with care.  As for jewelry, feel free to wear it but be sure it doesn't wear you – keep the bold statement necklaces, jangly bangles, and chandelier earrings for another occasion.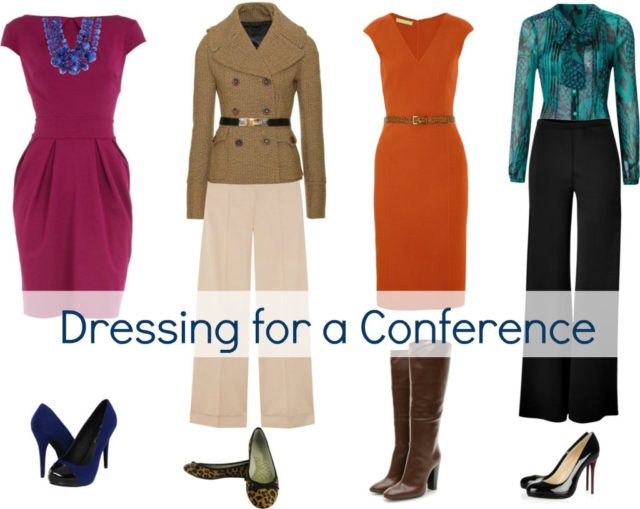 The Conference
Whether you are attending representing your company or attending to learn new skills, a conference is a regular aspect of corporate life.  While you want to look professional, this is an environment where you can be a bit more relaxed, and also truly showcase your personality.
Wearing clothes with stretch (stretch wool, ponte, heavyweight jersey) will keep you looking crisp after hours of sitting and socializing.  I recommend wearing color so you stand out in a crowd of gray, navy, and black.  A signature piece is also helpful so people will remember you as the woman with the leopard-print belt, the purple scarf, the green snakeskin pumps.  Wear layers or pack a cardigan in your tote for conference rooms can really blast the A/C.
Carry a structured bag, but one that is large enough to hold your iPad or laptop as well as all the swag you will collect from vendors.  A bag similar to the one for an interview is perfect, though in this environment a color would be acceptable.
The Business Trip
Often you will have to travel by car, train, or plane to another location and head right into a meeting.  It's important to have on hand an ensemble that can survive hours of sitting and still look crisp for your client.
A variation of the interview ensemble is a great choice, and another reason to invest in a quality black pantsuit.  To be budget-friendly, I have kept the black pantsuit and pumps as the foundation.  The interview bag would also be a wise choice – it is already in your wardrobe and can hold all your meeting essentials while looking professional.  Since you will be traveling, it is wise to wear a blouse that has a lot of stretch to it.  Many knits can look too casual, a silk jersey or matte jersey will look professional while keeping its shape all day.  A blouse with at least a cap sleeve will be professional enough to wear on its own if it's warm.  As with the interview blouse, this is something you can find at most any pricepoint as long as you look out for good fit, structure, and fabric.  This is also a piece you can wear time and time again – with trousers or a skirt to the office and even with jeans for a night out with the girls.  To keep your jacket crisp, I recommend not wearing it until you arrive at your destination; to ward off chill (and also have an alternate look if you wish to go out to dinner after the meeting), consider a cardigan or soft jacket in a complementary color.
Follow Me | Twitter | Facebook