This article may contain affiliate links; if you click on a shopping link and make a purchase I may receive a commission. As an Amazon Associate, I earn from qualifying purchases.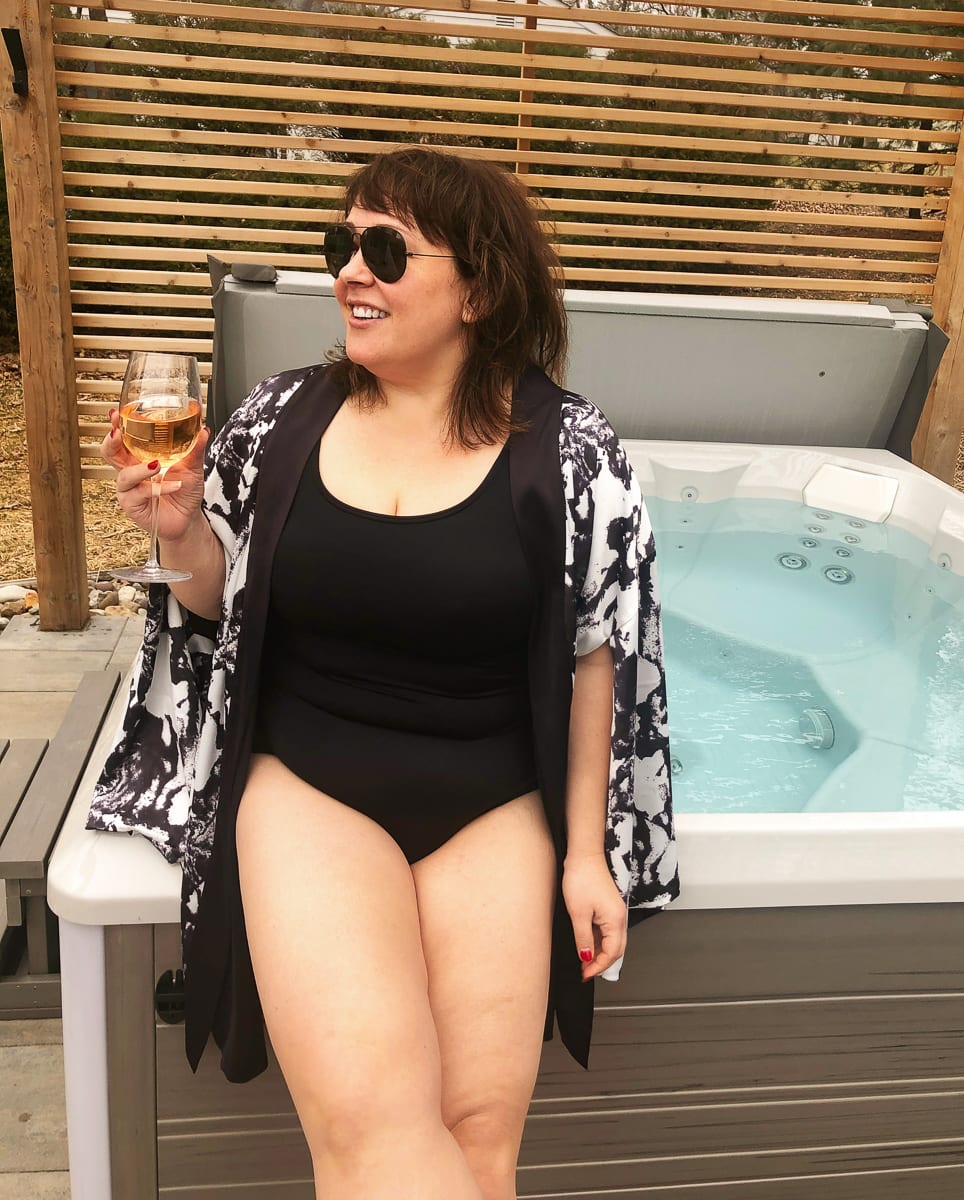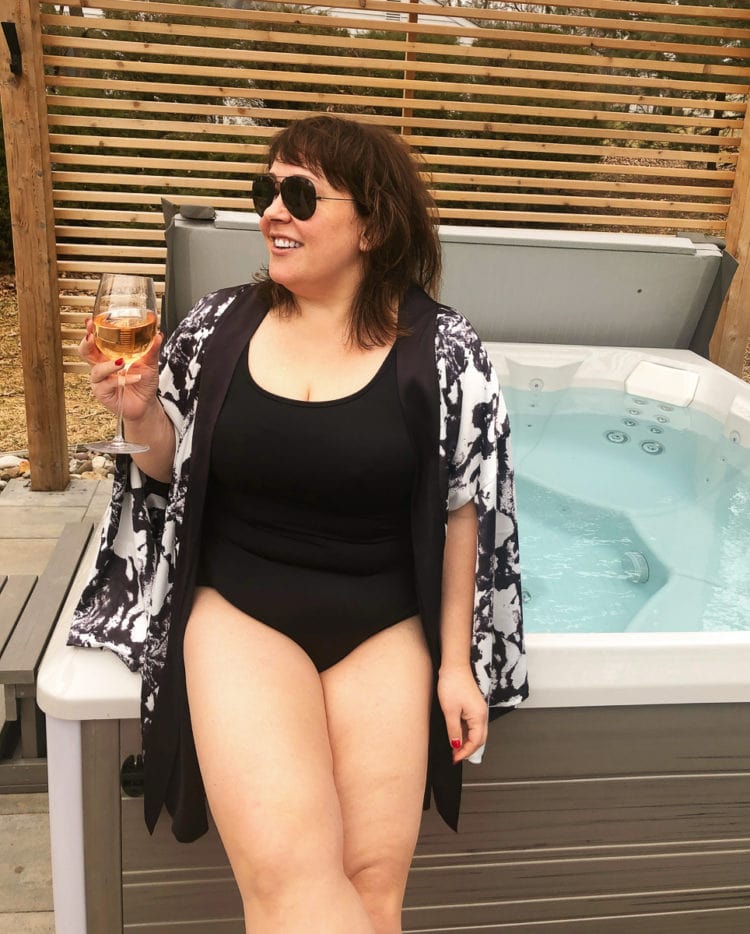 Okay, I am totally writing this while a winter storm warning is coming for my area but this is about my favorite swimsuit. I love fun swimsuits, sexy swimsuits, statement swimsuits, and suits that suck in and lift up. But to be honest, the Lands' End Tugless has been a mainstay in my wardrobe for years and for good reason.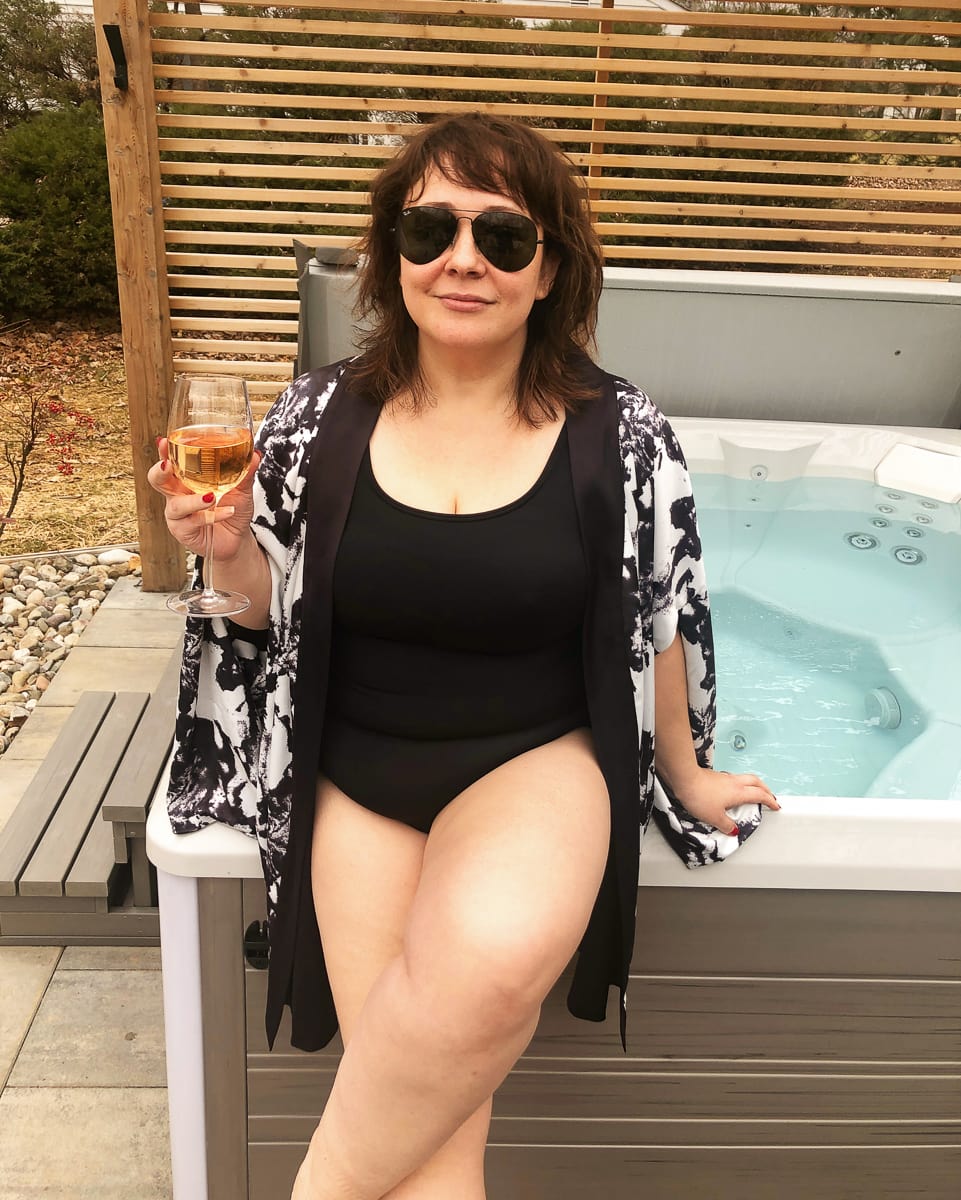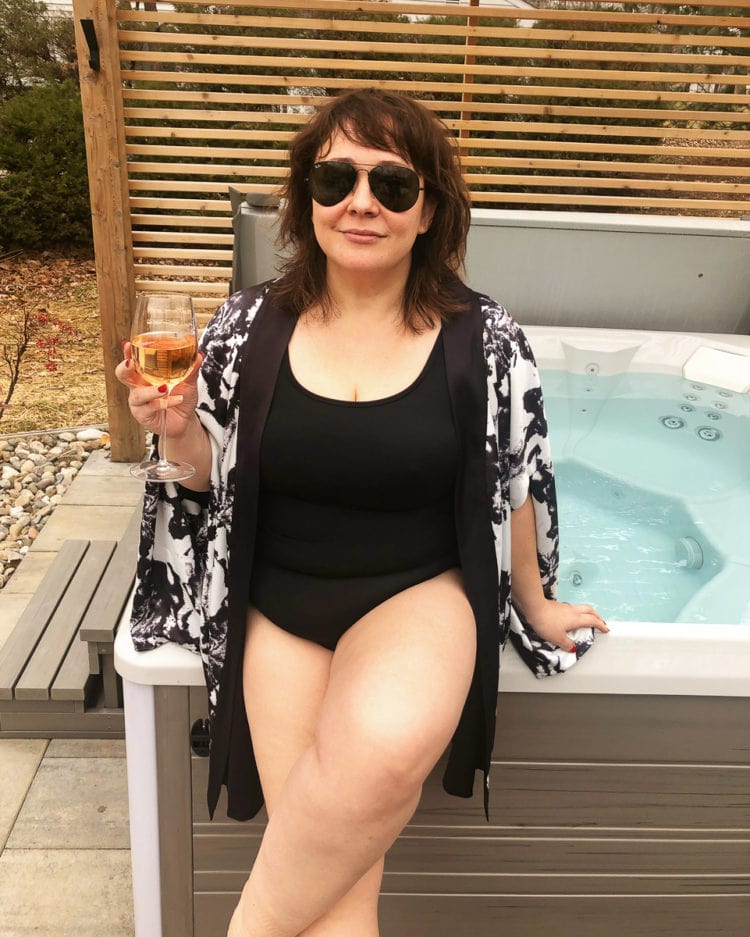 Swimsuit: Lands' End (12DDD) | Robe: Presley Short Robe c/o Universal Standard (XS) | Sunglasses: Ray-Ban
A couple months ago, friends of ours got a hot tub and when I came over to enjoy it for the first time I brought my Lands' End Tugless that was a couple years old. I wore it at the beginning of 2018 to a day spa and it seemed to fit fine, I wore it once or twice over the summer when I wanted to swim laps. I put it on at my friends' house and oh no honey, this thing no longer fit. While it would be a prime time to seek out a cool, trendy suit to replace it with and celebrate this new fitter body, I went back to Lands' End and purchased a new Tugless one-piece in my new size. Because why mess with perfection? This past weekend I returned to their house with friends for brunch and tubbing and donned my new Tugless.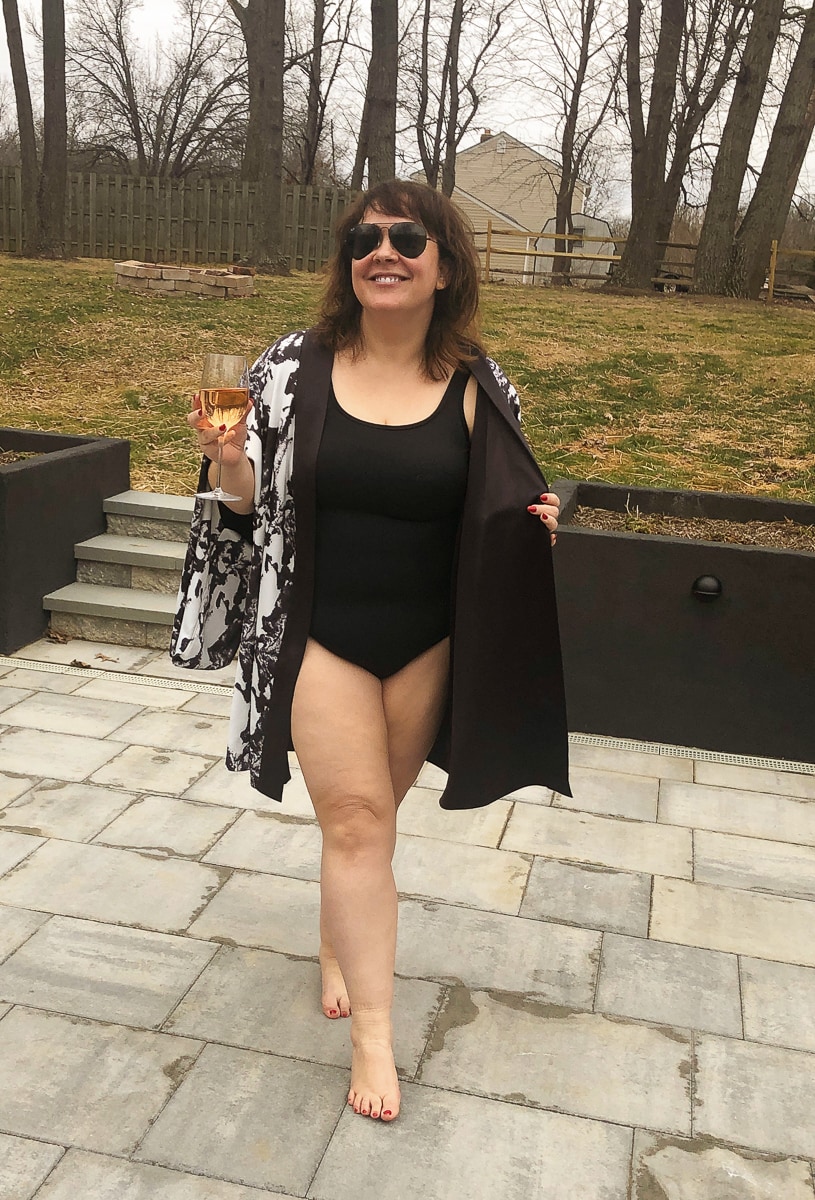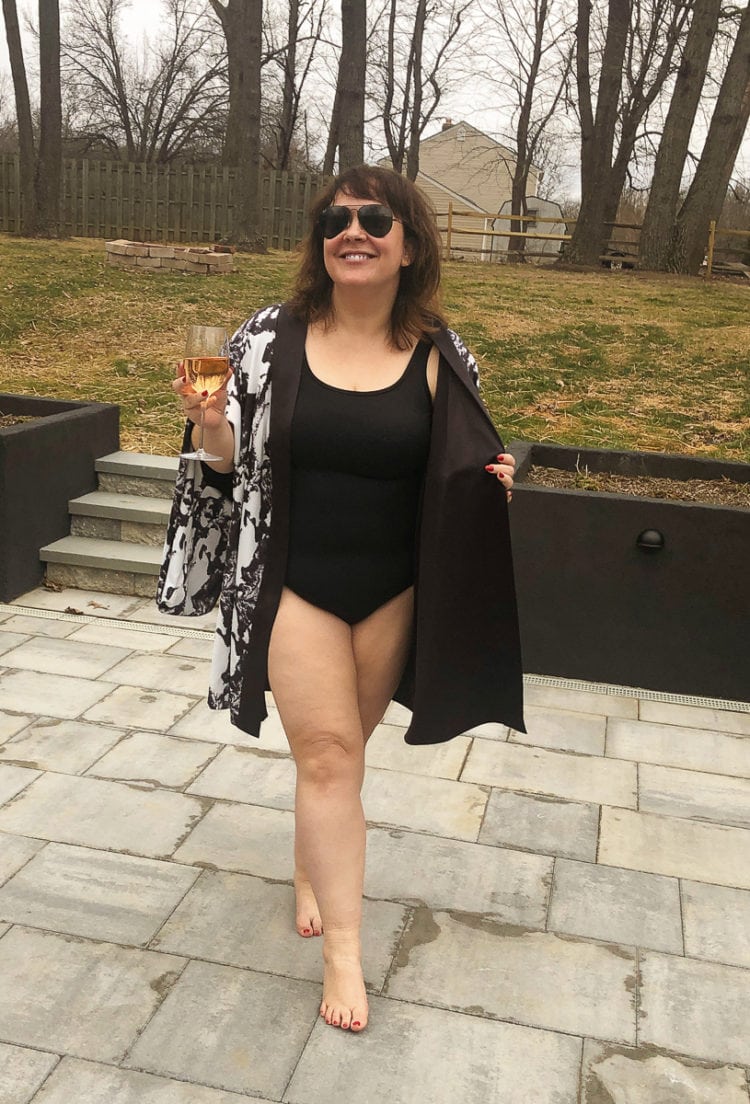 It makes sense to have a suit in your wardrobe that can go beyond the lounge chair or the backyard pool party. Can it survive the surf? Can you go cliff diving and not end up topless? Do you have to stop mid-lap to slide your strap back up? Hate getting wedgies on the beach? This suit is so simple it's eternally chic. Not too high cut or low cut, it covers what you need covered without looking frumpy. So classic, you can wear it for swim lessons, a backyard family pool party, enjoying a friend's boat on the weekend, or a romantic beach getaway. All that and this suit comes in petite and long lengths, plus size, cup sizes, and even has a mastectomy option. And, if you buy now when they're trying to get rid of last year's inventory to make for 2019 colors and patterns, they're on an amazing sale. I bought mine at the end of December for just under $27 and at the time of writing this it is still the same price!

I choose the soft cup, which provides shape and a bit of support while remaining comfortable, and if you too have a large bust, the cup sizing helps with a more natural shape, less bunching under the bust, and helps the straps stay up. I am usually petite in fashion, but chose regular for this suit because I feared it riding up in front or digging in the shoulders. With most swimwear, if you're unsure size down because suits grow when they get wet and with wear and tear.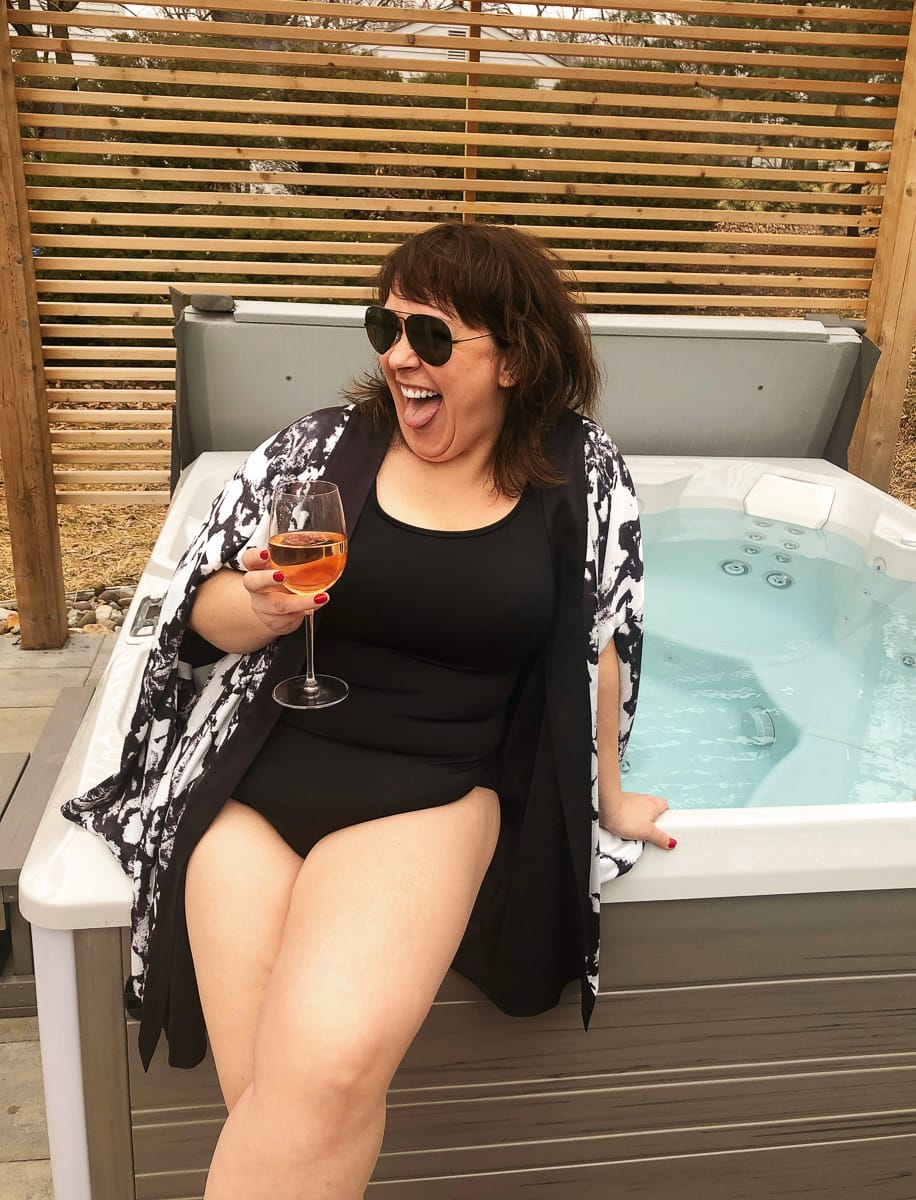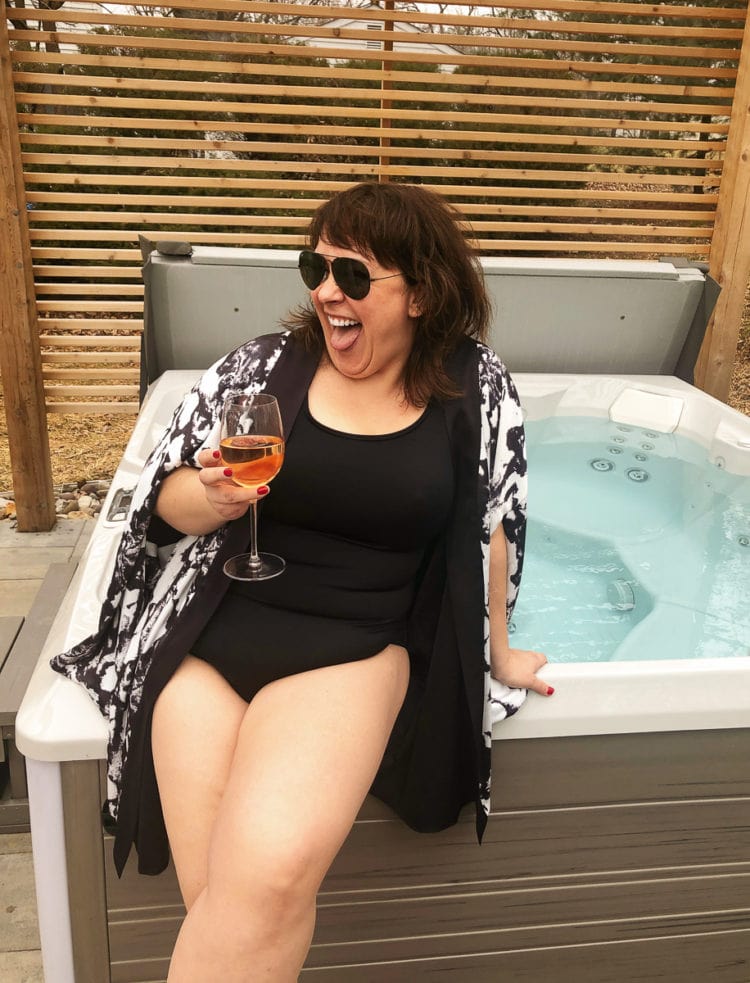 As for the robe, Universal Standard sent it to me and my plan was to wear it with this set and feel all grown woman sexy and comfy. Then when packing up to go to "brunch and tub" I realized I'd want a robe for trips between house and tub. While I love my Soma robe, the double layer can get caught on wet skin if I'm putting it on and off multiple times. I grabbed this one… perfection! It's double layered, but fused so it doesn't separate. Heavyweight, it doesn't cling. It's reversible; one side is the marble pattern, one side is solid navy. The loops for the belt are only on the navy side. It has wide kimono sleeves but the images on the website don't show how there are deep holes in the armpits of the robe. This way you can either wear the sleeves standard, or like I have here. Also this way you can use the belt on the marble side. Oh, did I mention it has pockets?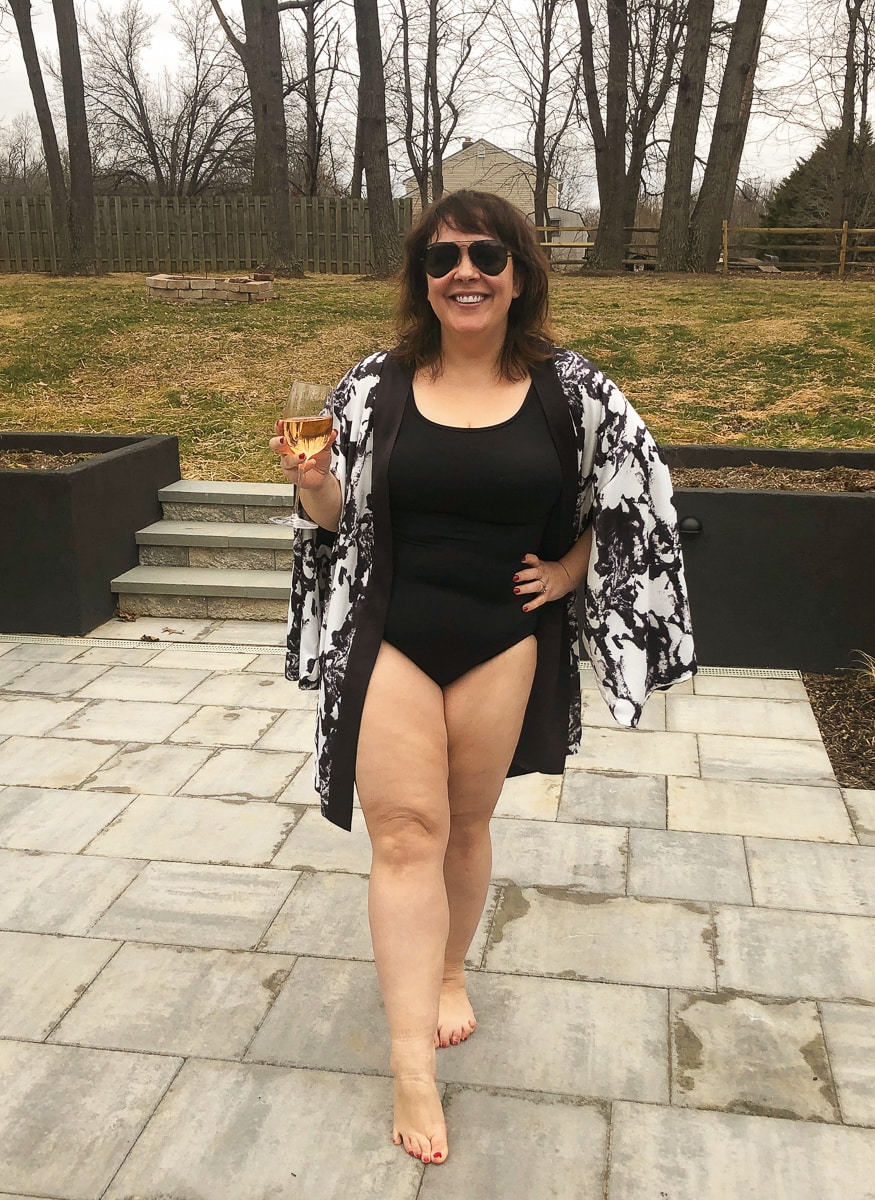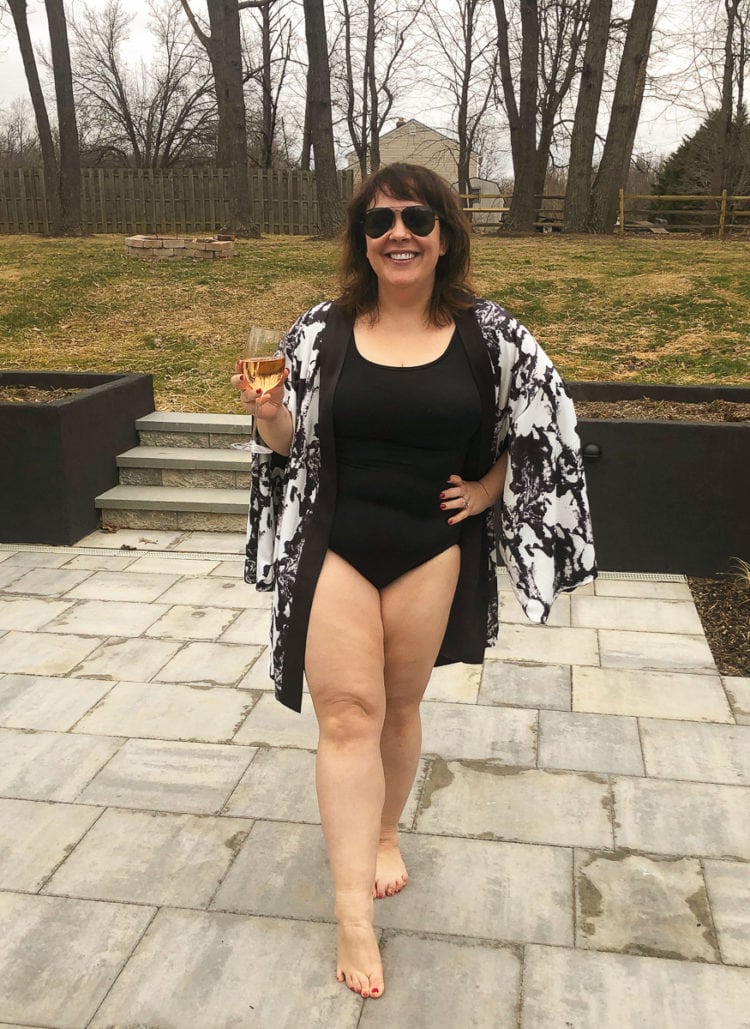 These aren't the usual polished photos my husband takes for the blog. My friend captured these with my iPhone (and yes it was COLD!) but I feel it's important to balance the polished with a little reality. And to show you can have a tummy that spills over onto your thigh, some stretch marks and saggy leg skin and still be sexy and fierce. These aren't flaws, these are completely normal and it is up to us to determine how we feel about them. The more we make such normal aspects of bodies visible, the less shame and stigma there will be. I'm not going to feel bad for this body, it's a phenomenal body and it deserves to be celebrated. As I shared on Instagram, shape doesn't determine health, strength, or value!
Shop the Post: