This article may contain affiliate links; if you click on a shopping link and make a purchase I may receive a commission. As an Amazon Associate, I earn from qualifying purchases. 
This post contains affiliate links; if you click on a link and make a purchase Wardrobe Oxygen may make a small commission.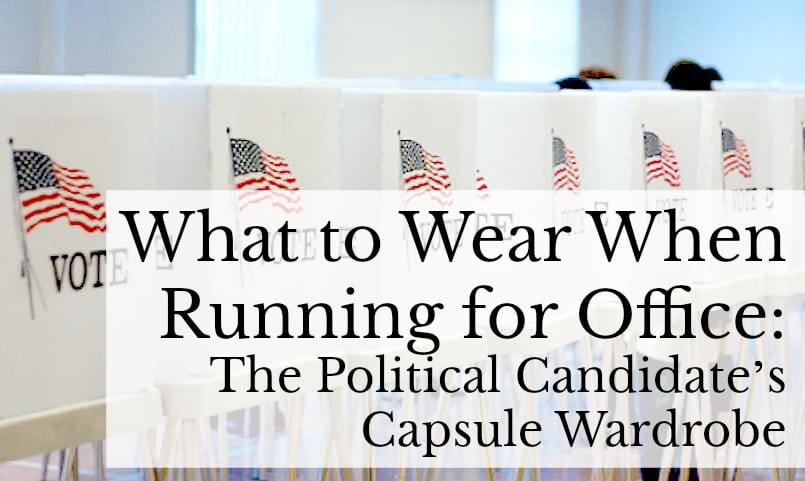 It's 2018 but when you Google what to wear when running for political office, what to wear for a political campaign, or any other similar search almost all advice is old and geared towards men. Where's the advice for women political candidates? At the October Women's Convention in Detroit, Emily's List stated over 20,000 women thad already decided to run in 2017, and about 40% of those women were running in local elections. While women are more than half of our country's population, in 2017 only 19.4% of Congress, 23.7% of statewide elective, and 24.9% of state legislatures were female. Not only does having more women in office better represent our population and help support women-related issues, having women in politics benefits the entire country. A few stats:
Over the past year I struggled with how to help our country while running a fashion blog. That is until two readers in Texas reached out asking if I would assist them with a seminar on how women should dress when running for political office. In their area, they had many brilliant, successful, and passionate women run for office but weren't sure how to dress for their new profession. They were comfortable dressing for their day jobs as attorneys, teachers, doctors, scientists, and more but needed assistance with the transition to the public sector. I reached out to Rosana Vollmerhausen, Founder and Chief Personal Stylist of the personal styling company DC Style Factory who has experience dressing politicians in the Nation's Capital and its suburbs. Together we created a capsule wardrobe of just 14 items that will dress a woman for all her political events during a campaign and a corresponding seminar to support female candidates one-on-one with campaign style. We conducted this seminar twice in 2017 and look to conduct many more in 2018.
This post delves into the basics from our seminar – the capsule wardrobe for female politicians and tips on what to wear to the basic campaign events:
Door-to-door canvassing
Casual fundraising at a home or somewhere in your community
Slightly more formal fundraising at a restaurant or event hall
Cocktail party event
Town hall
What to Wear when Running for Political Office: A Capsule Wardrobe for the Woman Candidate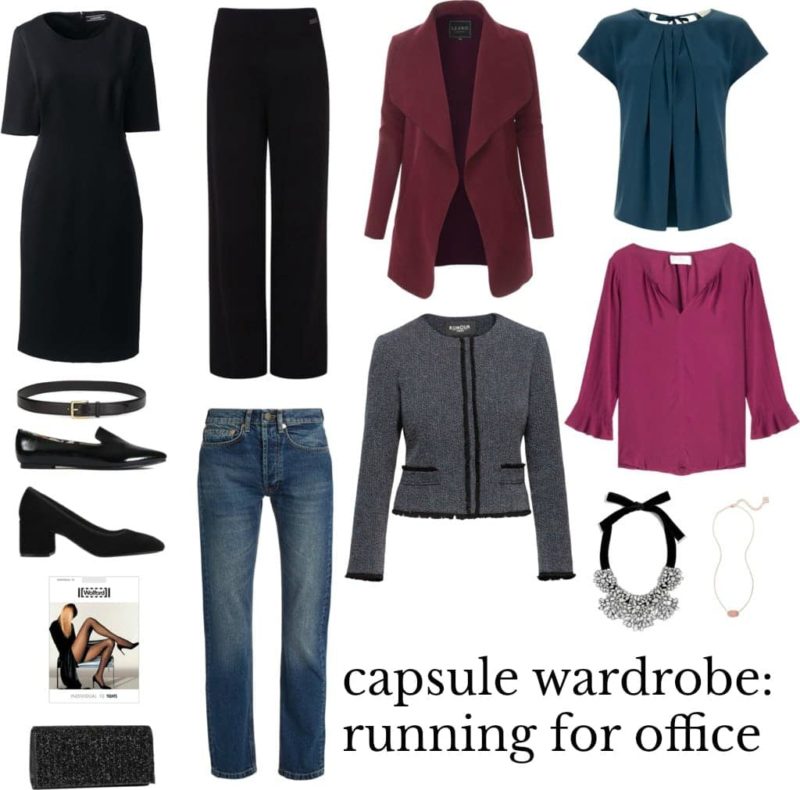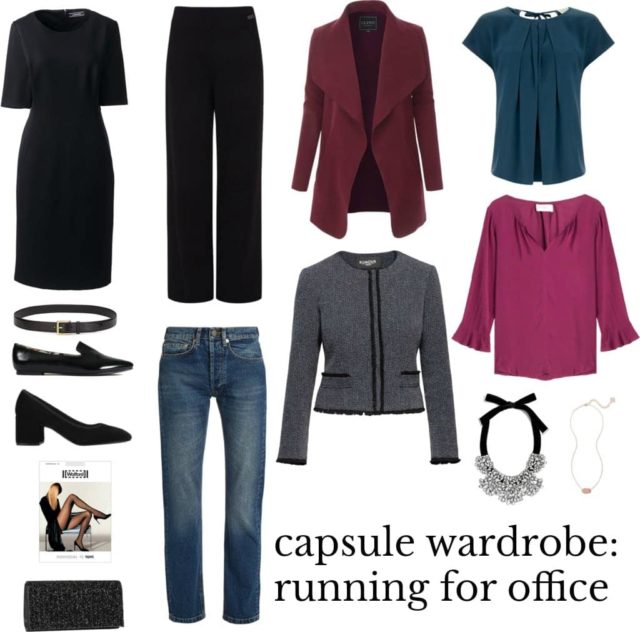 shop similar pieces featured in this capsule wardrobe:
solid colored sheath dress with sleeves (plus size option) | slim belt | loafer or structured flat with almond or pointed toe (option with widths) | block heel pump with almond or pointed toe (option with widths) | small pendant necklace or signature everyday piece of jewelry | dressy statement necklace | black straight leg or "cigarette" pants (plus size option) | dark denim jeans with a straight cut and free of embellishments or distressing (plus size option) | dressy clutch purse | sheer hosiery (plus size option) | soft jacket (plus size option) | another soft jacket with a bit more structure (plus size option) | silky solid-colored blouse (plus size option) | another blouse with good drape (plus size option)
With just 14 pieces, you can be dressed for any event that comes your way as a political candidate, no matter your audience. This capsule is only a guide, not gospel, and can be adjusted for your specific needs, culture, or climate. Before dissecting this capsule, let's see how it can work for the most common campaign events and why these specific items were chosen.
How to Dress for Canvassing Door-to-Door
This is by far the most labor-intensive activity when running for office. The key message for this look is "Relatable." Your goal is to have people listen to you, trust you, and relate to you. What you wear has to be something anyone would wear, just a bit more elevated.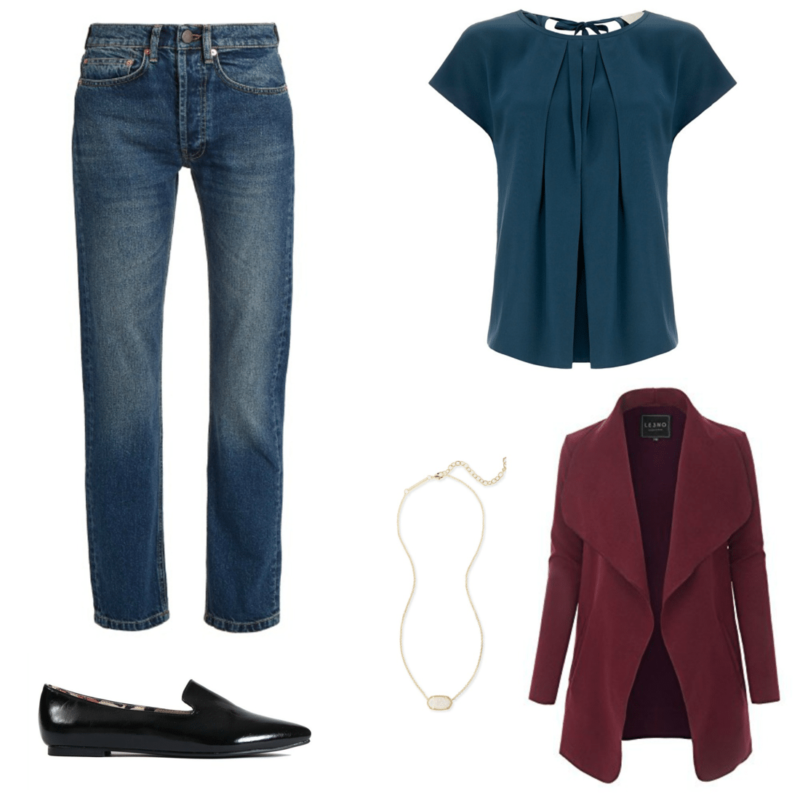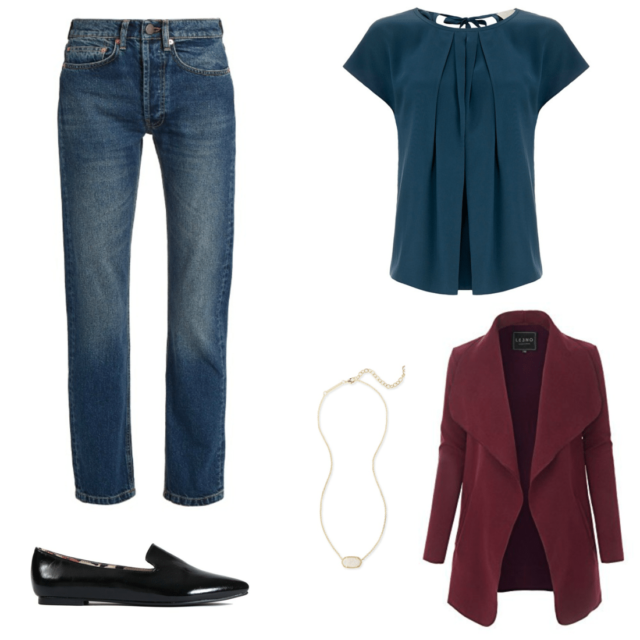 Denim is a way to look relatable, and this look elevates it a notch above jeans and a tee shirt. A dark or "rinse" pair of jeans in a straight cut is the most universally flattering and far more versatile than skinny, bootcut, wide leg, or flare jeans. Choose a pair free of whiskering, distressing, or embellishments. Such jeans can be found at most any pricepoint; consider a hint of Lycra for stretch and comfort. With these jeans wear the flat shoes from the capsule wardrobe; there are many comfort brands that beautifully marry comfort and style to keep you feeling great as you pound the pavement. With it wear one of the silky blouses in a color you love and a jacket or soft layering third piece to complete the look. Add your pendant necklace or signature accessory for interest and a touch of shine.
How to Dress for a Fundraising Event
The key word for a fundraising event is "Trustworthy." When you are fundraising, you are asking people to trust you enough to contribute their money to support your candidacy.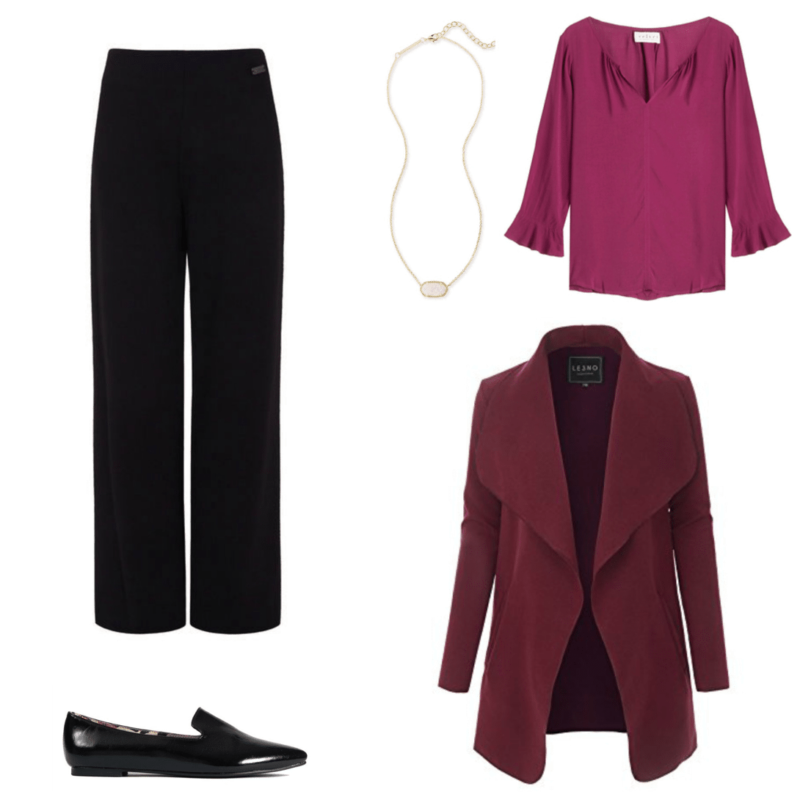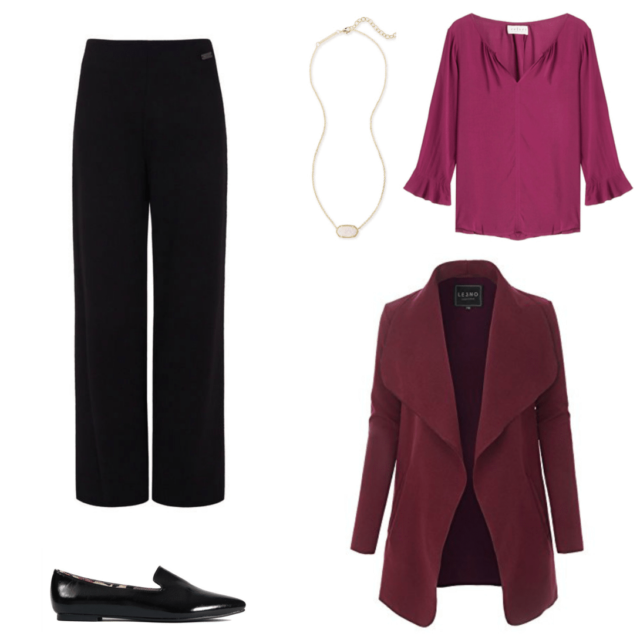 This look is for a more casual fundraising event, possibly at a neighbor's house. This is a way to meet people right in your community in an intimate setting; the goal is to look approachable but slightly dressier than your look for canvassing. Just by switching from jeans to a pair of straight leg trousers accomplishes this effect. Not pictured but you tuck in your blouse and have belt loops, you should wear a belt.. While the blouse changed, honestly you can wear the same one for canvassing; that's the beauty of this capsule wardrobe – so many pieces are interchangeable.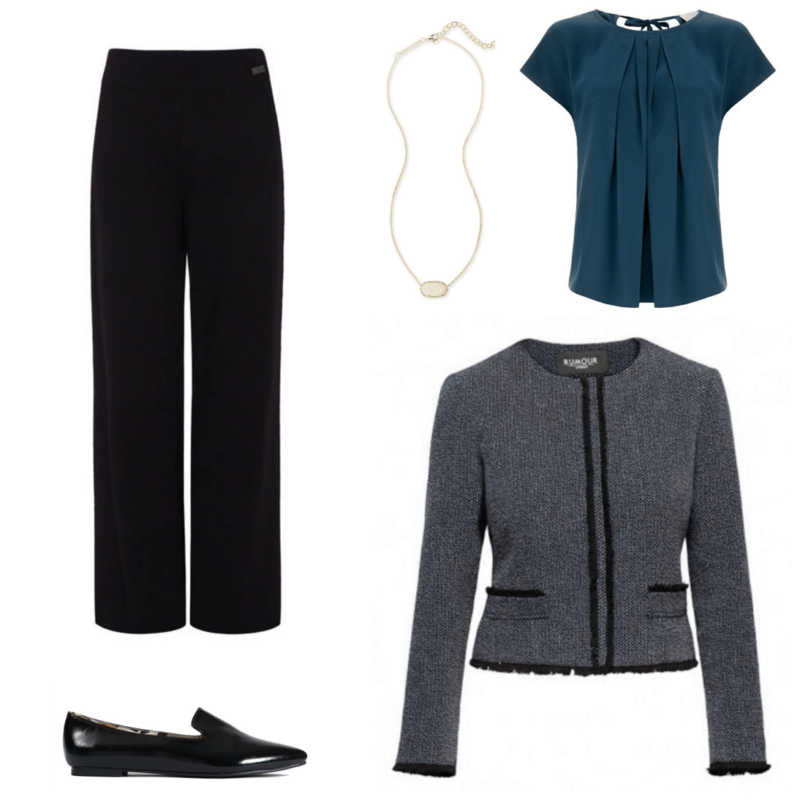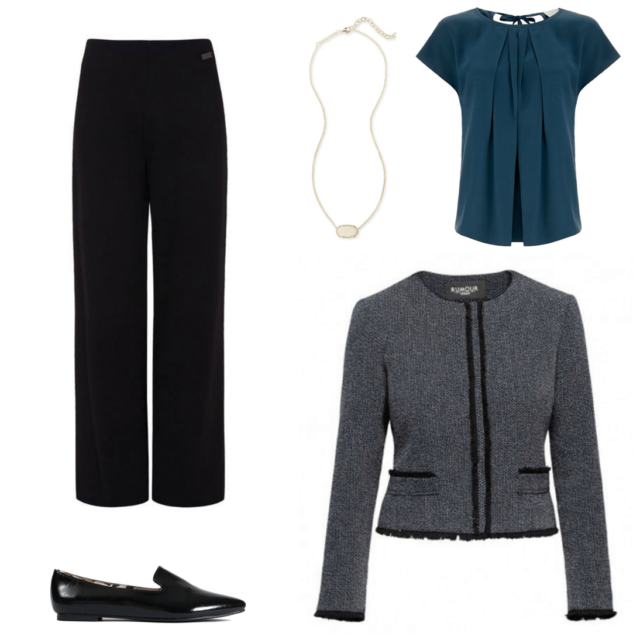 This look is a bit more formal for a fundraising event at a restaurant or other local business. Just by choosing a more structured jacket, you accomplish it without having to change any other aspect of the look. While the jacket here is cropped, a longer jacket or structured sweater jacket would also work nicely. Look for jackets out of ponte knit which have as much stretch as yoga pants but look refined enough for such an event.
The goal is clean, polished, not too distracting. You are selling your message, not your personal style. You wish to appeal to a broad range of constituents who have different backgrounds, beliefs, cultures, and lifestyles. Solid colors over prints let your words take the spotlight, are less memorable, and photograph better. For fundraising events, unless they're at a picnic or other uber-casual event, steer clear of denim and tee shirts. Pieces should have a bit of structure – not sloppy cardigans, oversized pieces, or anything that clings or bags.
What to Wear to a Political Cocktail Party
The key word behind this sort of look is "Sophisticated." At cocktail events you are schmoozing, it's an opportunity to showcase your personality as you rub elbows with other politicians and larger donors. Your look should be elevated: formal, classic, and elegant. For this look it's a similar concept to the previous outfits – polished and simple enough so that your message and not your outfit take the spotlight.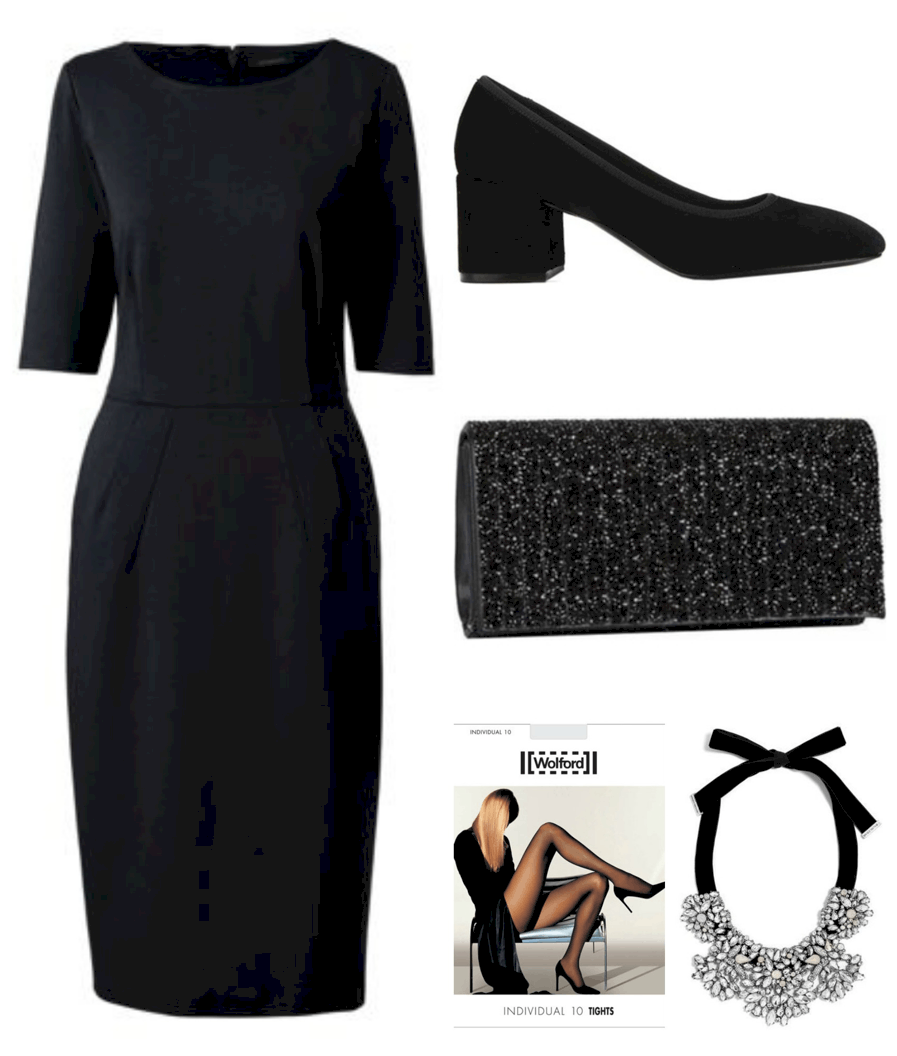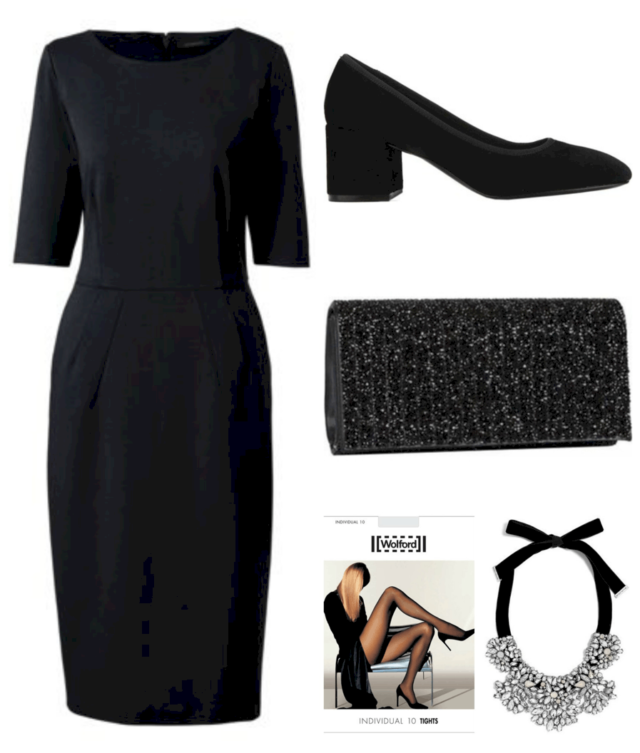 A solid colored tailored dress is the best choice. A black dress is featured here, but you can do most any color. The hem should hit one of three points – directly above the knee, at the middle of the knee, or directly below. Any longer and the dress can look too long. Opt for sleeves unless you love your arms. There is no layering for this look (no shrugs, boleros, cardigans, or wraps); your dress, no matter the color acts as a not-so little black dress and should be able to stand on its own. For fabrics, look for crepe, silk, ponte knit, matte jersey, and classic suiting fabrics. A lined dress will hang better and look more elevated.
You'll be on your feet for many hours, a block-heel pump will provide more stability and better distribute weight than a skinny heel. This sort of heel is on trend right now so you can find a great variety at retailers of all pricepoints. A pointed or almond toebox will make the shoe more elegant and formal.
To dress up this look, add one statement accessory. While this capsule wardrobe features a necklace, you could switch it out for a brooch or earrings. However, only choose one statement piece above the bustline. A smaller clutch purse with a bit of sparkle will also help make the dress look more formal; many of these purses come with a delicate chain strap so you can hang it off your shoulder to have your hands free for meet and greets and hors d'ourves. For a formal event, opaque tights are not dressy enough. Thanks to Kate Middleton, sheer hosiery is back in style and you can find really sheer natural ones in all sizes and pricepoints (the lower the denier number, the more sheer the hosiery). Sheer black stockings are acceptable, but only if you're wearing black pumps.
What to Wear for a Town Hall
\The key word for this look is "Authority." You are the expert on the issues and the best to handle such issues. Your look has to convey this authority; the effect is polished, tailored, and fierce. This is a more formal business look, but NOT a suit. Separates will better accomplish the effect you desire.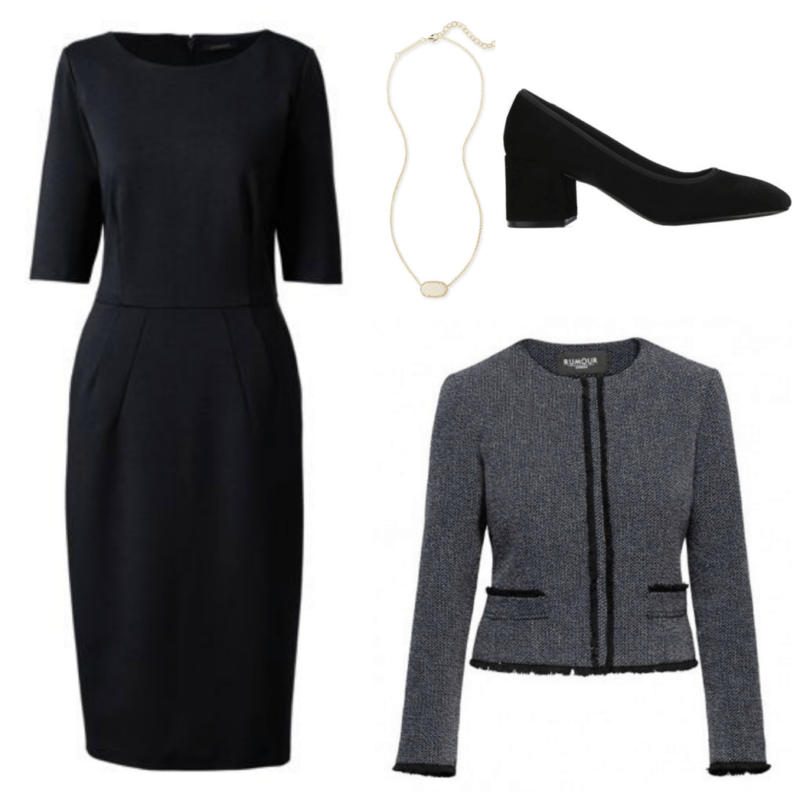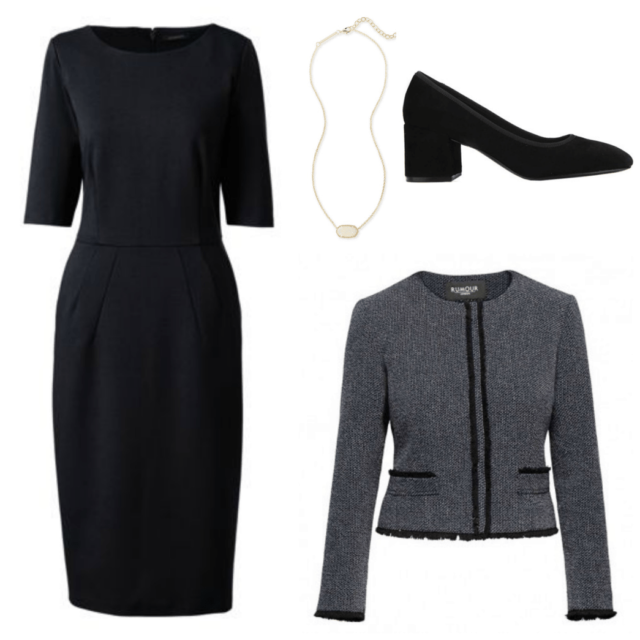 This look also incorporates the dress from the capsule wardrobe, but layered with a more structured jacket it achieves a completely different effect. Your jacket can be any length; a longer car coat can be quite flattering and look great over a sheath, a-line shift, or wrap dress. You wish to use a more structured jacket, preferably one with subtle texture or print in place of classic suiting material. You want to look formal and powerful, but accessible at the same time and fabric choice can make all the difference. Another plus to a subtle pattern or texture – no visible sweat marks! Adding your signature accessory provides interest and shine without being too distracting.
For such an event, steer clear of bright red, white, gray, or optic prints. None of these do well on camera and town halls are often photographed and televised. If you wish to do pants, you could wear the black pants from the capsule but dress it up with the pumps and a more structured jacket or longer car coat.
How to Shop on a Budget
Lord & Taylor is a great resource for budget-friendly yet polished workwear. You may find better selection online. Check our their in-house brand Nipon Boutique which carries stylish workwear in regular and plus sizes and nothing is over $100.
Buy cheap and spend on a tailor. When your clothes fit your body and proportions, you will look more expensive. To find a tailor or seamstress, ask at bridal boutiques and men's clothing stores – their in-house tailor may also take on side work. Nordstrom provides alterations on any clothing purchased at their store.
Don't spend a lot on blouses. Blouses are only a base layer that is usually partially hidden under a jacket or cardigan so you can scrimp on this piece. A poly-blend fabric is much less expensive than silk, easier to launder, and doesn't wrinkle either.
Shop Poshmark, eBay, and ThreadUp with caution… and a mission. Online resale sites can be great for bargains, but if you don't go in with a strategy you could get sucked in by a great deal and end up going off course. My suggestion is to use it to shop for a very specific item – if you know the brand, the style name, the size that fits, the fabric, and color you desire you can search these sites and possible find it at a lower price.
Grooming Tips for the Political Candidate
We often forget that to have a really cohesive and polished look we have to not only address our style and wardrobe, but also hair and makeup. The key here is just like it is for your wardrobe – to be you, only a bit more polished and defined. This is not the time to get a makeover, we're not looking for a Glamour Shots effect.
If you never wear makeup, don't jump into full face. You still want to be authentic to who you are. A bit of concealer can even skintone and reduce dark circles without looking obvious. L'Oreal True Match Super-Blendable Concealer is a great formula, comes in a broad range of colors, and is available at most drug stores. Mascara is a great way to define your eyes without looking too done up. Maybelline Great Lash Mascara is a lightweight formula that won't clump.
If you are comfortable with makeup, you may wish to head into Sephora, Ulta, or your nearby department store to learn a few new techniques focusing on evening skintone, reducing dark circles, or finding a product that will last longer. I recommend visiting before lunch on a weekday when the store won't be as busy. Such makeovers are free in the hopes you will purchase something.
When you are on camera, shine can turn your face into a disco ball. A translucent powder compact or pack of oil blotting papers should always be in your bag for events that may televised, be stressful, or too warm.
The ultimate goal is to define your features so you are you, only better o camera and from a distance.
What to Wear Under the Capsule Wardrobe: Foundation Garments
When you are on camera and in front of a crowd, details matter. You wish to have a smooth and polished look, and your underpinnings can make all the difference.
If you haven't had a bra fitting recently, now is a good time. A properly sized bra will be more comfortable, help your clothing lie better, and may even make you look slimmer. You should be refitted for bras every year as your bust changes with age, weight fluctuation, and life changes.
Not all foundation garments squeeze, pinch, and suck you in. I am a fan of this bodysuit from TC Intimates which work with your bra, prevent any rolls between bra and waist in the back, and give a smooth look without any gas pains or visible lines. Such a piece is especially valuable when wearing a dress and more tailored garments.
When wearing pants and tailored skirts, look for undergarments that are seamless and promote being invisible under clothing. I am a fan of Soma's Vanishing Edge collection.
The Purpose of this Capsule Wardrobe
This capsule isn't to make you spend a lot of money or be someone you're not. Men have a set uniform, women's fashion is more complicated. The goal of this capsule wardrobe is to simplify your fashion so you can focus on the issues that matter most to your community. We want to see you succeed, and want to provide our knowledge to assist with that.
How to Host a Political Style Seminar for your Organization
Our seminar on style for the political candidate delves into the capsule wardrobe, how to style it in multiple ways, and advice on working with your existing closet, understanding color and print, tips on grooming and accessories, and shopping tips to make the process less painful and less expensive. At the end of the seminar, we work individually with attendees who brought some of their campaign clothing for advice on styling, tailoring, and completing their existing wardrobe. If you are interested in having such a seminar take place in your area, with your group, or at your conference please contact Rosana Vollmerhausen at DC Style Factory.