This article may contain affiliate links; if you click on a shopping link and make a purchase I may receive a commission. As an Amazon Associate, I earn from qualifying purchases. 
Life has been super busy this past month and I realize I haven't been too chatty on here. Oh sure, advice posts and a couple outfits thrown in, but little with what's going on beyond the blog.
Emerson's enjoying kindergarten so much, and it's crazy how much she has changed since she began school. She has picked up new mannerisms, phrases, and incredibly goofy jokes that only make me laugh because of her hysterical snort-filled laughter after sharing the punchline. She has a bunch of friends, but plenty of elementary school drama where so and so cut in line, someone else said something mean on the playground, and another person who made her angry yesterday is now her newest friend. Usually when I come home from work she says the day was "fine" and I have to force any details out of her, but after we've read bedtime stories together and turn out the light, we have a bit of time snuggling on her bed and she then shares her day beyond her homework assignment. I'm treasuring this time because I know all too soon I'll be lucky to get "fine" from her no matter the time of day!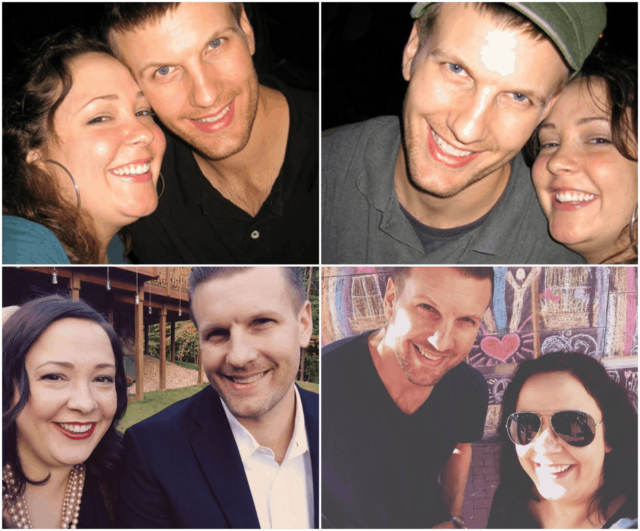 Me and Karl in Charlottesville; the top in October 2006, the bottom this past weekend
Last weekend, Karl and I headed down to Charlottesville, Virginia for the weekend. We last visited in October 2006 and it was one of our best trips together. I revisited posts I wrote on a now-defunct personal blog regarding that trip and it's so funny to see how different we are eight years later, but still how much fun we have together when we travel. We did completely different things this trip, stayed in a different hotel, but we did stop by Monticello to eat one of Jefferson's figs (on our last trip we toured Monticello and thought it was so cool to pick figs from trees planted in Jefferson's time). Since our last visit, Monticello is set up differently so we'd have to take the tour to visit the trees; we didn't have enough time so we just bought some seeds so we can plant a bit of Monticello in our vegetable garden.
This weekend away reminded me how wonderful short trips can be. Long vacations take so much planning and can be so busy you feel you need a vacation after your vacation. Charlottesville is only 2-3 hours from us so the drive doesn't wear us out and there's no need to pack a lot of stuff. I was able to fit everything from shoes to curling iron in my Everlane Weekender and we didn't have to refuel the car until we got home. We'll be doing more short jaunts in the future.
Before we left for Charlottesville, I had an appointment with my orthopedist. A month ago I visited and he said the bones (the two parts of my radius and the bone graft) weren't fusing, so I had to keep a brace on to protect my arm from re-breaking and couldn't start physical therapy. Well Friday they did x-rays and the bones are fusing! I now only need to wear the brace when in a crowded situation where I could get bumped (mall, concert, riding the Metro), or when driving (in case of a fender bender, can't be too safe). SUCH good news because if it hadn't fused, I would need another operation where they'd have to replace the graft with a portion of my tibia. I start physical therapy this week and can't wait to get my wrist working and gain back the strength in my right hand! Nice to see the light at the end of this tunnel.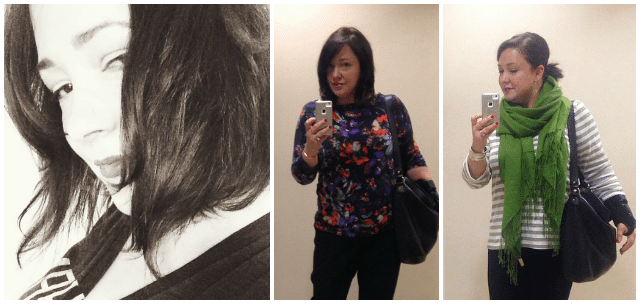 The day of the big snip, wearing it sleek, and showing there's still enough for a little ponytail
Though it's been in outfit posts for over a month and I shared it on Instagram, I never mentioned on the blog that I cut my hair. In August or so I had my hair cut to around my shoulders, but a few weeks ago I went with a graduated bob. While my hair in the front still is the same length as before, the back is short enough that I feel a breeze on my neck when wearing a crewneck. It takes far less time to dry and style, and I'm having fun playing with it. Sometimes I do it sleek and straight, but usually I do it in a messy combination of waves and curls and the natural fizz that happens. The older I get the less I want to waste precious time on my hair, especially when it just returns to its natural state with some humidity, sweat, or rain. I think I'll be keeping it shorter for a while.
Since Whole30, I have really changed up my eating habits. While I'll still indulge in an ice cream cone or cheeseburger with bun, those treats are now treats and not the norm. I have only had pasta once and it wasn't as awesome as I remembered it. I don't eat a lot of cheese or dairy now; we do have goat cheese in the house, but I don't get cheese cravings like I used to. I had one beer post-Whole30 and it made me feel so gross I've stuck to wine since (and the occasional bourbon and ginger when say, in Charlottesville on vacation…). I haven't eaten beans much, and while I am eating seed oils again I've cut down drastically on soy. The main thing I still crave is sweet, but I'm able to control it far more than I did in the past. I don't feel as though I'm restricting myself or that I'm on a diet, I'm just making better choices and they're not as difficult to make. I can see myself doing a yearly Whole30 to do a body restart, Karl has also started eating more paleo and we've seen such a difference in how we feel I doubt we'll go back to our old ways.
I'm still walking, but to be honest not as often as I'd like. A minimum of twice a week, but I feel best when it's at least four times. I had my back go out last week for the first time since I think Emerson was born and I think it's lack of yoga. My arm is nowhere near strong enough for yoga, but the walking and my modified yoga stretches each morning I think was keeping my back happy enough. But with my shoulder compensating for the lack of wrist movement and me not walking regularly, my body gave me a big slap in the face with my back. Well I heard it and even went walking while away this weekend!
And that's pretty much what's up. Lots of the same, but the same is really good. We're busy, but we're working to make time to enjoy one another as a family. We're taking advantage of this great weather and spending as much time outside as possible. I hope all of you are enjoying your fall and would love to hear what you've been up to!