This article may contain affiliate links; if you click on a shopping link and make a purchase I may receive a commission. As an Amazon Associate, I earn from qualifying purchases.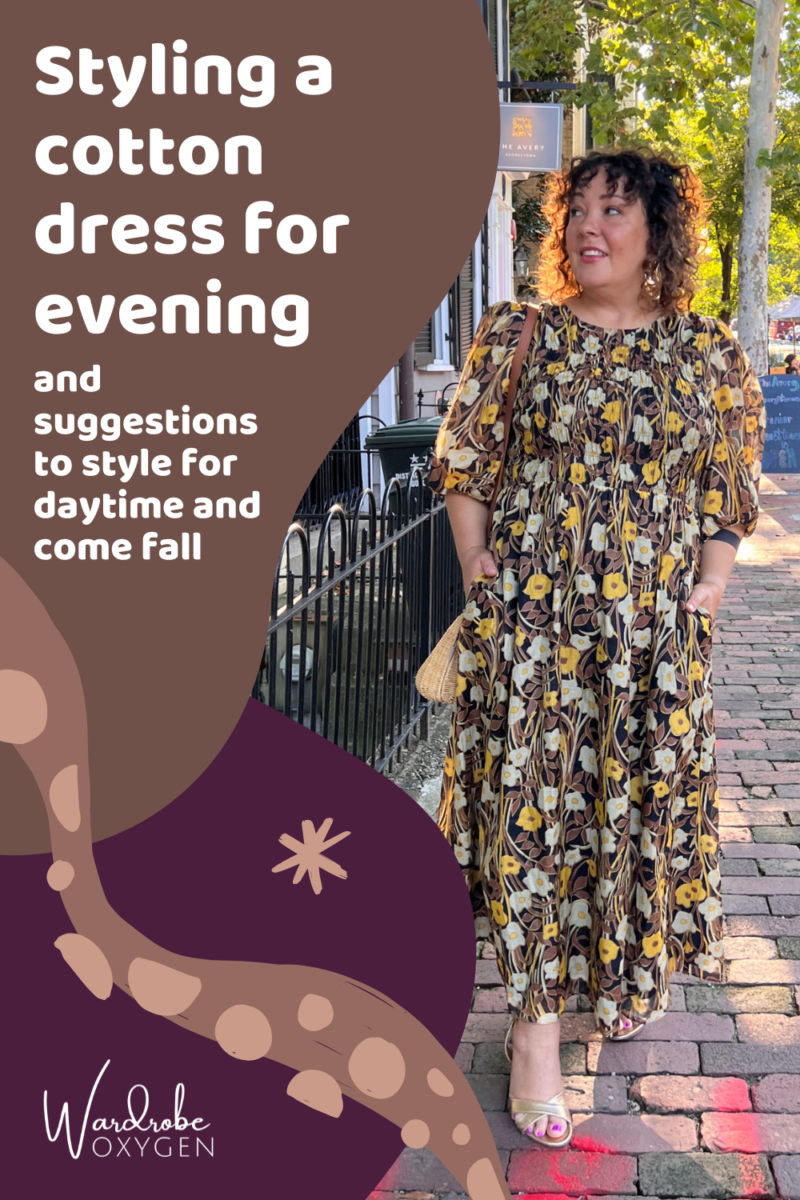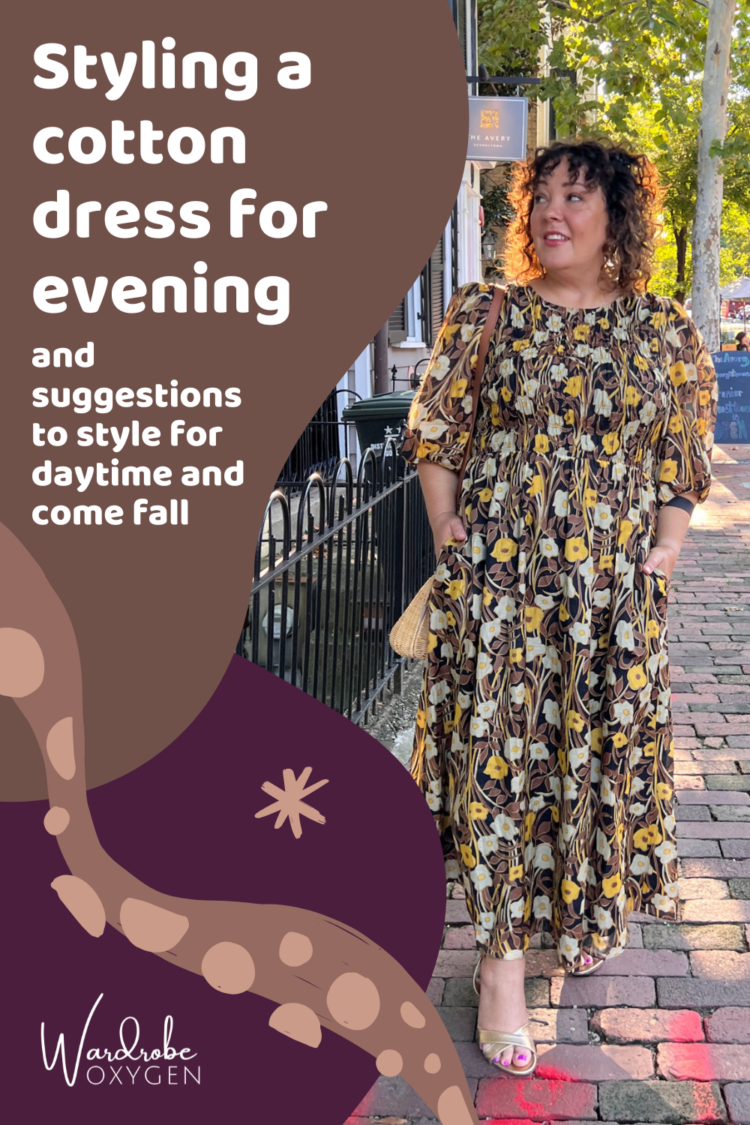 This job is a weird one, but through it, I have made some amazing friends and have experienced cool things I normally wouldn't. Last Wednesday evening was an example of both – a great experience with a great friend and a great chance to share what I wore and why I wore this Rebecca Taylor dress.
Attending a Garden Gastronomy dinner with Veuve Clicquot at Apéro Georgetown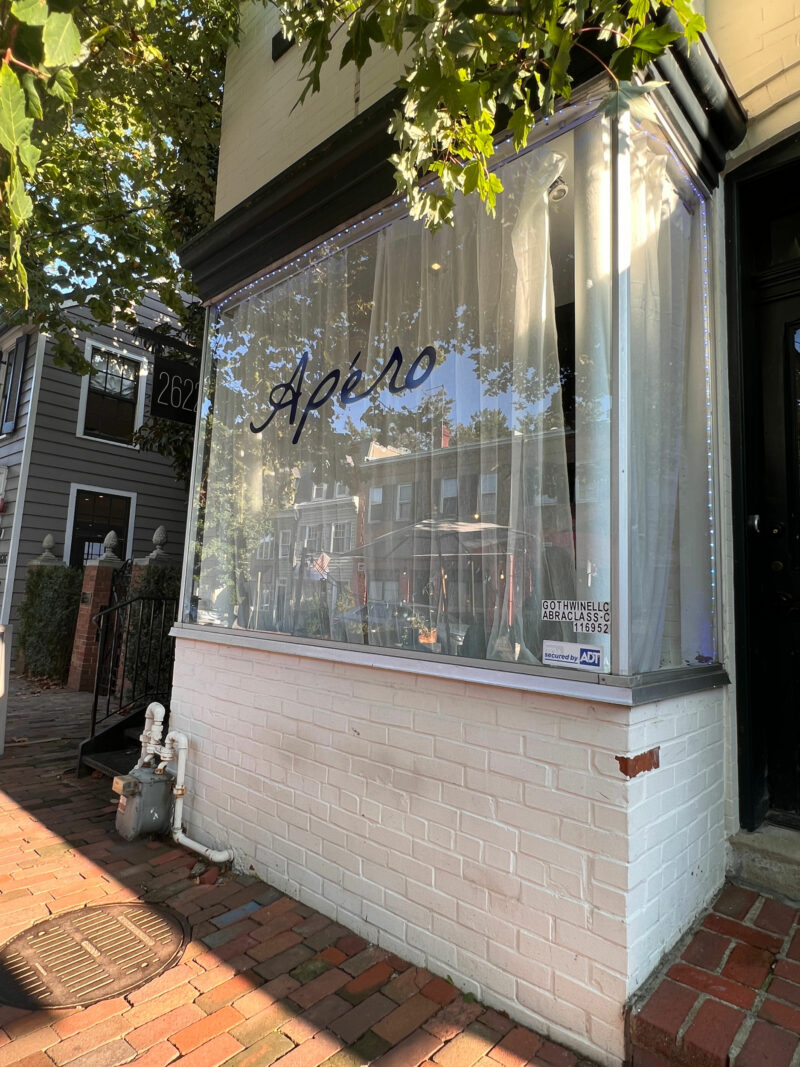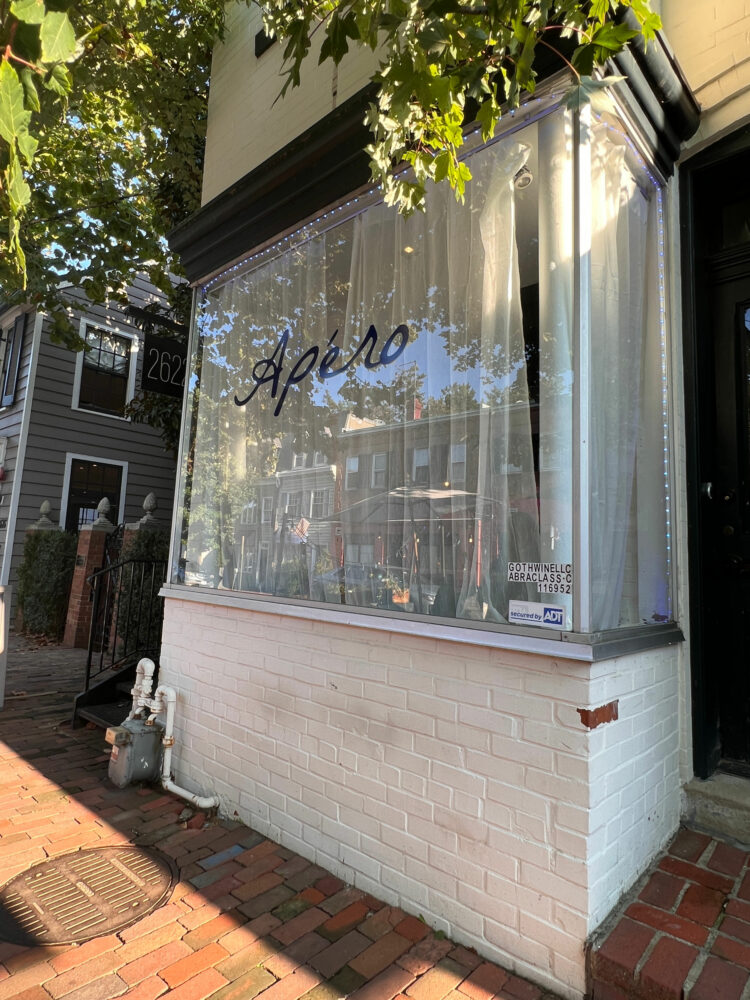 My friend Dani from Blonde in the District invited me to be her date to a Veuve Clicquot dinner at Apéro in Georgetown. The theme was local cuisine, focusing on cherries. It was a small group, only 10 of us as guests along with the sommelier from LVMH (the parent company of many high-end brands for fashion, wine, spirits and more). FYI, Apéro has other events like this; this link lists all currently on the schedule plus more info on this event I attended.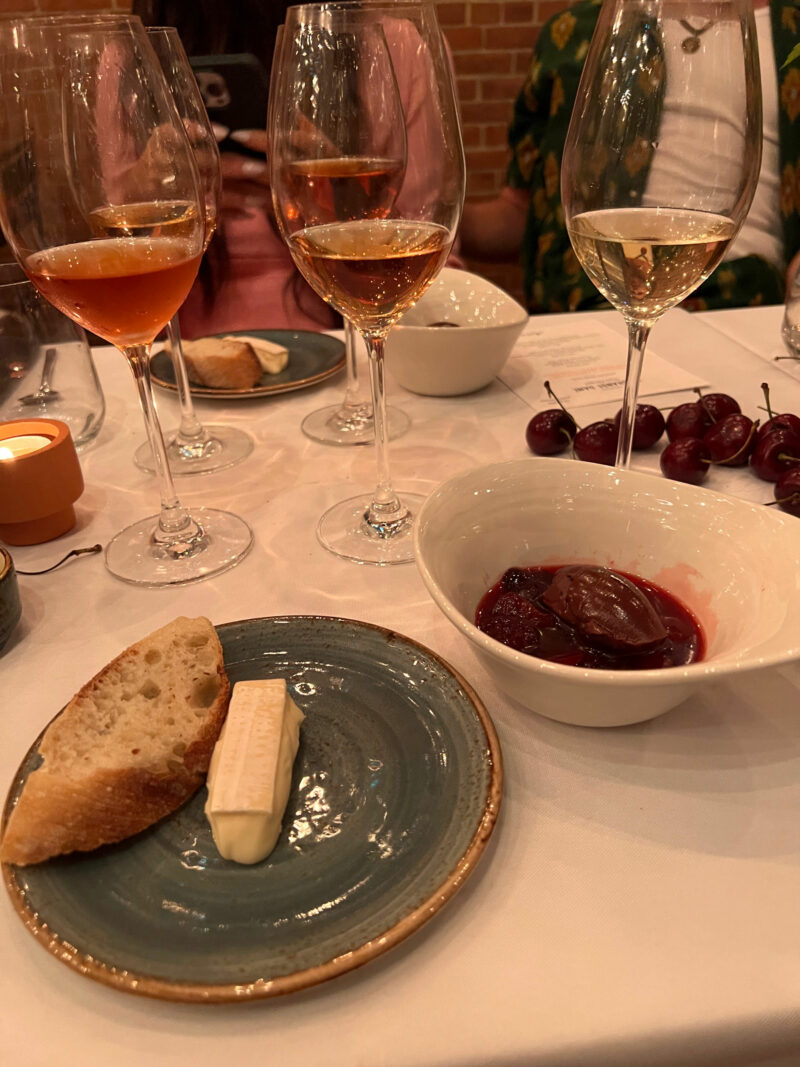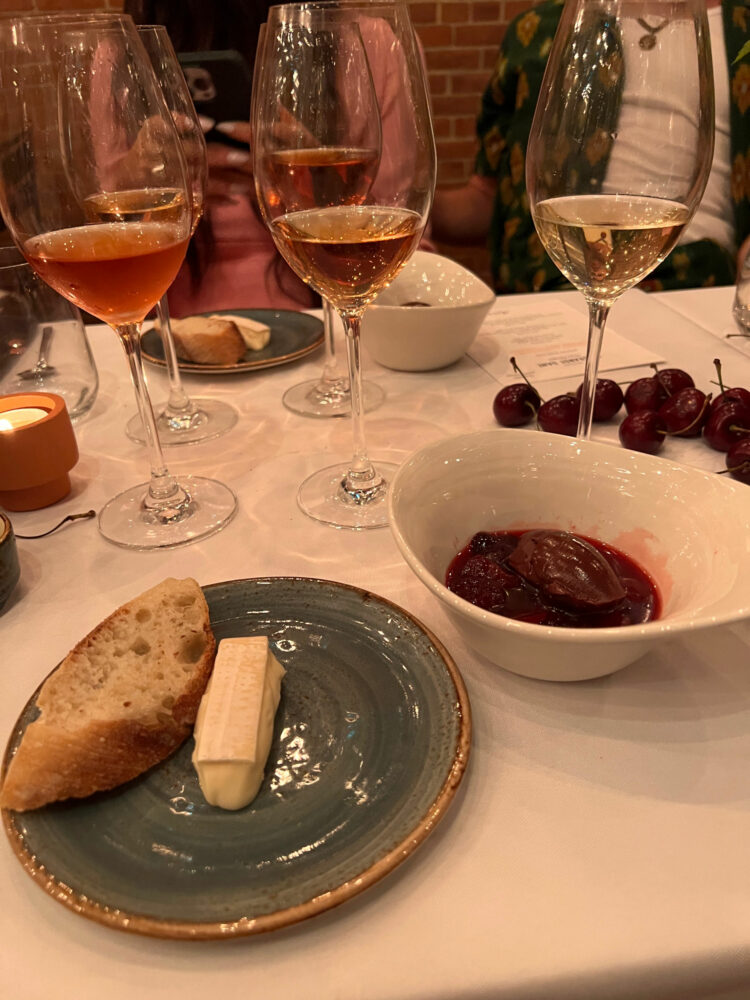 Apéro is a woman-owned champagne and caviar bar in the neighborhood part of Georgetown. We walked through the narrow and romantic restaurant to the back where we were given a glass of Veuve Clicquot and walked outside and down metal stairs to a small greenhouse-like building with air conditioning. It was decorated in yellow and orange flowers, bottles of champagne, and fresh cherries. There were two tables set and the whole ambiance was so charming. And I was so glad to find that I was dressed perfectly for the event.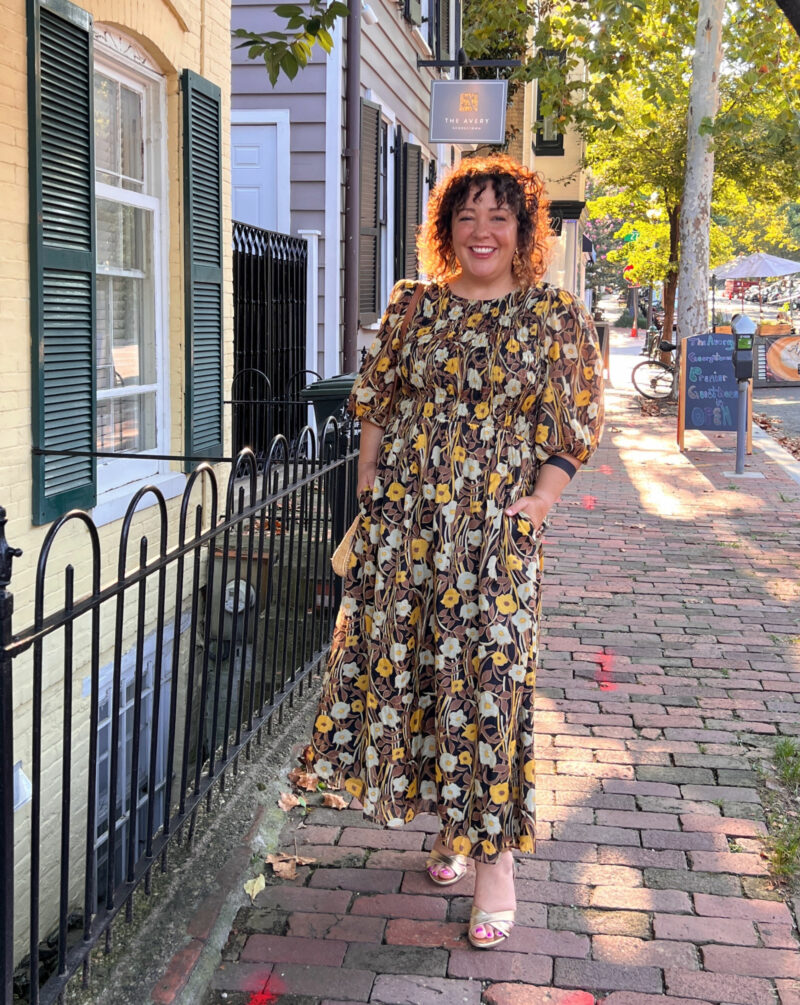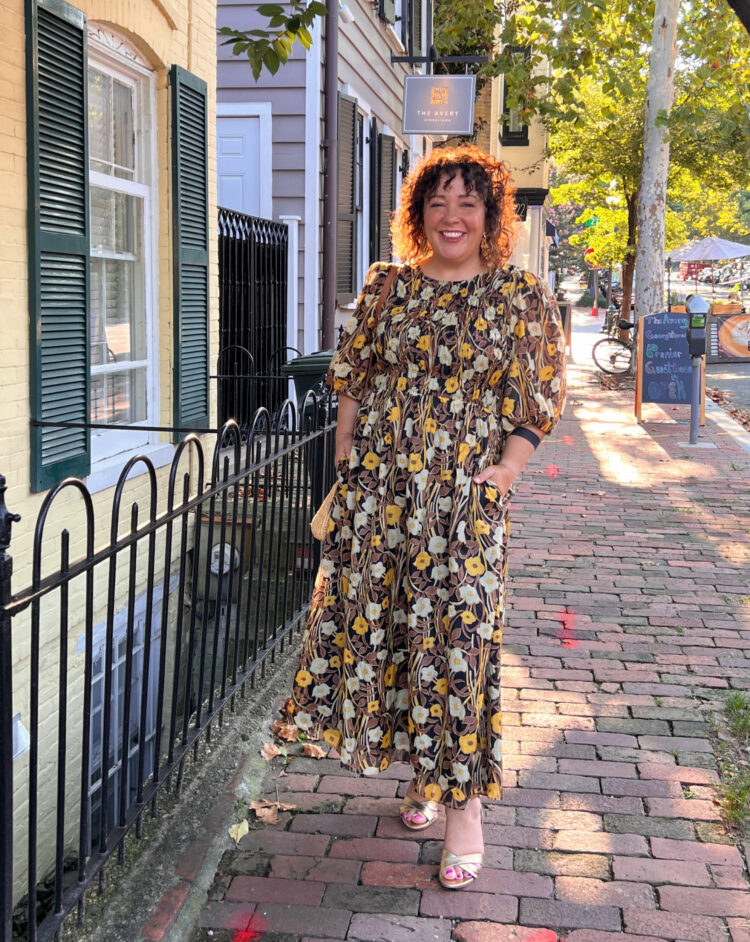 I chose this dress from Rebecca Taylor that I found on Amazon left only in size XL, for around $100 (the dress was originally several times more). I was looking for an interesting on-trend dress that had sleeves, was below knee length, would dress and up and down, and wouldn't cause me to overheat and this ticked all the boxes.
This dress is cotton voile; the bodice smocked front and back and the skirt double layered. Full sleeves that don't cling, a print that hides sweat, and pockets. I didn't even have to unzip it to get it on and off. This print is a previous season but they have the same dress on the Rebecca Taylor site in a lighter color for around $200.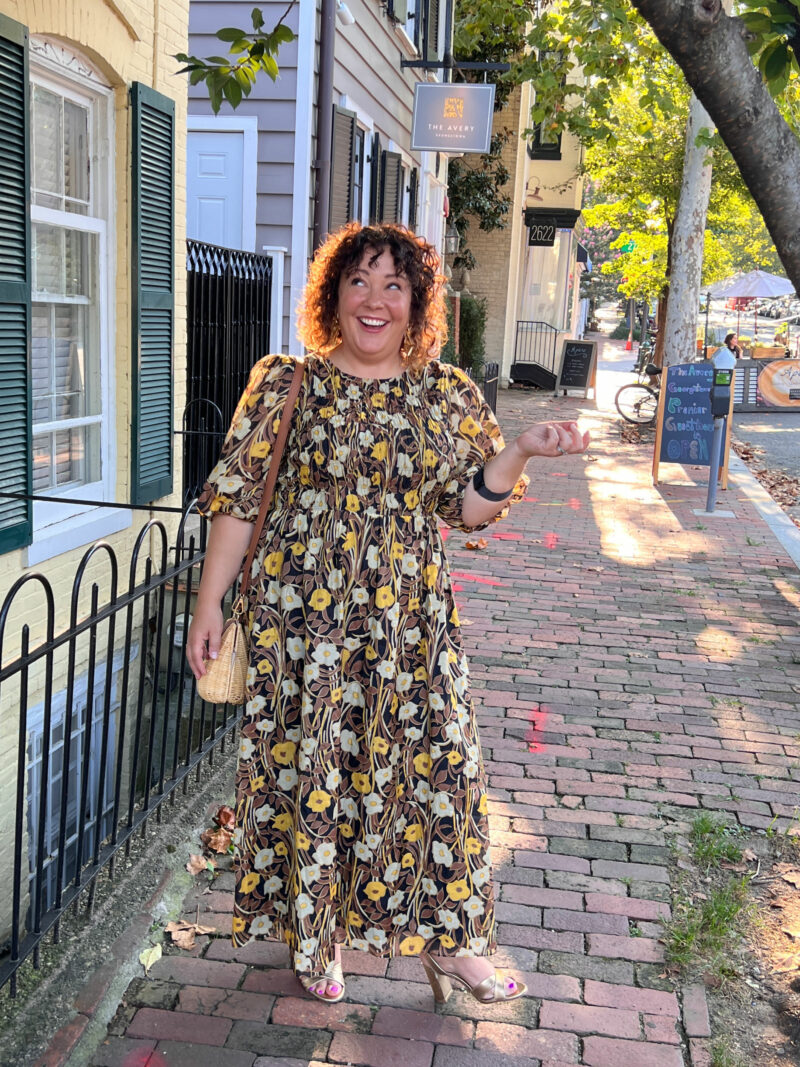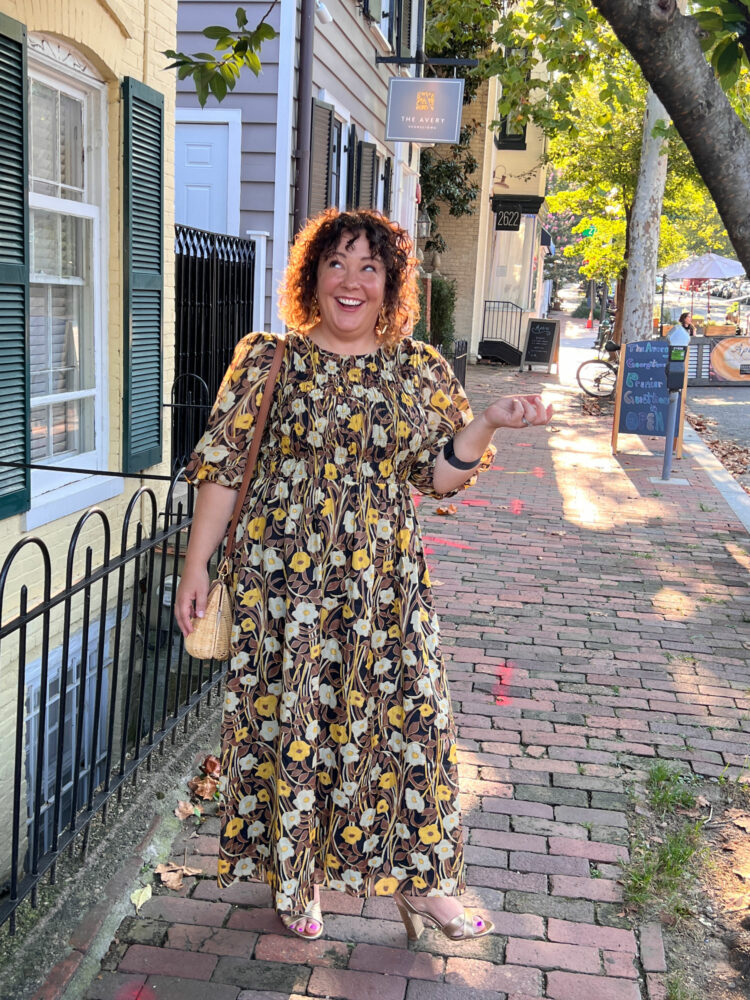 As for shopping on Amazon… you can often find deals like this with designer pieces. It takes some time, or some very specific keywords. Search the brand and style name, or take some time scrolling through more general searches. I actually found this dress searching for Tanya Taylor dresses! It has been nice with slip shorts and Birks, but I knew it would be able to glam up with a change of accessories.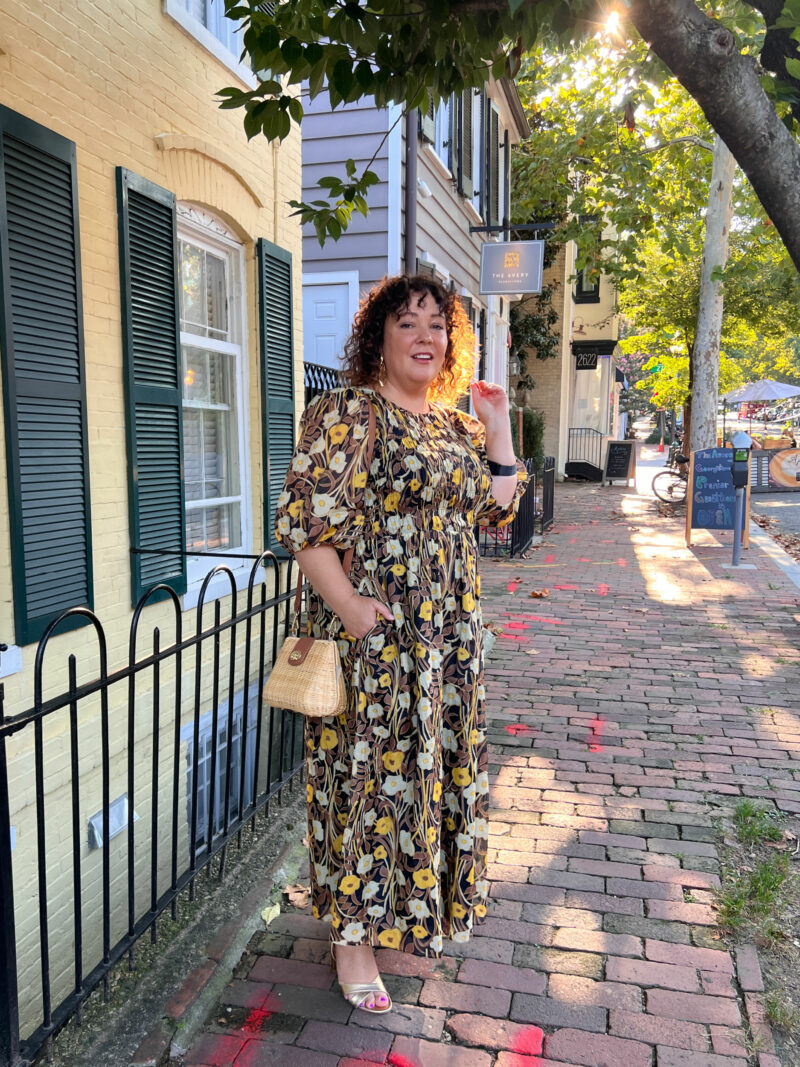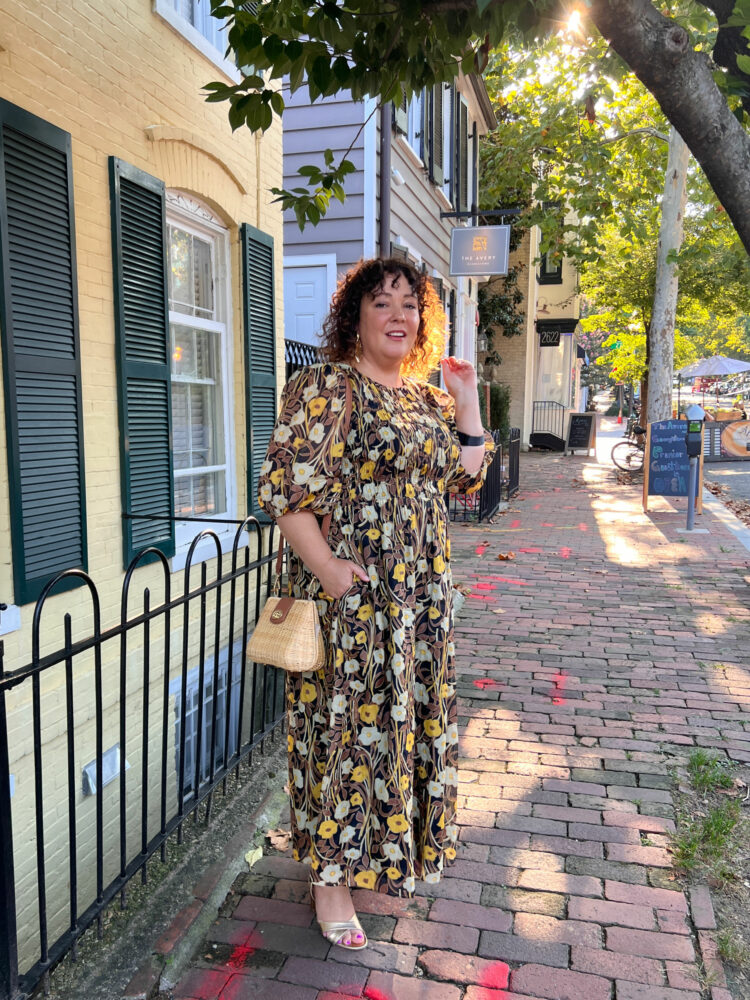 The shoes are my Margaux Uptown Sandals; they're not cheap but considering these are the same pair I reviewed here and I still find them comfortable, even after Lockdown, I think they're worth the money for me. They're the only heels I'll wear for more than an hour or two. They feel secure on my feet, come in widths (and truly wide enough for my wide feet), and are such a versatile style. I've worn them with flared jeans, dress pants, jumpsuits, and skirts and dresses of every length. I like them so much I got a second pair in the blush which is very close to my skintone.
The bag is from Talbots from this spring. They don't have it any more, and it will be hard to find wicker bags this time of year, but it has been such a great summer bag for me. I know I'll be carrying it quite a lot next summer as well. The earrings are these from Open Edit. Open Edit is a favorite for me to find cheap but well-made on-trend earrings (they're usually under $20). I felt that the funky earrings and gold heels counteracted the prairie/cottagecore vibe of the dress while also making it a bit more evening.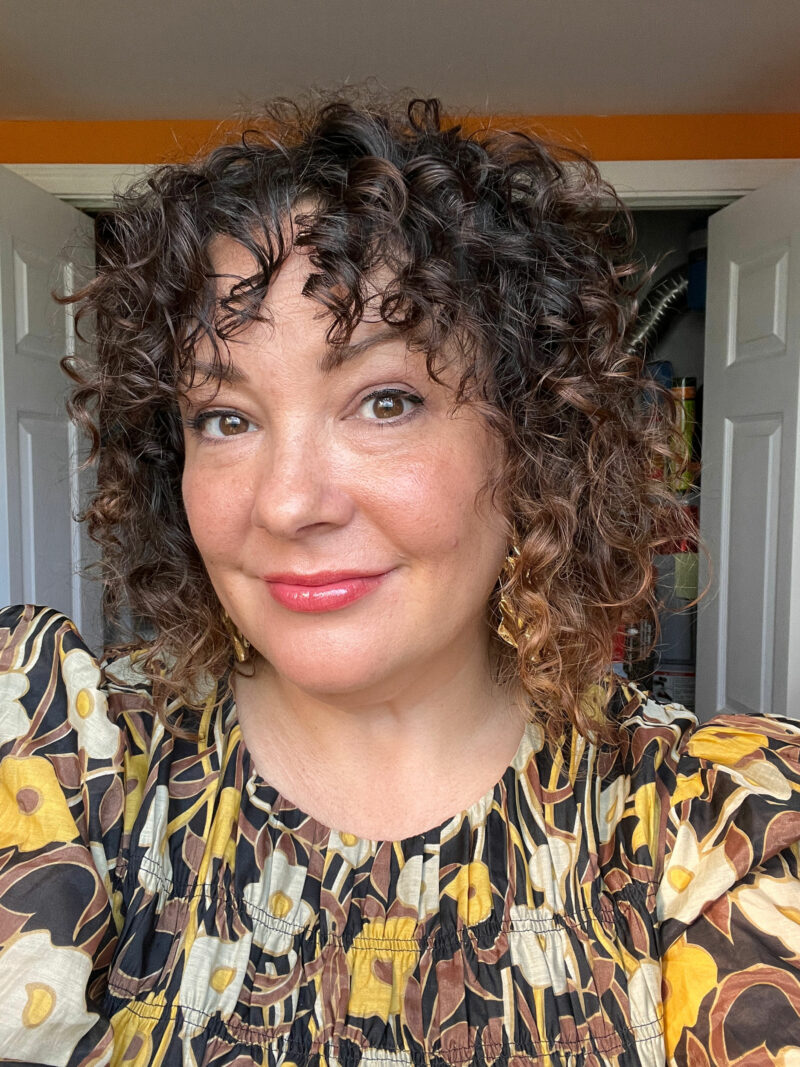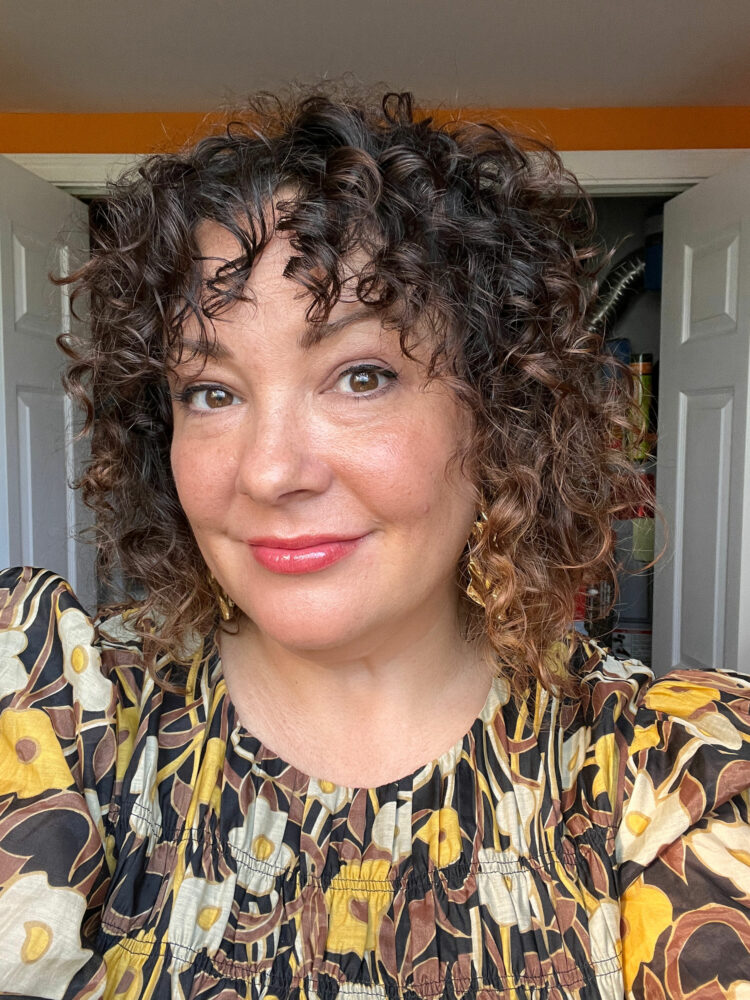 For makeup, I thought about the heat, but also about photos. I used some concealer to even things out, but didn't do a whole face. I wore tubing mascara (this one) and liquid liner (this one) that would stay put even with sweat, and used bronzer (this one) and highlighter (love this one) for glow and color. On my lips I wore my go-to NARS 'Pigalle' with some Fenty Gloss over it.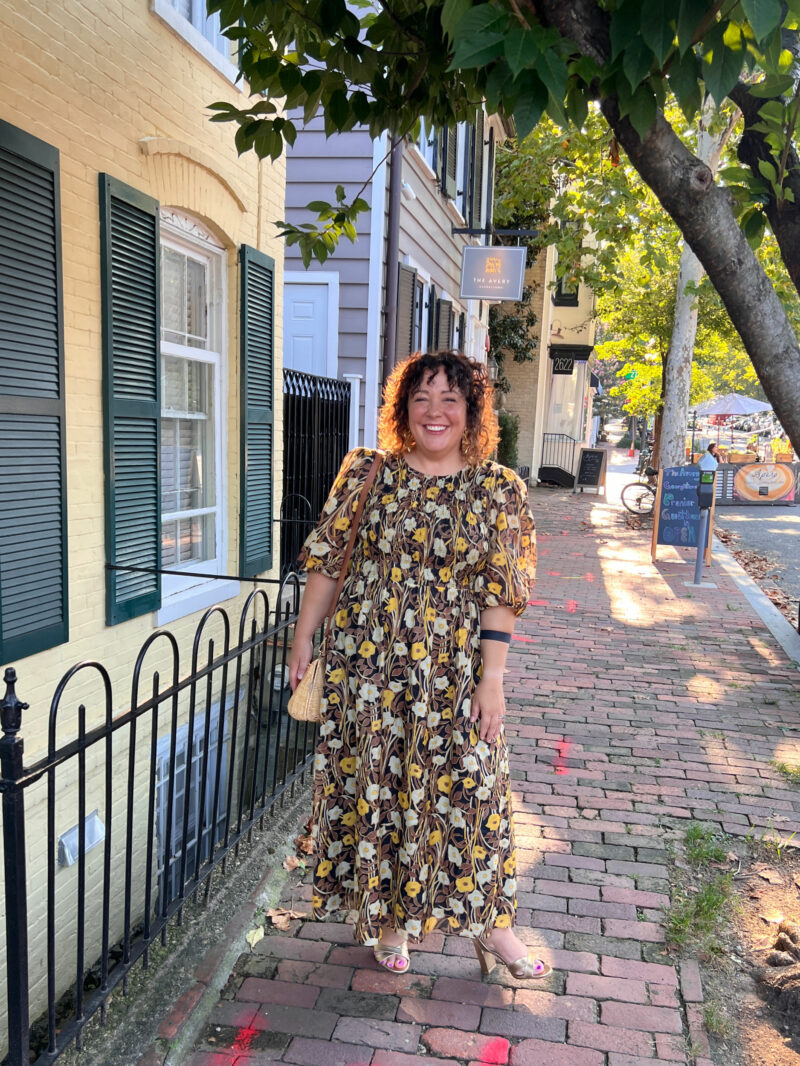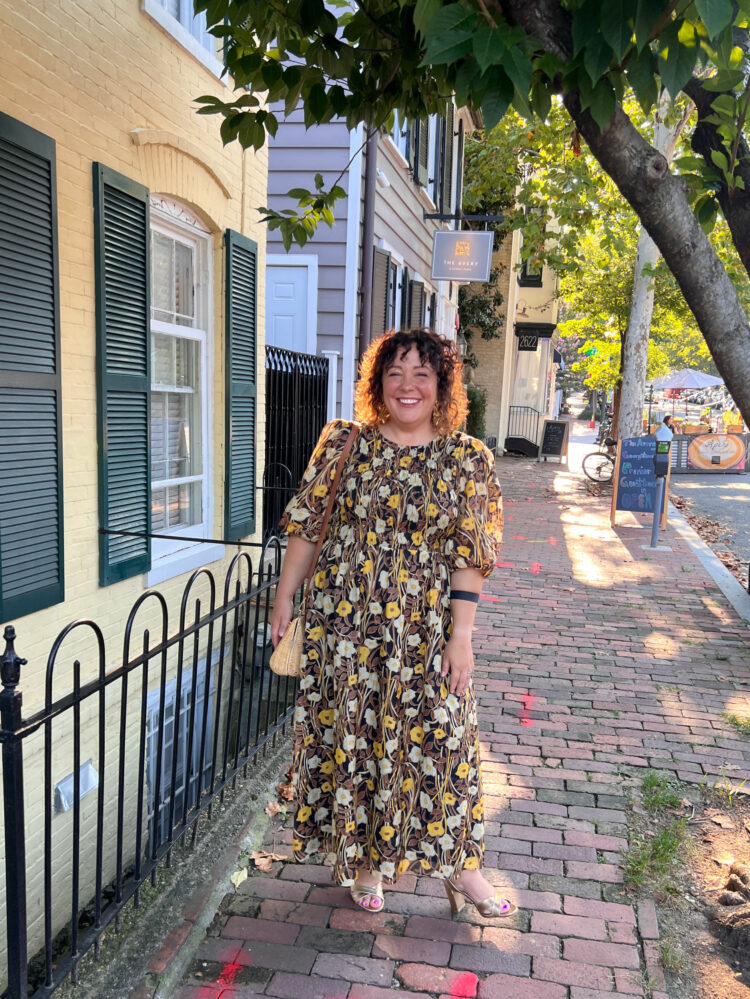 And for the behind the scenes (or shall we say under the outfit)… Thigh Society cooling shorts were my choice for staying comfortable and chafe-free in the heat and humidity. The 7″ is my favorite for midi and maxi dresses; they don't ride up and feel like nothing. I have several pairs; some are three years old and still look like new. If you use promo code WO215 at checkout you'll get 15% off.
How to Style This Dress for Fall
This fall, I can see this dress with brown boots and a denim or leather jacket. I think I'll also play with belts. I have a gold metal belt like this one (mine is years old from ASOS) I think would look nice; I also think a wider brown belt would be cool (I own this wrap belt from ADA Collection; I also think a braided one like this would look good).
Dressing for Comfort and Confidence
After Lockdown, I reassessed this job and how I spend my time. I was attending a lot of events in DC, ones that were cool but had nothing to do with my blog's topic. When things began opening up, I began saying no to 99% of the invites I received.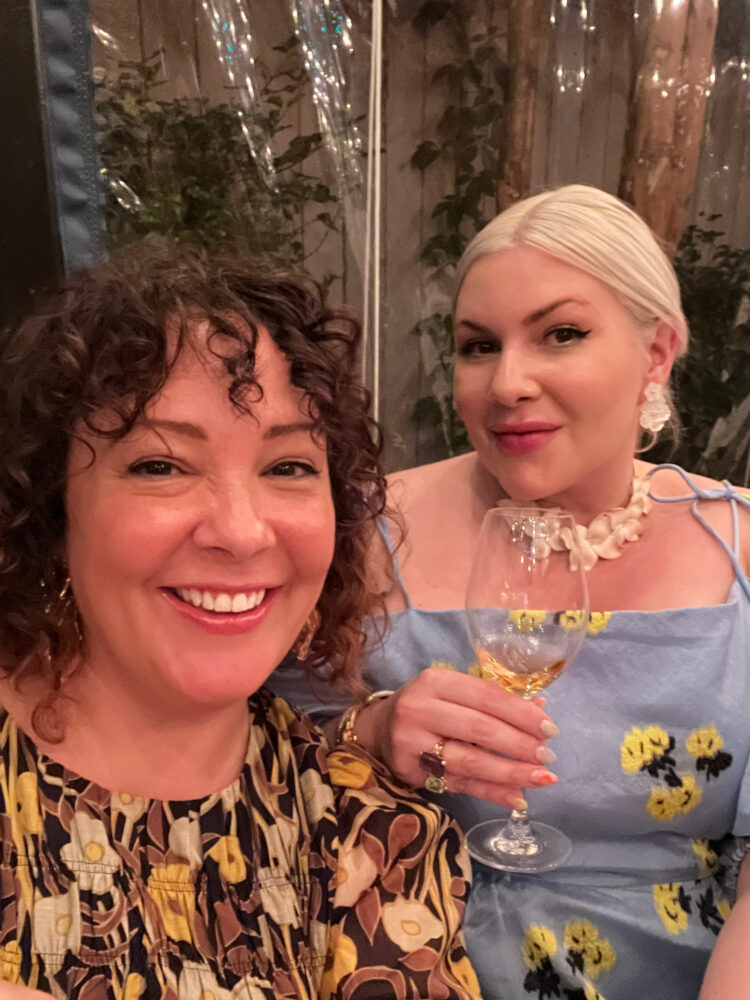 But this evening was special. I was invited by a friend, not a PR firm making it social, not work. Heck, I got to sip 30-year vintage champagne with one of my favorite people in the DC fashion scene! I ended up sitting next to the gentleman from LVMH and learned more about champagne. Even if it was a fancy restaurant and fancy champagne brand, the event was quite relaxed.
The food was inventive, it was great to have the chef come and discuss each course before we enjoyed it, and to have the champagnes chosen to pair perfectly with them. Besides the gentleman from LVMH and the chef, I was the oldest person in the room. For many events like this I am also often one of the largest but this evening was a great mix of influencers and local celebs. But this dress had me so comfortable neither was something I thought about all night long.
Clothing can be a suit of armor. Clothing may be the bookjacket to your novel. Clothing cannot change who you are, but it can make you more comfortable in your body and in certain settings. And as I have gotten older, I have learned that it's less what you wear and how you wear it that is stylish.
I have attended so many events in really cool or stylish or trendy looks where I was constantly fidgeting to keep everything in place. I've left events with severe gas pains from the control garments I'd wear to appear thinner or firmer. Red marks from underpinnings trying to lift and separate and suck in without showing straps or VPL. I've sweat through so many ensembles, trying to clean myself up with paper towels and hand dryers. It doesn't matter what I'm wearing if I am uncomfortable.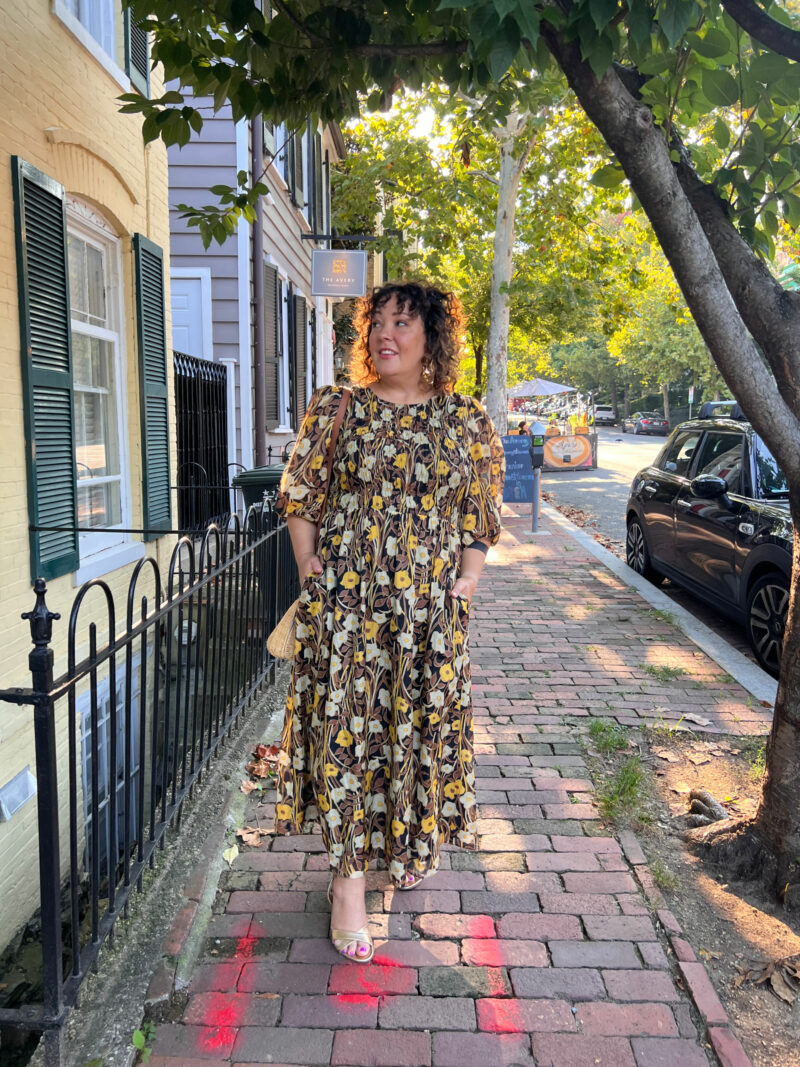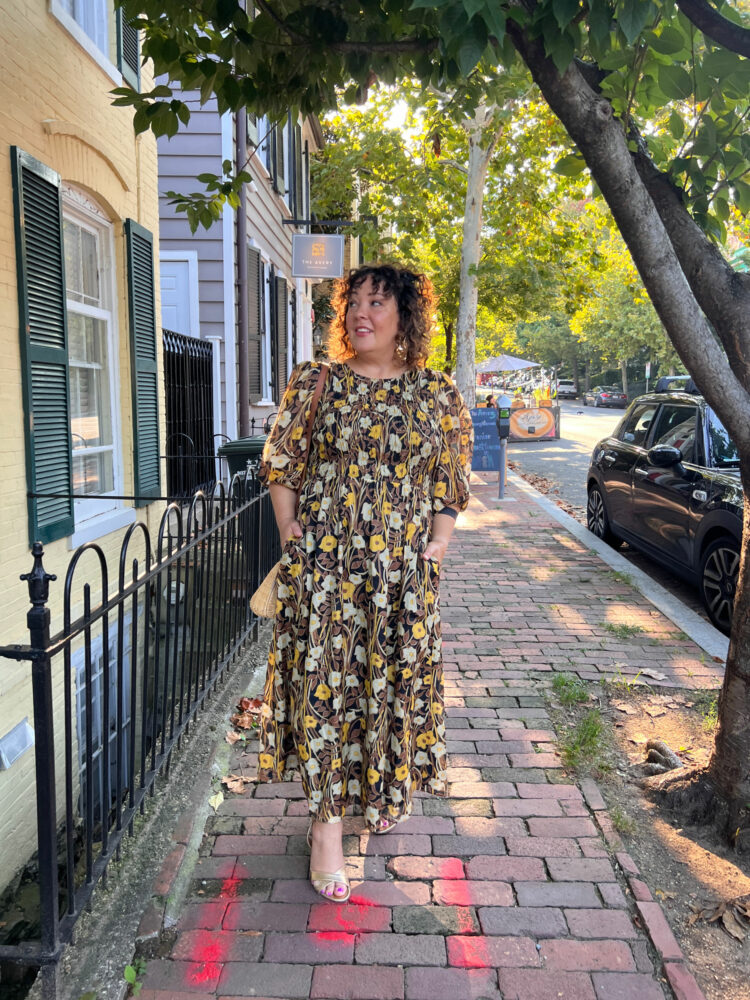 The brown was stylish, but not as "look at me" as a lot of my wardrobe. As a guest, I didn't want to be too over the top. The subtle gold in the dress kept it from looking just daytime and ended up coordinating so nicely with the decor. The smocking highlighted my bust and gave shape without needing a belt and while still keeping things loose and comfortable. I liked having my upper arms covered and a more modest neckline plus a pattern (hides your shape better in photos while also hiding sweat) since I knew there would be a lot of photos taken while I was seated.
Some days I am confident in a fitted outfit, other days I feel my best in something loose. I'm learning that if I shop slow and with care, I can have variety in my closet without it bursting at the seams. I hope sharing my "why" behind what I wear will help you with similar internal discussions about what deserves to be in your closet!
Shop the Post: