This article may contain affiliate links; if you click on a shopping link and make a purchase I may receive a commission. As an Amazon Associate, I earn from qualifying purchases.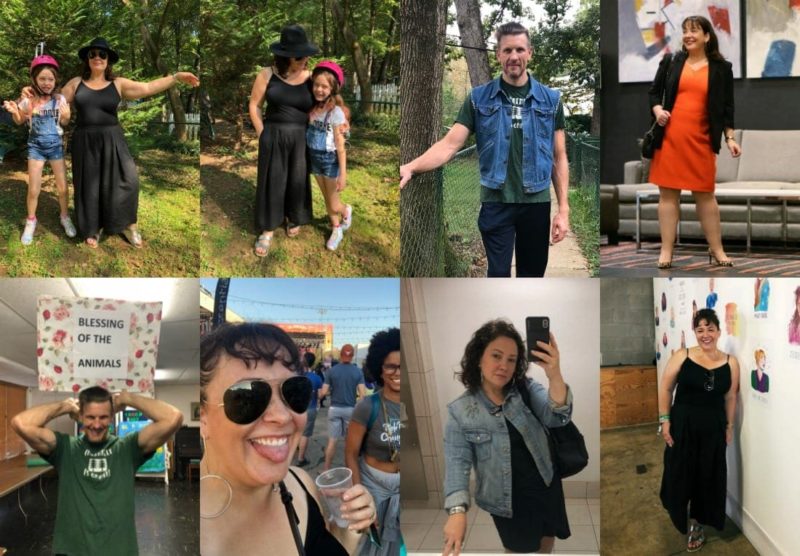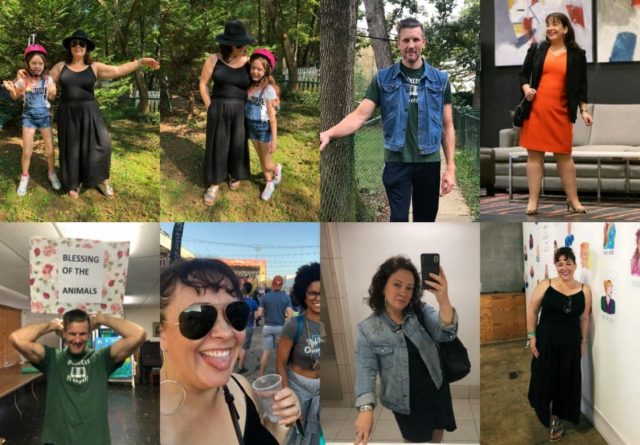 I'm writing this Friday. Karl and I just shot an upcoming real-life capsule wardrobe where I chose nine pieces of clothing from a single brand and created 20 different looks for work, weekend, and even a few social events. We shoot these in our home, moving all the furniture to make room for the backdrop, lights, and tripod. It takes a couple hours to shoot and change that many times; I washed my face and put up my sweaty hair to plop down on the computer and Karl is darting around the house making it once again a home. This weekend I will edit the photos and craft the post, which will take another 10 hours. It's a lot of work, but these are the kinds of sponsored posts that I love the most. It forces me to be creative, my husband and I can collaborate, it pushes me outside my comfort zone, and it produces a post that is actually helpful whether or not the reader owns those clothes. Just seeing pieces worn in multiple ways inspires one to see their closet with new eyes.
Tonight I am heading to see Public Image Ltd in concert. I remember the first time I heard a PiL song, I was at Ferry Beach, a Unitarian Universalist family camp in Saco, Maine. I was walking from Quillen Hall to Rowland with my friend Ariana who was only a little bit older than I but way cooler. We met up with a boy on the sidewalk, I don't remember his name but he had curly blonde hair. We walked past Belmont Hall, where the boys on staff lived. The screen doors were open and music was pouring out. It was "Rise" by PiL. I didn't know it, but Ariana and the blonde boy did. They walked in front of me singing, "May the road rise with you. May the road rise with you." As soon as I got home I went to Waxie Maxie's and bought Cassette I've never seen PiL in concert; while I'm exhausted from this week and today's shoot I'm looking forward to rocking out with my friends.
Weekend Reads
Have you seen the New York Times' project #ThisIs18? This piece goes behind the scenes of how it came to be.
A history of the color pink in fashion from the 1700s to today.
An interview with Eileen Fisher
I recently bitched on Instagram Stories about fellow bloggers with fake followers and fake engagement. In our business, brands often won't work with a blogger or influencer who doesn't have at least X number of followers or a Y% of engagement.  It's easy to buy followers, likes, and even comments on Instagram but it's so blatantly obvious when accounts do.  And brands don't care.  I mean, if I can tell when someone has 1K likes five minutes after posting, or 50% of their followers are men from Turkey (no offense to Turkey but that's where the accounts often are from), why can't others? I've toyed with writing more in depth about this, as it cheats hard working bloggers out of opportunities and cheats brands out of true ROI but instead I'll share this piece by Victoria from In the Frow.
Fab feature on Dapper Dan.  I love that he went from designing fake designer fashion to collaborating with Gucci. If you haven't seen the doc 'Fresh Dressed' (which features Dapper Dan as well as many others) I recommend it (available on Netflix).
Fall is when I update my sleepwear situation. I pull out my cold-weather garb and donate or turn to rags any pieces that are beyond hope.  Why do I pack them away in the first place? It's like I couldn't see how beyond they were.  Anyway, I updated with Soma's Embraceable Pajama Top and Pants (love that the pants come in three lengths) and I love them.  Heavier than their Cool Nights collection but still so soft and comfy, they're a rich black with a subtle pale pink trim that is so chic.
A great piece on how power dressing has changed drastically in the past decade or so.  I felt it when I was still in Corporate America, I feel it when I shop and research for this blog, I feel it when I walk the streets of DC.  The old rules about power dressing are changing… for the better.
How The Beatles got their famous logo.
"The algorithm looks me in the eyes and sees what makes me me, the deep weirdnesses in my soul and my clicks, my lingering late-night scrolls, and the searches too urgent for a private tab. It does all that, and then it dismisses me as just another chick in her 30s: 'Check out this ikat tile, you'll love it.'" Can you relate to this author's social media algorithm shame?
For Your Entertainment
I saw Charlie XCX as an opener for Taylor Swift and she floored me with her talent and drive (especially compared to the second opener Camila Cabello who left me fully underwhelmed). "Boom Clap" is one of my favorite sunny day driving in the car songs. While this song isn't one of my favorites, the video is a fun blast from the past. Let's go back to 1999. While many of you, like me, were adults in that year and we may have different memories from '99, this is still a fun travel back in time.