This article may contain affiliate links; if you click on a shopping link and make a purchase I may receive a commission. As an Amazon Associate, I earn from qualifying purchases.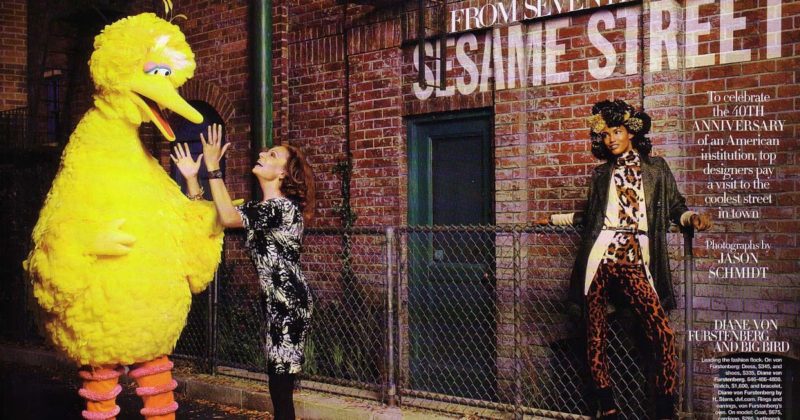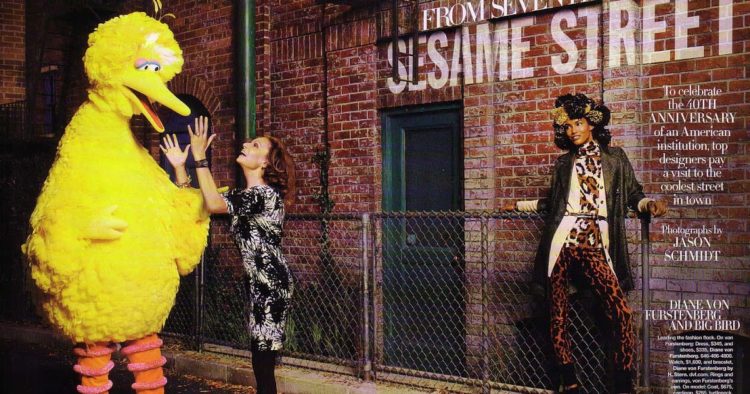 In my home office, I have a gallery wall of music festival posters, concert tickets, and some personal photos. I use this wall as a. bit of a bulletin board, tucking thank you cards, photos, and tear-outs from magazines between the frames and glass. This week I was cleaning up my office and found one item fell down and I tucked it back in. Emerson noticed it and asked who was in the photo with Big Bird. We started Friday morning with an introduction to the awesomeness that is Diane von Furstenberg. Above is the two-page spread from the September 2009 issue of Bazaar that sparked this discussion. I had the original issue but lost/tossed it at some point, A few years ago I sought out the issue on eBay to have a high-quality version of the image. I keep meaning to get that page framed, this conversation with my daughter has brought that task higher up on the to-do list.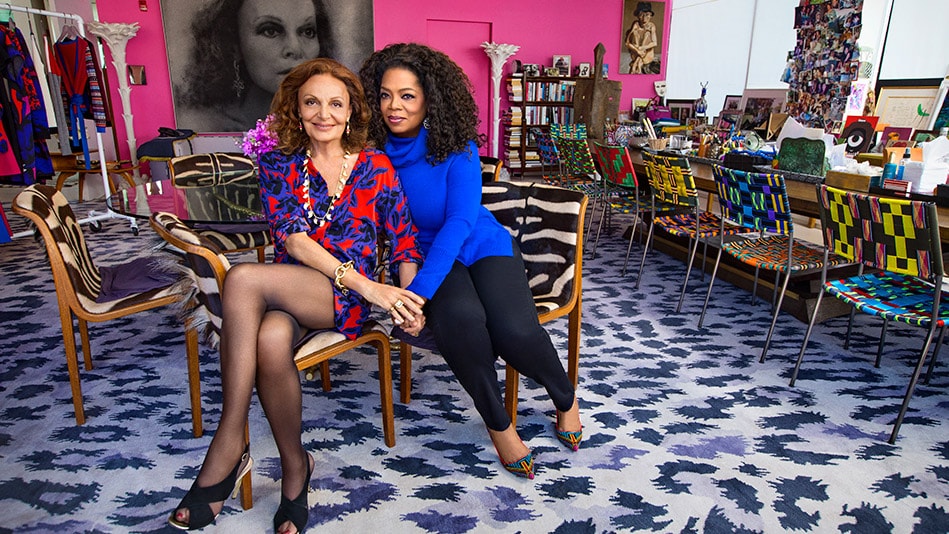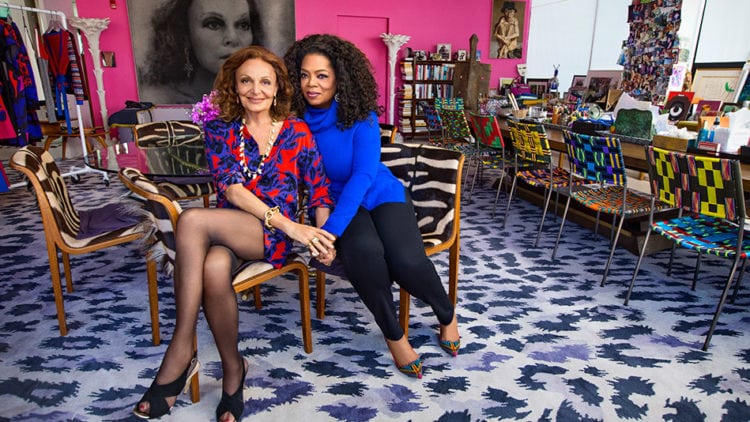 While sharing DVF fabulousness with Emerson, we came across this photo of her with Oprah and both gasped at how lovely it was, so I had to share it as well. Here is the link to the interview of DVF by Oprah, which is where the image comes from. Isn't Diane's office awesome?
January WO2 Bestsellers
I'll admit I snagged this idea from Grace at The Stripe. I found it so interesting and thought you may too. At the beginning of each month I'll recap the previous month's bestsellers on Wardrobe Oxygen so you can see what other readers are also enjoying. As always, leave a comment letting me know if you got these items and what you thought of them!
Sale Updates
Weekend Reads
Thursday, I did a Facebook Live with Mediavine, my ad company. We chatted about how I took my blog full time and how I make it work financially. If you wish to see it you can view it at this link. I learned from this that a speaker off my earphones doesn't work if you make a lot of hand gestures and that I need to use my proper webcam instead of the one in my Mac. But it was a lot of fun and I was happy to share what I know and how I got here!
If there's only one piece from Weekend Reads you open this weekend, make is this one by Robin Givhan for The Washington Post. What a powerful and important read by a woman who is such a master with the written word.
If you don't know about Lizzo, educate yourself. You're welcome. (The Cut) BTW pissed that bots snagged all the tickets to her shows in DC later this year. I soooo wanted to go!
Karl and I did a shoot Thursday. I wasn't feeling well, the previous night I was up until 1am, I didn't go to the gym and boy did it show in my face. I don't know if those photos will ever hit the blog but they did inspire me to drink a ton of water and do a hydrating mask (I looooove this one from Colleen Rothschild, it's so good). I put on the mask, got on the computer and in my inbox was this piece from Man Repeller – I Went to a Senior Center and All I Got Was Fascinating Beauty Advice. Pretty perfect timing.
Middle-aged women and the men who disdain them. (Dame)
I'm trying to buy less but Boden is making it difficult with their uber versatile and flattering dresses like this jersey midi, this wrap dress, and this shirt dress!
I found this interivew with several popular advice columnists so interesting. As somone who receives questions daily in her inbox and occasionally answers them on this blog, I could relate to some and thank my lucky stars I couldn't relate to other aspects! (Buzzfeed)
Gosh I hate it when good articles are on crappy sites. USA Today is practically unreadable because of the ads and the weird click in the wrong place and the content disappears layout. But if you can weed through their crap, it's worth it to read this: Good ol' boys network, meet black girl magic: Black, female entrepreneurs are changing Silicon Valley.
Spoiler alert, I'll be doing another Trunk Club review of a trunk I received. This bag from Clare V. was in there and I'm kinda sorta completely in love and trying to justify keeping it. I do have a decent amount of referral credit… A spring replacement for my beloved ALLSAINTS tote?
Oooh, here's a piece for discussion: Is clean beauty a skincare revolution – or a pointless indulgence? Interesting information and quotes from lots of popular skincare founders. (The Guardian)
Inspired by a sweater on Instagram… an interesting piece on the knitting community on the social media platform. Even better, it quotes my fabulous friend Dana from the blog Yards of Happiness (read her beauty routine that she shared o WO2). (The New Yorker)
For Your Entertainment
And this is why I like Instagram Stories. I had never heard of Nao. But this week she performed at The Fillmore and a few of my friends attended the show (I know at least Carletta and Libby, can't recall the others). I've been to shows with these people, or have followed them long enough to get their music vibe so I was like ooh I need to check Nao out. And now, it's my duty to now share her with you. Please note, this first video is NSFW.
I didn't want those of you at work to miss out, so here is another I love that is safe for being in an open workspace.