This article may contain affiliate links; if you click on a shopping link and make a purchase I may receive a commission. As an Amazon Associate, I earn from qualifying purchases.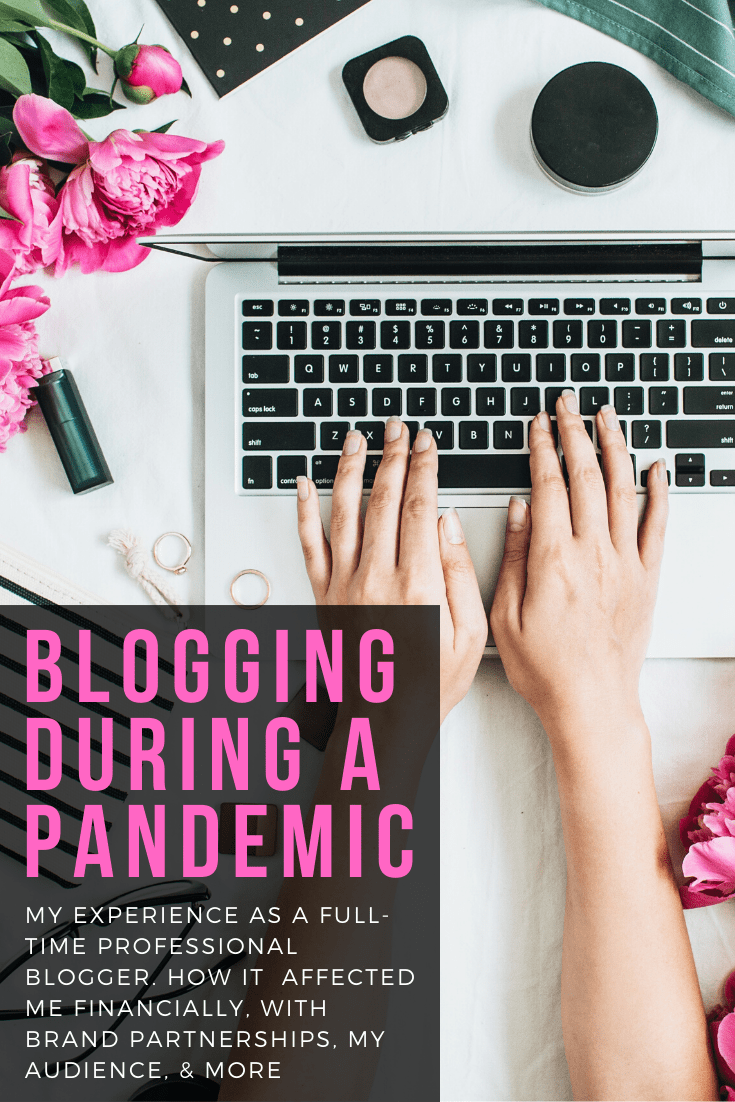 For most of America, we've been in lockdown since the second week of March, and now we're in the first week of May. Some parts of the country are opening up, but I plan on staying in place even if my state lifts shelter in place orders because I know this virus isn't over, we don't have a vaccine, and lifting orders just means beds have opened up in the hospitals to accommodate more who contract COVID-19. But that is not what this post is about, this post is about what it has been like blogging during a pandemic. I am a full-time blogger, influencer, and content creator and the breadwinner for my family. Needless to say, the past several weeks have not been without stress. However, I do not regret this career choice and with some adjustments have been able to continue to have this career support us.
Blogging During a Pandemic: How it Has Affected me Financially
Ad Revenue is Down
Ad revenue is a large portion of my income and traffic dropped by about 50% the first two weeks of the USA shutdown, reducing how much I made from the ads on my site. On top of that, advertisers weren't buying ad space, which reduced the amount of money made per visit to Wardrobe Oxygen. Traffic has returned to about 90% of what it was before the pandemic, but I am still making half of what I used to from ads due to the lack of advertisers.
Affiliate Revenue is Down/Different/TBA
I make the largest percentage of my income from affiliate revenue. Each time someone clicks an affiliate link on my site (and about 90% of the links to products on my site are affiliate links) I made a bit of money. Sometimes it's pennies, sometimes it's more, it really depends on how much is bought in that purchase and the percentage of commission that the retailer offers.
The first couple of weeks of the pandemic, purchasing was down. The first week it was down about 75%, the second week about 50%, and it has slowly increased not only to where it was, but on occasional days it's more like a day in the holiday season with the amount of purchasing taking place. Weekends have the most sales while in the past the most sales for me happened on Mondays. The purchasing is also different; I used to sell a lot of corporate looks and statement/dressy pieces but now it is more loungewear, sleepwear, bras and other intimates, and lifestyle items (home, beauty, food, etc.).
Many retailers have shut down their affiliate programs. Macy's, J. Crew, Dick's Sporting Goods, Lord & Taylor, Clarisonic, Blue Apron, Vinyard Vines, Bare Minerals, Dillard's, Pier 1, TJ Maxx, Madewell, Sally Beauty, Marks and Spencer, The Real Real, and Net-a-Porter are just a few of many retailers that have stopped paying out commissions. Some have shut down and brought back their programs, and I know as this continues more retailers will stop offering commissions.
Some retailers have reduced their commission percentage. One that is best known is Amazon, which is a retailer that cannot say they're doing this to save costs and remain afloat. However, most of the other retailers that have done this are doing it to try to find a way to stay open without sacrificing those who promote their products and increase sales. One retailer has changed their commission amount at least five times since the beginning of March, switching from 0 to 5 to 3 to 0 again. One retailer I feature and continue to feature regularly cut their commission percentage by 10%, others have done in half, or just by a few percentage points.
Retailers are also paying out commissions more slowly; I have commissions that I should be receiving as the net-60 or net-90 window has passed yet I haven't received payment… and I don't know whether I will.
Sponsored Content is… Different
The first couple of weeks, the idea of sharing sponsored content felt incredibly tone-deaf. It was hard as I had contracted work scheduled to go live the second half of March. However, after the first week or two, audiences seemed more understanding that this is a job, that brands they love hired us to promote their products and still need sales and eyes on their stuff to make those sales. I adjusted the wording of some sponsored posts to feel more appropriate for what the country was going through and grateful to brands who were willing to accept such changes.
As time continued, some of the brands I work with asked if I could reduce my rates since their budgets were minimized not knowing the future. However, now that we are several weeks in, most retailers have gone back to regular rates for ads, at least in the niches that I promote on social and this blog.
Previously, I would be contacted several weeks in advance about a planned campaign. I would get the product and have at the minimum, a week to create the content and submit it for review, and then it would go live at least a week, sometimes a month after that. Now it's product overnighted and sometimes needs to be shot the day it is received to go live either the following day or later that same week. In a pandemic, things sell out, and also news changes drastically so you need to get that ad out before another tragedy takes over our timelines.
You know how in the past month you have been receiving emails from brands you haven't bought from in a decade letting you know they have upped their sanitizing game, they're offering curbside pickup, they're here with you and they need your support. Well, the same is happening for influencers. Brands that ghosted us, brands that went so far to send a, "no, you are not our aesthetic we are not interested in ever working with you" emails, brands that would never give us the light of day are reaching out. They say we're part of their family, they care about us, and will we create content for free (that has certain guidelines for what it looks like, what it says, and they need to review before posting) to share how they are doing such good by some charitable thing that is clearly just for PR and not making a major impact. By creating this content, we may then be lucky enough to be considered for future paid campaigns. These are big retailers that are under even larger corporation umbrellas, not small businesses that could use a lift.
I used to only do two, maybe three sponsored pieces a month. However, with the change in ad and affiliate revenue and an unknown future, I am accepting more as long as it is in line with what kind of content I already create. However, I am more cautious about which brands I partner with; even if I had a past relationship with them if the brand has not done right by their staff or made public statements that show they don't care about their customers I am no longer working with them.
A couple of brands admitted outright that payments will be delayed since accounting is working from home. Other brands have just been delayed in payments and have no ETA on when I will get paid. Some other brands have changed their payment setup; previously they paid by ACH or check and now are sending payments via PayPal.
We All Know Travel is Canceled
I was heading to Richmond, Virginia at the beginning of April to attend the Rebelle conference for a second year. I was going to do a giveaway of tickets on Instagram. This conference instead of being canceled has gone virtual, but it's canceled travel. In May, I had a sponsored trip to New Mexico for a week with a group of fellow influencers. Canceled. In June, I was speaking at the Mediavine conference, the biggest conference I have ever spoken at. Canceled (though I will do a virtual version of my presentation this summer for Mediavine members). A week later, I had a ticket and hotel to again attend the Firefly music festival. Some of these, I was going to be paid, some I was just going to enjoy the experience. This is the part of the pandemic I am the most okay with. The last thing I want to be doing right now is traveling or inspiring others to travel. The best thing is to stay home, and I am grateful that I have a job that allows me to work from home.
What to Write About During a Pandemic?
There is enough information out there about the coronavirus, a blog isn't expected to be a news source, nor does anyone want it to be one. That being said, I am seeing from all of you that you don't want me to pretend that nothing's wrong. It's finding a balance, creating for the new normal.
Outfit posts feel silly, or else will be pretty boring. I mean, you don't need seven photos of me walking down an empty street in joggers and a sweatshirt, nor do you need pictures of me in pumps and a pantsuit. As time goes on, I will do more outfit posts, but right now the occasional one with the week recap each Monday feels right to me.
I really think it's important to shop for quality, not quantity. I think many of us are using this time to clean out our closets and organize our homes and we're finding we bought a lot of stuff that we either didn't need or didn't hold up. I want to focus on buying less, shopping with care, and voting with our wallets. Many have also been laid off, furloughed, or on a reduced salary due to the pandemic. However, many are all still shopping, either as a way to distract ourselves or to supply ourselves with what we need now or will eventually need. Instead of having multiple sale posts or incorporating them into my Saturday post, I dedicate a single post each Friday so readers can decide whether or not to read it.
I want to offer distraction, and am glad more than ever that I began Weekend Reads each Saturday. It has been two years of this series, and it's so much fun to put together and receives so much engagement. While many of the links I share these days are related to the pandemic, I try to find a balance so it's enjoyable and insightful, and always with a great song for the rest of the weekend.
Content will continue to change as we deal with this longer, restrictions are lifted, and we learn more about this virus. The longer I am home the more creative I become with ways to create content and take photos. I am using this as a challenge to accomplish more with less.
Finding Purpose as a Blogger
When this all started, experts said to never discuss the pandemic. We were told to specifically never use the words coronavirus, pandemic, virus, COVID-19, and such on our blogs as it wouldn't appeal to advertisers, thereby decreasing ad revenue. Google would "ping" us for such content because Google is working hard to hide hoaxes and inaccurate information sites and use of those words may get us flagged. And I tried to do that. I used "during this time," "shelter in place," "being at home," and vague terms like that and it felt so trite. How could I ignore what was affecting literally the entire globe? Experts said don't write content for the pandemic, it's not "evergreen," it won't be relevant in a few weeks. I adjusted content to be good for staying at home, figuring many will continue to telecommute after this but it still felt too vague for such a major event. So I stopped listening to the experts and began writing the forbidden words and creating content that made sense for now.
I was feeling terrible about this being my career, not because of the possible financial issues, but because of the point of it all. People are dying, families can't afford food, and I am writing about swimwear and mascara? But by addressing the pandemic in my content, it allowed me to see that Wardrobe Oxygen could still be valuable. It can be a distraction, it can help people transition their wardrobes and beauty routines to this new normal, it can help people feel less alone. Just like I can't please every person who reads this blog, I can't help every person who needs help. But I can do what I know how to do, and just pivot so the content continues to be relevant. And I'll continue to refine my content so it's beneficial and relevant.
Do I Regret Leaving Corporate America to Blog?
Just two weeks before the pandemic, an old coworker emailed me to let me know they got a new job. This person was hired just a few months after I was at my last company. We worked together for almost a decade; even when we were in different departments we still kept in touch and I helped out on some of their projects. That person was the last one from our old team to leave the company. Hearing that person moved on made me feel really good about my leap to full-time blogging at the end of 2017. I felt I did the right thing, this was a new chapter for all of us.
Two weeks after the pandemic, an old colleague emailed me asking if I still did contract work in my old field. I did take on a contract the summer of 2018 and almost did one last summer but the terms changed. I didn't want to do this work, it would be near impossible to do it and the blog at the same time but with the pandemic, would my blog even exist? I needed to think about my family, our financial future. So I researched my old work, updated my resume, and applied, grateful that I left my old job on good terms and was remembered for being talented and hardworking. That contract hasn't panned out so far and I am grateful. I have enough work right now to keep us financially stable, and no time to take on another project. If the contract happens, I will do it because I see it as a way to keep one foot in Corporate America while keeping my skills fresh and working with some amazing people, but if it doesn't I will also be happy. I love Wardrobe Oxygen, I love the community, I love writing, and I hope that this pandemic doesn't stop what I have been passionately in love with for 15 years.
What Does the Future Hold for Bloggers and Influencers?
I've seen plenty of think pieces about how this pandemic is the end of influencers and… I think they're written by people who don't understand this career and are just being armchair quarterbacks. Influencers are cheaper than hiring models and photographers and a studio and editors and not only that, they come with a built-in audience. Influencers can create content in their bedrooms and bathrooms and have it up on the internet within 24 hours. Influencers have a finger on the pulse of their community, knowing what will work for their audience, and allow brands to target multiple demographics with different tones and aesthetics. I honestly see influencers more valuable than ever.
However, I do see a lot of influencers quitting by the end of this. Those that never connected with their audience, those who only do it for the free stuff and the likes, those who aren't able to pivot, those who haven't diversified and focus solely on Instagram, or solely on travel, or solely on designer handbags. We went through a period where bloggers could be successful with five high-res images of them walking through a town center with a latte and some links to what they were wearing. Most of them moved to Instagram where they could achieve the same with a witty caption and a link to their LikeToKnow.it profile. I've seen for at least a year a trend towards blogging of yore. Longer captions on Instagram, long-form content on blogs and sites like Medium. The desire for community through Facebook groups, in-person events, and now the increase in Instagram and Facebook Live sessions. I think that trend will only intensify this year. And as someone who writes a novel when a paragraph will do, I welcome it. I don't write for Google; I write for you. And I look forward to continuing this relationship.
We influencers and bloggers have already pivoted, and we'll continue to do so if we care about our audiences, our career, and the world around us. I see influencers being less homogenous as this continues; I'm already seeing how influencers I related to quite well I can't connect with as easily now because we live in different cities, have different family situations, different financial situations. Audiences will seek out those they can relate to, as life has made us focus on more than just appearances.
How to Help Your Favorite Blogger or Influencer
Many have asked how to help us during this time, and there are many ways to do so without spending a dime:
If you are shopping online, consider using our affiliate link. You can click on any link for a retailer, not one specifically for what you wish to buy and we will get a commission. Many sites have a "where I shop" list in their sidebar or on a page. I wrote about how bloggers and influencers make money at this post, I encourage you to read it as it's not just about blogs but all sorts of websites and online content hubs.
Visit our sites. If you usually follow on Instagram or get our posts via email, come on over and say hello. Traffic to our sites not only helps with ad revenue, it also helps our Google ranking and offers better metrics to potential sponsors that will pay to advertise on our sites.
Follow. Follow us on Instagram? Consider also following on Facebook or Twitter or Pinterest or YouTube. Brands look at the number of followers an influencer has and the more the better. Also, most influencers in 2020 have different content on each channel.
Share. If someone asks for advice in a Facebook group or a message board and your favorite blogger wrote about that topic, share that blog post in a comment. Share an influencer's photo on your Instagram stories if it resonates with you.
Engage. Leave a comment, like or heart content, swipe up on their Instagram Stories, start a thread in their Facebook group, when their content is shared by a brand engage there and let the brand know why you like that influencer or blogger. Not only does this show brands that the influencer has a legit following, it also motivates the influencer to continue creating for you!
I don't know what the future holds, very well this post will be inaccurate in a week's time. But I wanted to document what it has been like the past few weeks blogging during a pandemic. As always, I am happy to answer any questions you may have as you deserve to be an informed consumer!