This article may contain affiliate links; if you click on a shopping link and make a purchase I may receive a commission. As an Amazon Associate, I earn from qualifying purchases. 
The past month has been a bit of a blur, especially when it comes to music. I'd love to write an individual post about each musical experience, but it's summer and I'm spending my weekends outdoors soaking up the sun and hanging out with loved ones and I hope you're doing the same! So to keep us all enjoying real life instead of the computer, here's a quick recap and mini-reviews.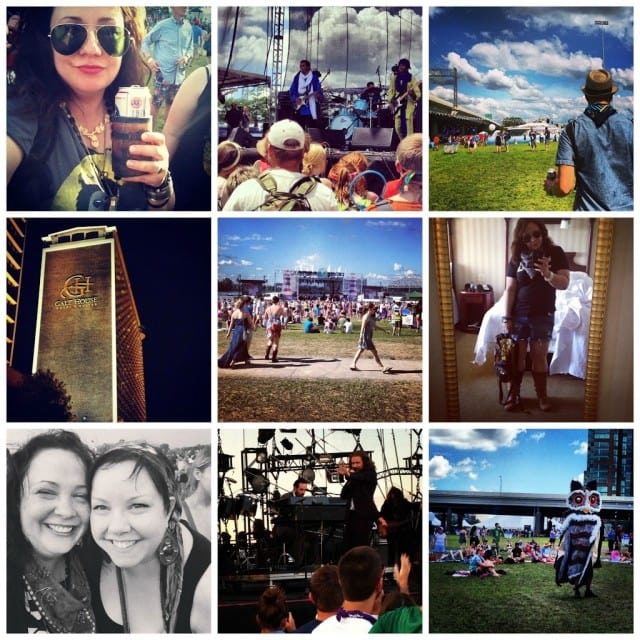 Forecastle Music Festival
If you follow me on Instagram (which you really should because I share more outfits on there and what I am doing on weekends and lots of cute pictures of Emerson and not a rehash of the blog) you know I had an amazing time. This was our second year going, and we felt even more like bosses. We stayed again at the Galt House, which is a short walk to the festival grounds. Last year we got VIP by accident, this year we decided to splurge to confirm that upgrade. Totally worth it – no porta potties, shorter lines to get in, free mug for the bourbon tent, free poster (and Karl ended up getting a free bandanna at the same time), shorter beer lines and a special pit area so we could get pretty close to the two big stages.
This year I wanted to dress in a more feminine manner, but once I got there I went back to my standard festie uniform of beat-up denim shorts and band tee shirts. The weather was excellent until the end of the last day, when we got utterly soaked during the finale of Robert Plant's set.
Speaking of Robert Plant… I SAW ROBERT PLANT LIVE! I saw him before when he was touring with Alison Krauss, but it was underwhelming. His set at Forecastle was not, it was epic. He did new music mixed with Zeppelin hits – he did put a fresh spin on the classics but not so much that you didn't recognize or get excited by them. I was excited to have experienced it, and while I wish it didn't rain (because I think he would have played far longer), it was still a fab performance.
Other memorable shows were Jim James (shocker), Killer Mike and El-P, Big Boi, and Bombino. Were there others that were amazing? YES! However some I had seen before (Alabama Shakes, Grace Potter and the Nocturnals, Houndmouth, FLips, Black Keys), and some were great but didn't change my opinion of the band or help me find a new favorite artist.
And well… we didn't see everything we wanted to see. We were very relaxed this year. Miss a show? No worries. Spend time chatting with a stranger or drinking bourbon or eating a burger at a bar that is supposedly visited by ghosts? Just as awesome as a good set. The weekend wasn't just about music, but about Louisville and getting away for a mini-vaca. And it was a mini-vaca, I came back refreshed and happy!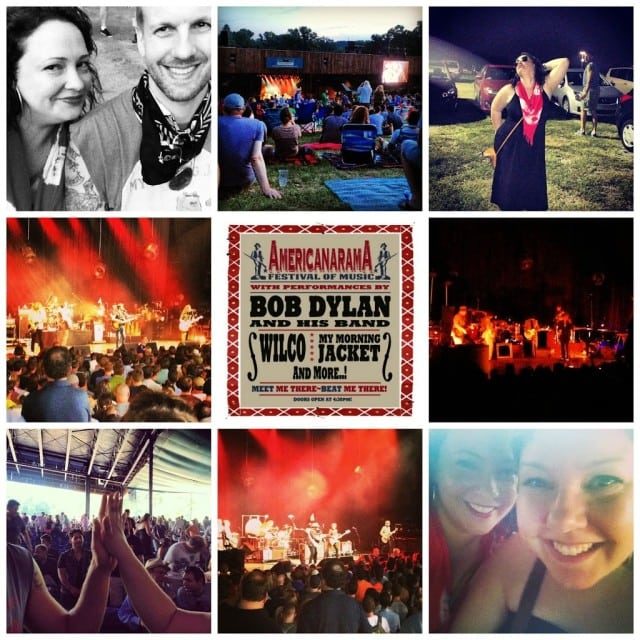 Americanarama Festival
The Americananarama fest is a four-band tour, and it stopped in Maryland about a week after we got home from Forecastle. Close enough to still be on a buzz from previous festie fumes, and I went with the same peeps (Karl and my sister Debbie). The show was Ryan Bingham, My Morning Jacket, Wilco, and Bob Dylan. I KNOW, Bob Dylan! To see two legends in one month is pretty darn fantastic!
Ryan Bingham was good. My Morning Jacket was outstanding. I think it was the first time I saw them perform in daylight. We had 5th row pavilion seats (not going to pit it for seven hours) and a great view, but the time of day for MMJ's set and the seats made it feel as though we were watching a high school talent show performance. Sounds bad, but it made it even more awesome. The band seemed to be having a blast, and I think it was one of my favorite My Morning Jacket performances!
Wilco was good, and if you're a Wilco fan you'd likely be gushing over the set like I did for MMJ. Try as I may, I just haven't caught the Wilco bug. I like them, I respect them, but they're not my jam. And 2013 Bob Dylan isn't my jam either. While Dylan is a legend and I should be honored to experience him live, his set was so dreadful we actually left before it was over.

Music I'm Enjoying
Before each music festival, I research bands who will be there who I have never heard of before. Thanks to Spotify (IMO the paid subscription is totally worth it) I could make playlists of whole albums to really get a feel for the band, and not just their single. In fact, I do this for most artists who I hear about but don't know. Karl is famous for playing an album over and over and over again until it's fused into our brains and we did that with some Forecastle artists, and some albums that one of us heard about and decided to investigate. Here's the albums we have been listening to the past month that we like enough to hear more than twice: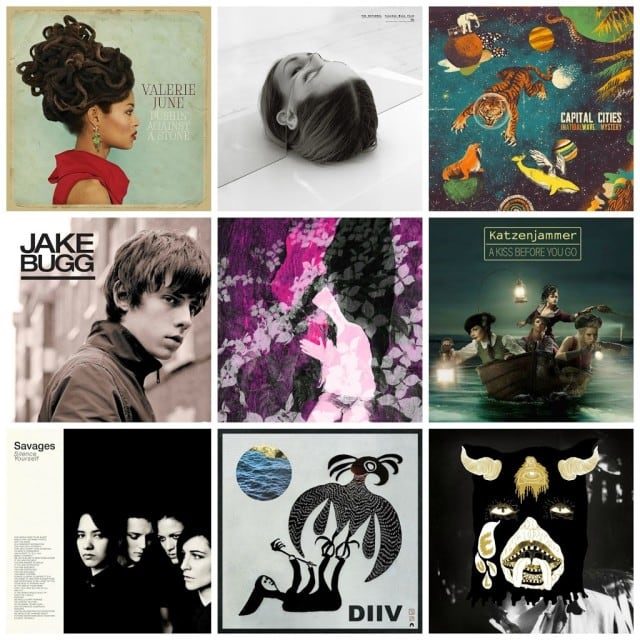 Have you been listening to any great music lately?  Seen any awesome concerts?  Tell me about it in the comments, I learn so much from all of you and I'm always on the lookout for new tunes!
Follow Me | Twitter | Facebook | Instagram