This article may contain affiliate links; if you click on a shopping link and make a purchase I may receive a commission. As an Amazon Associate, I earn from qualifying purchases.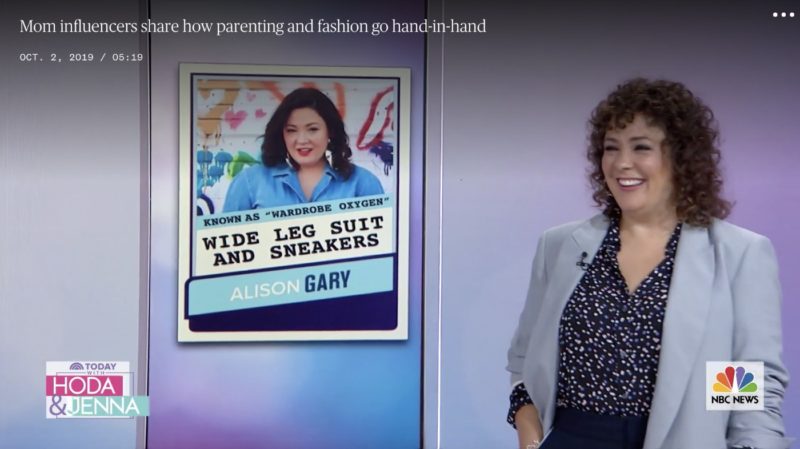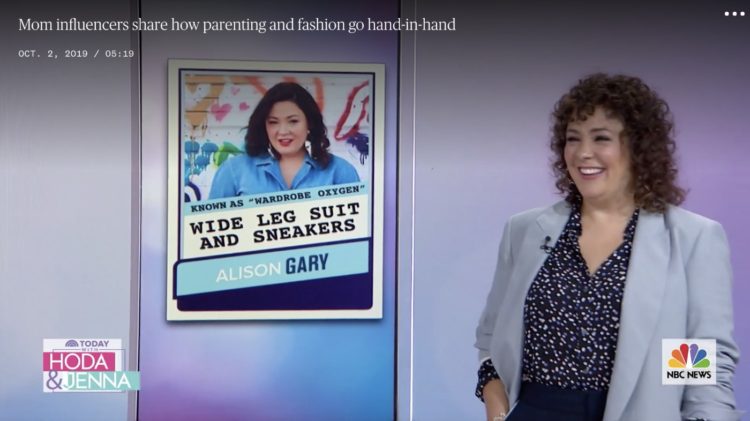 Last week I was on The Today Show. It was a fun and exciting experience and a wonderful business opportunity. I have received several emails, comments, and DMs on social media asking me about the experience – how did I get on the Today Show, what was it like, how was it produced, questions about what I wore, and more. I'll share it all below!
How did I get on The Today Show?
I received an email from a producer at the Today Show asking me! I don't have a manager or an agent, I didn't pitch myself, they found me. I've always said the best way to succeed is to work hard. I've worked hard on this blog, I focus on my audience because if it wasn't for you none of this would exist. I keep my head down, focus on my content and community, and that has always been the way I have ended up with some of the coolest opportunities in my career.
Every day we read a story of someone who went viral, who within just a year became famous or created an amazing product or became a success. We read those stories because they are fun to read, they're inspiring and motivating… and not the norm. Most people achieve success from hard work, focus, and drive. Go ahead and do the things that may get you noticed quickly, but work on a base platform or product. You may not go viral, and even if you do, you need something to fall back on after your 15 minutes of fame are over.
Anyway, I got on The Today Show because they reached out to me, likely because of this blog I've been writing for 14 years. I'll admit I googled the person who emailed me to ensure it was legit before I replied! They shared the topic of the segment, that there would be two times I needed to come up to NYC, one to tape a portion, and one for the live portion. I was told it would be three fashion influencers who were moms. Usually, when I am included in something with other influencers I ask who they are. I didn't with The Today Show because… it's The Today Show. I trusted they would choose quality and have diversity and it's not like I have some arch-nemesis in the blogosphere I wouldn't want to be on screen with.
First Trip: Taped Segment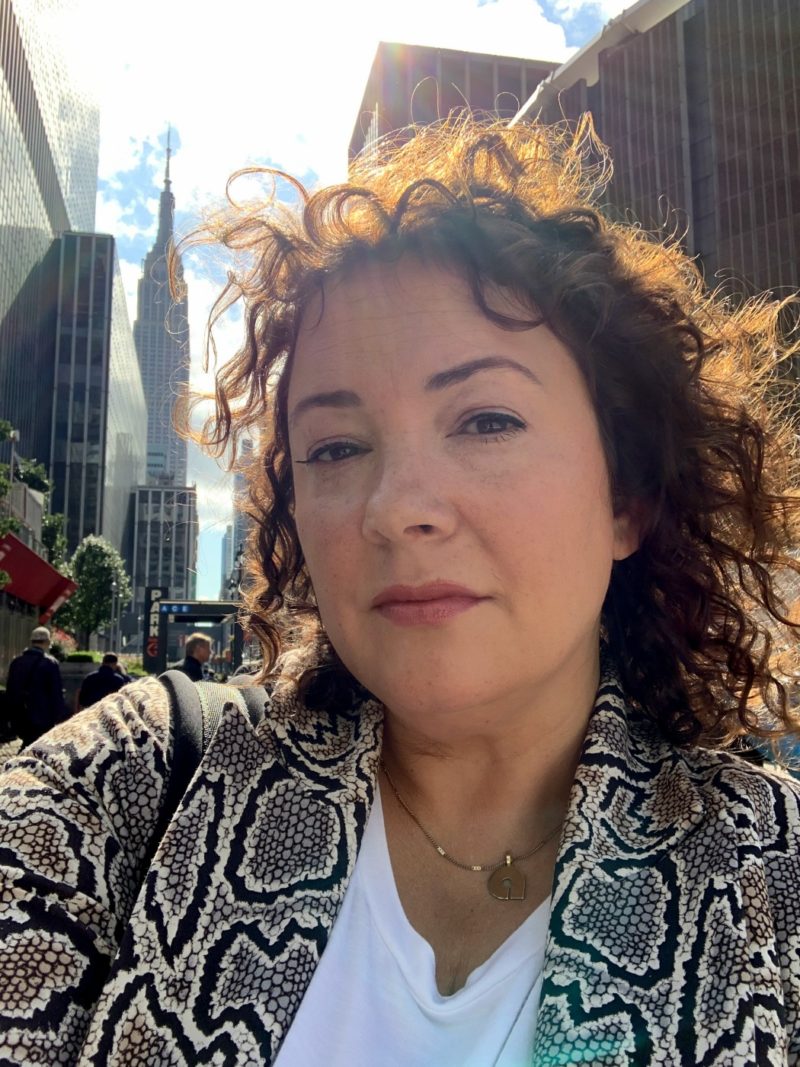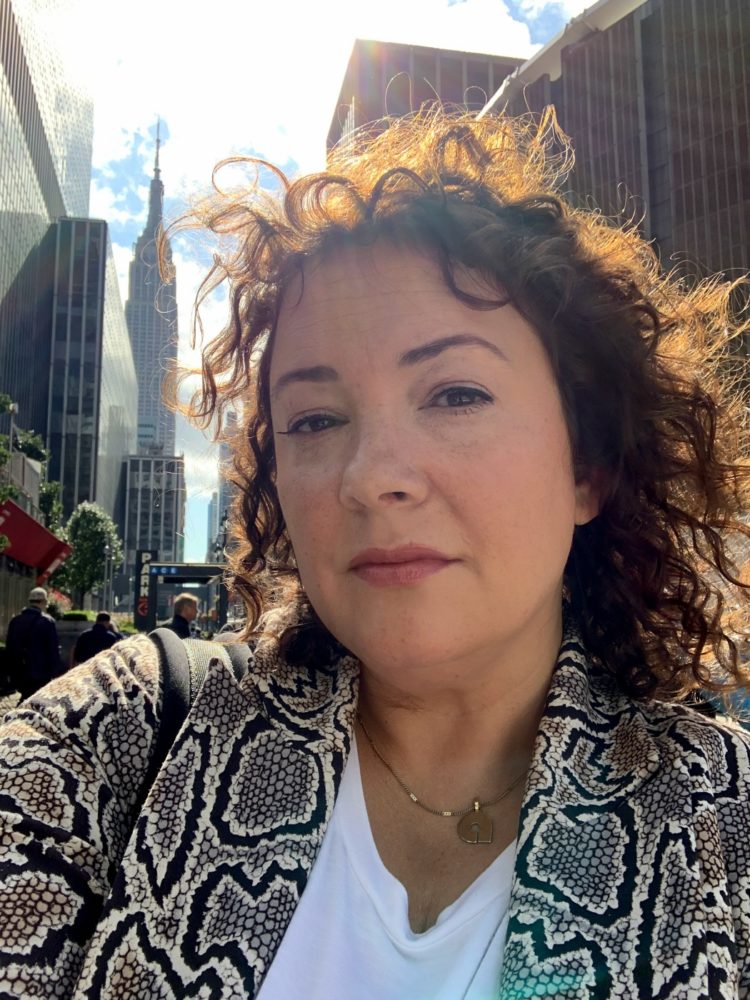 About a month before the live segment, I took the train up to NYC for a 10 am meeting at Bistrot Leo. My tickets weren't paid for. I didn't ask; I was so excited to be a part I saw my Amtrak tickets as a very worthy business expense. I was told to arrive camera ready. Since it was a 3.5-hour ride there and I'd be going straight from the train station to the restaurant for the taping, I wore knit clothing that would look "cool mom" on TV but also survive sitting for so long.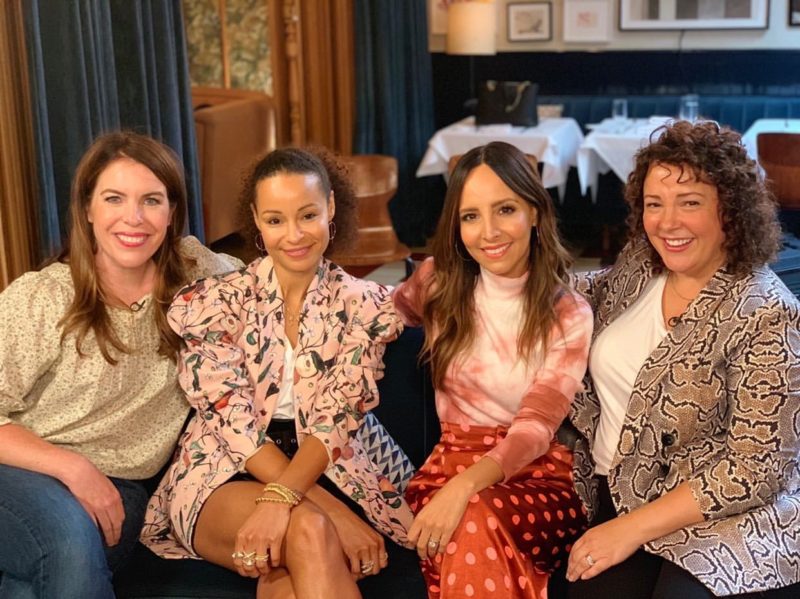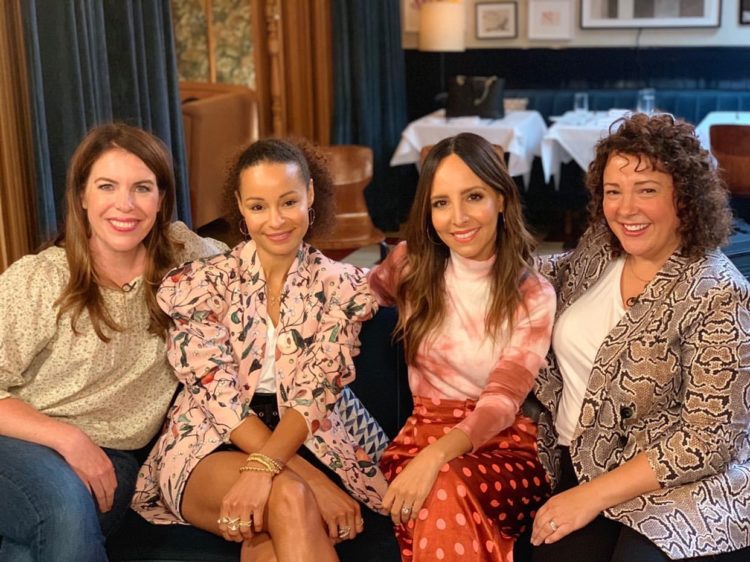 I wore the cabi Python Blazer with the Soma Essentials Tee and Soma Smoothing Ponte Leggings. My shoes are the Adidas 'Superstar' sneakers in white on white. For jewelry, I wore my REALM ring in black and my Jenny Bird monogram necklace. I arrived on the train with wet hair in hopes I'd end up with ringlets… it wasn't my best hair day but I wasn't going to stress. I did my makeup on the train about an hour before it was to arrive at Penn Station.
I paid for an Uber to bring me to the restaurant. The hostess brought me to a back room where I saw Joanna Goddard from A Cup of Jo and I believe I said something super cool and chill like, "I know you! Well, I don't know you but I recognize you, you know, right? Wow!" I have read her blog for several years and was thrilled she was one of the influencers. They took a back room and set it up like a studio; I think there were six cameras, two camera people, a bunch of lights, the producer, another person who took photos with an iPhone, and then Bistrot Leo staff that brought us water and tea. Sai from Scout the City then arrived; I knew of Scout the City but I didn't recognize her right away. She arrived a bit late because she tore her calf muscle the day prior and was on crutches so we didn't get proper introductions before we began.
The center of the room was set up with a couch the three of us sat on, and a chair across from us where Lilliana Vazquez sat to interview us. Everyone, from Lilliana to the camera people were so friendly and relaxed, it really put us at ease. We were invited to break in the middle to share thoughts if we weren't asked to answer a question, or if we wanted to share something not asked. Lilliana did a great job, she was warm and funny and relatable and put us at ease.
After the interview, we each sat alone on the couch and were asked a question and then replied with a full response. For example, "What is your name?" would get the response, "My name is Alison." We were asked our name, our social media handle, who we parented, our style icon, our favorite fashion splurge, where we get fashion steals, what fashion trend for fall we looked forward to, which one scared us or we wouldn't be embracing, and a few others. I was the first one of us three to do this, we all watched one another and rooted one another on saying things like "ooh good response" or "you're a natural!" It was a really comfortable and supportive experience.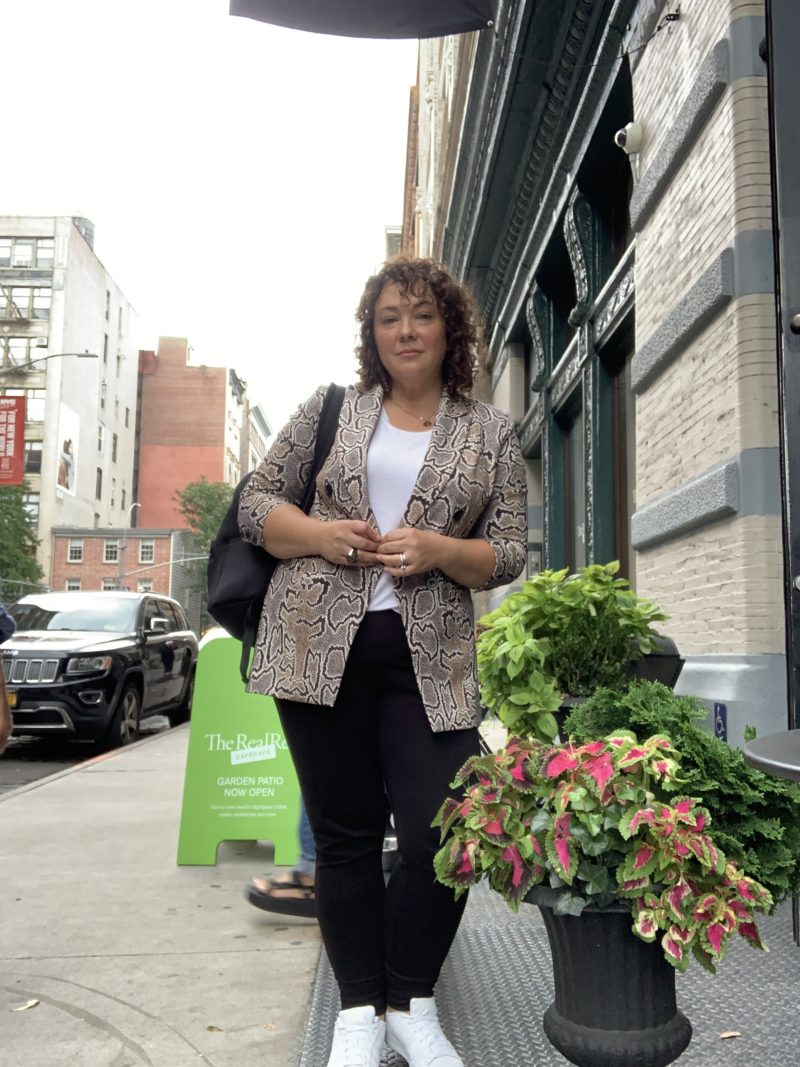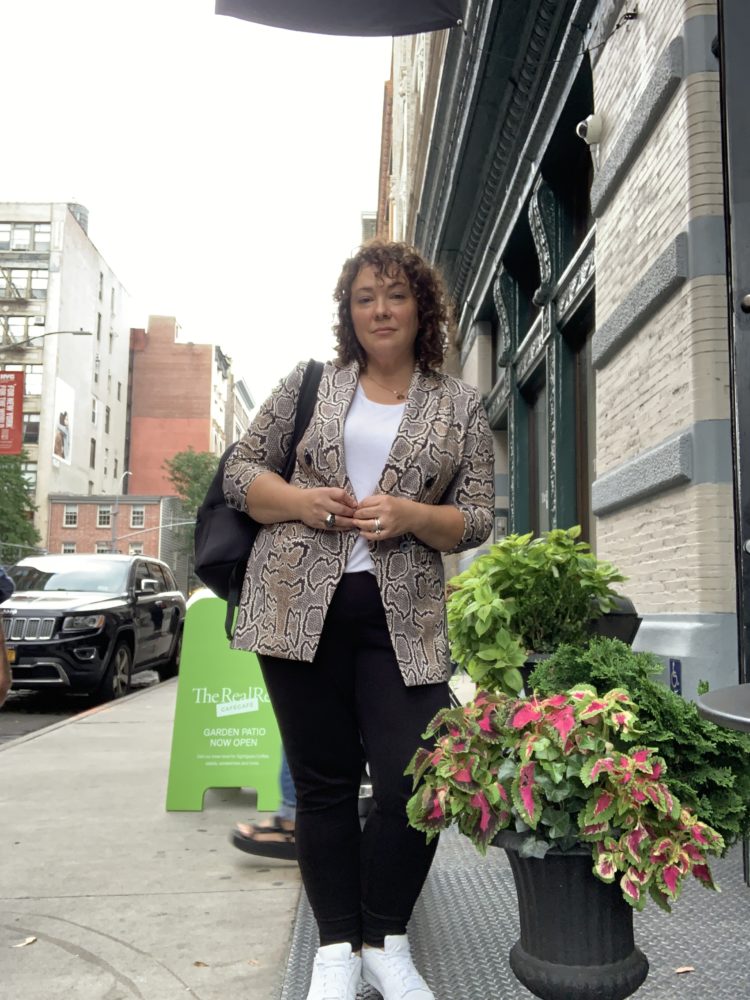 Then it was over, it was about one hour in total. I had about two hours before I had to go to the train station. My plan was to take myself to a lovely slightly fancy lunch to celebrate, but I checked my email and had a bunch of work fires to put out. Instead, I used Google Maps to find the closest coffee shop so I could set up a virtual office. The closest one was in the basement of The RealReal. I had been to The RealReal before but had no idea it had a bottom floor. Come to find out not only do they have a coffee shop that offers sandwiches and other actual food, the coffee shop has a courtyard with a bunch of tables. It was a glorious day, I scored a table outside where I set up and got some work done before I Ubered back to Penn Station.
Second Trip: Outfit Fitting
The Today Show Producer informed me I had to return two more times, for the live segment but also for a fitting. I asked if there was any way we could do the fitting the day before the live segment because taking the train back and forth three times would prove costly. She said oh don't worry, The Today Show will pay for the two Amtrak trips, book the trips for me, and provide me with a hotel the night before the live segment. WOOT!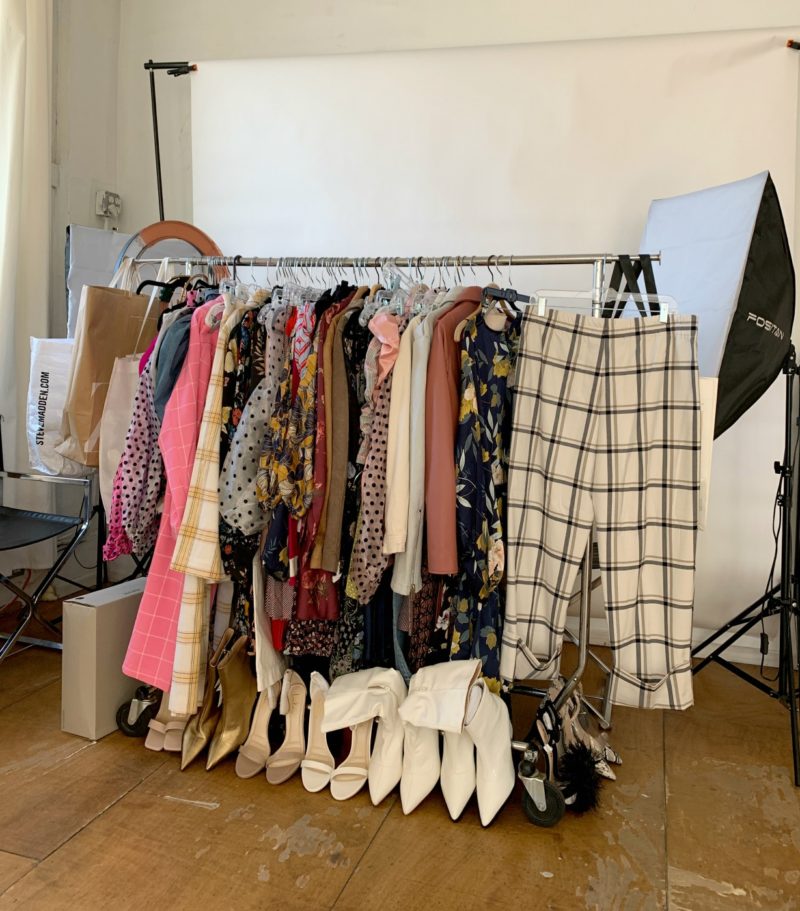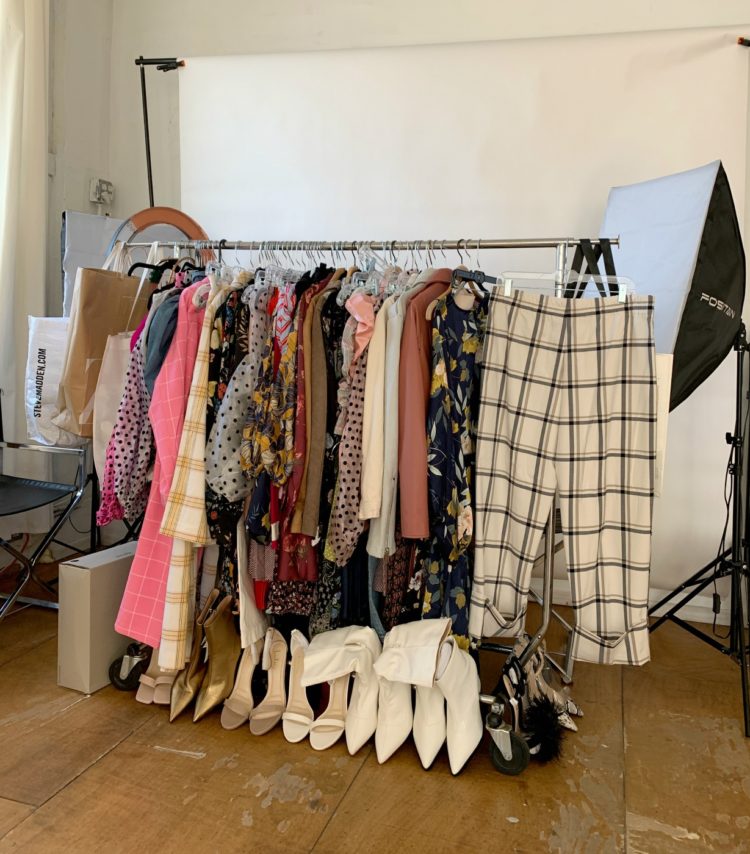 I took the train back up to NYC the Friday before the live segment. Like the first trip, I only set to be in the city for a few short hours so I could be home in time for my daughter's bedtime. This time, I went to Lilliana's office across from Union Square Park. Again, I was treated to a glorious day in NYC and I was a bit early so I decided to walk to the office. Half the way there I started getting sweaty so I got an Uber for the remainder.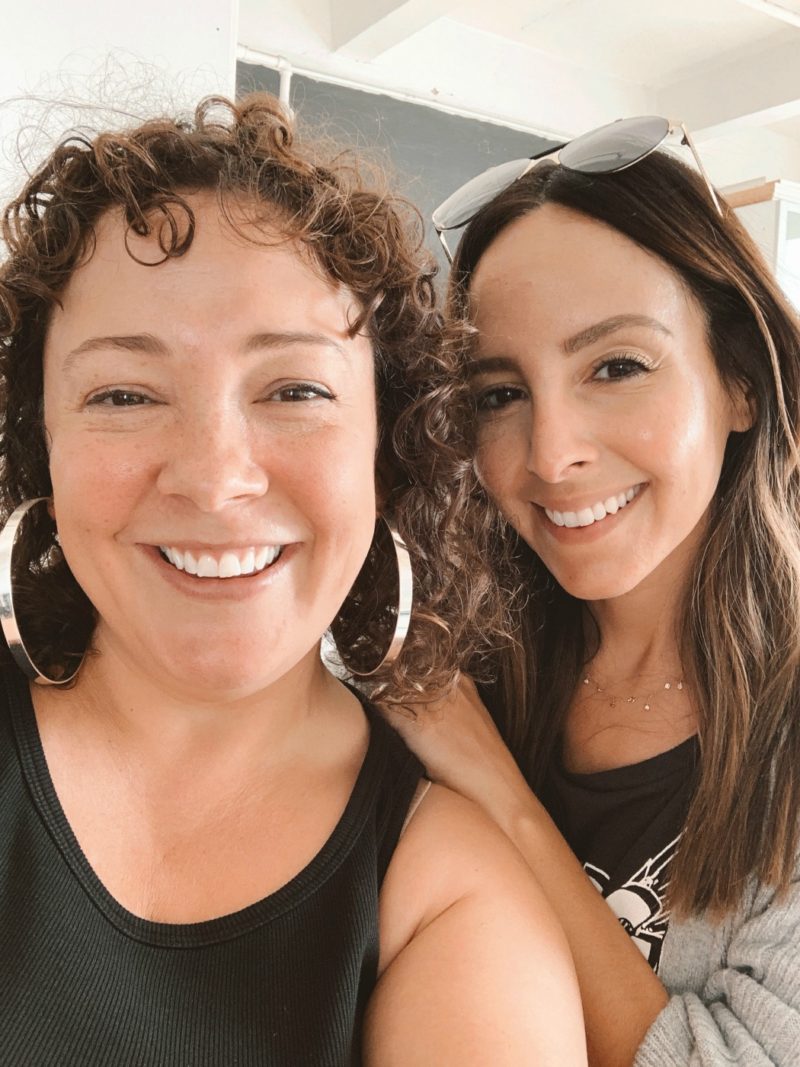 Since I knew I'd be changing and it wasn't about my outfit, I wore my Universal Standard Loire tank in black (no longer available, options here) with my AndComfort culottes also in black. On my feet were my black Lissom flats (read my Lissom flats review). I wore my silver cuff and silver Jenny Bird hoops. I brought my large Dagne Dover Dakota backpack with my laptop just in case and a few pairs of my own pants.
The concept of the live segment was for the three of us to wear fall trends we were curious about, but picked and styled by Lilliana. I asked for a slouchy wide-leg pantsuit with sneakers. I love this trend, but as a petite curvy woman, I didn't know if I could carry it off or if I would just look messy. As a 14 petite with a large bust, solid legs, a soft belly, and wide feet, I know I am not easy to style off the rack. I've had plenty of people look at my body and assume I wear plus sizes or I would look best in something loose and shapeless. I also know I can rarely find clothes that fit at brick and mortar stores and figured at least with a suit they could binder clip it here and fashion tape it there to make it work and sneakers would fit.
Well, the Today Show prefers to not do things like tape and binder clips because it gives a false sense of fit for their audience (which I am thrilled to find out, makes me respect them even more). Lilliana and her assistant Hodaly had already pulled one matching suit, and then two jackets, two tops, and I think four pairs of pants to create a suit of separates. Lilliana preferred this, stating that this is the next wave in the pantsuit trend after seasons of matching suits. They asked me to bring my own pants after seeing me wear these to the Lizzo concert so I brought them in brown and navy, and these pants as well just in case.
The first look I tried one ended up being the one I wore on TV. The rest didn't fit, being either too big or too small. I think they were worried I'd be upset but this blog has really taught me not to take clothing personally. It's not my fault that the clothes don't, it's the fault of the brands and designers who make them. It's taken a lot of years of writing about and putting on clothing and engaging with all of you to come to that point, and I found the whole experience at the fitting really interesting and fun.
I wasn't really concerned with my outfit. This segment wasn't about me picking out the exact look, and it wasn't about Lilliana trying to be personal stylist. I was essentially a mannequin showcasing fall trends that I picked. The blouse was from Banana Republic and really nice, I loved the fabric, though the sleeves were too long as it was a regular and not petite. The pants, also from Banana Republic, fit great, I was highly impressed by them but they were about 6" too long. The jacket from Zara (sold out online)… was not my jam. It isn't something I'd normally wear; I felt the jacket was too long and I didn't love the fabric. However, it made sense with the whole look. Hodaly kept the sleeves pushed up with some hidden rubber bands.  The sneakers were from Zara.
I hung out in their office for a bit after. Hodaly and Lilliana are such great people, we had a good conversation about social media and being an influencer and fashion. Joanna showed up with her assistant for her fitting and I got a sneak peek of the outfit she wore on the segment. But then it was time for me to head out.
I stopped at the authentic so New York Panera (LOL) for a Greek salad and a Spindrift to enjoy on the train and took an Uber back to Penn Station and was home before 9 pm.
Third Trip: The Live Segment
While at Lilliana's office, Hodaly asked me who was coming with me to The Today Show. I hadn't even thought about it, it's not like I live in New York or have friends who can just take off to NYC with me. But then I thought… why not Karl? My husband doesn't teach on Tuesday or Wednesday, he loves New York, we have never been there without our kid, and his birthday was that Monday. My mom agreed to watch our daughter and Oscar and I was able to score tickets for the same trains that The Today Show booked for me.
We dropped our kid off at school and then grabbed an Uber to Union Station in DC. There, we stopped by Pret a Manger for sandwiches and iced coffee for the trip. On the trip, Karl dozed and listened to music and I powered through a good amount of The Water Dancer, which I swore I'd read right away but had been collecting dust on my nightstand. Once we arrived in New York, The Today Show had a driver in a shiny black Cadillac waiting for us and he drove us to our hotel.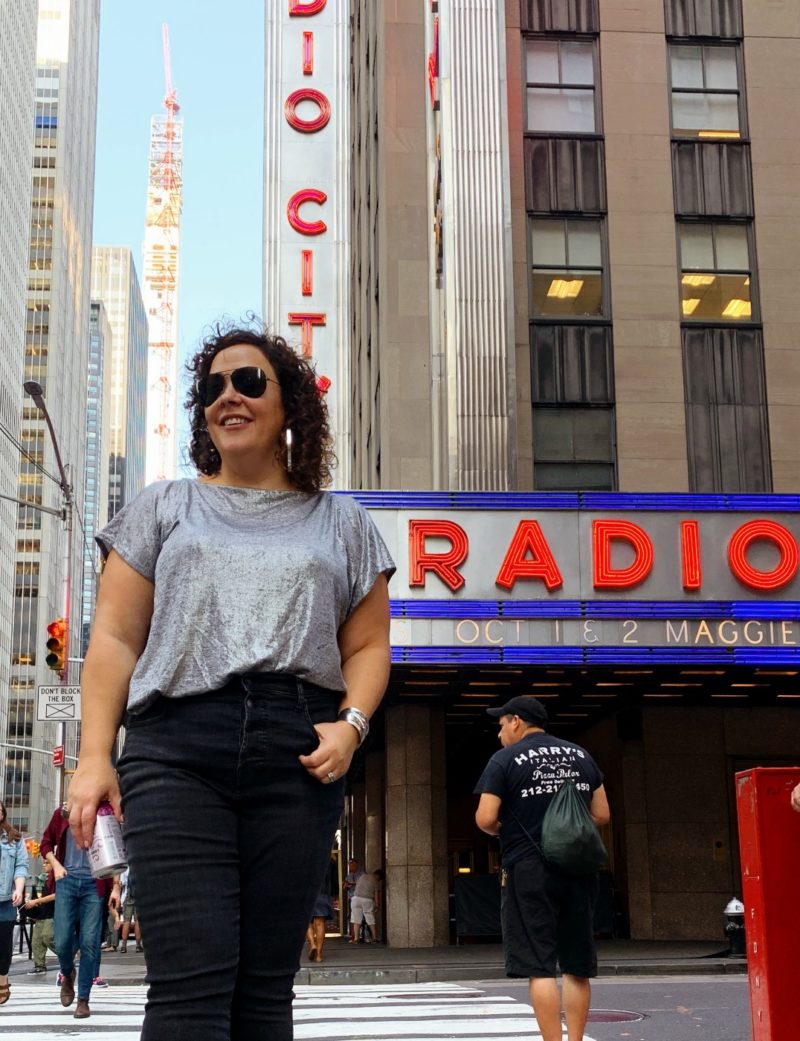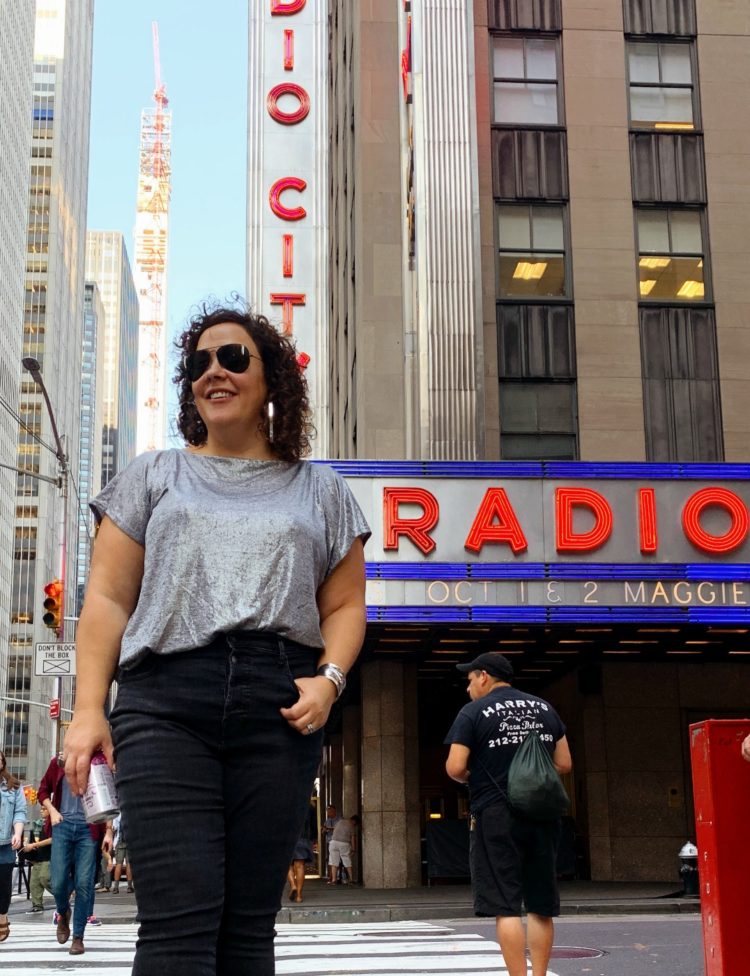 I wore a silver knit top I got on Etsy (previously seen in this post) with these Everlane jeans and my Lissom flats. For jewelry, I wore my Jenny Bird silver hoops and silver cuff.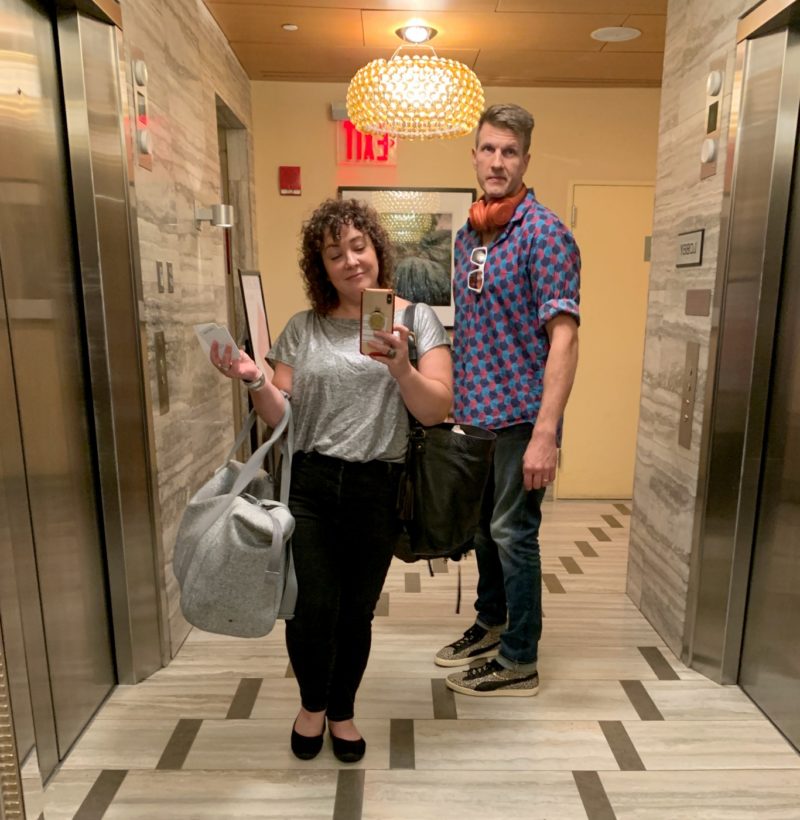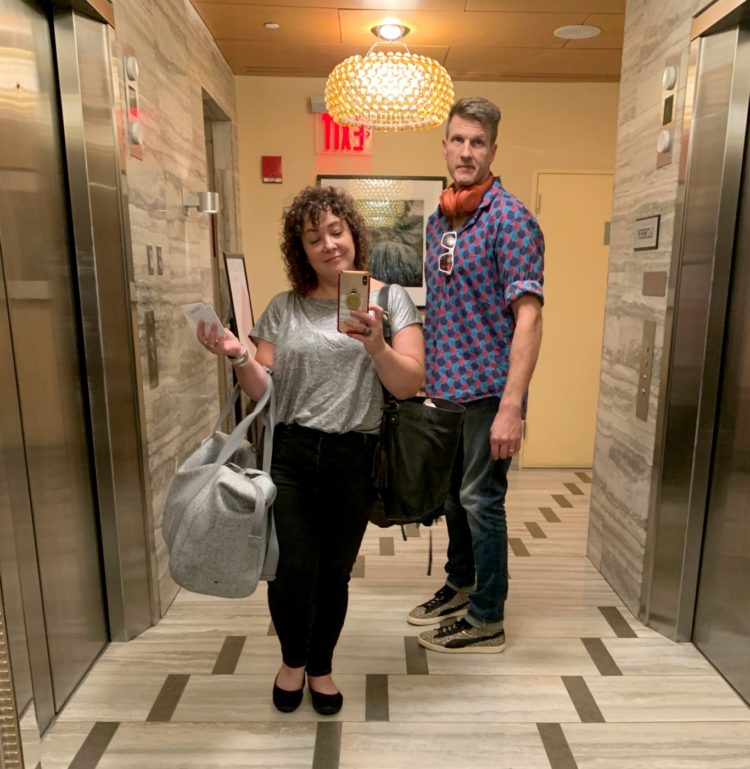 The Today Show put us up in The Jewel, a hotel right at Rockefeller Center. It is the closest hotel to The Today Show studios. The hotel staff is super nice and the place is very clean, but I wouldn't say it's one of the cooler places to stay in New York. However, with such an early start time I was glad to have an easy four-minute walk and in a part of the city I knew quite well.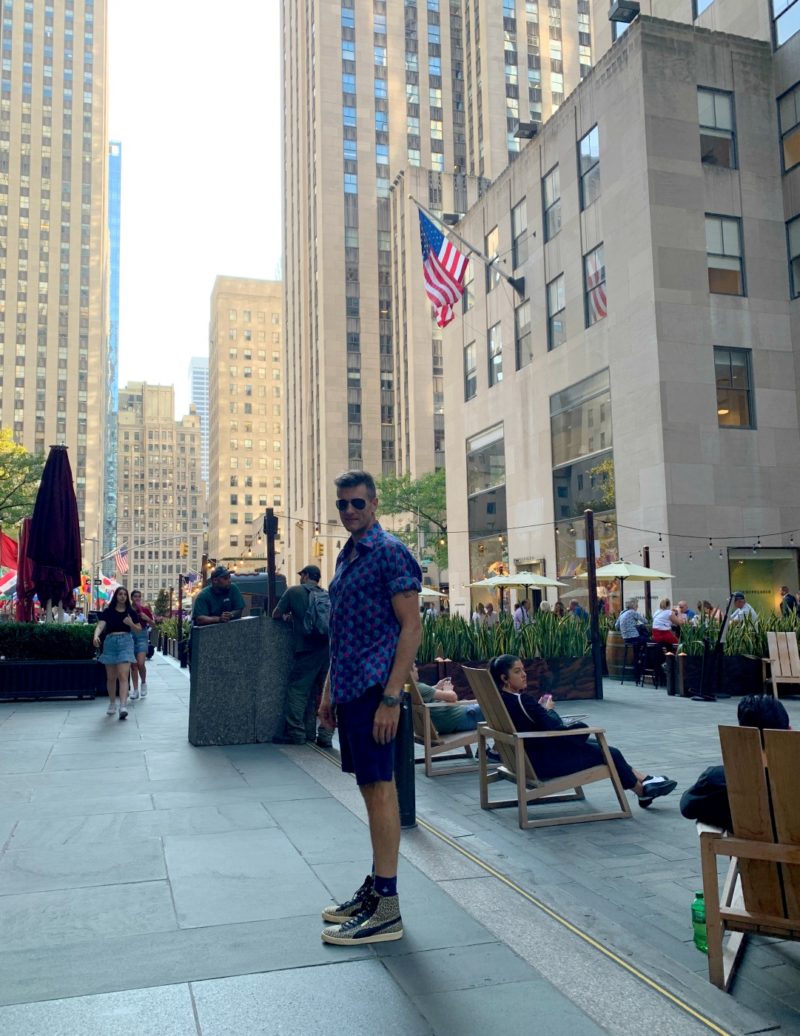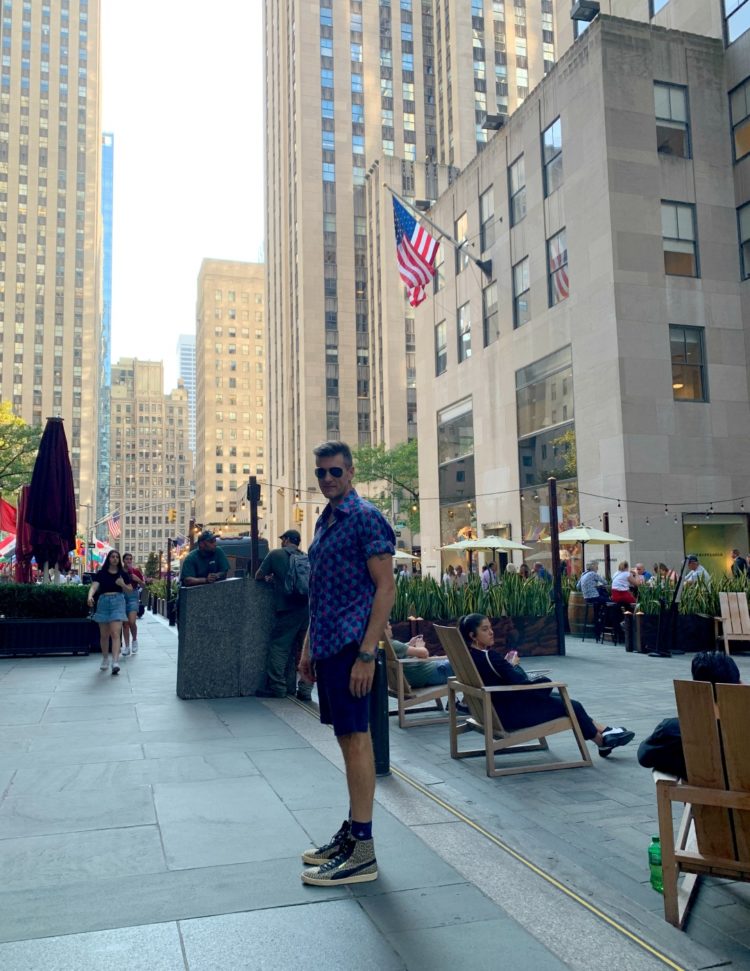 We unpacked, settled in, and realized we were hungry and achy from sitting so long. We considered going to the gym but decided instead to dress to power walk around the city. And we did, we walked for about 45 minutes and then walked past a ByChloe and went in for a quick meal. Karl has been eating plant-based since August and I am about 80% plant-based (no animal products in the house) so ByChloe was a treat. I wish they had one near where we live!
We went back to the hotel room, we planned to shower and then have a late dinner at one of the nice vegan restaurants I had researched before our trip. But I took my shower and suddenly felt really tired and nervous and a bit panicked about the next day. My neck started seizing up and I was terrified it would be bad the next day. So, I put on my pajamas and was in bed by 7 pm. I told Karl to go explore the city but he decided to just order sushi takeout and watch a movie. I was asleep by 9.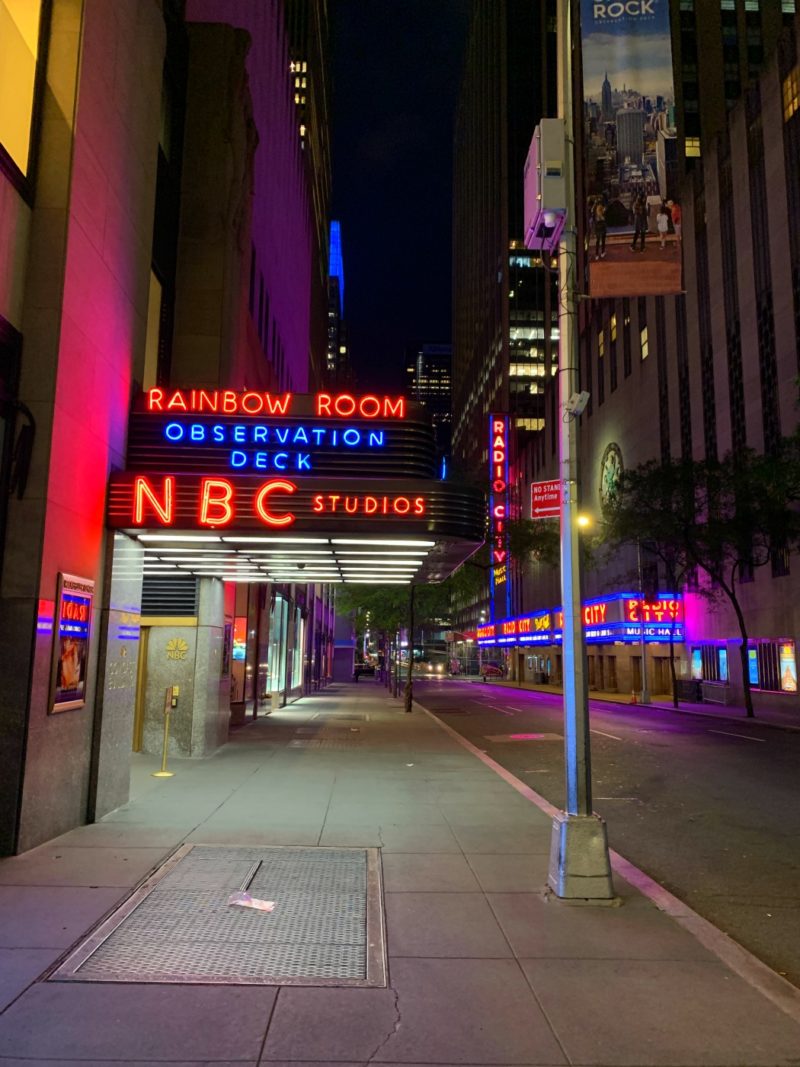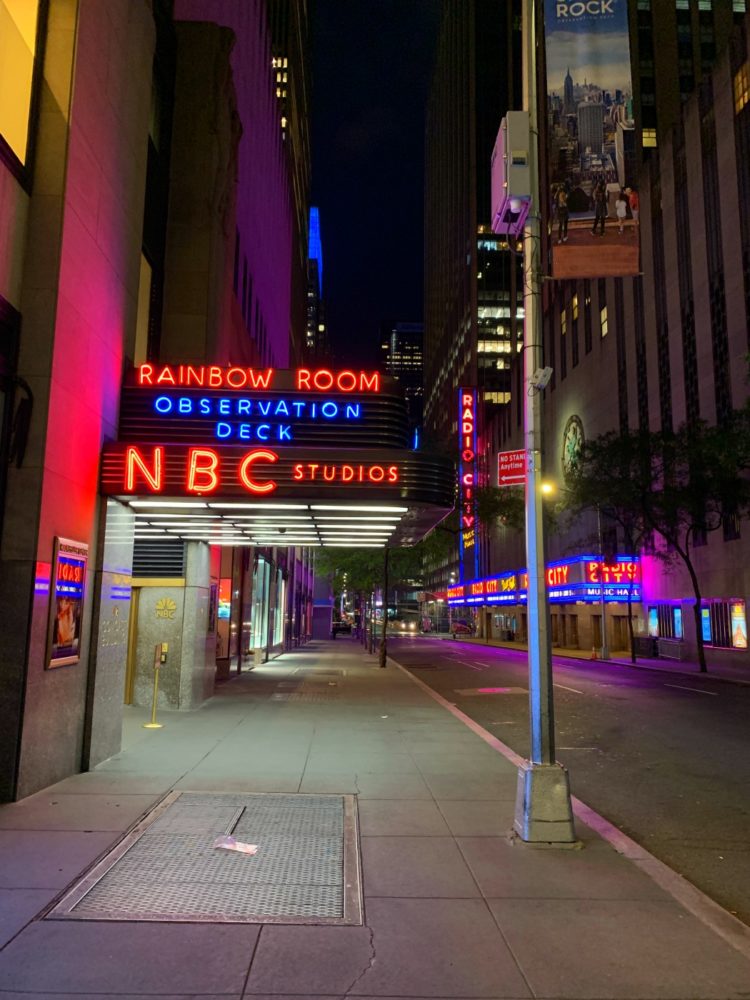 I woke the next morning at 4 am. I wanted to let my hair air dry because that leaves it the glossiest and with the best curls. I did a bit of brow and concealer because I looked like death warmed over, but otherwise left my face bare. For clothes, I wore my Lissom flats and my Universal Standard cupro shirtdress figuring they could be shoved in my purse if need be, would be easy to slip on and off, and were comfy without being actual pajamas.
I walked over to the Starbucks across from the entrance I was told to use to get into the studios where I ordered breakfast, had a giant coffee, and read more of my book. At 7 am I entered the building for my 7:10 meeting time.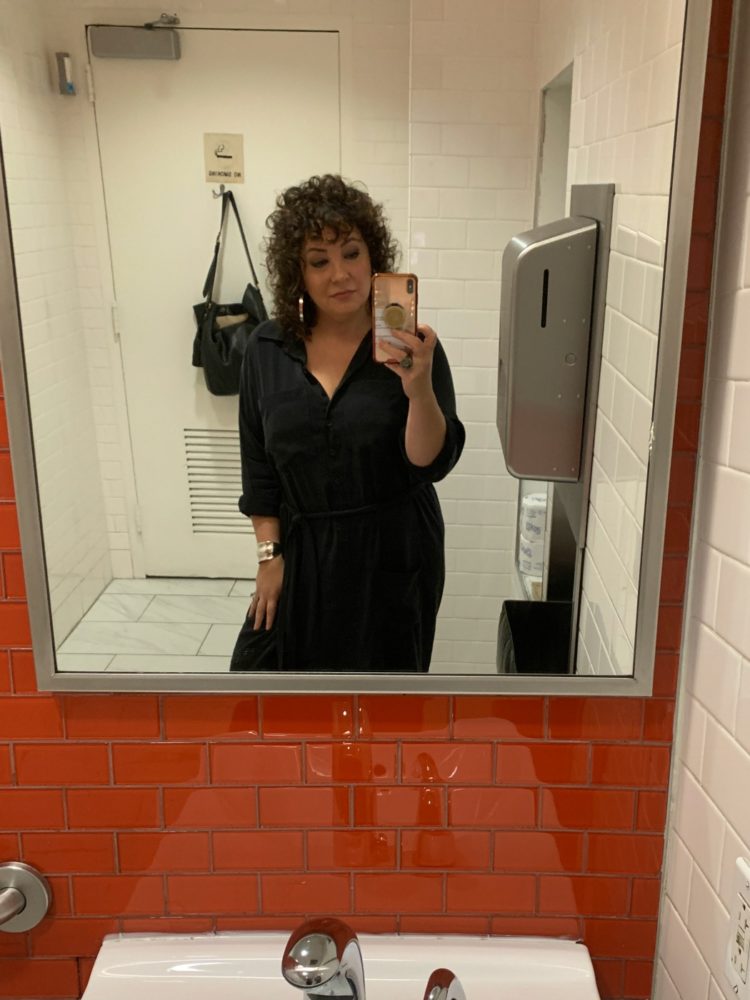 Once checked in by security, I entered what is called the Orange Room. It's essentially a waiting room with two TVs playing The Today Show and a kitchenette with a nice spread of pastries, fruit, and veggies as well as plenty of coffee. There were two NBC pages and they were so cute and perky and helpful I could see where the character Kenneth from 30 Rock came from. I had to get there that early because the Today Show seamstress had to hem my pants. I put on the pants, they pinned the length really quickly, I took them off and sat around for a couple of hours.
I saw Dylan Dreyer show up in denim shorts and a baseball cap with her dress on a hanger and emerged from a room a few minutes later looking glam. Carson Daly walked through a few times wearing his suit and I saw him leave at the end in a hoodie and baseball cap and sandals. Heather McMahan was there and I kept looking at her, she looked so familiar but I couldn't figure it out until I saw her segment. Same with Jason Ritter. I heard Rachel Maddow came through while I was in hair and makeup. All the guests were in there but I didn't really speak to any because we didn't know who one another were and we all were a bit nervous. Also, most were there less time than I was; I got there so early to give the seamstress time to do her magic.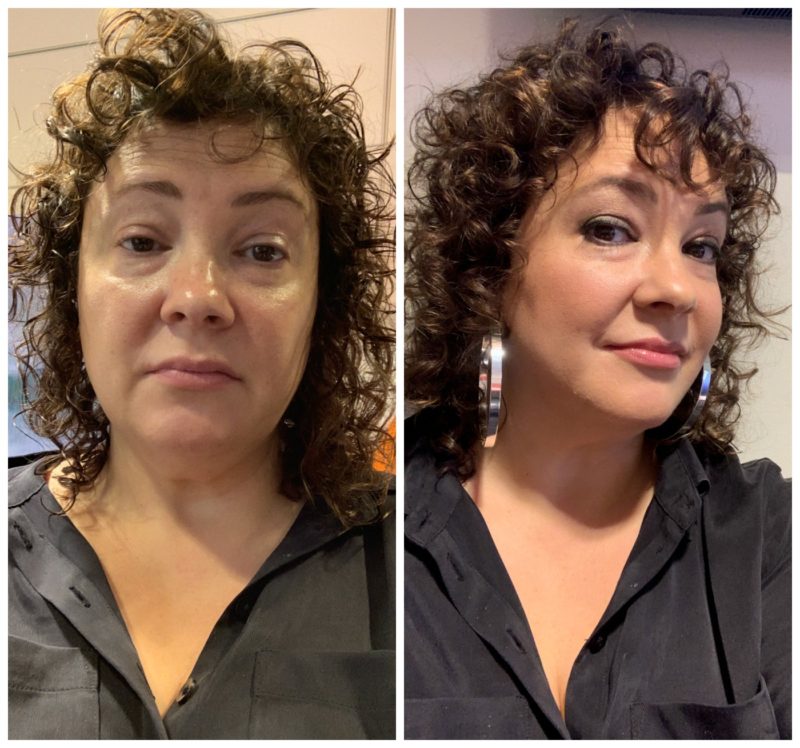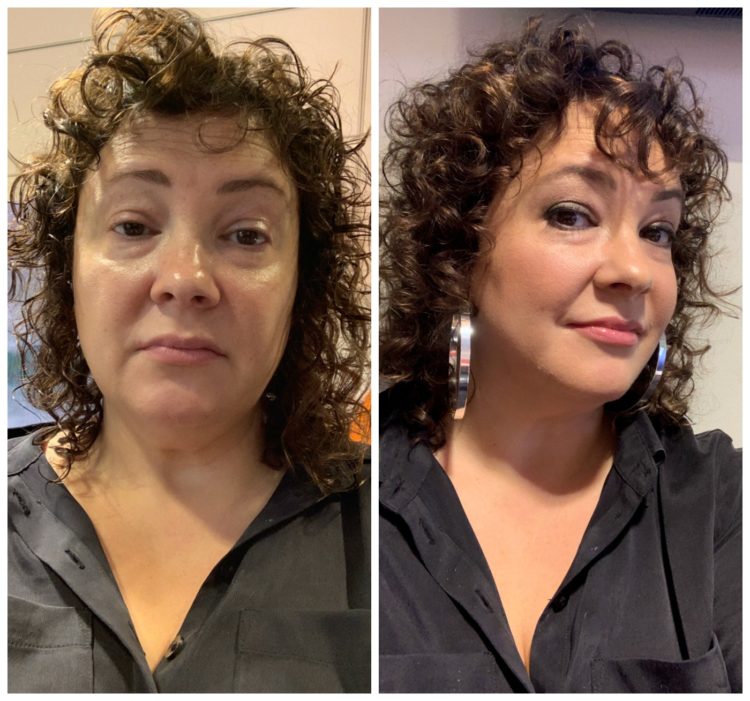 Their team did my hair and makeup in a room off the Orange room. It had about six chairs in front of a counter and mirrors. The room had three dressing rooms off it – one for Jason Ritter, one for Jessica Lange, and one for Heather McMahan. The last room was the stylist's room which was like a closet with bins with labels like "safety pins" and "binder clips" and had steamers and an iron and such. The main hair and makeup room had a corner curtain similar to what the gynecologist has for you to change into your paper gown; that's where I went to put on the pants to be hemmed. There were maybe four hair and makeup people there, each person did makeup or hair, not both. The woman who did my hair said she had been there a long time, many many years but didn't specify. As with every other experience, every person on staff was so friendly and kind and helped me feel relaxed.
Hair: the stylist hit my entire head with a ½" curling iron. No styling products were used. I felt it looked a bit… square so I did a lot of fluffing. I wish I did a final fluff before going on set.
Makeup: the artist mixed a L'Oreal True Match foundation with one from Makeup Up Forever and applied it with a wedge sponge. She did a liquid concealer lighter than my skin in a triangle under my eyes and patted it to blend. Lilliana provided instruction to give me a "bronze smoky eye, lashes, and pink glossy lips." The artist used about four different colors of shadow from a black eye palette that had no name on it. She applied black gel liner pretty thickly on the top lash line and a thinner on the bottom lash line. She added a strip of lashes after a light coating of mascara. I don't recall what else was put on my face, I was in a bit of a daze. She put a pink gloss on me but by the time I was heading to the studio it had worn away to I applied my own gloss – Gen Nude by Bare Minerals in Everything.
Around 9:15 I changed into my outfit. Outside the Orange Room were red curtains held up with poles to create changing rooms. Ours was next to the one for shelter puppies that were super rambunctious and super cute. I put on my outfit and was asked to stand from then on to not have it crease. Karl showed up around that time and kept me company; Joanna and Sai showed up soon after.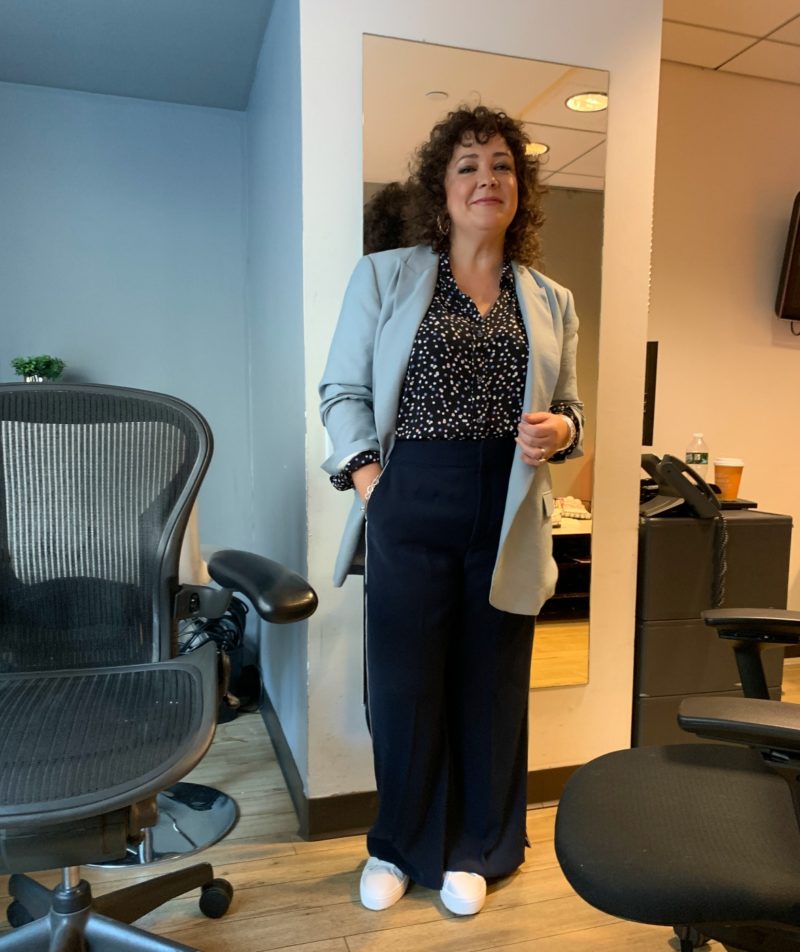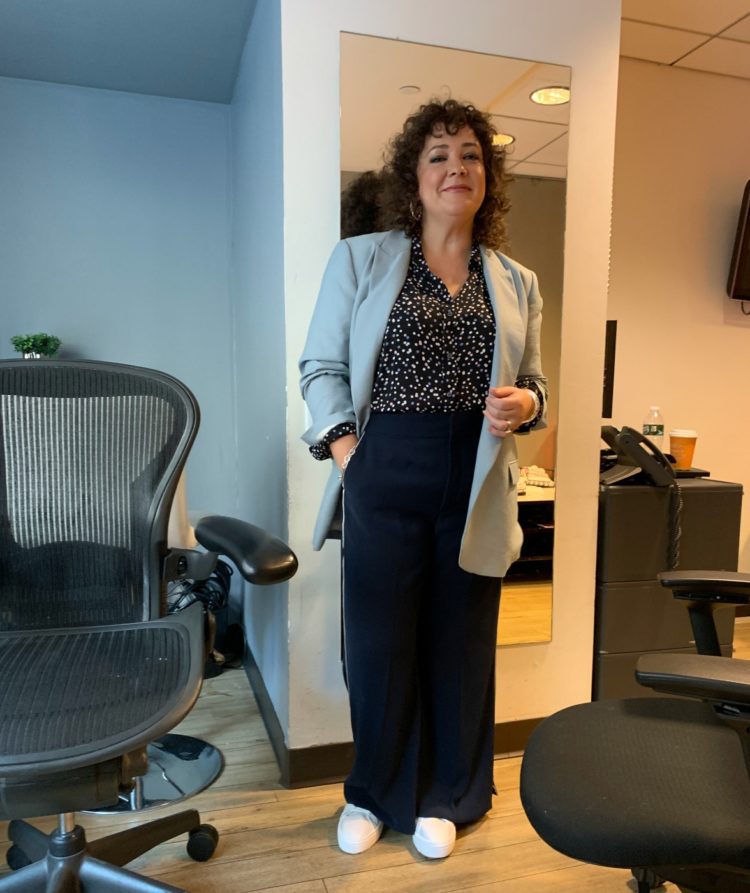 A little after 10, we all headed up an escalator to the studio. We hung out for a quick minute in a green room, then to the set.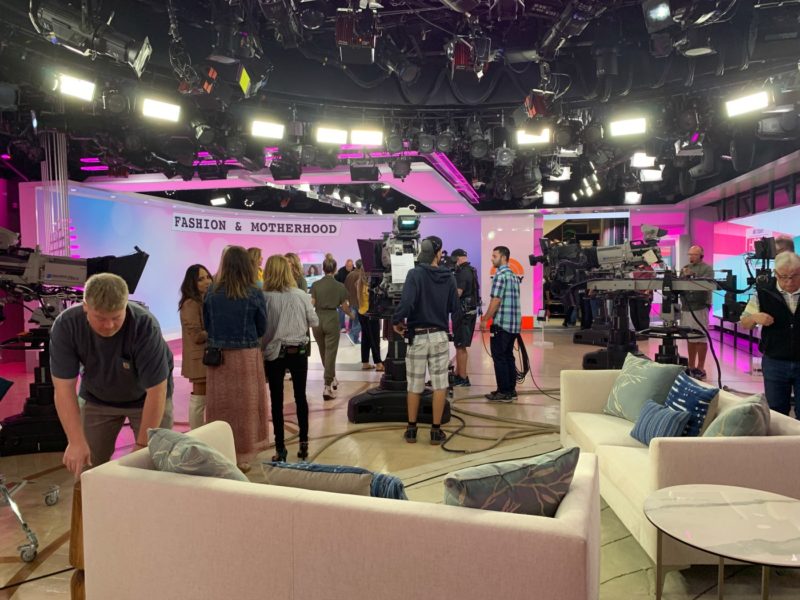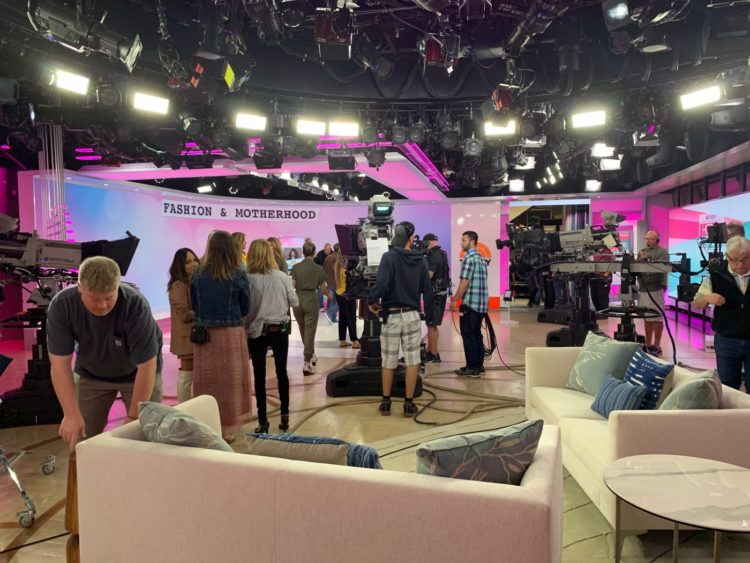 The set is actually three different locations with furniture and décor constantly moving around to create the locations for taping. Our segment was already set up on the biggest location; four chairs for Hoda, Maria Shriver and Katherine Schwarzenegger Pratt (the guest co-hosts), and Lilliana Vazquez and then three screens on stands with Joanna, Sai, and my photos and names on them. Talk about surreal! Joanna and Sai stood behind the monitors to their left, since I was the last one I stood behind a camera off-stage. We were told they were short on time so no chatting, just to come out, stand on the taped marker on the floor and smile.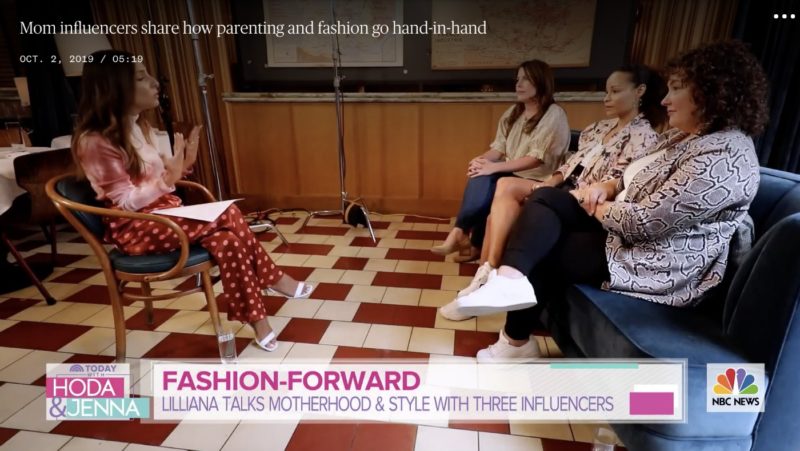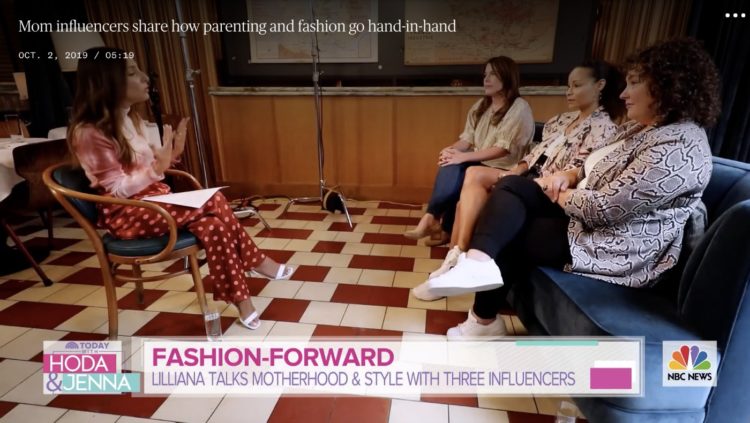 Before we came out, they played the pre-taped segment from Bistrot Leo. We never saw this before this moment, and the three of us were glued to the small monitor in front of us. It was amazing to see how they took that hour-long conversation and edited to three quality minutes. Then the live segment happened and it was quick. When Lilliana said my name I came out, put my hand in my pocket to better showcase the look and smiled. And then it was over!  Oh, Jessica Lange was on after us and I made eye contact!  However, I didn't meet/talk to/shake hands with any of the hosts or her, it was a flurry after our segment to prepare for the next one.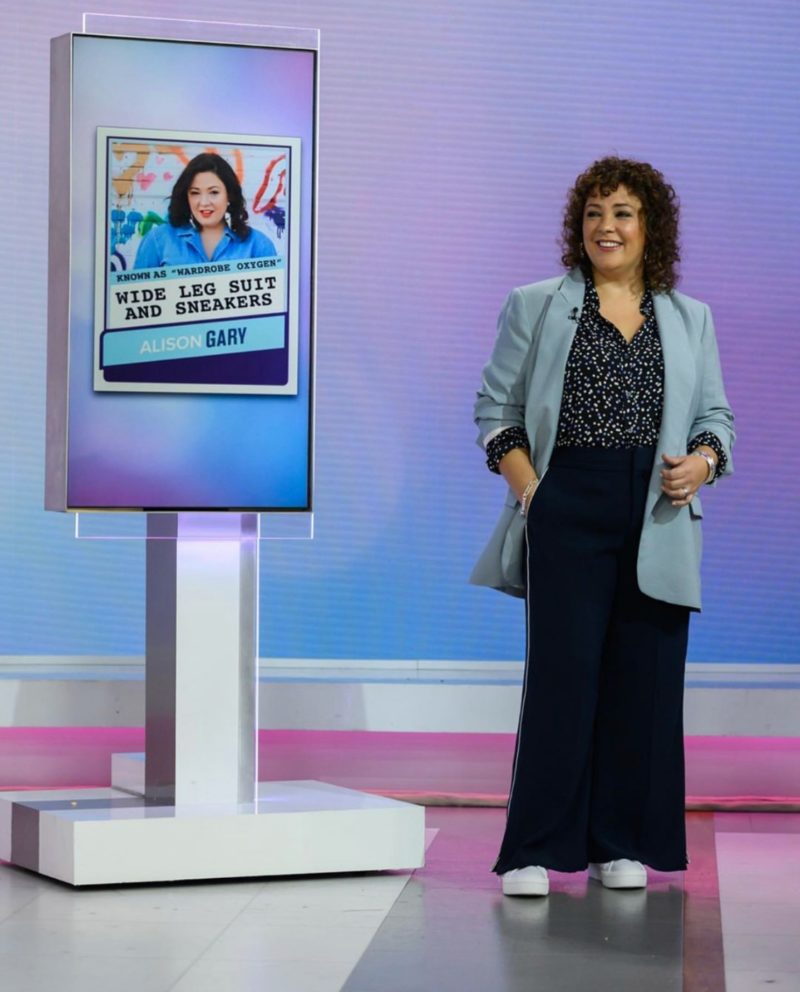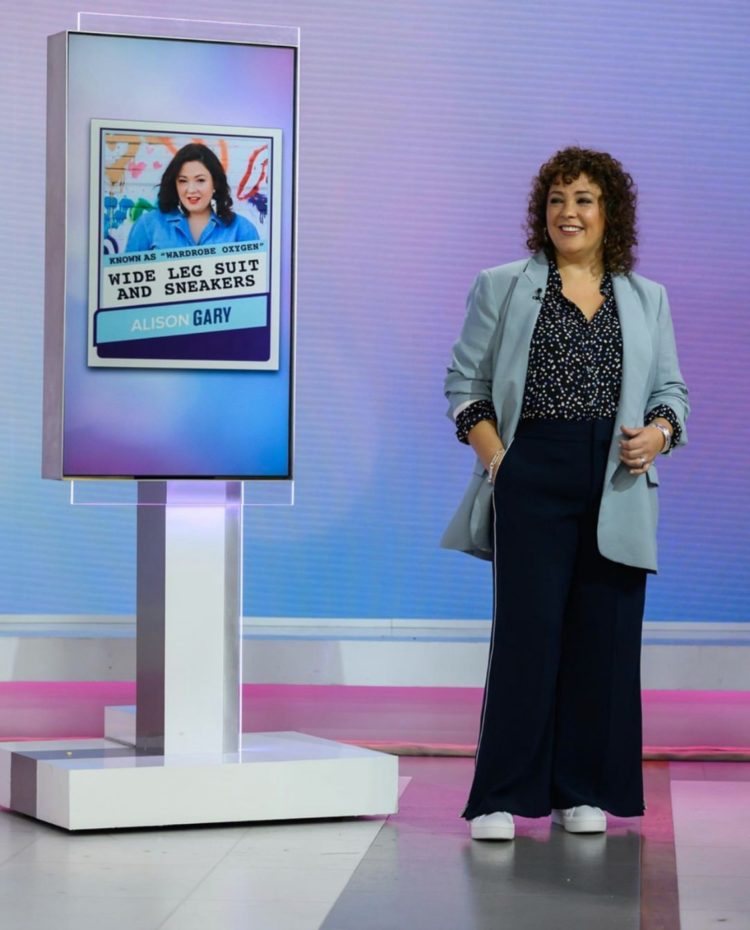 Everything was so choreographed at the Today Show, it's like when the curtain drops during a play and everyone dashes around to update the set. During commercial breaks, the same thing is happening at the Today Show, but it's well-lit and there are loud '50s rock and roll playing over the speakers. It was fun to see the behind the scenes and it was fun to have Karl there with me. He was able to hang out in back behind the cameras and see the whole thing!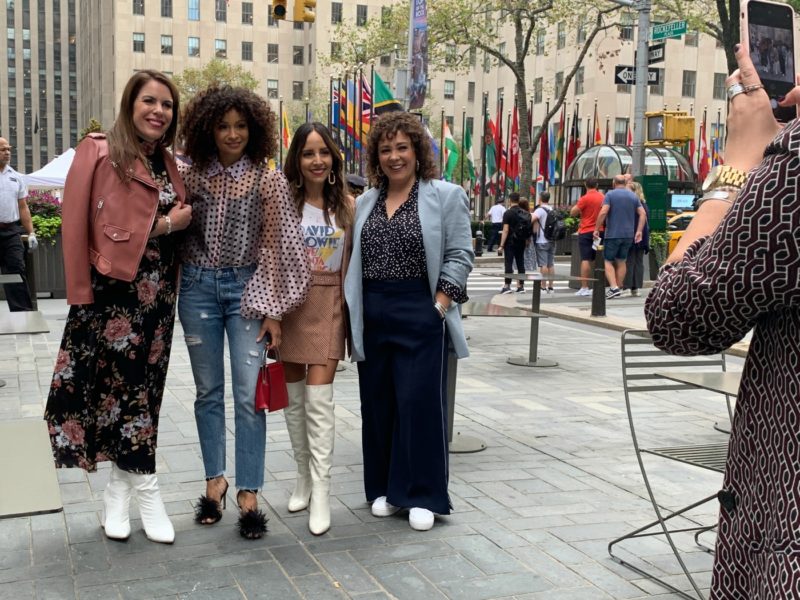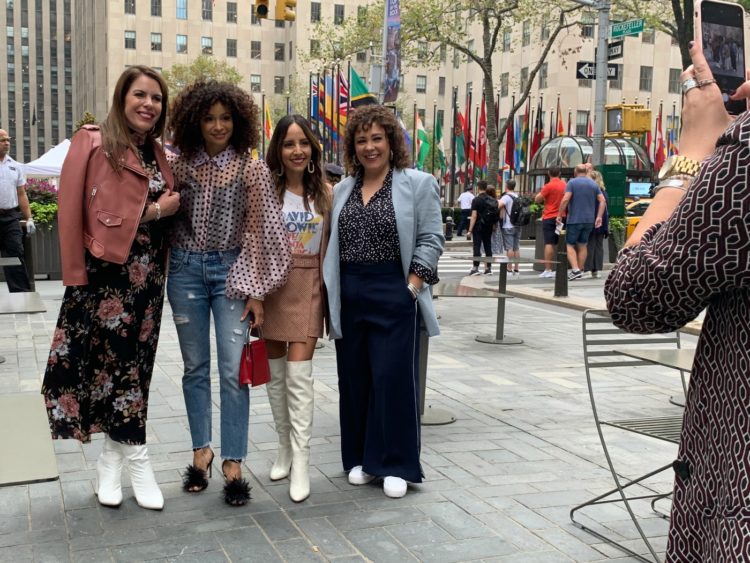 We took a few pictures outside in Rockefeller Center to commemorate the experience, then went back inside to change out of our clothes (no we didn't get to keep them) and we headed home. Well, we headed back to the hotel to get our bags and then the Today Show had a black car pick us up and take us back to the train station. We were home in time for our daughter's bedtime!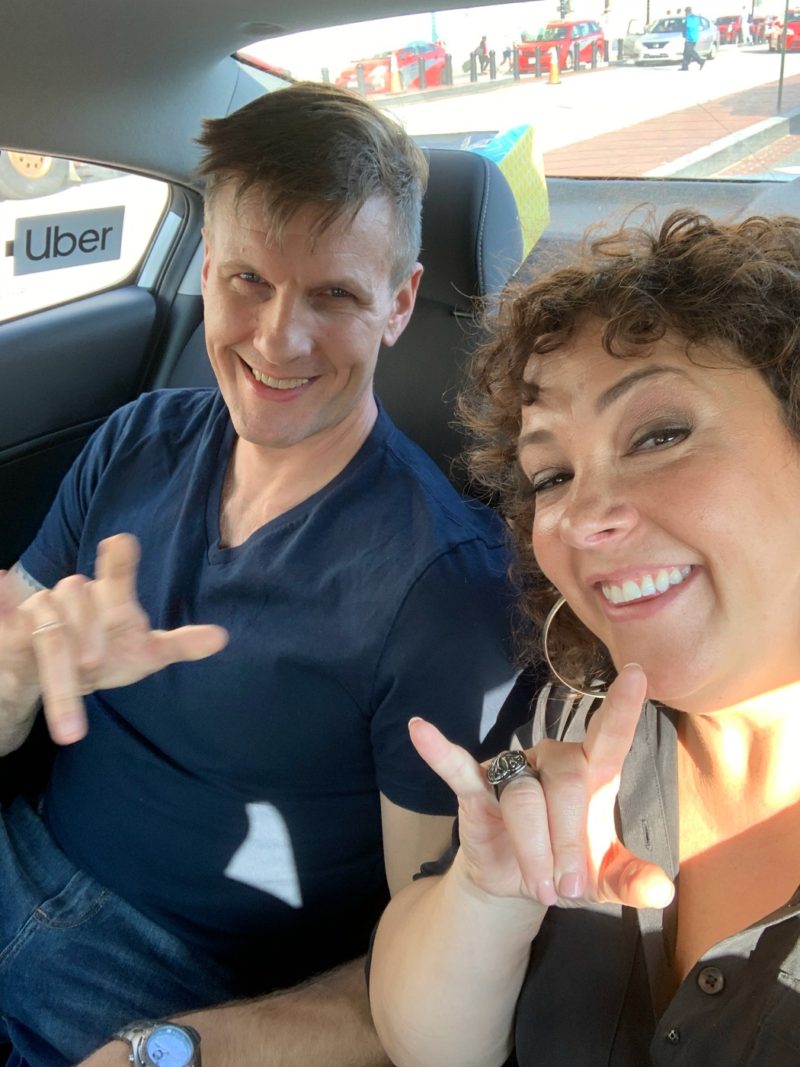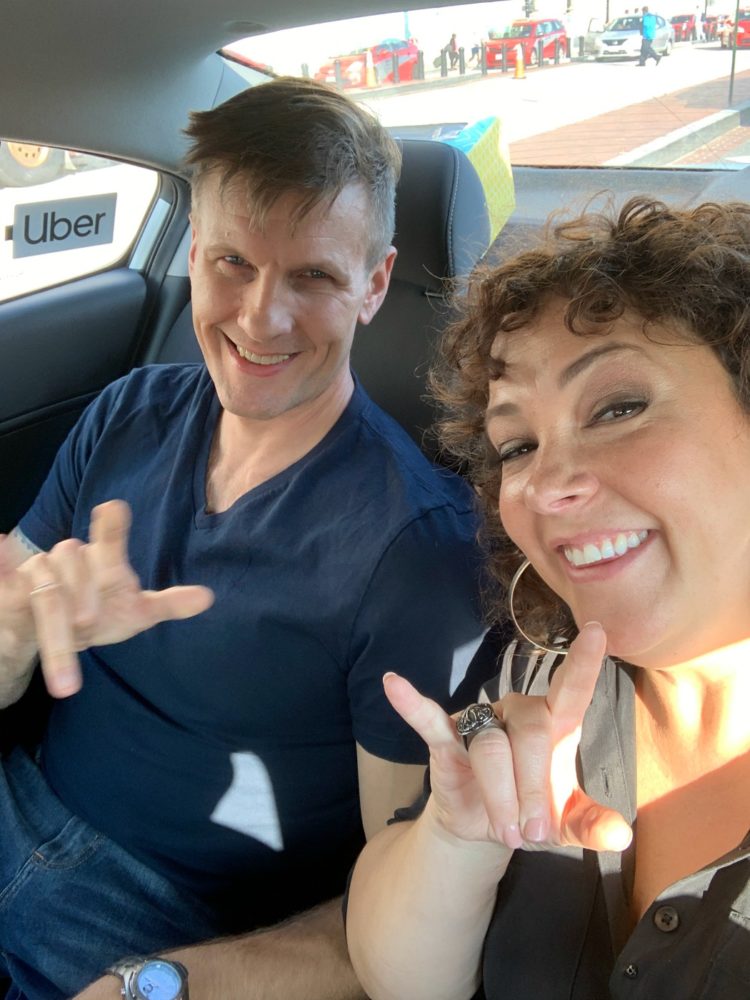 How did Being on the Today Show Affect My Business?
I gained almost 1,000 followers on Instagram, almost 500 of them before noon on the day of the segment. I gained about 50 Facebook followers. My site traffic didn't really change. The biggest change was the perception of those unfamiliar with blogging. Many family members, friends, and neighbors don't "get" my job. I regularly am asked how I make money, if we're doing okay financially, and what I plan to do next as though what I'm doing now isn't "real." But being on the Today Show seemed to legitimize my profession to those people. Neighbors stop me on the street and at the grocery store to tell me they saw me and how proud they are of me. It's very sweet, but it's funny that three minutes on TV that I wasn't paid to do is what I needed to show many people in my life that this thing I've been working on for 14 years that supports a family of three.
But to be honest, it legitimized my job for me as well. This is a weird job, and a lot of people have negative feelings about this profession. Several readers emailed me in the year after I quit my job to tell me they no longer wanted to follow me because I was no longer relatable. I still work in front of a computer at least eight hours a day, it's just that now I write blog posts and social media for myself instead of a company owned by another. It's a very solitary job, and I can get too into my head and overthink. I see my peers getting amazing opportunities and I question my decision to make this my profession. Then opportunities like the Today Show come up and make me realize I made the right decision, and I am good at what I do. I am really thankful to be included and look forward to what the future holds for me and Wardrobe Oxygen!
Shop What I Wore: