This article may contain affiliate links; if you click on a shopping link and make a purchase I may receive a commission. As an Amazon Associate, I earn from qualifying purchases.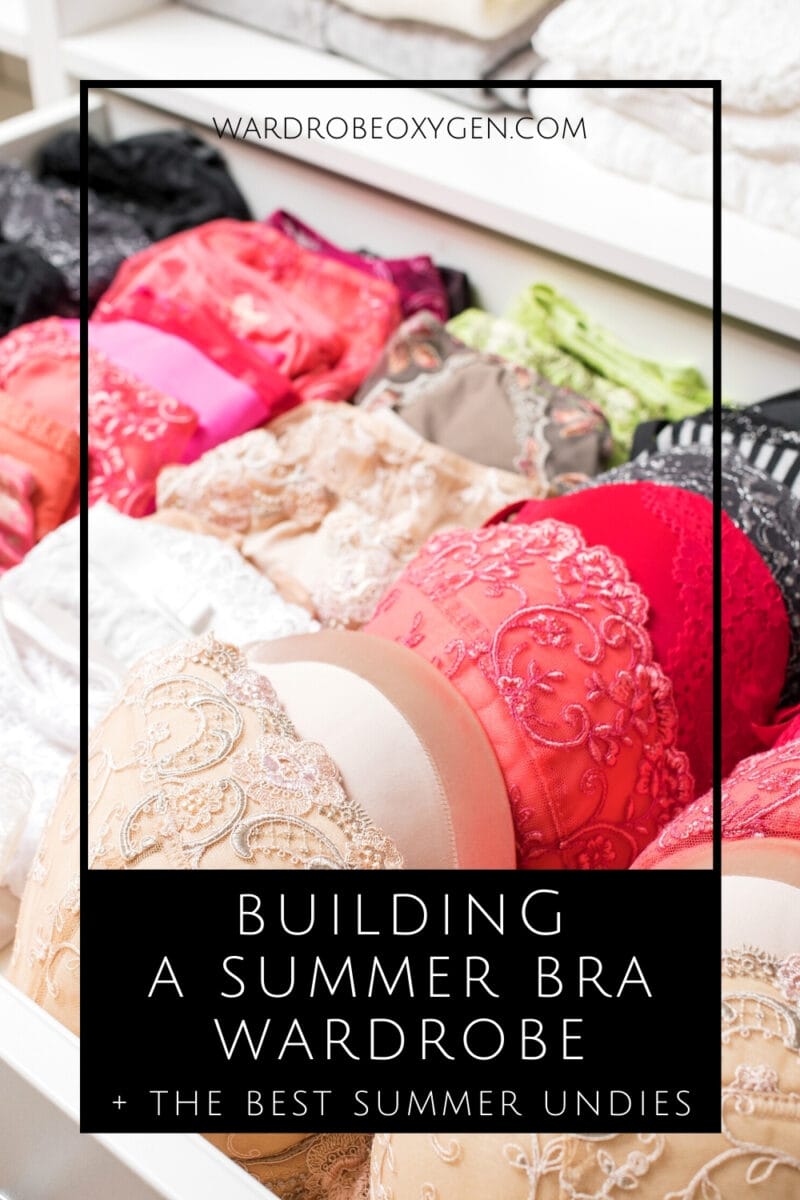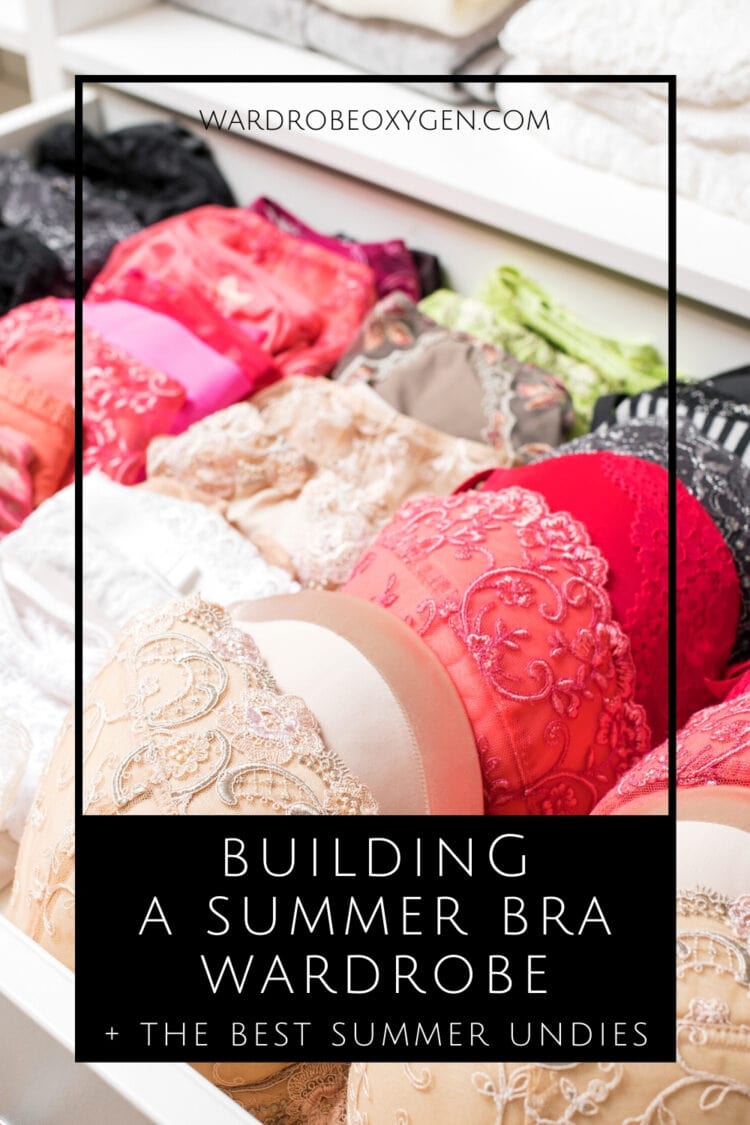 It's clear by now that I am a fan of Soma for sleepwear, loungewear, and intimates. As someone with a larger bust, and one who has soft curves and is over 40, I appreciate a retailer that offers a great range of styles and sizes of bras and undies as we all don't have the same shape, size, or needs for our intimates. I highly recommend visiting a Soma boutique to get a professional fitting.
Summer is right around the corner, and this is the time that I not only get my summer wardrobe ready, but also my summer bra wardrobe (and undies too!). With heat, humidity, lighter-weight fabrics, sleeveless and strapless garments, and pale colors of summer clothing, our needs for underpinnings are different.
Soma invited me to check out their collection to create a summer bra wardrobe, but I ended up also visiting their undies as well. This was for a sponsored/paid post on Instagram, but because I truly do wear and love Soma, I chose to share photos here and dig deeper and do a proper Soma intimates review here on the blog with what is in the photos, but also what beyond the photos I own and love.
Building a Summer Bra Wardrobe
For the campaign, I decided to not just show a summer bra wardrobe from Soma but coordinating undies and to show what kinds of clothes I wear over such intimates. Sure, it's great to get a list of what you need in a bra wardrobe, but what if you don't dress that way? Do they really work under such clothes? I wanted to show how I actually wear these bras everyday.
The Wireless (but still supportive) Bra
I know I am not the only one who started dipping her toes into the wireless bra world during lockdown… and it's hard to give them up. The thing is some wireless bras are just as heavy and padded as wired bras, and a lot of wireless bras destroy any shape of the breasts.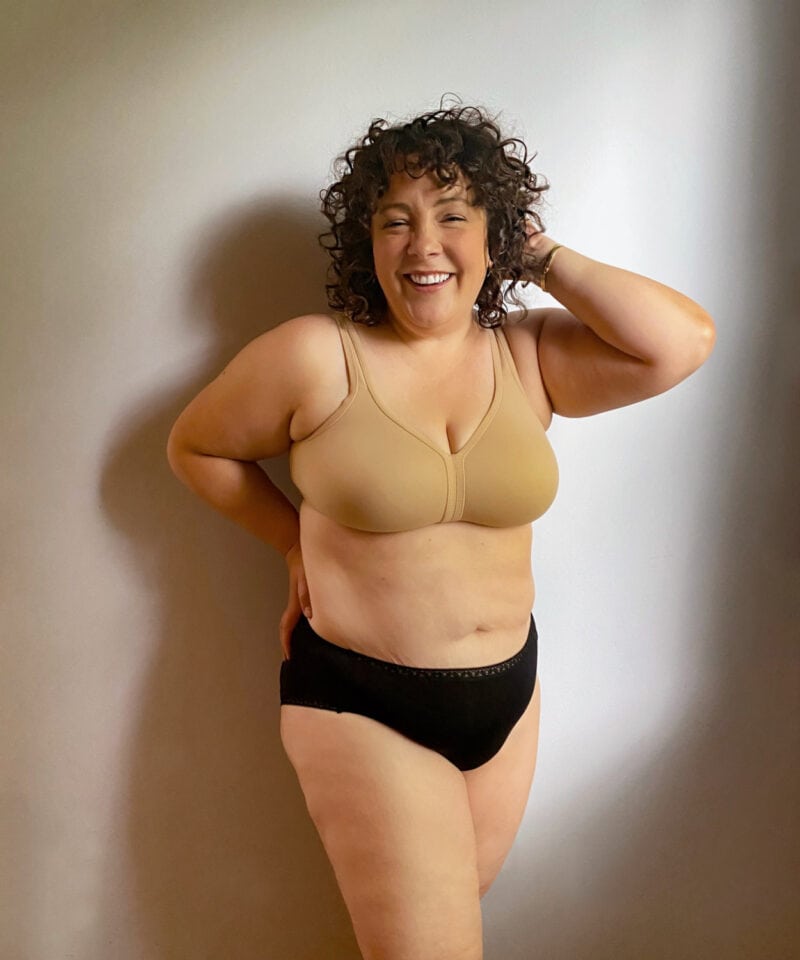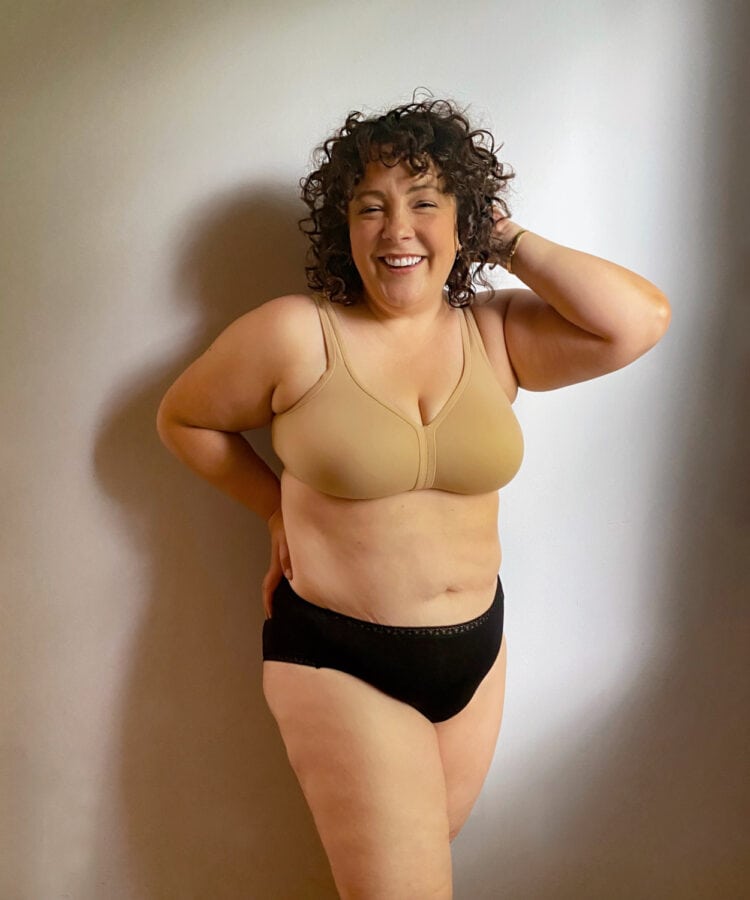 I am in love with the Soma Embraceable Full Coverage Wireless Unlined Bra. With a 36 DDD/G bust, I have worn this style of bra for many years finding it to still offer shape and definition, a bit of lift, but still all the comfort that comes from soft stretchy fabric and no wires. Read my original review of this best wireless bra for large busts.
While this wireless bra is pretty fantastic, it isn't one I'll be rocking under a fitted tee because it still doesn't offer the lift and shape of a traditional bra. But it is one I wear under my looser shift dresses and tops like this linen dress from Universal Standard. It's way cooler and more comfortable on a hot summer day than most any other bra in my closet and keeps my breasts from getting sweaty and sticking to my ribcage.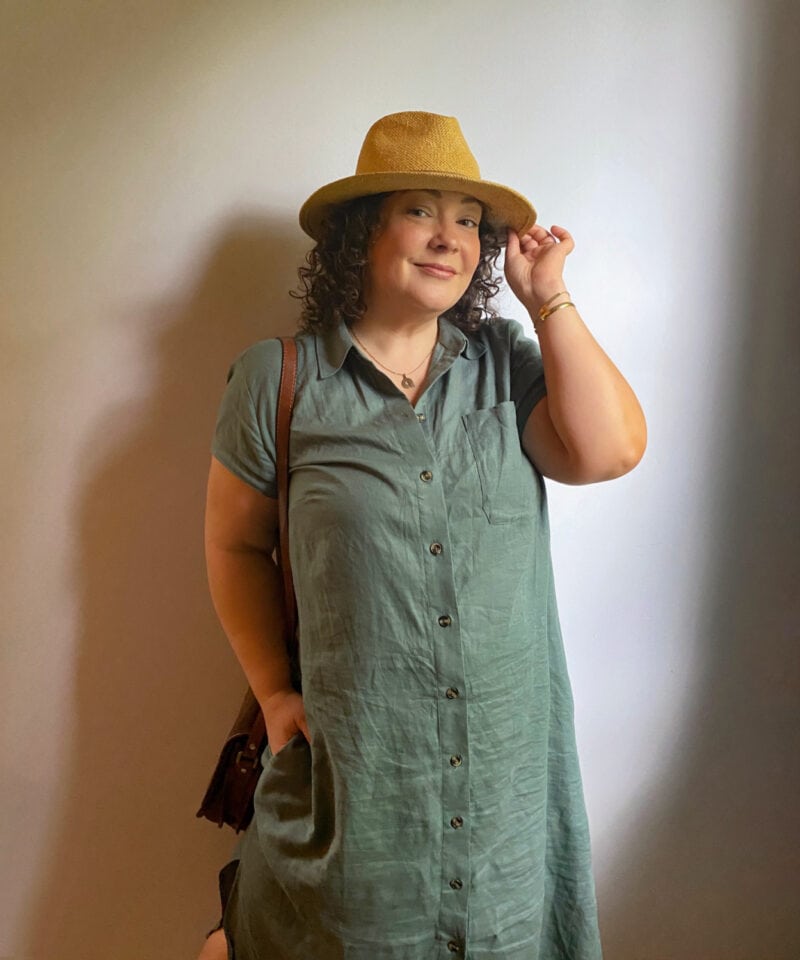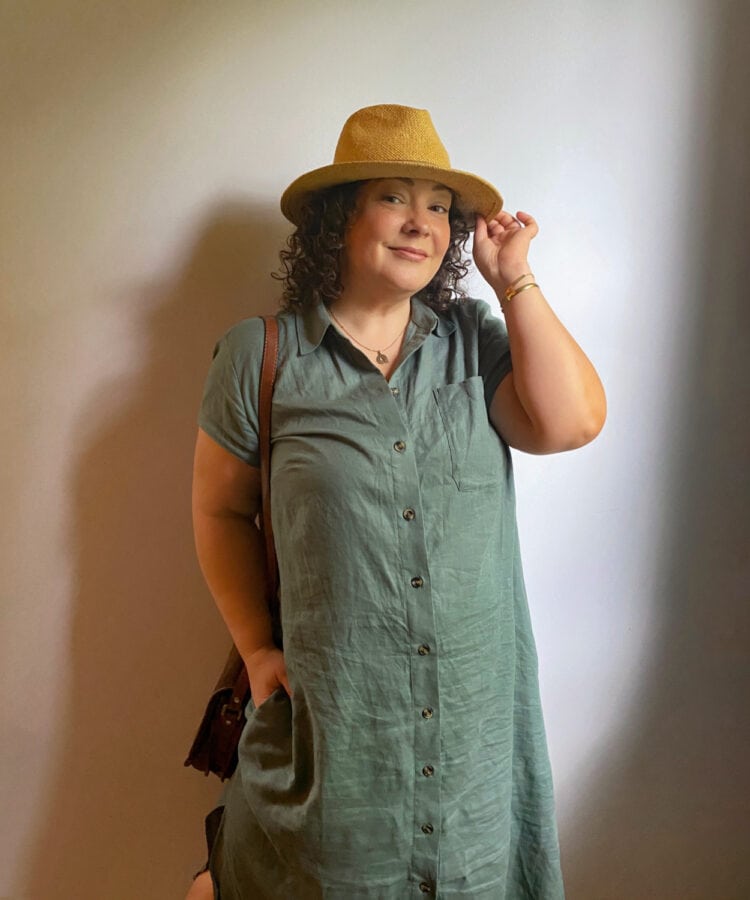 With it I am wearing the Cotton Modal High-Leg Brief in size L, also from Soma. This is a great go-to pair of summer undies, I regularly wear them under shorts. To be honest with dresses, I usually wear slipshorts to prevent chafing. Soma has their Smoothing Short which is smoothing in that there aren't any visible lines or waistband, there isn't really any compression. However, I find they roll down on my apple figure and prefer Thigh Society for size-inclusive slipshorts that stay in place and are comfy.
The Like Wearing Nothing Bra
In the colder months, I like a molded cup bra because it keeps everything cozy and warm and prevents "headlights." But come summer… I just don't want to overheat and some bras end up feeling like a sweat sponge after a day outside. The Soma Sensuous Lace Unlined bra has been a summer favorite for a couple of years now.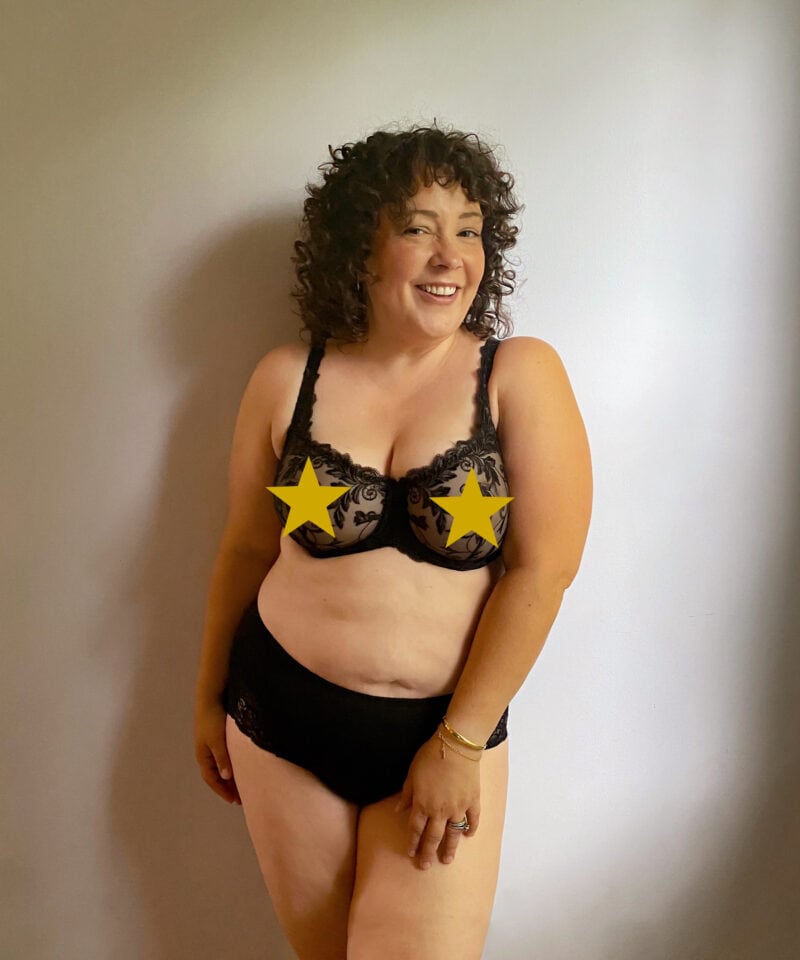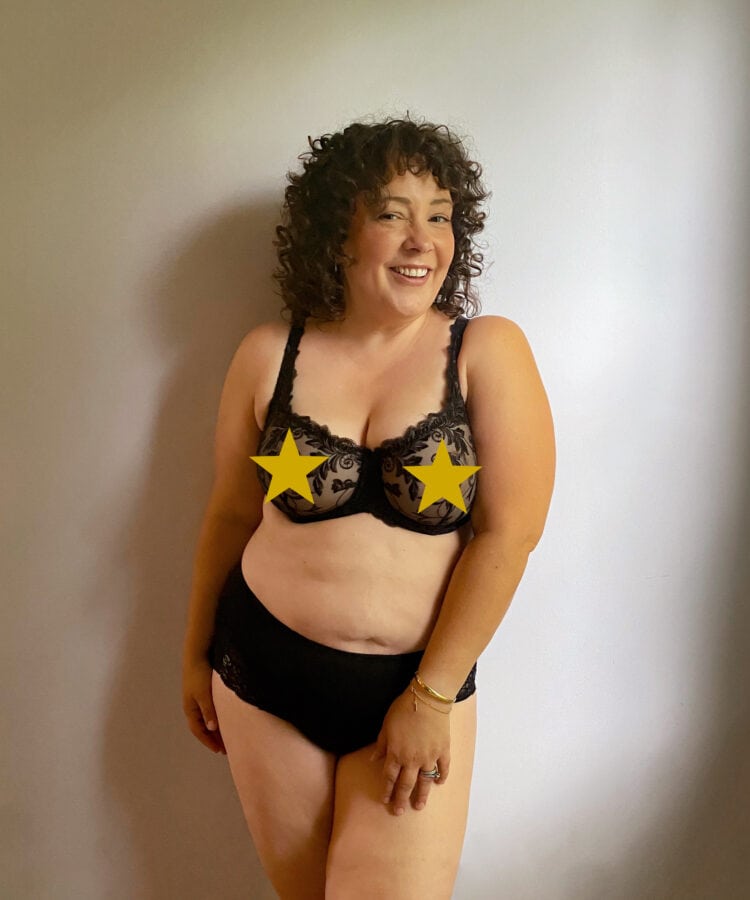 As a woman with a large bust that requires good support and design as well as a large cup, it's hard to find truly pretty and sexy bras that get the job done. This is one that has yet to fail me. It looks so delicate and romantic, the straps are so pretty, yet it gives great lift and support.
This is a great Date Night bra, a great I Deserve It bra, a great You Have No Idea How Sexy I Am Under This Suit/Coveralls/Sweatsuit bra, and it's a great summer bra because it's unlined and light and breezy and doesn't look frumpy if a strap accidentally peeks out.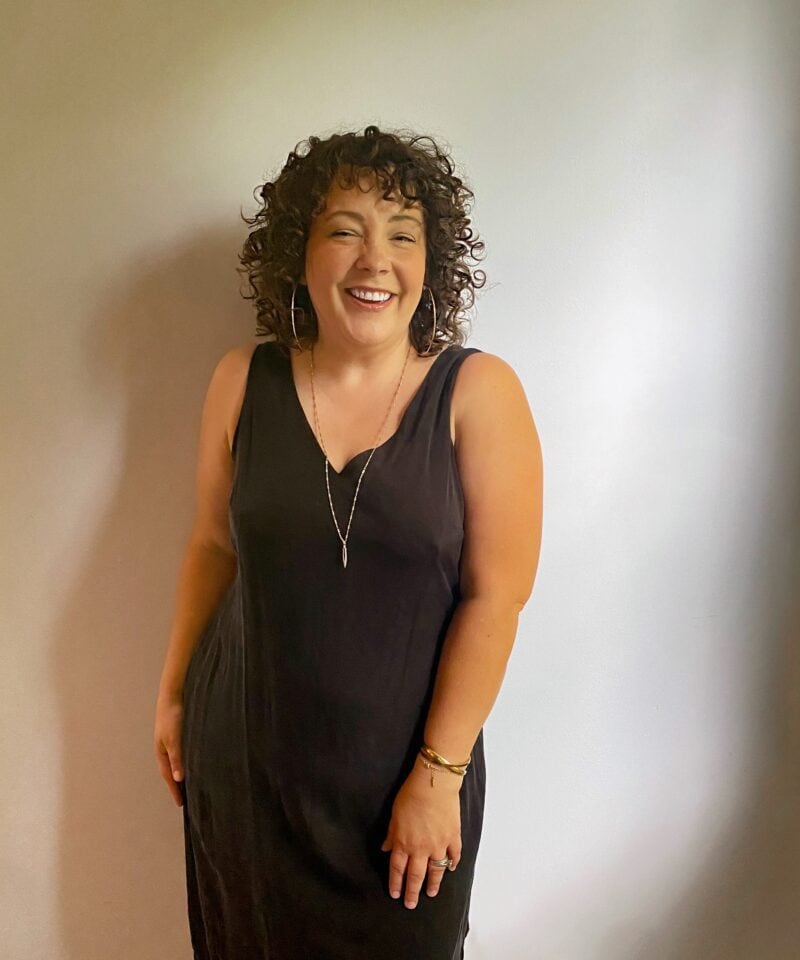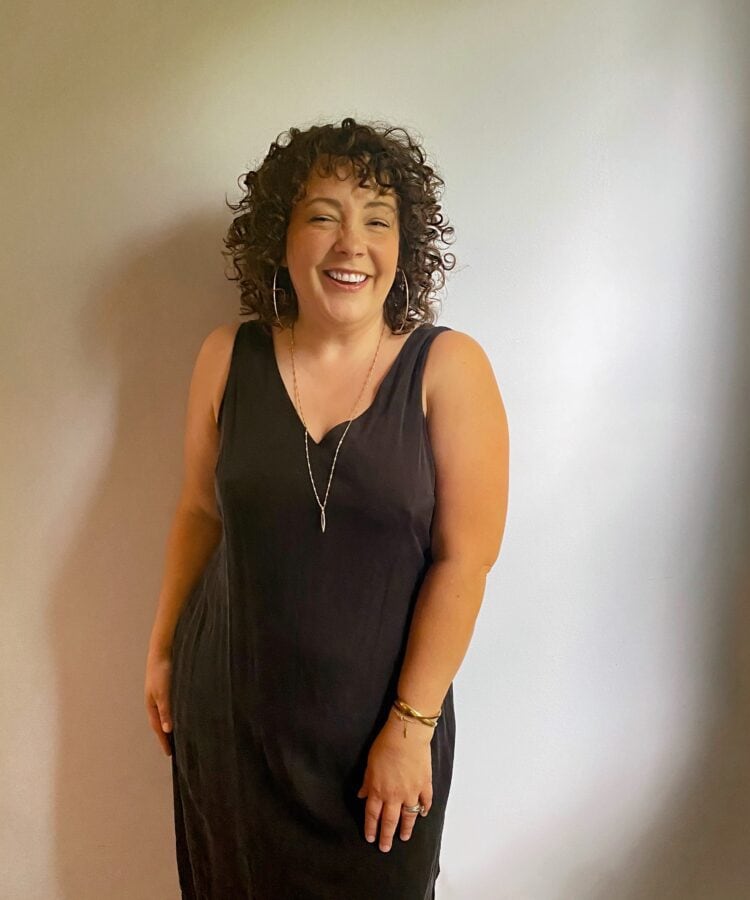 With it I have the Vanishing Tummy Retro Brief with Lace in Large which is one of my favorite undies from Soma. I resisted this brief for a while because the whole "vanishing tummy" part made me think it would suck me in giving me both gas pains from compression and a major muffin top from sucking in the covered part and letting the rest hang loose. But this doesn't suck you in, it just smooths a bit.
I comfortably wear these all day without gas pains, and they aren't so tight I end up with a muffin top. Plus, the lower leg openings reduce the effect of the leg to lower belly curve but the lace keeps them from looking frumpy. All this, and the seamless back means absolutely no panty lines. These with the Sensuous Lace bra is the perfect combo of pretty and practical to go under many looks.
The Strapless Bra (That Actually Stays Up)
So many people have been burned by strapless bras, myself included. They hurt, they roll, they gape, they slide down, they make your breasts a weird shape. Did I mention they hurt? I've had such success with Soma strapless bras; my favorite one they discontinued and had been worn to death, so I decided to try their Stunning Starlet, which is designed for a larger bust.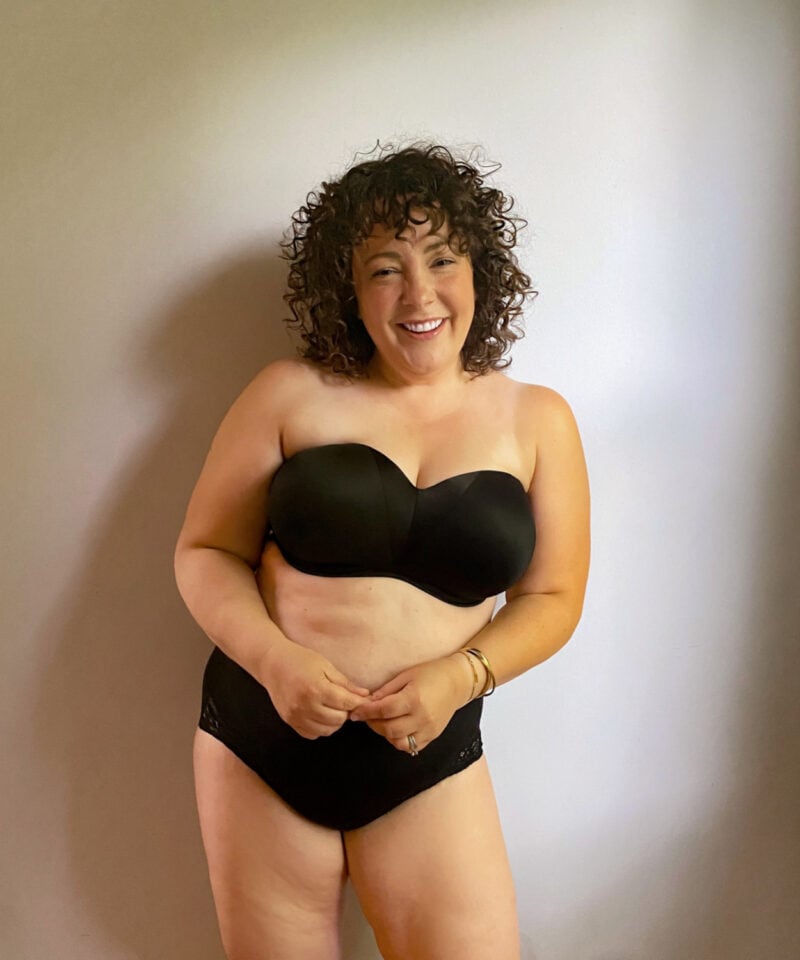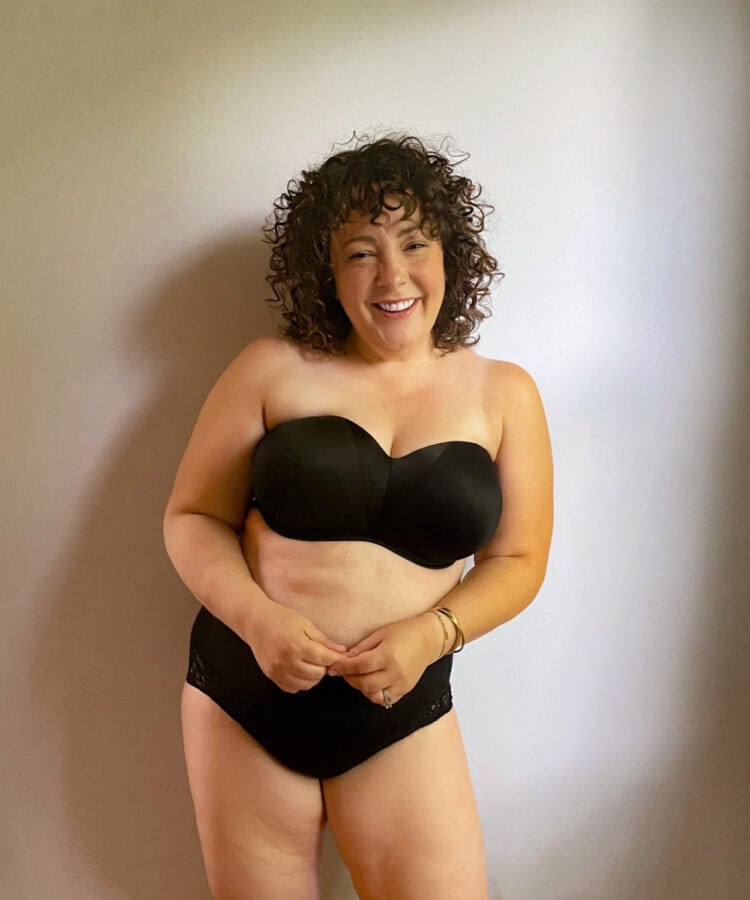 I see why they replaced my old favorite; the Stunning Starlet Strapless Multiway Bra has a better fit under the arms, has a wider band in back, and the smooth finish makes it nearly invisible under clothing. This one comes with removable adjustable straps and a variety of loops inside so you can turn this bra into a halter, cross back, one shoulder, and more.
With a great strapless bra, you aren't as limited with your wardrobe. I can wear off the shoulder, spaghetti strap, those dresses that are essentially a string gathering the front and back together at the neck, and all the creative cutouts that have been on trend the past few seasons.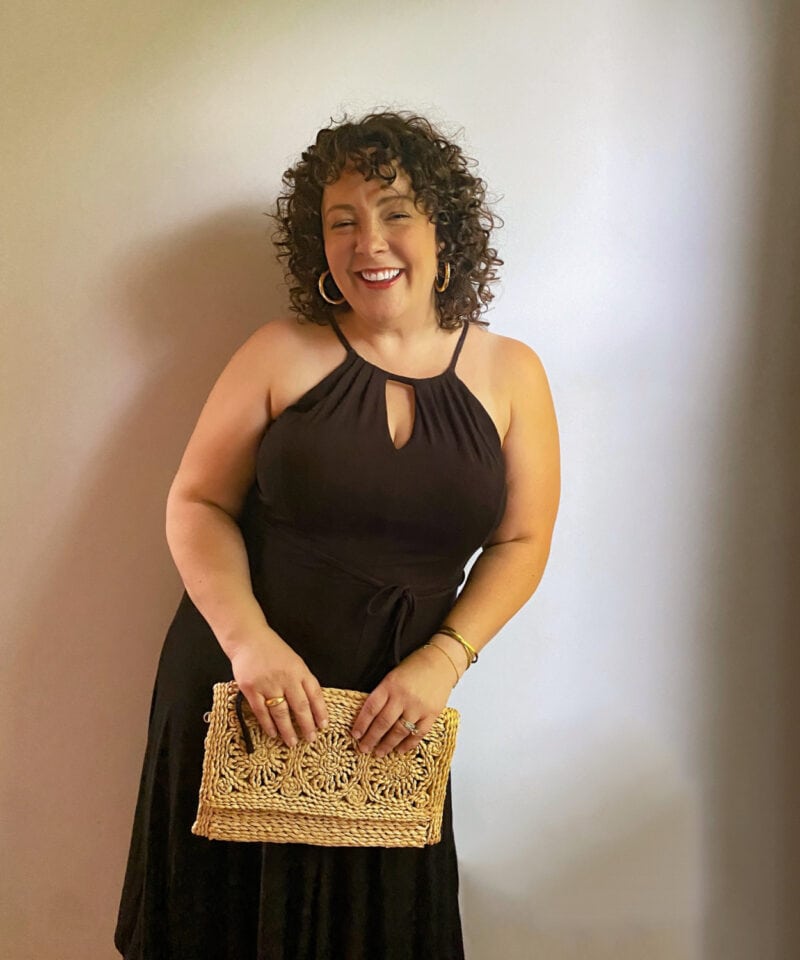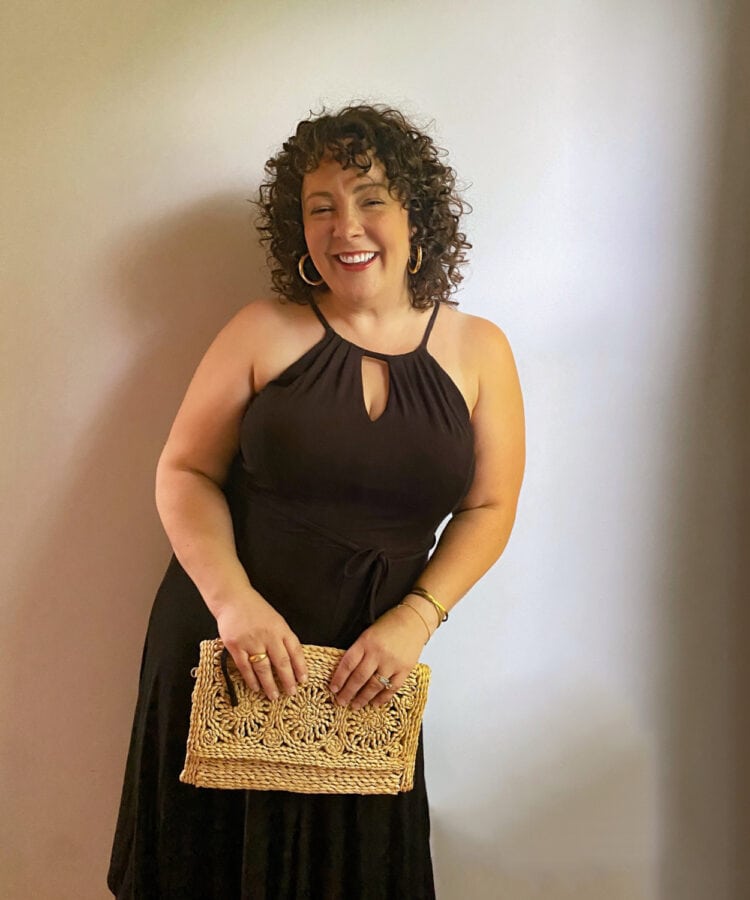 This dress is from Ann Taylor and it's over a decade old. It's jersey, but has this weight and drape that is luxe. With a handkerchief hem, thin self belt, and one of those necklines that looks like a string gathering the front and back together, it can dress up or down and is a favorite to take on travel. But gosh it needs a strapless bra!
I added the Vanishing Tummy Retro Brief with lace because the dress does skim the bum and I didn't want any VPL (visible panty line); if I know it will be hot, I will wear Spanx Thinstincts High Waist Shorts underneath, which will go up to my bra for a seamless line and will protect my thighs from "chub rub." If you go one size up with Spanx they will still fit but not be as restrictive.
The Great Support and Invisible Under Clothes Bra
When you have a large bust, shape matters. And I love a bustline that is high and centered. Wrong bra, and one can have breasts spreading across biceps and drooping down to the navel with wires poking and the dreaded "quad boob" (when the bra's cups dig into your breasts causing a dent/the appearance of four boobs).
Soma's Stunning Support bras have been a favorite of mine for a while. The collection has minimizers, full-coverage, and balconette bras in a range of colors, textures, and fun prints.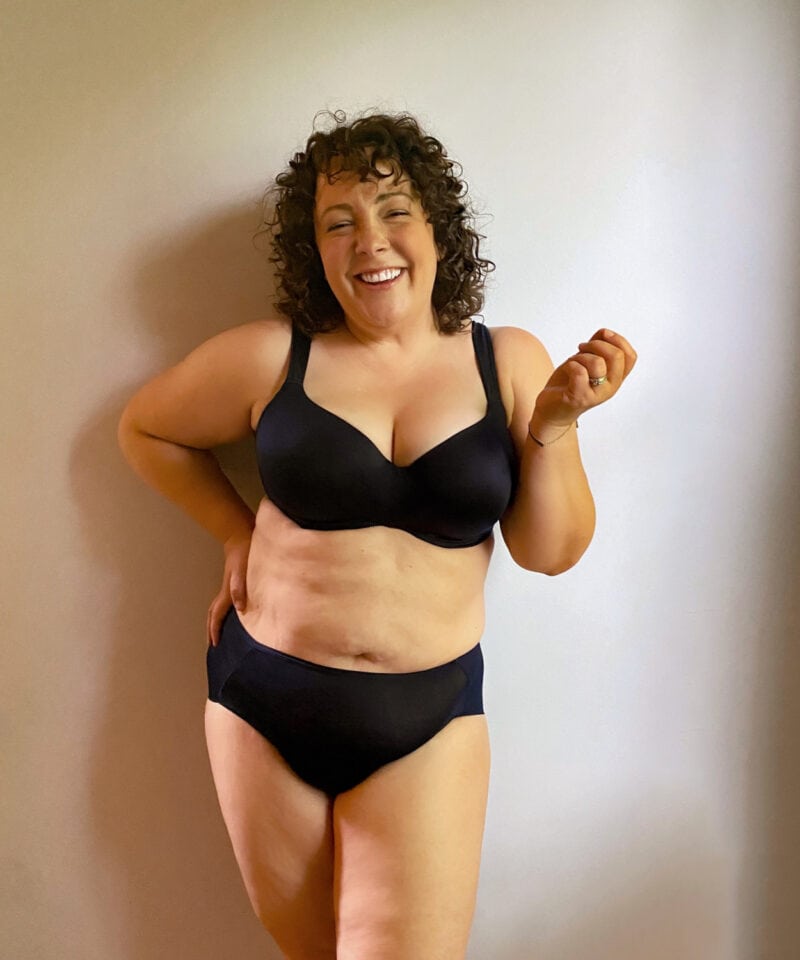 This is the Stunning Support Balconette, which I prefer for summer because it is lower in front, making it less likely to peek out of straight-necked sundresses and scooped tanks. The molded cups give great shape and the bra is so smooth it's virtually invisible under fitted garments, lightweight fabrics, and in a color close to my skintone, invisible under a white linen tee.
I like now navy is going to hide under darker, even sheerish fabrics, but it's not basic black. It feels elegant, especially in this shiny satin fabric. With it I have briefs that I find to be a necessity in my intimates drawer – the Vanishing Edge Microfiber Modern Brief. I have these in many colors but the skin-colored ones (they have three skin-like tones, I hope they have more in the future as Soma has been good with offering non-beige nudes) are my go-to.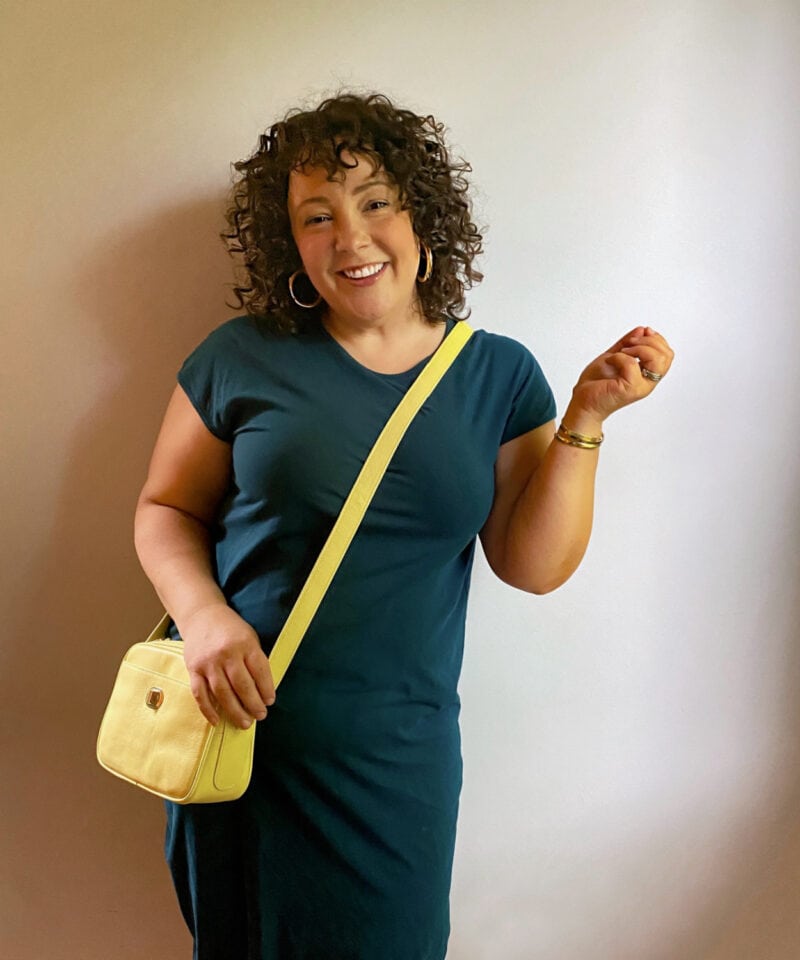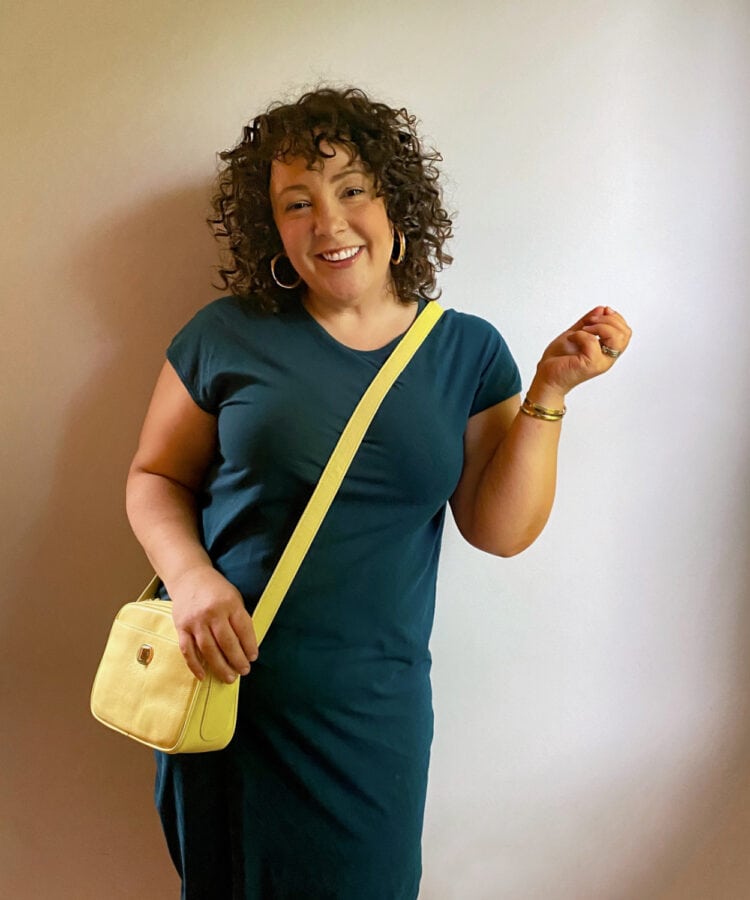 These are what I call "Ken Doll Undies" in that they are completely seamless and make you look completely smooth down there like a Ken Doll. Lightweight linen pants that are a hair transparent? Wearing white jeans? Fitted dress that will show everything? You need these. Maybe you had a similar concept in a thong back in the day; these are the undies you need to complete a lot of summer fabric looks.
They are a great choice for jersey knit dresses like the Universal Standard 'Geneva' dress I'm wearing here. Even if I bend over, there won't be any VPL.