This article may contain affiliate links; if you click on a shopping link and make a purchase I may receive a commission. As an Amazon Associate, I earn from qualifying purchases.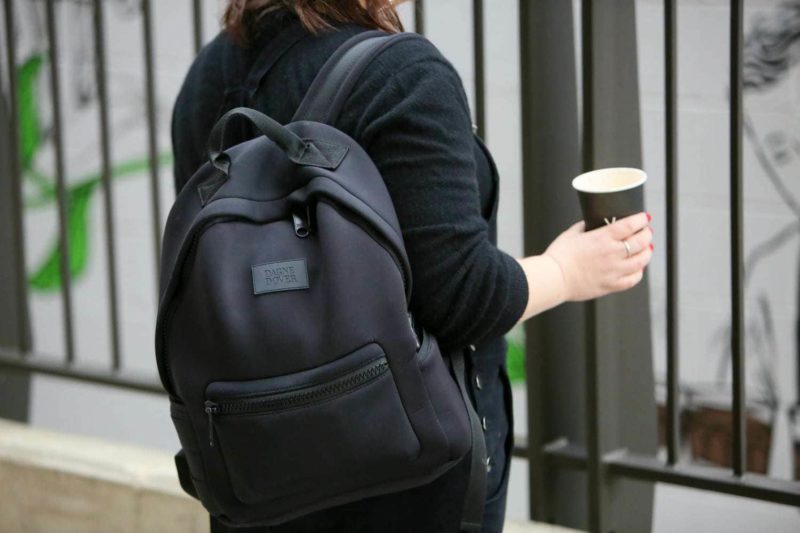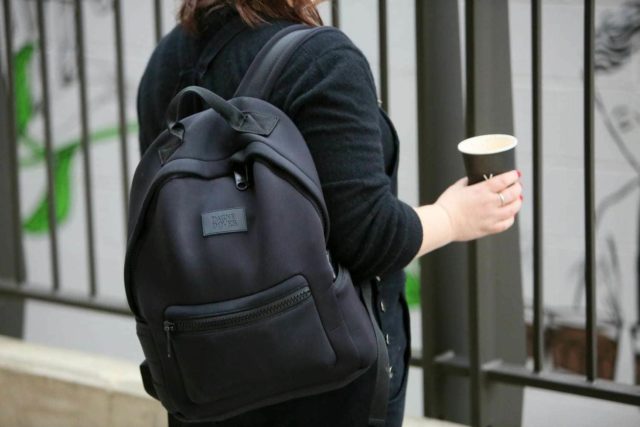 I've mentioned my Dagne Dover Dakota backpack several times on Wardrobe Oxygen. I've featured it in capsule wardrobes and outfit posts, but I haven't done a proper review of this bag. It's crazy I haven't as it's the most used Dagne Dover bag in my collection!
The Dagne Dover Dakota backpack is made of neoprene, which makes it lightweight, easy to clean, water repellant, and gives it a modern and stylish look. This bag comes in seven different colors and textures; I chose the all-black option because I felt it would go best with my wardrobe and would look more polished and less athletic. This bag retails for $175 and that may seem like a lot for a backpack; I find this to be one of the most-used and most functional; bag in my wardrobe. Seriously, the design of this bag is so genius.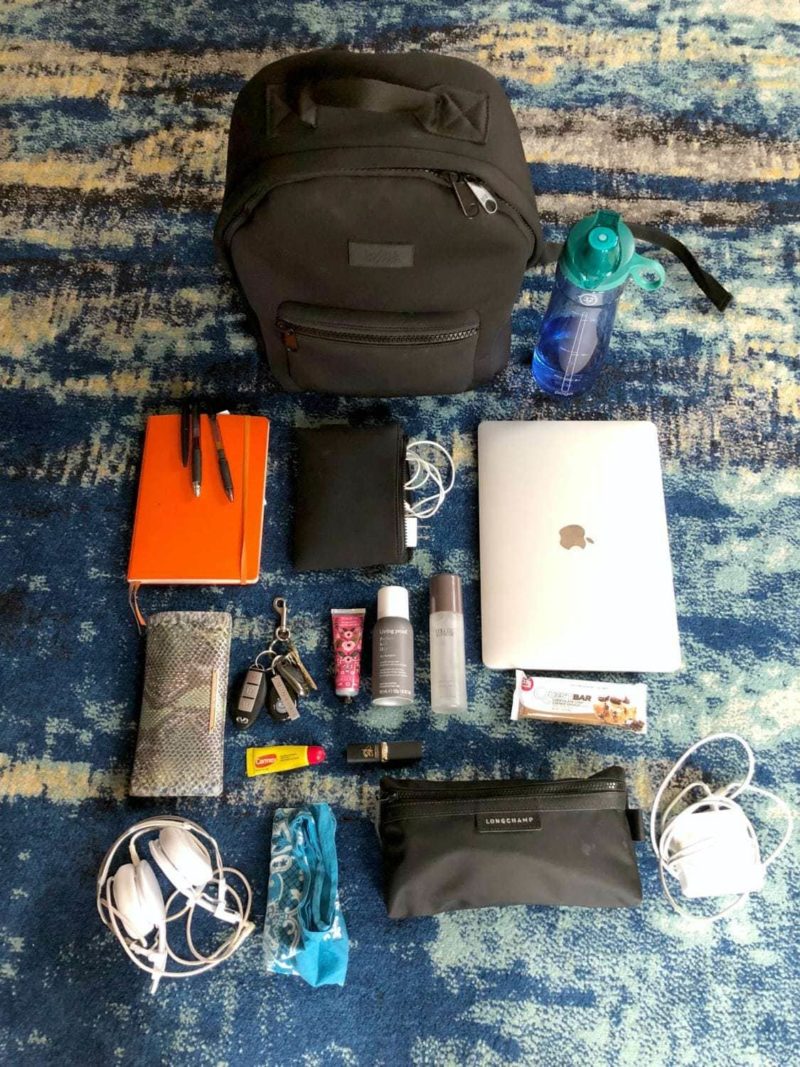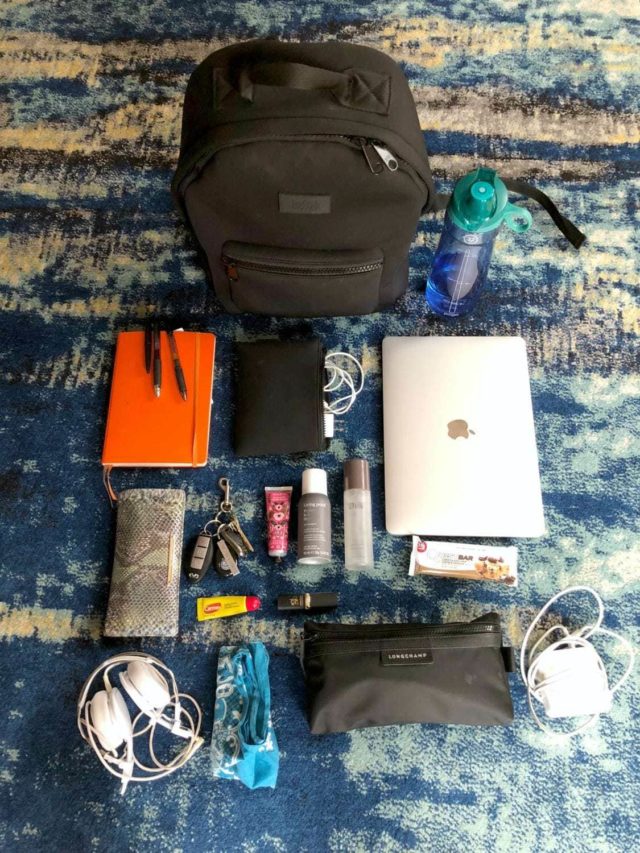 The bag is 17″ tall; large enough to be a practical carry-on for a flight or your work bag, but small enough to look sleek and sophisticated. The hardware from the zippers to the logo are the same color as the bag, no matter which color you choose. I love this feature, it makes it look more expensive and unique.
There is a standard small zipper pouch on the front of the Dakota backpack. In this pocket are two elastic loops which can keep small bottles or items corralled and upright. Also in the corner of the front pocket is a small carabiner to hold your key ring. The pocket is fully lined. On either side of the bag is a pocket about 3″ deep which is big enough to hold a bottle of water; they too are lined. There are two zipper compartments on the bottom back of the bag; it's a great way to maximize space. These pockets are big enough to hold your entire hand, so you have plenty of room for snacks or smaller items.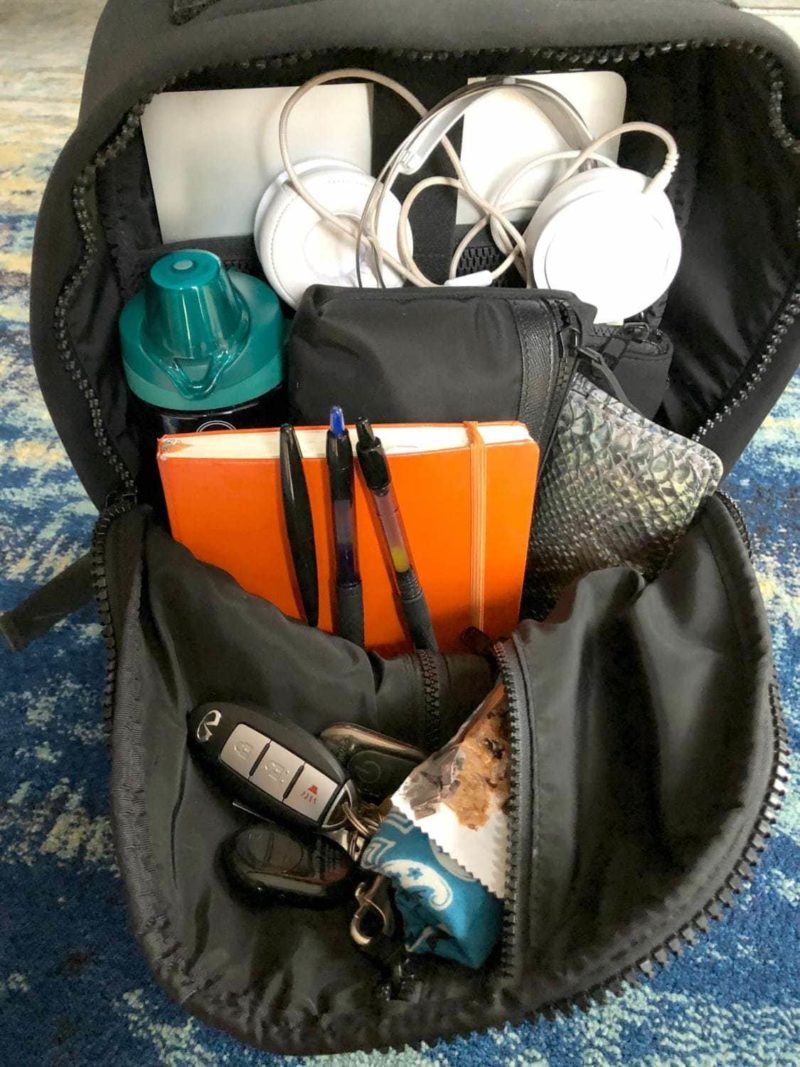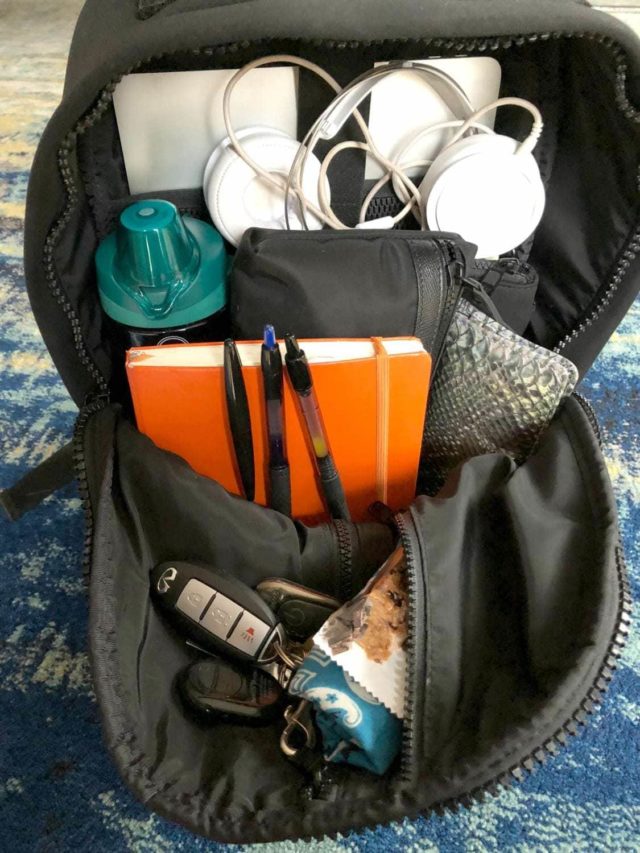 When you unzip the main compartment, on the flap you'll see two more zipper compartments. These are surprisingly deep. When I am on travel, this is where I tuck toiltries such as dry shampoo, deodorant, my toothbrush and toothpaste. In the back of the main compartment is a deep pocket with a Velcro flap to hold items in place. This pocket is made for a laptop and my Macbook Pro fits in there with room to spare. There is another caribiner on a loop in the main compartment, but this one has a zipper pouch attached to it. This makes it easy to detach the pouch when necessary, but also makes it easy to find this pouch in a full backpack.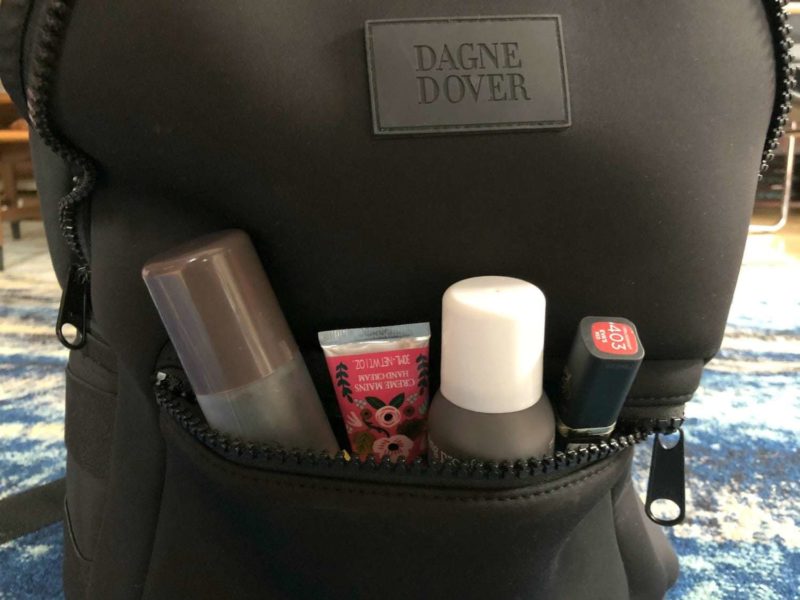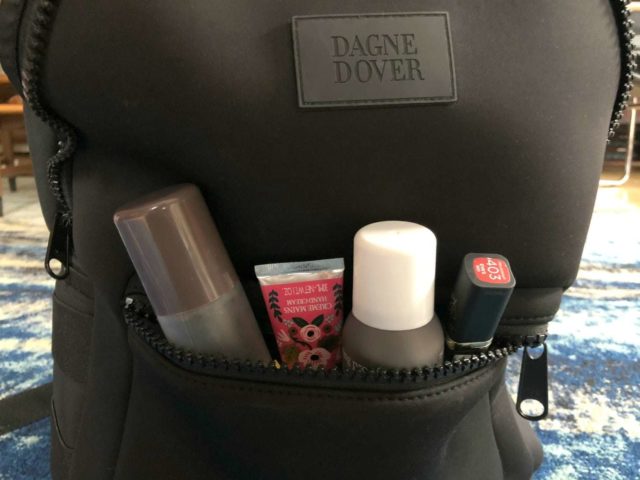 I took these pictures the same day I worked from Vigilante Coffee so the contents represent a day of teleworking. As you can see, the backpack holds a great deal and even here, I didn't take advantage of three pockets and had room to spare.
When I took the train to New York, the only bag I took was my Dakota Backpack. I had my laptop, a hardcover novel, my sunglasses in a case, all my makeup and a lot of hair products to touch-up once I arrived, an umbrella, and accessories to keep me warm as there was a chance for snow (pashmina, beanie, gloves, and thick socks).
For flights, I put my clear bag of toiletries in this backpack since it also carries my laptop and other electronics. The bag is easy to unzip, even with one hand, when in a rush at TSA. I use this backpack in place of a purse and love that I can sling it over one shoulder, or put it completely on my back if I have to hoof it across the airport to catch a connecting flight.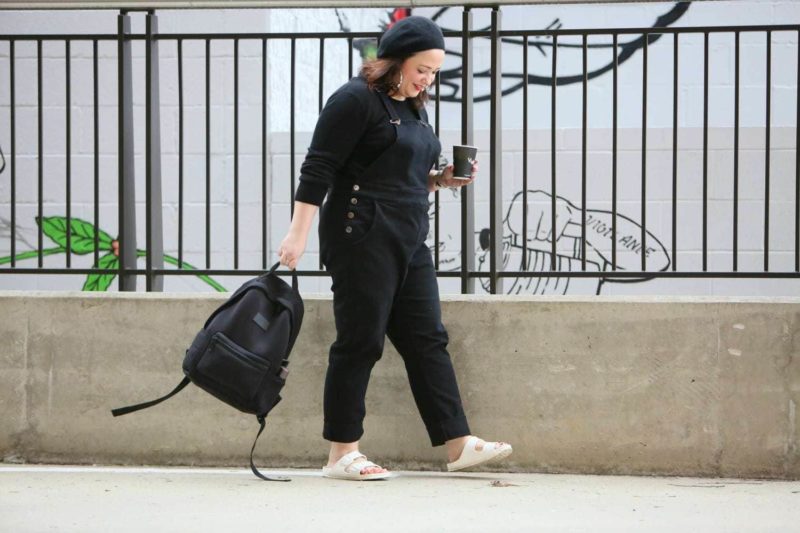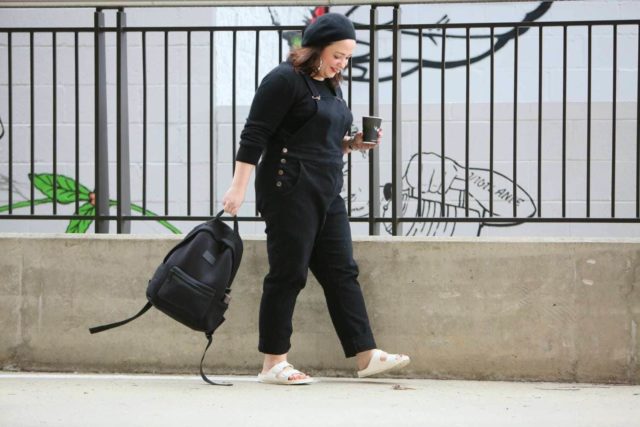 This bag is over a year old; I received it as a gift from Dagne Dover last March to use for my trip to Dallas for the rewardStyle conference. I have used it since for 99% of my flights and train trips, often as my work bag when I was going to the office on a regular basis, and is now my favorite bag when I work at a coworking space or café. While I did receive it for free, I always provide honest reviews. I didn't get paid to use this bag; I continue to use the Dakota backpack all the time because I truly love it and find it so brilliantly designed. I am not paid to do this review, I chose to do it because I love the bag and wanted to share it with you. If you have any questions about the Dakota backpack or any Dagne Dover bag (I own several), ask in the comments and I will answer honestly.
Dagne Dover Promo Code:
Use ALISON10 at checkout to get 10% off your order at Dagne.