This article may contain affiliate links; if you click on a shopping link and make a purchase I may receive a commission. As an Amazon Associate, I earn from qualifying purchases.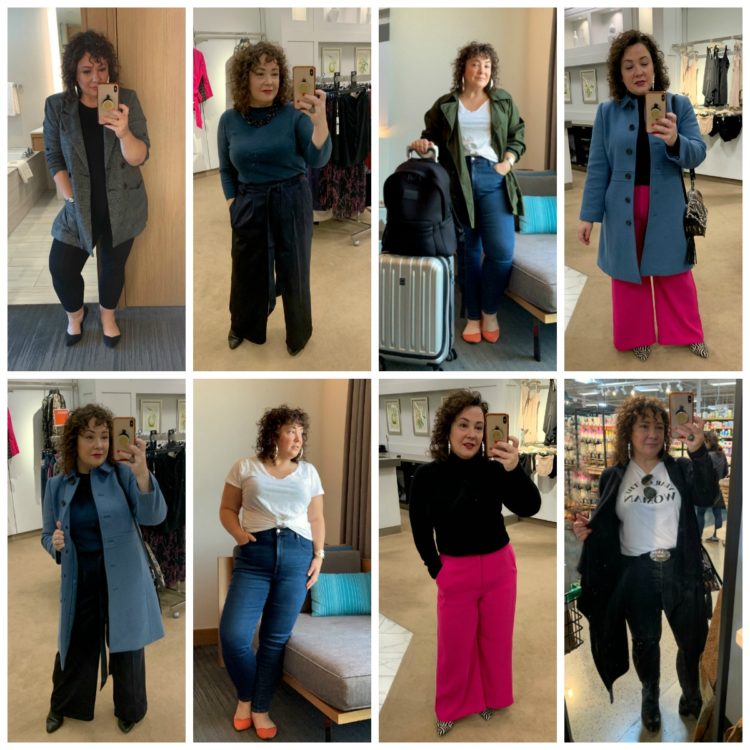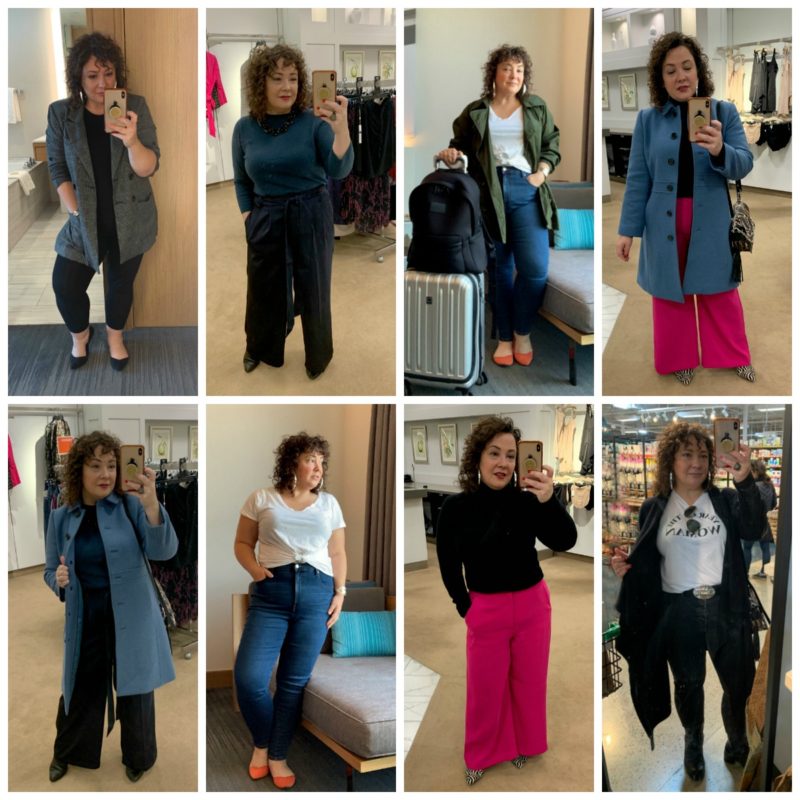 I believe in quality, not quantity when it comes to what you put in your closet.  However, when it comes to outfit photos I'm trying to do quantity and not focus on quality.  This way I can do more of these "what I wore off the blog" posts to show that you should focus on quality and not quantity, and that a small closet can produce big style! I rewear the same things over and over, just in different combinations.  I was chatting with a friend recently, and I admitted that if my job didn't require me to have to wear new looks and fancy looks for special events, my closet would be half to a third the size it currently is.  And unlike many who promote neutrals and simple silhouettes for a capsule wardrobe, I find some of my most unique, colorful, and statement-creating pieces to get the most wear!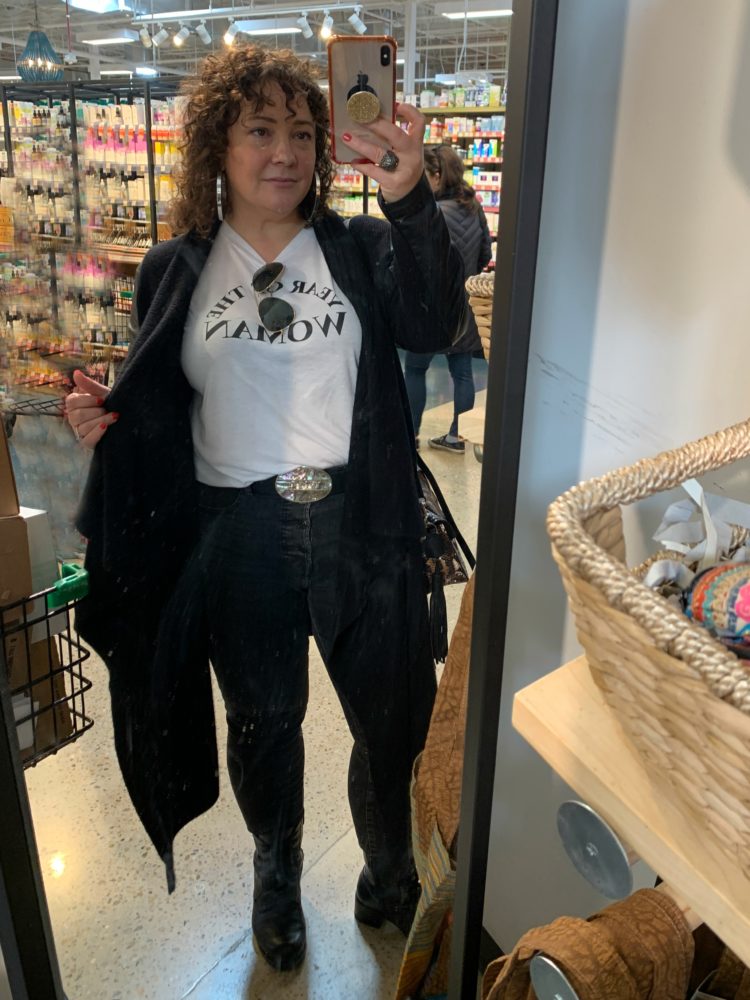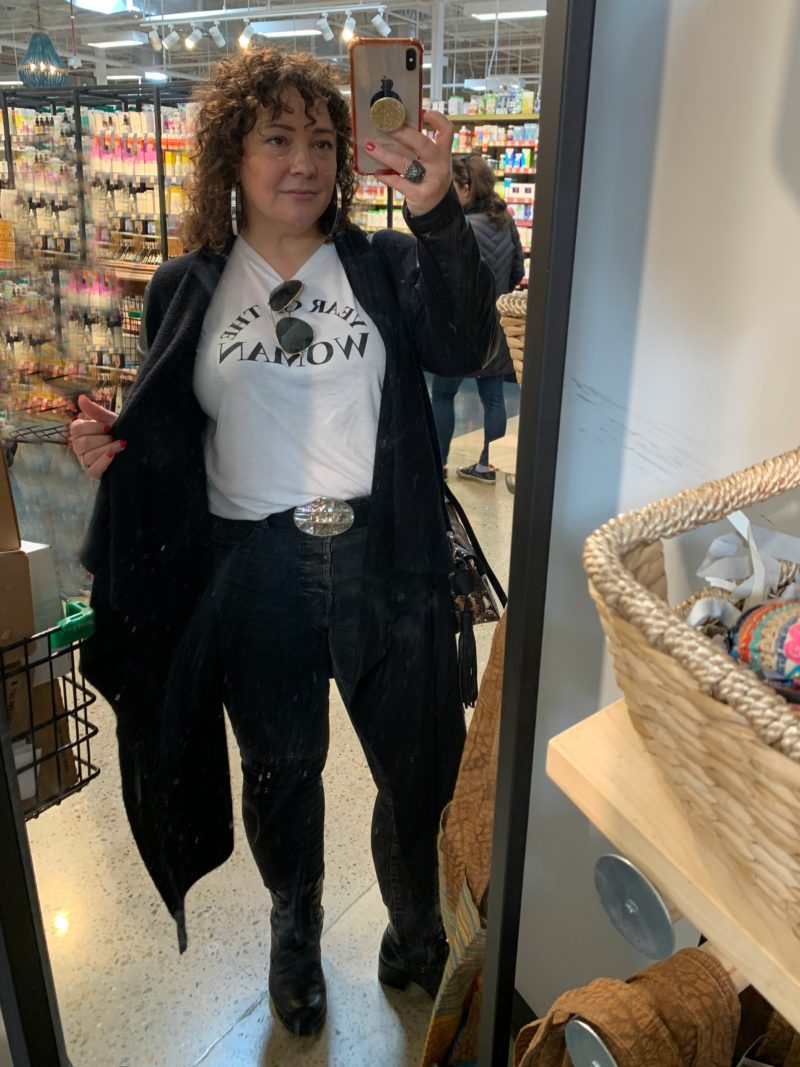 T-Shirt: The Outrage (L) | Belt: Etsy | Belt Buckle: Etsy | Earrings: Cober Hoops c/o Jenny Bird | Bag: ALLSAINTS via Rent the Runway Unlimited | Jeans: Authentic Stretch Button Fly c/o Everlane (32 Short) | Boots: La Canadienne | Sunglasses: Ray-Ban | Sweater Coat: Nordstrom (very old)
Get you an influencer friend that when you're in the background of her photo and you just got back from the gym and won't want to be like that on the blog, she does a crappy job of cloning you out of the photo! My friend and I both are slammed with work right now, she was driving past where I live to head to the grocery store and asked if I wanted to join her.  Earlier that morning I attended an event for DC Goodwill which was celebrating the launch of their podcast, Finding Your Good.  They had breakfast and several racks of curated finds from local influencers.  My daughter and I went and while we didn't get any clothing, she got some unicorn figurines for her room and I scored some candlesticks and serveware for hosting Thanksgiving.  When my friend called to see if I was free for a grocery date, I had recently come home from the event so was dressed and ready to go so this is what I wore all day.  The cardigan/coat thing is from Nordstrom and is old.  It made it's blog debut in this post though I think I had it since 2014.  I know I bought it on clearance, it was originally some crazy amount since it's super thick cashmere with real leather details and I got it for… oh gosh it HAD to be less than $200 for me to buy it. I do recall the only size they had left was Large and I felt it was fate. Five years later, it has totally been worth it and continues to be one of my favorite wardrobe pieces! It's impossible to link to "similar" because similar doesn't really exist – it's a different silhouette or weight or fabric. Just know sometimes those random items you find in the sale department in your size that aren't what you were looking for can end up one of the best purchases of a decade!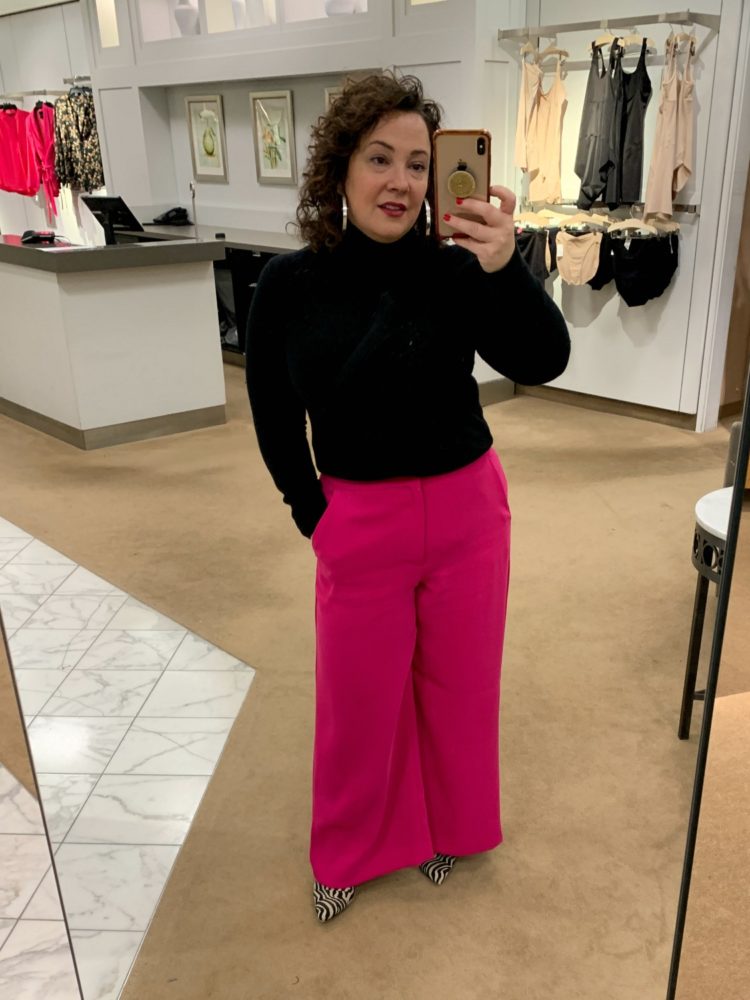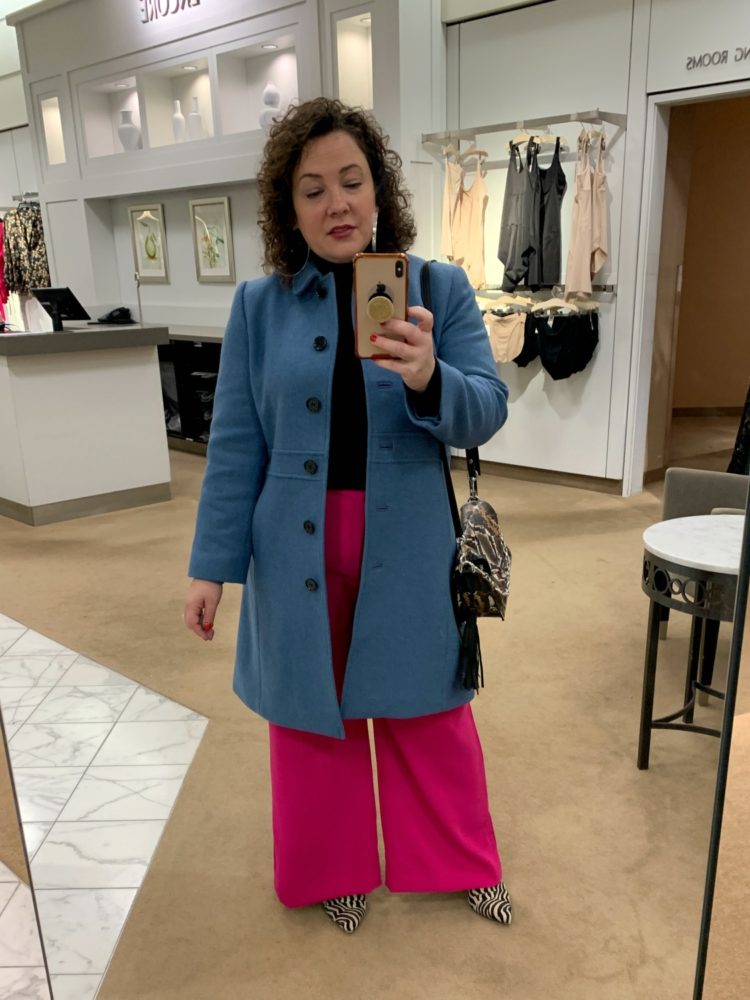 Coat: Italian Wool Lady Coat c/o Talbots (14P) | Turtleneck: Nordstrom (old; similar) | Pants: Banana Republic (14, shortened by tailor) | Booties: MIA | Earrings: Cober Hoops c/o Jenny Bird | Bag: ALLSAINTS via Rent the Runway Unlimited
Wednesday night I met with the founder of the plus size clothing brand Pari Passu, Rosana from DC Style Factory, and two women from Nordstrom to do a walk-through for the next day's trunk show and then for dinner at Jaleo.  My back, as I mentioned in Saturday's Weekend Reads, was really bad.  I took Advil and CBD pills and decided to wear something that looked more fabulous than I felt while still being comfy.  These are the same pants from this hot pink pantsuit.  The cashmere turtleneck is old, I think as old as the cashmere sweater coat above.  It has the same "Nordstrom Collection" label inside.  The coat you've seen before, the first time it was on the blog was in this post.  Shoes, earrings, and bag are all regularly worn.  The outfit did me well, it was comfy, it gave me strength to be sociable and fun even though I hurt, and looked so cute I had four different strangers compliment me on it! The bag is from Rent the Runway, and if you're a new customer, you can get $100 off your first month when you use the code RTRDC22F051.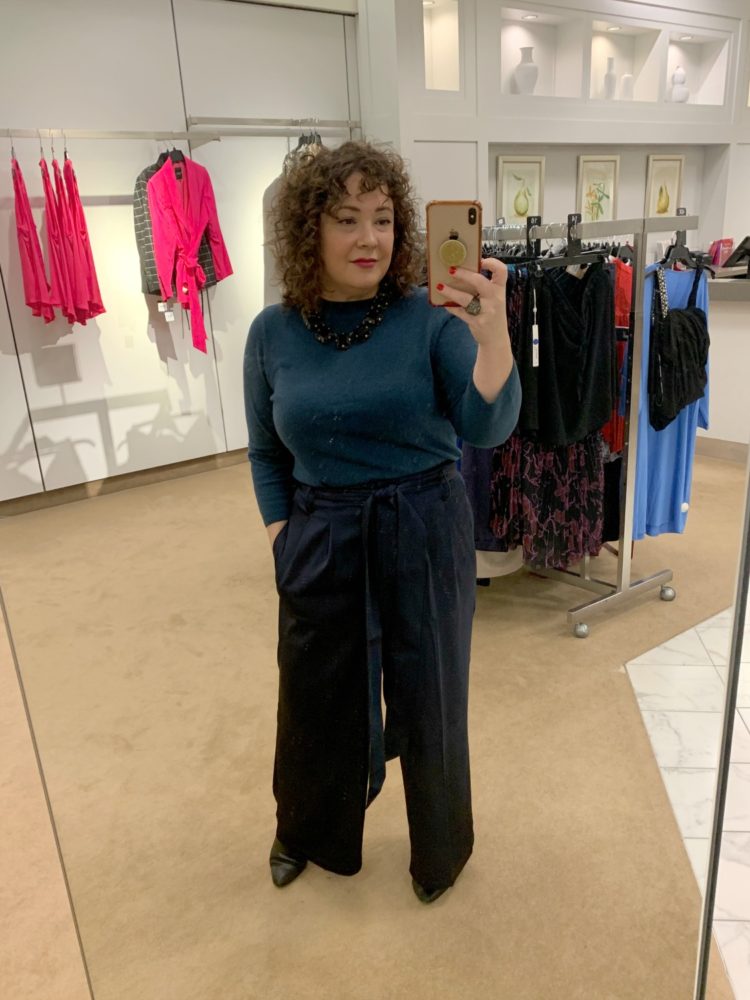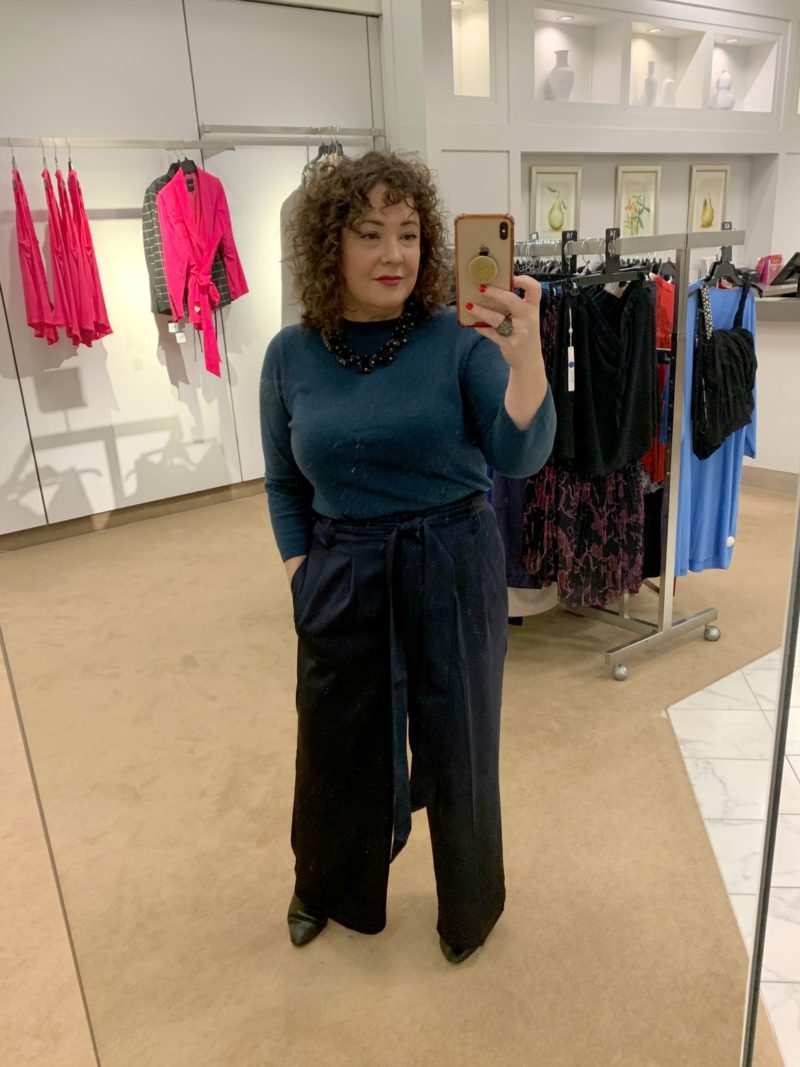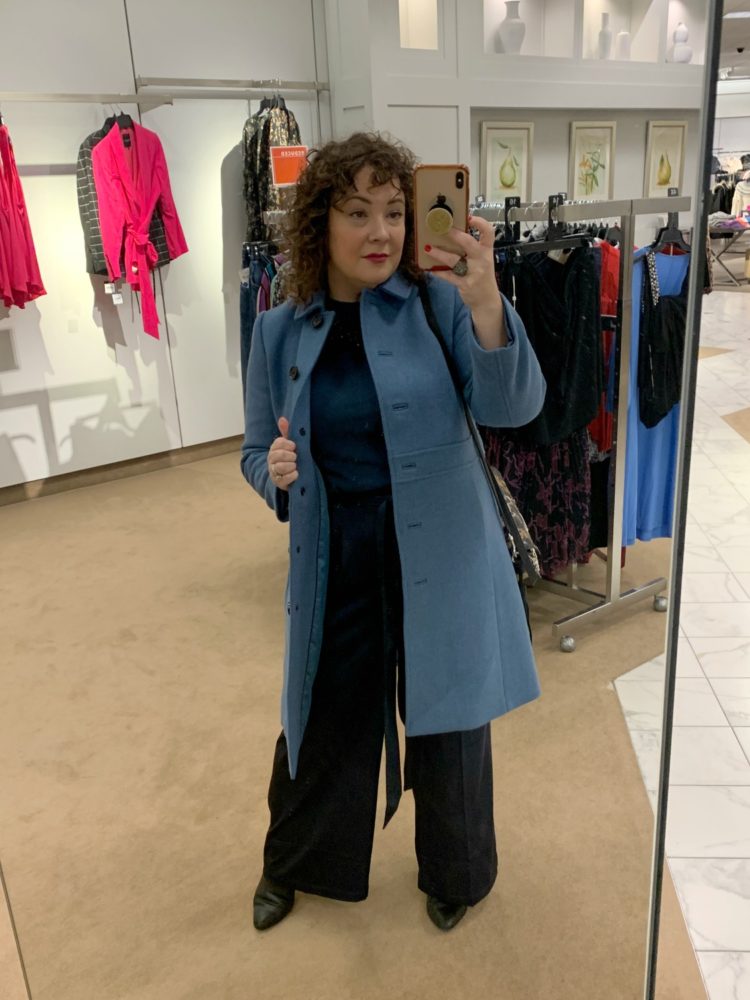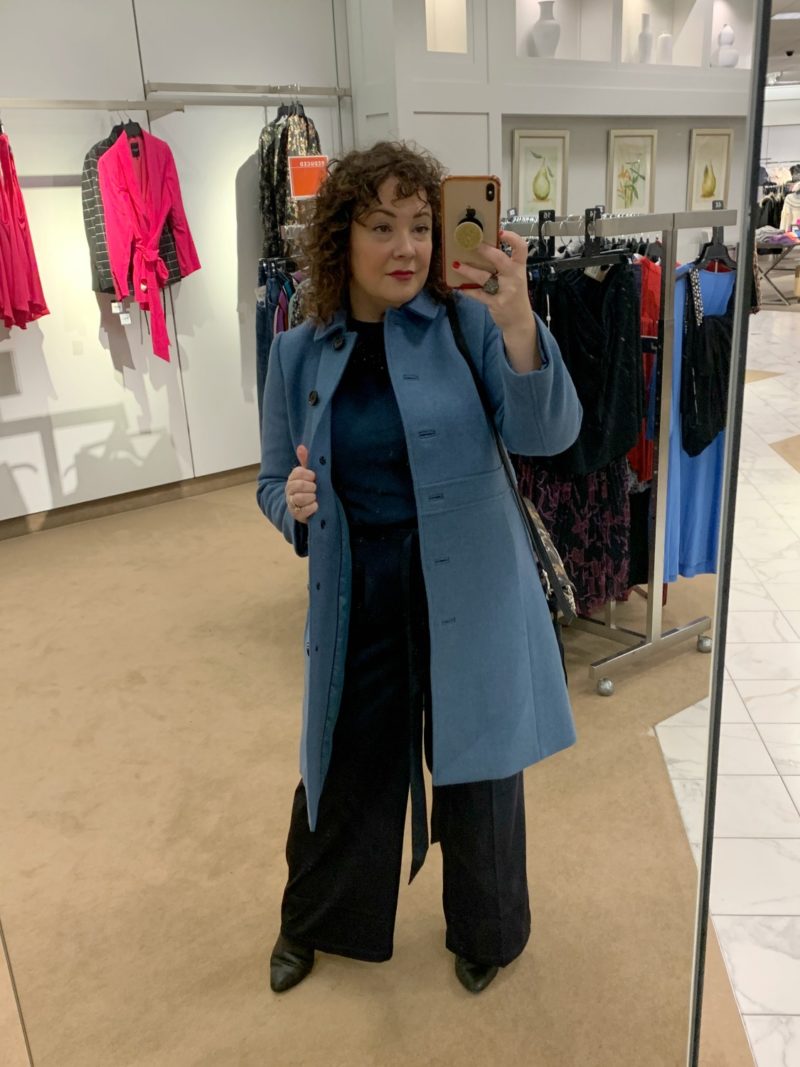 Coat: Italian Wool Lady Coat c/o Talbots (14P) | Sweater: Cashmere Audrey Sweater c/o Talbots (L) | Pants: Tresa Wide-Leg Pants c/o Universal Standard (XS Petite) | Shoes: Clarks | Necklace: Ann Taylor (very old) 
This is what I wore to the Pari Passu trunk show the following evening, the one I wrote about in my Weekend Reads.  I wanted to look polished, but not too flashy, but I also wanted to look festive as I planned to stop by the holiday glam-themed ELOQUII event in the same mall. The sweater from Talbots was previously seen in this post; I was thinking of my navy one with these navy pants (previously seen in this blog post), but I preferred the tonal look of the teal.  I was struggling to find the right jewelry and came upon this necklace in my jewelry armoire.  I have this necklace also in clear/silver and I wore the HECK out of them.  It's hard to find outfit posts in the archives with these necklaces because it was before I moved from the Blogger platform to WordPress and far before I understood SEO and tagging, but I did find this post from 2012 where I'm wearing the necklace.  I'm pretty sure I had the necklace at least a year before this.  I'm not big on holding onto things "just in case" but this necklace and it's clear/silver sister are ones that I still own, still find stylish, and don't take up a lot of room in a piece of storage I already have for other items. And now that I've styled it here, you can bet I'll be wearing it again in the near future!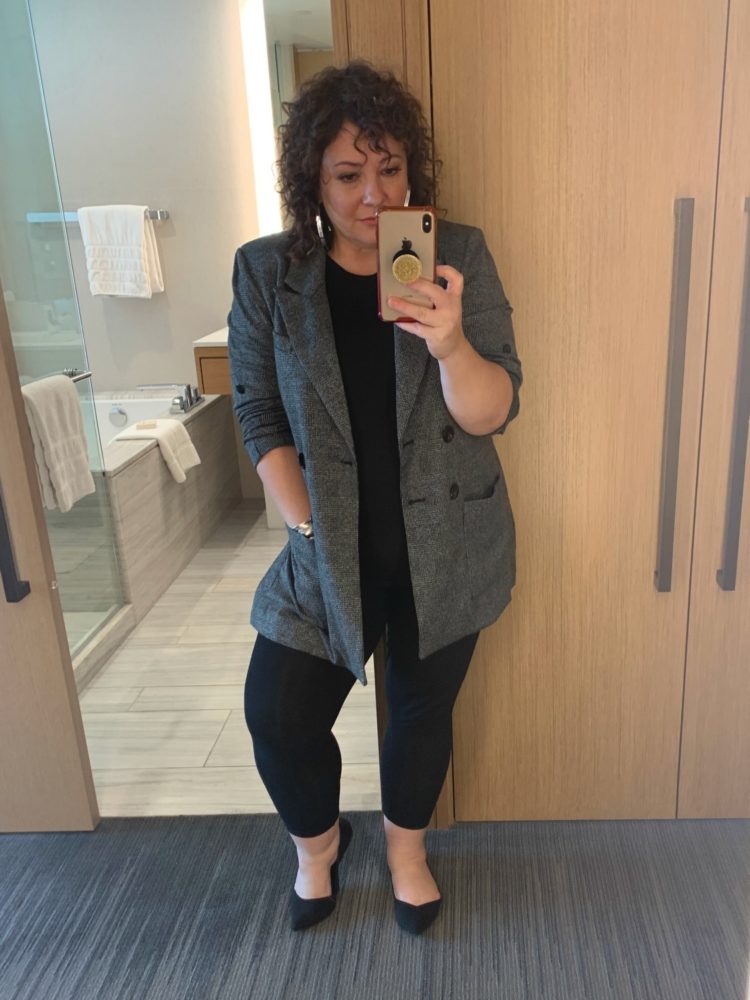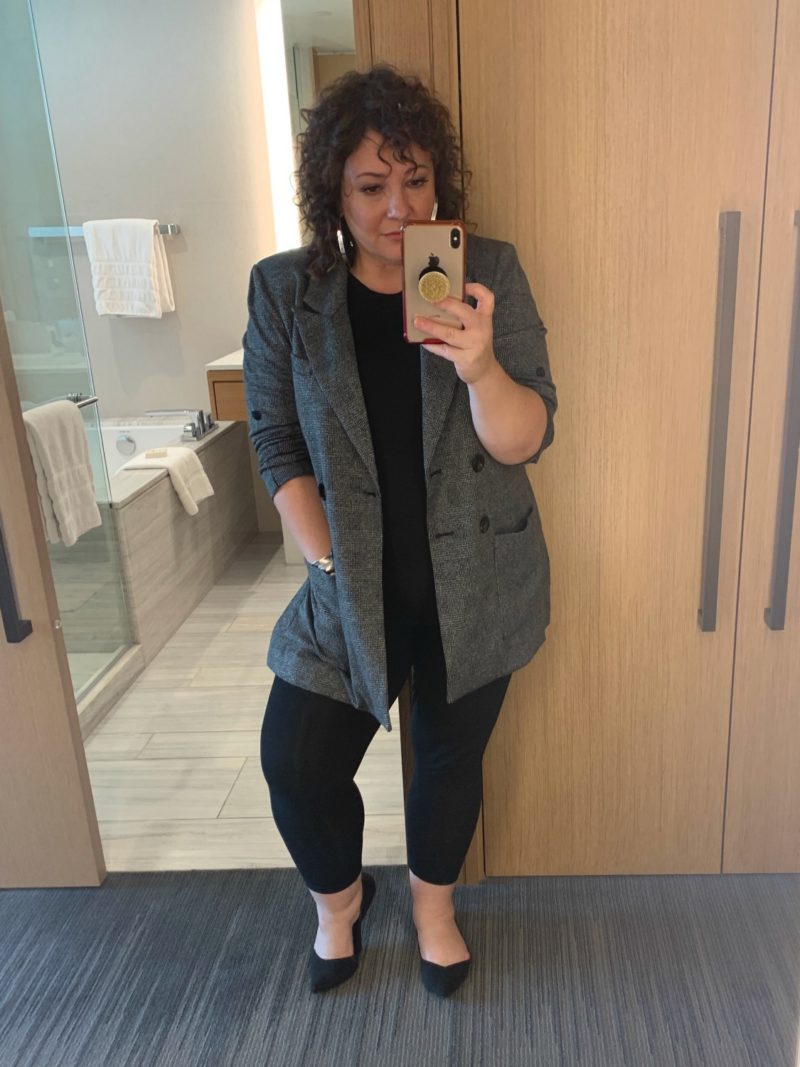 Jacket: Bond Blazer c/o cabi (L) | T-Shirt: Foundation Crew c/o Universal Standard (XS) | Leggings: Essential Leggings c/o Soma (L Short) | Earrings: Cober Hoops c/o Jenny Bird | Shoes: Rothy's
A few weeks ago I went to LA for a project with the clothing brand cabi.  It was a whirlwind trip, 24 hours in total. I took a 6am flight cross-country and once I arrived at LAX took an Uber straight to the project.  To be comfortable yet presentable enough for the project once I landed, I stuck to knits.  I featured this blazer in my cabi capsule wardrobe.  I removed the belt (but brought it with me in case I wanted to switch up the look), and styled it open with a simple knit top you've seen several times before and stretchy leggings I wear on many flights.  The jacket has deep pockets so I could tuck my ticket, phone, lip balm, earbuds and such in them for the flight. I wore my black Rothy's because they're easy to slip on and off at TSA and flexible making them comfy on a long flight.  I had a pair of Smartwool socks in my bag which I put on while in the TSA line and had to put on during the flight if I felt the desire.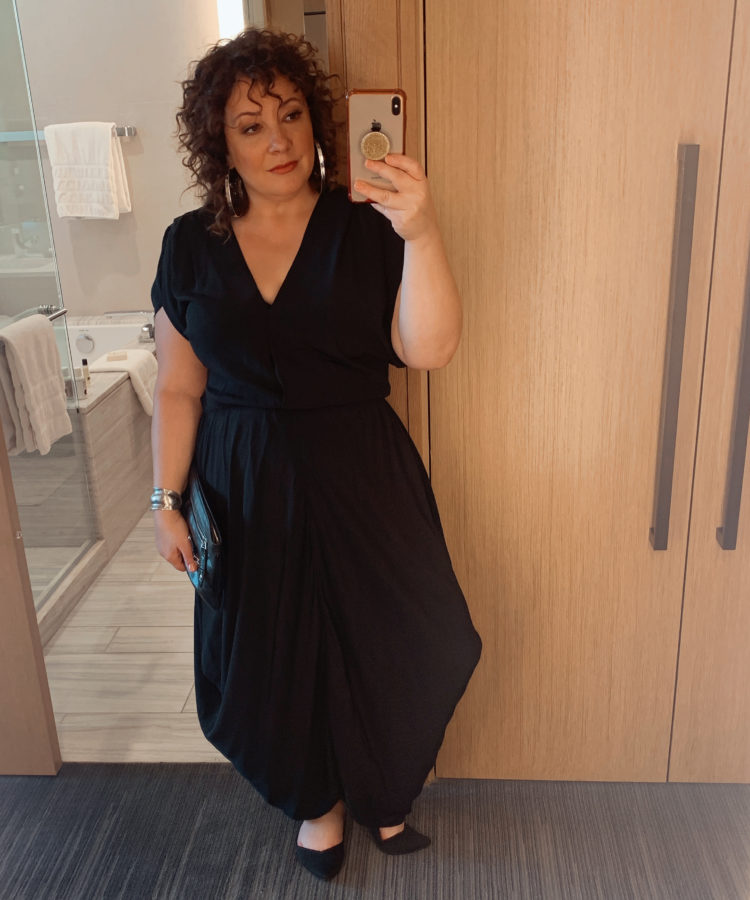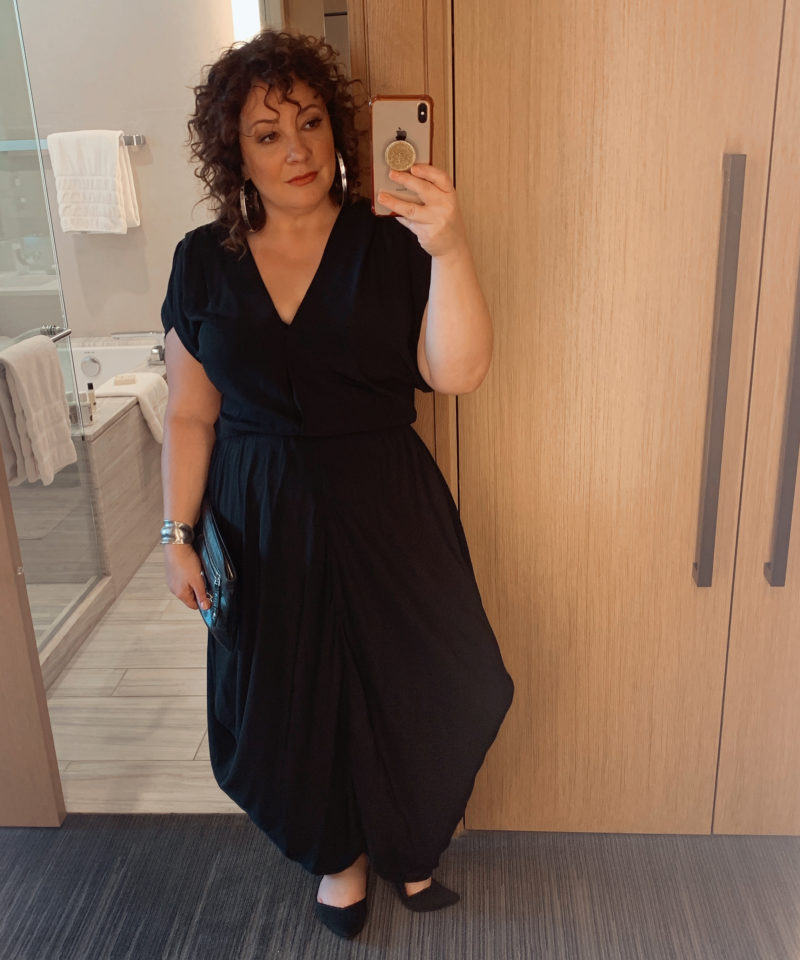 Dress: MYNE LA (no longer available) | Earrings: Cober Hoops c/o Jenny Bird | Shoes: Rothy's | Clutch: Hobo (no longer available)
Right after the project, I headed to my hotel and had about 15 minutes to check into my room and freshen up before dinner.  I wore my MYNE LA dress that is several years old. I wore it in this blog post (with the same clutch!) and to my blog's 10-year anniversary and wrote about its value in this Instagram post.  It's so lightweight and can dress up or dress down, perfect since I didn't know where we'd go for dinner. I styled it with the same black Rothy's flats and a clutch bag that I've had for years; this 2011 post shares when I bought it.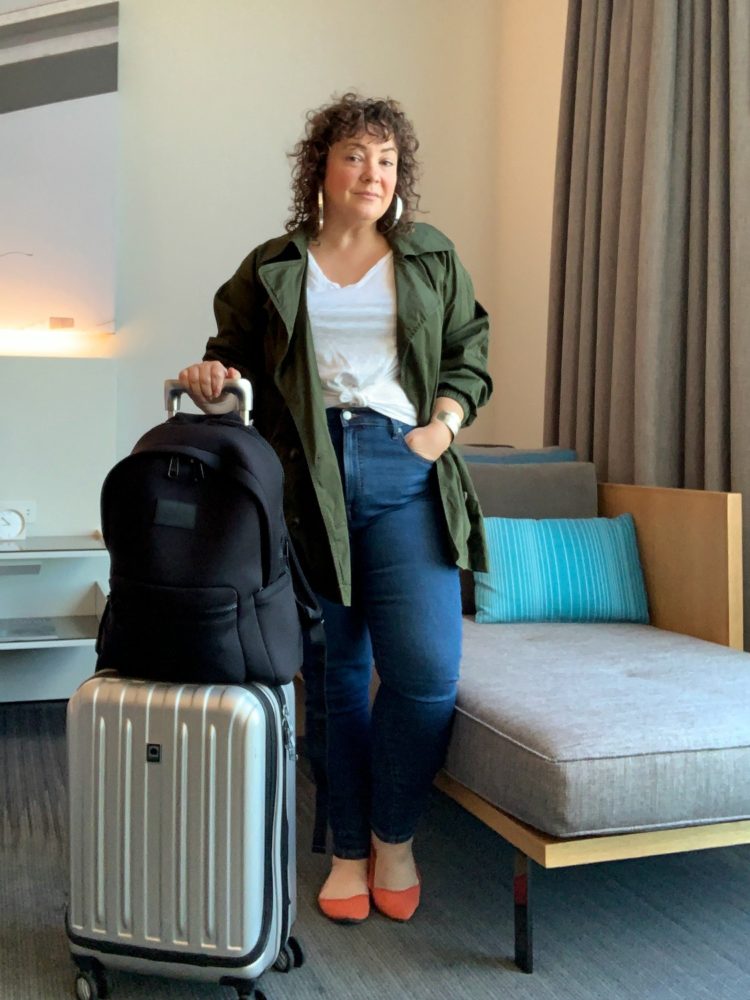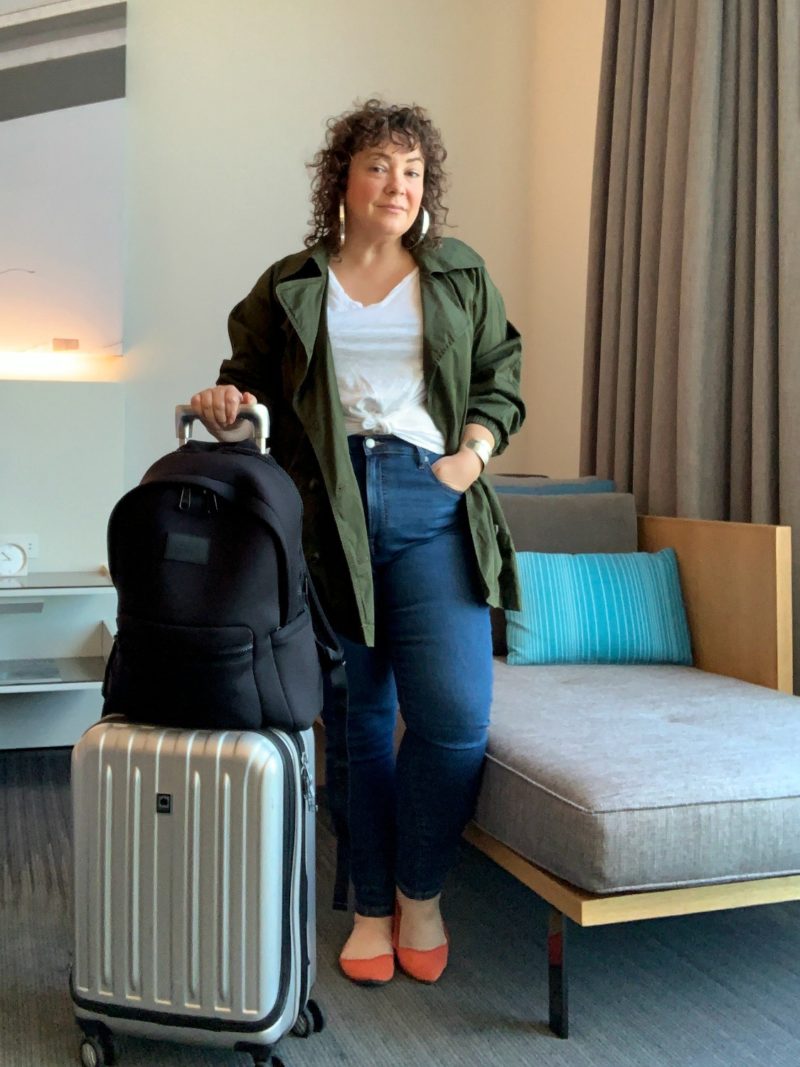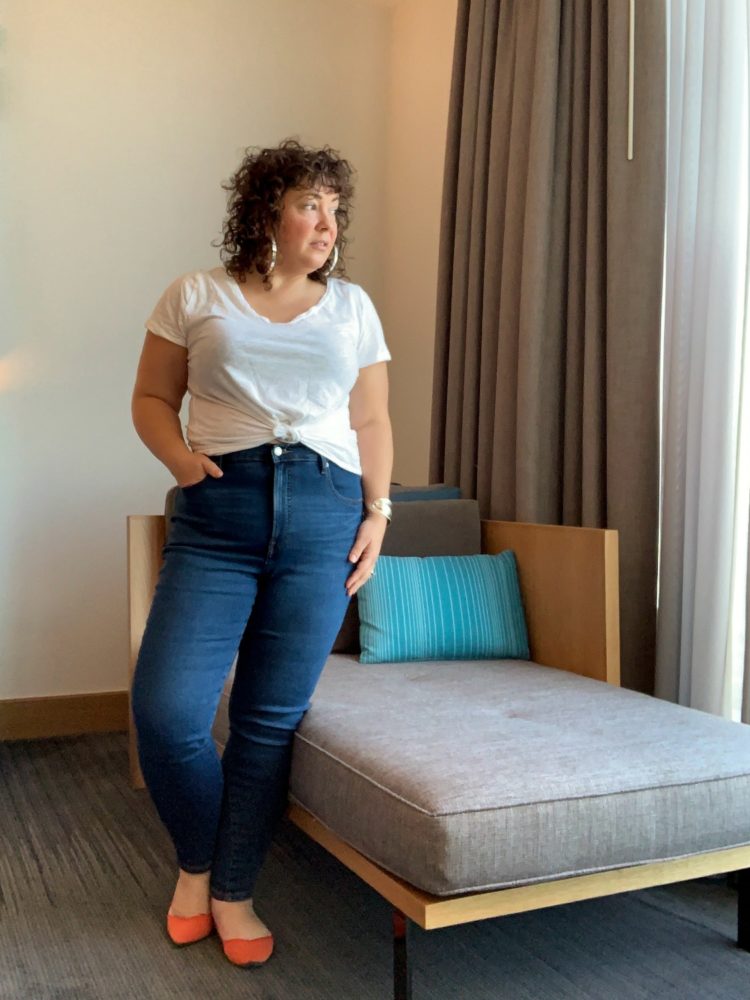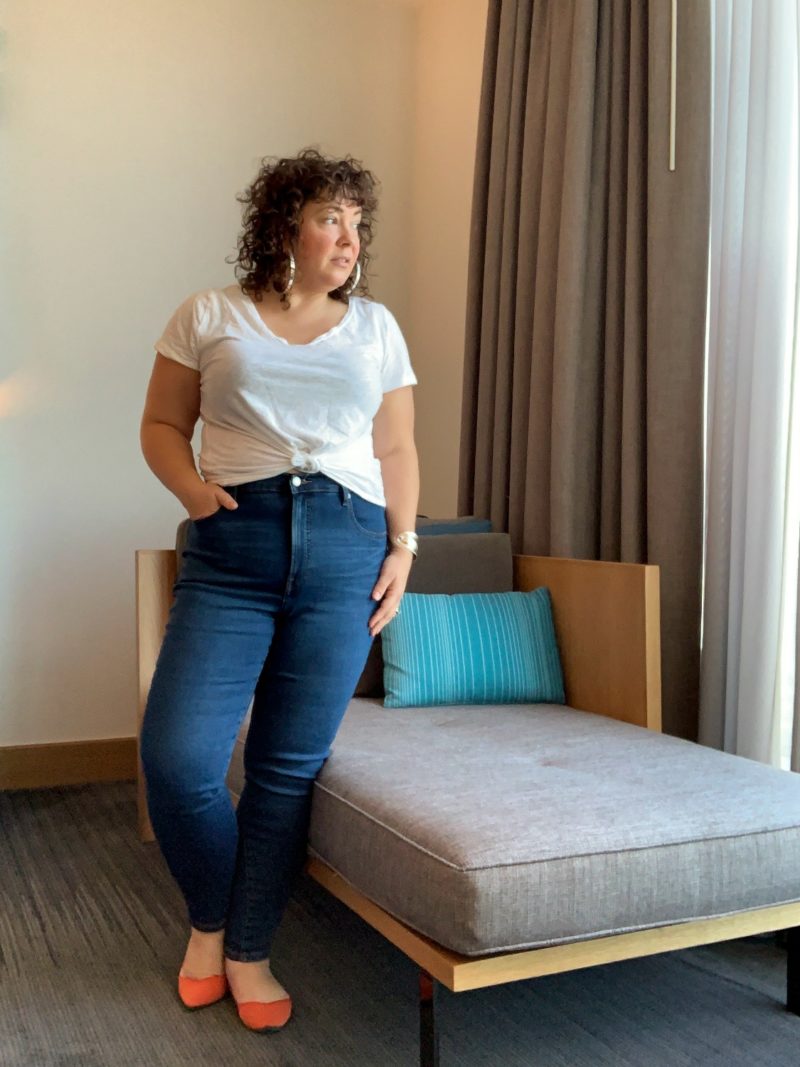 Jeans: Authentic Stretch High-Rise Skinny c/o Everlane (32 Short) | T-Shirt: J. Crew (L) | Jacket: Expedition Jacket c/o cabi (no longer available) | Shoes: Rothy's | Earrings: Cober Hoops c/o Jenny Bird | Backpack: Large Dakota Backpack c/o Dagne Dover | Suitcase: Delsey
The next morning I ordered room service breakfast, got a couple of hours of work done, and headed to the airport.  Again, I wanted to be comfy for my flight, have layers and not look schlubby.  I wore my Everlane high-rise Authentic Stretch jeans because they're so comfy you will choose to wear them on a long flight, and such good denim they won't stretch out during the journey.  An old J. Crew vintage v-neck knotted and over it I wore the cabi Expedition Jacket from a previous season seen in this blog post.  I brought a second pair of Rothy's flats in orange; I knew after spending over 12 hours in one pair the day prior I would not want to put them back on again; I've also learned to always bring a backup pair of shoes on a trip as I've had my shoes get spilled on and damaged when on trips.
Shop the Looks: