This article may contain affiliate links; if you click on a shopping link and make a purchase I may receive a commission. As an Amazon Associate, I earn from qualifying purchases. 
Been doing a bit of shopping lately, a bit more misses than hits: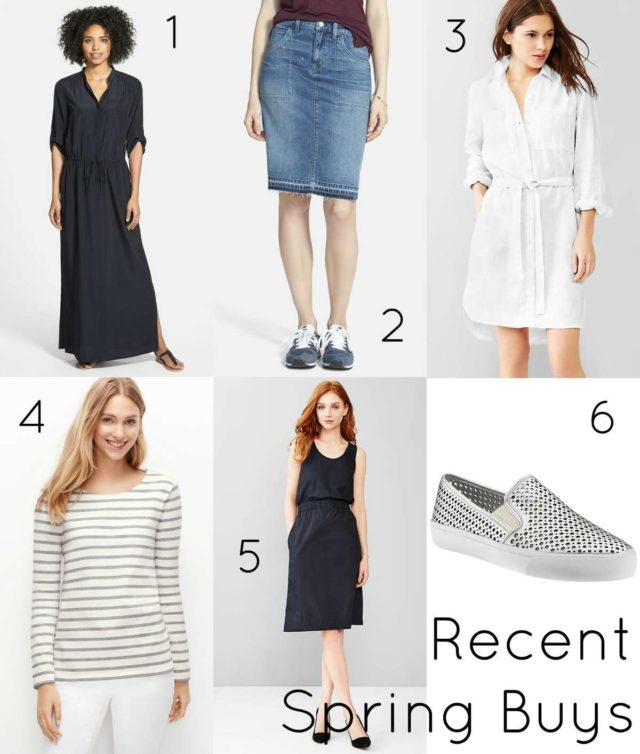 This dress looked like perfection for spring through fall. I imagined it with my vintage brown leather belt and heeled sandals for the office, with my silver Birkenstocks for the weekend. I have pieces from Halogen in this fabric and knew it would be great for travel. Since it's a maxi, I chose a petite. I went with XL since it's not stretchy and I need room for "the girls."
The arms were so tight I could hardly get it on, and the front placket bulged. However, the torso felt a bit too long, the waist was too big and the skirt was loose. The length was perfect, just like the model so I knew switching to Regular wouldn't work. Sadly this was returned, but if you're smaller busted or taller scoop this baby up; it's very similar to dresses sold by brands like Vince for four times the price and the fabric is nice – feels and looks like silk yet is machine washable.
I swore I wouldn't buy a denim skirt this season. I did denim skirts a decade ago, and did them five years before that and a decade before that. There's a point when you just don't want to do a trend again. But then I saw a woman around my age wearing one with a Breton tee and Chucks and Wayfarers and gosh she looked so casually cool and classic. I didn't want it crisp, I wanted a casual version, and I wanted it to come down to my knees. This one from Madewell via Nordstrom looked perfect.
And it is almost perfect. So almost perfect I'm wondering if it's worth alterations. For the problem with this skirt is that it's completely straight and if you're curvy like me, a straight skirt turns into a bell. From the front, it's cute enough but the side and back view is dreadful. However, if the skirt was tapered about an inch on either side, it would be awesome. I love the soft denim, I love the raw edge and subtle distressing that looks authentic, not torn apart in a warehouse. And I tried it on with the striped tee in this post and my Converse Shorelines and I loved the concept on me. I should have also checked it out on the Madewell site where it's not pinned in back and looks more a-line.
So the skirt is sitting in a box in the corner of my room while I decide whether it's worth additional alterations or if I find a better choice. If you've seen a similar skirt that's more a true pencil, please let me know!
I've always wanted a dress like this – buttons all the way down, sleeves rolled, pockets, knee length, a self-belt that can be switched out for a different look. I've never bought one because white dresses are usually too sheer and they rarely end up looking good after a day of wear. But this dress got great reviews for opacity and wearability so I took a chance.
Again, I worked a hell of a long time trying to style this dress. Skinny belt, wide belt, raffia belt, braided belt, no belt, collar popped, cami underneath. It just isn't flattering. The pockets are very bulky (why make the actual pocket of the same heavy linen? Use a lightweight cotton for gosh sakes!), there's no loops for the belt so the belt slides around, and yes, it is too sheer to wear without a slip (though I have a cotton slip and that didn't bother me).
I know, do I REALLY need another striped top? My gray striped J. Crew Factory tee now has a hole in it, and I wanted another gray stripe. I know, I know, but all my striped tops DO get regular wear!
This top is a heavy weight, the zipper detail adds a nice touch. It's a structured top, too heavy to tuck in and far more substantial and less stretchy than a tee. I actually like that feature, it looks more polished when paired with jeans and can be worn in a Business Casual work environment. It was machine washed regular but line dried and turned out well. It's not the best striped shirt I have ever had, but it's a nice one that has already been worn a handful of times!
I've worn the heck out of this dress from Lands' End Canvas (RIP) and it got too worn out to look nice. This dress in navy looked like a great replacement. And it's sooooo close. I ordered a petite because I feared the armholes would be too low and the skirt too long. And while neither of those were an issue with the petite, the problem was that the waist was at this weird point that isn't empire and isn't traditional. The elastic waist is begging to be covered with a belt, but is wider than all of my wide belts, and with the high waist, it just looked super wonky. I kept trying to make it work and realized that if a dress takes this much effort to style, it doesn't belong in my wardrobe. But if I were taller and could carry off the regular, I think all the issues wouldn't be issues. If you're 5'6" or taller, don't rule this one out as it's that great fabric that can look good wrinkled or crinkled and will get softer with washings, it has pockets, is a classic style and quite comfortable. It could be dressed up or down and will dry quickly.
I mentioned in this post that I purchased these shoes. I must say I really dig them. I have short toes,a high arch and a fat foot thanks to lots of padding on the ball from childhood toewalking, so slip-on shoes don't usually work for me. However, I have had luck with Banana Republic in the past so I took a chance. Glad I did, these shoes are freaking awesome. The silver is shiny, but it's clearly metal and not cheap. The fit is comfortable, and the leather has a bit of give. The perforations keep you cooler than a solid shoe, but you can slip a pair of peds underneath without them showing.
Wednesday, I created an outfit around these shoes and asked Karl how it looked. He agreed the shoes are badass, but do I NEED shoes like this? I have my silver Birkenstocks, I have my Converse Shorelines. I hate to admit it, he's right, so the shoes are going back. But if you need such shoes in your wardrobe, these are even better in person! Do as I did, wait until Banana has one of their 40% off deals; while these are awesome I think the price is a bit cray for a trend piece.
Have you made any recent purchases? Anything we should check out? Anything we should avoid at all costs?