This article may contain affiliate links; if you click on a shopping link and make a purchase I may receive a commission. As an Amazon Associate, I earn from qualifying purchases. 
I like to consider myself your virtual friend who offers you style advice. And friend, your style may be hanging by a thread! Two threads to be specific, the ones creating an "X" on the back of your blazer or jacket. Do you have any jackets or blazers with an X of thread on the vent at the back? What is that X of thread on the back of your jacket for anyway? Those threads are not a style detail and should be removed before wearing your garment.
What is that X of Thread on the Back of Your Jacket and Should It Be Removed?
Most blazers, coats, and also some skirts have back vents. When these garments are shipped, the manufacturer will baste that vent closed so it doesn't shift and crease in transit. Sometimes when stores receive these shipments, they remove the threads prior to placing the garment on the salesfloor… but sometimes they do not.
With online shopping, customers receive merchandise straight from the manufacturer, which means no middle person to snip away that "X" of thread on the back of our jackets. It's up to us, the customers, to see if our garments have those threads and to snip them prior to wearing.
Your Style May Be Hanging By a Thread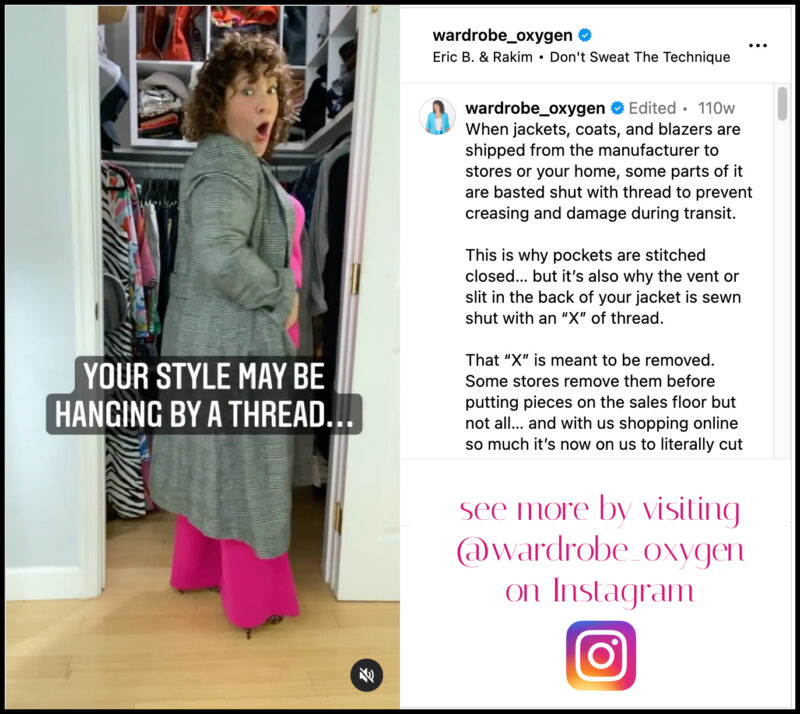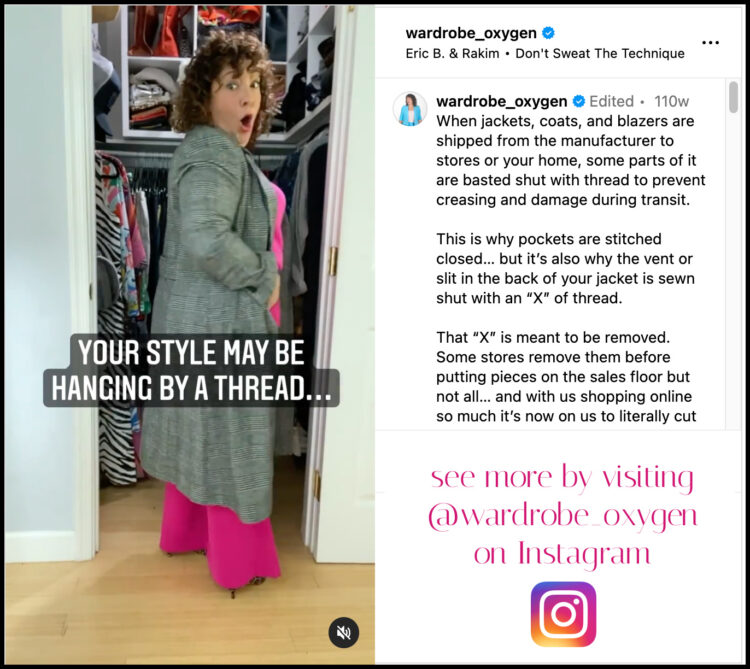 Click this link to see this video on Instagram
The X of thread is sewn to make them super easy to remove. Simply snip anywhere on one of the threads, and you should be able to pull them out of the garment without any damage. If one of the threads isn't budging, check the inside of the jacket as the knot may be caught up in the lining. A little snip near the knot will ease the thread out of your jacket.
If you don't see an "X" on the outside of your jacket but the vent (where the jacket opens in the back for movement and comfort) is closed, check the inside of the garment. Sometimes, retailers will baste it closed from the inside, especially if the two pieces of the vent do not overlap and instead work like a slit. For these instances, you still will follow the same procedure of snipping the thread open and pulling out the loose pieces.
For these minor alterations to your garment, you will want a pair of very sharp small scissors or a seam ripper. I have a pair of these cute gold scissors that look like a bird; they come with a rubber cap to protect the point. I keep them with my makeup brushes and use them for all those situations when cuticle or embroidery scissors are needed. Snipping an "X" from the vent of my blazer, trimming false lashes, removing a tag that itches… I just make sure the situations are not the type to gum up or dull the blades.
While you have those scissors, your garment may have other threads that are to be removed upon purchase.
Manufacturers also sew pockets closed to keep them from creasing. If you snip anywhere on the stitching keeping the pocket closed, it should release the stitching and open up quite easily.
Self-belts on dresses are held in place with a loop of thread on either side. These threads are to ensure the dress and belt stay together when on a sales floor, but are not needed when wearing the garment. Like the threads on the vent of your jacket and in your pocket, these threads are very easy to snip off your garment. A perk to removing these threads is now you can easily wear the belt anywhere on your torso, switch out the belt, or possibly style it without the belt for some versatility!
Now that you are empowered with this style knowledge, pass it on! Don't let your fellow woman have her style hang by an X of thread; knowing increases confidence as well as personal style.