A PSA to the Women of the World: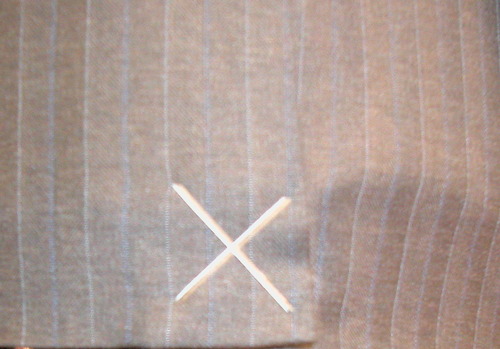 When you purchase a blazer or a straight skirt with a kick pleat, there is usually stitching over the slit in back. This stitching is two lines of thread, making an X to hold the slit together. This stitching is so that when the garment is shipped, it doesn't crease and fold over part of the slit.
You are supposed to remove these threads before wearing.
Higher end stores often do this for you before putting the garments on the sales floor. Not all retailers do this, and many retailers (at least when I was in the retail world) purposely left them so the garments would look crisp on the hanger, and it would be more obvious if someone tried to wear and then return the item.
But then, you would have to know to remove the threads.
I was on the Metro yesterday and a tall, young woman got on my car. She was wearing black peeptoe stiletto Mary Janes, black fishnets, a microstripe pencil skirt with a slight sheen, silk camisole and black blazer. The look actually worked – she was tall, long dark straight ponytail, thick black liner and an otherwise fresh face. It was funky, eclectic, yet stylish. Then she turned around and I saw she forgot to remove the threads on both her jacket and her skirt. Suddenly she looked so naïve and fashion-clueless. The ensemble seemed to be pure luck, not pure style.
Clothing manufacturers stitch pockets closed for this same reason – it helps the garment stay flat and properly pressed when in transit. The pocket stitching as well as the threaded X on the vents of garments are done with a stitch called basting. This sort of stitching is very easy to remove – usually you can snip one portion and the whole line of stitching will come right out. This is a type of stitching that is MEANT to be removed.
Once these threads are removed, your garment will fit better, look more expensive, and maintain its original style. And your style will no longer be hanging by a thread!