This article may contain affiliate links; if you click on a shopping link and make a purchase I may receive a commission. As an Amazon Associate, I earn from qualifying purchases.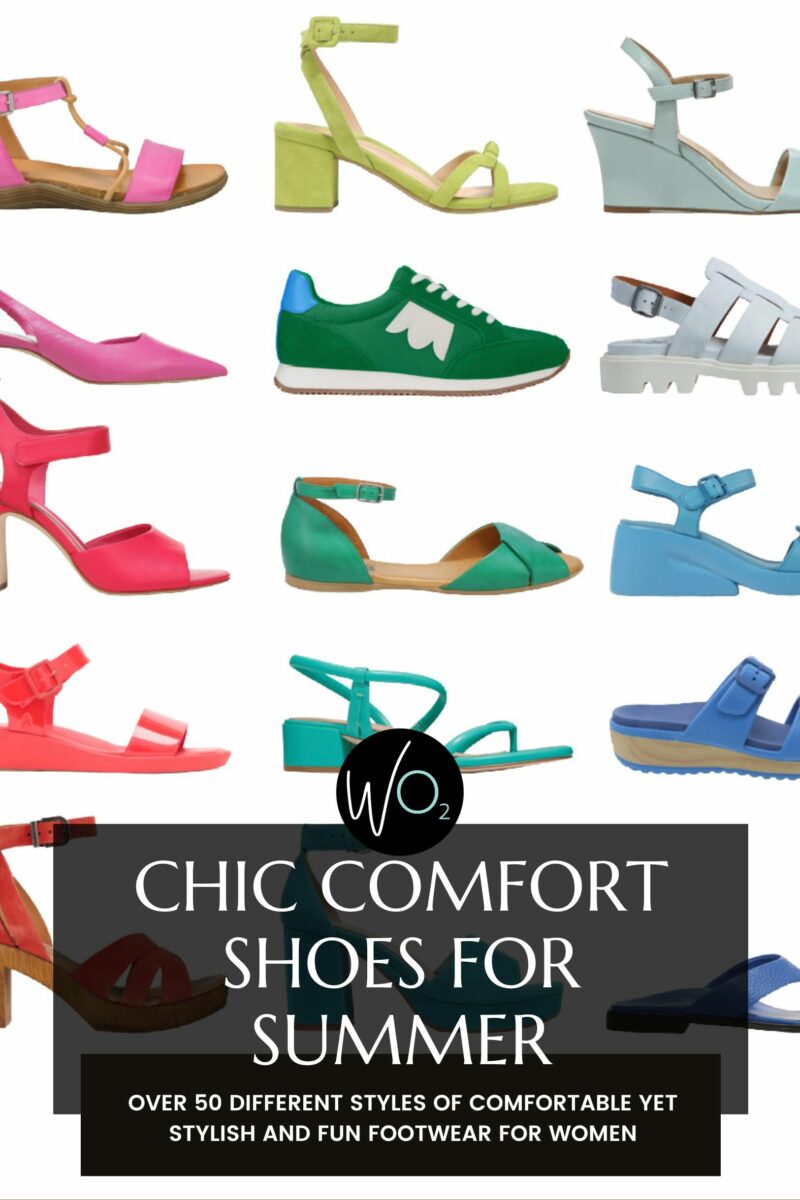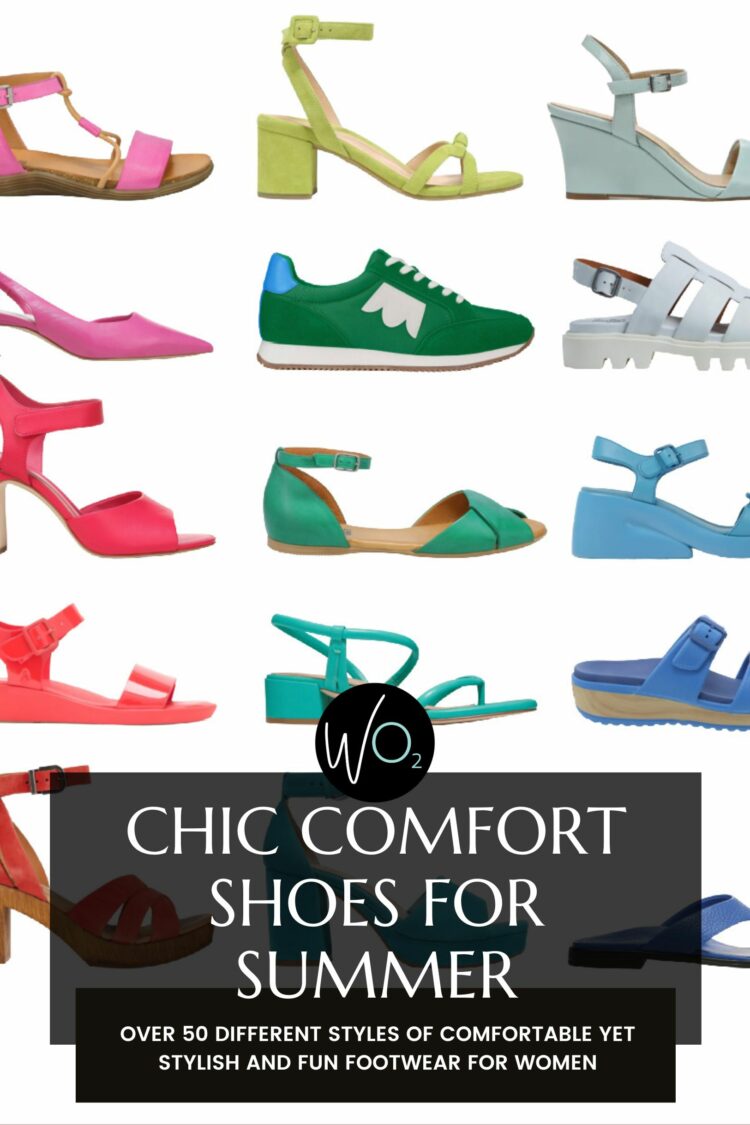 Reader Danielle emailed me frustrated that she couldn't find any chic comfort shoes for summer. All she was finding were frumpy dated styles in drab colors. As someone who has fussy feet, I seek out comfort shoes and have been looking at the summer offerings. For some reason, most retailers choose to feature the beige, black, and brown boring styles of comfort shoes first but with some digging I found on-trend, fun, and colorful comfort shoes full of style for the season.
Over 50 Chic Comfort Shoes for Summer
Focusing on this season and the current trends, I broke this selection of over 50 different chic comfort shoes into categories:
Color, which Danielle asked for and I personally am always looking for
Espadrilles, which were being discussed in the Wardrobe Oxygen Community on Facebook recently, and are a summer classic
Puffy straps, which is a hot trend this year and a quick way to modernize your existing closet
Go with everything flat sandals, which are a summer staple and hard to find in comfort brands without chunky soles, weird mixing of textiles, and dated colors.
I hope these collages of what I find to be chic comfort shoes help you complete your summer wardrobes. And if you have scored any fab comfy shoes lately, please share them in the comments! And for more suggestions on comfort shoes, wide width shoes, and current shoe trends, check out my footwear archives on Wardrobe Oxygen!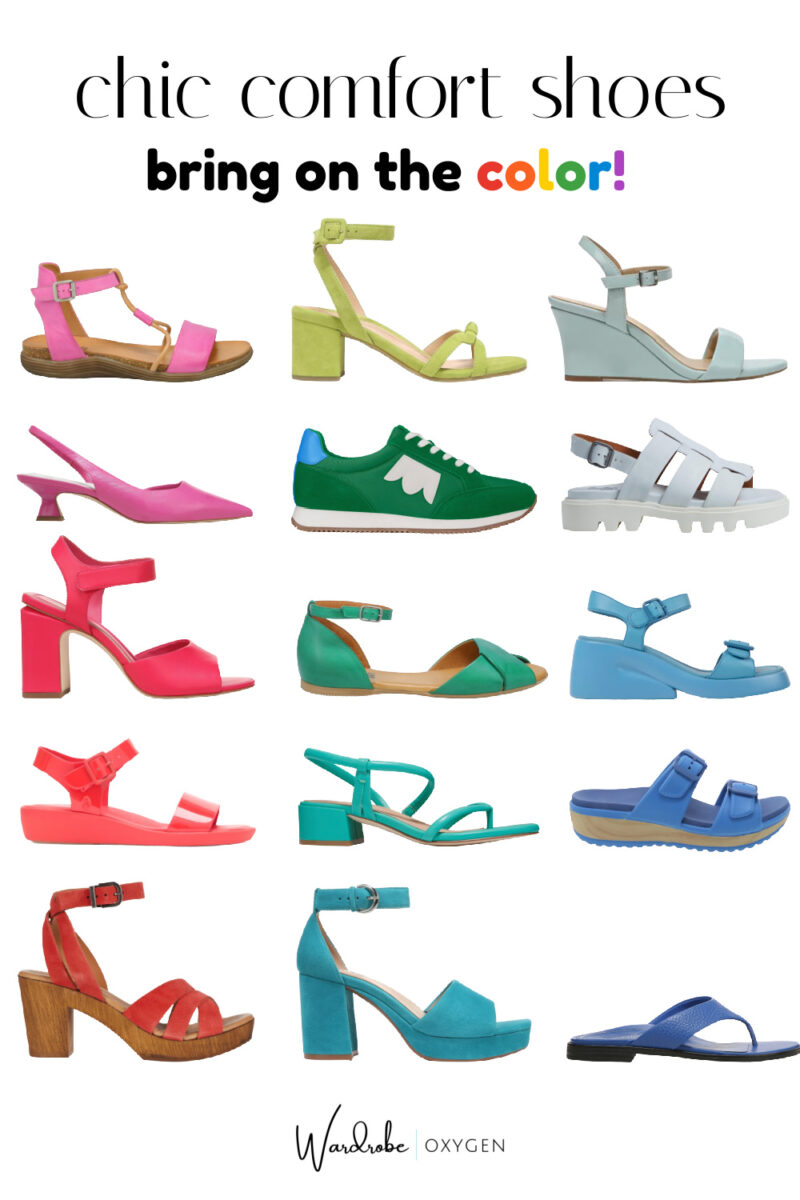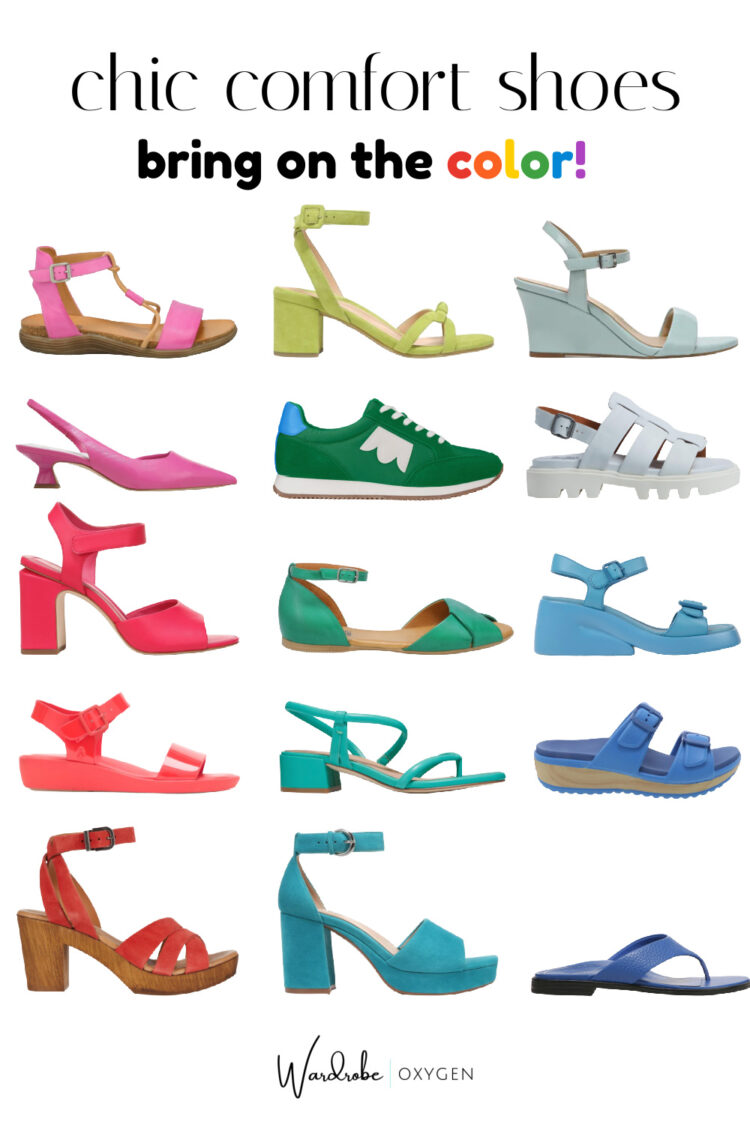 column one: pink sandal (5 colors to choose from) | pink slingback (6 colors available) | pink block heel sandal (4 colors available) | shiny coral wedge sandal (3 colors & 2 widths) | orange wood heel sandal (3 colors available)
column two: lime suede heeled sandal (3 colors available) | green sneaker (4 colors available; link to even more colors) | green flat sandal (5 colors available) | turquoise strappy low heel (3 colors to choose from) | aqua platform heel (3 colors & widths)
column three: mint wedge sandal (5 colors & widths) | pale blue fisherman sandal (also comes in black) | light blue platform sandal (3 colors available) | blue clog sandal (4 colors available) | blue thong sandal (4 colors & 2 widths)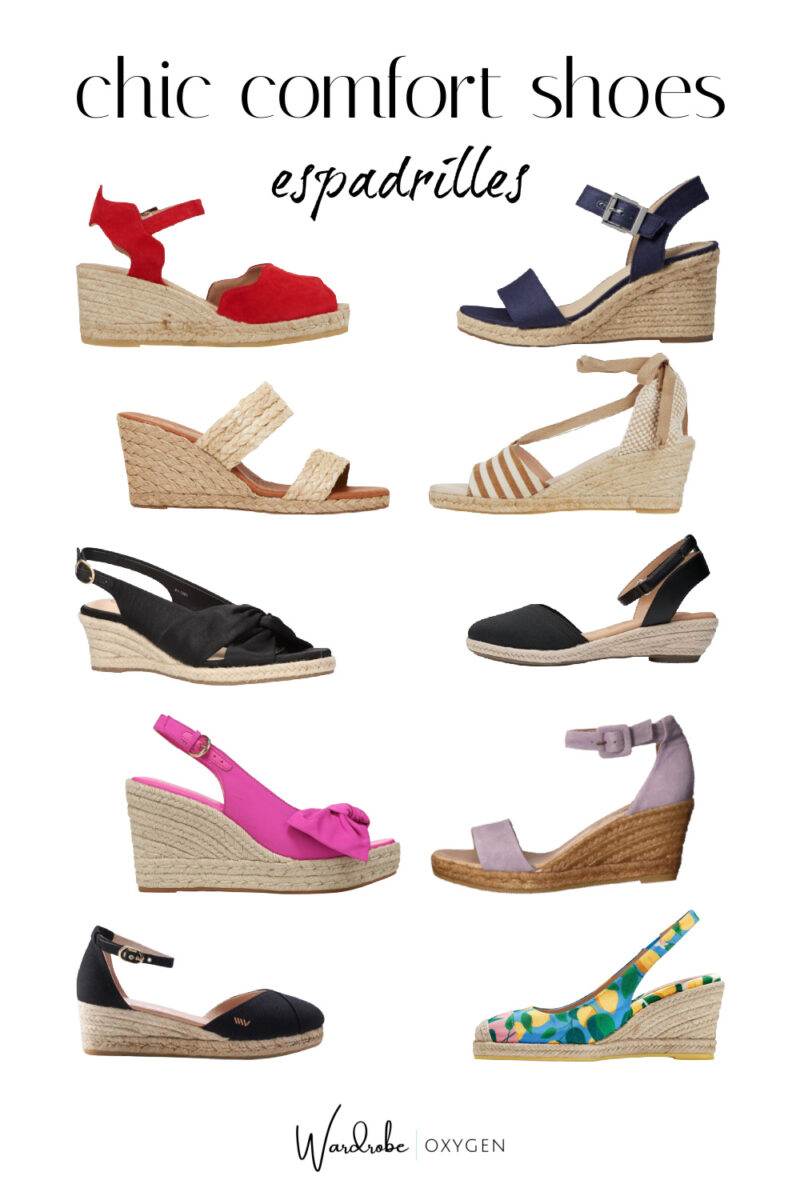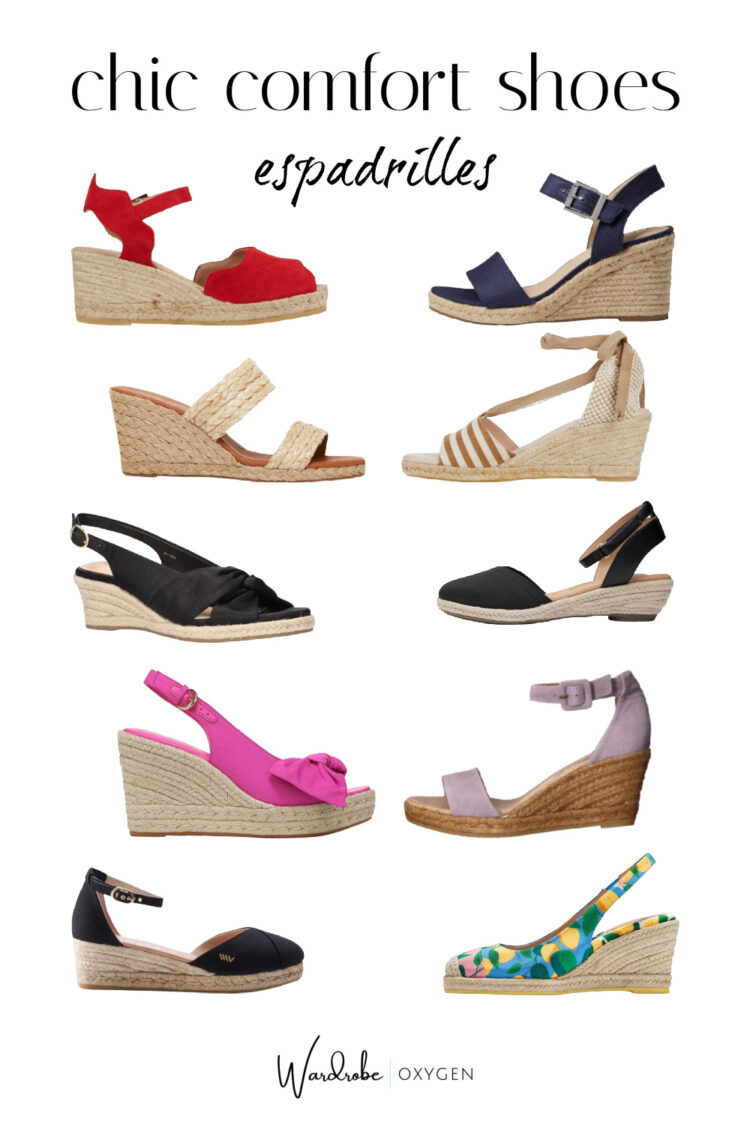 column one: red (available in 4 colors) | raffia | black slingback (available in widths as well as navy) | pink slingback (4 colors available) | black closed toe (available in 10 colors)
column two: navy (available in 4 colors and wide; I personally own) | tan stripe (also available in black) | black closed toe (also available in beige) | lavender (3 colors available) | blue print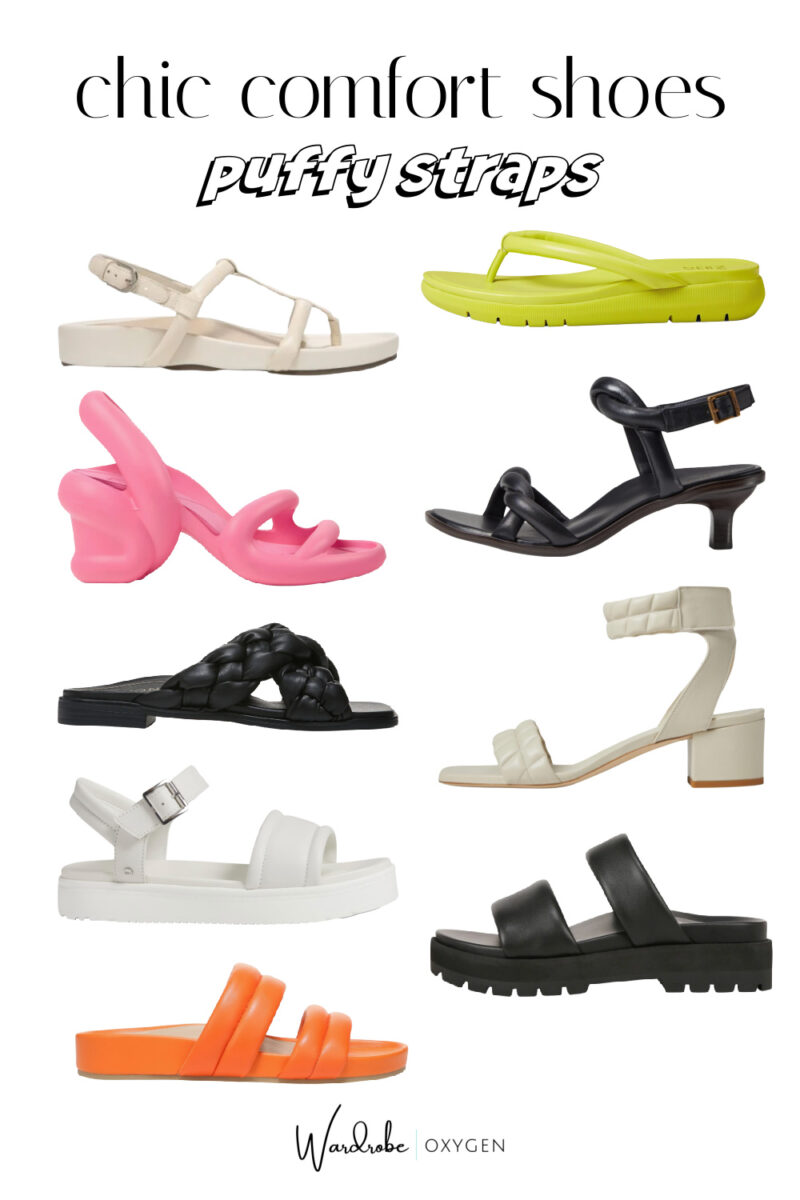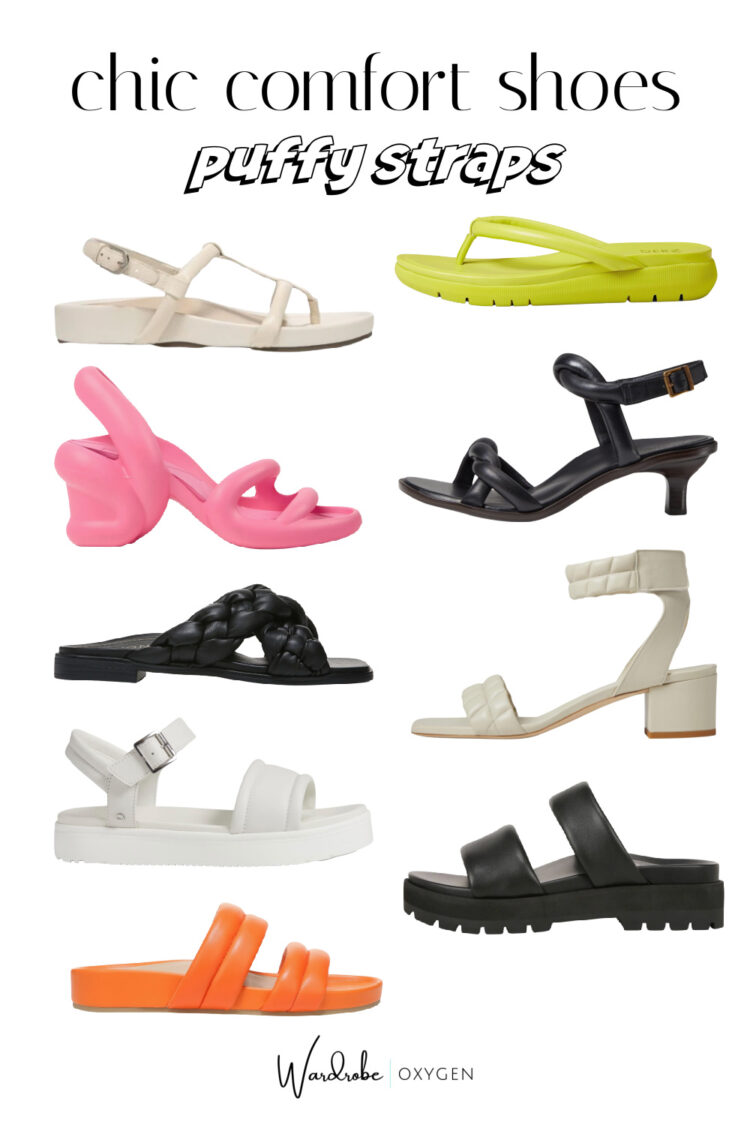 column one: cream flat sandal (4 colors available) | pink heel (7 colors to choose from; I tried these and they're comfy but my very short pinky toe slips out) | black braided (5 colors to choose from) | white flatform (3 colors available) | orange slide (also available in blue)
column two: neon thong (3 colors available) | black heel (3 colors available) | cream ankle strap (also offered in black) | black lug sole (also available in tan)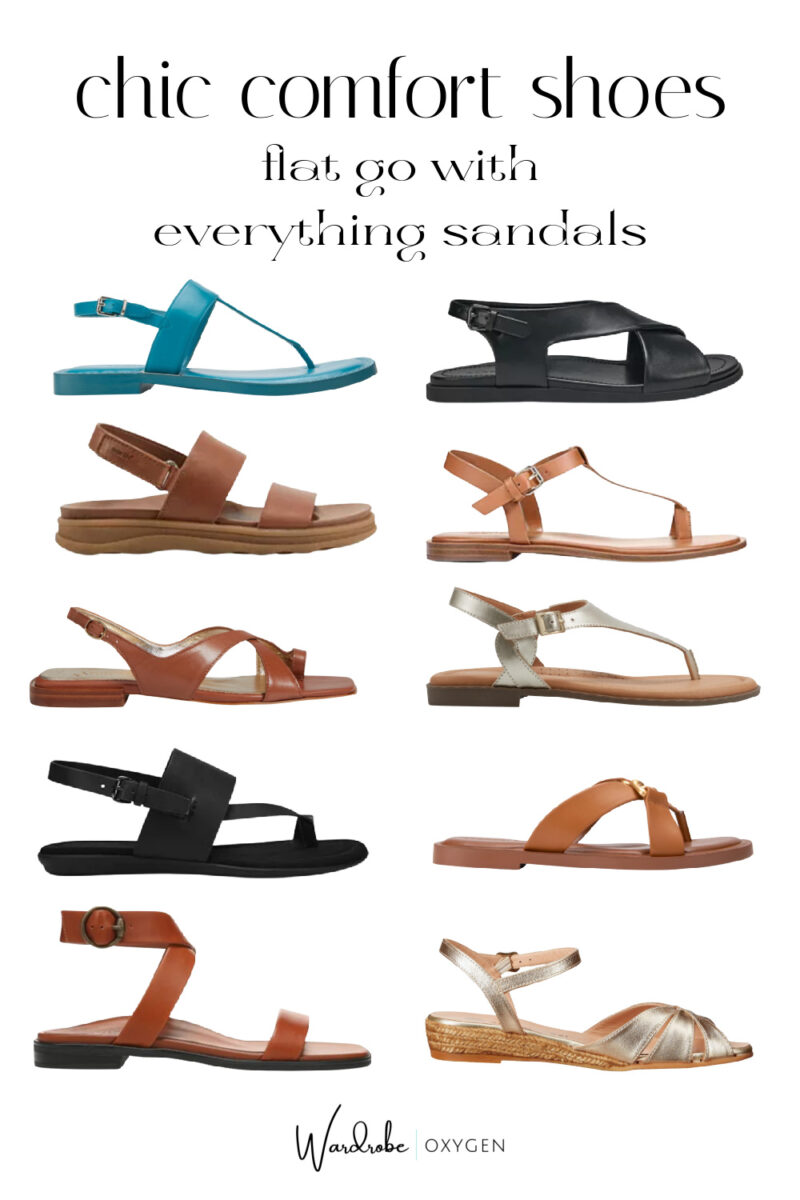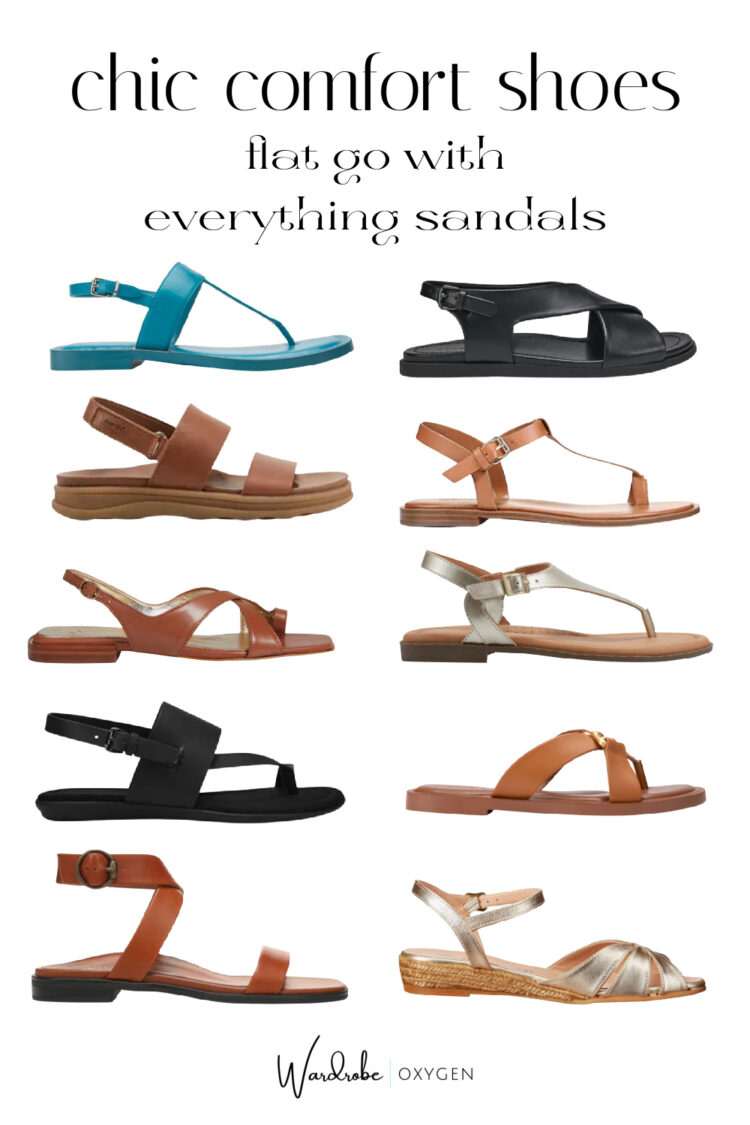 column one: turquoise (5 colors available) | tan with chunky sole (4 colors to choose from) | tan slingback (also in black and gold) | black (6 colors plus widths) | tan ankle strap (also in black and orange)
column two: black (6 colors available) | pale tan t-strap (4 colors plus widths) | gold thong (5 colors available) | tan cross strap (4 colors to choose from) | gold mini wedge