This article may contain affiliate links; if you click on a shopping link and make a purchase I may receive a commission. As an Amazon Associate, I earn from qualifying purchases.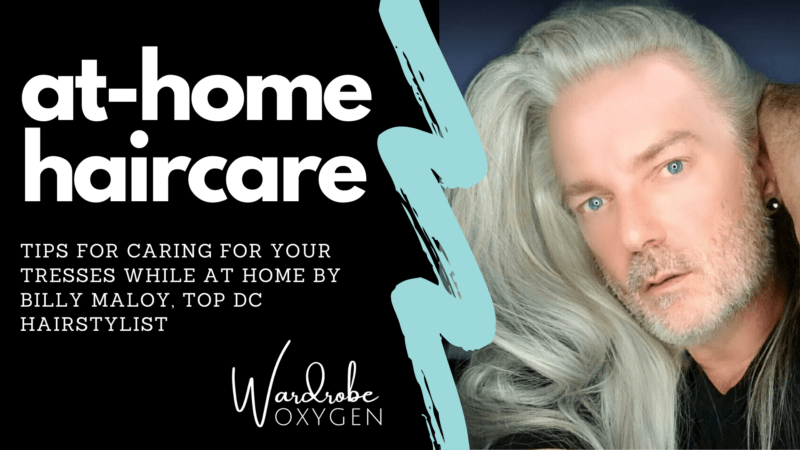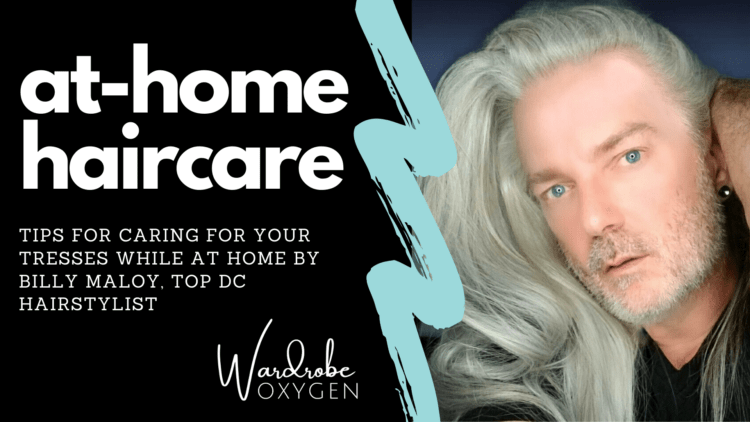 When I asked what sort of content you desired during this time, many of you asked for tips for caring for your hair at home. I decided to ask my hairstylist, Billy Maloy, to join me on an Instagram Live to address many of your questions. Knowing not all of you are on Instagram and likely couldn't take notes fast enough for our animated session together, I asked Billy to answer the top received questions plus share his top tips for at-home haircare.
Ask the Haircare Expert: Billy Maloy
Billy Maloy has been a sought after hairstylist for over 30 years. Originally from New York, Billy set out to learn every hair type he could. He has worked in very diverse salons and can handle any texture thrown at him. He has taken classes all over the country to stay on top of his education, and, make sure his clients are getting the most current styles and techniques for their hair care and style. Billy prides himself on working with your natural texture in order to keep your hair as healthy as possible. Billy has worked as a stylist in theater, photoshoots, film, as well as television and regularly called on by news outlets for upcoming trends and hair advice. Currently, Billy is working at The Shop Salon in Bethesda and can be found on Instagram.
Top At-Home Haircare Tips
Billy offered three suggestions to make sure your hair looks its best while sheltering at home:
Get a water filter for your shower. You have one for your kitchen sink, you need one for the shower.
Working with your stylist, always make sure you are using the correct products for your hair, NOT just what you are used to, or, were taught when you were younger.
Most importantly, do not try to cut or color your at home by yourself. A glass of wine and boredom is NO reason to take your ego into your own hands. CALL YOUR STYLIST AND ASK FOR HELP. They will know what you need to do. Remember they have trained for years in order to help you.
Billy reminded me that I used to have a shower filter and loved it, but it ended up not being reinstalled after replacing a shower head. I need to get a new one, it truly made a difference! Billy also shared that stylists right now can do remote/virtual consults. With FaceTime, Google Hangouts, Facechat on Facebook and Zoom, there are many free ways to connect with your stylist, have them direct you with cut and color, and they can take payment via Venmo, PayPal, or CashApp. This is a great way to ensure you don't ruin your hair while supporting your stylist during this time.
At-Home Haircare Do's and Don'ts
Do… Conditioning treatments. Put a lot of your conditioner in your hair, comb, don't brush, it through and leave it in for an hour. Maintain your health while waiting for your next cut.
Do… play with styles. Up, down, curls, straight, PLAY and have fun. YouTube styling tutorials are great!
Do… put it up, back, wear a headband and forget about it for a day. Just get it off your face and relax. No one at home is judging.
DON'T… try to color at all without speaking to a professional stylist who knows your hair first. You will be paying double or triple in order to get it fixed when you return to the salon.
DON'T… wash it everyday. Wait two or three days between shampoos. Your natural scalp oils replenish your hair, it needs it for nourishment.
DON'T… have any scissors in or near the bathroom right now. You are one drink away from disaster. Don't tempt fate!!!
Your At-Home Haircare Questions Answered
I compiled the questions received here at Wardrobe Oxygen, on Instagram, Facebook, and by email and narrowed them down to the questions I felt many could relate to.
My bangs are getting in my eyes, what is a safe way to trim them myself?
My first suggestion is video call your stylist, or, any stylist, and have them talk you through the process. It's so much easier than trying to do it yourself.
My split ends are driving me bonkers. Tips on how to trim them or make them less obvious?
Order a split end sealing product. Oribe makes a great one called Split End Seal. It will lessen the appearance of split ends. Do not cut on your own. Video conference with a stylist .
Stress is making my hair fall out, any suggestions on how to stop this?
Massage your scalp until it turns pink, or tingles. That increases the blood flow to the roots of your hair. Also, take biotin. It's a supplement that's in prenatal vitamins, and helps with hair growth.
I'd love to give my hair a deep conditioning treatment, any suggestions for great products? Any DIY suggestions for items I may have in my kitchen?
Actually mayonnaise can work as a scalp exfoliant, and, a conditioner. Who knew? I would order Oribe's Gold Lust deep conditioning mask. It's truly amazing. Expensive but amazing.
I am going to have to cut my husband's and son's hair sooner than later. I have a pair of Wahl clippers, any tips for an easy trim for them?
If they get a simple buzz cut, don't go below a 4 guard with clippers unless you have a stylist on video to help.
My grays are coming in, how can I hide them for Zoom work calls?
L'Oreal makes a root cover-up spray, Magic Root. A variety of shades. Or if you pull your hair back, a little mascara around your face. Do not try to color your own hair. Box color is very damaging, and, it will cost you three times as much for us to fix it afterward.
I've decided to embrace my natural texture of wavy hair during this time. Any tips?
Yes! After you shampoo, put enough of your regular conditioner in to detangle, comb it through. Leaving it in your hair, flip your head over and shake your hair hard, up and down, side to side (like if you're headbanging). Take a jersey t-shirt or pillowcase, and lightly blot and scrunch while bending your head over to enhance your curls. It's going to take a minute to get used to the process, but your hair will be healthier, bouncier, and you will eventually love it.
Is there any safe way to color my hair at home?
Not really. Always ask your stylist about this; they know your hair and can help with a video or standard call to suggest the right product. If it's too emotional to let your hair be natural, try a semi-permanent. But that's a stretch to get it right. Call a stylist.
What do you think of oVertone and other temporary hair coloring products?
Honestly, products like oVertone are fine on pre-bleached hair, but not really worth the money for natural hair.
Any tips for adding volume to fine gray hair?
Yes. Use a dry shampoo at the roots for styling and volume. It's not just for dirty hair. It really lifts the root without too much product buildup.
Please reach out to your stylists right now. They are there to help you. And we still love interacting with you!!!
Below is a video recap of the Instagram Live I hosted with Billy Maloy on Friday, April 3rd. It was a fun session where Billy gave honest and helpful tips beyond his answers above on how to care for your hair at home during this time.
If you'd like to book a remote consult with Billy to help with a haircut, trimming your bangs, touching up your roots, and more,
Billy can be reached by email
or
on Instagram
.
Shop the Post: