This article may contain affiliate links; if you click on a shopping link and make a purchase I may receive a commission. As an Amazon Associate, I earn from qualifying purchases.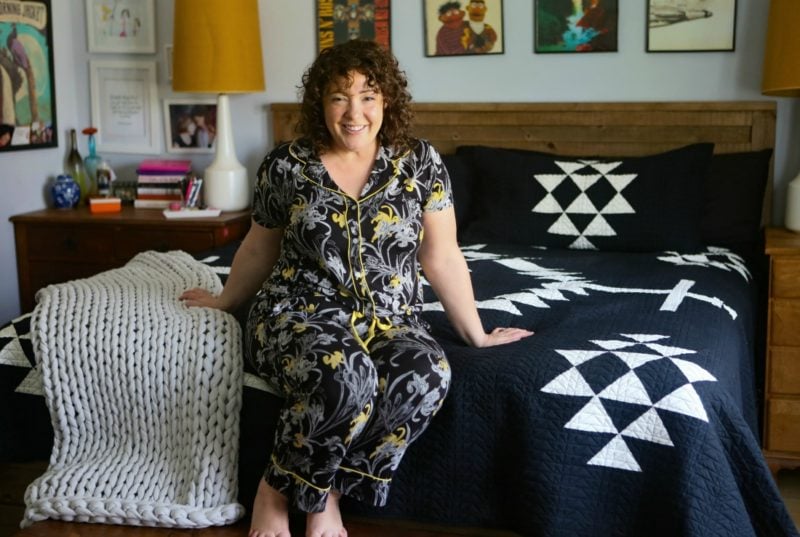 Soma reached out and asked if I'd like to do a giveaway of their Cool Nights pajamas on Instagram and I jumped at the chance. I have loved this line of sleepwear for years, y'all know I've been raving about it, and I loved the idea of being able to give some away to Instagram followers, especially at this time. I asked how many pairs I could give away… and I am giving away 20 (yes twenty) pairs! Head over to Instagram to enter!
If you haven't read my spiel about Cool Nights lately, settle in, because I'm a big Cool Nights evangelist. I sleep hot, I always have. I don't like wearing pajamas, but I also don't like my legs sticking together when I sleep and I have a kid in my house who doesn't want to see her mom's bits when she comes in scared after a nightmare. Cool Nights are the only pajamas I'm comfortable in, and it's a bonus that they come in so many beautiful prints and classic solid colors. Not too baggy, not tight, they wash like a dream, they have pockets, they offer cropped styles that are a better length for my 5'3″ self, they always have separates so you can mix and match: a pajama top with shorts, a supportive cami with pants, even a nightshirt or robe in this fabric. If you deal with hot flashes, you too will appreciate this unique fabric that is silky, jersey, cooling, but not weird or slick feeling. It's like luxe jersey and I love it.
My Favorite Soma Cool Nights Pajamas: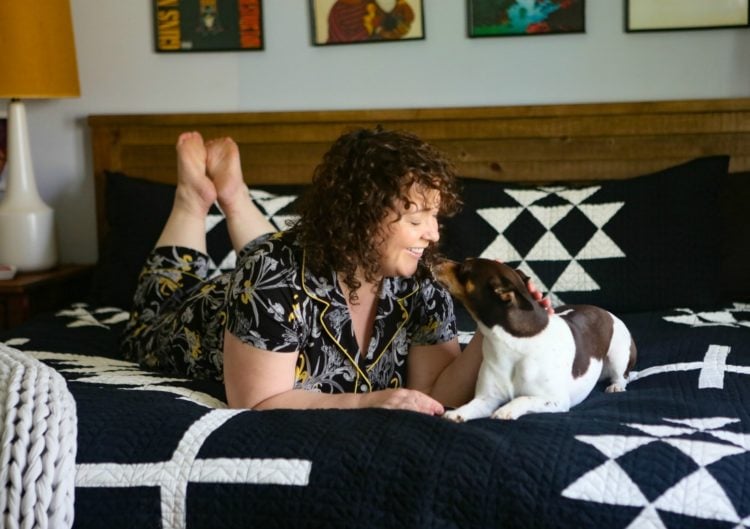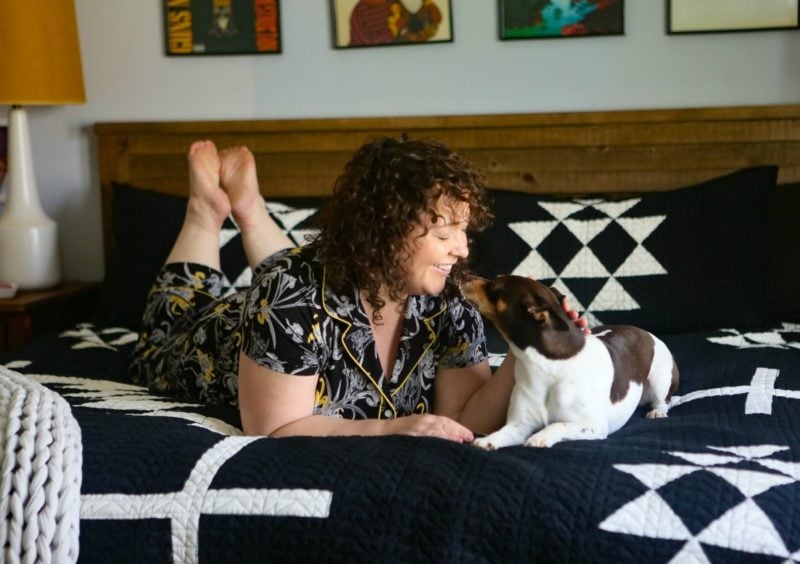 pajama top | pajama bottom | quilt and shams | knitted weighted blanket
Taking the photos for the shoot, Oscar really wanted to be a part. Like many of you have probably noticed with your pets, Oscar is thriving during this time having all of us around for 24/7 attention and play. And with it, he has become more snuggly and sweet. We adopted Oscar in September and the first couple of months were an adjustment for him. He got aggressive very easily with visitors and would even freak out on me if I was gone all day or away for a while on travel. But since getting comfortable with us and our routine, his personality has come out. He can be a bit of a bully to get us to play ball with us. He has a great sense of humor and when he realizes he makes us laugh he hams it up even more. And he KNOWS when we're doing a photoshoot and makes sure to be in the middle of it. I felt Oscar was a good fit for this shoot, since it was about comfort, and he provides comfort to all of us in the household.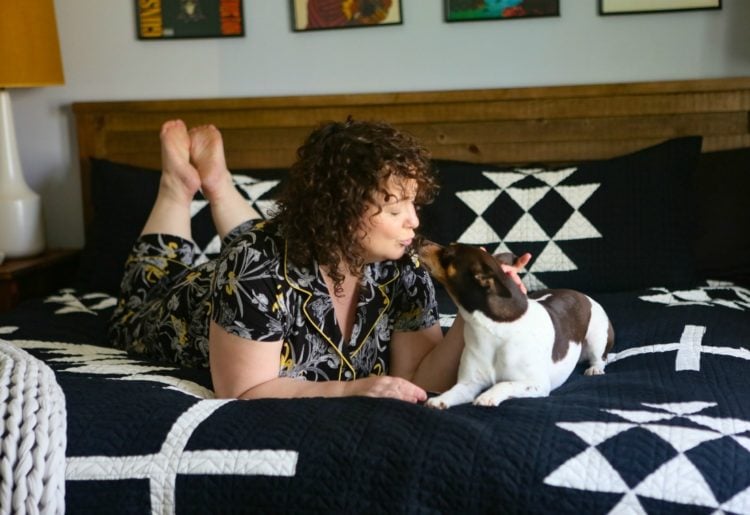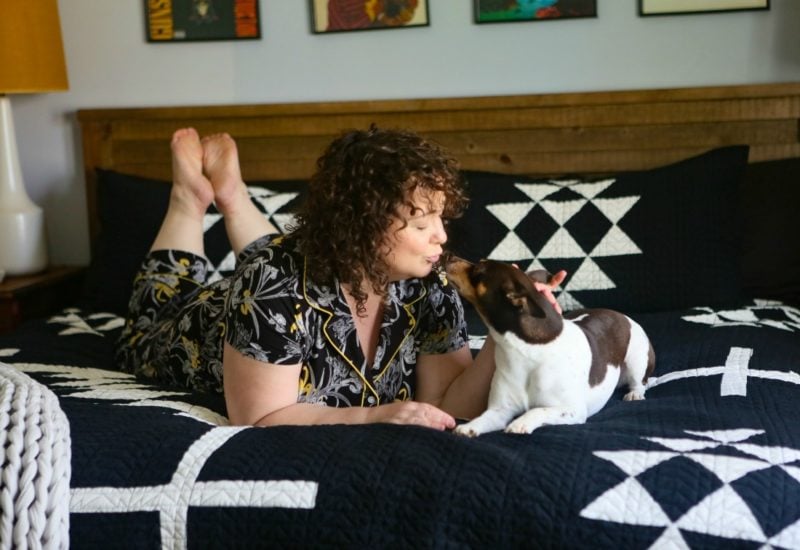 Shelters are full right now, and they're looking for individuals to adopt and foster. If it's something you've been thinking about, why not consider bringing a pet into your home? The Humane Society offers some information on how to adopt a pet right now. Busch Beer is partnering with the Midwest Animal Rescue & Services organization to give a free three-month supply of beer if an individual adopts or fosters a dog during the coronavirus pandemic. The ASPCA has a list of local shelters with pets to adopt.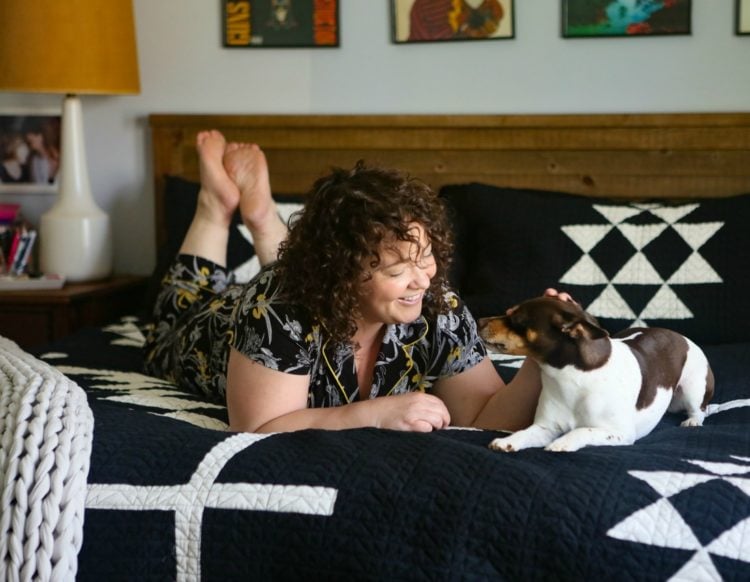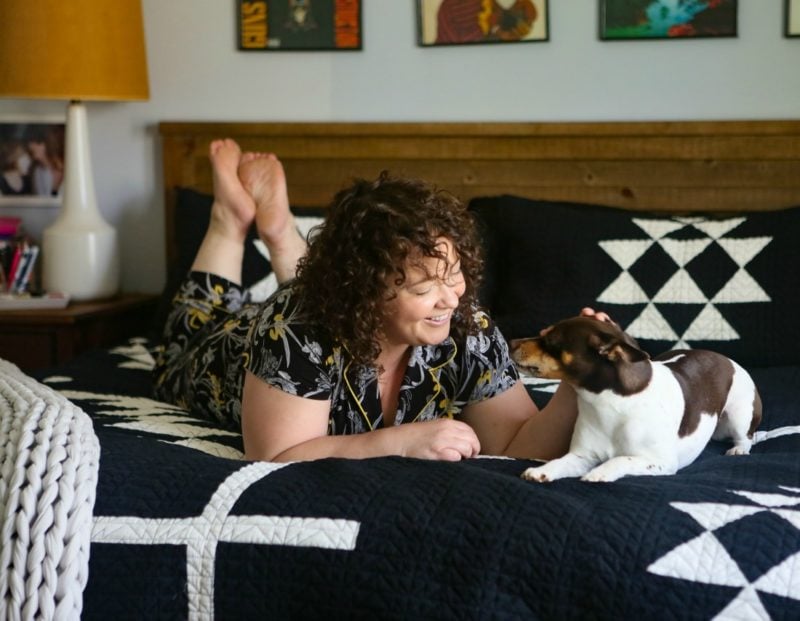 Earlier this week I liked to a Bogs post from 2015 where Karl captured photos of me with our old dog, Cindy. It meant so much to have those photos, especially after she passed. I'm glad to have these photos with my buddy, a memory of a bright point during this difficult time.
Shop the Post: