This article may contain affiliate links; if you click on a shopping link and make a purchase I may receive a commission. As an Amazon Associate, I earn from qualifying purchases.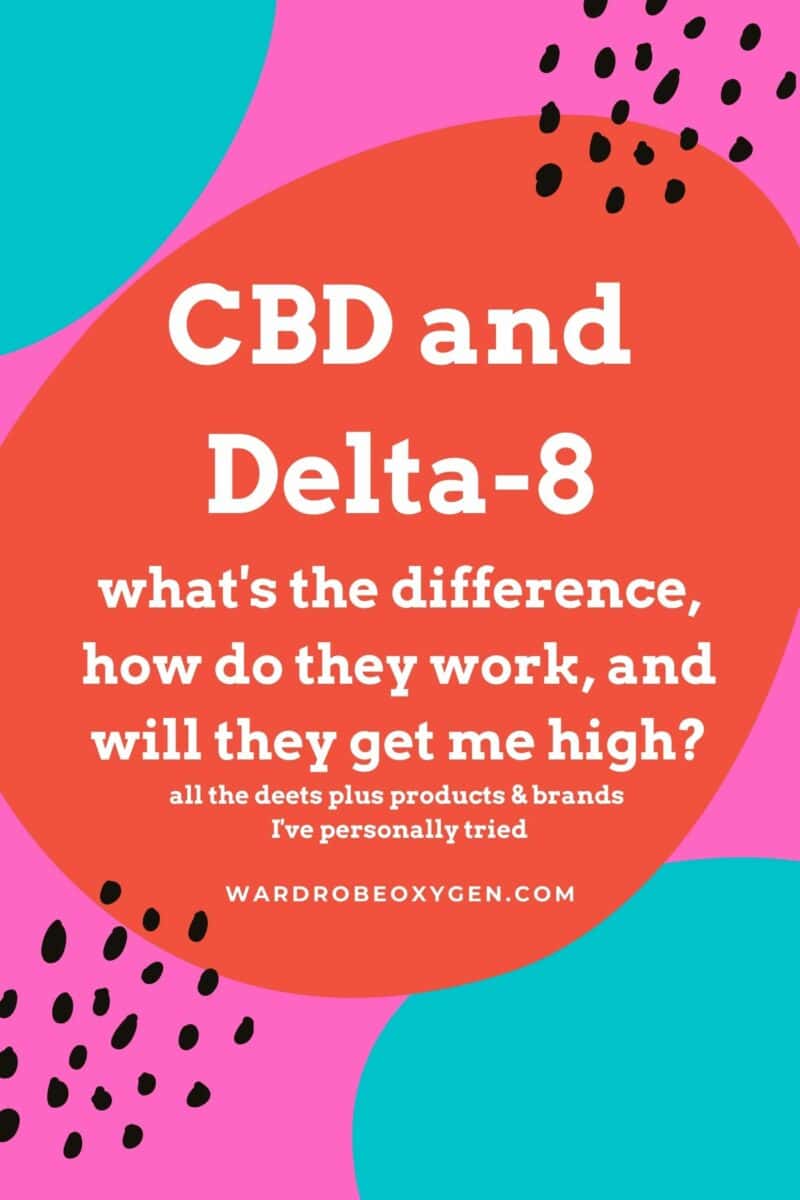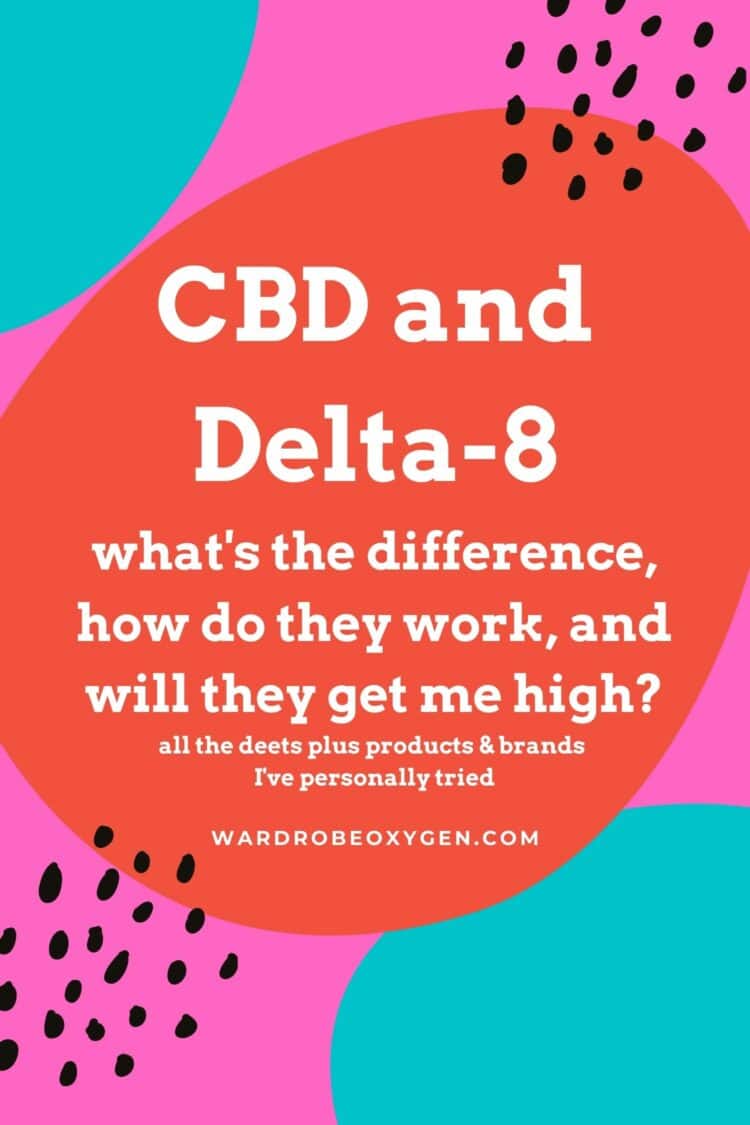 I think it's time we had a conversation about CBD and Delta-8. What are they, how do they make you feel, and why both of them are all over the place these days. Let's start with why I got into CBD… I bought it to complement my Midlife Welcome Package.
Have you received the Midlife Welcome Package? It's often delivered to you free of charge on your 40th birthday. The package includes back pain, crunchy knees, insomnia, and being able to injure yourself just by sneezing, yawning, stretching, or opening the refrigerator.
My husband who is far older than I (just kidding, he is four months earlier but that is a different birth year so we joke about his advanced age) received his Midlife Welcome Package a few years ago and has spent every day since trying to figure out how to do an exchange or return on this "gift." Athletic and active all his life, a yoga instructor by profession, he was not going to let pain, stiffness, and being uncomfortable in his body be his new normal.
Looking To Reduce Inflammation, We Checked out CBD
My husband began researching ways to not just numb the aches and pains, but to stop them, and went down an inflammation rabbit hole. There's a good chance you've been down one of these rabbit holes, possibly at 3 am when you're more awake than you were the prior day at noon after your second cup of java, maybe dripping in cold sweat after a hot flash.
Anyway, go down the inflammation rabbit hole and you'll find that what you eat, what you drink, how you sleep, and what supplements you take can affect inflammation. My husband began tweaking his diet and saw immediate results but not complete relief so he took it farther and went down the CBD rabbit hole. I share a lot of what he and I learned about CBD in my skeptical review of Equilibria CBD.
Anyway, our research led us back in 2018 to try CBD. We began by ordering a tincture/drops from a place in Colorado but within a year CBD was being sold at our local organic grocery store and online places like Thrive Market. We found that regularly ingesting CBD (meaning daily like a vitamin or supplement, not on occasion) it would reduce inflammation and along with an adjusted diet, daily stretching, and more hydration, on some days we felt as though we were in a 36-year-old body instead of an over-40 one with a Midlife Welcome Package.
From there, we investigated topical use of CBD with lotions and balms, and found those were great for when that knee starts acting up after a bike ride or wearing heels and walking down stairs, that spot on the lower back that feels like a softball of tension, or for me, those ridiculous perimenopause-induced menstrual cramps I hadn't experienced since a teen.
CBD Products We Use and Love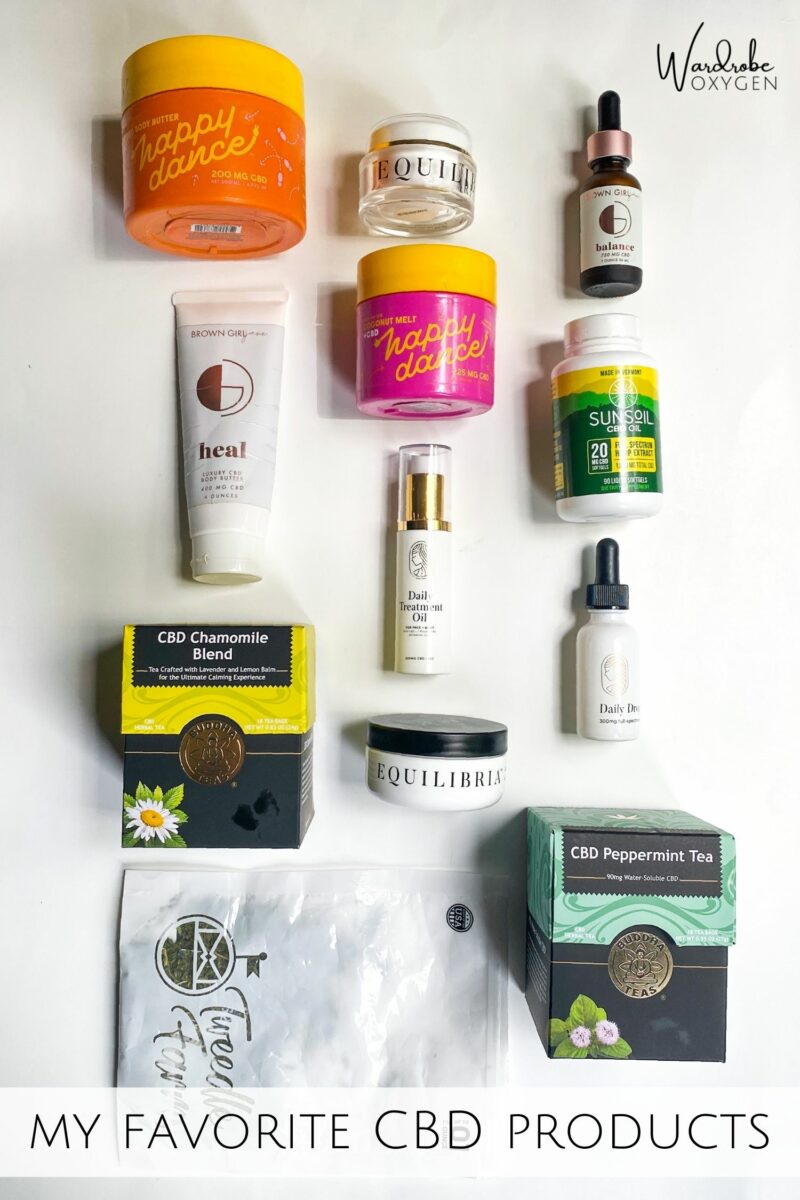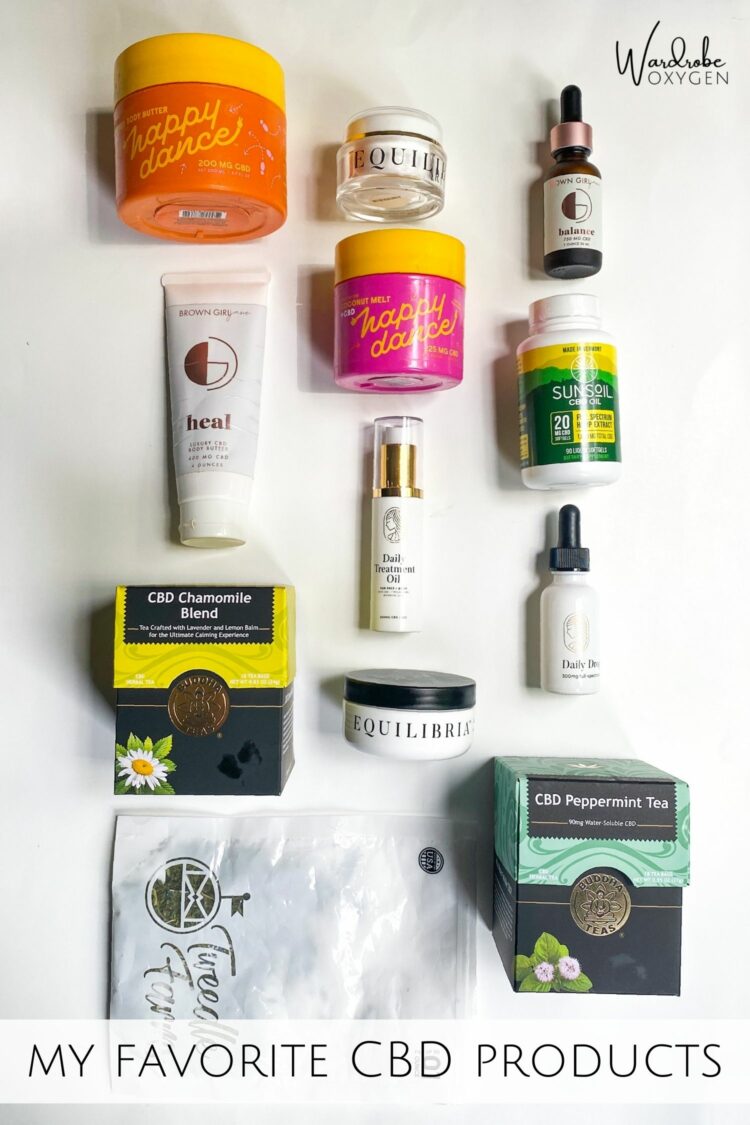 Trying dozens of products and brands, we have found the stuff we love.
How Does CBD Make You Feel?
Honestly, you should not feel anything when taking CBD. The point of it is to reduce inflammation and mild anxiety, not to get you high or buzzed or even feel super relaxed. I know it's working because I stop and think, "Wait, I'm not cranky because of my back/knees/cramps anymore."
I often say it can feel like a glass of wine, but I think I am misleading folks. When I am stressed I will take additional CBD and it will relax me like a single glass of wine, but I don't feel anything. I need to explain this because a lot of people are on the Delta-8 train saying you feel more on it. Yes, you will feel more with Delta-8 but you need to decide what your goals are from a CBD product because what you feel in regard to relaxation/buzz/sleepiness does not determine the effectiveness.
CBD: Full-spectrum, Broad-spectrum, Terpenes, Isolates… What Does it All Mean?
When shopping CBD, it's important to understand there are variations in it which can affect your experience. There are some terms often thrown around regarding CBD; these are the ones I see used the most:
Full-Spectrum CBD: This is when CBD extract still contains all of the plant's original phytocannabinoids, terpenes, and oils. Full-spectrum CBD contains up to 0.3% THC. Most find full-spectrum CBD the most effective because it takes advantage of cannabinoids' tendency to synergistically work together. This is known as the 'entourage effect' and you'll find plenty of studies about this phenomenon.
Broad-Spectrum CBD: This is when the hemp plant undergoes an additional purification process to remove as much THC as possible. However, it still includes many of those oils and terpenes so it is found more effective than isolates while having close to zero THC.
CBD Isolates: This is a crystal form of CBD which is ground into powder. This is considered the purest form of CBD as all other cannabis compounds are removed in the distillation process, but some find it not as effective because of the lack of that 'entourage effect'. CBD isolates have the absolute least to no THC so it is the best choice for those who want to avoid any THC, though it cannot be guaranteed you'll pass a drug test. I encourage you to do more research on CBD isolates before consuming if you are in recovery, have reactions to THC, or get drug tested on a regular basis.
Terpenes: These are the aromatic compounds found in many plants. Think what makes an orange, a rosemary plant, or a pine tree smell the way it does. Terpenes exist to attract pollinators and to repel predators or help a plant heal from damage; they have also been proven to offer health benefits to us humans. We use them in essential oils (think lavender to help relax, peppermint helps some with headaches); the terpenes in hemp seem to help the CBD work better. I am not an expert but if you google this you'll find lots of studies (again all about that 'entourage effect').
Flavonoids: Flavonoids are naturally occurring compounds found in plants that like terpenes, improve a plant's chances of survival or reproduction by boosting its defense mechanisms. We humans use flavonoids for color and flavor but they are also high in antioxidants and nutrients and many have been proven to reduce inflammation, balance hormones, and even manage blood pressure and reduce your risk for Type 2 diabetes. Again, do your research to find out what may be best for you, and what may not work with your diet, health, or other prescriptions and supplements.
Cannabinoids: Cannabinoids are the chemical compounds secreted by the cannabis/hemp plant. Besides THC and CBD, there are more than 100 other cannabinoids in a hemp plant. Phytocannabinoids, a term that is used to describe cannabinoids derived from plants, interact with our body's natural cannabinoid receptors. If you want to know more about the different cannabinoid acids in hemp, this article from Leafly delves into it (may not be safe for work, first photo is of a "dugout" filled with plant material).
So Tell Me About Delta-8
Maybe you heard about Delta-8 from the Instagrammer Things I Bought and Liked or another influencer who is raving about the ability to get high on a legal product you can buy online and have shipped to your front door. Or maybe you read this New York Times article. Or maybe a friend told you a friend bought it and how it's so fun, relaxing, effective and they're using it to have better sleep/have better sex/ a more enjoyable night on the couch with Netflix and a pint of Ben & Jerry's.
Delta-8 is an extract from hemp, like CBD. But the two are not the same kind of products with the same results. Delta-8 is both an intoxicant and psychoactive; CBD is neither of these. While both come from the same plant, Delta-8 will give you a "high" while CBD will not.
Like CBD, Delta-8 can be purchased as a tincture, but many prefer it in gummy/edible format because it's easier to consume, tastes better, and is a slower release of the effect. Depending on your body, how recently you ate, and a few other factors, a Delta-8 gummy can take 15 minutes to over an hour to kick in and the feeling can last anywhere from one to several hours.
Is Delta-8 Legal?
Delta-8-THC is extracted from hemp, just like CBD, but unlike CBD which doesn't get you high. Delta-8 is only slightly chemically different from Delta-9-THC, which is the main psychoactive ingredient in marijuana. Under federal law, psychoactive Delta-9-THC is explicitly outlawed. But Delta-8-THC from hemp is not, a little loophole thanks to the 2018 Farm Bill.
The two THCs are chemically different in the placement of the double bond. Both cannabinoids have a chain of carbon atoms, but Delta-8 has a double bond on the eighth carbon, whereas delta-9 has it on the ninth carbon. Delta-8 binds to the endocannabinoid system in a slightly different fashion because of the location of this double bond. This is what is thought to make Delta-8 less potent than regular THC, though there haven't been a lot of studies done yet on Delta-8 to come to any definite conclusions.
Some states have begun banning Delta-8. Alaska, Arkansas, Arizona, Delaware, Idaho, Iowa, Mississippi, Montana, Oregon, Rhode Island, and Utah all have moved to block Delta-8 THC sales and it looks like Colorado may be next. (Hemp Today)
How Does One Consume Delta-8?
Unlike regular hemp, which is a flower, Delta-8 is an extraction from that flower so you can't really buy buds and smoke it (though some companies sell flower infused with Delta-8 to get the effect). The most popular formats are edibles/gummies and tinctures/drops. Vape cartridges are also available from some retailers.
Where Can You Purchase Delta-8?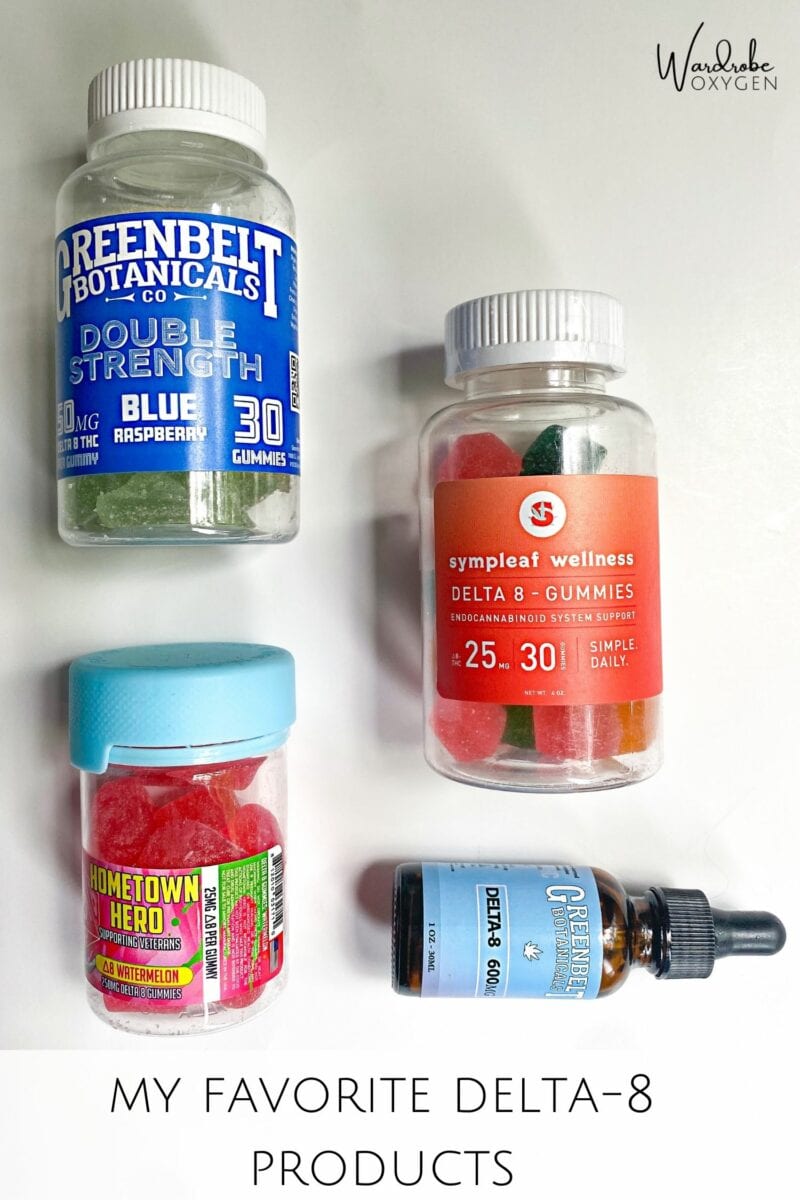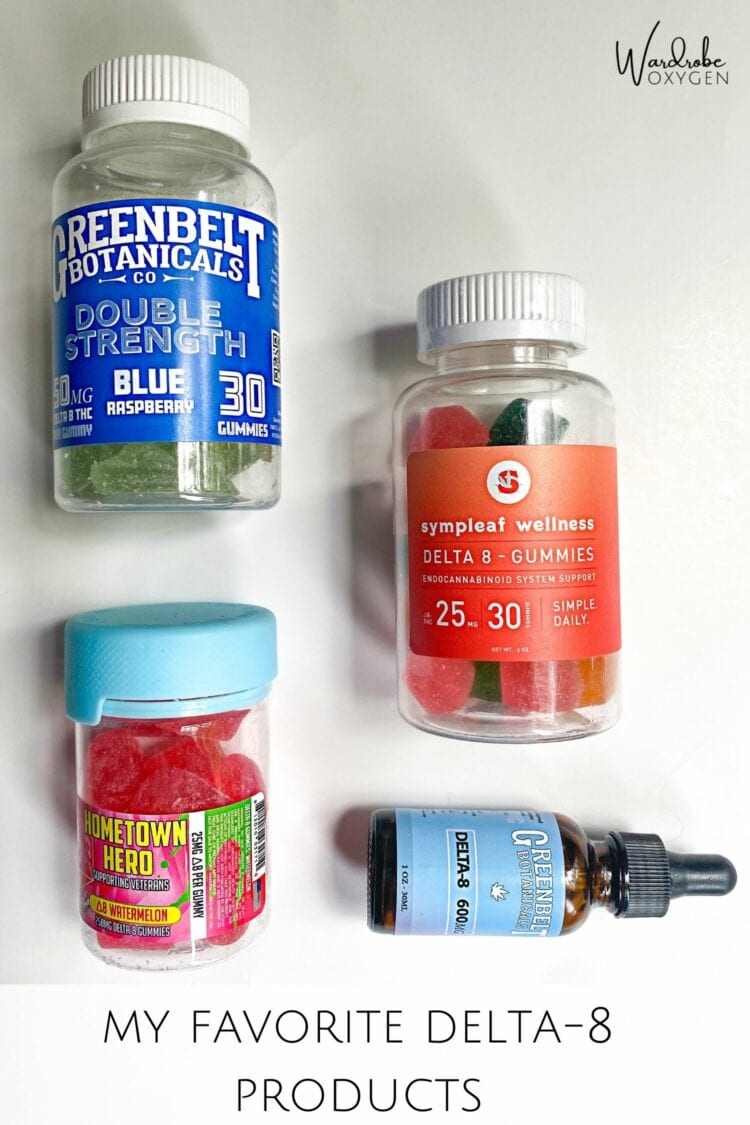 I Googled "Buy Delta 8" and received over 400,000 hits with dozens of them being local CBD/hemp shops and dispensaries. I recommend finding one that is near you (support local dispensaries) or has the values and ethics you care about. Check to see if they grow the hemp or source it elsewhere. If they source it elsewhere, is it from the US? Is it from a variety of farms? How do they control quality and consistency of product? Below are the three Delta-8 retailers I have shopped from:
Greenbelt Botanicals: This is the one that was made popular thanks to TIBAL. I live in a city named Greenbelt so I ordered from them because I like the name. Greenbelt Botanicals is based in Austin, Texas. They offer tinctures, edibles, smokables, topicals, and even products for your furbabies. The price is very reasonable, shipping is quick, they occasionally have sales so it's worth signing up for their newsletters (if you scroll down on their homepage there are promo codes for first-time shoppers, large orders, and those who served in the military).
Georgia Hemp Company: Georgia Hemp was mentioned in the New York Times article I linked above and I think this is a small company that wasn't ready for such traffic. That being said, they were great with communication when my order was delayed and even sent a promo code in apology. Their prices are really good and we found these gummies (you don't pick your flavor you get a mixed bottle) to taste the best and have the best consistency. Their bottles say Sympleaf not Georgia Hemp so keep that in mind if you want to reorder and have no clue where the heck you got that bottle of gummies. Georgia Hemp doesn't just carry Delta-8 gummies; they also offer skincare, oils, tinctures, and most anything infused with hemp, CBD, and Delta-8.
Hometown Hero: Also mentioned in that NYT article, Hometown Hero is also in Austin, Texas. Founded in 2015, Hometown Hero actively donates to veterans; thanks to their NYT press they were able to donate $10,000 to Soldier's Angels. Hometown Hero isn't the cheapest, but they give back, they're extremely transparent on their site, and we have found the quality excellent and consistent. Hometown Hero reached out after publishing of this article and is offering Wardrobe Oxygen readers 15% off their order with promo code ALIG15.
What Does Delta-8 Feel Like?
Delta-8, like Delta-9, binds to the body's endocannabinoid system, which causes you to feel high. Chemically, Delta-8 and Delta-9 are similar in that they both have a double bond in their structures. This double bond is thought to produce the intoxicating effects that make you feel high.
Delta-8 is legal, and can be bought at many online retailers, many of the same ones that sell regular CBD. But Delta-8 will give you a high. Some say it's equal to marijuana, some say it's "Weed Lite," and others say it's a completely different experience.
As someone who has tried marijuana, CBD, and Delta-8, for me Delta-8 feels much more like weed than anything else. But it's far more mellow, and can actually make me feel a bit sad/morose, especially if I already had a tough/frustrating day. But if I am not tired and am in a good mood, it will just give a chill happy vibe. I'd compare it emotionally to alcohol, in which two glasses of wine can make you want to dance, help for a chill evening with friends, or make you want to doomscroll your ex's Instagram at 2 am.
Some say that Delta-8 helps them with focus. I have sometimes experienced that, where I suddenly get this feeling of clarity and will write thousands of words without being distracted, or I will have the inspiration to deep clean the bathroom or organize my closet by color and sleeve length. But other times, I will struggle to finish a sentence and just want to lie on my bed and scroll through TikTok.
I don't find Delta-8 helps with anxiety as my Equilibria CBD does. Delta-8 can help with pain; I don't find it helps more than CBD except that because you can feel Delta-8 you can be distracted from the pain. However, many others find Delta-8 is more effective than CBD for their pain just like marijuana, but Delta-8 is easier to access if you live in a state where weed is not legal.
That being said, anyone who has used any or all of these three products knows that the experience is personal and unique. One person gets the munchies, another person gets aroused, another won't stop talking, one person falls asleep, and there's always someone who didn't feel anything at all.
Does Delta-8 Work Better than CBD?
It's apples and oranges. They are different products to achieve different things, they just are lumped together because they're from the same plant.
However, I must say again that consuming either can cause you to fail a drug test.
For me, CBD taken orally daily along with other supplements, has helped me with mild anxiety and the aches and pains that come from inflammation. I have taken additional CBD on the spot when under stress (I was practically mainlining it while watching the news on January 6th) and it helps without making me groggy or have any "high" feeling.
I even have a jar of these little CBD melts in my bag now that I am going out in the world. While everything opening up is exciting, after a year spending most time at home and with my pod, the sounds and smells and crowds can be overwhelming and I sometimes pop one just so I am not as bug-eyed but can still drive, think quick on my feet, and function normally.
Delta-8? I would never drive a vehicle after consuming. It's more of a high than a glass or two of wine. For those who regularly smoke weed, you may think Delta-8 isn't anything major, but for the rest you may want to start with half or even a quarter of a serving and be sure you don't have to go anywhere for a couple of hours.
In Summary…
I am not a doctor or an expert, never ever take anything without doing your own research and checking with your doctor to ensure this is a safe choice for you and it won't affect any other medications or supplements you are taking.
I am guessing a few of you reading this know more about CBD and Delta-8 than I; feel free to share what you know in the comments so you can help fellow Wardrobe Oxygen readers be informed and decide if CBD or Delta-8 are right for them.