This article may contain affiliate links; if you click on a shopping link and make a purchase I may receive a commission. As an Amazon Associate, I earn from qualifying purchases.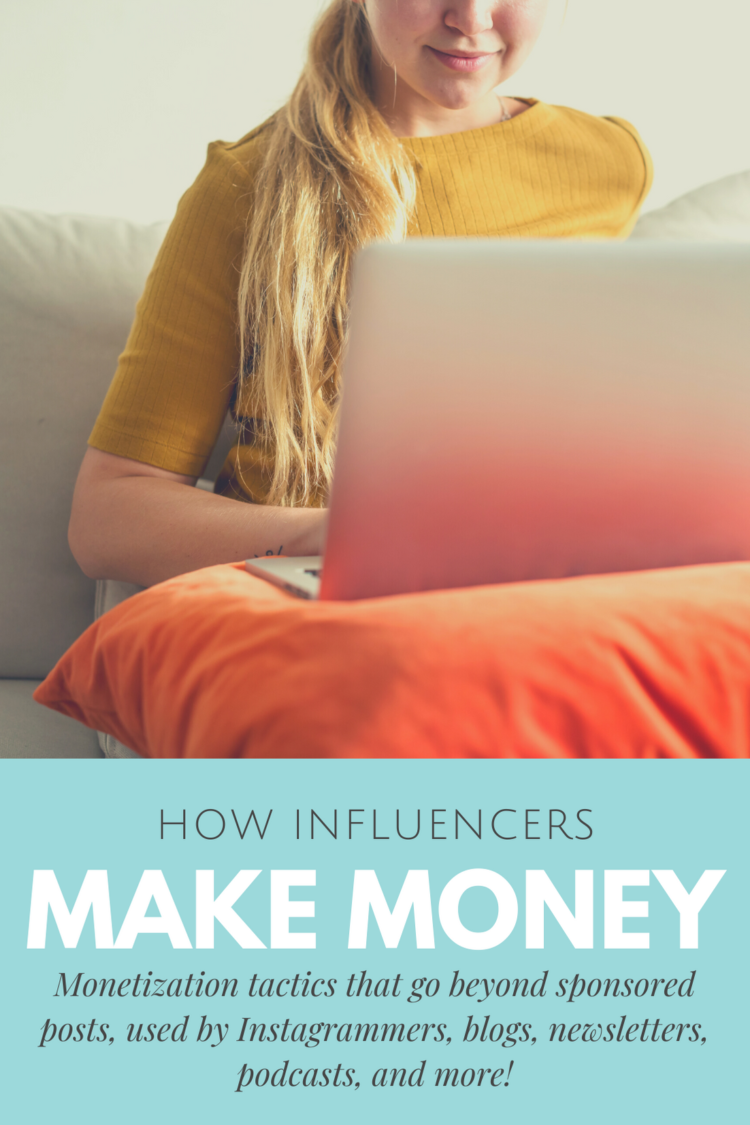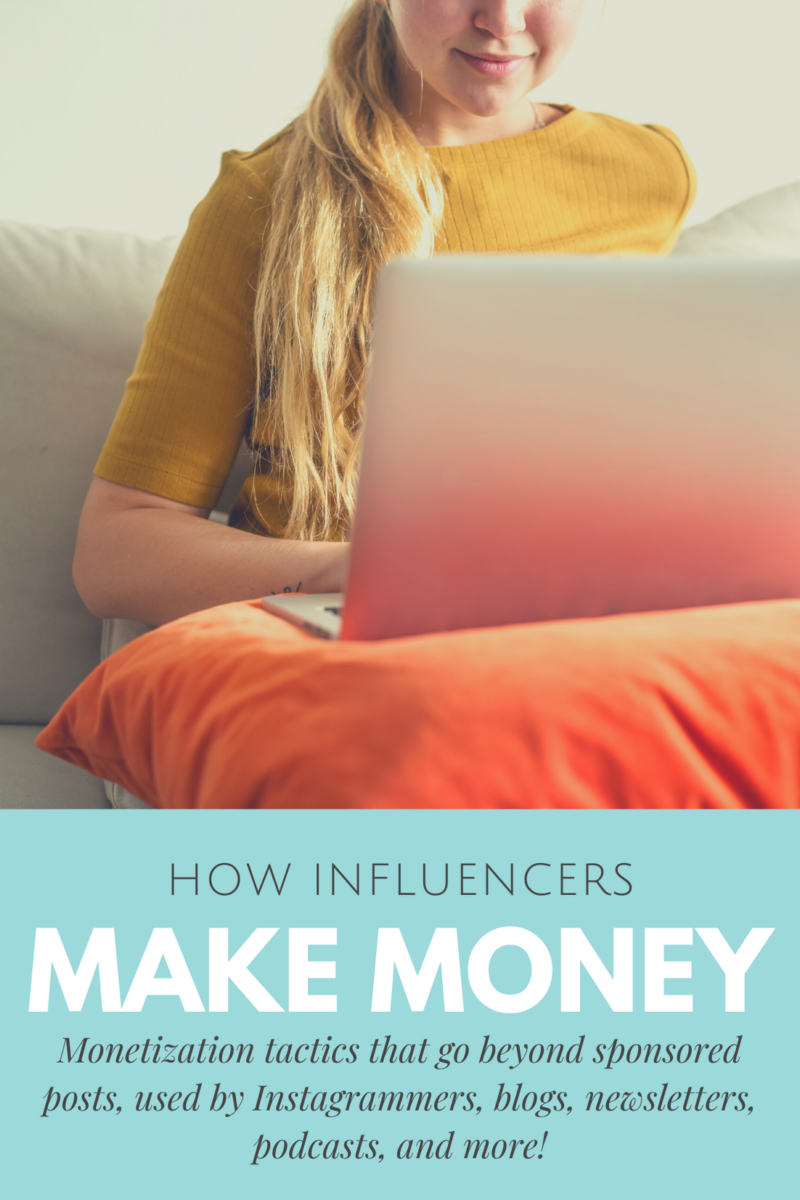 I want to make sure all readers of Wardrobe Oxygen understand how blogs and social media influencers, as well as many celebrities and online news sources, and other websites, make money. You deserve to be an informed consumer, and whether you realize it or not, people are making money from you surfing the web, reading newsletters, scrolling through social media, and using your favorite apps. 
I have been blogging since 2005; I made my first dollar from my blog in 2007 and in 2017 quit my full-time job to focus on my blog.  I will not share how much I make from my blog but it does support a family of three.  How do influencers and blogs make money?  I will share the major forms of blog and influencer monetization below to the best of my knowledge.
Websites Make Money from Affiliate Programs
Bloggers, influencers, content creators, newsletter editors, websites, news sources, and other online platforms join affiliate programs. They sign an agreement that in exchange for using links to promote a retailer, they will receive a commission. This commission can be any amount. Most clothing companies (what I primarily write about) are between 3-20%. Some companies offer a flat rate per sale, especially when it is the purchase of a service or a membership. Depending on the affiliate program and the retailer, such commission rates can be negotiated.
Whether you're visiting my blog or a news site, reading a newsletter in your inbox, or watching an Instagram Story, there's a good chance that any link you click on contains code to track where you found the link and also what and how much you buy from clicking on that link. This link also has a "cookie" which means it will remember your browser for a set period of time (they are anywhere from five minutes to a month).
What does this mean?
Let's say I'm wearing a red sweater. I share a link to where you too can buy this sweater.
You click on the link and you buy the red sweater right at that moment, I will receive a commission that is a percentage of the price of the sweater.
If you click on the link and you don't buy the red sweater, but you buy a pair of blue pants instead, for most affiliate programs, I will still receive a commission of a percentage of your purchase.
If you click on the link but don't buy anything. You close the browser and then a week later go back to that retailer and buy that red sweater, or blue pants, or virtually anything… I may make the commission. It depends on the length of the cookie, and it also depends on if you clicked on another site's link for the same online retailer.
Let's say you love that red sweater so much but payday is Friday. You put the red sweater in your virtual shopping cart and close your browser. Friday comes around, you enter the URL for that store and buy the sweater. If you haven't clicked on any links for that retailer between the time you visited my blog and the time you bought that sweater, I will make the commission. However, you're reading an article on Apartment Therapy or The Strategist and click on a link and it goes to that same retailer, even if you close it and don't click or navigate on the site, they now have a code and cookie that overrides mine and they will get the commission. Last link wins.
If you don't want anyone to get a commission, there are browser extensions out there that will block the trackers and cookies. You can clear your cookies. You can click on the link and go through the whole URL and find where the tracking code starts and delete it and refresh your browser. I really don't see why it's such a big deal to give a site a commission, it's usually just a few pennies, but it's your choice and you deserve to be an informed consumer.
If you want to make sure a certain site or influencer gets your commission, just visit their site or online store and click on any link for that retailer before making a purchase. It doesn't have to be the link for the red sweater, it can be any link. This is why many bloggers have a "Where I Shop"; it's an easy way to get that last cookie and commission for the sale.
Websites and Podcasts Make Money from Promo Codes
While some companies use affiliate links, others choose to use a promo code. This is especially popular for podcasts, videos, and social media. The company tracks how many sales were used with that promo code and provides a commission (flat fee or percentage).
If you want 20% off that thing you learned about on a podcast but you don't want that podcaster to make any money off you, you can search for another code with Google. However, know that influencers (and individuals who get promo codes from refer-a-friend programs) will go to coupon sites and the comments of blog posts and share their codes. And those coupon code sites have their own affiliate programs where they make commission off your visit. So instead of giving the commission to the person who introduced you to the product, you're giving the same amount to a complete stranger.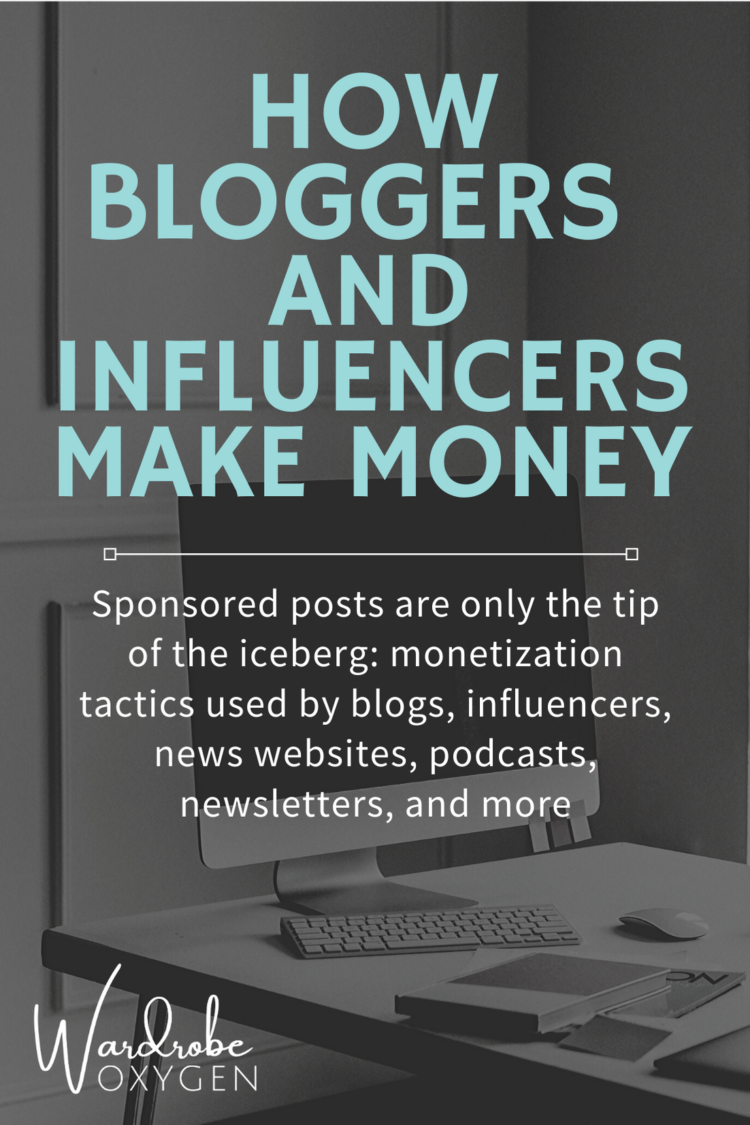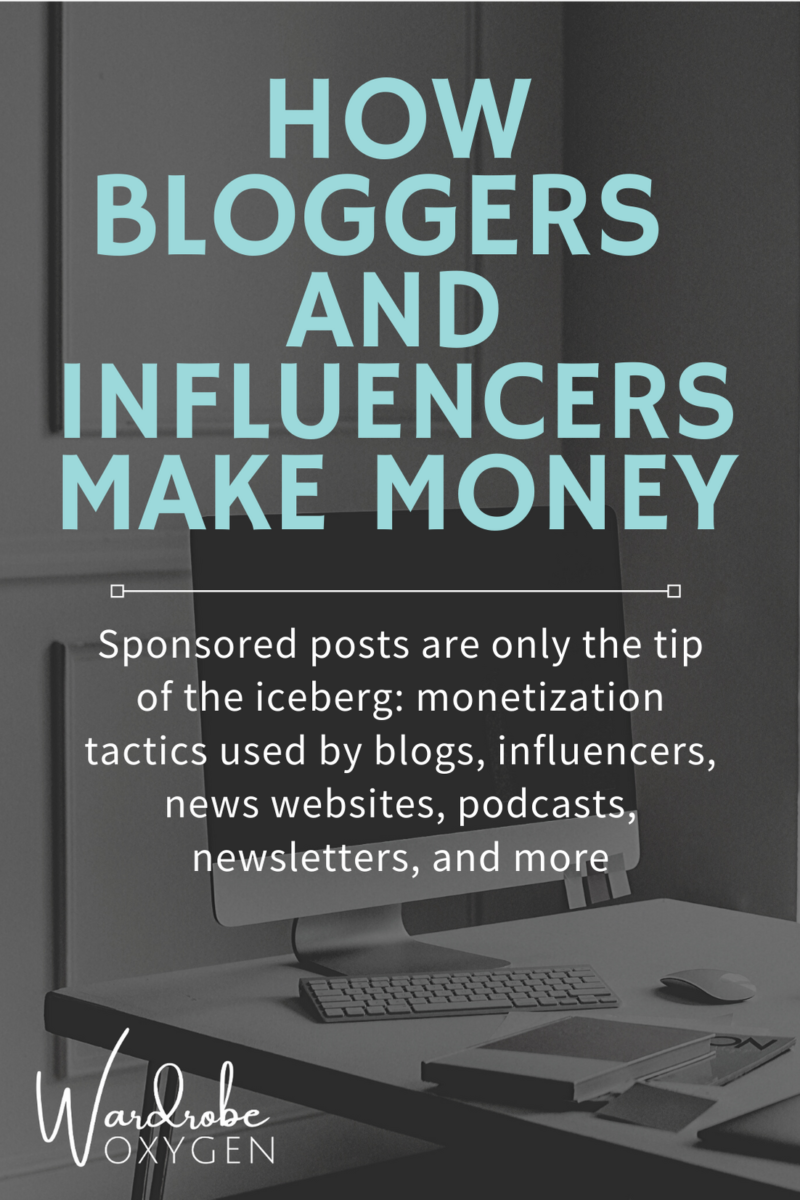 Blogs and Websites Make Money from Ads
The first money I ever made from Wardrobe Oxygen was from ads. I joined the BlogHer network way back in 2007 (it's now under SheMedia). I hardly knew any HTML but was able to add some code to my backend and the ads showed up magically and earned me a few dollars each month thanks to visits to my site.
Ads are essentially the same in this day and age, but they are more infused into a site's design. Also, site owners have more control over what types of ads and selling what products will show up.
I am a member of the Mediavine ad network. You will see an ad at the footer of the site, ones between paragraphs in articles, and one in the sidebar. Occasionally you will see one if I record and upload a video. Mediavine lets me control whether or not I want that footer ad, how often ads show up between paragraphs, and also I can choose what categories of ads I do not want on my site (for example, you should never see ads for weight loss, religion, firearms, gambling, or get rich schemes on Wardrobe Oxygen).
I deleted ads from my site around 2010 because they looked tacky and didn't really bring me much money. I joined Mediavine a few years ago because I learned from friends that the money was quite good as was the quality of ads. My friend was right; I make enough money from the ads on this site that I can reduce the number of sponsored posts I do. Each month I make from Mediavine the equivalent of 3-5 sponsored posts (see below where I explain sponsored posts).
I am also a member of PubExchange. If you look at the bottom of any post on my site you will see links to "Sites We Love." Through PubExchange I choose to partner with certain other sites on the web and we promote one another's content. Some of the content I share in that widget pays per share. The amount is less than a quarter of each share so it's not really a money-maker, but it's a traffic-increaser, which helps with Mediavine ad revenue as well as finding new followers of my site! 
Ads can be hidden with ad blockers. If you use an RSS tool, you won't see ads. The footer ad you can X out. I understand people don't like the ads, but they can be so lucrative your favorite blog can afford to do more quality content, to get a better camera, heck to continue being able to afford to run the blog. Websites are closing left and right because ad revenue isn't what it used to be thanks to ad blockers.
Ads prevent paywalls and prevent journalists and editors from being let go due to budget cuts. If ads are preventing you from being able to read a website or blog, let the owner know and provide detail of browser and device (we also love screenshots). We don't always see what you see and while we want revenue from ads, we'd rather have you be able to enjoy our content and remain a fan.
Influencers and Blogs Make Money from Sponsored Content
Companies will pay bloggers, influencers, celebrities, and websites money to write about them. This can come in the form of a mention in an article, video, newsletter, podcast, TV or radio segment, or blog post; a feature in an Instagram photo and caption, one or a series of Instagram Story or Snapchat "slides", an Instagram Reel or TikTok video, or an entire blog post, newsletter, or article dedicated to them. Per the FTC, we are supposed to clearly state this sponsorship before you read or hear anything about the company and "above the fold" (you don't have to click to read more to see the disclosure).
Usually, these kinds of sponsorships have a contract. The company will have specific guidelines – post on this specific day, have this many photos, be sure to discuss this one aspect of the company, do not mention competitors to that company so many days or hours before or after or within the content, include this wording and/or these hashtags. These contracts may include wording for how long the content must remain public, the rights the company has to the blogger's photos or words for the content, and that the blogger cannot share specifics about the contract with others.
Companies will often offer direction for the content – words to describe the brand and how you should represent it, colors they find on brand, even whether you should or shouldn't smile.
These days, most companies ask to review any sponsored content and offer edits prior to it being published. For some companies, the contract is simple. With others, the contracts can be extremely complex and detailed and sometimes require a lawyer or contracts expert to review and explain. Sometimes these contracts can be negotiated for deliverables, expectations, and rates. Again, it depends on the company issuing the contract.
These opportunities sometimes come directly from the company or its PR firm. However, most are through influencer networks.
What is An Influencer Network?
An influencer network is a middle person between companies and bloggers or social media influencers. The influencer signs up to the network; most are free though there are some you have to pay to join. The influencer adds their site's URL and connects the network to their social media channels and Google Analytics (tracking pageviews and more for websites), writes a brief bio about their brand, and occasionally links to previous content they are proud of and represents them well.
Some influencer networks only negotiate sponsored content. Some are also affiliate platforms or ad networks. Brands will often use a combination of different influencer networks as well as in-house and contracted influencer relations teams to promote products, campaigns, and collections.
A company will come to an influencer network with a goal. I want 25 bloggers between the ages of 24-35 who are moms and live in a major metro area to try out our face cream for 30 days and share the results. The influencer network says no problem, uses the stats they have for each member, and offers potential candidates. The company then can say yes or no to these candidates. The network does all the communication with those approved to be part of the campaign. Some influencer networks offer campaigns and invite members to pitch themselves to be a part, others you have to wait for an email offer not even knowing the campaign was a possibility.
You as a reader of blogs and viewer of social media can rarely tell if a sponsored post is directly from the brand or through a network. Some, like ShopStyle and IZEA, will require disclosure that mentions both them and the brand. Others prefer to stay behind the scenes. It doesn't really affect your experience, the only one affected is the influencer. For the influencer network to make money, they get a percentage of what the company is offering for the campaign. The more they make, the less the influencer sees.
There are some ethical influencer networks that offer a fair rate, there are others that take advantage by offering ridiculously low rates or just gifting product in exchange for the sponsored post. And then with brands using multiple avenues to contract influencers for campaigns, there can be quite disparity between rates.
Kelly, Tanya, Chelsea, and Morgan could all be contracted to share an Instagram photo of them raving about the same face cream. They are all between the ages of 24-35 who are moms and live in a major metro area. They have relatively the same number of followers and get around the same number of likes and comments on each post. But Kelly received $1,000, Tanya got $400, Chelsea received $75, and Morgan just got three jars of the cream in a box full of sizzle with a branded pocket mirror and a lollipop.
Bloggers Make Money from Guest Posts and Selling Links
Brands and marketers will offer to write a "quality guest post" for a blogger's site and pay the blogger to publish it. Some read like an ad, some almost sound exactly like the voice of the website. Unless the site uses a byline, it's nearly impossible to distinguish these from sponsored posts created by the website or blog. These are done to increase awareness and to use the Google ranking of the blog to reach a larger audience.
Some companies will pay money to have a "do follow" link added to a blog or website. This goes against Google's Terms of Service, but folks still risk doing this as if not caught, it can be lucrative for the blogger and improve the Google ranking of the site that receives the "do follow."
Influencers Make Money from Creating Products
eBooks on how to blog. T-shirts with their sayings. On-demand courses. 30-day capsule wardrobe workshops. Private member-only Facebook groups and Patreons, message boards, and newsletter subscriptions. These are a few of the many possible products that a blogger can create to make additional income. Depending on the kind of product (say t-shirts sold on Zazzle or eBooks) this is a great form of passive income – build it once and it sells for months or even years without any work on the blogger's end.
In recent years, influencers have collaborated on or designed collections of fashion, jewelry, home goods, and more.  Sometimes, the influencer creates their own product and company.  Many times, the influencer offers some style direction but the product is created by the parent company.  Depending on contracts, involvement, and such this can prove extremely lucrative for the influencer.  With the popularity of influencers and many having equal or larger audiences to actresses and other traditional celebrities, these collaborations also prove lucrative to the parent companies.
Influencers Make Money from Donations
Especially during the pandemic, the audiences of influencers and creatives began asking for ways to "tip" their favorite people, or donate in thanks. And many influencers, myself included, found ways to make this happen. I use Buy Me a Coffee, but there are many other virtual tip jars like Support Me on Linktree, Facebook Stars, TikTok Tips, TipJar, or a personal Fundraiser on Facebook, GoFundMe or another donation platform.
A lot of creatives also share their Venmo or CashApp screen names to gather donations. With journalists being let go from so many publications, influencers of color, in general, making less than their white peers, and creatives losing opportunities due to the pandemic, supply chain issues, and budget changes with retailers, a small donation to your favorite creative can make a big impact in their life and their morale.
How Much Money Does an Influencer Make?
In a perfect world, bloggers make a rate dependent on their traffic and/or the results of previous campaigns or affiliate sales. The more traffic you have, the more you make because you'll have more eyes on the product. If you've proven that your existing audience already likes the product, it's easy to be paid more because the company knows they will get a return on investment. Some companies have larger budgets, some contracts have additional asks (shares on social media, posts on Instagram, etc.) and therefore offer a higher rate.
Instagram changed the game. Now, companies will pay based on your number of Instagram followers, and many don't care or care to learn how to find out if that influencer has bought their following. Companies will even use that Instagram follower number to determine the rate for content on a completely different platform.
Being an influencer is even more like the Wild Wild West now than it was a decade ago. There's no consistency or gauge for rates that all companies follow. Many sites will say oh you should pay this much per this many pageviews or followers, but each company has different metrics they care about. And now, those metrics can be fake followers, or just liking their look so much and find them cheaper than a professional model and shoot team, or that they're friends with your boyfriend's sister.
Let's take an example of three fashion influencers:
Jane has 50K Instagram followers.  She gets about 25,000 pageviews to her blog a month.  She writes about fashion – what she wears, sale alerts, beauty reviews, the occasional DIY. She has 4 sponsored Instagram posts per month and 1 sponsored blog post. She makes about $15,000/year before taxes and expenses.
Julie has 50K Instagram followers. She dabbles in TikTok doing a few videos a month. She gets about 8,000 pageviews to her blog a month.  She too writes about fashion – what she wears, sale alerts, beauty reviews, and the occasional recipe.  She has 8 sponsored Instagram posts, 1 TikTok post, and 1-2 sponsored blog posts a month. She makes about $120,000/year before taxes and expenses.
Jenny has 50K Instagram followers. She gets about 500,000 pageviews to her blog a month.  Like Jane and Julie, she writes about the same topics of fashion.  However, she every week has a post about what to buy on Amazon and another one for must-buys under $50 and each month recaps the top sellers from her platforms. Every day she shares her outfit and a few collages on LTK and updates her Amazon storefront. Jenny has a Facebook group of over 10,000 members and a Substack that costs $5/month to be part of the private community.  She has 4 sponsored Instagram posts, 1 sponsored newsletter, and 1-2 sponsored blog posts per month. Jenny makes about $750,000/year before taxes and expenses.
My point with these three is revenue streams, site traffic, and engagement can dramatically affect your income. A blogger may be doing few sponsored posts, but getting a higher rate than her peers because of their engagement or traffic. A blogger may focus on Instagram and do several low-rate sponsored posts finding that is easy and lucrative. Another blogger may not do much with Instagram and focus on their blog and newsletter audience. Therefore, it's really hard to tell how much money a blogger is making just by number of followers or number of sponsored posts.
How Does Website Monetization Affect You as a Reader?
Vote with your wallet, and your fingers. If you like an influencer, like their content. Engage. Leave comments. Share it. Click on their links. Tell your friends. Companies are becoming much better at recognizing fake followers and engagement. They would far rather see real people interested than just that influencer's friends. And also, engagement is super motivating to an influencer. They realize they're not sharing in a vacuum, and they get to better understand you and create the content you want.
And if you don't like an influencer, don't follow them. Don't "hate read," don't talk about them on message boards, don't link to the content you want to snark about on Facebook, don't even type their name. Any mention, even hate message boards and shares, help an influencer. It brings them higher in Google rankings, it introduces them to others who may visit and follow either as a fellow "hate read" or a new fan. An audience is an audience and every influencer needs an audience to survive.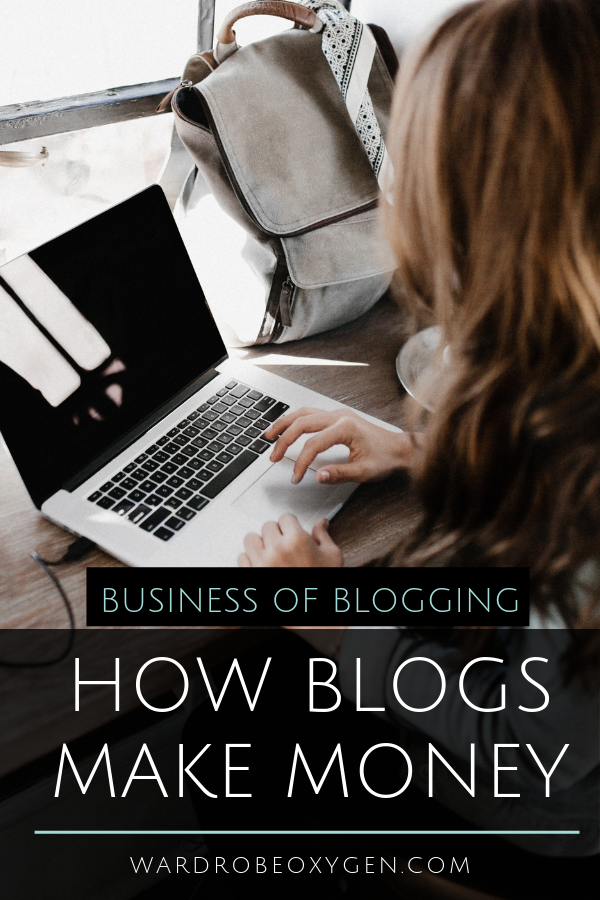 Questions About Online and Social Media Monetization
How can I tell I am reading a sponsored post?
The FTC states it needs to be clear before you read anything about the product or brand that sponsored the content. However, brands and influencer networks may have other requirements instead or in addition to the FTC expectations.
For written content, the mention of a sponsorship should be before a single affiliate link. Some require the mention before any written content, some are fine with it after the first paragraph, but it should always be "above the fold" which means you can read it without scrolling.
For social media content, it should be very clear before requiring to listen to or click on any paid promotion. For videos, it should be said or as a text overlay in the first few seconds. For captions, there should be a hashtag that clearly explains the relationship. #AD, #Sponsored, #[brand name]partner, and #ambassador are examples. Some platforms like Instagram have a "handshake tool" that offers overlay on Stories or in-feed content clarifying the paid partnership.
To learn more about influencer disclosure please visit:
How can I tell I am clicking on an affiliate link?
Usually, an affiliate link is shortened, either with bit.ly or a company's custom shortener. Left click the link and choose "open in another tab" and watch the link. It will switch from being shortened to being quite long. Some, like Amazon's, may have within that long URL the name of site (my Amazon affiliate account is so old you'll see womanwardrobeneeds, part of my site's old name, in the link). Others, you will see things like "affiliate" or "affprg" or "shareid" in the link.
You know when you search for something in Google and above all the links there is a row of images of that item and links to visit different retailers who offer it? Those are affiliate links. Google is making money off you using them.
When you click on an ad on a website, it's an affiliate link and the ad network is making money off of you.
When blogs have those carousels with images of items mentioned in the post; if you click on the image it will open an affiliate link in a separate browser window and the blog will make money off of you.
Newsletters like The Skimm, news sources like the New York Times, websites like Refinery29, review sites like Wirecutter, digital magazines like Vogue… they all use affiliate links.
Those gift guides on every website come December 1st? All affiliate links.
And if you use a site like Rakuten or visit a coupon code site, if you click through their site to shop (or it opens a pop-under browser window) that site is using an affiliate link. When you think about it, with Rakuten it's like you are the influencer and your cash back is your affiliate commission for the sale. And remember, last click wins meaning that coupon site or your Rakuten account is getting the commission.
Tell me about promoted content.
Have you ever gone on Instagram and seen a photo in your feed from an influencer you don't follow? It may say "Paid Promotion" at the top and when you hover over the photo it may offer a button to lead you to their account page or maybe a link to an external website. You may see similar content on Facebook and Twitter. This is promoted content. Someone (the influencer, the brand, or the marketing firm that coordinated the collaboration) paid the social media platform to show the content to a greater audience.
If the influencer themselves didn't pay to "boost" the content, they likely signed a contract that included an agreement that the brand could on their behalf. Such wording can be specific or really general and it requires an influencer to understand contracts to not end up screwed over.
For example, back in 2018, I was contracted to create a 60-second video I put on Instagram to promote a TV show. I didn't completely understand the legalese in that contract, thinking the video would maybe be shared on Facebook or promoted on Instagram. While both were true, that video also showed up in ads between paragraphs on websites like Time and Lifehacker. I had no idea where it was being shared until friends would tell me they were reading a movie review or a recipe and I'd show up singing to them.
I learned from that experience, and when I was provided a similar concept where I created a video to promote a streaming service, I consulted a contract expert, asked for modifications and red lined sections, and asked for more money since it would be far-reaching.
What kind of monetization makes the most money for a blogger?
Oooh that totally varies, as I touched on above. I know bloggers who make my yearly income in one month just from ad sales. I know bloggers who don't use affiliate programs and make a good living just off sponsored content. I have plenty of friends who hardly make a dime off their blog but make great money from social media. I have friends with ten times as many followers as I do on Instagram who are lucky to make $100 a month. I even have friends who may have a social presence but make the best money from creating content to provide directly to brands for their websites, social, and marketing.
It's all about the influencer, their preferred method of monetization, how much traffic their site gets, and what kind of audience they have (interests, reading style, etc.). This is why I am skeptical of courses to teach influencers how to make money; no method is right for all creators.
How much money per hour can a blogger make?
In 2010 when I decided to stop treating Wardrobe Oxygen like a hobby and treat it like a part-time job I created a Starbucks rule.  I had to make more per hour blogging than I would being a barista at Starbucks.  Starbucks treats their employees relatively well, there is one walking distance from my house, it's the kind of job that when you take off your apron at the end of your shift you are both mentally and physically off the clock. 
I started tallying all my hours – not just writing and editing photos, but taking photos (even the goofy ones for Instagram Stories), going to meetings, being on calls, engaging on social media, answering comments and DMs and emails, even standing in front of my mirror and figuring outfits for shoots.  And I would look at how much I made, subtract any money I spent to make that money, and I had to be making more an hour than a barista at my neighborhood Starbucks.
I have spoken to several bloggers who do not make this much, and several who make so much the Starbucks rule makes no sense.  The biggest thing I've learned connecting with bloggers is that a lot of it is smoke and mirrors.  The most successful-looking blogger could be struggling to make ends meet and the blogger who looks as though she hardly has a following and an old and dated blog could be raking in hundreds of thousands a year.
I make more from blogging than I did at my job in Corporate America.  I work about the same amount of hours, but I don't have the benefits of PTO, 401K, short- and long-term disability, insurance, free coffee, free WiFi, free laptop, free printer/scanner, free workspace, subsidized commuting and parking costs, and the occasional happy hour, free bagels in the break room, holiday party, and Tuesday morning donuts. However, I have been able to make it work without much sacrifice for me and my family's quality of life. 
What is it like being a full-time blogger?
I became a full-time blogger in December 2017.  The biggest thing I noticed that changed is every single post mattered and consistency mattered.  I think the same holds true for anyone who owns their own business.  You can't just decide to close the store on a Tuesday, one bad Yelp review can kill your business, you can make 50 great lattes and screw up just one and it's for someone who has never been to your cafe before and now will never return. You can be the most charming and pleasant person but if you get some terrible news before meeting with a client and end up a hair testy, they will decide you're a jerk and tell their friends.  It's not a job, it's not even a career, it's your life.  It's as much a part of you as your family and your pets.
When I was a part-time blogger, I was okay with a slow month.  It wasn't a big deal if I didn't post for a few days, write content that got crickets, shared a photo on Instagram that wasn't beautiful. But now, my family is dependent on the money made from the blog and I need to be more thoughtful with everything I do.  I am more concerned with SEO and engagement percentages, I use my Instagram feed less as a place to share my life and more as a portfolio for potential brand partnerships. 
Income as a blogger isn't consistent.  I know the minimum each month I need to make to pay the bills and the amount I need to make for us to be comfortable.  Anything over that has to go into savings because it's totally possible the next month I won't make that minimum.  Affiliate revenue is held up because a brand won't pay the affiliate program.  A sponsored post went live 103 days ago and the influencer network contact has ghosted you even though you're filling her inbox with emails about your missing paycheck.
You can spend twice as much time this year preparing for Amazon Prime Day, the Nordstrom sale, Black Friday, Cyber Monday, and crafting gift guides and not even make half of what you made last year. You can be getting great opportunities for sponsored content month after month and then suddenly it all dries up for a quarter for no reason. And we all saw what happened with the pandemic. Influencing as a career can be stressful, and it can cause you to make rash decisions like partnering with brands you usually wouldn't feature or taking rates lower than you deserve.
Again, I think anyone who owns their own business can relate to this. We've all agreed to work with a client that didn't give us a good vibe and ended up regretting it. We've all taken gigs for less than we deserve because we got it during a dry month. We can only hope to learn from our mistakes and do what we can to prevent us being in the same situation in the future.
I think all business owners can also relate to the occasional mistake of forgetting our purpose for our paycheck. When you're struggling to make your month, or even when you're positively killing it and everything you touch seems to be turning to gold, you can get focused on the revenue and not the work and who we work for. Meditation, writing, therapy are all good ways to stay on track, remember how you got to this point, and to work with your heart and soul and not your calculator.
Why don't more bloggers clearly disclose partnerships and sponsored content?
Because you don't like it.  Seriously, as soon as an audience sees #ad or "This post is sponsored by…" they X out or scroll on.  It can be a gorgeous photo, a creative video, a brand that they love, or a message that is fantastic, but that disclosure immediately turns them off. I will get a quarter of the engagement on sponsored content on social media.  I get a third of the traffic on a sponsored blog post.  Influencers don't disclose because you vote with your fingers that you don't like it.
The thing is, I don't believe most audiences know the costs it takes to run a blog or be a social media influencer. It costs me about $2,000 a month just to have this website exist on the internet. That doesn't include costs for marketing, for buying apps to edit content, for buying props for shoots, for traveling to shoots, for boosting content on social media so it's seen, for attending conferences and workshops, for new themes and graphics to keep the site looking modern, etc. The bigger the website, the more folks who visit it, the more expensive it is to keep it up and running.
I don't have an IT department to fix my laptop when it's acting up, a corporate headquarters to provide me with a phone line, a business development team to win new contracts, a big-time Xerox machine to quickly run off five copies of a PowerPoint for a meeting at noon, a manager who will approve the cost for me to attend an industry conference or buy a book to become more comfortable with new software. 
Point is, blogging costs money.  You accept ads or paid memberships to see your favorite TV shows.  You flip past ads and sponsored content in magazines to read the articles, and blogs and social media content are the same.  Sponsored content is the necessary revenue to bring you the other content you love.  The less you like and engage with it, the less money your favorite blogger can make and the more sponsored content they will take on to pay the bills. 
If you like a blogger, engage with their sponsored content.  Like it, comment on it, share it.  If you think it's in poor taste, let that blogger know by email or DM.  Polite and private feedback is better received than blasts on social or a message board.  We bloggers are hard-working multi-tasking badasses but we are not mind readers.  And while we do want to make a living, we don't want to lose our audience in the process.
If you have any other questions about how bloggers make money, do ask in the comments and I will answer to the best of my ability!
I originally wrote this blog post in June of 2019 but republished it because I think it is very important information all should read.  Please know this isn't just blogs and influencers but most professional websites and news sources on the internet, podcasts, newsletters, and Facebook groups employ at least one of these money-making tactics.