This article may contain affiliate links; if you click on a shopping link and make a purchase I may receive a commission. As an Amazon Associate, I earn from qualifying purchases. 
Last night I got my latest order from Ann Taylor LOFT. As I mentioned on my Facebook page last week, they had 30% off full-price styles. I ordered some items from LOFT in the past few months and almost all of them have been a fail for me. However, I had seen many bloggers raving about their spring line, so I decided to take a chance.
What I ordered and what I thought: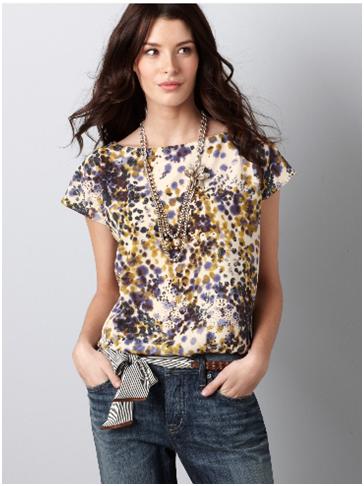 On the LOFT Facebook page, someone mentioned how this top was way overpriced – almost $50 for a polyester tee shirt? With the 30% off deal it seemed to be a more reasonable price. I was imagining it with jeans like in the photo, but also with a leather skirt, with a navy fuller skirt and peeptoe heels, even under a suit jacket. I thought it would be unique, versatile, fun.
Yeah, it's a cheap-feeling polyester tee shirt with an elastic band at the waist.
I chose a size Large, which seemed too big for me. It gapped at the armholes, exposing my bra. The neckline was also large, sliding off a shoulder showing bra strap. The elasticized waist wasn't tight enough to stay at the waist and blouse out, and the top was so darn long that it couldn't be worn without being tucked in. Did I mention it felt cheap? It's the same weird nubby polyester of my brown and blue dress from last spring, but at least in a dress it seems to work. This top would be awesome… if the price was more like $30 and it fit more like it does on the model (she HAS to have it clipped in back!).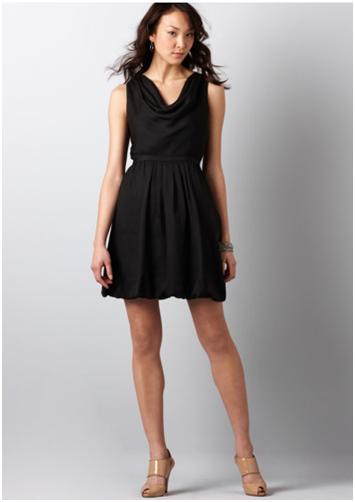 I thought this dress would be a perfect addition to my wardrobe for spring. I have a LOFT dress from last spring that has a grosgrain waistband, and it has a nice fit. Black, 100% polyester, a flattering cowl neckline and subtle bubble skirt, I was thinking this dress would be cute for work with a colorful woven or my black patent belt, but also could be glammed up for a wedding or date night.
Another fail. Again, LOFT has used really cheap material. This dress is black, but it's a sheer polyester that is so cheap it looks almost like dark gray. White the exterior is a floaty (yet cheap feeling and looking) organza-like fabric, the interior is a very tight-fitting opaque black polyester. There is a size zipper which is necessary to get this dress on, and even when on I found the lining to be extremely fitted to the point that it rode up when I walked or sat and required adjustment just to walk from the bed to the full-length mirror. This dress looked as though it cost $25 and was purchased at H&M.
I ordered a 12 Regular, which technically fit – it fit in the bust, it fit in the ribcage, the waist hit at the right place, the skirt in the right place (note –if you are tall this dress will be very short). however the really snug-fitting lining made it do weird things from the waist-down. I can't even imagine how this would fit on a woman who has more curves in the hip area.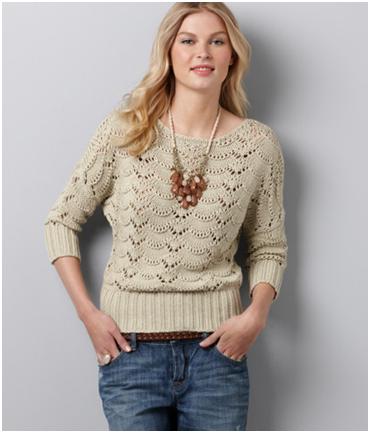 I know I am not the only person who occasionally forgets her personal style. For those who have been reading for a long time (and those who know me IRL) are thinking, "What the heck is Allie doing ordering this sweater?" I know my sister is thinking, "There she goes again." All my life, I go through phases where I think I will start wearing subtle neutral colors, pieces that are beautiful based upon their detail and shaping, than color. I imagined wearing this sweater with jeans and all my champagne pearls, with a statement necklace like the model, or with my black leather skirt and some fun booties.
This sweater is gorgeous in person, I think moreso than on the model. It has a heavy weight, but the knit is sort of spongy/stretchy so it still has lovely drape. A size large fit me like the model, but a bit longer in the body. It would look amazing with some weathered jeans and beaded jewelry, with white jeans and a bold silver cuff, and yes, with a black leather mini and ankle booties. It does have dolman sleeves, which isn't the best on a woman with a large bust and broad shoulders, but it's a really lovely sweater than looks expensive and seems to be made with care. It's just not my personal style.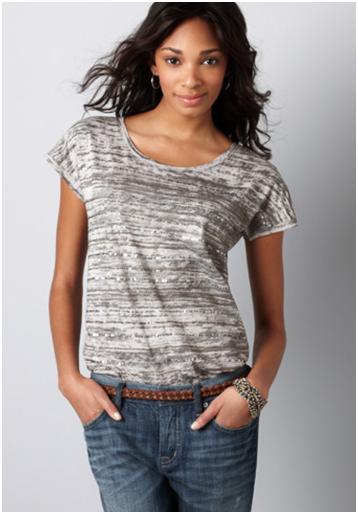 I didn't take this out of the plastic, I found it really goofy looking in person. I was thinking it could be cute with a blazer and jeans, or as a fun alternative to a tee, but it looked so muddy and cheap in real life, I didn't even upwrap it and try it on.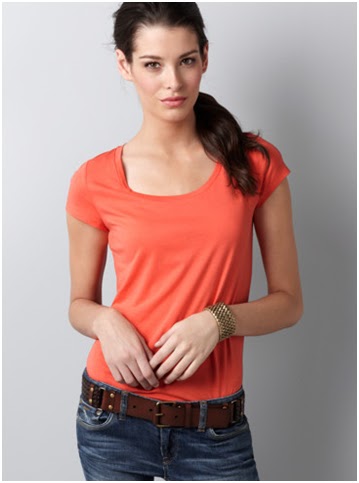 I was looking forward to these tees. A few years ago, I got some pima scoop tees from Banana Republic that were perfection – a refined knit with a slight sheen that could dress up or down, a flattering scoop that elongated the neck but didn't show bra straps or too much cleavage, a mix of fabrics that could handle the washing machine and didn't stretch out over time. I still wear my Banana tees from time to time, but they are really showing their age. I thought these tees from LOFT would be a worthy replacement. I ordered four of them – Spring Orange (pictured), Shimmer Pink, Navy, and Black. I ordered all of them in size Large Regular.
Each shirt fit differently. The black tee is a hint too large, the navy one so long it covers my crotch, the orange one gaps at the neck and has shorter sleeves than the rest, the pink one fits me perfectly. Also the actual fabric varied from piece to piece – some seemed thinner than others, some seemed to have more Lycra. Again the pink was my favorite of them all.
As for the colors, the Spring Orange is the most random color – it's like neon salmon and slightly faded; I own a highlighter this color and I don't like using it. Think Spam, think weird orange drink that comes in gallon jugs, think Laffy Taffy. Now, some women could rock this color, but I feel very few. The Shimmer Pink isn't as vibrant as I had hoped, but it's a pretty color that can get your fix of Honeysuckle for the season. Black and navy were rich and true, the navy a nice inky dark shade that looks polished.
I will be returning at least the Spring Orange, and most likely the Black.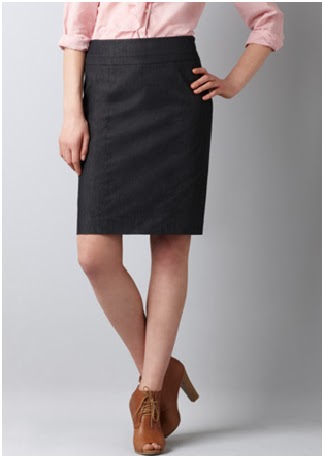 Since my old beloved Ann Taylor denim pencil skirt is now too large, I have been looking for a replacement. I thought this may be a good choice – it's not heavy denim, I liked the wide waistband and clean lines.
This skirt doesn't look at all like denim in person. It's a thin stretchy fabric with a slight sheen that may look denim-like in the right light. The fabric is so thin, it doesn't hide a single thing (unlike my old stretch denim pencil skirt which was made of the same fabric as stretch denim jeans). On top of it, the skirt seems to run really tight in the hips/butt. While a 12 Petite fit me in length and the waist, it looked painted on. Also, I found the two slits in the back to be a weirdly conservative touch for such a skirt. This skirt just confused me and is being returned.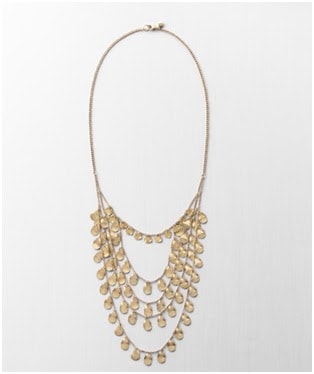 Meh. It's cute, but nothing to write home about. I usually have great success with LOFT jewelry – it's well made, unique, stylish, looks more expensive than its pricetag. This doesn't look expensive – it looks as though I could find it at Forever 21. It's a nice length, but the chains are so light and the teardrops so heavy, it all jumbles together between the breasts and you lose the detail in the necklace. Return.
Yet again, not much luck with Ann Taylor LOFT. I want to love them, I want to have success, but again I am disappointed in shoddy work and cheap fabrics. Every so often they have a true gem (like my leather mini skirt), but I am seeing more often that they are missing the mark on what used to be their staples – great jeans, quality knits, fun accessories.


Have you checked out LOFT's new spring line? Have you found any winners?
Follow Me | Twitter | Facebook