This article may contain affiliate links; if you click on a shopping link and make a purchase I may receive a commission. As an Amazon Associate, I earn from qualifying purchases.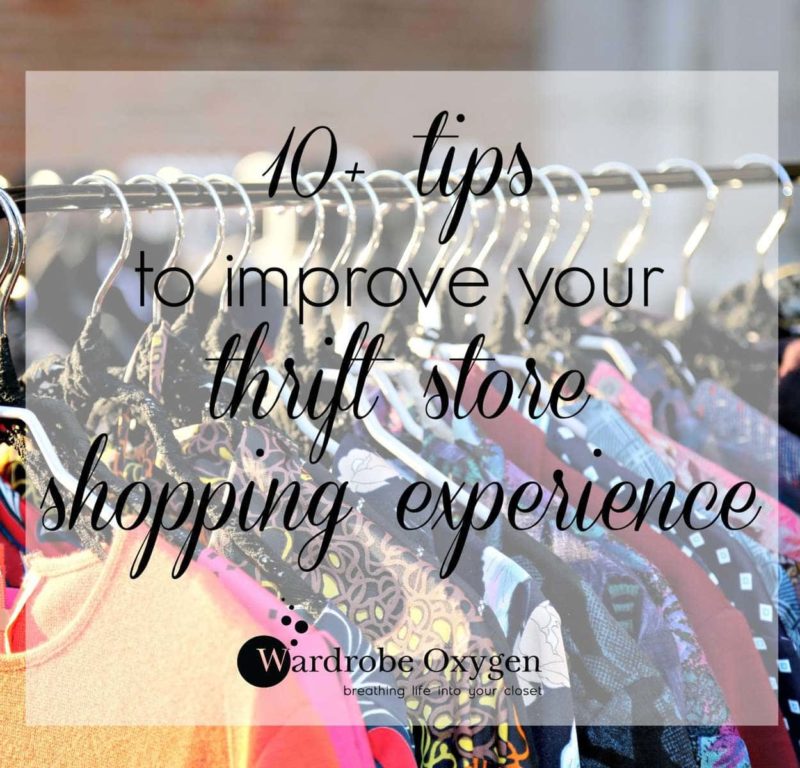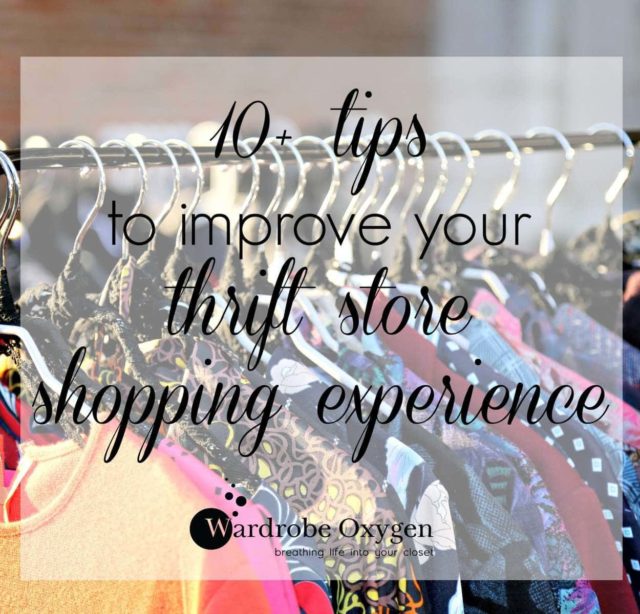 In college, the majority of my wardrobe came from thrift stores. It was the grunge age, and every woman's attire for the campus bars was a fitted baby tee, some baggy vintage jeans with a flannel around the waist. Oh, and of course a well-loved pair of Doc Martens or chunky black Steve Madden loafers. My friends and I would pile into the one car amongst the six of us and we would head to the suburbs, coming home with musty-smelling bags of men's oxfords, old jeans, wool peacoats and ironic tee shirts from the 70s.
As styles changed and I got into the career world, I visited thrift stores less often. I was in the fashion field and needed to be current – and in the late 90/beginning of the millennium the look was very polished and vintage rarely looked right. I had a steamer trunk full of old clothes I felt may come back eventually – Shetland cardigans, classic blazers, 60s inspired dresses and such. I realized the majority of my "classics" were purchased at thrift stores.
Over the years, my career has changed, my lifestyle has changed and fashion has become less rigid where classic pieces are admired and quirky combinations are applauded. With the change in style, thrift stores have come back into their own – not just scouring for the perfectly worn pair of Levi's, women are finding career pieces, cocktail dresses and brand names. Companies are made just to scour the thrift stores to stock popular vintage shops and with all this popularity, it can sometimes seem that all is left at your local Goodwill or Salvation Army are stained polyester blouses and pleated tapered trousers from an itchy synthetic blend. But thrifting is about the thrill of the hunt – never was shopping at a thrift store as convenient or easy as hitting your local mall, but with some patience and the right preparation, thrifting can still be rewarding and add amazing pieces to your wardrobe – no matter your personal style. A few tips:
1. Do your homework. Find out what shops are in your area, ask friends about their experiences at locations. I know in my area, some seem to specialize in furniture, some have sales on Tuesdays, some put out new merchandise on Thursdays. Knowing this before you schedule your trip will save you time and headaches. Also, many companies donate old sale product and overstocks in November and December to thrift stores to get that end-of-year tax deduction. Also consider location. The best thrift stores for designer duds are often near wealthier and more fashion-conscious communities.

2. Know this will not be a quick trip. Thrifting is a long process where you slowly go through racks and rounders and try on more than you would expect. Schedule accordingly – I find a thrift store with a medium to small selection will take a minimum of an hour to get through the clothing section. For bigger locations, plan for more. And to enjoy your time, either go alone or with a friend who works well on her own – this is not a shopping trip with Starbucks lattes and giggles through the fitting room walls. You will do a lot of digging, thinking and analyzing. Keep the giggles and coffees to after the event.

3. If you have allergies, be prepared. Take your Claritin/Flonase/Benadryl before going and bring a bottle of water. Thrift stores are known to be musty and are harboring items that have been stuffed in attics and basements for years before seeing the interior of the shop.

4. Dress for the event. Like shopping for bridal dresses or heading to Loehman's, the fitting room situation is not the best. Often meager cloths cover doors, actual doors have broken latches and privacy and modesty can be compromised. I shop in short bike shorts and a cami under a pull-on skirt and knit top so it's quick changing and if a door opens, you aren't exposing all your little bits. Wear slip-on shoes so it's easy changing, and leave your big purse and coat in the car so you can throw garments over your arms and not have a lot of extra stuff to lug around. And don't think holding an item up to you will do the job – pre-worn garments often have a different fit from new pieces and don't always match the size on the tag. Most thrift stores do not do returns so take the extra 5-10 minutes to try on a garment before purchasing.
5. Don't expect five-star service. Most employees are volunteers so say hello, give them a smile and don't expect them to be at your beck and call. Do not expect the store to put items on hold or to help you find anything. This is also not a place to haggle price – remember what you are purchasing is usually sold to make money for a charity. Bring cash as that credit card machines cost money and are not always available (and bring small bills).
6. Save time – shop the top of the rack. Look at textures and colors – no point in pulling our a purple angora piece if you hate angora and look awful in the color purple. This method is also great for discount retailers like Ross, TJ Maxx and Marshalls. Save time and search for textures and fabrics that you would like on your body, and then search by color. Many thrift stores organize by color which helps you save time by passing up the pea-green rounder and heading straight to the blue one.
7. Be realistic. If it's missing a few buttons or is an inch or two long, this can be remedied and the cost is justified because of the low thrift-store prices. However if the knit is unraveled, the item is obviously stained, the seat is shiny or an elbow is looking threadbare, you may be spending more than you like to get the item to be in wearable condition.
8. Don't be blinded by the brand. Digging through a rounder of jackets, you may come across a gorgeous Calvin Klein blazer that is in great condition, a classic fabric and shade but maybe has 80s shoulder pads, is a size too small and has weird embellishments on the lapel. If you are not loving it, do not purchase it, no matter the label. I have seen designer dresses and vintage brands, but the garments are too small, in poor condition, not a flattering style and so they stay on the rack. Also, if it looks great but is a brand you never heard of, don't put it back. Style comes from cut, fabric and color and not from the name sewn into your neckline.
9. Consider refashioning a garment. Fabulous color and style on a dress but calf-length and dated? Consider having it shortened to a mini or even tunic. A bottle of RIT dye can make the most humdrum knits look brand new and spectacular. A nip and tuck if you're crafty (or have a reputable tailor) can make mediocre pieces become stylish must-haves.
10. Give back. If you're en route to a thrift store, why not scan your closet for any garments that aren't worn or past their prime and donate when you shop?
11. Don't give up. So you hit the Community Thrift and find only duds. Consider how often you donate clothes, and how often others do too – that store will be full of completely different garments a month later. An hour once a month can be a great investment – I think of that every time I see my Diane von Furstenberg silk blouse in my closet that cost only $1.25 or my classic blue J. Crew oxford I got for a quarter.