This article may contain affiliate links; if you click on a shopping link and make a purchase I may receive a commission. As an Amazon Associate, I earn from qualifying purchases.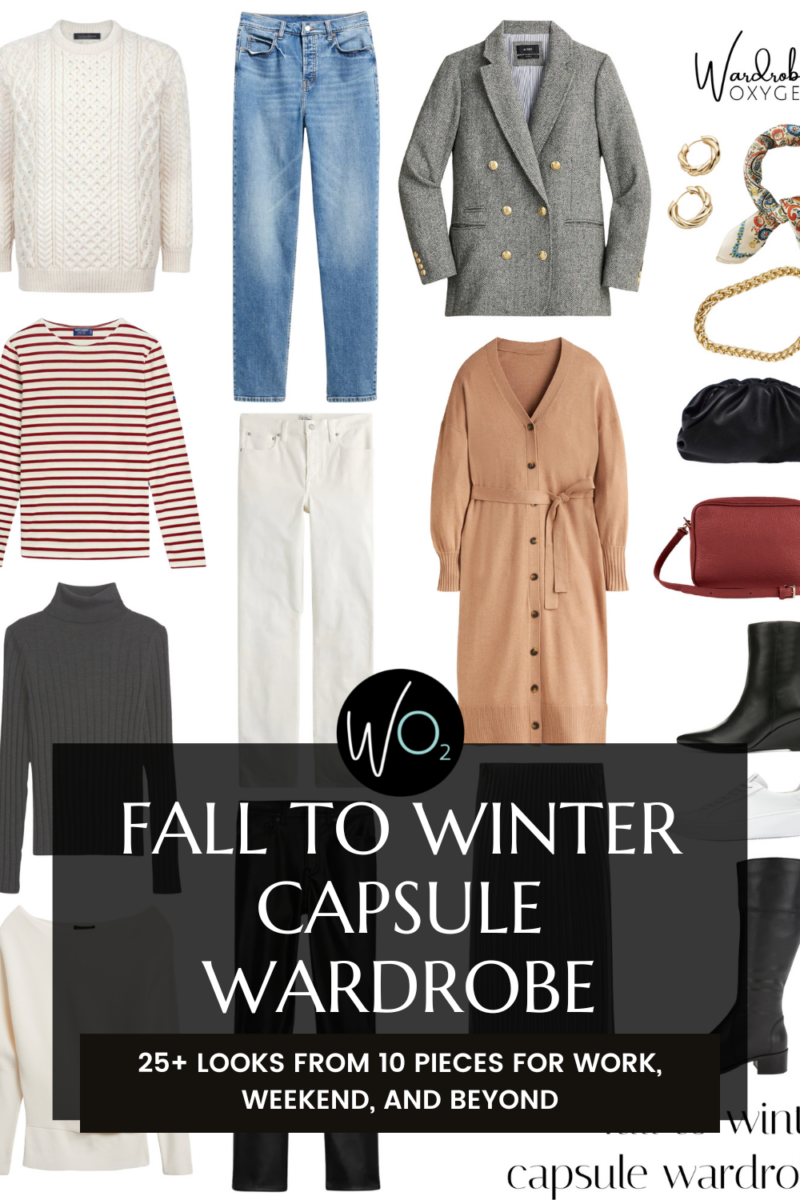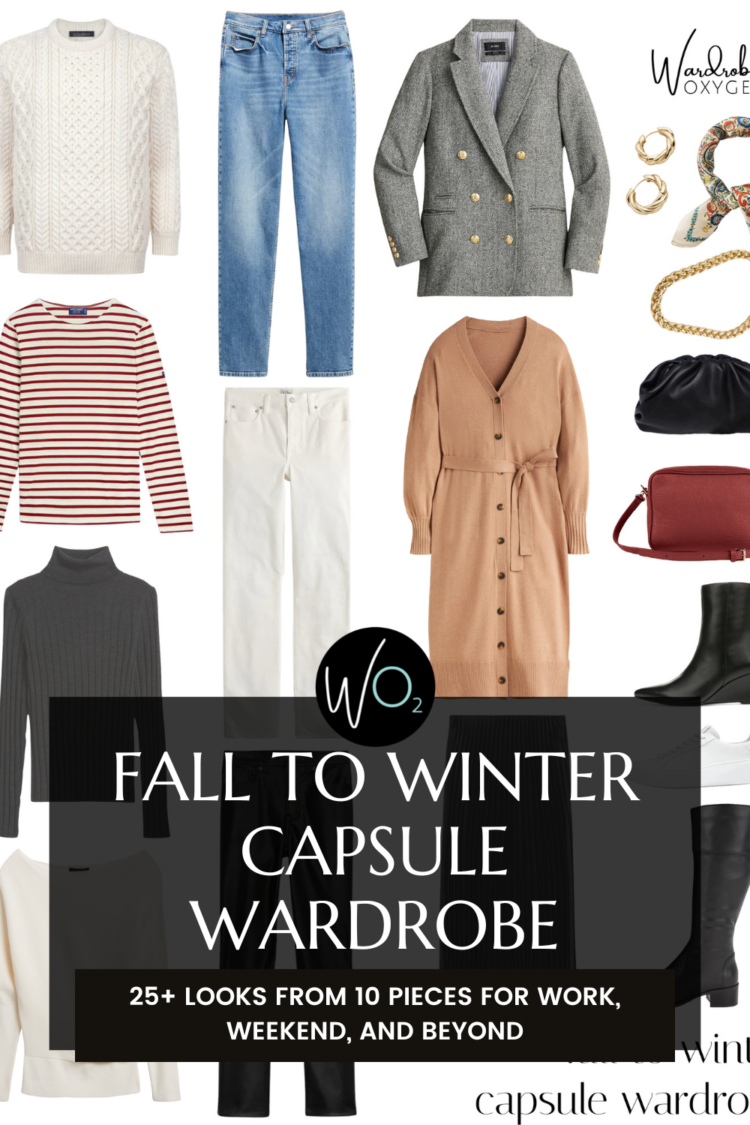 As I look through my closet for this season and as it gets colder, I am assessing what I already own, and what I think will work with my existing closet, and I can't help but think about capsules. What will be my fall to winter capsule wardrobe? What will mix and match, making it easy to get dressed in a rush, pack for travel, and have the right thing for the right occasion?
This thought process has me making capsule wardrobes as I peruse online boutiques, and admiring some items (and mixing in some things I already own) I ended up making this capsule wardrobe. I am really liking gray and camel as base colors this season, as they work so well with everything from soft pastels to rich jewel tones.
Fall to Winter Capsule Wardrobe: What's In It?
I kept this capsule wardrobe relatively neutral so your existing closet and your favorite colors can be incorporated. Imagine adding teal, or blush pink, or plum, or hot pink to this collection. My capsule wardrobes are to get your mind thinking in a different way, imagining new combinations to extend your closet and achieve more style with fewer items.
Also, note how classic these items are. These aren't pieces that will be out of style next year. This is a capsule wardrobe of what I think could be staples. Pieces that can transition from fall and winter to spring and even early summer. Pieces that years from now you may still be rocking with joy. Yet, combined the effect feels contemporary and cool. Don't think you need new styles to get a new effect, sometimes it's just switching up the combinations.
UPDATE: I couldn't tell from the Boden website, but a Wardrobe Oxygen community member ordered the cardigan dress listed below and it does not open completely to wear as a duster. The bottom portion opens so it could be worn over pants, but not in the way I featured below. So here is a carousel of similar cardigan dresses that open: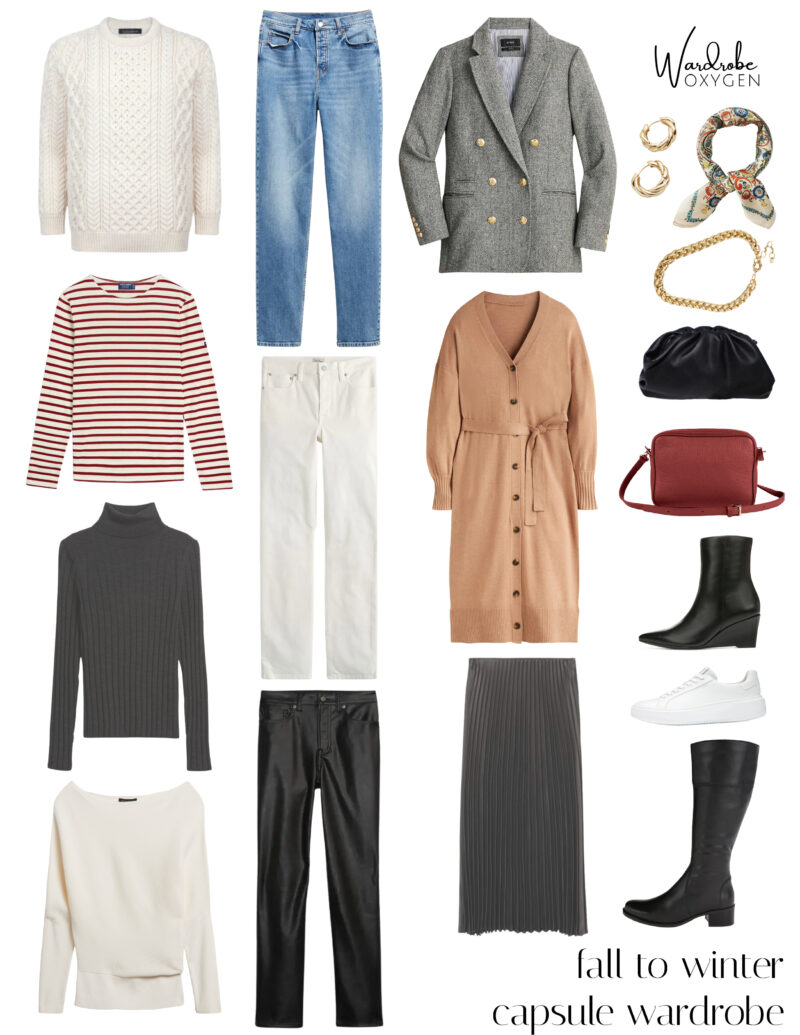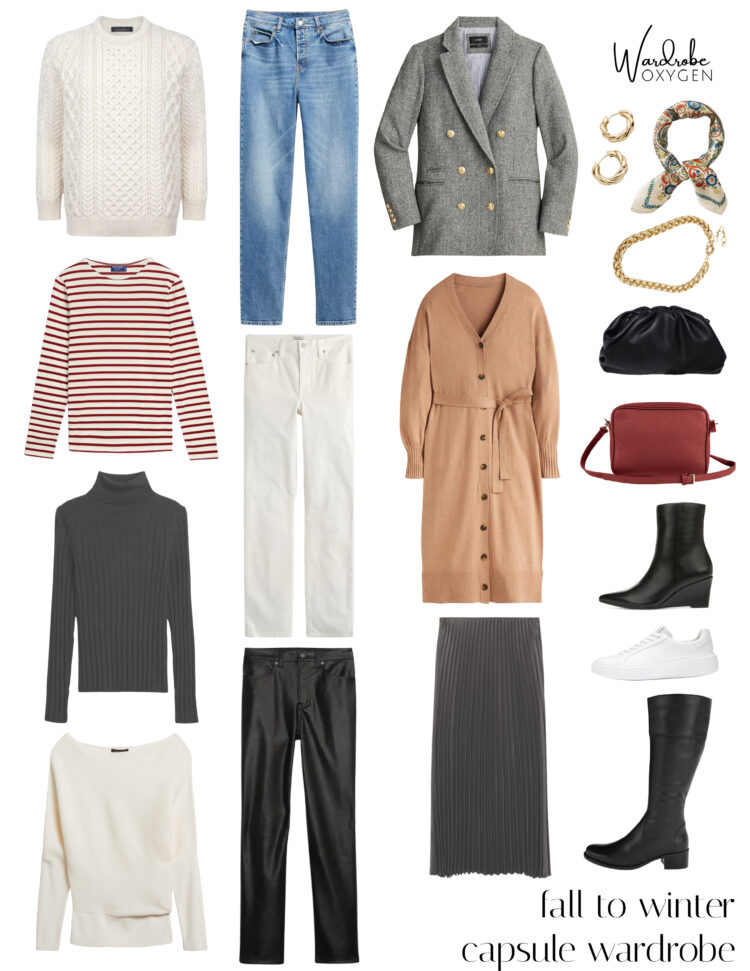 Shop the Capsule Wardrobe:

cream fisherman sweater (cotton blend; XXS-3X) | red and cream striped Breton top (XS-4XL) | gray ribbed merino turtleneck (XXS-XXL + petite) | cream off-the-shoulder sweater (viscose blend; XXS-XXL + petite)
faded jeans (00-30 + tall & petite) | cream cords (23-37 + petite & tall) | black faux leather jeans (24-35 + petite & tall)
gray wool double-breasted blazer (00-24 + petite & tall) | camel cardigan dress (viscose blend; 2-20/22) | gray satin pleated skirt (XS-XXL)
gold twisted hoops | silk scarf | gold link necklace | black clutch | red crossbody | black leather booties | white leather sneakers | black knee-high boots
25 Possible Looks from this Fall to Winter Capsule Wardrobe
I made 25 different outfits from this fall to winter capsule wardrobe to get you thinking about how to mix and match. I added a few simple pieces that may already be in your closet (denim jacket, graphic t-shirt, slip or tank dress). To see any of these looks larger, simply click on any of the images. There will be arrows on the left and right of the images to scroll through. To return to this page, click the "X" at the top of the screen.
Shop the Additional Items Featured in the Individual Outfits:

reading/optical glasses | Flyte.70 high-shine lipstick | NARS matte lipcolor | denim jacket (XXS-XXL) | tortoise sunglasses | crystal knot earrings | The Cure t-shirt (S-5XL) | green bomber jacket (00-40) | wide leather belt (XS-XXL) | dark green washable silk slipdress (XS-XXL)
The Why Behind the Pieces in this Capsule Wardrobe
Why did I choose the things I did in this fall to winter capsule wardrobe? A little of my mindset when pulling these pieces. I hope sharing the why helps you get into a capsule mindset, seeing how to extend your existing closet!
When it comes to capsule wardrobes, you want everything to be styled at least three different ways to create three different kinds of looks. For example, with the looks above I could have made more if I recreated the same exact look I showed with jeans with cords and with the leather jeans. But that doesn't really show versatility. Go beyond that, and if the item is one-note, it may not be the best choice for your capsule wardrobe.
There were a lot of possibilities I considered for this capsule wardrobe until I completed it. I considered a slipdress (which is in one look above). I visited M.M. LaFleur in DC this week and they styled me in a long duster cardigan over that slip dress and while it wasn't my personal style aesthetic it was really chic and comfortable and versatile. It's something I wouldn't have otherwise considered, but after playing with outfits I didn't think it was versatile enough to be in the actual capsule.
I had a different cream sweater, but I couldn't envision it half-tucked into the skirt. I switched the color of the Breton stripe tee so many times but kept going back to red/ivory and loved having red be the pop of color with that crossbody bag (which comes in 8 colors, is Italian leather but still under $100). I didn't have the faux leather jeans at first but felt the capsule needed a bit of edge. They could easily be replaced with velvet, or a wide-leg trouser.
Point is, when building a capsule it takes some time, some playing, and some breaking out of the box and switching up the standard. I've been making capsule wardrobes for almost two decades, very likely you have not. So don't expect to perfect one the first try (or fifth). Take your time and have fun!