This article may contain affiliate links; if you click on a shopping link and make a purchase I may receive a commission. As an Amazon Associate, I earn from qualifying purchases. 
Dear Allie,

I am currently rocking the awful "mom" look aka yoga pants and huge t-shirts and I am so over it! Could you direct me to a few classic pieces to start my wardrobe? I am a stay at home mom with two under two, so I need a practical look. I live in Ohio where the weather is always changing. I am very petite (5' and less than 100 lbs). I also have trouble finding comfortable shoes that look stylish and fit my size 5 feet. Any advice?

– Megan
Dear Megan,
I am so glad you realize that one can be an active mom while maintaining style. I recently wrote an article on Savings.com about new mom fashion, but will offer some basics that should get you on track without looking like a mom, or like a college student:
Dark Straight Jeans
A dark straight jean is classic, can be worn any season of the year, looks more polished than lighter washes, and doesn't need a fancy label to look chic. Having a straight leg means this jean should work with most any length or style of top in your wardrobe – simple tanks and tees, longer tunics, blazers and cardigans, blouses tucked in or left untucked. Add a bit of spandex so that you won't be showing your undergarments or cutting into your stomach when crawling on the floor after your little one.
The Lee Slender Secret 5-pocket Jean is a classic style that is great for women who may have a bit of that baby pooch still left. Oprah recently rated them as a top jean, and reviews state that these jeans in petite are not needing of hemming for those who are 5' tall. $29.99
Levi's 512 jean is a straight, classic style that is made for a woman's shape. Their Perfectly Slimming 512 Jean has the Lycra to keep your body looking smooth, and giving you the flexibility you need to keep up with your children. Again, this jean is rated great for the really petite woman – they run short so you won't have to spend an arm and a leg on alterations. $40.00
A Versatile Trench
When the weather is chilly one day, hot the next, and rainy the third it's hard to be prepared. A simple trench or mac in a water-resistant fabric that is lined will keep you looking stylish yet comfortable on those in-between days.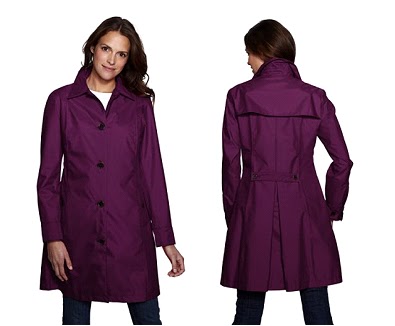 The Sunshower Coat from Lands End is a favorite – it's a classic style, breathable, and wrinkle-resistant. Lands End is known for their quality and service so you know you will get a great piece that will give you years of wear. Khaki is a safe bet, but a more memorable color like their Wine Grape will look great with neutrals, make your skin glow, and will give you a sunnier outlook on the day, even if the sky is cloudy. $99.50
Macy's Style&Co brand offers great style for a reasonable price. This double-breasted trench has a shorter length that won't dwarf your petite frame, and the soft sage color will look great with neutrals, but be a fresh change from beige and black outerwear. $79.00
Solid-colored Seasonally-appropriate Tops
Toss the oversized tees and stiff striped button-downs. It's easy to be comfortable, get dressed in an instant yet look great if you have an arsenal of flattering, well-fitting knits in your size and colors you adore. Wash on the gentle cycle, line dry and these pieces can give you years of great wear. Look for pieces with 5% spandex or more – they will be more likely to keep their shape, not need to be ironed, and maintain their color longer than 100% cotton tops. For winter, I love merino wool because it acts like a knit in keeping its shape and flattering the figure, and can also be washed on the gentle cycle.
Ann Taylor LOFT is a fave of many petite women thanks to their extensive collection, reasonable prices, and truly petite sizing. Their Petite Twisted Boatneck Tee is a fashionable version of the comfy tee shirt. The neckline adds drama to a casual day look, and would fantastic under a cardigan or casual twill blazer. Great colors like Balsam Green and Ocean Depths will complement dark denim, khaki, white, gray, and black. $19.50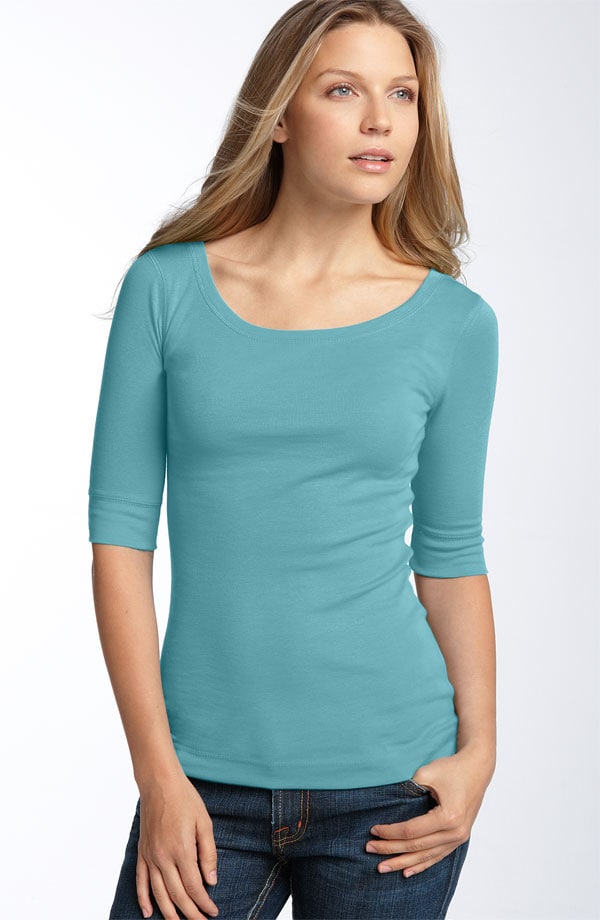 I love Nordstrom's Caslon line – great wardrobe basics of great quality. The petite Caslon Ballet Neck Tee is a feminine and flattering twist on a simple knit top – the ¾ sleeves make it wearable almost year-round and a scoop neck is lovely on most every woman's figure. $24.00
A Casual Blazer
A great way to jazz up simple tees and jeans is with a casual blazer. If it's unlined and has a bit of stretch, it's as comfortable as a hoodie but with far more polish.
Ann Taylor LOFT's Petite Urban Twill Blazer is a great choice. The grosgrain trim gives it a unique, higher-end look, and in navy it would go with most any color tank or tee in your closet. $69.99
The striped blazer from Banana Republic would look amazing with neutral tanks, tees, and bottoms. It would also look quite chic with a pop of color underneath – try candy pink, blood orange, or apple green. The standup collar elongates the frame, making you look taller. $149.99
A Trendy Knit
Right now, striped tees are a hot look – this is a great way to add some variety and current fashion to your wardrobe without looking passé in a season. Striped tees look great with a simple denim or twill skirt, under a blazer, with shorts, capris, jeans, and even dressed up with a fuller skirt or with trousers. Add a bit of contrast with a turquoise or coral necklace, or a cardigan in a color like leaf green, tangerine, or yellow.
This black and cream striped boatneck from Lauren by Ralph Lauren isn't your ordinary tee shirt – the silver buttons and boatneck make it a refined piece that would look great with jeans, and also with a white twill skirt for spring outings. $59.50
I own the Striped Sailor Tee from Ann Taylor and adore it – the scoopneck is flattering, the knit heavy and durable, the epaulets give a bit more style and panache. It comes in three colors. $38.00
A Not-so Little Black Dress
I have a black wrap dress from Old Navy that I bought years ago on clearance. I wear it with leggings and flats around the house, with heels for a wedding or funeral, with tall boots to work. It's so versatile, and the matte jersey is a fabric that stretches, gives, washes easily, and looks timeless and seasonless.
The Petite Gemma Wrap dress from Banana Republic is a great choice – ¾ sleeves work year round, and a true wrap style means you can cinch the waist for a more custom fit. $98.00
Merona for Target has really come a long way in the past year – the quality has improved immensely, and the style is quite on-trend yet classic. The Merona Petite Faux Wrap Knit Dress is a great choice – the empire waist hides any post-baby pooch, and makes it dress up or down with ease. $20.98
Shoes
It often impossible to find size 5 footwear in stores, however the selection is pretty impressive online. Sites like Nordstrom and Zappos have a great selection of smaller sizes that are still stylish and comfortable. I recommend investing in: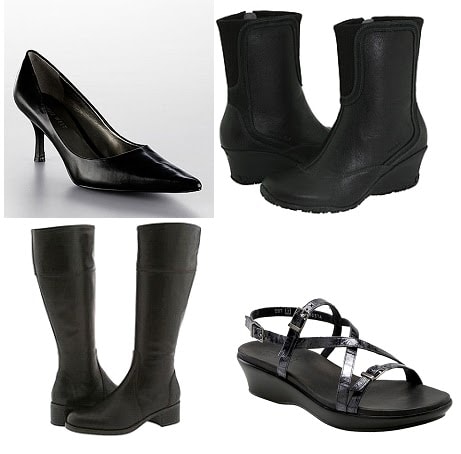 For additional petite inspiration, check out: