This article may contain affiliate links; if you click on a shopping link and make a purchase I may receive a commission. As an Amazon Associate, I earn from qualifying purchases. 
Right after I had Emerson, I was having a devil of a time trying to fit this transitional body. A reader had suggested I check out Talbots, who had petites in plus sizes, and generous cuts. My mental image of Talbots was a shop full of clothes for elegant older women and ladies my age who liked embroidered palm trees on their capri pants. Not my scene. However there was a Talbots near my office so I took a gander.
I ended up finding many dresses that flattered my new curves, and hid the ones that weren't so lovely. I also was able to find elegant work-appropriate trousers in a 16 petite. Soon after I started finding love for Talbots, they closed the shop near me. Being a busy woman, I never had the time to find another location and sort of forgot about Talbots.
Today I received a Talbots catalog in the mail, and color me impressed! I started circling items I wanted to check out online or in person; next thing I knew I had circled more than a dozen items! I haven't done this with a catalog in forever! I remember when the J. Crew catalog used to get me so hyped up for the upcoming season, but in the past few seasons I have found the line to be inappropriate for my age, figure, or personal style. Companies like Boden and Ann Taylor always provide me with apparel I like, but not an entire collection that gets me excited, makes me feel as though it was made for me.
Talbots' Spring 2011 makes me feel as though it was made for me. Here's some items from the line I can't wait to check out and add to my wardrobe:
Cotton/Viscose nylon blend means it will have a nice finish, keep its shape, and really be machine washable without stretching out or fading. The shaping makes it a beautiful hybrid between a classic cardigan and soft-structured jacket. It would look great on a lot of different body types. I can imagine it with a simple tee or tank and jeans, over a tailored shirt and pencil skirt, or a topper to a structured sheath dress. The color selection is fantastic – my favorites for spring are Daffodil Yellow, Chartreuse, and Geranium, though it is the style that would make it worthwhile to also invest in a classic Black or the lovely neutral Legion Green.
By now I think we all know about my love affair with the fabric Ponte de Roma – it a poly/rayon/spandex blend that is a heavyweight refined knit that feels as comfy as a tee shirt, but can dress up for work or even a day wedding. This dress has ¾ sleeves which I find to be very flattering (and comfortable on warmer spring days), a boatneck which adds interest, and a simple pull-on style that can be worn as a loose shift, or jazzed up with a belt. I of course love it in Black, but imagine the Haricot Vert with a yellow or tangerine belt, maybe with a navy and white striped scarf looped at the throat, or simple with some nude colored suede peeptoes and a strand of pearls.
Just last week I was thinking how I really want a longer statement necklace – something that will hit mid-torso, but have a soft look and not be too extreme for work. Something that can really glam up a simple solid dress, but also could be worn with a tee or tank and jeans and leather sandals. I felt turquoise was too cliché, clear crystals too glam, black too harsh. Then I opened the Talbots catalog and saw this necklace and it was perfection. On page 17 of the catalog they have it paired with a breezy white shirt and geranium-colored cropped pants and the look is so effortless yet oh so chic.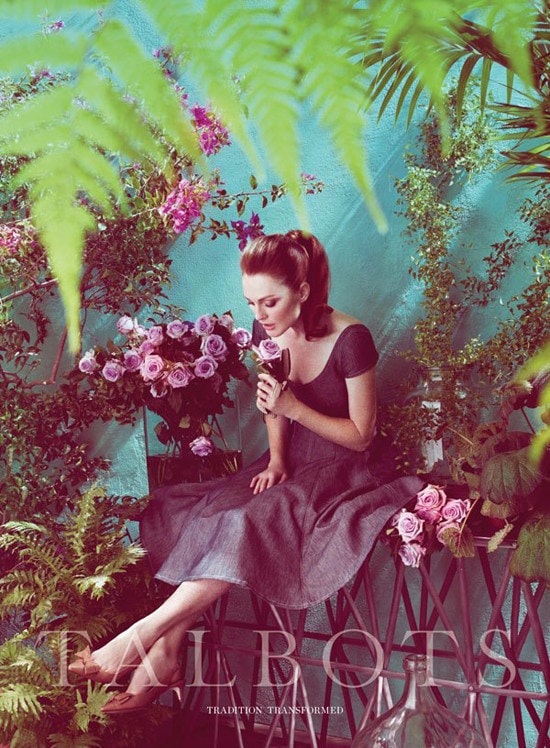 I am loving all the denim and chambray this spring, and especially love it when it's used in a really feminine, girly silhouette. Page 5 of the catalog has the always-lovely Julianne Moore wearing this dress, a sweet ponytail, and bow-front kitten heels. So demure, so adorable, yet striking with the denim-looking linen fabric. Online, Talbots toughens up this dress with a wide black leather belt and pointy pumps. I can also imagine it with a wide beige leather belt, or worn sans belt with the funkiest, most unique printed heels in your closet. I also think this silhouette would look cute if a classic white shirt was worn over it, tied at the waist, collar popped, sleeves rolled.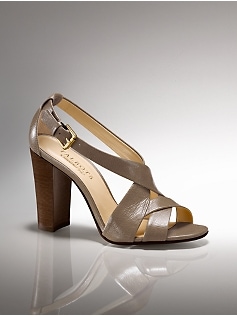 It's hard to find a summer shoe that can be as versatile as a pair of black booties (like my Cole Haan Air Talia booties). Something that looks great with a suit, with a sundress, with cropped as well as full-length trousers, jeans, and most everything else in the closet. These shoes from Talbots are a great choice. Sweet Almond will disappear into many women's skintone, elongating the leg while looking great with every color in your closet. Olive is an unexpected neutral that will compliment the bright as well as softer hues of spring. However I am really digging Golden Haze – a pair of yellow shoes always brings a smile to my face and it's color that looks amazing with navy, black, brown, tan, denim, and all shades of purple and green.
There are many more pieces I covet, but I'll start sounding as though I was paid by Talbots to write this post. Nope, Talbots doesn't even know about this – I was just so inspired I had to write, even on my day off work! Check out the new line from Talbots and let me know – are you as inspired as I?