This article may contain affiliate links; if you click on a shopping link and make a purchase I may receive a commission. As an Amazon Associate, I earn from qualifying purchases. 
Dear Alison,

I love reading your blog because you are a working woman in DC like me but you must work in a very relaxed office. My job is very conservative, the woman all wear skirts to their knees, closed toe shoes, hose, and dark colors. I don't know how to fit in but still look good and have style. Everywhere I look in DC women look like this with frumpy suits and boring colors but how do you look fashionable when working in a conservative field? Help!
It's true, I work at a pretty relaxed company – while we do have a dress code, it is more relaxed than most other offices in the city. I have worked in more conservative fields and see the women you mention all over the streets of DC. The thing is, it is possible to be stylish, even fashionable while looking appropriate for your conservative workplace. A few tips:
Focus on Fit First. The reason so many women in DC look frumpy is because they purchase suiting off the rack and don't get it tailored. Men see alterations to a suit a given – their stores usually have a tailor on site to ensure the pant and sleeve lengths are correct and everything lines up on the body nicely. However women purchase regular, tall, or petite and make do, even if their hands are hidden by hemlines and their ankle bones are exposed.
If in doubt, size up, and then find yourself a qualified seamstress or tailor to give you a custom fit. While dry cleaners can do a quick hemming of pants and dresses, take your suits to one who specializes in alterations and can ensure linings are the right length and won't botch up the cut of the garments. Check out Yelp or your local community listserv, or ask a coworker who always seems put together – the best tailors are usually found via word of mouth, and aren't big enough to be able to afford fancy signage or advertising.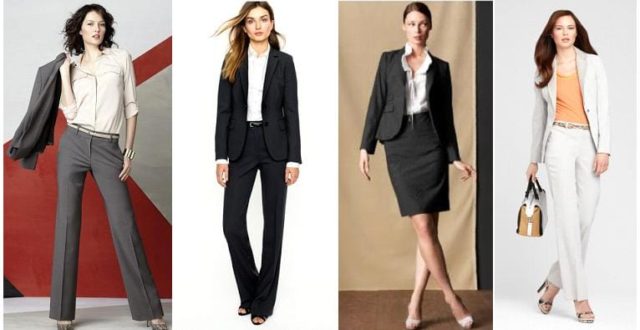 Suits from Ann Taylor, J. Crew, Banana Republic and Tahari 
Get Out of the Department Store. While you can find a perfectly nice navy crepe suit at Lord & Taylor, it's likely to be a very standard and boxy silhouette and not necessarily out of the most contemporary fabric. This doesn't mean you can't find great suits at a department store, but you have to weed through quite a lot of misses to find a single hit.
Retailers like Banana Republic, J. Crew, and Ann Taylor sell conservative suits with a trendy touch. Current silhouettes, fabrics that are seen on the runway, and tiny details that won't freak out your conservative coworkers but will add a bit of fashion to your ensemble. I find that the prices are usually equal, especially if you stalk sale racks and get on their mailing lists so you're notified about sales and special events.
Put Your best Foot Forward. Yesterday I was on the Metro surrounded by five young women who worked together. They all were in shades of navy, black, gray, and taupe – loose suits, a pair of trousers with a cardigan, a shirtdress. While their clothes were nondescript yet office appropriate, what stood out was all of them were in ballet flats.
Now those shoes could be their commuter shoes, but based upon the nice new condition of all of them, I doubt it. The thing is, while a ballet flat is a closed-toe leather shoe, it's not appropriate office footwear, and it will frump up any conservative ensemble you are wearing. Ballet flats make a foot look very small and round, which is the worst with a boxy suit. A heel really does a great job of balancing out a suit or blazer on top – it elongates the legs, changes your posture, and makes a suit automatically look more chic. If you find a pair of pumps uncomfortable, even a slight wedge or wide heel will better balance the figure and make your look more cohesive.
Since your ensemble is pretty nondescript, it's very important to put thought into your shoes. Office footwear should be regularly polished, heel caps replaced as soon as they wear down, leather scuffs repaired, soles replaced once they start wearing or peeling. It's also important to purchase quality footwear – no shiny pleather sandals from Payless or clunky microfiber pumps from a decade prior.
A simple pump with an almond or pointed toe is classic an elegant – black is a safe bet with everything (including navy) but colors like gray, taupe, sand, burgundy, and camel can still look conservative while adding a bit of interest to your ensemble. Cap toes and spectators are back en vogue and a trend that can look quite work-appropriate and conservative. A shoe with a tassel, leather fringe, or bow detail is still classic and conservative without being boring. A finish like croco or snakeskin can also add a level of interest without being over the top.
It's In the Details. It's amazing how a very small detail or accessory can completely transform an ensemble. Switching out monochromatic buttons for horn or metal, having the jacket lapel in a different fabric, adding a skinny belt over your jacket or at the waist of your skirt, a monochromatic tuxedo stripe in a contrast fabric down the side of your skirt or trouser… these subtle details can have major impact.
While statement necklaces and arm parties may not be acceptable in your workplace, that doesn't mean you can't accessorize. A brooch on your lapel, a scarf tucked into your collar, a pop of color with a skinny belt, a brushed gold or tortoise shell chain, a tank watch… such pieces won't attract a ton of attention but will add your personality to your look.
Small Touches of Color. A blush patent skinny belt with an ivory blouse and gray pantsuit, an orchid silk shell with an olive jacket, Dark green croco-embossed pumps peeking out from under tweed trousers, a French blue button-front shirt under a navy skirt suit… such pops of color aren't shocking but will break up the sea of neutrals.
Consider the Non-suit Suit. While some workplaces want only suits, many others desire business professional, which means more than just blazers and matching skirts. As I mentioned in this article, look to television for inspiration. Newscasters and morning news show hosts were business attire with a fashionable twist. A blouse with a bow neckline is more interesting yet just as classic as a button-front shirt, and can jazz up a pair of trousers or a pencil skirt. The cardigan has become the blazer alternative, either on its own, as part of a twinset, or belted a la Michelle Obama. A blazer in a color different from your skirt or pants can make big impact – a black blazer with gray pants and a pastel shell is chic while still conservative, a cream blazer with tweed trousers and a brown blouse Is unexpected yet office appropriate. A blazer can also make a dress work-appropriate – a blazer with a belted sheath is figure-flattering and classic, a jacket can also toughen up an otherwise soft frock. However before attempting any of these non-suit suits, check with HR or your company's dress code.
Do you work in a conservative office environment? How to you stick to dress code while maintaining style?
Follow Me | Twitter | Facebook