This article may contain affiliate links; if you click on a shopping link and make a purchase I may receive a commission. As an Amazon Associate, I earn from qualifying purchases.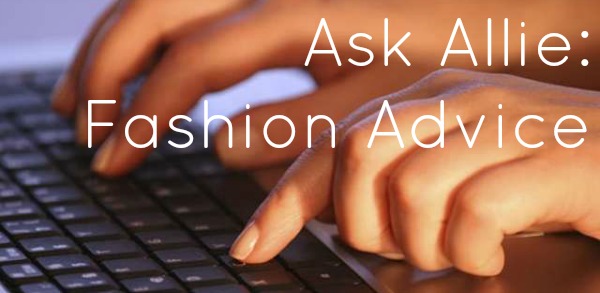 I sometimes check my blog analytics to see what Internet searches bring people here, and I can see that many people have the same questions. It seems some have been answered by posts I already have… but some I have yet to address… until now.
Are Black Suede Sandals Appropriate in Winter?
Well it depends. If they are platform heels, I say yes and rock them with opaque tights (black, contrast color, even a texture) and a flippy skirt or a-line shift. If they look like traditional summer sandals, store them away until next year.
What Bikini Suits Large Breasts and Thighs?
A halter or underwire top will best support your breasts and flatter them. Also look for suits made specifically for larger busts to get the coverage, comfort, and support you need.  As for the bottom, I often find trying to hide thighs makes them more on display. However, I do adore the vintage-inspired bikinis with flirty skirts or wider bottoms; having your midsection exposed will emphasize your hourglass figure (which is a good thing) and flatter your curves.
Boots for Women Over 50?
The boots that a woman over 50 should wear are the boots that she thinks look great on her and fit her personal style. Now I don't think it makes sense to pair your blouses and jeans with hot pink suede over-the-knee boots with a Lucite heel, but I really think that boots are like any other wardrobe piece – if you wear them in a way that is authentic to you, they can't be wrong.
Now if you're new to the boot trend, a safe bet for most any woman of any age is the riding boot. Knee-high, low heel, classic shape. Be it black or brown, it's a style that goes with everything from a shift dress and cardigan at the office to jeans and a hoodie on the weekend. Keep them polished, stuff the shafts with rolled magazines when not being worn, get reheeled and resoled as needed and they can give you years of stylish wear.
Gingham Mesh After Labor Day?
No. And not before Labor Day either. I honestly can't see a place in this world for gingham mesh unless you are dressing up as a sexy Raggedy Ann for Halloween.
How to Wear a Sheath Dress in Winter?
With a cardigan, tights, and tall boots
Put a crisp white shirt under it, add opaque hose and Mary Janes with a chunky heel
Belt a blazer over it, wear with tights and booties
Black turtleneck underneath, black tights and boots
Just a few combinations that come to mind…
How Much Wool in a Coat Should I Wear?
The more wool content, the warmer the coat and likely the longer of a life it will have. Wool blends aren't as wind-resistant, insulating, and often pill and shed. A wool blend is a great choice for those who live in places with mild winters, or for a fall/spring coat but 100% wool is a far better choice for cold winters.
Are Suede or Leather Shoes Warmer?
Warmer than the faux version? Yes. When it comes to a small shoe like a pump it doesn't really matter, but I have found that real leather tall boots are far more insulating than faux ones and you don't sweat as much either. If you prefer vegan shoes, look for a breathable fabric like microfiber and an insulated lining – it will be warmer and more comfortable.
What Color Tights to wear with an Emerald Green Dress
I think black is a nice choice because it would really make the green pop, but you could also do a color like navy, purple, or even a bold color like orange or gold if that's your personal style.
Do Scarves Minimize Heavy Breasts?
No, but that doesn't mean you can't wear them. To minimize breasts, get fitted for new supportive bras every year, wear pieces that skim the body but don't cling so they curve in under the breast and show you have a waist, and look for flattering necklines to elongate the neck and detract from the bustline.
Can You Wear Patent Leather in Winter?
Yes, unless it is white (and then it's still a yes if you are a True Fashionista)
Can You Wear Black Patent Leather Shoes with Black Tights?
Sure, why not? I have worn it here and I think it looks okay.
Gray Leggings with Brown Boots?
Sounds fantastic! Would love it with an oxblood blazer and striped tee, a chunky ivory fisherman's sweater, or a darker gray knit tunic!
Can I Wear Black Leggings with Brown Boots? 
Black Tights with Brown Boots?
Sure! Just make the look purposeful – have a black top or something that incorporates that black and brown together like a leopard-print scarf or a tweed jacket.
Large Calves and Thick Ankles Shoes Brogues?
I understand your problem, I too find these shoes utterly adorable yet horrible looking on my body. I think they look best on my figure with menswear trousers or skinny jeans and a blazer. I can't make them look right on me with cropped pants or skirts or even regular jeans, darn thick ankles!

Funeral Dress for Women?
If you are a guest at a funeral, just wear something you would normally wear to a house of worship. A simple dress, skirt and knit top, suit, nice trousers with a blouse or jacket, that sort of thing. No need to wear all black, but don't show up in bright red or lime green. Dress to show respect for the deceased, their loved ones, and the religion and/or culture of the family.
Boots over Jeans Business Casual?
If your dress code permits jeans, this is actually a fantastic way to dress them up and make them look more office-appropriate. I love jeans tucked into boots and paired with a casual blazer – so chic and quite office appropriate for more casual of work environments!
Business Casual for an 18 Year Old
Trousers that fit well and don't cling, lighter-weight refined sweaters to wear alone or over button-front shirts, cardigans to dress up simple tanks and knits, a blazer or two to do the same and for a makeshift suit on days where you need to dress up, a pair of classic black pumps with a heel under 3", if your figure allows a button-front shirt in a stripe that fits well is a great way to make simple pants and skirts look office-appropriate; on Friday you can pair with jeans and tall boots and the blazer or cardigan for a chic ensemble. Nothing too tight, nothing sheer, nothing that exposes lingerie, no visible logos. Good luck at your new job!
Follow Me | Twitter | Facebook