This article may contain affiliate links; if you click on a shopping link and make a purchase I may receive a commission. As an Amazon Associate, I earn from qualifying purchases. 
I am apple shaped (teetering between sizes 16-18) and 5'8″ and no matter how many times I try on pants with a wide leg, which are commonly suggested for apple-shaped women), they look terrible on me. Like I'm wearing pajama pants. I have had a hard time finding straight leg pants in my size that are a) actually straight leg and b) fit my round mid-section.
I read your comment and nodded in agreement; I know my mom is likely nodding her head in agreement, as are many many other women. A lot of us women are "apples," where we carry most of our weight in our torso (belly and rear), and have slimmer legs, thighs, and hips. I have found "straight" pants that look like jodhpurs with the hip area sticking out, wide-leg trousers that end up looking more like palazzo or pajama pants, "slim" pants that have no space for my bum.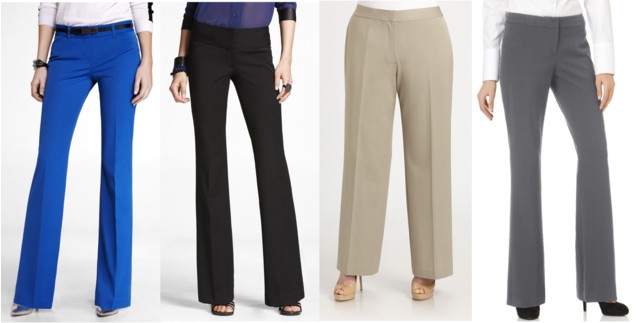 The pants to the left are the Express "Editor"; the pants to the right are the Tahari "Hazel"
Look closely at my wardrobe and you'll see I own one pair of trousers. ONE. These are the "Hazel" trousers from Tahari. They are a fabric that is seasonless, has a bit of stretch. No pockets in the front, a wide waistband that doesn't dig into my tummy, no lining, and a style that is slim to the knee, and then has a slight flare. I had similar trousers from Express a decade ago, and liked their "Editor" trousers for the same reason – stretchy, unlined, straight to the lower thigh/knee. When I worked for Express I recommended these pants to all the "apples" I met, and I still think they are a wallet-friendly and apple-friendly trouser. Express doesn't carry extended sizes and you can't always find the Tahari "Hazel" in stores, so look for trousers that have a bit of a bootcut (keeps you from looking like a lollipop), a wide waistband preferably with a hook and eye closure for a smooth finish, no front or on-seam pockets (unless it's a coin or something small and flat), have at least 3% stretch/Lycra and are unlined.
If you desire proper suiting and lined trousers, buy a size up and get them altered by a tailor. A tailor can nip the waistband at the back, shave some off at the hip and thigh area, and have pants truly look like flattering straight trousers on your body.
Where do you find blazers? I have broad shoulders, thick arms, and a large bust (38DD). You wear blazers and don't look like a football player, how do you do it?
I don't usually purchase petite, but I always do when it comes to blazers. A petite will fit in the shoulders and the small of the back but the larger size will make sure there's room in the arms and bust. I also only shop from certain retailers that I know fit my curves (Vince Camuto, Talbots, Ann Taylor, Tahari).
Another tip is consider unlined blazers in a fabric with a bit of stretch. Ponte blazers are available at most every retailer and they nicely fit curves without adding bulk; Spring is a great time to find unlined blazers in stretch twill. Even nicer, an unlined blazer is far cheaper to have tailored for a custom fit!
I'm buying items all in my normal size so that they'll fit well, but there are several days each month that they will be too tight or otherwise not fit well. What do you recommend to cover those days, until bloating is over and I can get back into my clothes.
Dresses. I don't want to get too TMI, but you can tell on my blog when it's that time of the month because you'll find me wearing my stretchy dresses. Matte jersey, ponte, heavyweight knits, merino, even stretch silk are forgiving after a big meal, or when your body's retaining water. Not only that, dresses aren't as restrictive, which is nice when you're feeling achy or crampy. Almost every woman can use a matte jersey wrap dress with elbow-length sleeves. In a solid versatile color (black, navy, plum, teal, dark green, dark gray) it can be worn to work, to your house of worship, to a day wedding, a funeral, a date, a cocktail party, or even be paired with leggings and ballet flats for running errands. The wrap style whittles the waist, the v-neck distracts the eye and elongates your neck, the sleeve length covers the arms while still making the dress wearable almost every month of the year.
Sorry if this is too personal, but your breasts look fantastic. What bra do you wear? My breasts seem so floppy in T's and I feel self-conscious.
I pretty much only wear molded cup bras. After having Emerson and nursing her for over two years, my breasts aren't as firm as they used to be, and the headlights are far more prominent. A molded cup bra keeps my shape, hides my nipples, and is free of adornment that can show through fitted knits. My favorite is the Fantasie Moulded Smoothing T-Shirt Bra; you can read more about my life-changing bra fitting experience here.
Hello Allie, i am 5'11" tall. I am attending a fairly formal event this spring and need to wear a more dressy outfit (dress) than i usually do…can you please give me some ideas for some sandals/shoes. I also wear size 11 shoes. Thanks!
Gone are the days where a woman needs to hide her height. There's no need to wear flats when you're 5'11". However if you feel more comfortable in lower heels and flat shoes, I completely understand.

All these shoes are by J. Renee – Low heels, variety of widths and sizes
I went to Nordstrom.com and checked out their evening selection in a size 11; I chose not to pare down to flat styles because there's so many low heels en vogue right now. Quick glance, I found the J. Renee "Classic" Sandal which comes in a variety of shades; the Taupe is a dressy neutral that would flatter a dress of most any color and this shoe would work with skirts of all lengths and even dressy trousers. J. Renee also has the "Imogen" pump which is sparkly, feminine, and has a very low heel. Available in black and pewter, it's a grown woman's version of Dorothy's shoes and would look chick with any formal attire. In fact, looking around online it seems that J. Renee offers many low-heeled formal shoe styles, they all come up to size 11 or larger, and also come in widths. Shops like Nordstrom and Zappos offer free shipping and returns so you can try these shoes at home with your dress without buyer's remorse (be sure to use Ebates first to get cash back on your online purchases!).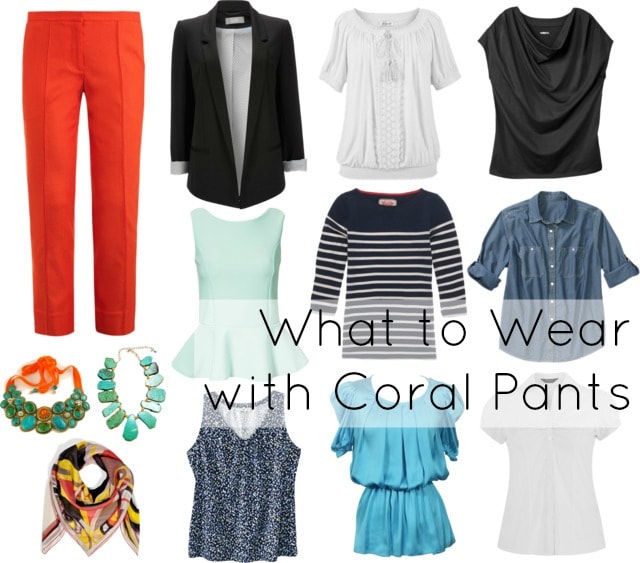 Right now I am a size 16. On a recent shopping trip I bought my first pair of "bright" colored pants…they are coral. I'm worried about wearing them. Do you recommend plus size wearing colored pants? If so how should I incorporate them into an outfit?
Heck to the YES! Rock those coral pants my dear! There's no reason why such a trend can't be worn by a certain size. To all women, colored pants are great if they fit well. Coral is a hot color this season, and quite versatile. For a casual look, pair with a chambray shirt and a statement necklace. Make a business casual look with a black knit blazer and striped tee. Go boho with a white gauzy peasant top and turquoise stone necklace. Feel tres chic with a Breton-stripe shirt in white with navy, gray, or black. Embrace spring trends by pairing it with a mint green top and a white jacket or cardigan. Wear with a white button-front shirt untucked but cinched with a wide belt in most any color or a scarf with a touch of coral knotted at the throat. My only suggestion is to not pair bright pants with a very busy print on top – it can be overkill for a woman of any size. Coral can look preppy, nautical, bohemian, trendy, and classic so have fun with your new colored pants!
Follow Me | Twitter | Facebook | Instagram