This article may contain affiliate links; if you click on a shopping link and make a purchase I may receive a commission. As an Amazon Associate, I earn from qualifying purchases. 
You've written before about how we shouldn't wear white after Labor Day, but I saw a lot of white on the runways and even saw it on Man Repeller. How do you feel now about white after Labor Day?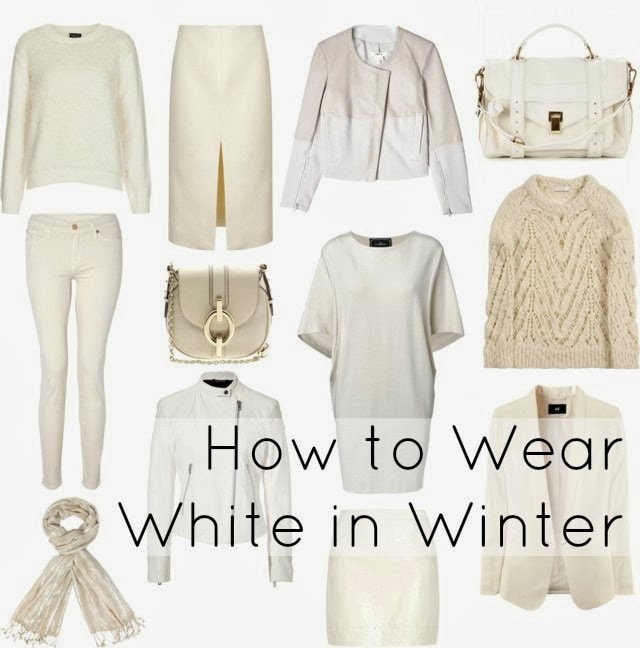 The old rule in America was to retire your white clothing and shoes from September (which begins with Labor Day) to… well some say Easter (early spring), others say Memorial Day (end of May). And yes, this fall and winter as well as last year's cold months showed an awful lot of white.
I have accepted white year-round… if it is still seasonably appropriate. Just because Leandra Medine is wearing white from head to toe in October doesn't mean we can all don our white chino trousers, make a GIF of us squatting on a city street and look chic.
Winter white is called that for a reason, it is clearly different from regular crisp white. It has a hint of warmth to it – not quite ivory but its far paler cousin. A color that against true white would show contrast. Not only is winter white appropriate for winter, but it is more flattering to our skin which is likely more pale from the lack of warm sunshine.
And yes, many stylish women have been sporting crisp true white in fall and winter, but they do it with careful thought. No linen, no chino or cotton sateen; their white is wool, denim, leather, heavyweight knits and other fabrics appropriate for the season. The white trend is not an okay to make your summer clothes "work" in winter. No matter the hue, your garment should be seasonally appropriate.
When Lightweight Bright White is Appropriate:
White Shirts. Each time I write about white someone asks if their white cotton button-front shirt is appropriate in winter. Yes, a white shirt, be it silk, cotton, or lace is quite lovely in winter. Same goes for white tee shirts, and other white knit tops.
White Denim. I personally prefer winter white or white denim with contrast stitching, but all-white denim can work if it is paired properly. I find white denim quite chic when paired with neutrals like cream, tan, and khaki; white and black is always chic; and you can look like a winter wonderland when you pair white with gray, silver, and pewter.
Warmer Climates. If you live in Hawaii, I don't expect you to dress in black as soon as it is September. Go ahead and wear your white, and wear it in fabrics that are comfortable for your specific environment. However, I do encourage you to consider the season in a sartorial manner, and consider pairing white with neutrals like gray, tan, and other shades of semi-white or incorporate a seasonally-appropriate accessory or trend.
Follow Me | Twitter | Facebook | Instagram