This article may contain affiliate links; if you click on a shopping link and make a purchase I may receive a commission. As an Amazon Associate, I earn from qualifying purchases.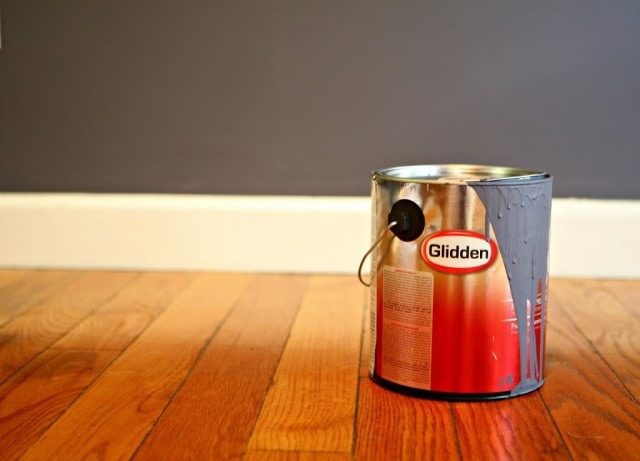 As you know I recently asked all of you for advice on redoing our home office. It has been the sore thumb in our house, and we weren't really sure where to start, especially when it came to choosing paint. Thanks to your suggestions and the ease of choosing paint and colors with Glidden® paint, we have finally redone the room and I gotta say, we LOVE IT!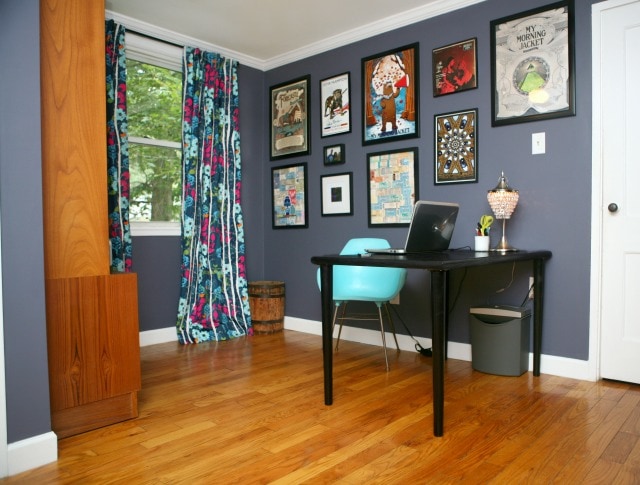 As you recall, the office was a yellow-tinted green with beige curtains and yellowish wood furniture. It had become quite the catch-all and was not a functional space. Now it's not just a space where Karl and I can comfortably work on our computers, but where Emerson can do homework, I can whip out the sewing machine, and even chill and listen to music or read. It's amazing how a change of paint color can transform not just the look but the whole energy of the room!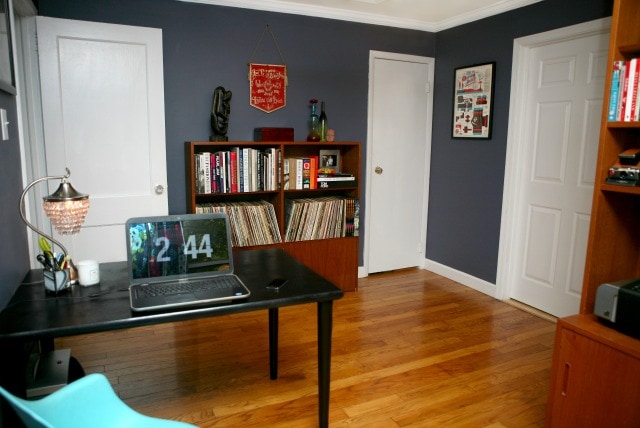 The final color chosen was Glidden in Stormy Night. We went to our neighborhood Home Depot and grabbed every gray and gray-blue paint chip they had. I couldn't decide between about three colors and let Karl make the final decision. He chose this one, which was the darkest of the three and had a very clear purple tint.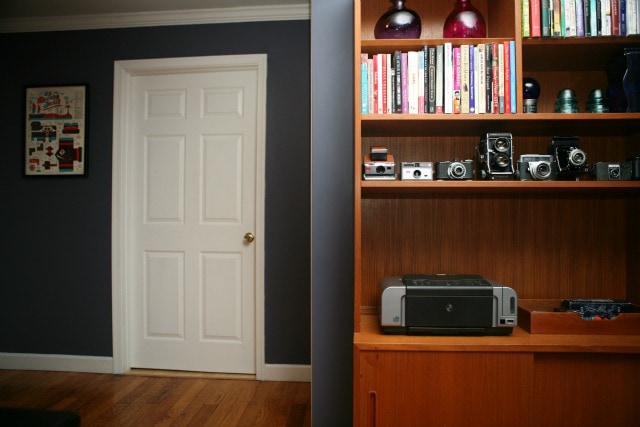 As it went on, I was a bit nervous, thinking it was very purple. Then Karl said, "It's like the grown-up version of your high school bedroom." In my senior year of high school, I painted my bedroom a deep indigo purple; this color is a muted, mature version of that. It reassured me that this room would be more eclectic, more colorful, happier, and more authentically us.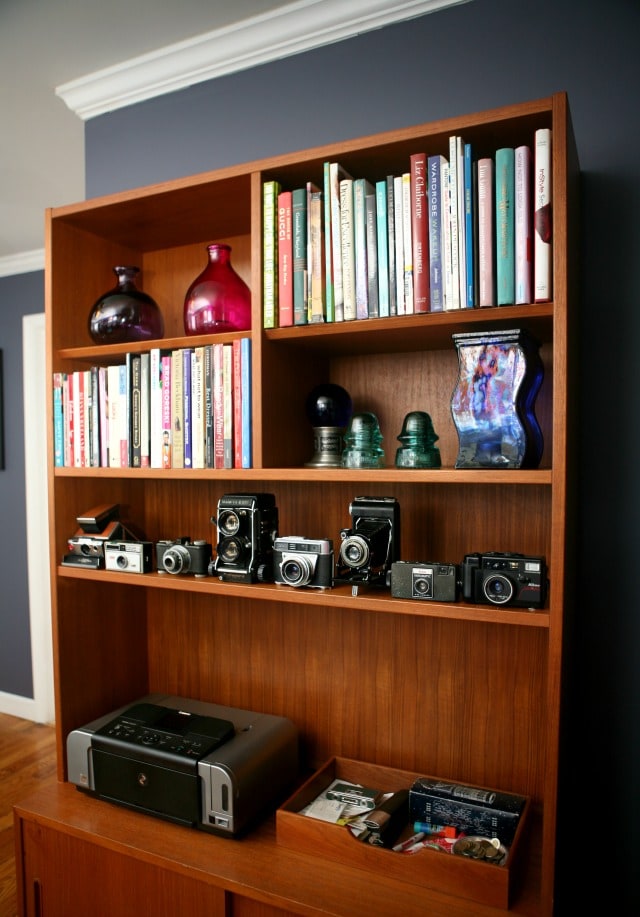 We chose Glidden® Spred Complete 2-IN-1 Paint + Primer which is primer and paint in one and it truly is a one-coat formula that went on beautifully. I was surprised how easy it was to paint this room; I am not a crafty or handy person, but the paint went on easily and coated completely, I didn't end up making a mess, and it was finished in one afternoon.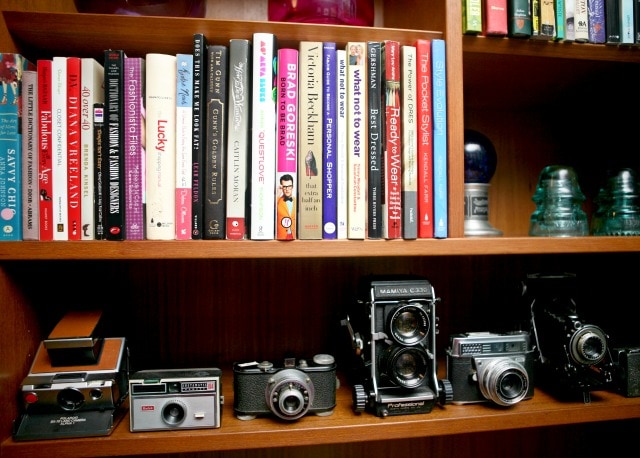 We kept the Danish mid-century hutch and bookcase, but all the other furniture changed. My goal was to take our old dining table and paint it and make it a desk, but it ended up being a foot too wide for comfort. My sister to the rescue, she had an unfinished tabletop and legs from IKEA that she no longer needed and with a few coats of glossy black spray, it makes a fabulous desk big enough for a sewing machine or science fair project. The chair was found when cleaning out Karl's dad's house after he passed, and while we love it, it never had a proper home until now.
And the curtains? I saw this fabric on fabric.com a few months ago and fell hard. I knew I had to have it used somehow in the house. Jessica from Dobbin Clothing told me she had great success with OnlyLinens on Etsy for custom drapes.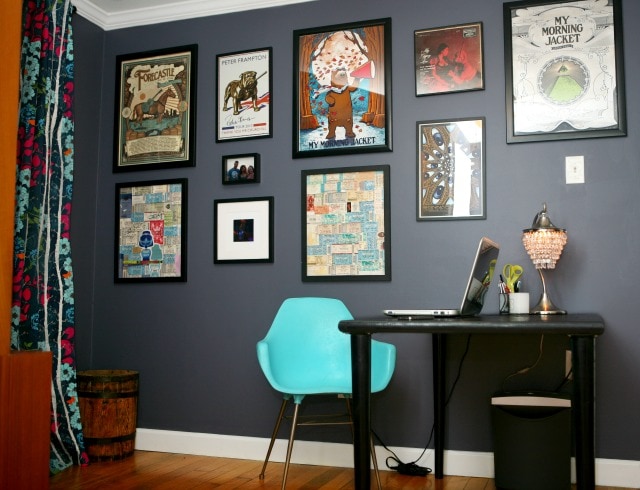 I contacted OnlyLinens and he not only made gorgeous professionally lined drapes with hidden tabs for the rod, but even ordered the fabric for me to ensure correct amount and to reduce shipping and time. The curtains came quickly, were reasonably priced, and are even more beautiful than I could have imagined.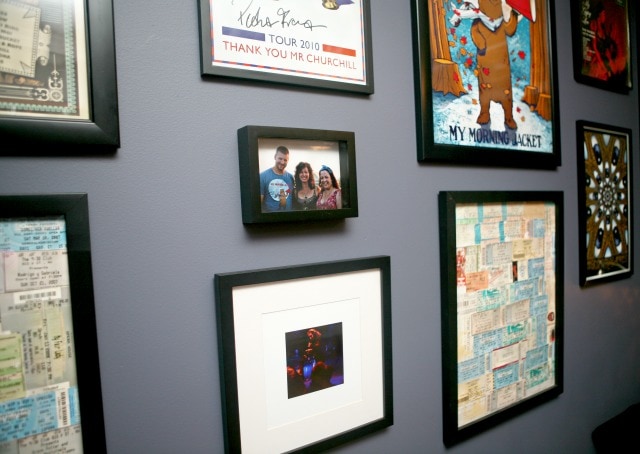 We took the majority of our poster collection and framed them with poster frames from Target. Mixed with the posters is a photo of Karl touching fingers with Jim James at his May performance at the 9:30 Club, a photo of us with Amy Grant our camping neighbor at Bonnaroo 2011, and a record cover that used my dad and his first wife as the models.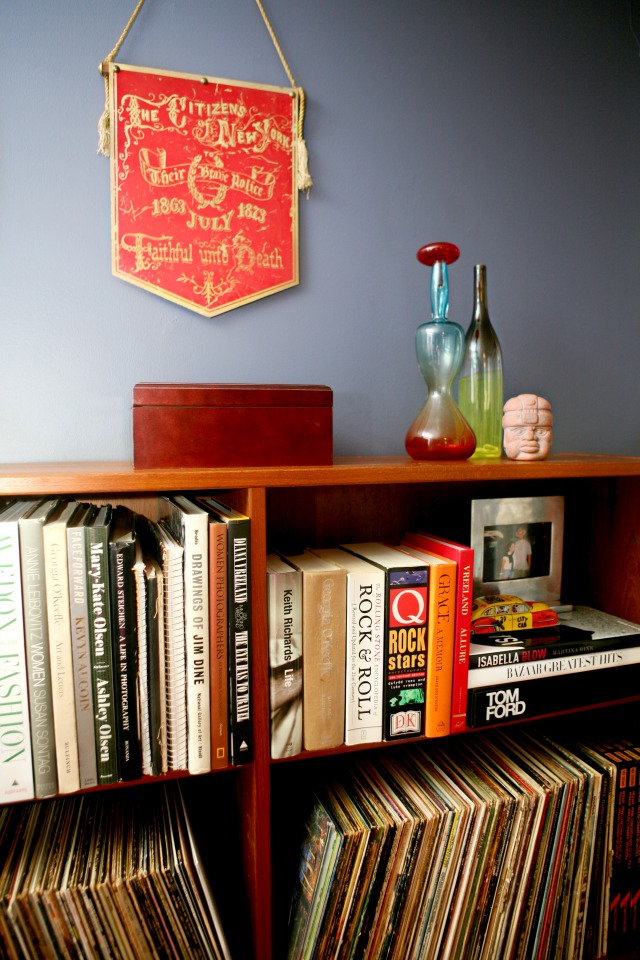 We also frame our old concert stubs and have two collages of them mixed in as well.  I love how Stormy Night really highlights the posters.  Over the bookcase is a red metal sign from Karl's dad's house – it looks to be an award to the New York Police from 1873 from the citizens, but we're not sure if it's a reproduction or the real thing. The room is set up that we should be able to add more posters and photographs with time.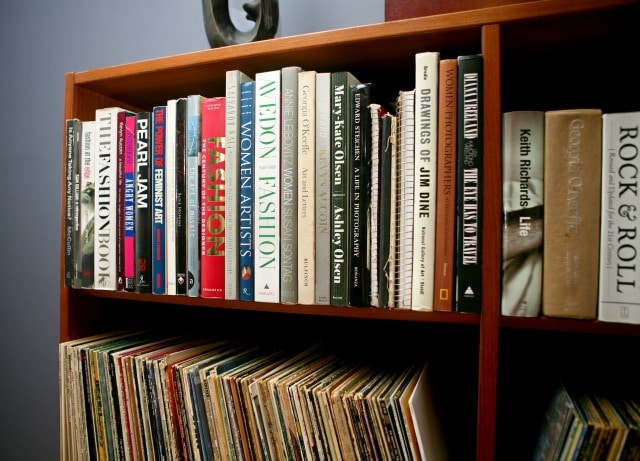 We keep most of our vinyl collection in here, though our turntable is next door in our bedroom. We're thinking of getting another one and having it under the window. The majority of the books in here are my fashion and style books, though there's a few art books too big for the living room bookcase and a few music books that are handy when we're listing to tunes and start debating with one another about the year of an album or who was the drummer at that time. The camera collection contains cameras that belonged to Karl, his dad, and grandfather.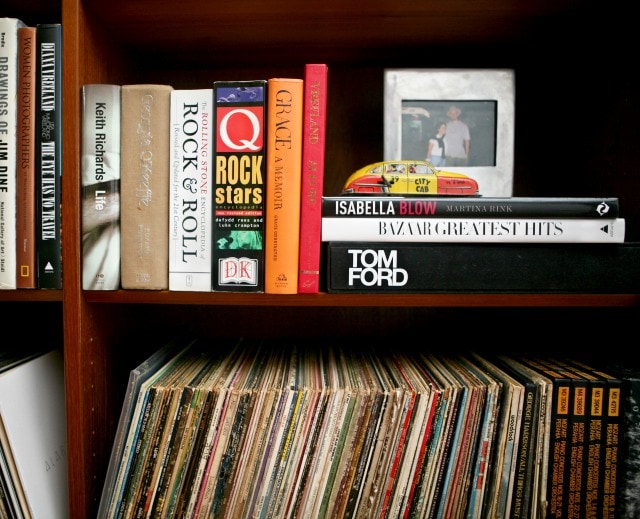 The statue Karl got for me when he was stationed in the Virgin Islands, the glass bottles on top of the bookcase belonged to my dad, the little head was a gift to Karl from his friend. The barrel was another thing we found in Karl's dad's house when cleaning it out; we don't know if it's worth anything or a photography prop but we like it.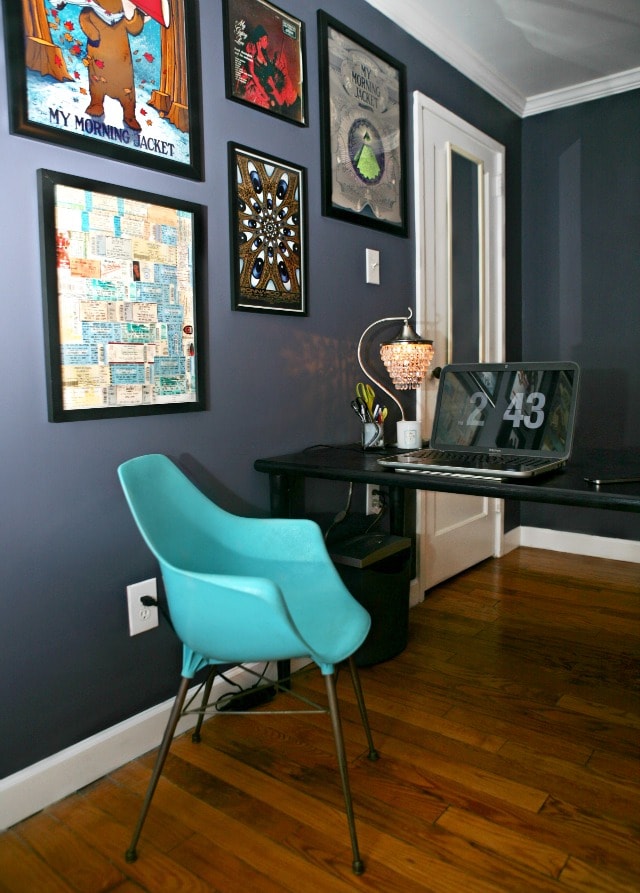 There's still some to do – we'd like to get a metal rolling cart to hold office supplies – something small enough to fit under the table. It would be nice to have another chair as well, something that would look nice angled in front of the closet door, but can double as a second desk chair.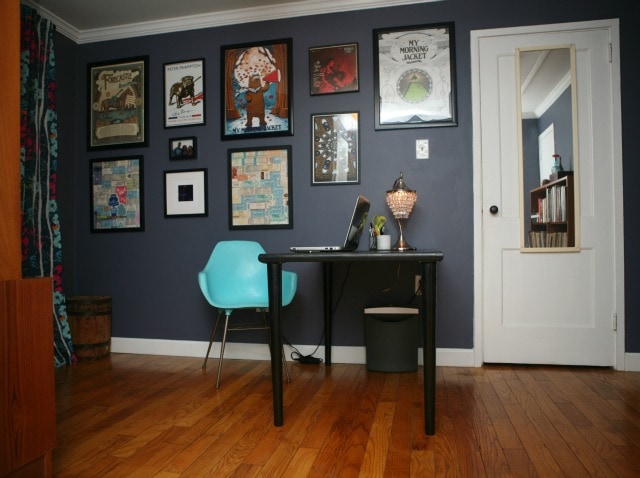 However, this much change is amazing – we love walking through here to get to our bedroom, Emerson has already set up camp in the corner with a dollhouse, and I am even writing this post from the desk, enjoying the glow of the lamp and the beautiful shade of the walls!