This article may contain affiliate links; if you click on a shopping link and make a purchase I may receive a commission. As an Amazon Associate, I earn from qualifying purchases.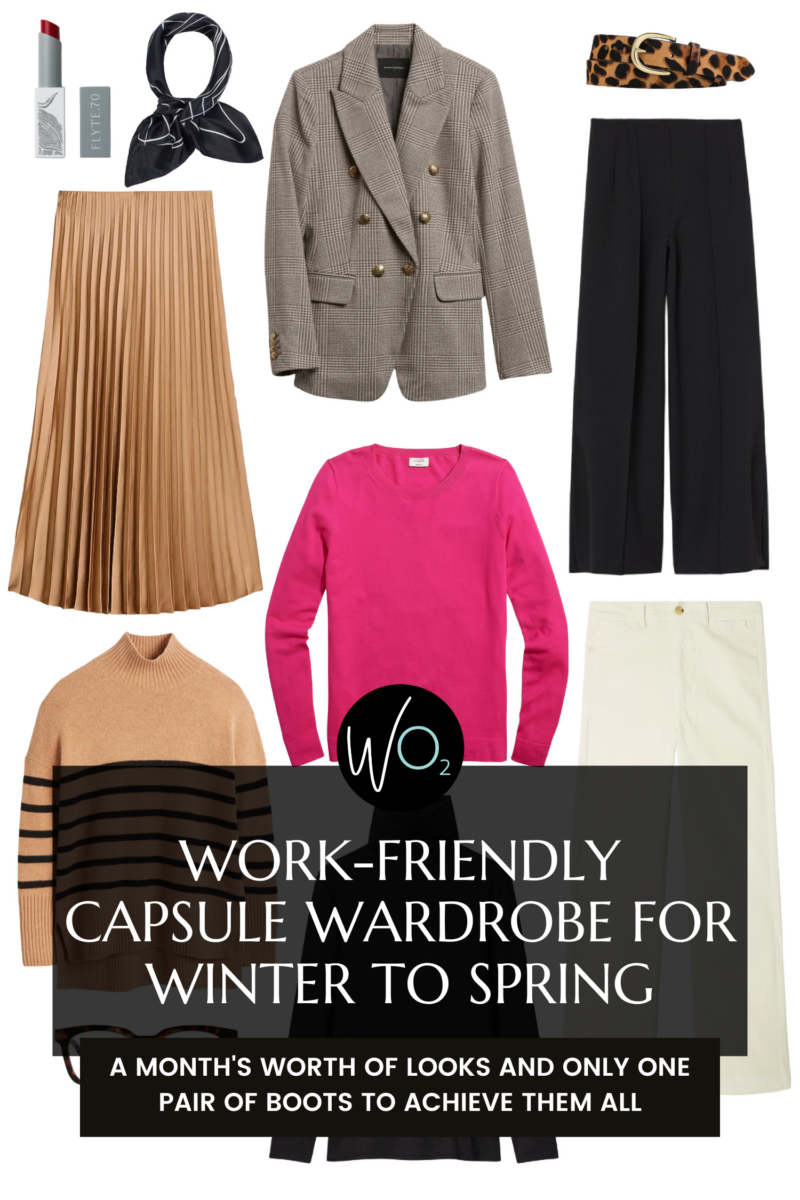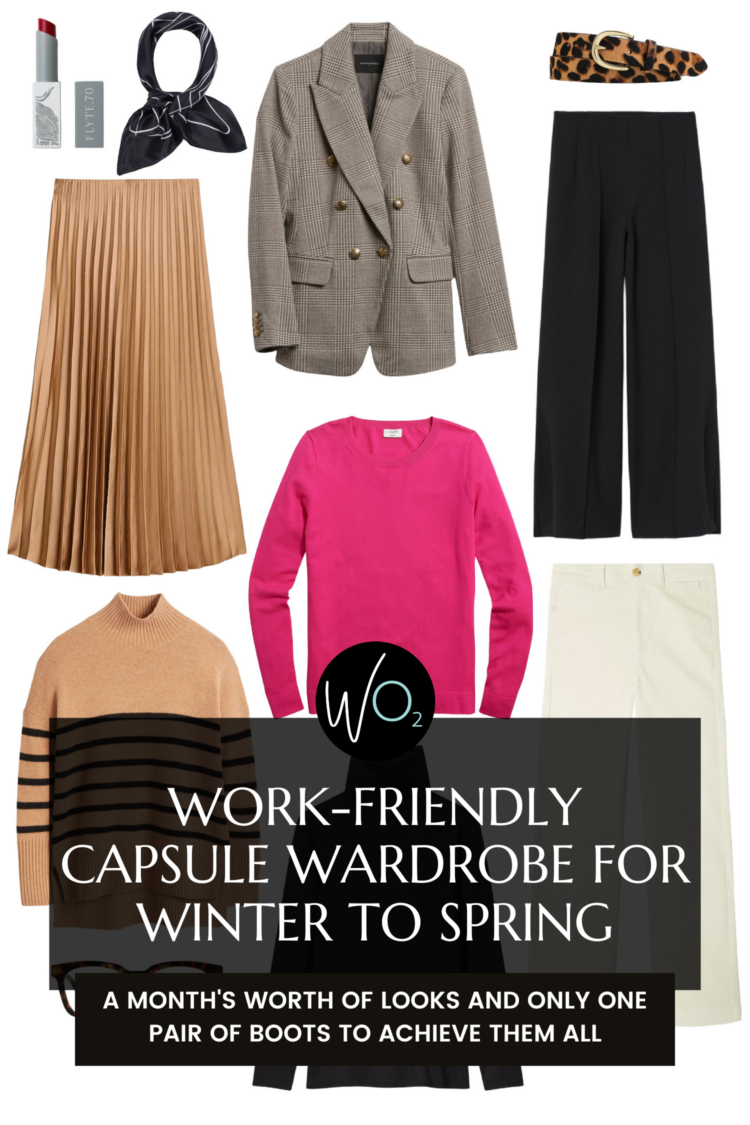 Discussing work shoes in this previous blog post, I mentioned how it makes more sense to have one pair of work shoes in this new normal, carry them with you to the office as you wear commuting shoes (those who only walk from your parking lot to your desk may not need commuting shoes). I've created a work-friendly capsule wardrobe that creates a month of looks with one pair of shoes.
While you shouldn't wear the same shoes every single day (shoes last longer if you give them time to air out and dry after each wear), since 2020 most folks aren't needed in the office five days a week. This work-friendly capsule wardrobe is for those who don't want to invest in a bunch of different shoes for minimal in-person office time. This capsule wardrobe contains clothes that will work for the office but also have a life beyond the workplace. I also chose pieces that can easily transition into spring and still remain stylish come next fall.
What Boots I'm Using in this Capsule Wardrobe
The office footwear I am using for this capsule wardrobe is the Dario bootie from Naturalizer. I own this bootie and find it to be high quality, stylish, versatile, and quite comfortable. With a subtle wedge heel and elongated toebox, this shoe looks modern and interesting while not stealing the show. Available in medium and wide widths, I own this bootie in two colors (it comes in black, alabaster, and camel) and don't find my toes slide forward, the leather is soft and supple, and it looks nice with skirts, pants, and jeans.

This boot is available at a variety of retailers, and most of them have it on sale. And because it's on sale, no one retailer has this shoe available in all sizes. I found these boots at Zappos, DSW, Naturalizer, Nordstrom, Macy's, HSN, QVC, and Amazon (which has them available with Prime Try Before You Buy).
A Work-Friendly Capsule Wardrobe for Winter to Spring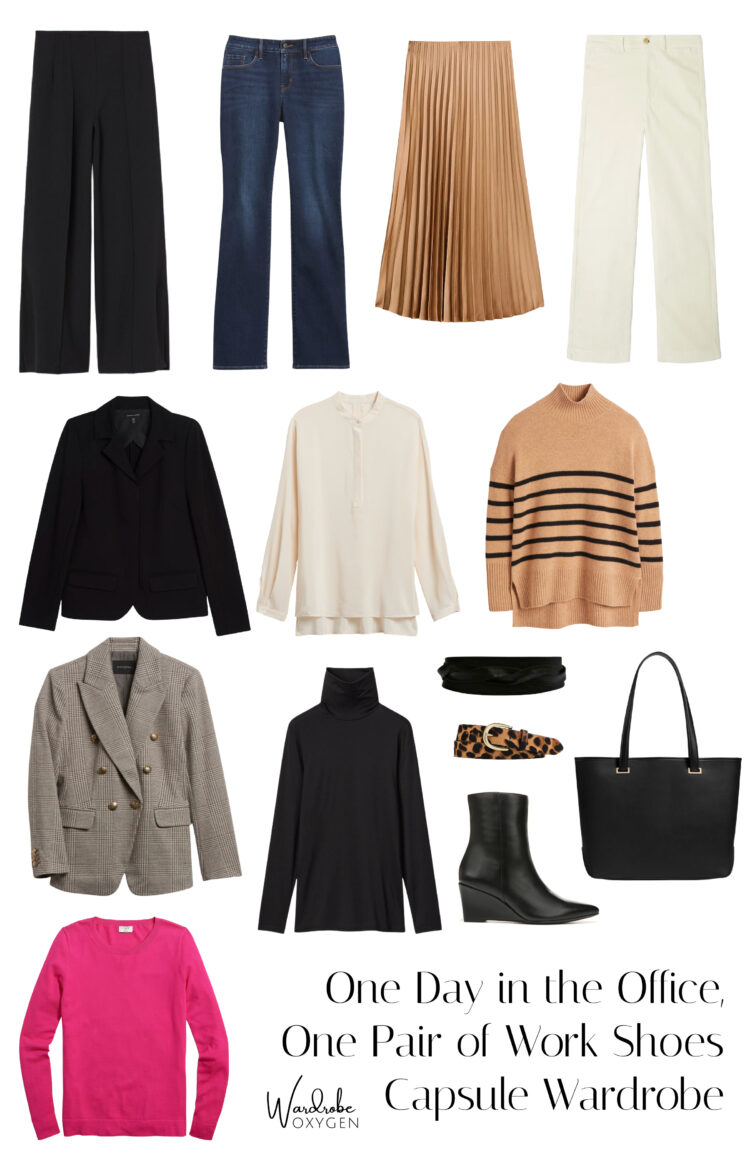 Shop this Capsule Wardrobe:
black ponte wide-leg pants (sizes 00-40) | bootcut jeans (sizes 00-30 with lengths, tall, & petite) | pleated skirt (sizes XXS-3X) | cream corduroy pants (sizes 00-16) | black ponte blazer (sizes 00-40) | cream silk crepe tunic blouse (sizes XS-XXL & talls) | striped sweater (sizes 2-20/22) | double-breasted plaid blazer (sizes 0-20 & petites) | black turtleneck (sizes XS-XXL) | pink crewneck sweater (XXS-3X) | black leather wrap belt (two lengths) | leopard haircalf belt (XS-XL) | laptop tote | black ankle booties
For this work-friendly capsule wardrobe, I kept it pretty Business Casual. Not only are we all going to the office less often, but dress codes have also relaxed a bit since 2020. The suit is ponte knit, so it's polished but also super comfortable. Cords and jeans can look polished with boots, and most offices these days are allowing denim at least on Fridays. The skirt I own and can glam up with boots or dress down with a pair of sneakers.

The key to making this capsule wardrobe work is having all your bottoms tailored to work with the shoes. The jeans and pants are unlined and easy fabrics for a tailor, seamstress, or even your local dry cleaner to hem to the right length. Take the shoes with you; you want all three to be 1/4″ to 1/2″ from the floor. If you go closer to 1/2″ then you likely can also wear them with your favorite sneakers as the wedge heel isn't terribly high.
27 Looks from this Work-Friendly Capsule Wardrobe
Below I share 27 different looks created from the pieces in this capsule wardrobe. I could have created more but they would have felt redundant. You can also extend this capsule by adding some simple pieces already in your closet. I hope this gets your creative capsule juices flowing!
To see the looks larger, simply click on any of the thumbnails and a slideshow feature will appear. There are arrows on either side so you can scroll through the looks. Click anywhere outside the slideshow to return to this screen.
Accessories for this Work-Friendly Capsule Wardrobe
Accessories make the outfit, especially when you're working from a capsule wardrobe. I kept things pretty simple, but accessories are where you can have your personality shine. Hoops are having a moment, but honestly any sort of earring is on trend. Scarves as I mentioned above are workhorses for capsule wardrobes. And belts can make a true difference in the silhouette of looks. These two belts I myself own and have for almost a decade showing that fashion may change but accessories can be a longterm style investment.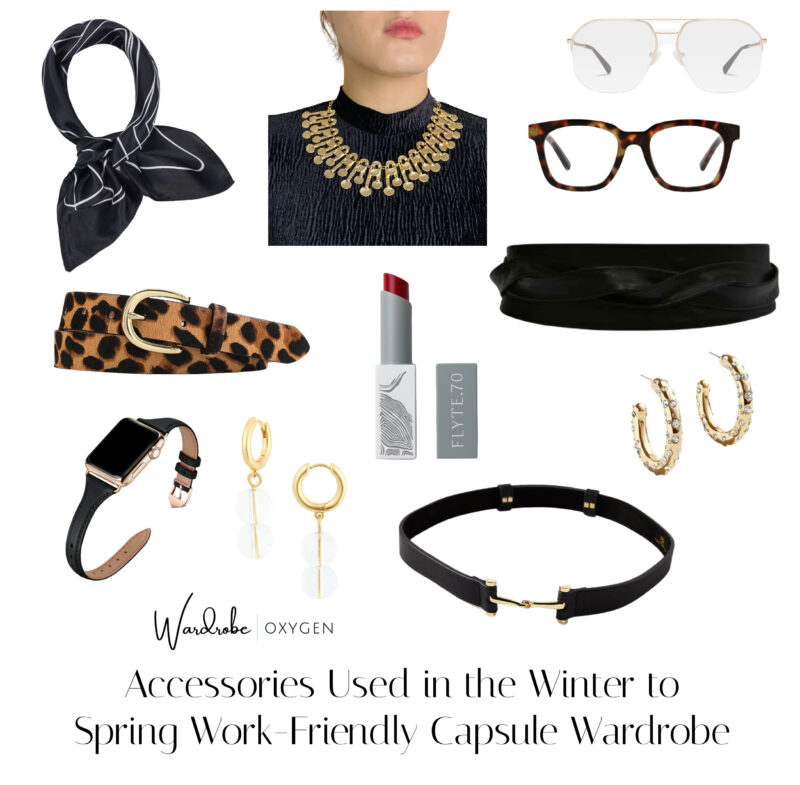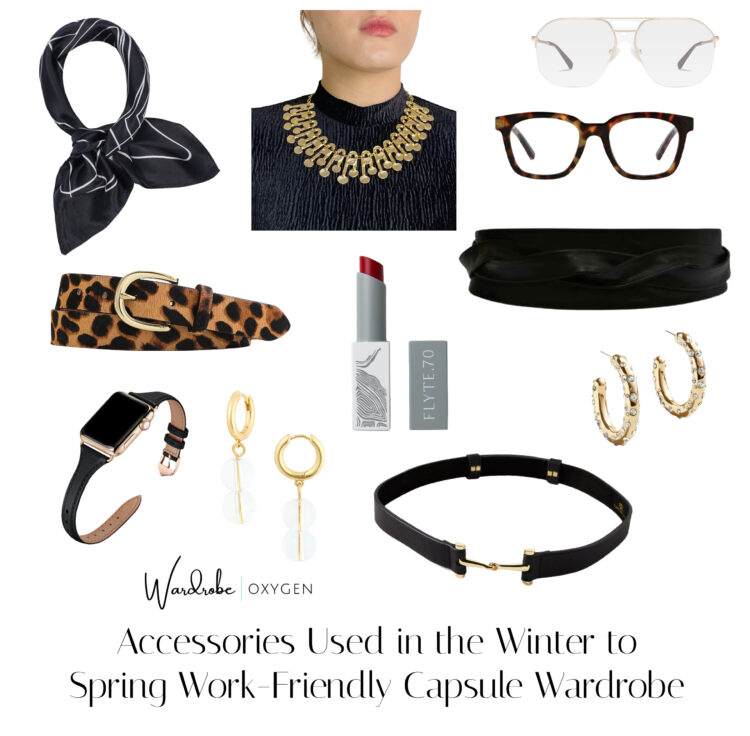 Accessories used in the Capsule Wardrobe:
black print scarf | tortoise reading glasses | aviator reading glasses | gold statement necklace | leopard haircalf belt | black leather wrap belt | slim Apple Watch band | lipcolor | hoop earrings | dangle earrings | gold buckle belt
Since the capsule contains a lot of light colors, I used darker color pieces to bookend the black boots. Shine with gold jewelry adds polish, and a matte lipstain can brighten a face even if you wear no other makeup.

What If I Don't Like These Boots?
I created this work-friendly capsule wardrobe around these Naturalizer boots, but there is absolutely no need to have them to make this capsule work. I chose them because I own them and have worn them with pants and skirts just like the ones featured here, but you could switch them out for sneakers, for a pair of Rothy's flats, a pair of combat-inspired boots, loafers, and much more.
I just wanted to show that one does not need an expansive shoe wardrobe to create many looks from a capsule wardrobe. Find what works for your feet, your comfort, and your lifestyle and there's a good chance it will work with a capsule like this!
Tips for Creating Capsule Wardrobes
This capsule wardrobe is based on a formula that you can use for your own capsule wardrobes:
Four bottoms of different silhouettes
Two jackets or top layers in different silhouettes
Three pieces in different fabrics with different necklines that can be under these top layers or work on their own, and a statement piece (here, it's the striped sweater)
Have one color of leather pieces (bag, belts, shoes)
Stick to a color story (black, cream, and camel)
But keep it interesting with a pop of color (hot pink), pattern, and texture (striped sweater, leopard calfhair belt, black print silk scarf, plaid jacket with gold buttons)
Have all shoes either the same height or have bottoms/dresses that can work with different footwear (examples: slouchier hang with sneakers, ankle pants and joggers work with heels and flat shoes).
It is important to have diversity in silhouette and texture before color and print. Without the diversity in silhouette, you essentially have a uniform. Texture helps with silhouette and how pieces hang, mix, and match. Silk will drape differently than cotton, wool will hang in a different way than ponte will.
Play with your clothes. Try a French or half tuck. Take a hair elastic and cinch up part of a top and tuck under as a belting alternative (this video shows a tutorial). Use belts to change up silhouettes. Scarves can be tied at the neck in a range of ways, can be used as a belt or even tied around a belt loop to offer an accent and change up the silhouette.