This article may contain affiliate links; if you click on a shopping link and make a purchase I may receive a commission. As an Amazon Associate, I earn from qualifying purchases. 
We grown-ass women wear whatever we want, but sometimes we like to know what's fashionable each season and add some trends to our existing closet. The easiest way to update your existing summer wardrobe is with a switch to shoes. Each summer new shoes are considered "hot" but not all are comfortable or work with the wardrobe of a grown woman. Below I share on-trend summer shoes that are great for us.
6 Top Summer Shoe Trends for Grown Women
There are many summer shoe styles this year that are different from previous summers, but I am sticking to the six styles I think are more wearable and will give you the most bang for your buck if added to your existing wardrobe.
Square-toe Kitten Heel Sandals
If you're looking for dressier summer shoes to wear for a special occasion or just to jazz up your white jeans and linen wide-leg trousers, the square-toe kitten-heel sandal is a great choice. Low enough of a heel for comfort, and space for all toes to wiggle, this is a shoe that is trendy but wearable too.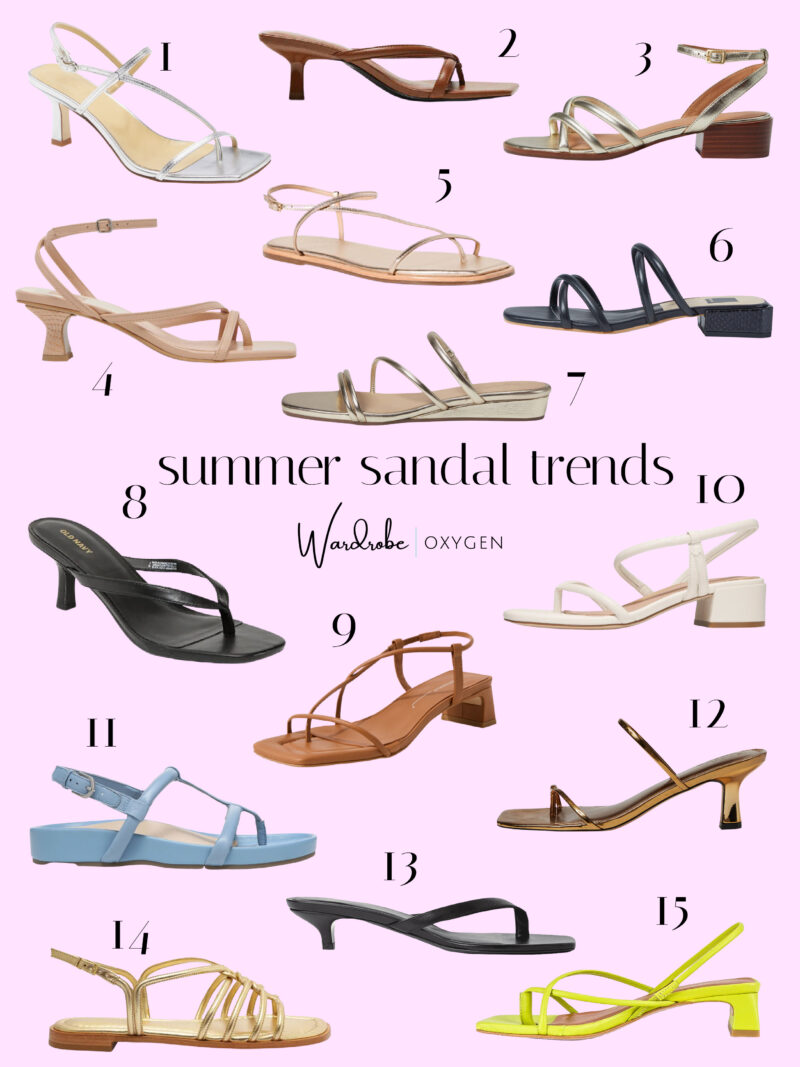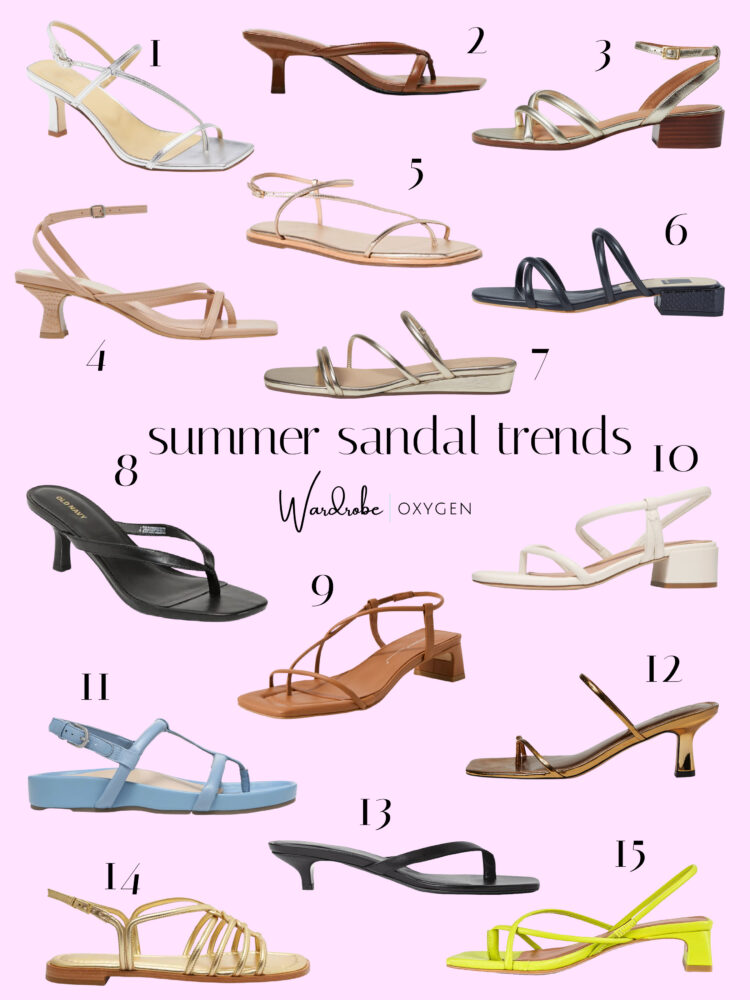 Shop the Collage:
one | two | three | four | five | six | seven | eight | nine | ten | eleven | twelve | thirteen | fourteen | fifteen

The alternative is a flat to low heel where the straps are round and a bit "puffy" instead of the traditional flat option. Preferably in black, but also in neutrals like brown, tan and cream, this is an equally versatile sandal that isn't too dressy but elevates summer closet staples.
Elevated Flip Flop
The flip-flop is back, but unlike previous times when we squeaked and slid around on foam platforms with straps from webbing or rubber, this year's flip-flop goes glam. Molded soles, leather straps, and even metallic hardware are seen on these flip flops that work great with the "coastal chic" trend that has continued since 2022.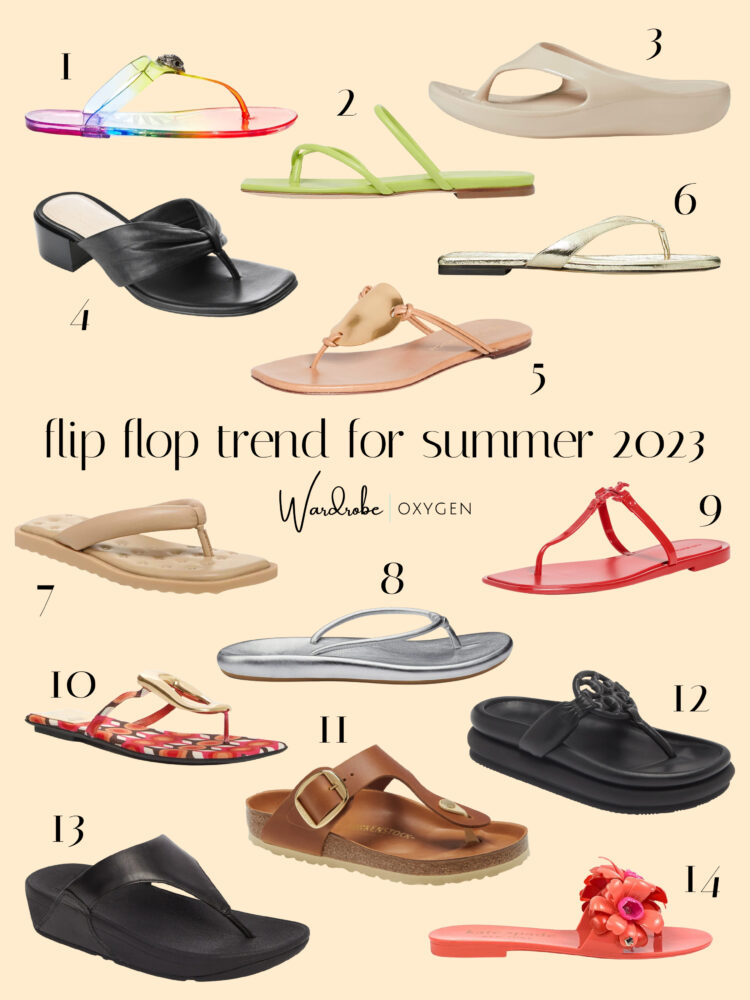 Shop the Collage:
one | two | three | four | five | six | seven | eight | nine | ten | eleven | twelve | thirteen | fourteen

The alternative is the thong sandal. Thongs in general are a trend this year, and you will see plenty of sandals that have ankle straps and a thong front. This summer, you will even seen slides and heels with thong features.
Dad Sandal
The "Dad Sandal" has a substantial sole and thick straps with one going around the ankle. Chanel revived this style but now you can find it at all pricepoints. Keep this elevated by looking for leather and smooth fabrics, tonal hardware and sole. However, for casual situations a Teva-style sandal, especially in fun color combinations and/or with chunky soles, will also be a great choice.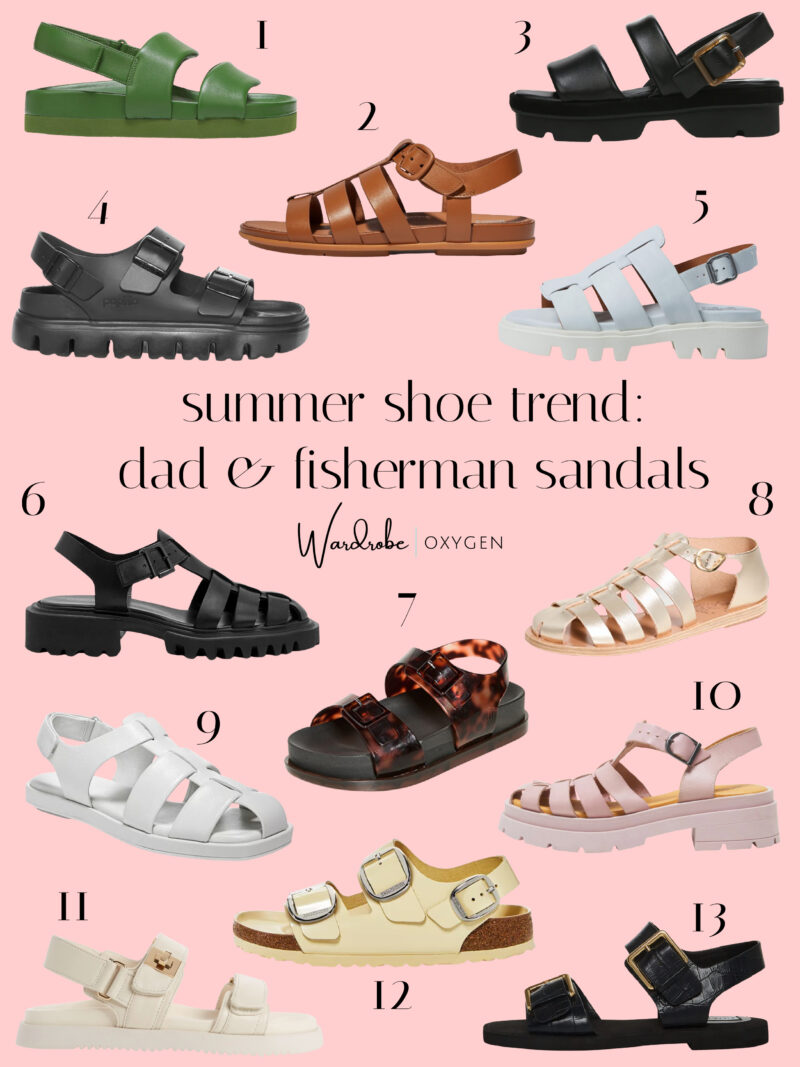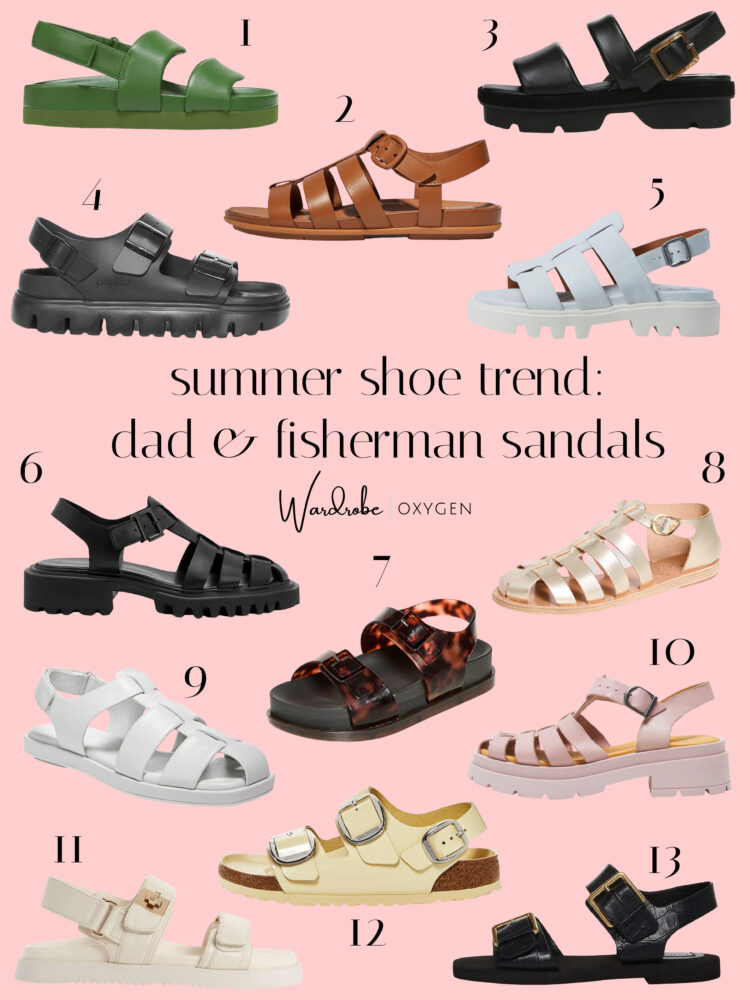 Shop the Collage:
one | two | three | four | five | six | seven | eight | nine | ten | eleven | twelve | thirteen

An alternative to the "Dad Sandal" is the fisherman sandal. However, I encourage my fellow grown-ass women to tread carefully into this trend. Look for fun colors, chunky soles, and modern detailings so you look stylish and not as though you forgot to switch out your Merrells from your morning hike. Nothing wrong with Merrell sandals, but this is advice for on-trend summer shoes, not functional and practical summer shoes.
Birkenstock Sandals
Birkenstock sandals aren't going anywhere. They, and brands that carry similar styles, have elevated the sandal in 2023 to be found in patent leather, bold colors, and cool prints and finishes. I find a pop of color with either tonal hardware or big gold or silver buckles can look elevated enough to wear beyond the music festival to pair with linen pantsuits and elegant sundresses.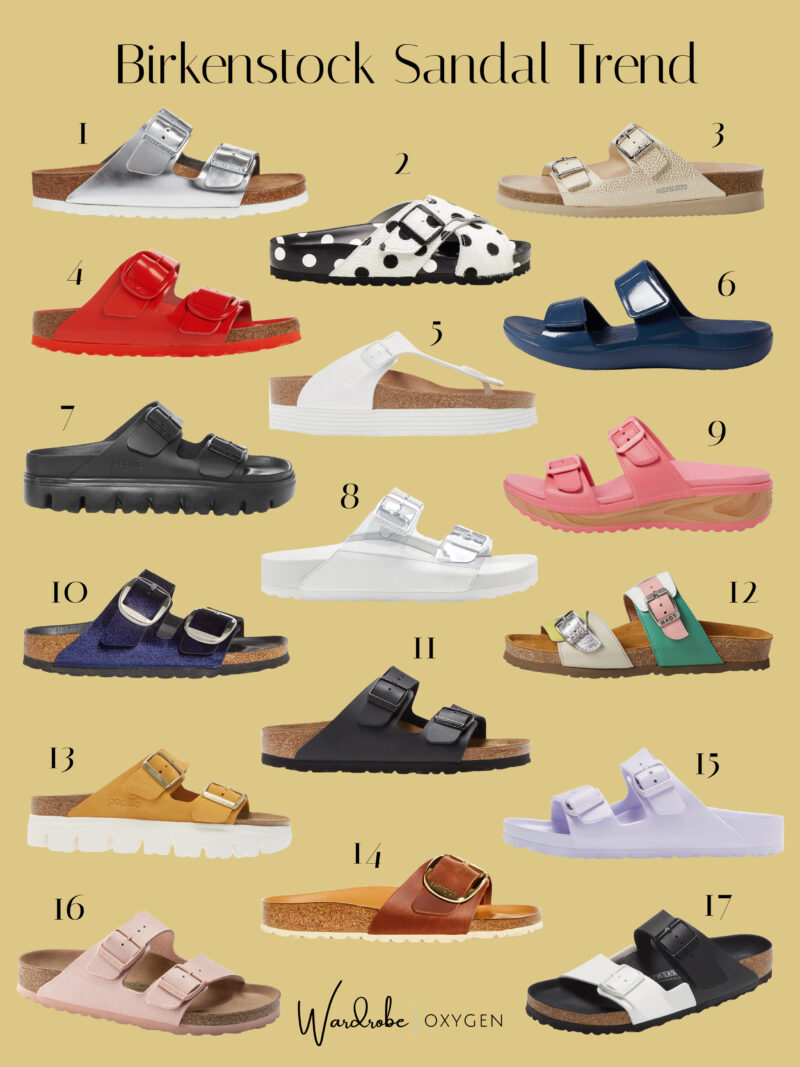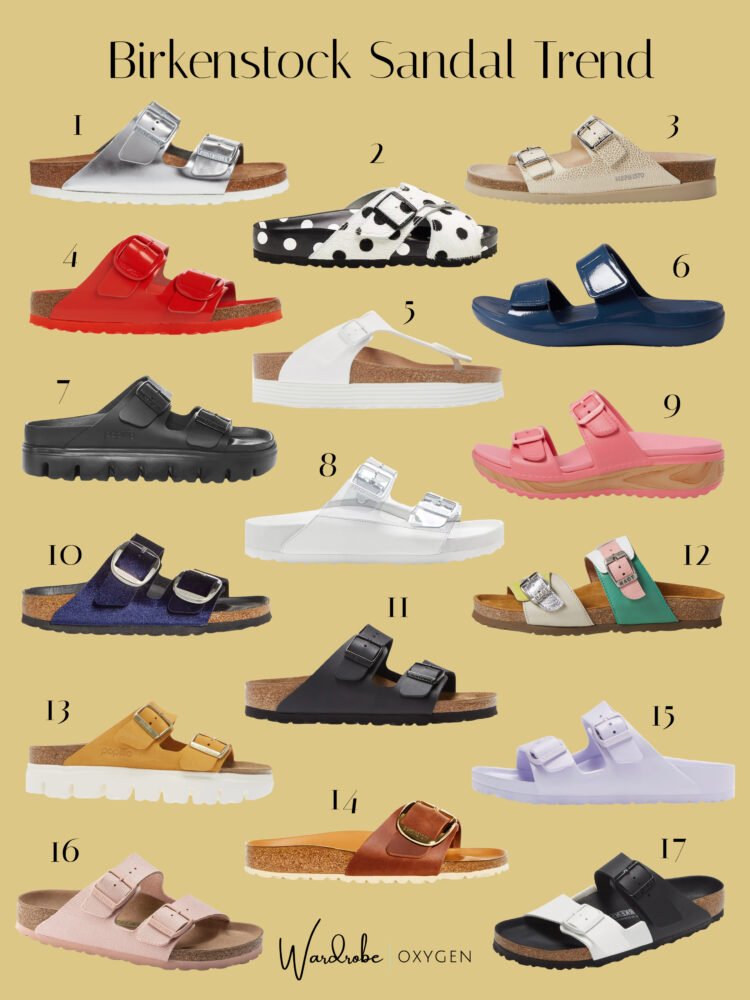 Shop the Collage:
one | two | three | four | five | six | seven | eight | nine | ten | eleven | twelve | thirteen | fourteen | fifteen | sixteen | seventeen

While Birks are known for their cork soles, this summer you can choose any type of footbed that works for you, but still gives the vibe of thick substantial straps, a solid sole, and chunky buckles.
Elevated Ballet Flat
If you're looking for a closed-toe summer shoe, the ballet flat is where it's at. As I mentioned in my 2023 fashion trends article, this year's ballet flat is a bit more structured than in the past. Chunky soles, structured leather, square toes, wide elastic cross straps… most have some detail that makes the ballet flat look substantial. This balances the volume of this summer's breezy linen and midi dress trends.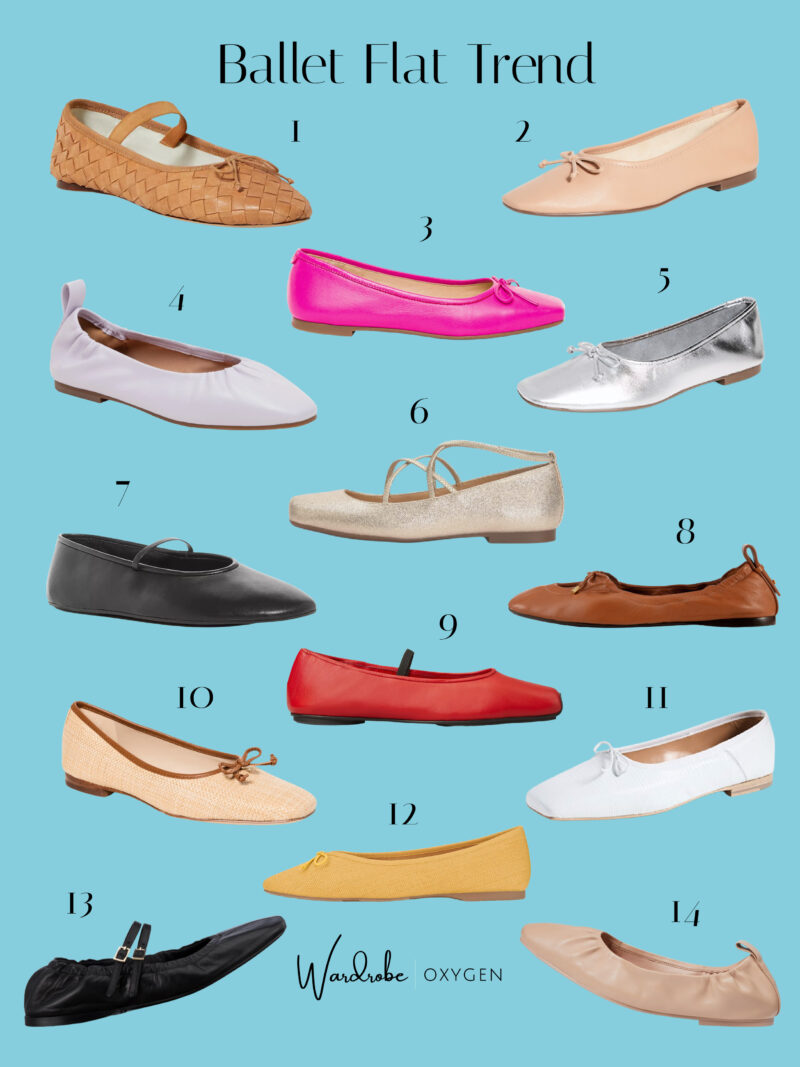 Shop the Collage:
one | two | three | four | five | six | seven | eight | nine | ten | eleven | twelve | thirteen | fourteen

An alternative that is equally on trend this year is a flat Mary Jane. While not as easily found right now, I expect the Mary Jane trend at all heel heights to continue to gain popularity throughout 2023.
Retro-Inspired Sneakers
As I reported earlier this year, retro-inspired sneakers are still a hot shoe trend in 2023. A sleek, low-profile version, especially in summer-friendly canvas is a great choice to wear with everything from midi sundresses to denim cutoffs.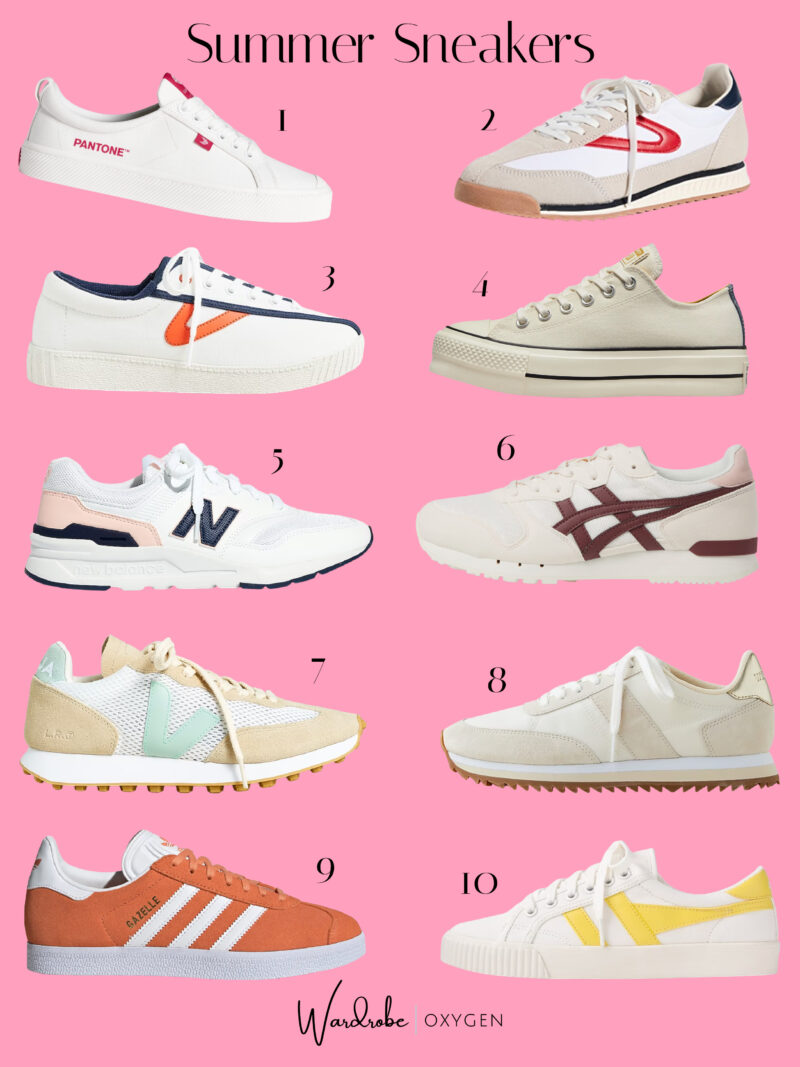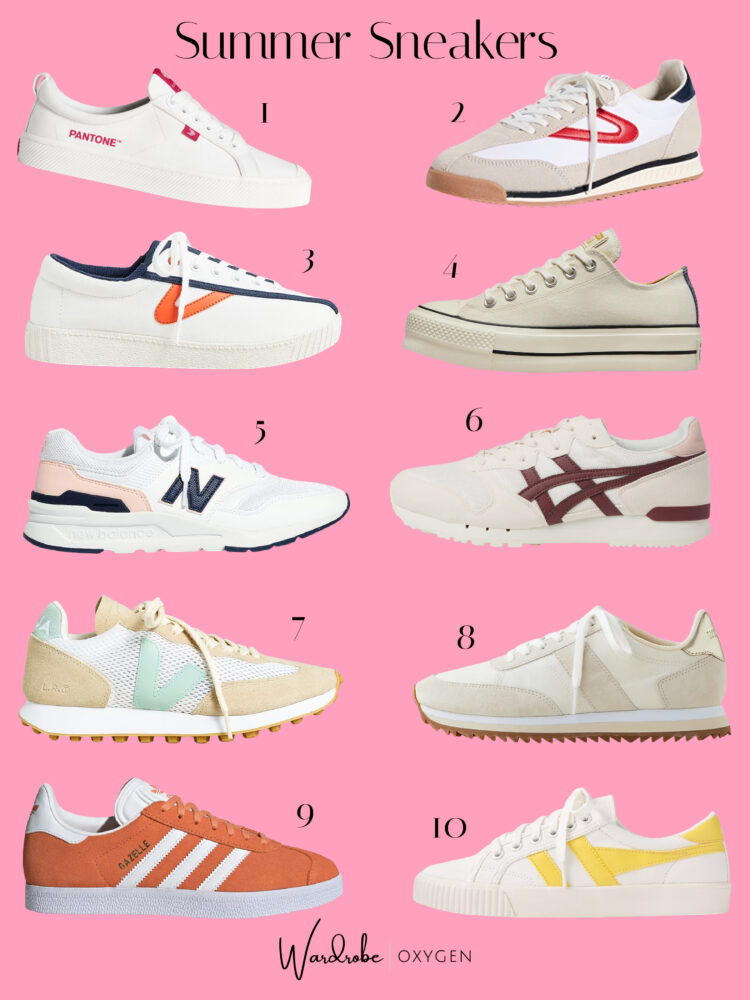 Shop the Collage:
one | two | three | four | five | six | seven | eight | nine | ten

Instead of sticking with all-white options, look for pops of colors to truly embrace the retro trend. It's okay if that green or red or blue matches absolutely nothing in your look, in fact that will add a "cool factor" to your outfit!
What Summer Shoe Trends Are a Continuing Classic?
If you have espadrilles, huaraches, or delicately strappy heels, they are still on trend this summer. Such shoes won't be going out of fashion any time soon.
What Color Shoes Are Stylish This Summer?
For the past few years, summer shoe trends have been about white or light, with a focus on shoes that are low contrast to the body to elongate the frame and feel summery. However, this summer a black sandal is quite chic.
A neutral is still stylish, and likely always be. The same holds true with metallics, especially gold. Pops of color, especially unexpected brights like yellow, candy pink, lime green, and coral look fresh.
A key trend this summer is having your sole match your shoe with hardware also matching your straps. An all-black sandal will look more stylish and more elevated than one with a tan sole, contrast stitching, or brass buckles. The trend concept is clean, modern, crisp.
But What About [Enter Summer Shoe Trend Here]?
This list doesn't encompass all the hot footwear trends for Summer 2023, just the ones I think are the most comfortable, versatile, and easy to add to an existing closet for us grown-ass women. These are new styles (or revisit of styles we've worn before) that will update your existing not-so little black dresses, linen and chino pieces, and breezy sundresses.
But I Need [Enter Foot Problem Solver Here]
I never believe in sacrificing comfort and health for fashion. My advice is a guide, not gospel. If you need a certain style of shoe to deal with your foot issues, then rock those shoes without shame. In fact, you may find this year with the trend towards more substantial sandals and the added variety of "cool" sneakers, you may have more luck than in past years in finding shoes that fit your personal style aesthetic and your comfort and health needs!