This article may contain affiliate links; if you click on a shopping link and make a purchase I may receive a commission. As an Amazon Associate, I earn from qualifying purchases.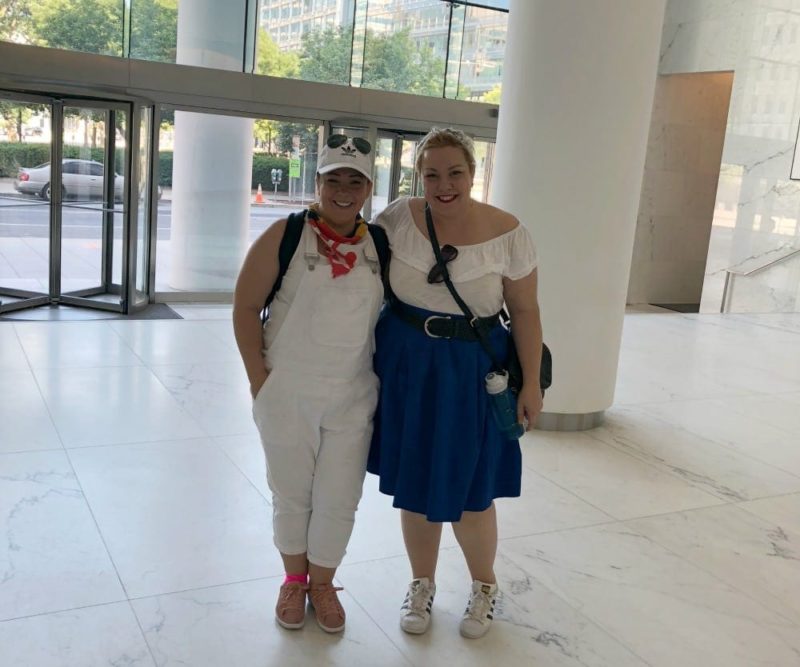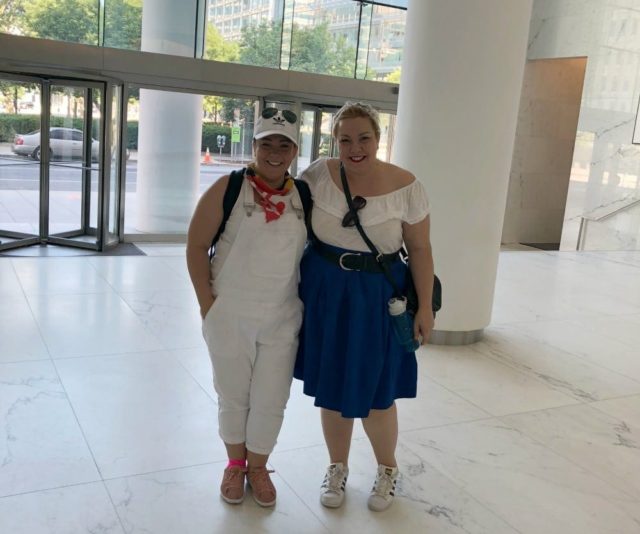 Saturday was the Families Belong Together Rally and March. At over 750 rallies across the United States, people gathered together to protest the how immigrant families are being detained and separated. No hate, no fear, immigrants belong here. My father's parents came to Ellis Island from a town on the Russia/Poland border; my mom's family is a hybrid of immigrants who arrived on the Mayflower to more recent immigrants who arrived from various places in Europe. The majority of United States residents are immigrants or descendants of immigrants. As the country has grown and changed, immigration procedures, of course, have changed but there is absolutely no justification for the current inhumane policies. I love America, I am a proud American but I am not proud of the current administration. But because I love my country and my right to protest I HAD to be at the Families Belong Together Rally and March this past Saturday, June 30th.  My sister and I went together. I know there will be many more rallies and marches in our future, I thought it may help to share what I wore and carried with me.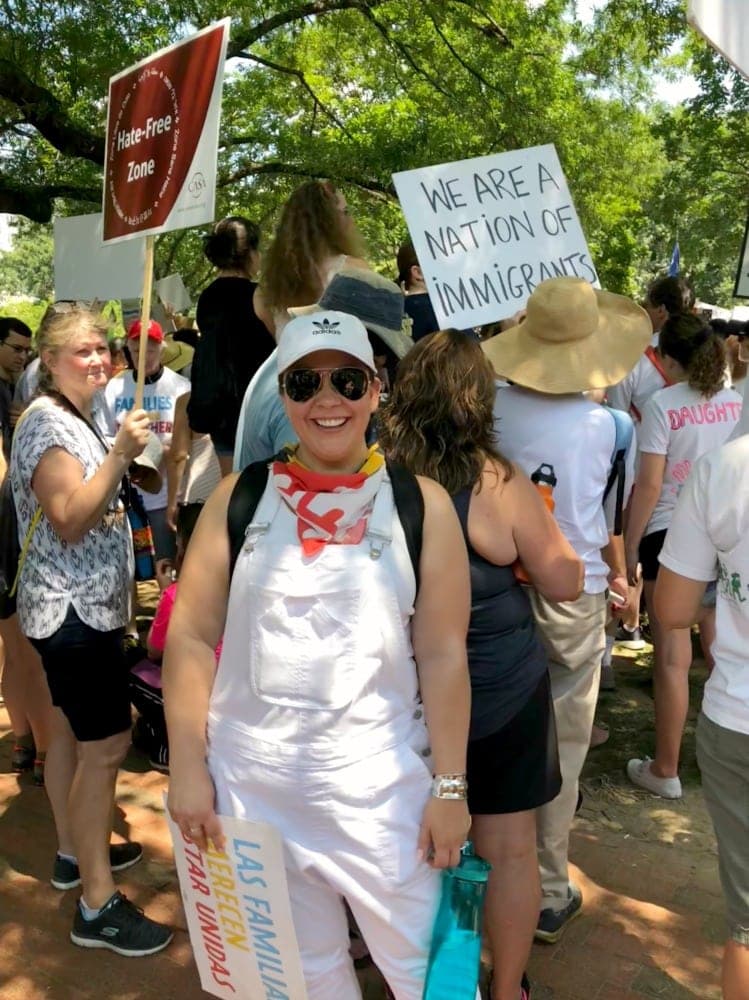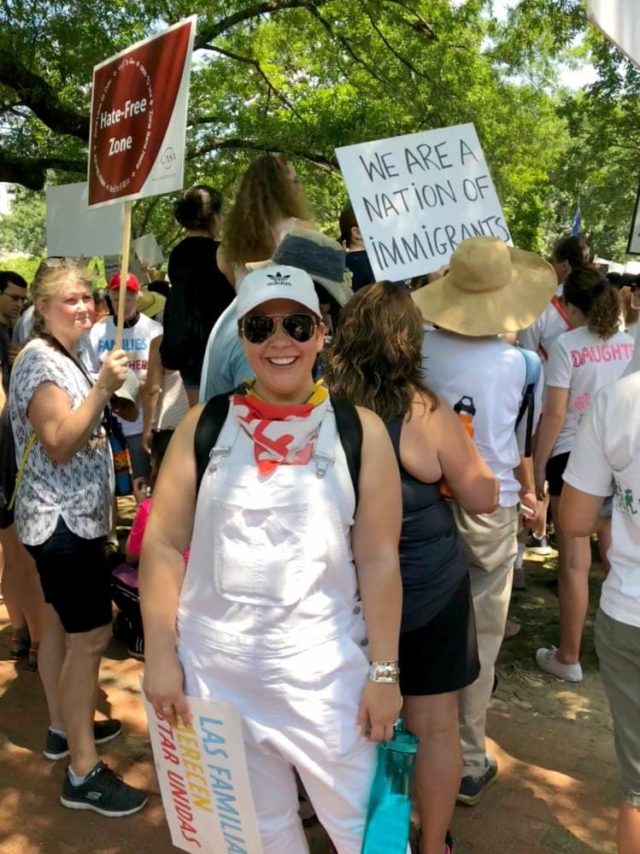 Overalls: Gap (Large Petite) | Tank: Loire Tank c/o Universal Standard (XS Petite) | Shoes: Puma (on sale!) | Bandana: Route One Apparel | Hat: Adidas | Backpack: Dagne Dover | Sunglasses: Ray-Ban
The dress code was to wear white, a symbol of unity and peace. It was a hot day, sunny with hardly a cloud in the sky. I wanted to wear something cool and comfortable, but also practical. I love overalls for their many pockets, but they're also great in warm weather because they are a bit loose and don't cling to the body. To balance having my legs covered, I chose a sleeveless tank. The Loire Tank from Universal Standard has a neckline that's not too high or too low, thick enough that there's no bra show-through, and it's shaped for curves so it doesn't ride up with movement. For shoes, I wanted comfort over style. My Puma sneakers fit well and are nicely cushioned; under I wore my beloved Smartwool socks which keep my feet dry and happy. On my right foot, I wore one of these arch supporters since I have a fallen arch and my insole didn't fit in any of my sneakers. While it doesn't replace quality arch support like I find with my Birkenstocks, it kept me pain-free for the event and beyond.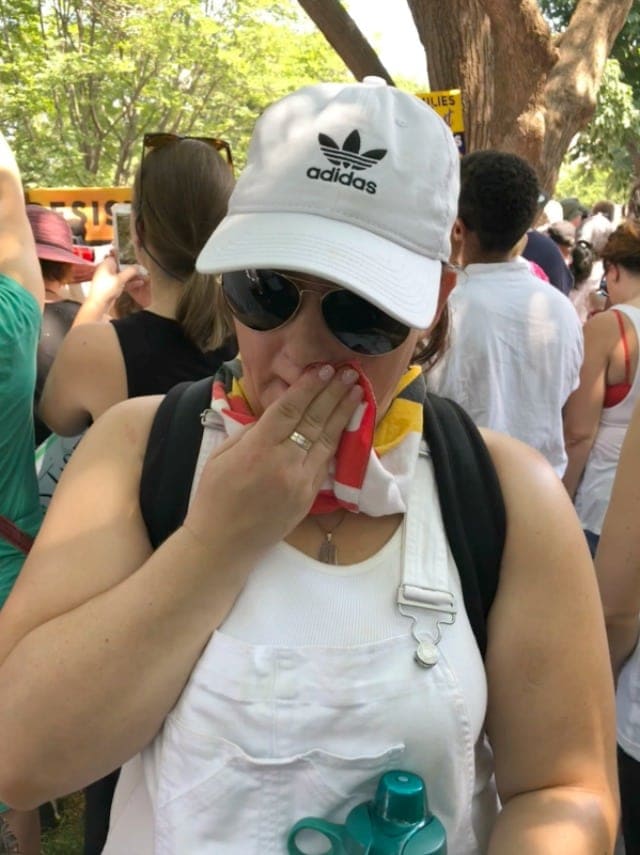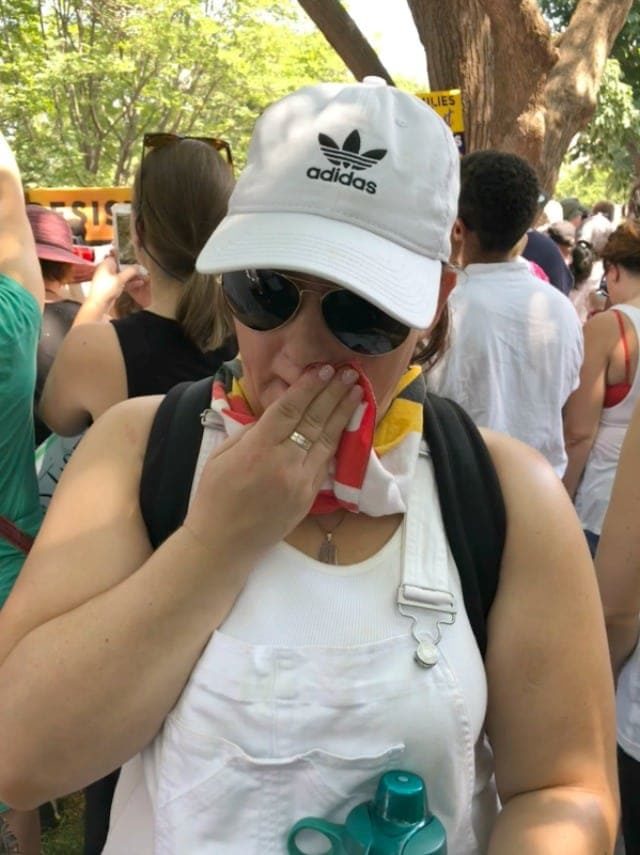 I wore a Maryland flag bandana to the Women's March to represent the state where I grew up most my life, live in now, and love. I decided to stick with that theme for Saturday. It proved useful for wiping away sweat! Because I wanted to protect my face and also not have to deal with sweaty frizzy summer humidity hair, I wore a white baseball cap. And sunglasses, of course, I chose my favorite Ray-Ban aviators.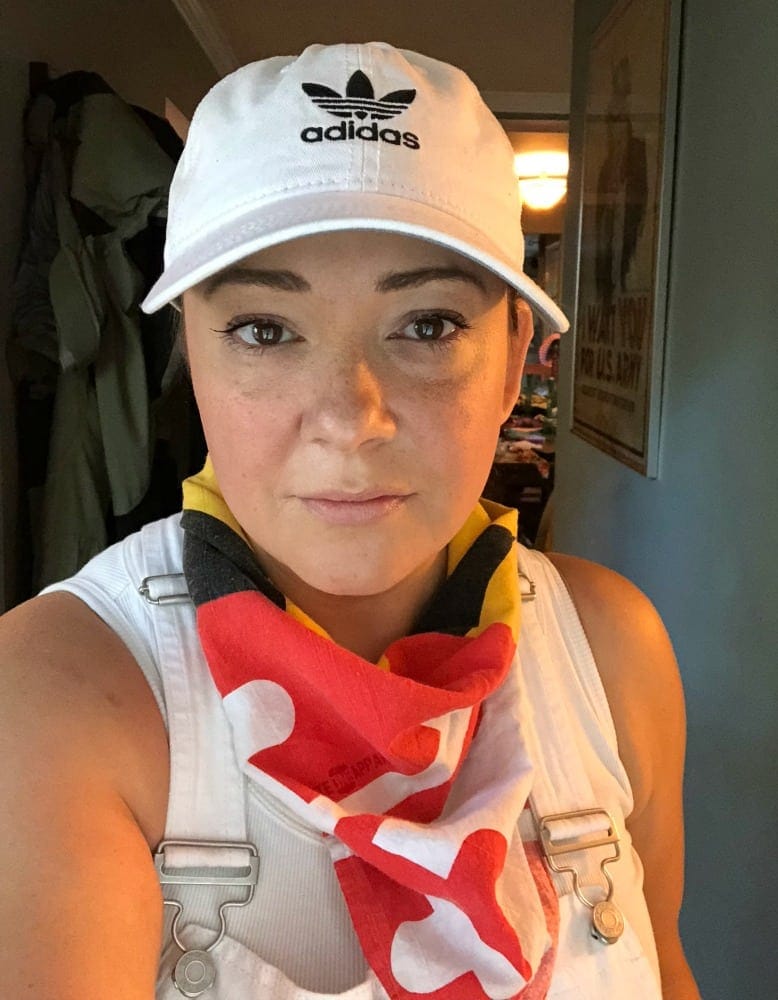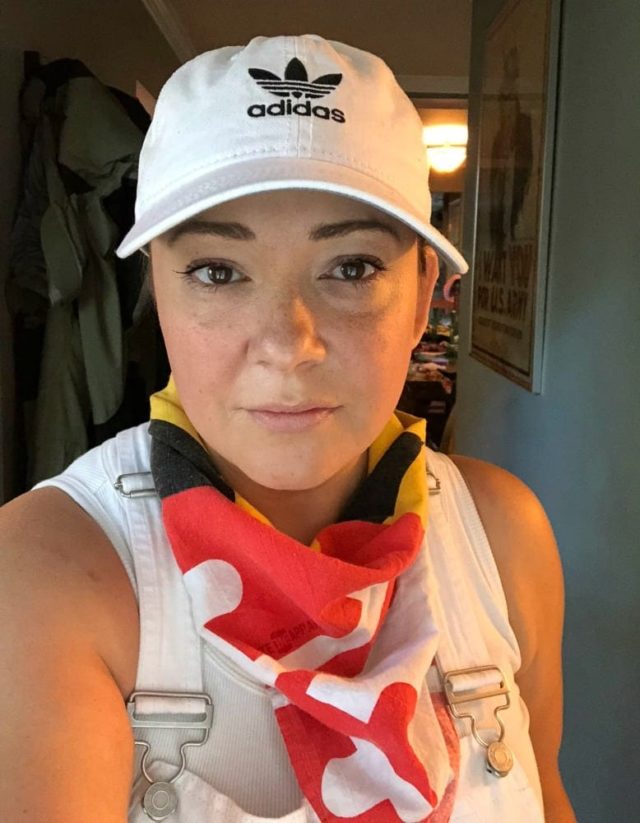 For makeup, it was minimal because of the heat.  Over my moisturizer with SPF, I wore Supergoop CC Cream with SPF 35 (I love this stuff and wear it daily), filled in my brows, curled lashes and tubing mascara (won't smudge or smear with sweat or tears), a hint of liquid blush, and Aquaphor lip balm with SPF 30. I set the whole face with Supergoop Setting Mist with SPF 50. SPF 50 over the whole body and reapplied while standing at the rally.
Wearing white can be tough for undergarments and I didn't realize until that morning that the majority of my seamless skin-colored undies were in the laundry. I did find a pair of Soma Vanishing Edge High Leg Briefs in my lingerie drawer which I adore but I worried about sweat. I added a panty liner and ladies, this was perfection. The underwear didn't slide, ride, or even feel like it was on and the panty liner kept me feeling dry and fresh in the heat.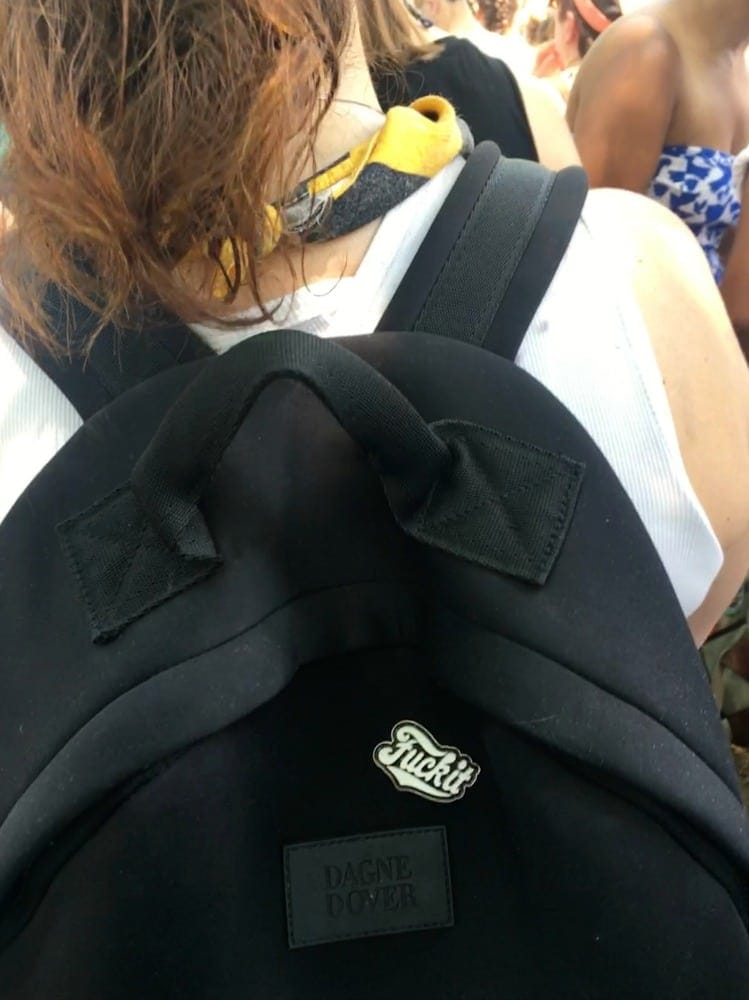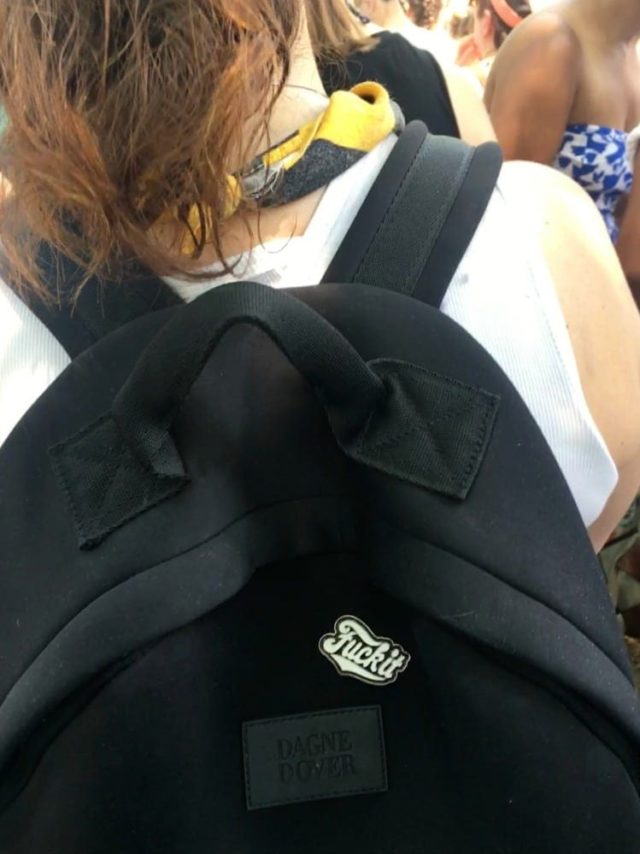 I decided to wear a backpack so my hands would be free to clap and hold signs. My Dagne Dover Dakota backpack is a fave and was great for this (the button was a gift from reader Dianne). In the front pocket, I had quick-grab items – lip balm, a sunscreen stick, eye drops, gum, etc. In the main compartment I had:
32oz. water bottle filled
Extra pair of socks (this is a personal thing where I've had many times in my life when I have gotten wet feet, hot spots, etc. and also I've been able to give them to others who didn't think of socks and could use them to prevent blisters and such)
SPF 50 spray sunscreen
Sanitizing wipes, a Ziploc baggie with toilet paper, and a travel pack of Kleenex
A pouch with phone essentials (two battery packs already charged, a wall plug and cords for my phone and batteries)
Three protein bars (always good to have extra snacks for others)
Another clean bandana
A pouch with essentials:

Sunglasses wipe and spray
Safety pins
Band-Aids
Hair ties and barrettes
Sharpie and pen
Tampons and pads (takes up little space and good to help out another)
A photo of me with my husband's phone number on the back and my business card
A pocket mirror
A travel container with Advil and Immodium AD
A Secret Freshie (no I am not part of the campaign that is all over your Instagram feed, I found this at CVS a month or so ago)
Dental floss (useful for more than just your teeth)
In my overalls I had my Dagne Dover card case which carried my ID, SmarTrip card, check card, business card, and cash.  The bag wasn't too heavy or so full it wasn't annoying in a crowd.
I didn't want for anything, though after being there if I could do it again I'd bring one or two instant cold packs. A woman near us in the crowd fainted. The crowd was amazing caring for her, making space, fanning her with signs, offering water and snacks.  One woman had one in her bag and was able to activate it and put it on the back of the woman's neck to help her cool down.  The rally was well organized; there were volunteers everywhere, water stations, folks offering sunscreen spray-downs, and medics came to help this woman in just a couple of minutes.  They had a variety of signs they were handing out for free.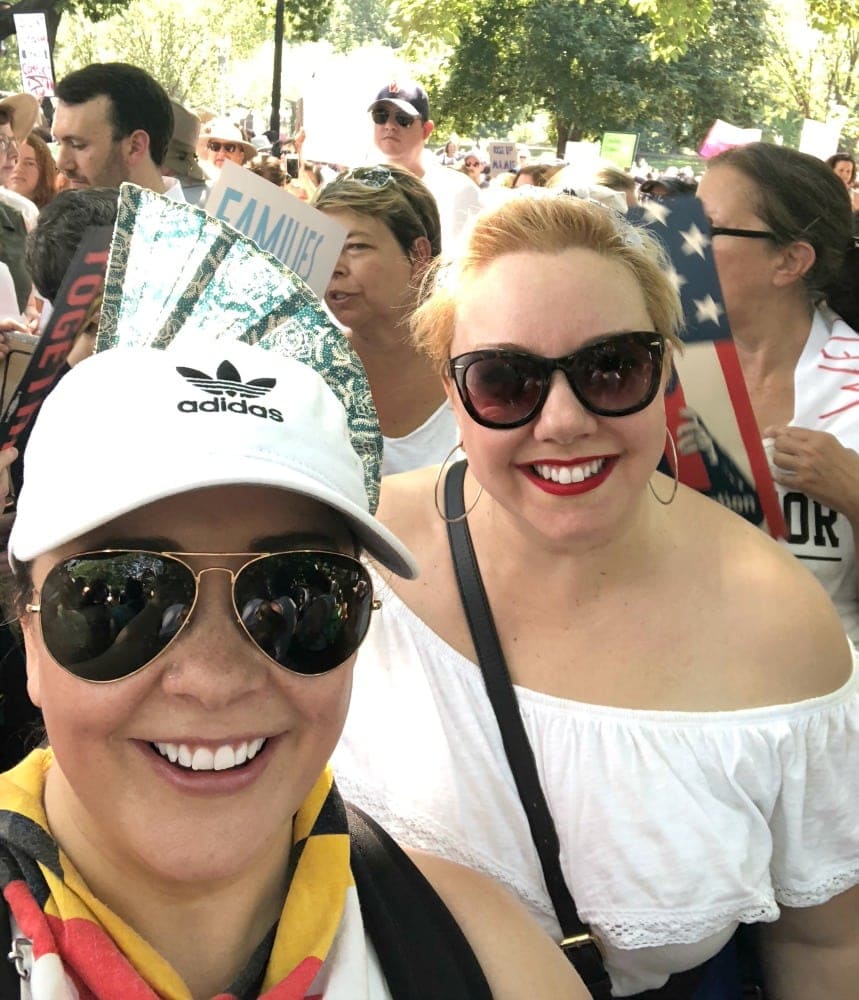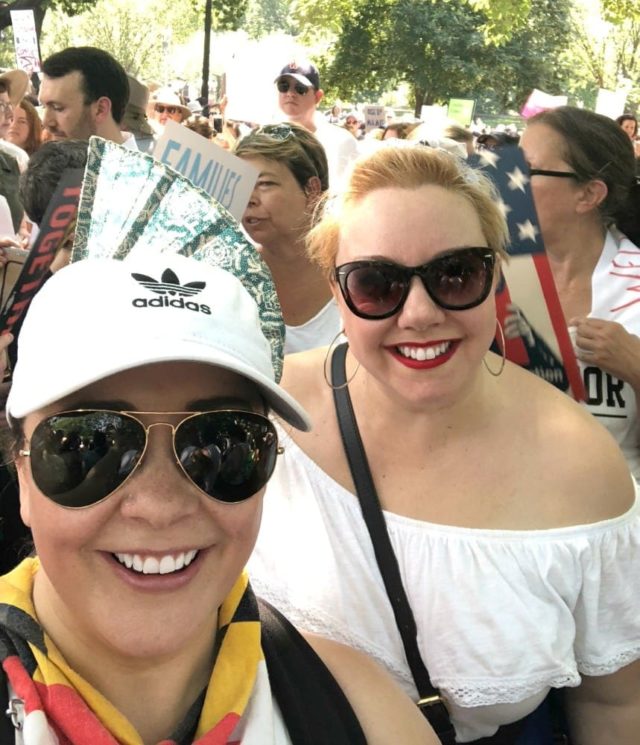 There were a few in the crowd who had misting fans which were nice for the heat. My sister brought a folding fan, which was pretty genius. Speaking of my sister, she wore a skirt which was both cute and comfortable. I saw many women in skirts and dresses. If you're dressing for a protest march don't think you need to get into tactical gear. As long as you are comfortable, have good sturdy shoes, and are dressed for the weather you're good. Wear what makes you feel best.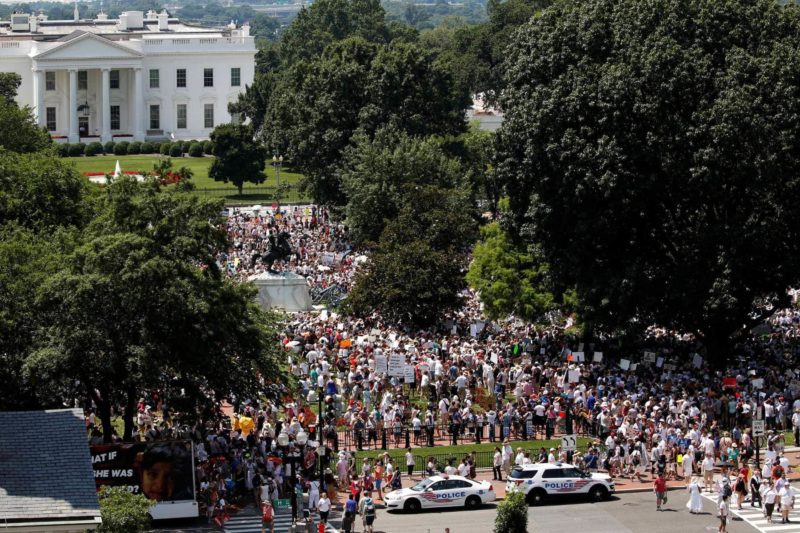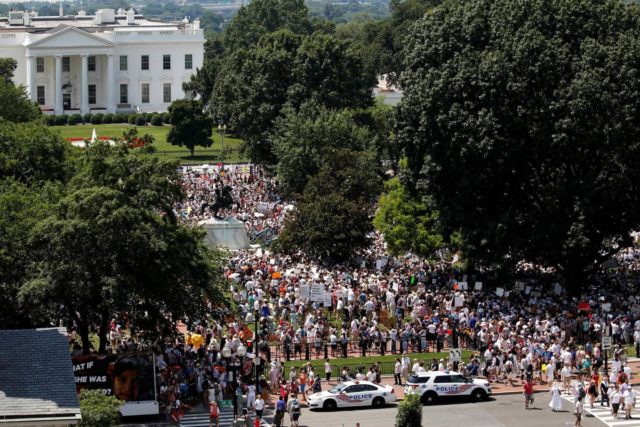 My sister and I are somewhere deep in this crowd under one of those trees. Photo by Joshua Roberts/Reuters
The rally was held in Lafayette Square, right in front of the White House.  The Square has brick paths throughout it; the crowds kept the paths relatively clear so it was easier to get around (and get out) than many other rallies I've attended in DC. We got there early and got a lay of the land, then headed to a Starbucks for fuel and last use of a proper bathroom. At Starbucks, I met a woman from Asheville, NC. She had already planned a trip to DC this weekend and was excited when the march was scheduled at the same time.  The whole coffee shop was filled with people in white and shirts with messages of love, inclusion, and support, When we got back to the Square, we found a good spot to the right of the stage, but it was in full sun.  We went to the other side and while we didn't have a clear view of the stage, we could hear everything and were under a tree, offering shade even a noon.  The crowd was amazing, very respectful and kind and friendly.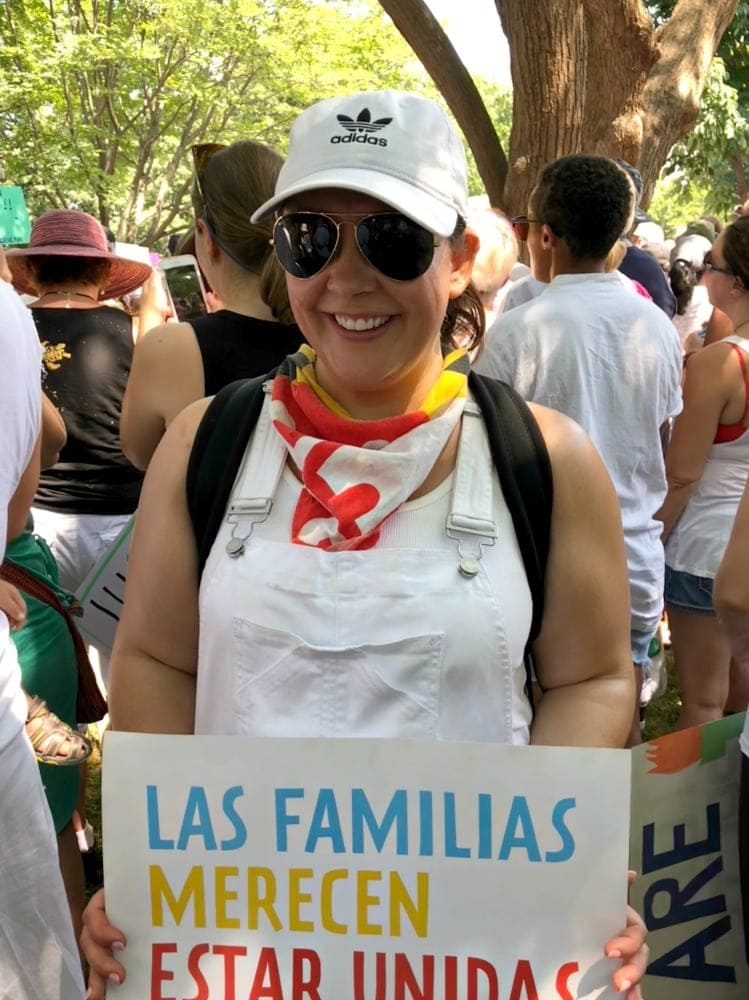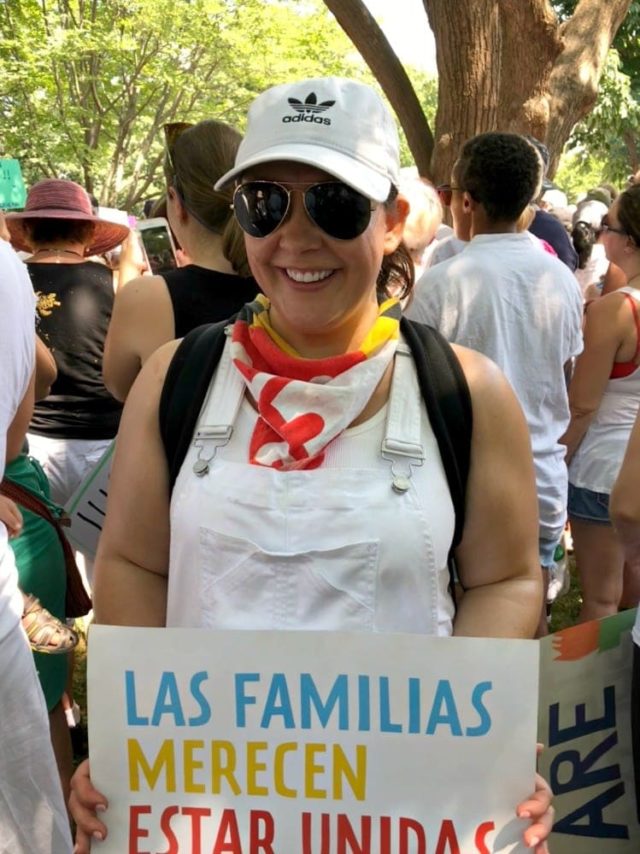 We were having people over our house at 4 pm, so we had to leave before we could march to the DOJ.  However, being there showed we do care. With the birthday of our country on Wednesday, I can't help but not speak out to protect it from those who no longer wish it to be the land of the free and the home of the brave.  I'm glad I went on Saturday, it gave me the energy to keep speaking up and doing what I can to make a positive difference for this country and planet as a whole.
Dagne Dover Promo Code
Use ALISON10 at checkout to get 10% off your order at Dagne