This article may contain affiliate links; if you click on a shopping link and make a purchase I may receive a commission. As an Amazon Associate, I earn from qualifying purchases.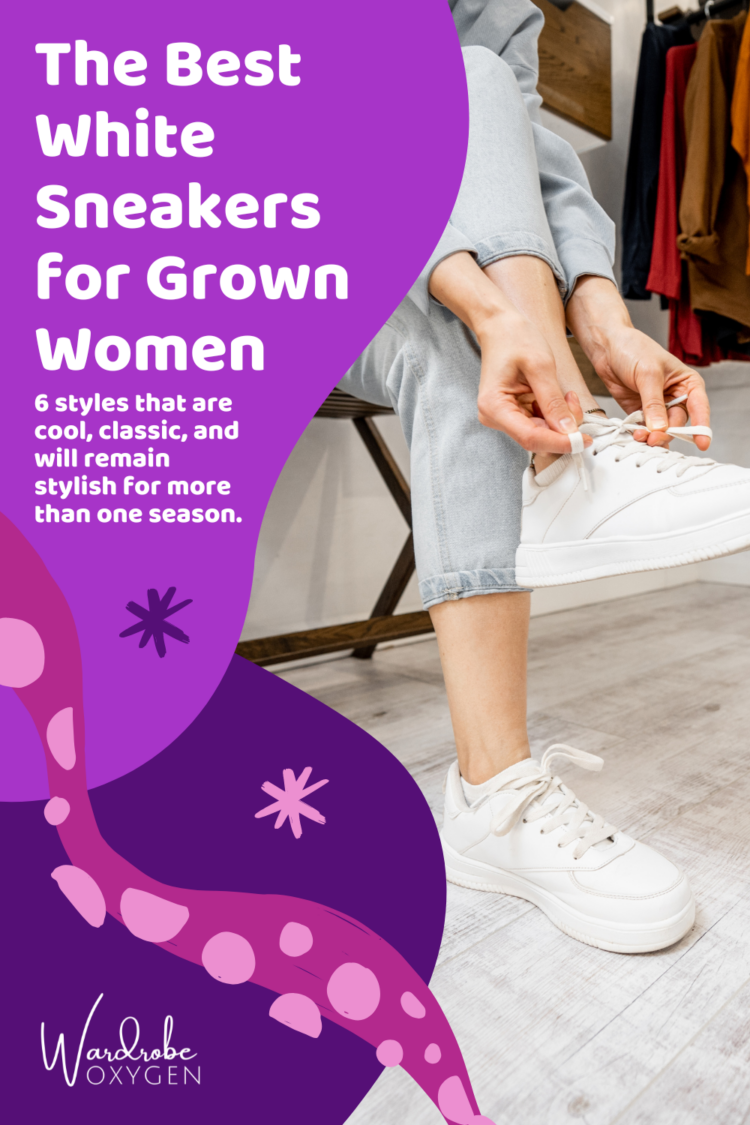 Unless you've been living under a rock, you've seen that the hottest footwear for women over the past decade is a pair of white sneakers. However, the brand, style, and details of these white sneakers or tennis shoes keep changing. As grown women, we're often looking for the best bang for our buck, and that would be a white sneaker that feels good, looks good, and transcends the trends. A cool classic, and below I share what I think are cool classics: the 6 best white sneakers for grown women.
The 6 Best White Sneakers for Grown Women
These are not sneakers for marathons or Crossfit. They are not the best for arch support or fussy feet. These are casual sneakers and tennis shoes to wear with your wide-leg pants, your ankle jeans, your midi-length skirts, your floral sundresses, and your cut-off denim shorts. These are the sneakers you keep white and fresh because they are function as well as fashion, and if you treat them well you likely can get several years of cool classic style from them.
Before we proceed I want you to let go of that dated style rule that you don't wear a trend the second time around. Fashion is cyclical, and as grown women, we have the right to wear whatever we want, even if we rocked it in our teens or 20's or 30's or whatever. And there is no better category of fashion where it's fun to break this rule than footwear.
Think about it, if a shoe was hot when we were in our teens and it is still hot… that's a classic. And my hope is you find a stylish white sneaker that is cool, is on trend, but is a classic so it doesn't have to be replaced each time the white sneaker trend subtly changes.
1. Adidas Superstar
I have been wearing the Adidas Superstar (also known as Adidas shellcaps or shelltops due to the shell-shaped plastic toe cap) since high school. While known for their three stripes on the side of the shoe, I am partial to the white on white version which is more subtle, looks a bit more elevated, and is far more versatile.
I have had a pair of these sneakers in my closet for over a decade. I try to keep them clean, often wash the shoelaces, and when they get too beat up, I replace them and the old pair becomes my gardening/walk the dog/go to a festival shoes. I add a pair of these insoles for extra comfort and support.
2. Adidas Stan Smith
The Adidas Stan Smith is another classic white sneaker that has been stylish for decades. Offering a slimmer profile than the Superstar, the Stan Smith is a favorite across the globe for all genders, styled with everything from suits and skirts to t-shirts and soccer shorts.
As someone with wide and high-volume feet, the Stan Smith doesn't fit me. Otherwise, it would be in my closet. While the Stan Smith comes in all white, the green heel detail is also pretty cool because it's the original version, and all the options are subtle enough to remain versatile.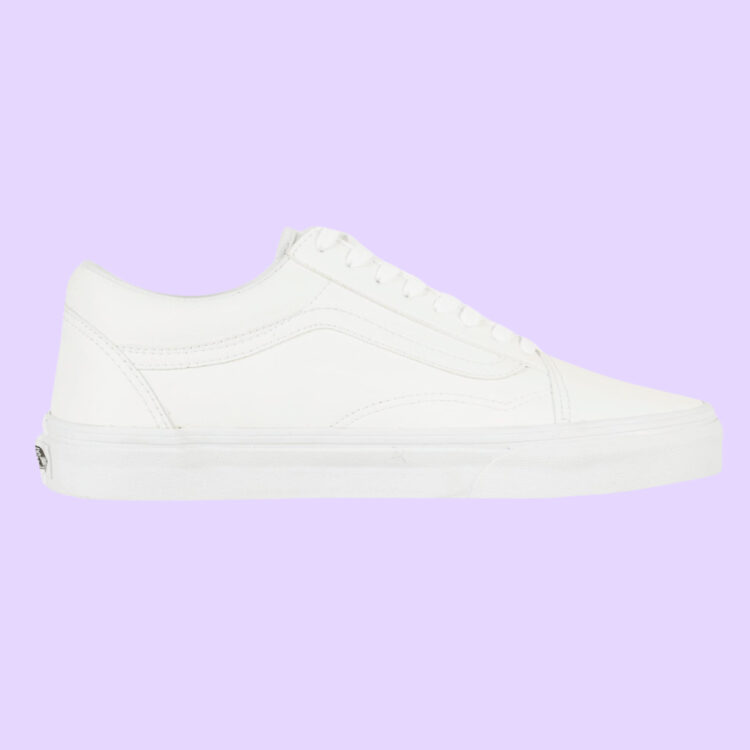 3. Vans Old Skool
If you prefer a non-leather shoe, want to reminisce about your Betty days, or just have as more relaxed personal style, the Old Skool from Vans is a great white sneaker for grown women. While this shoe is available in a broad range of colors and prints, for this piece we're sticking with the white version of this sneaker (however, the black, gum/oatmeal, and some other versions are also great classics).
Vans come in men's and women's sizing and I've found the men's sizing to be a bit wider than the women's. If you are a small women's size, try the big kids sizing which is often cheaper and also runs a bit wider. Unlike the above leather shoes, I think Old Skools look kinda cool with a bit of subtle scuffing that comes from ordinary wear.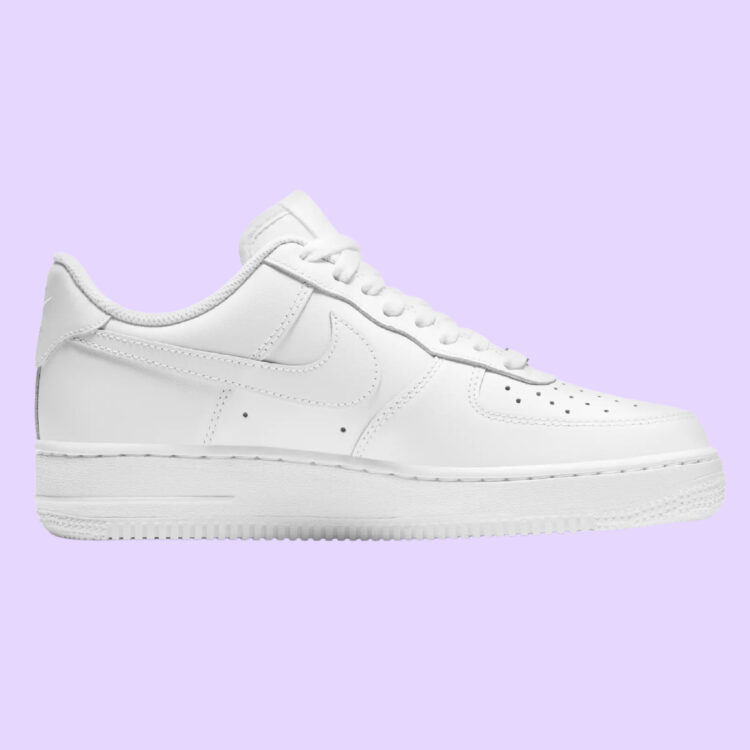 4. Nike Air Force 1
While the Nike Air Force 1 isn't as popular as it was a couple of years ago, the shoe has returned to classic cool status, and wearing them in all white is a chic option for grown women who aren't sneakerheads. This version isn't a full high top, but has the solid silhouette that makes the Air Force 1 popular and looking great with jeans, dresses, and joggers.
The Nike Air Force 1 is a comfortable and supportive shoe; if you're familiar with Nike, these will fit similarly with plenty of cushioning. There is no specific Air Force 1 that is cooler than others, I just recommend sticking to one that is all white and free of any embellishments.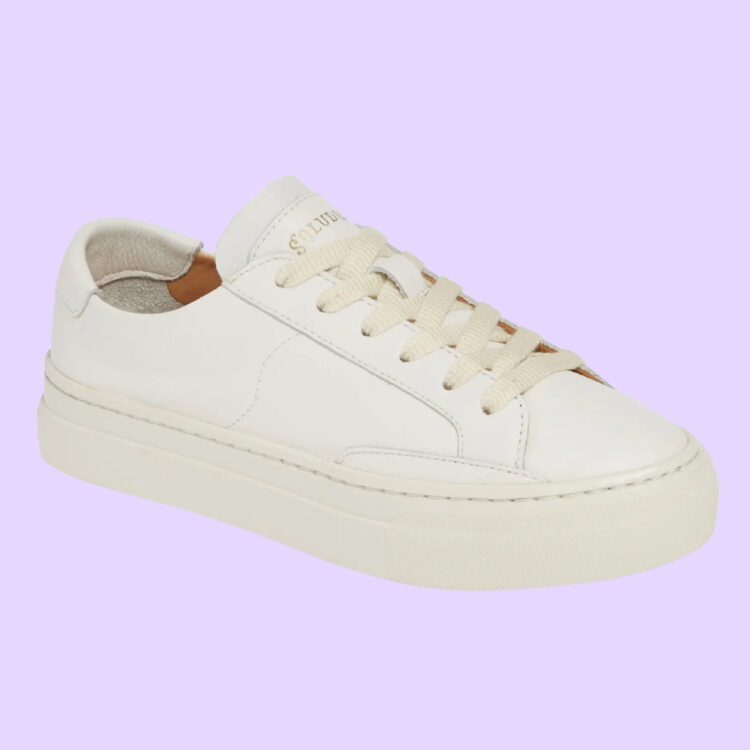 5. Soludos Ibiza
If you're looking for a classic and cool sneaker that is also sustainable, check out the Soludos Ibiza sneaker. Made from responsibly sourced leather and recycled water bottles, the Ibiza is surprisingly soft with a good amount of cushioning.
The Soludos Ibiza is a great sneaker for those with narrow or low-volume feet. They take little break-in time and are subtle enough of a style that they'll be on trend for many years to come.
6. Veja Esplar
Honestly, any style of Veja sneakers, at least for the past several years, has been considered cool. Veja is the original sustainable sneaker brand, making way for Allbirds, Soludos, Cariuma, and the like. A French brand, you will see stylish folk wearing Vejas on pretty much every continent. I chose the Veja Esplar because it is one of the most popular styles and one that comes in all white.
Using organic, recycled, and fair traded cotton for their canvas, recycled bottles for their plastic, and fair-traded rubber for their soles. Veja sneakers are stiff and you will need to break them in, but folks who have find Vejas to be durable, comfortable, and a favorite for many years. If in doubt, go up a half size.
But What About [Insert Other Style of White Sneaker Here]?
There are dozens of brands of sneakers on the market, and each brand offers dozens of styles of white sneakers. You can find sneakers for $15 and sneakers for $1,500. I chose the 6 best white sneakers for grown women that are available season after season, are known for quality and longevity, and have a relatively timeless silhouette. This doesn't mean another brand or style isn't stylish. You know your budget, your feet, and your style best.
My only advice is don't buy a budget sneaker pretending to be a designer one. A good guide is go to a department store like Neiman Marcus, visit their sneaker department and organize the offerings from high to low price. This way you will see the buckles of Roger Vivier, the distressing of Golden Goose, the red and green ribbon trim of Gucci and then when you see that replicated by Steve Madden, ALDO, or Walmart you know it's a cheap copy. If you can't afford designer, I recommend going with an established athletic shoe brand like Nike, Adidas, or New Balance or else a very simple clean style.
How to Keep Your White Sneakers Clean
These are my hacks for cleaning white sneakers:
Toothbrush and Toothpaste: After using a dry toothbrush to flake away any dirt, a little bit of white toothpaste on a damp toothbrush can do wonders for cleaning leather sneakers. I find this to be most effective for the nooks and crannies where it's hard to reach. Be sure to rinse away any toothpaste with a damp cloth and dry quickly; saturated leather can shrink and get stiff. If you don't have white toothpaste, a paste made from baking soda and water can also work.
Sponge and Dawn: Dawn dish soap is magic; it's the best for getting out oil stains, wine stains, blood stains, and also shoe stains. I find a damp sponge with a touch of dawn will wash off superficial dirt and scuffs better than any other laundry or dish detergent. Then use a damp rag to rinse and a dry rag to remove any leftover moisture.
Magic Eraser: A Mr. Clean Magic Eraser is your best friend for getting soles clean again. Do a few swipes after each wear to have your shoes sparkling and ready for your next outing.
Bleach Your Laces: While I wouldn't do this to my shoes, I do find that laces will get grimy and yellow faster than some sneakers, and they don't always get bright white in the wash. Remove the laces from the shoes and place outside on a flat surface. Spray with a bathroom or kitchen cleanser that has bleach in them, and let them dry. Then either rinse in water until clear or toss into your next whites load of laundry.
White Nail Polish: I learned this trick in high school to keep my Reebok Classics looking fresh. If you get a scuff on leather that removes the color and finish, dab the spot with white nail polish. Depending on the finish, another alternative is a white paint pen.
If you have a favorite white sneaker or tip for buying or maintaining white sneakers, do share in the comments! Your suggestion may be exactly what another member of the Wardrobe Oxygen community has been needing!