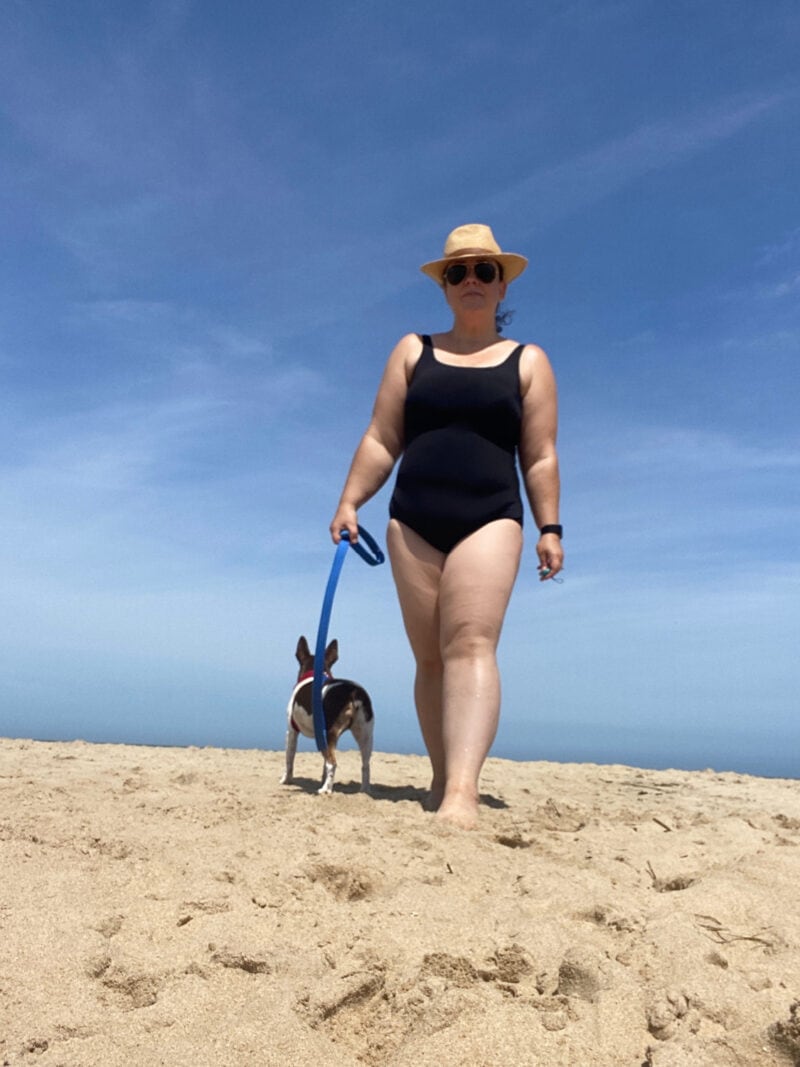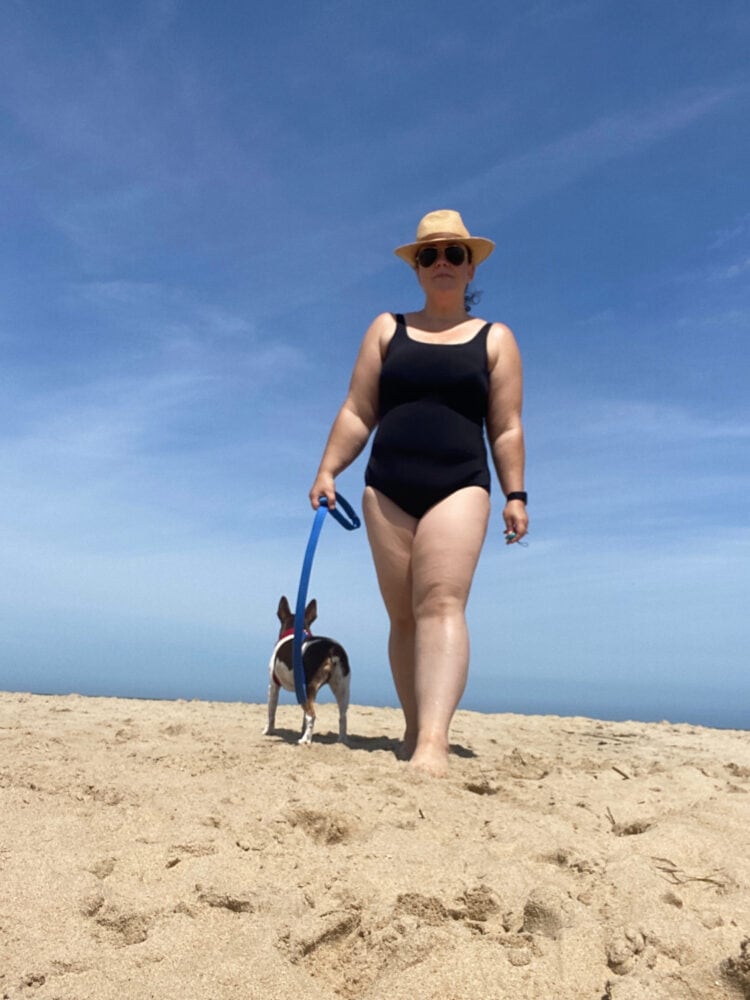 I am not buying any new swimsuits this summer. I own three, and that's more than enough especially since I find that almost every getaway, visit to a friend's house with a pool or hot tub, or essentially any opportunity to wear a swimsuit I choose my Lands' End Tugless Tank. In fact, I wore it this weekend when my family and I visited Lewes, Delaware.
This isn't my first Tugless Tank from Lands' End; I think this is my fourth. It's not like the old ones wore out, these suits wear like iron. It's just that over time my body changed, my tastes changed, or I succumbed to influencer pressure and felt I needed something bolder, brighter, and exposing less skin.
As an influencer who uses her platform as a way to normalize bodies that look like mine, I don't mind showing skin in pictures or in real life. I'll rock a bikini at the beach or community pool happily. I love color, I love print, I love showing that every body, regardless of size, shape, age, or ability, looks amazing in what swimwear makes them feel great.
But as I mentioned in a previous blog post, I am not the same person I was in 2020, or 2019. The Alison who went through the past year now wants to dress for herself, which means comfort and joy. In some parts of my life, that means bold prints and bright colors and cool silhouettes. In others, such as swimwear, that means chic and practical… just like the Lands' End Tugless Tank.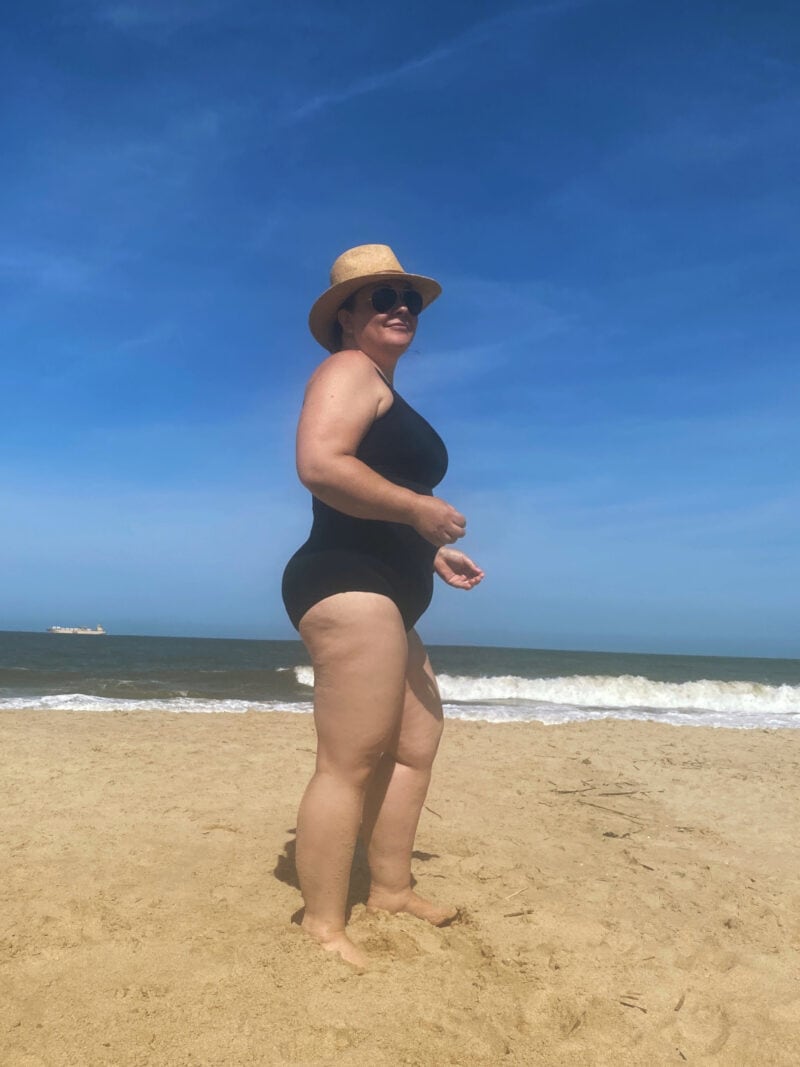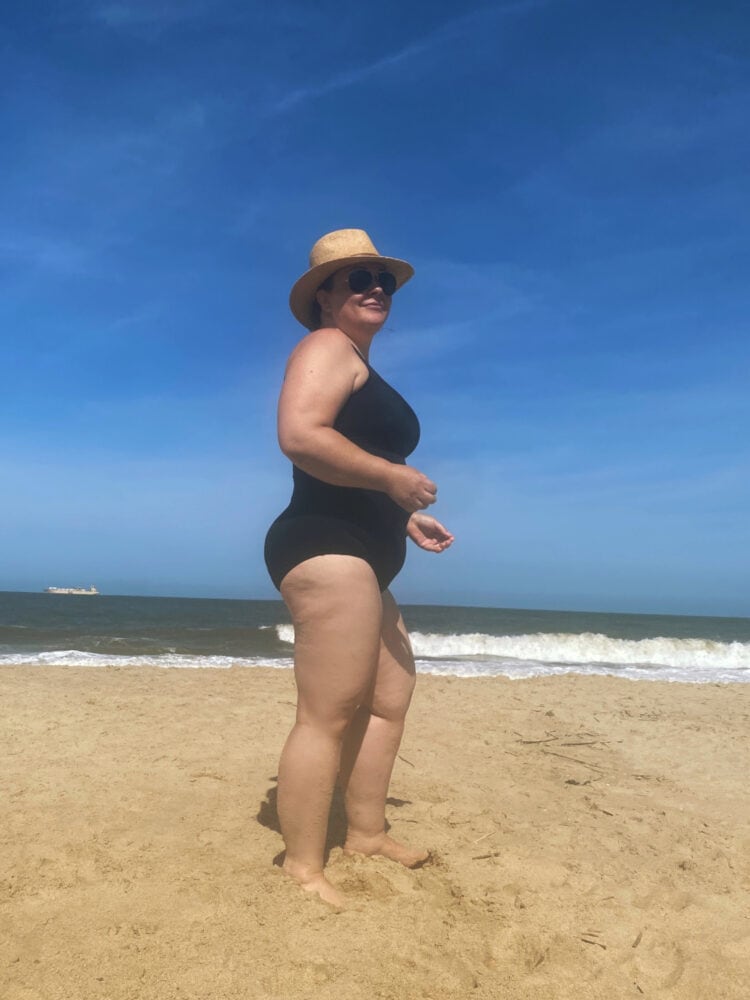 Why Is The Lands' End Tugless Tank so Perfect?
I was at lunch with my sister who is a different shape, size, and height from me and she shared how much she loved the Tugless Tank. I was reading comments in the Wardrobe Oxygen Community on Facebook and multiple readers across the country, of different sizes and ages and personal styles were raving about this suit. And I think how I also have it and think it's pretty perfect.
Why is it perfect? Because it looks simple but it is quite innovative. What appears to be a run-of-the-mill tank-style one-piece swimsuit comes in multiple variations to accommodate short torsos, long torsos, plus sizes (up to 26W in regular and long torso), those who have had a mastectomy, those with a larger bust, and an option for those who prefer a little tummy control. This year they even have a long-sleeved version that still has the built-in bust support.
The Lands' End Tugless Tank is chlorine resistant. Seriously, you can spend all summer in the pool, even forget to rinse your suit after laps, and it will still be the same color come Labor Day. It also resists breakdown from sun, sweat, and other environmental factors. The fabric is UPF 50; The Skin Cancer Foundation recommends it as an effective UV protectant only for covered areas.
Why is it called Tugless? Because it is the first swimsuit I have ever owned where I haven't had to pull out a wedgie after swimming laps or going down a water slide or playing in the surf. Where the straps stay in place, no matter what. Made with LYCRA® Xtra Life™ spandex, this suit will last 10X as long as other swimsuits, and will hold its shape after multiple wears.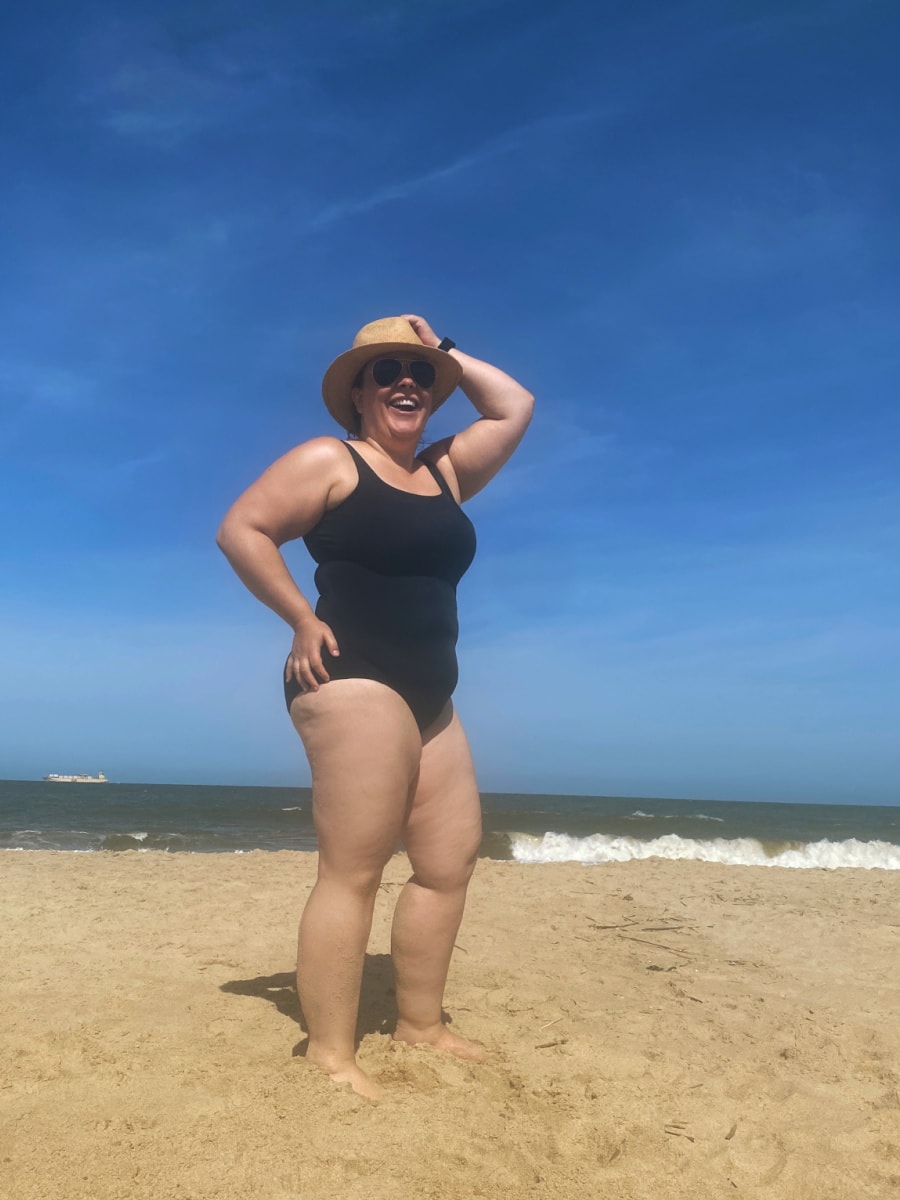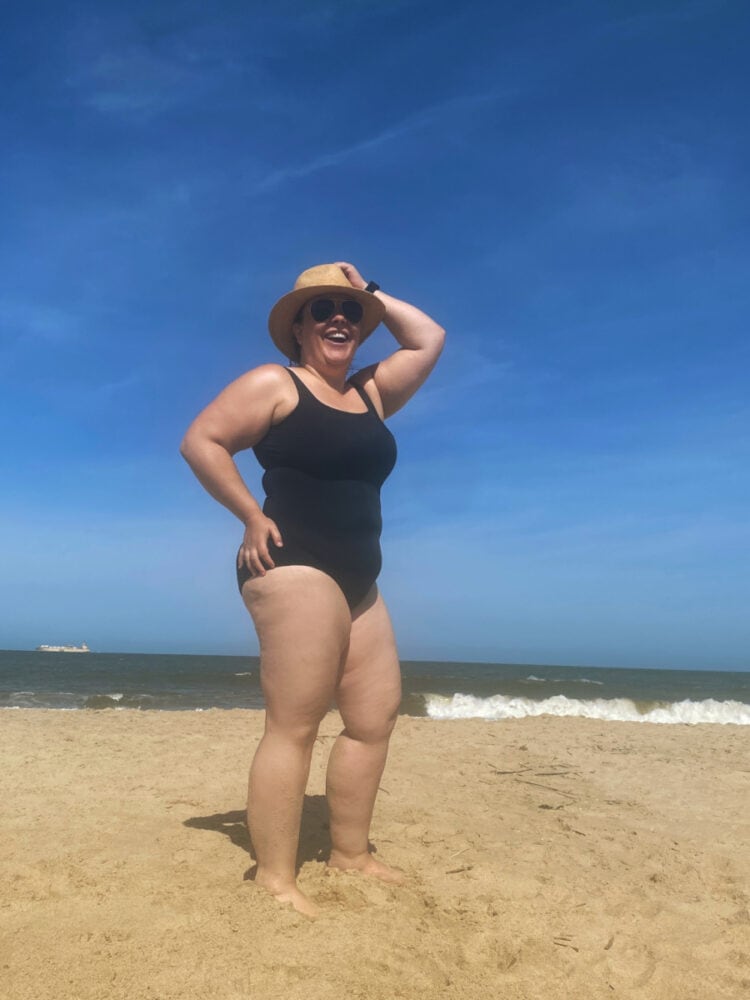 Is the Lands' End Tugless Tank Good for Large Busts?
As someone with a large bust, I struggle to find suits that will not only fit my chest, but give it great shape while staying in place even if I do a flip turn. The Lands' End Tugless Tank is always secure; I can even dive into the deep end and know I won't be underwater trying to slip everything back in place before I come up for air.
The Lands' End Tugless Tank comes in cup sizes (regular, D, DD, and DDD). For regular you have the choice of soft cup, shelf bra, or just lined. For the D-DDD sizes, you have a soft cup. And unlike some other swimsuits I've gotten with weirdly shaped soft cups that are visible on the outside, these are virtually invisible while providing support, shape, and modesty.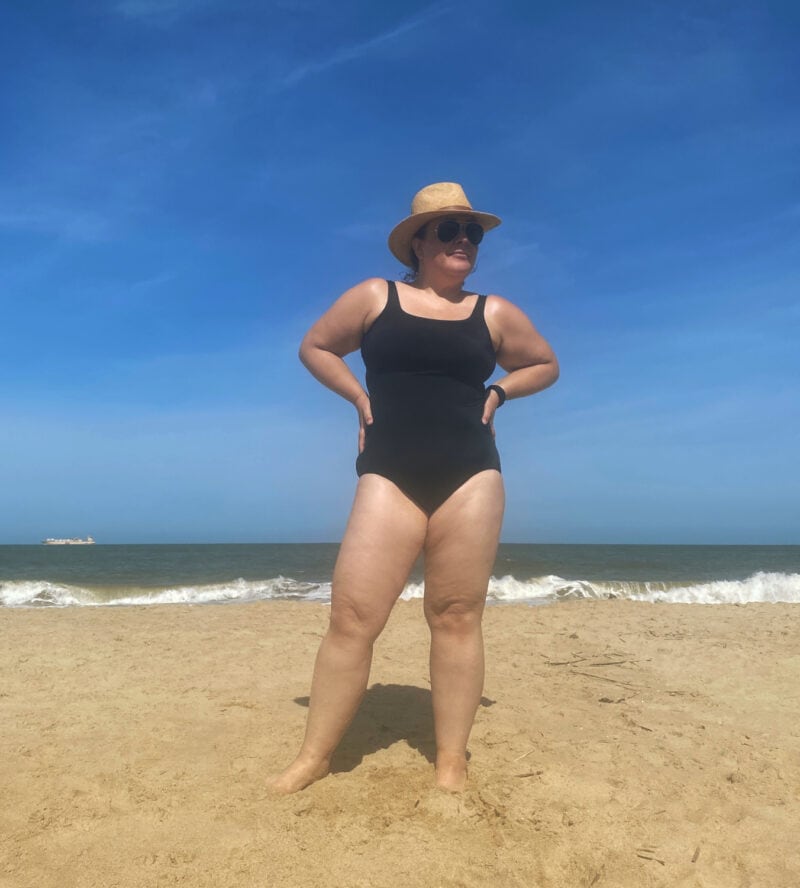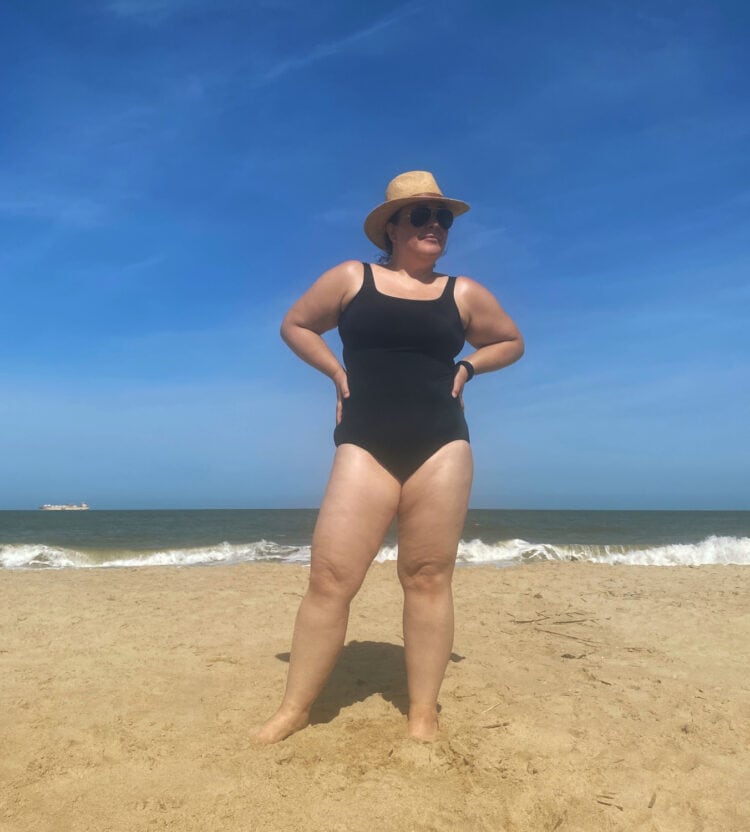 Is this the best swimsuit for women over 40?
And honestly, trendy swimsuits are a lot of fun, but there is something to be said for a classic malliot at any age. While I have black, I have also owned the Lands' End Tugless Tank in other colors and some of their fun prints. Some give a more athletic vibe, others are feminine and flirty prints, and Lands' End always carries a range of solid suits in classic neutrals as well as pops of color.
Oh, the best part of the Lands' End Tugless Tank? It is always under $100, and Lands' End regularly has sales where you can get it for much less. With department store swim brands heading towards $200 for a basic suit, it's nice to know you can get style, performance, and quality from Lands' End for way less!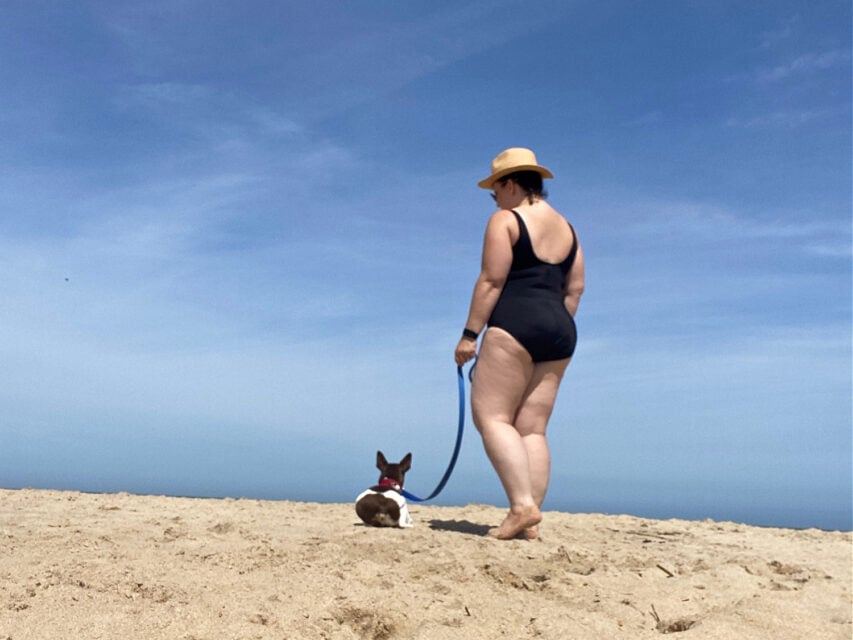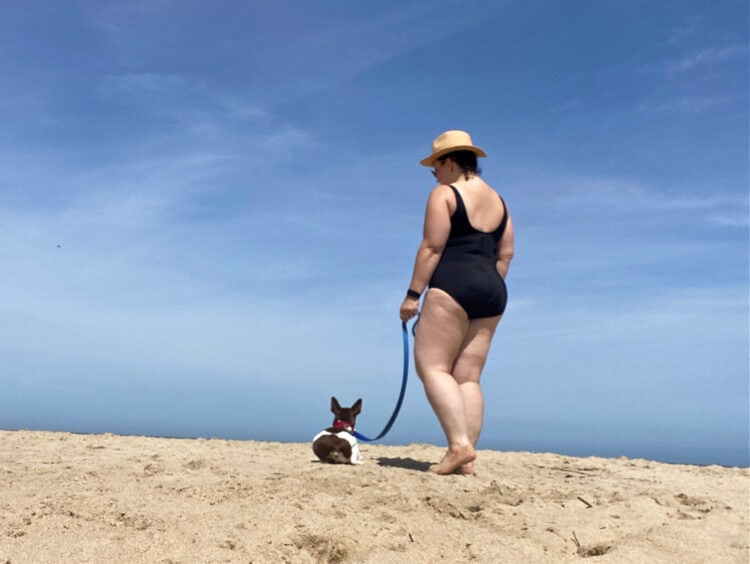 Fit Tips for the Lands' End Tugless Tank
I find that I do best going up one size if a swimsuit has tummy control, and down a size if it does not. I do not get the Lands' End Tugless Tank with tummy control, but there's nothing wrong if that makes you more comfortable. I am a size 14 in most brands; my Lands' End Tugless tank is a size 12.
As for the bust, I am a 36 F/G and after decades of weight fluctuation and years of breastfeeding my breasts require support. I find the DDD cup Lands' End Tugless Tank to offer enough support, left, and shape to feel confident, even to dive into the pool or just tie a towel or pareo around my waist.
Shop the Lands' End Tugless Tank: