This article may contain affiliate links; if you click on a shopping link and make a purchase I may receive a commission. As an Amazon Associate, I earn from qualifying purchases.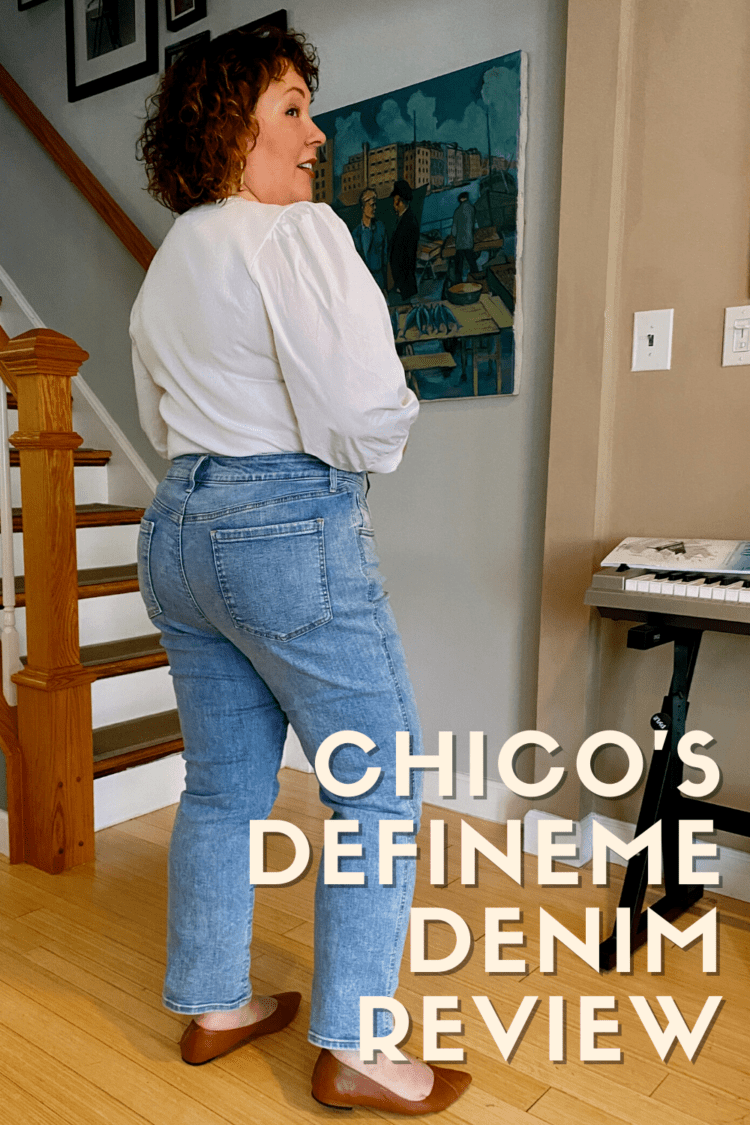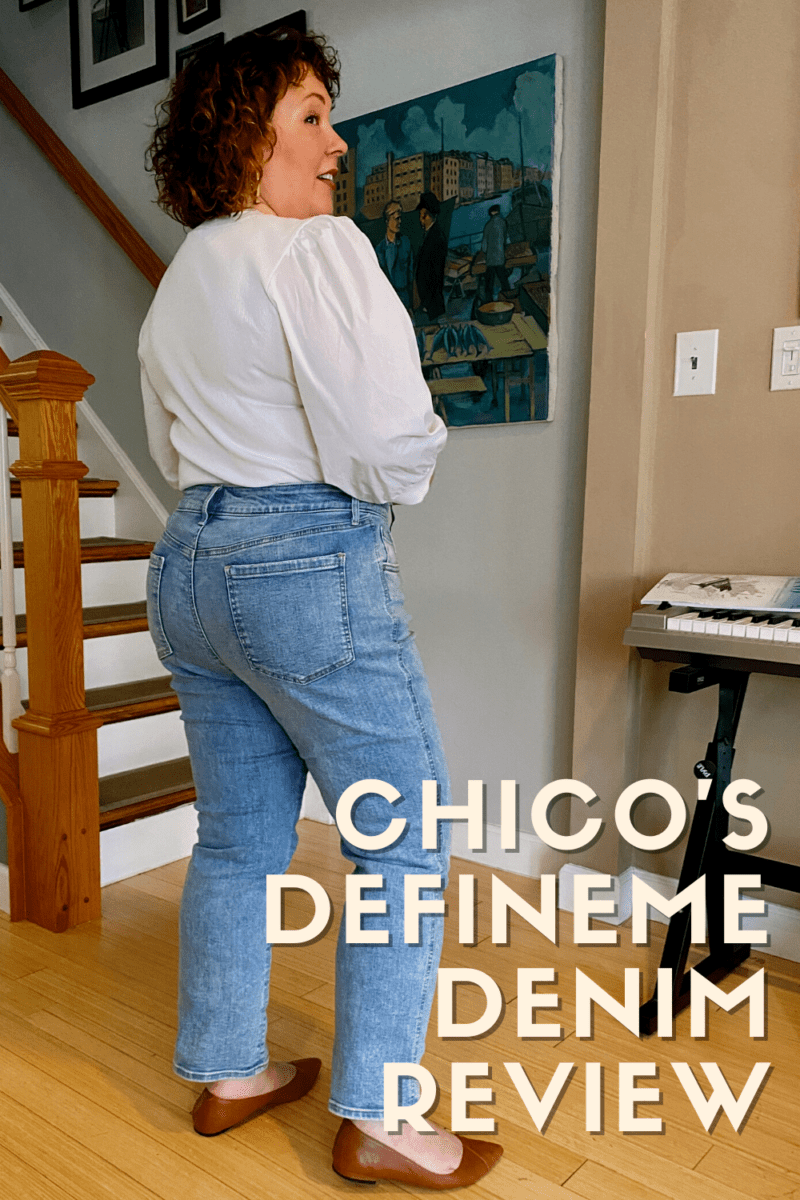 Chico's is a favorite denim destination for me. I find the quality stellar, they always have classic and on-trend options for washes, details, and cuts, and the fit really works with my curves. Many of you have shared with me over the years that you too love Chico's denim. So when Chico's launched their new DefineMe denim, I had to try it out and provide you an honest Chico's DefineMe denim review.
Please note, I am a Chico's Ambassador. While I received these jeans and the tops styled with them as gifts from the brand, this is an unpaid and honest review that was not edited or even read by the brand prior to being published. There are affiliate links in this post.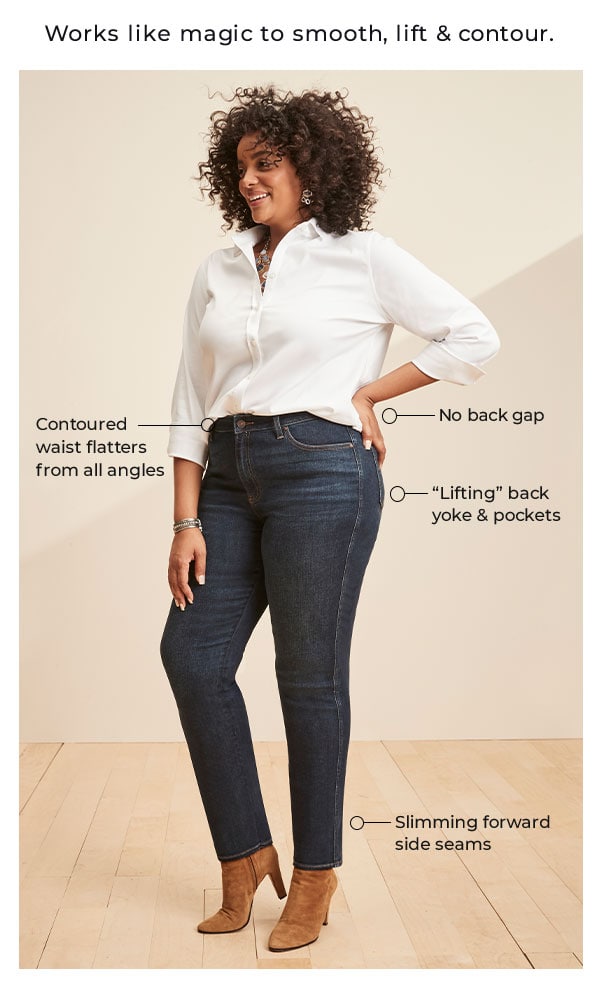 What is Chico's DefineMe Denim?
While I have had great success with Chico's denim in the past (their Girlfriend jeans are pretty perfect for me), I am not the shape of all women and many desired a better fit. Chico's DefineMe Denim was created to eliminate the three most common jean fit problems for women – back gap, muffin top, and too much stretch in the rear (AKA the dreaded "diaper butt"). How Chico's DefineMe Denim achieves this:
How Chico's DefineMe Denim Eliminates Back Gap
Chico's DefineMe Denim has a contoured waistline which positions the jeans slightly higher in the back and gently dips 1.5″ lower in the front center. The waistband also has enough stretch to be comfortable and stay in place through and entire day's activities (Chico's says they're even comfortable enough for a nap). And Chico's states the stretch fabric of their DefineMe denim will hold its shape and position all day long.
How Chico's DefineMe Denim Eliminates Muffin Top
Chico's DefineMe Denim uses a smoothing stretch denim that won't dig into your midsection to create segmentation, AKA "muffin top." This linen of denim also features forward side seams that are supposedly slimming and will amplify curves and contour your body. The back pockets and yoke are strategically placed to provide a lift to your rear.
How Chico's DefineMe Denim Eliminates Too Much Stretch in the Rear
According to Melly Birkett, Chico's Vice President of Design and Product Development, the DefineMe denim, "comes in superior stretch and recovery denim fabric." Chico's claims this denim will keep its shape all day long, so they will look as great at the end of the day as they did when you put them on in the morning.
Chico's DefineMe Denim Overview
The DefineMe denim comes in two silhouettes – Slim Jeans and Ankle Jeans. While the DefineMe Slim Jeans look great, I know with my athletic legs and full calves they would be skinny jeans or jeggings on me, and I am not currently looking to add more of that silhouette to my wardrobe. Knowing different washes of denim fit differently and have a different weight, and also not being exactly sure how the DefineMe Denim would fit in comparison to Chico's other denim I asked for and received from the brand: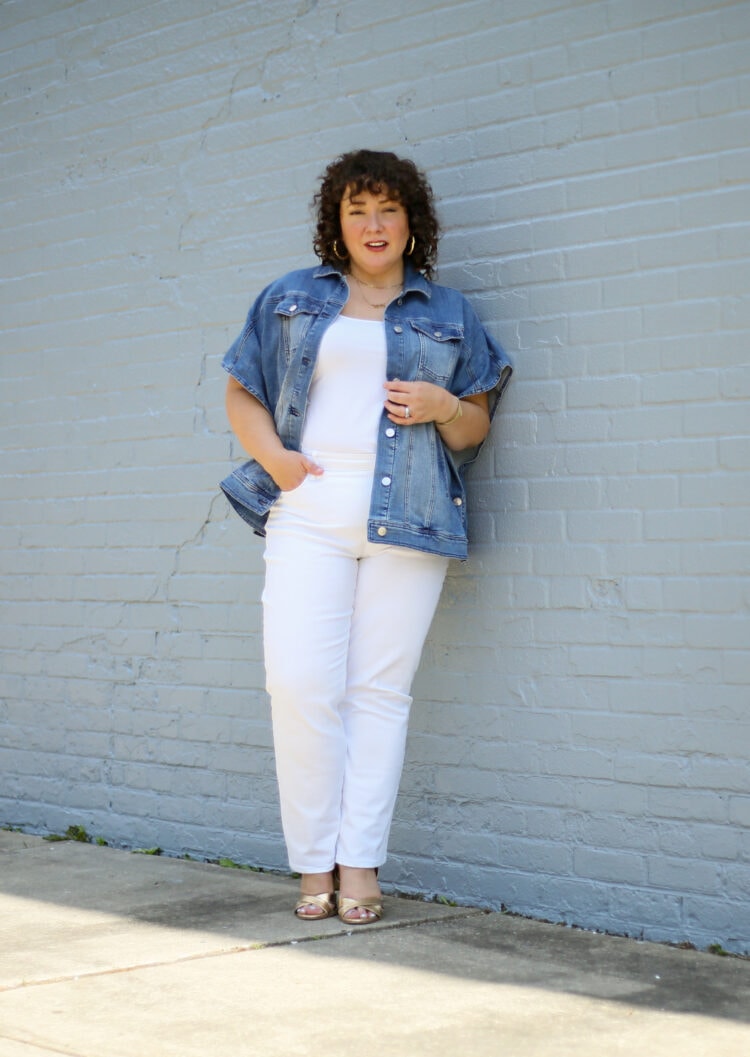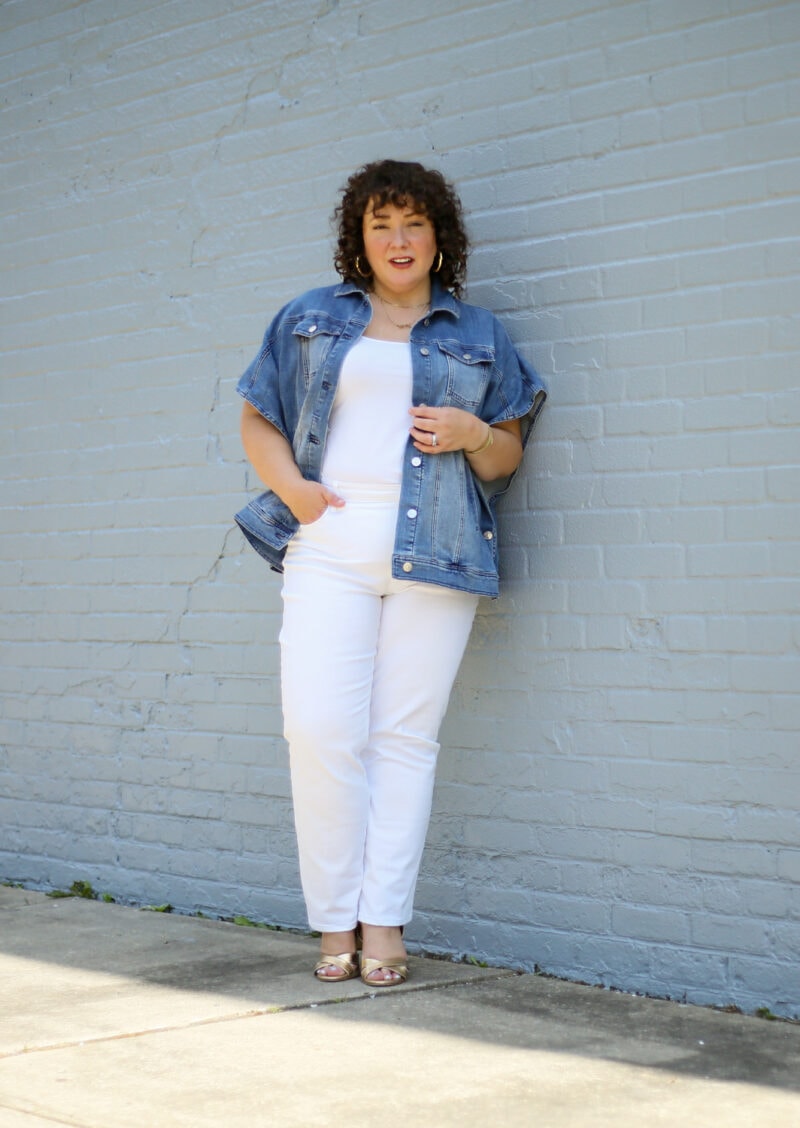 What Size I Wear in Chico's Denim
I am 5'3″ tall and usually wear a size 14 in most brands. In Chico's denim, I am usually a size 2. I went up to a 2.5 because if I was going to do a Chico's DefineMe Denim review I knew it would be more helpful if the jeans skewed too big than too small, and I didn't know if this new line of Chico's denim would be as… generous and forgiving as their original collection where I can sometimes even fit into a 1.5 if I'm looking for a very fitted effect.
Having both sizes 2 and 2.5… I don't know which really fits me correctly, and I really wish that Chico's DefineMe denim came in petite.
Chico's DefineMe Denim Review
As you can see in the photos in this Chico's DefineMe Denim review, it's hard to say which pair fits the best. The size 2.5 clearly would fit my body better in a petite fit. This is a mid-rise jean that is almost a high-rise on my frame and the crotch ended up dropping with wear.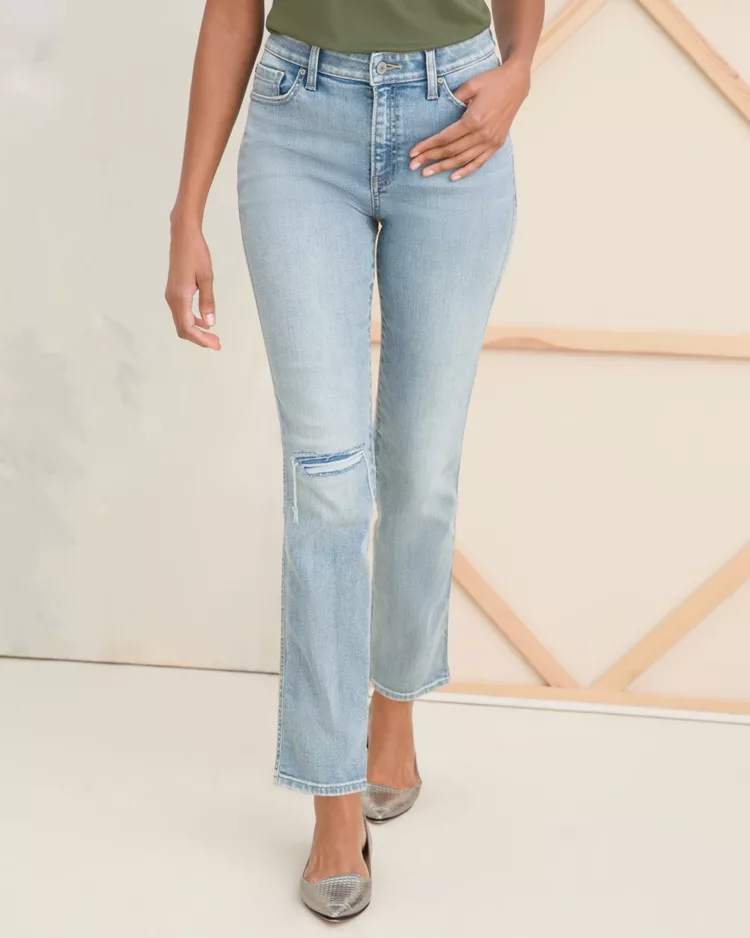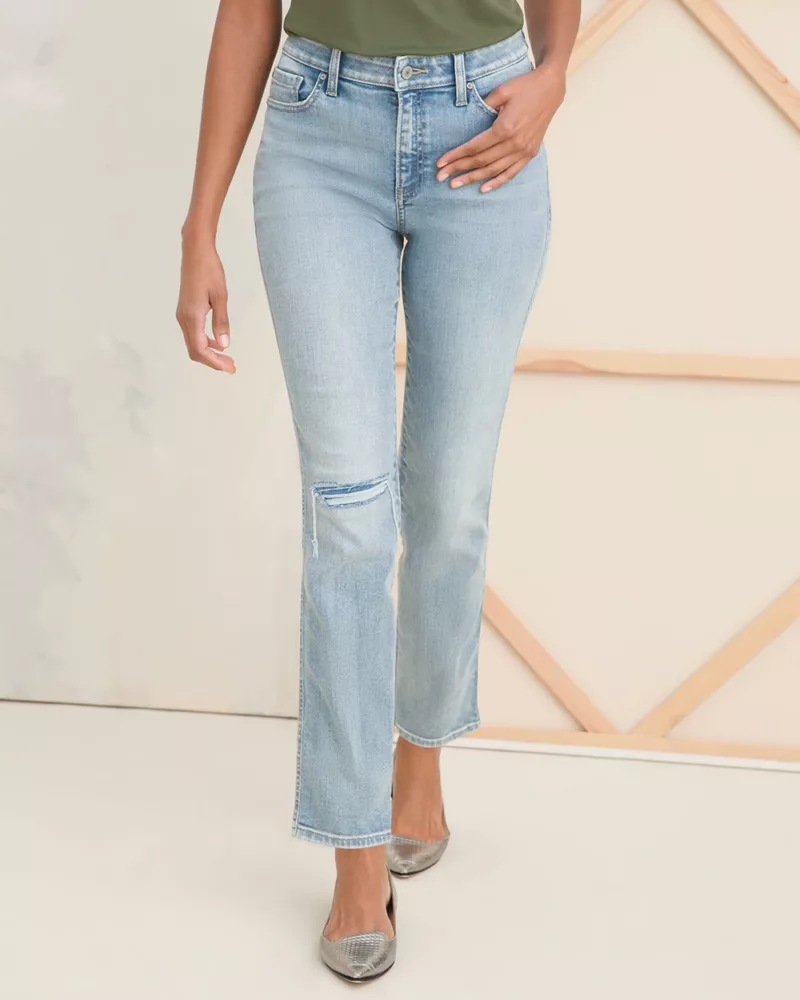 Great Barrier Indigo Ankle Length DefineMe Denim Review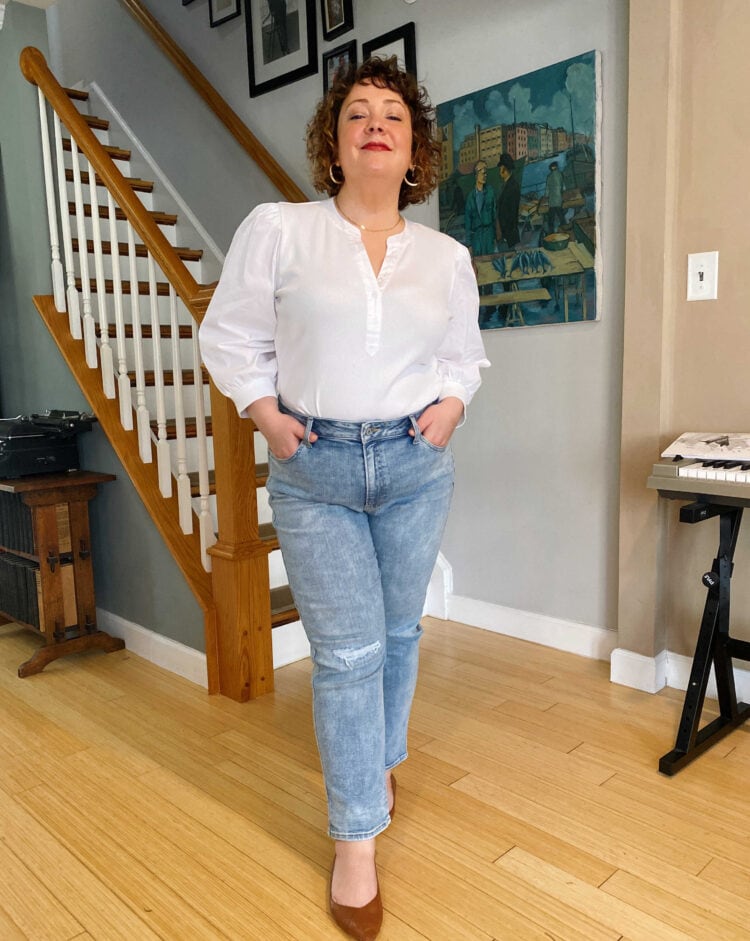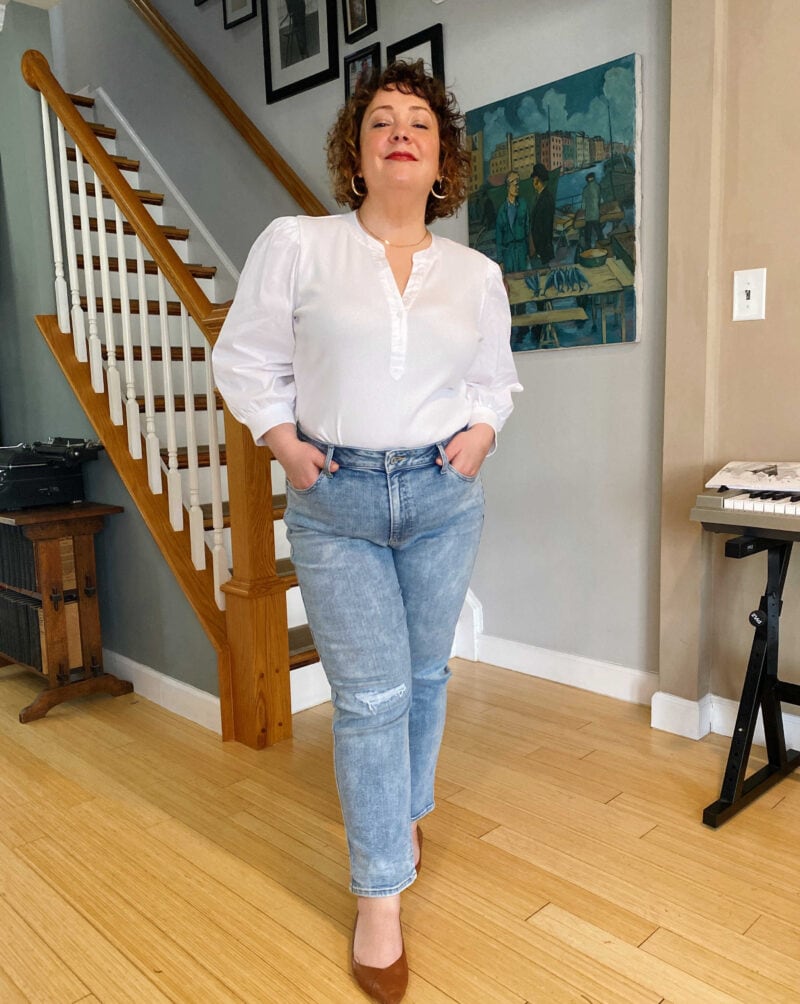 The Great Barrier Indigo pair of DefineMe Denim I have worn the most. I liked the wash and the distressing right out of the shipping box, and immediately tore open the plastic and tried them on. They felt a little big, but I liked how they felt. Within a half hour I wish I had ordered a size smaller.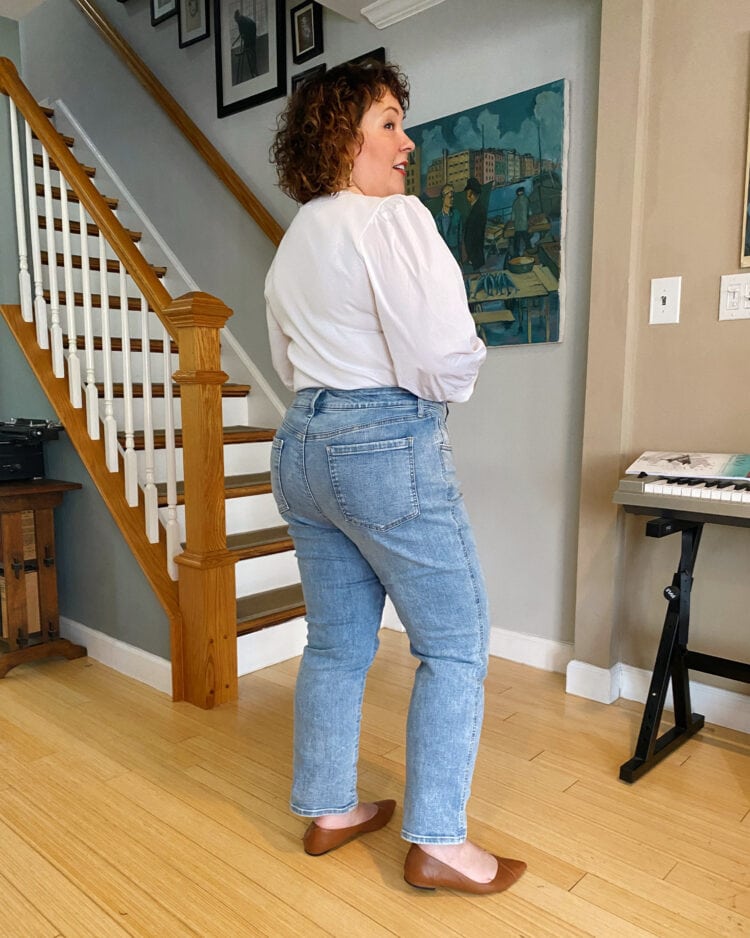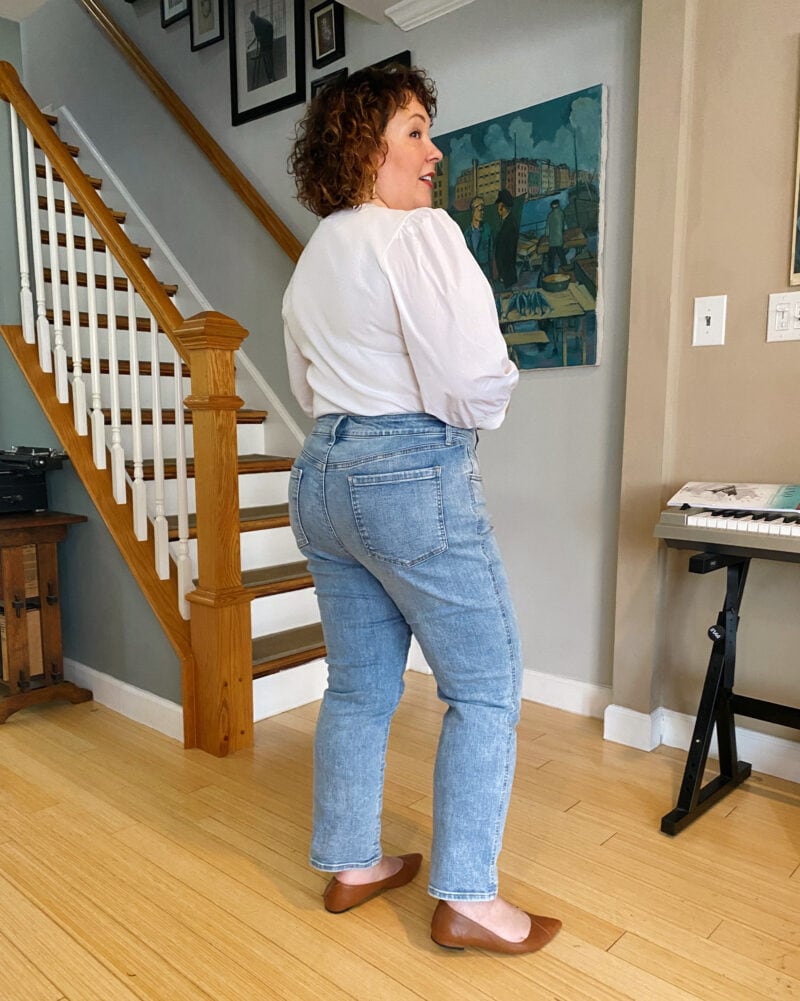 I really liked these jeans when wearing a belt; the belt cinched the jean at my natural waist and gave more of a contour that matched my curves and kept the jeans from sliding. I wore these jeans for six hours with a belt and thought they looked great at the end of the day just like they did when I put them on. No baggy knees or "diaper butt." I didn't wash them between that wear and this shoot. However, I wore these jeans after the shoot to drive around town and run some errands and the jeans ended up stretching so much I was able to take them off without unbuttoning.
The top is this one from Chico's in size 2. The shoes are from Ally NYC. The earrings are these from Chico's. My lipstick is Tom Ford's 'Impassioned.'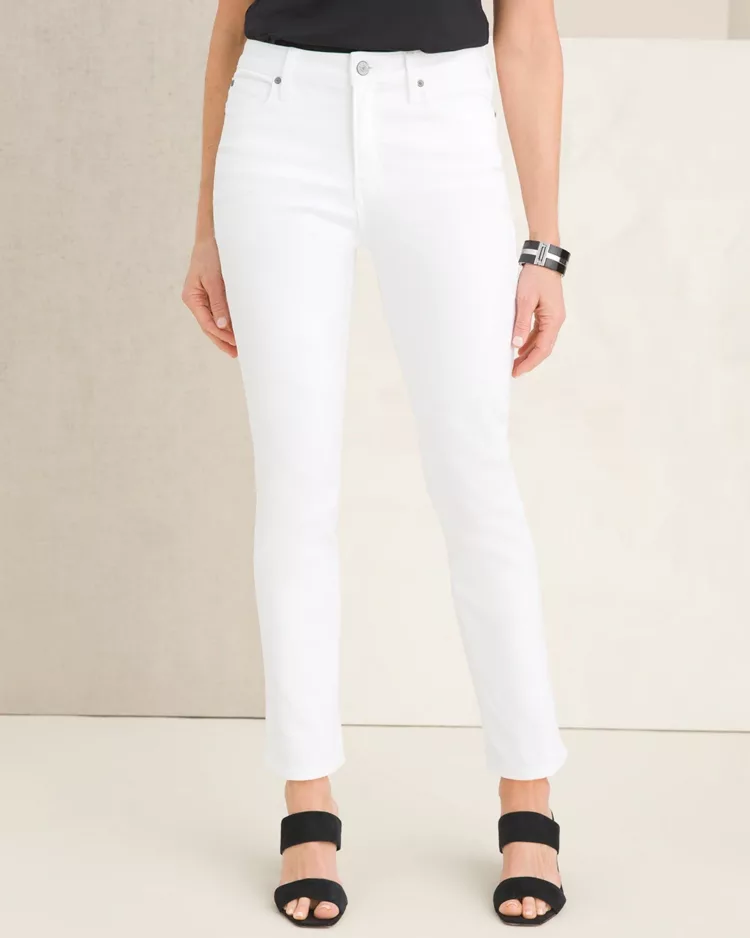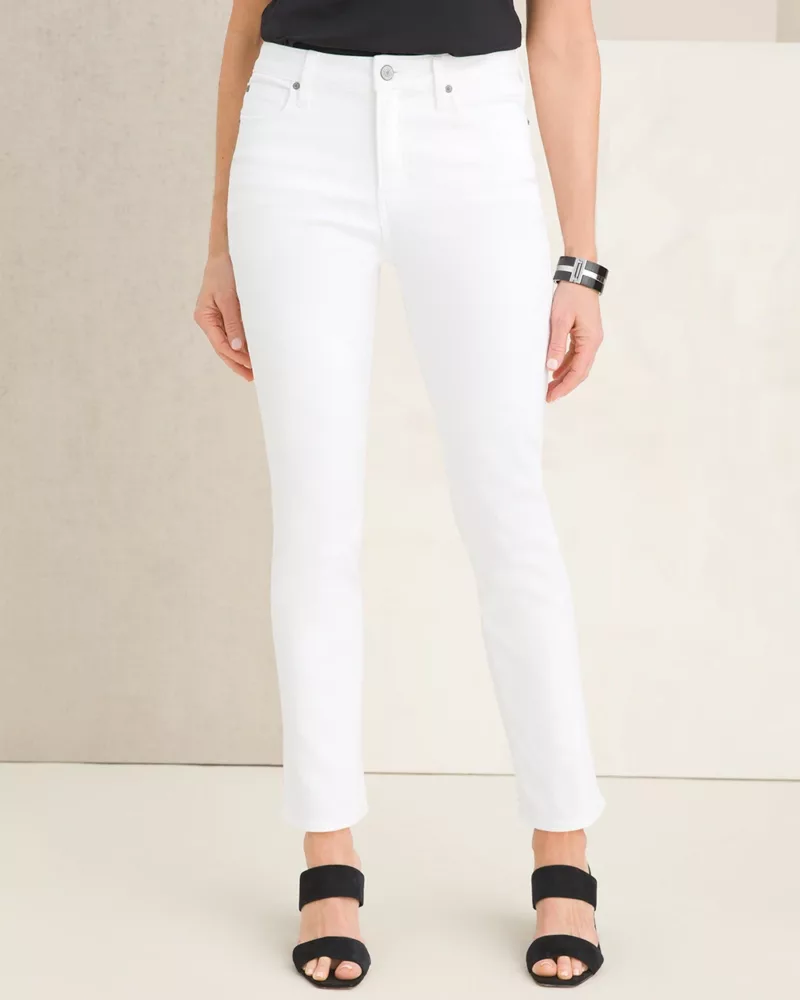 White Ankle Length DefineMe Denim Review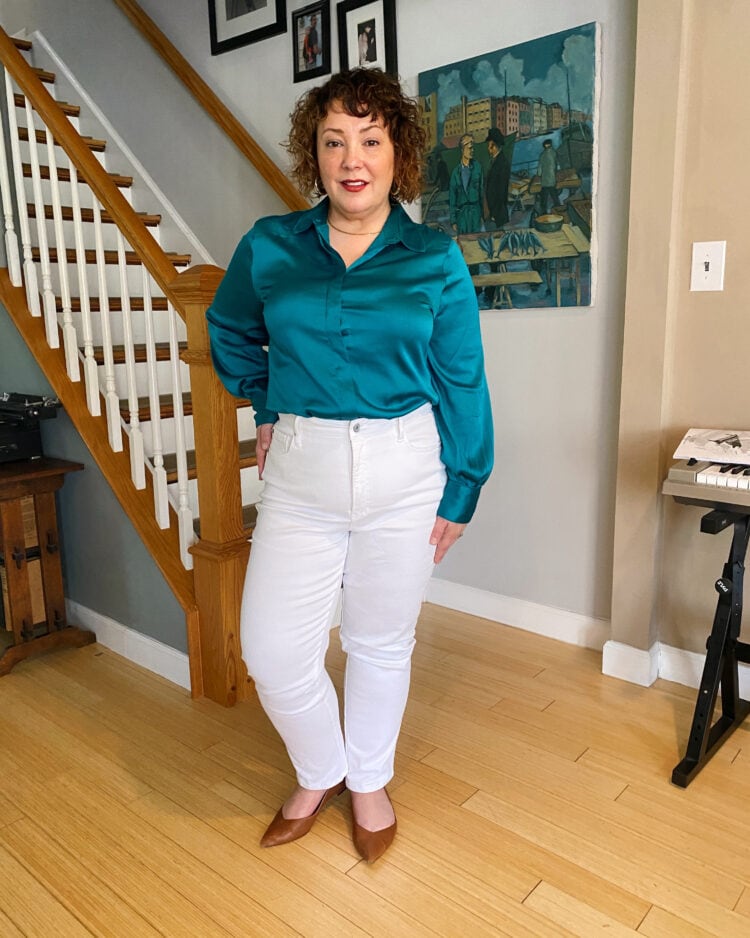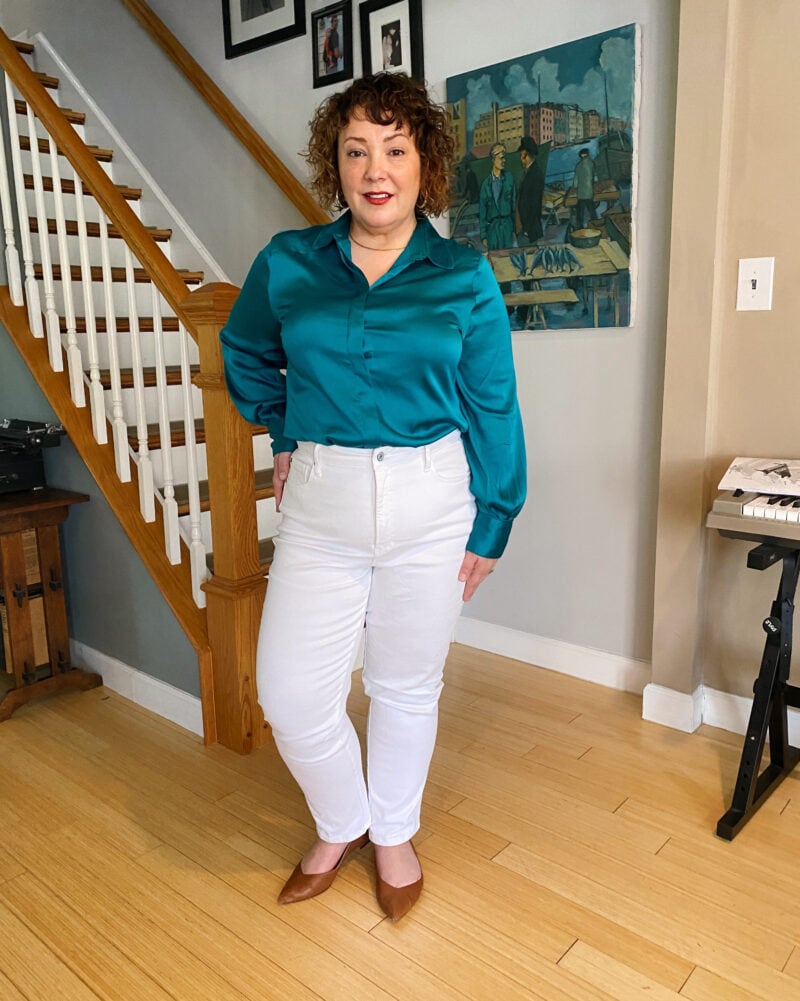 The White pair of DefineMe Denim was a heavier weight than the Great Barrier Indigo (which meant they were opaque, even with non-skin colored undies). Even with a different weight of denim, these jeans had the same cut, size, and fit as the Great Barrier Indigo. However, they didn't benefit from the addition of a belt.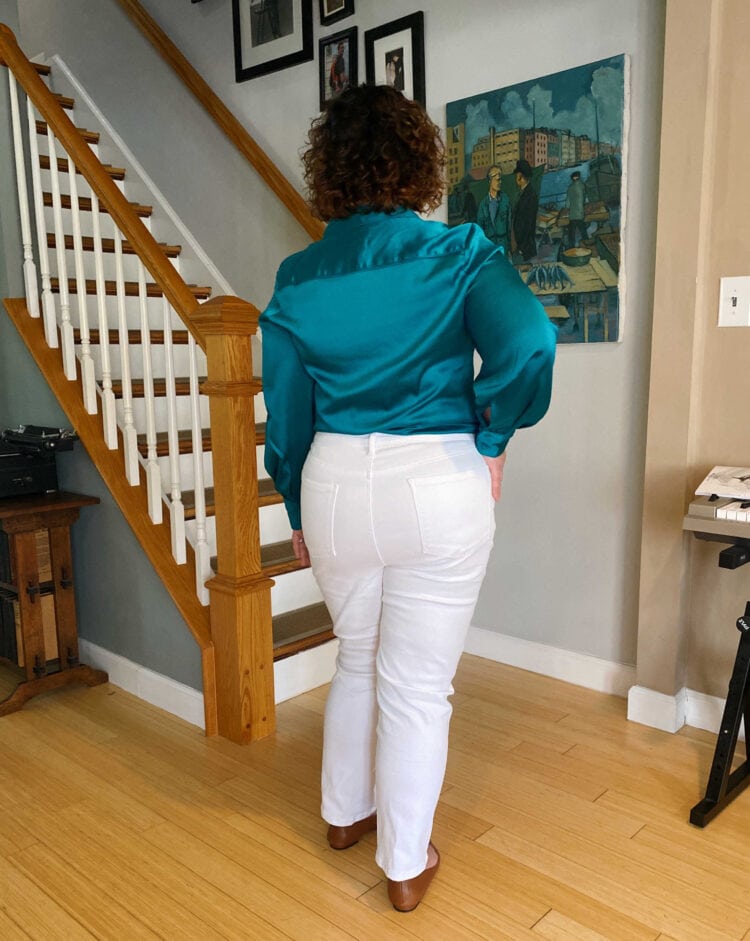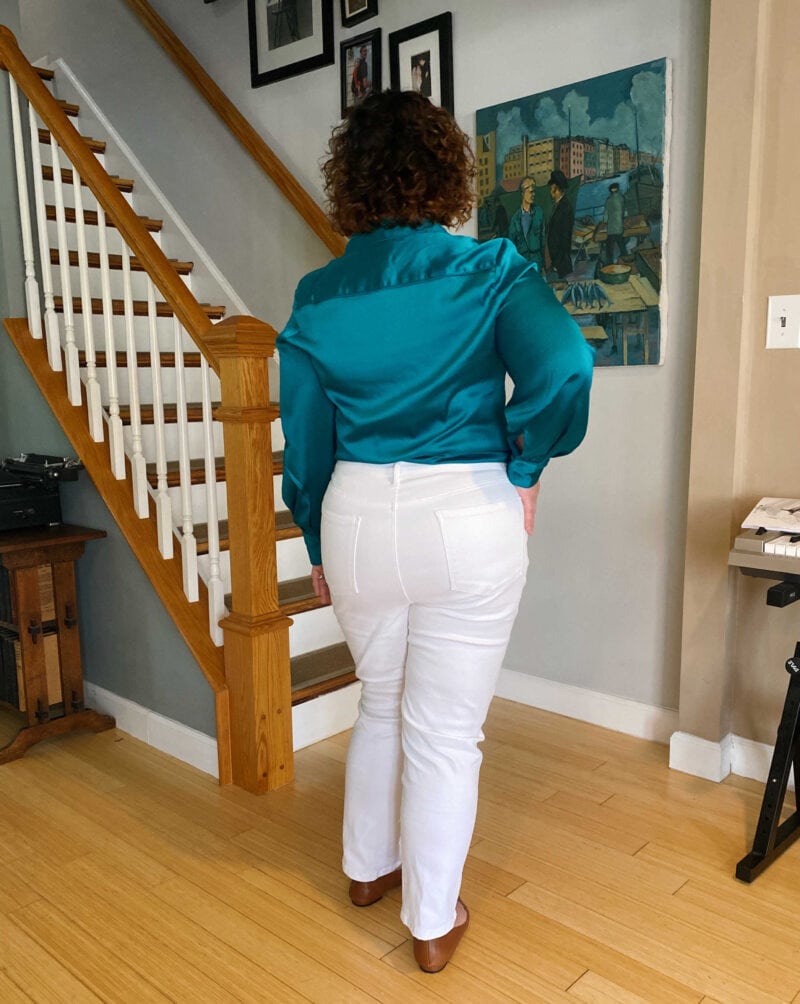 Due to the heavier weight, a belt just made the top of the jeans look like they were a size too big and being cinched with a belt. It ruined the line of the jeans. I wore these jeans the day after this shoot for several hours and they didn't stretch like the Great Barrier Indigo, but they still slid down because these were just too big for me. I think the DefineMe Denim Ankle Jean in White would be perfect for me if it came in a size 2 petite.
The blouse is this one from Chico's in size 2. The shoes are from Ally NYC. The earrings are these from Chico's. My lipstick is Tom Ford's 'Impassioned.'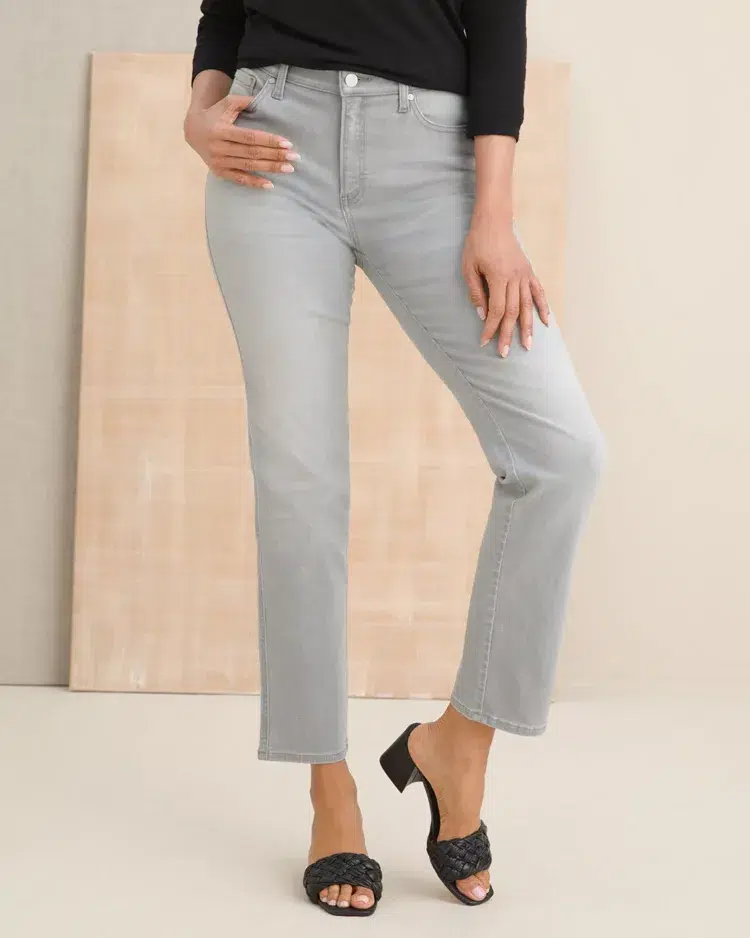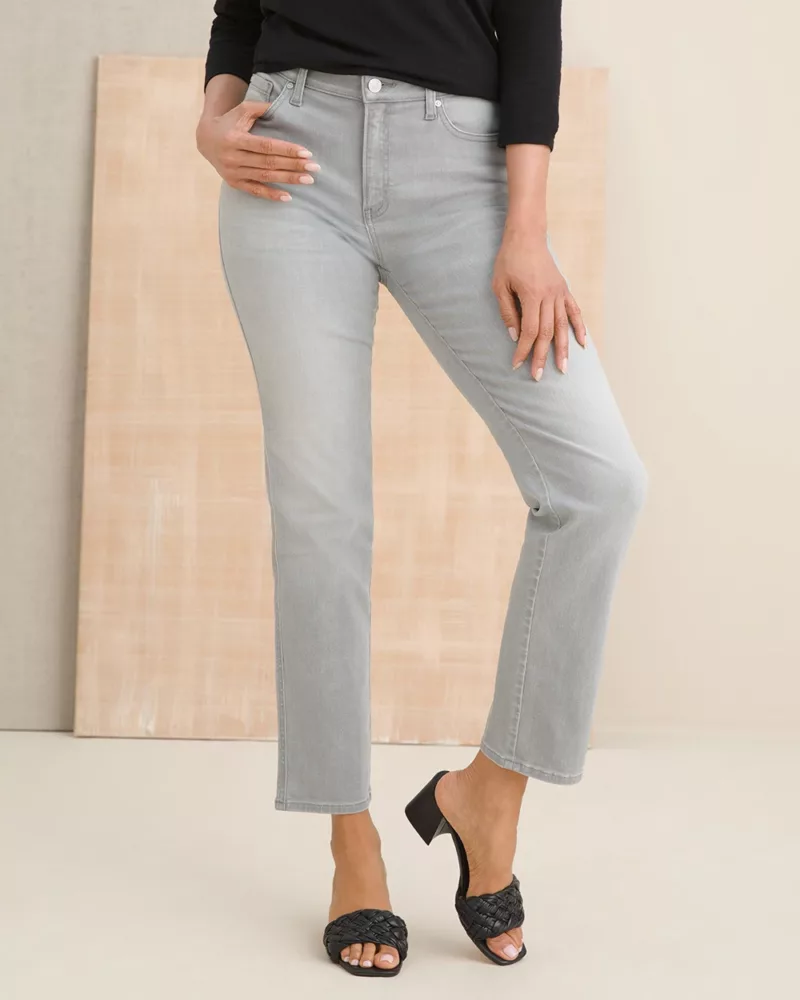 Grey Sky Ankle Length DefineMe Denim Review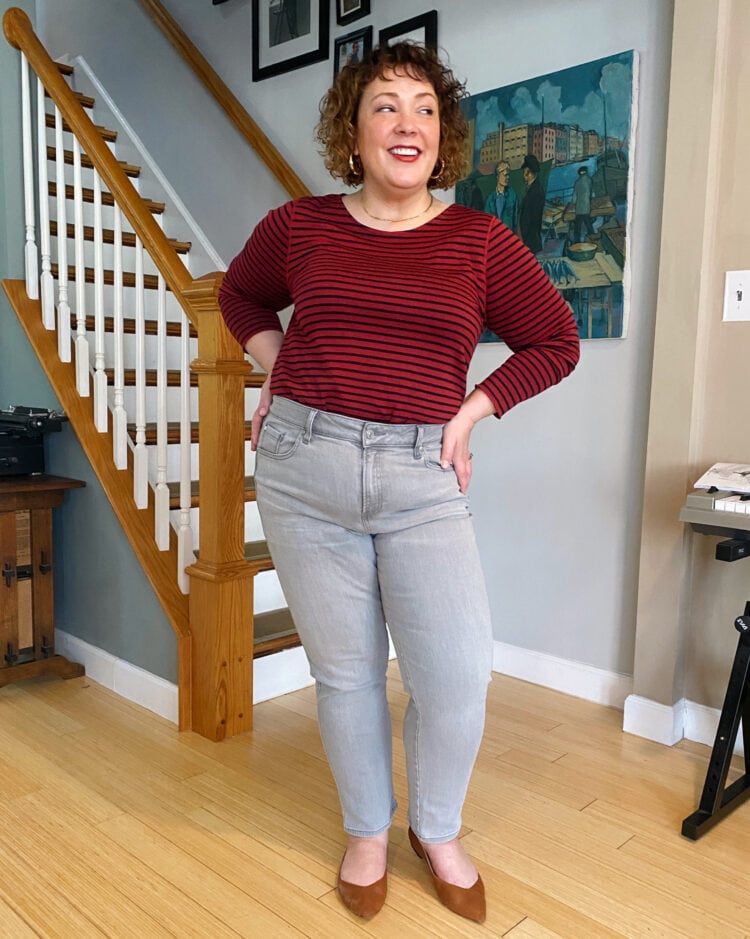 The Grey Sky pair of DefineMe Ankle Jeans were a size 2, and a good thing because the grey denim was the thinnest and stretchiest of the group. I think a 2.5 would have been impossible for me to style for this Chico's DefineMe Denim review.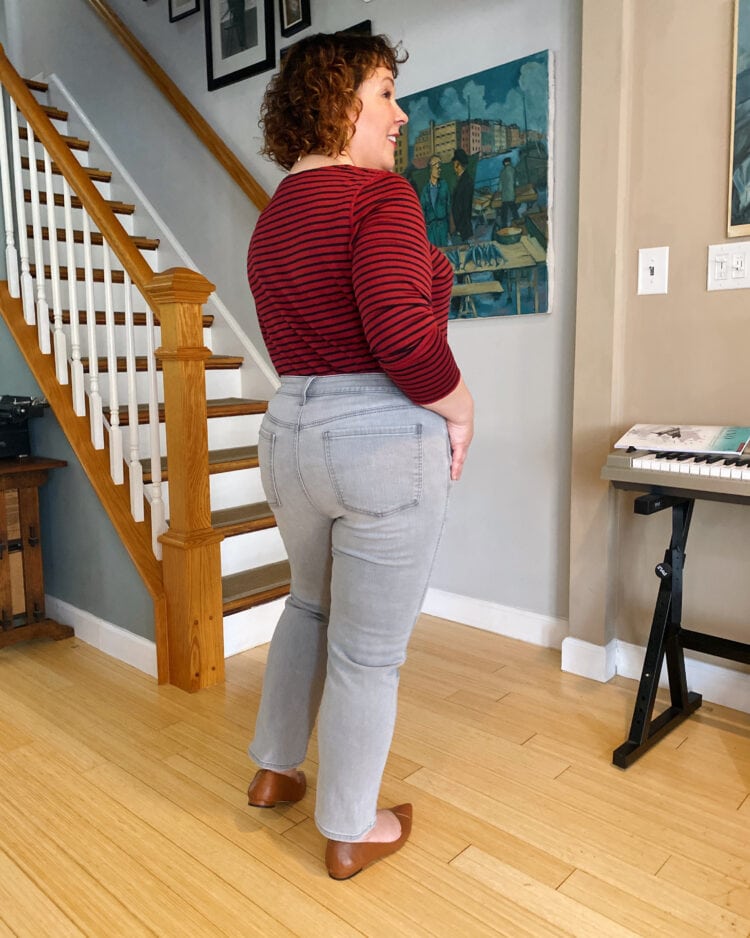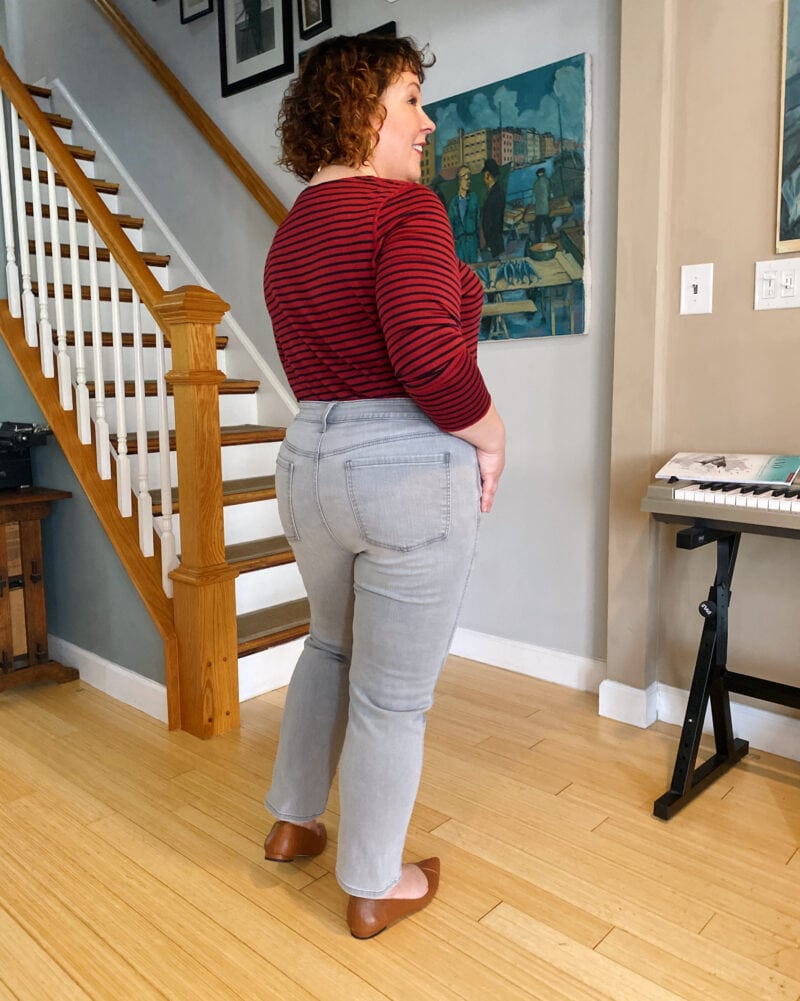 That being said, the size 2 in these jeans was also not right… but not right for me. I have tried several brands of jeans in the past that fit like this that were brands that folks raved about. Swore by. Bought in multiples for fear the brand would go out of business. These are soft and stretchy and the legs don't bag out and the knees don't get weird and they're so comfortable that you truly could nap in them.
However, they're not shaped for my booty and belly. I'd stand up and have to hike up the jeans. I'd walk out to grab the mail, and come back and hike up the jeans. Before this shoot, I washed these jeans and put them in the dryer because there was no way after wearing them for a day I could do this review because they were not functional on my curves.
The top is this one from Chico's in size 2. The shoes are from Ally NYC. The earrings are these from Chico's. My lipstick is Tom Ford's 'Impassioned.'
Who is Chico's DefineMe Denim Designed For?
If you are 5'5″ or taller and deal with jeans gaping at the back, these are fantastic jeans for you. Also, if you take a regular or tall fit of jeans and hate how denim gives you a muffin top, I think you will really like Chico's DefineMe Denim.
Chico's DefineMe Denim is great for those who want the washes and styles of on-trend jeans but hate the discomfort of being segmented, restricted, or having hardware dig into your midsection. Chico's claims these jeans are comfy enough to nap in and I think that is true… that is if the jeans work for your shape and height.
Are Chico's DefineMe Denim Right for Me?
I think the denim quality is stellar for Chico's DefineMe Denim (especially in the white and blue). The little details make these jeans premium. They're just not shaped for my body. I would try again if the DefineMe denim came out in a petite option; I think the rise is just not right for my short torso and round booty.
But then, Warp + Weft jeans don't fit me. Liverpool jeans don't fit me, which is cut similar in fit to Mott & Bow which also doesn't work for my shape. Good American doesn't fit, nor does Madewell and Kut from the Kloth only works in certain cuts. These are all brands of jeans that folks have told me I NEED to try because they are SO GOOD. And they ARE good, they are just not good for me… and that is totally okay.
It's just proof that even with amazing technology and details to have denim fit well, it can't fit all women's bodies because we are all shaped differently and desire different things in our jeans. Jeans are as personal as bras; one person's Holy Grail can be another's major fail. And something that doesn't work for me may end up working for you (which is clear based on how many jeans I sell from this negative Madewell review!). So while Chico's DefineMe Denim doesn't work for me, that doesn't mean it's bad denim. Quite the contrary.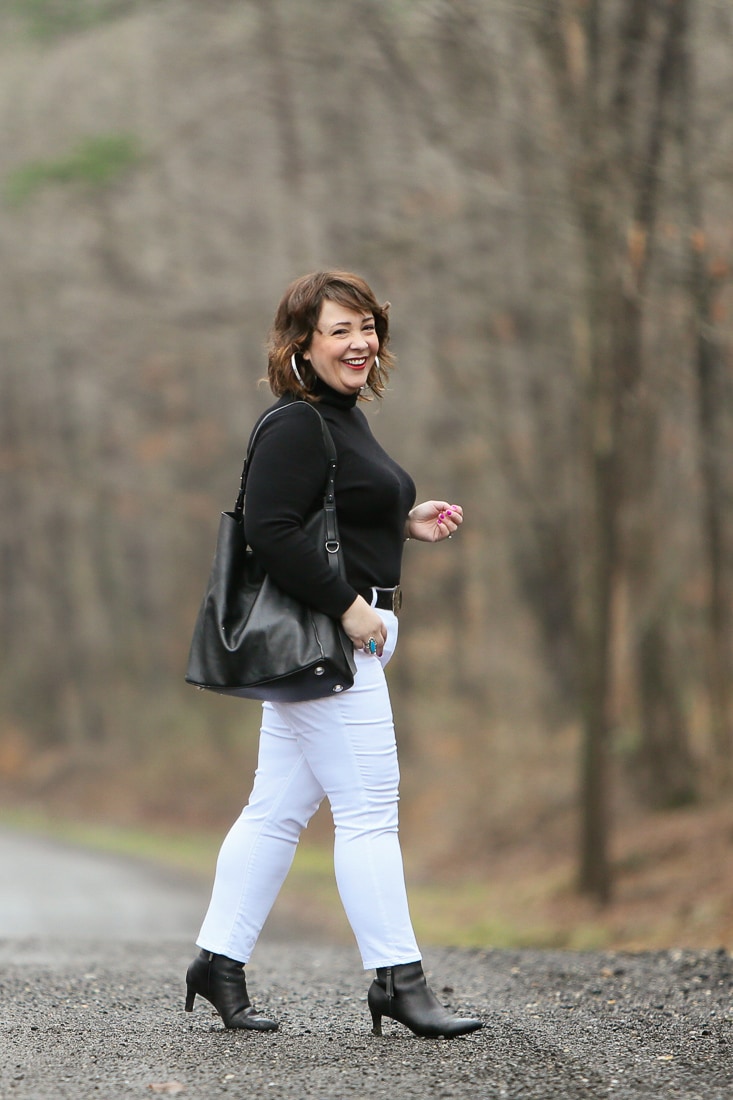 In the meantime, you'll find me in Chico's Girlfriend Jeans, which continue to be some of the best-fitting denim I've found for my figure and quality that rivals brands that cost twice as much.