This article may contain affiliate links; if you click on a shopping link and make a purchase I may receive a commission. As an Amazon Associate, I earn from qualifying purchases. 
Last week I attended an early showing of the Last Call Studio. I am a weird size, not plus size, but not a single digit so I knew there would be limited clothing there that would fit and flatter my frame. As that I was given some spending money, I headed straight to the accessories. Hey, maybe I could get a pair of designer sunglasses or a fab bag.
I took a look around the shoe department – I don't usually spend a ton on shoes – my personal pricepot is no more than $80 for a standard shoe (like pumps, sandals, etc.), no more than $120 for city boots (the sort of boots I wear to DEATH with trousers and jeans all fall and winter), no more than $220 for tall boots (and dag, they better be comfy and durable and beautiful). I have wanted to try a pair of ankle booties to wear with skirts and dresses as well as jeans, but most are out of my price range, look stupid on my feet, or are incredibly uncomfortable.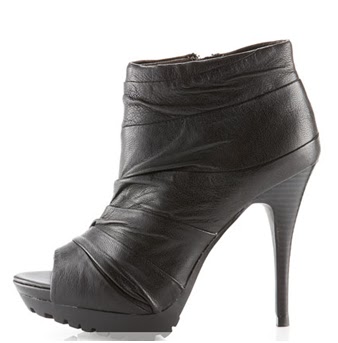 There were a few cute booties in the shoe department, but most looked as though they wouldn't fit my lifestyle – sky-high suede wedge slingbacks from L.A.M.B., ones covered with spikes or made out of lace. Then I saw these beauts from Miss Sixty. Man, they were tall, and I didn't think I wanted a peeptoe, but I figured I would try them.
Once I tried them on, everyone there told me I HAD to buy them. I was still wary – they were 30% off the already discounted price so after my complimentary gift card I was spending less than $5 on them, but I wondered if I would regret them. Would they be worn once and then collect dust in my closet because they are so uncomfortable? What the heck was I doing buying a 4" spike heel when I work and walk in a city full of cobblestone, marble blocks, and other uneven pavement?
I succumbed to peer pressure; instead of being my usual frugal self and using the gift card for something "useful," I got the booties. I even put them on and wore them out of the store.
I wore them shopping elsewhere, and then for lunch with my family. They were starting to irritate my left pinky toe a bit. I got home and took them off… and realized a piece of cardboard was slide in the shoe were the irritation was taking place. I slid it out and wore them to work the next day – this time sans hosiery. I walked about six blocks that day, and worked an 8.5 hour day. I came home and hardly wanted to remove my shoes – they were so comfortable! My foot didn't slide through the peeptoe, I didn't get any blisters, no hot spots. I found it very easy to walk in those high heels, and had a very easy stride in them.
Yesterday I wore these shoes again to work. I left the house at 7:30am and didn't come home until after 11:00pm. I walked about six blocks during my work commute. After work I headed to a different part of the city for dinner with colleagues and walked another ten or so blocks in total. I was walking with a few men who are taller than I, which means they walked far faster and I practically had to run to keep up. That is a long day for any shoes, any pair of feet.
I got home and my feet were in great shape – not at all tired, not sore.
Why am I writing this post? Did I get paid by Miss Sixty or something? Nope, they don't even know I own shoes from them. I am writing it because these shoes are proof that quality is worth it, and quality can be found in the most unlikely places.
When I think of the brand Miss Sixty, I think jeans, and young skinny chicks with disheveled blonde hair in California. I think their target customer is my complete opposite. I would usually not even look at that brand, because I don't think it fits who I am as a person. But I was mistaken.
These shoes originally retail for $200, totally not in my price range for what I consider to be a novelty item. I don't see black leather peeptoe stiletto booties to be a classic, and doubt they will be on trend in a couple of years. However, these boots are worth the money because of how well they are structured, how well they are made. The location and shape of the heel absorbs a lot of the pressure, the hidden platform makes the heel not feel as tall. The angle of the shoe evenly distributes weight so I don't slide and smush to the front. The soft leather wraps around the foot, instead of fighting against it. The rubber sole gives great traction, and I can walk around without going CLOMP CLOMP CLOMP in a marble office lobby.
Stop and think about your shoe wardrobe. How many shoes do you wear on a regular basis, and how many are collecting dust? How many shoes do you have that require inserts, moleskin, Band Aids, and a pair of flip flops stashed in your laptop bag?
It's so easy to pick up a pair of cute leopard-print flats from Target or some patent platform heels from Payless. The pricepoint is great and it's a way to add current trends to your wardrobe for much less than the designers who inspired that shoe. However you are just throwing away money if those shoes hurt your feet.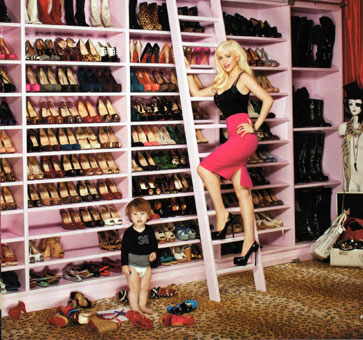 It is considered a sign of fashion and wealth to have an extensive shoe collection. Many women with hard to fit bodies covet shoes because they are one thing that they know will fit and be stylish (think the book and movie, "In Her Shoes"). But who cares what shoes are in your wardrobe if you can wear them and stand tall and glide into a room? If you hobble, slip, teeter, and shuffle in your fab footwear, nothing about you is very fab. It is far more stylish to have a small shoe collection that is full of pairs that fit, support, and offer comfort as well as some style.
I really learned that few shoes are necessary the year after my daughter was born. The week after she was born, I bought a pair of black city boots out of desperation. My feet swelled to scary proportions during my last trimester, and after delivery my feet were a size and a half and far more wide than they were pre-pregnancy. It was tempting to buy cheap as that I figured my feet would shrink down a bit (they did), but I bought a brand that is known for comfort and quality. I wore those shoes almost every single day for two months straight. Never had foot pain, and those shoes worked with almost every item in my wardrobe.
As my feet kept changing, I added few pairs to my shoe collection. I found a pair of retro-inspired T-strap sandals in black patent. They were incredibly comfortable yet still stylish. Instead of venturing out, I just bought the same shoes in red patent and a very similar style in brown croco. These four pairs of shoes kept my feet dressed for an entire year, and I still wear those three pairs of sandals. Each pair cost over $100 – not in my comfort zone, but they still look great, feel great, and work with my personal sense of style.
Per my Wardrobe Staples, I believe every woman should have a pair of black leather pumps, black leather city boots, and a pair of sexy shoes you can dance in all night. Add to this collection a pair of more casual shoes and one or two other pairs of seasonally-appropriate footwear in your personal style and you have more than enough to get through the year, and most any event that life throws your way. Instead of wasting money on novelty pieces or shoes that fit your budget but not necessarily your foot, wait and save up for a pair that loves you as much as you love them. Be they classic black leather pumps, or a pair of peeptoe stiletto booties, if they are well made, they will be far more worth the money in the long run.