This article may contain affiliate links; if you click on a shopping link and make a purchase I may receive a commission. As an Amazon Associate, I earn from qualifying purchases. 
I'm 42 and just went back to working in an office after years being a SAHM and then a WAHM. The office is business casual and with three boys at home and a crazy schedule I'd like everything machine washable. I am petite and carry my weight in my hips and rear. I also have foot problems and need to wear comfort brands of shoes (Sofft thanks to your recommendation, Softspots, Naturalizer). I look best in blues and purples. Is it possible to look hip and professional or am I stuck in golf shirts and pleated khakis?

Do you have any suggestions for machine washable clothes that can be worn at a business casual office setting? I'm a pear shaped 40-year-old with small kids at home. I usually wear blacks and browns and creams and fall colors and flat shoes and have a tendency to end up looking either very frumpy or too "hiking casual" a la L.L. Bean catalog.
Oh my dears, please do not fall into the deep dark dank hole of pique golf shirt and wrinkle-free chinos. As for L.L. Bean, I adore the brand, but "hiking casual" is not the effect you likely wish to give off at the office. There are other options that are machine washable, kind to your feet, and will better flatter your figure and your personal style!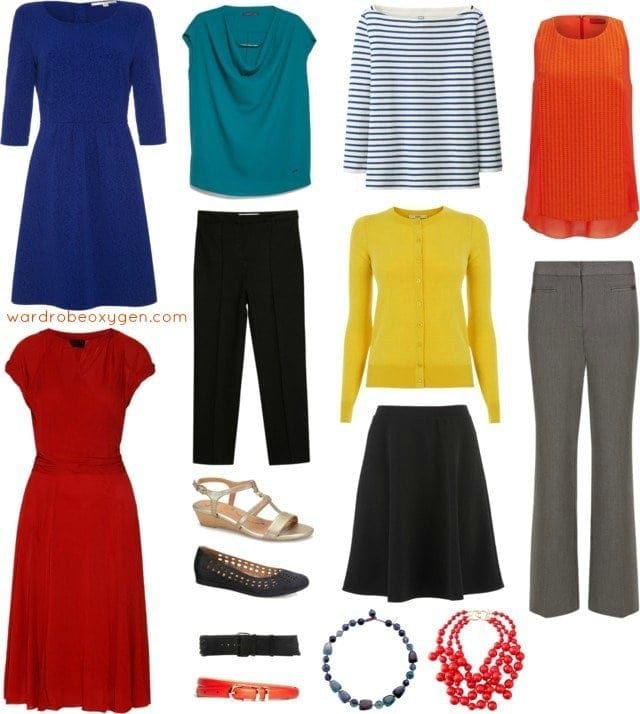 This is a very simple capsule wardrobe for a business casual office and all the pieces are machine washable. I know each of you provided the colors that you prefer to wear; please know that while this collection is brights with primarily black, it can be changed to other tones and I will break those down later in the details. However, I chose this color story to show the two of you the power of going outside your color comfort zone. Choosing a wardrobe of neutrals or sticking to just one or two shades you were told are flattering is safe and easy, but I've found that this is often what causes women to quickly tire of their wardrobe and also quickly get into a rut. You're coming to me for advice, and my advice is to get a bit out of your comfort zone to reassess your personal style. You're going to have to do a bit of self-analysis to prevent spending a ton and floundering each morning in front of your closet. The capsule wardrobes I provide are guides, not gospel. The work needs to come from you. Buy slow, feel out each piece, each new trend or shade. I'm one who was always told that she was a Winter yet I feel most alive when wearing orange. I can recall in 2000 despising skirts and proclaiming that I would even wear pants for my wedding; 15 years later more than half my wardrobe is skirts and dresses. I'm not saying throw out your entire closet; on the contrary. Just recall why you emailed me, and don't be afraid to dip your toe into new-to-you trends, colors, silhouettes, and combinations. The results may surprise (and flatter!) you!


This capsule wardrobe for a business casual environment is classic, crisp, and quite versatile. Black and charcoal gray bottoms may seem heavy come the warmer months, but remember you are in an office environment with air conditioning. These colors are versatile, transition well from season to season, you have to worry less about matching shoes and belts, and best of all black and heathered gray and charcoal hide stains. For this capsule, I chose a skirt that skims over the hips and hits right around the knee, providing a flattering length that works well with flat shoes. Even if you're not comfortable with skirts, one of this length is so easy; pair with a refined knit you already own and BAM! An office outfit. To keep it machine washable, look for matte jersey (has a nubby crepe texture but is stretchy) or ponte knit (heavier than jersey, has the same finish on the front and back of the fabric unlike terry or sweatshirt material, very tight weave). Even if the item says dry clean only, these fabrics can be washed on cold on the gentle cycle and hung to dry without a ton of wrinkles and no shrinkage. The pants featured are also in the ponte knit fabric – ponte has become quite a popular fabric because it's heavy enough to give a smooth line on the body, is budget-friendly, and as comfortable as yoga pants yet appropriate for the office. One ponte piece often matches another so you can buy pants at one store, a skirt at another, a jacket at another and pull together a suiting collection. As for the pants, they are more traditional of suiting fabric, but unlined (linings often get wonky when machine washed) and of a washable material. I was envisioning my LOFT pants; I have them in every color available and they have been in the wash dozens of time (cold, gentle cycle, line dry) and still look like new.
If you cannot stand black and heathered gray, consider taupe, other shades of gray, cool olive, cream, and heathered brown. True brown is hard to find the right color – too warm and it can quickly look dated. Khaki, even if made of silk can still look like a pair of chinos if you're not comfortable yet with your personal style. There's something terribly chic about pairing warm neutral tops with crisp black bottoms, so don't feel that adopting black pants means you need to build a wardrobe of cool tones or brights.


Even if you're not used to dresses, you can't deny how darn EASY they are. When you're a busy mom, you can't beat one-piece outfits! Again, I chose ponte and matte jersey because they are refined enough for the office but machine washable. The blue ponte dress is one of those cuts that flatters so many figures; elbow-length sleeves work almost every season of the year, the fit and flare cut flatters your figure, and the knee length is modest without being frumpy. The matte jersey dress has a wrap cut which creates an hourglass shape; the ruched waist whittles you even more and brings the eyes up. This concept could be with a skirt length anywhere from just above the kneecap to the bottom of your calf muscle; the sleeves could be anything from cap sleeves to flutter to long sleeves. There is nothing wrong with purchasing a dress like this in multiples – different cuts, different prints, different lengths. With a switch of accessories such a dress could be worn on the beach boardwalk for a stroll or donned to attend a evening dressy affair.
I'm the queen of the not-so-little black dress but I don't think black is a good choice when picking a work dress. Especially in a business casual environment, a black dress can look too severe and serious, especially if you're wearing it on a more regular basis. This is a chance to show your personality, so embrace olive green, pumpkin, plum, cobalt, or whatever color makes you feel great. While I recommend having at least one dress a solid (more versatile and easy to transform/dress up and down with accessories), the other dress can have a print or texture.


The tops all have something in common – an unexpected something. When building a small yet mighty capsule wardrobe, it's tempting to buy basics. However, you'll find those pieces with the little bit of interest will be the most worn and the most versatile. The teal top is in matte jersey and has a drape neckline that is modest enough for the office, yet provides interest, makes the piece dress up more easily, and balances a pear shape. The striped top has bracelet-length sleeves, a heavier weight, and a boatneck to keep it from looking like a basic tee shirt. The orange shell has pleating detail and a shirttail hem. And even the cardigan is a bold contrast color in place of basic black or tan. However, except for the striped top (which is still in very basic colors), everything is a solid. A solid is more versatile, and if in a stand-out color, will be a piece you love for many seasons. Prints can look dated quickly, are prone to looking cheap, and are far too memorable. That teal top can be paired with the cropped pants and flats, tucked into the skirt and styled with a wide belt, belted over the gray pants, or tucked into the gray pants and topped with the cardigan. You may have as much versatility with a printed top, but you (and others) may be more aware of the piece being worn so often and grow tired of it.


Shoes can be flat and comfort brands and still have style and elegance. Both shoes featured are by Sofft, my favorite brand for comfort, extended sizes, and classic style. A black flat is a great choice as it goes with pants and skirts; choose a style with structure and an almond (not round or square) toe so it feels graceful and is more office-appropriate. Leather is the most versatile and easiest to polish up if it gets dirty or scuffed. A soft metallic sandal is far more versatile than a neutral, is as leg-extending as natural or tan, but can also dress up more easily. This sandal has a subtle wedge that will likely prove more comfortable than a true flat shoe. If your office doesn't allow sandals or the weather is cooler, you can switch this shoe out for a Mary Jane or flat also in a soft metallic; the goal is to have a different feel from the black and something that will look appropriate with pants as well as skirts.


Accessories are what gives a capsule wardrobe personal style. Since you both stated you were pear shaped, I chose accessories that highlight the smallest part of your figure and draw attention up. A wide belt is an awesome accessory to have in your closet; I love elastic ones with a leather (or faux) buckle. Consider wearing a touch above your natural waist where your torso is slimmest – this makes you look long and lean. A skinny belt in a contrast color is extremely useful. Belt an untucked top to give a different effect (I have done it here and here), belt a cardigan to highlight your small waist, or give a different effect to dresses. The color doesn't matter – it's better to contrast than match. Just be sure if there's a metal buckle it's the color you usually wear for your jewelry. For necklaces, I chose ones with a lot of impact, but available at most any pricepoint. A beaded necklace is fun, whimsical, and gives you much bang for your buck. Not only that, you won't be too upset if one of your little ones accidentally tugs and breaks it. While you can buy your initial necklaces at the mall or big box retailer, keep an eye out for cool pieces when on your travels – it's a wonderful way to remember your vacations and add a unique and personal touch to your wardrobe.
How to Keep Your Wardrobe Looking Like New
I wrote this post, looking at a huge mound on my dining room floor of clothes that need to go to the dry cleaners. A week ago, the mound was in the laundry room, and the week before that on the floor of my closet. Maybe today I'll get around to bagging them and putting them in the trunk of my car and hopefully they'll get to the cleaners before it's July. I get you with wanting a machine washable work wardrobe. Dry cleaning is difficult, not as environmentally friendly, and costly. Here's a few tips to keep you dressed for the office without having to go to the cleaners:


Invest in a Lingerie Bag. The problem with washing machines isn't as much the water as it is the wringing and spinning. I have two lingerie bags and use them often; in one I put bras (with the hooks hooked so they don't snag on anything else) and underwear, the other I put silk and delicate blouses. Using the gentle cycle on the machine, loading halfway but having the water for a full load, and choosing delicate detergent, I find this is a safe way to wash my work blouses. I then hang them on a plastic hanger off the shower curtain rod in the bathroom until they're dry. If they're wrinkled, often being hung in the bathroom during a hot steamy shower will do the trick.
Spot Clean. You do not need to wash your clothes after every wear. Usually if you let them air out they're ready to wear a couple more times. I often spot clean clothing so I don't have to launder or dry clean the entire piece. I always have a Tide To Go pen in my purse and I also have one in my pencil cup on my office desk. At home, I'll use a little bit of Ivory Soap to lather a spot and then a clean rag or washcloth to dampen and then blot.
Go Liquid. Powder laundry detergents may be a better value, but often leave residue when using cold water and the gentle cycle. I use Biokleen for my gentle washes because it rinses clean and doesn't leave any coating on my clothing. I find it does a better job than specialty detergents like Woolite.
Buy Peroxide and Dawn. This is the best stain remover ever. Seriously. While at it, keep an old toothbrush with the two bottles, it works well getting into the weave of ponte, twill, and cotton.
Baby Your Wardrobe. I had a high school boyfriend who as soon as he got home off the bus would change out of his Champion sweatshirts and Guess jeans into older rattier sweats and jeans. I found this so weird, but I gotta say he always looked so crisp at school and was the only person I knew who could keep white sweatshirts looking brand new. Take a lesson from this guy and take off your work clothes as soon as you get home. While ponte and matte jersey may be as comfortable as loungewear, babying it will keep it looking nice much longer. Fold sweaters; when placed on hangers they can stretch and get misshapen. I hang pants upside down, matching up seams and either folding over a bar or clipping to a hanger; this helps keep a crisp leg and a bit of a crease down the front, elongating the leg. Be careful when hanging so nothing gets creased or mushed.