This article may contain affiliate links; if you click on a shopping link and make a purchase I may receive a commission. As an Amazon Associate, I earn from qualifying purchases. 
Do you ever see a company and think, "Why didn't I think of that?" A company that has such a brilliant idea that is unique, inspiring, and helpful? I thought all that when Gwynnie Bee contacted me to let me know about their program. I was so excited about the concept I had to be a part and share it with you readers.
Three years ago after I had Emerson, I was hovering between a size 16 and 18.  While I embraced my new body and celebrated the hard work and pain it went through to deliver Emerson, it was really hard to dress it. I was unfamiliar with its new size and shape, and didn't want to spend a lot of money knowing it would keep changing shape and size over the next year. Since then, I have been off and on Weight Watchers and have been everything from a 12 to a 16. If I had purchased a whole new wardrobe for each size I was during this time, I would be bankrupt. I know I am not alone in this – many women I know change sizes over a span of a few years – pregnancy, injury, business travel, diet and exercise… heck even your monthly cycle can have you wearing a 14 one week and a 16 the next.
I believe in having a wardrobe of staples – pieces that mix and match and get you through all of life's events. However, every woman needs a few "fun" pieces to show her personal style. These pieces are hard to buy – you're not sure of your personal style, you're not comfortable at your current size, you don't have retailers near you who offer quality pieces in your size, you don't want to invest in pieces that aren't traditional workhorses.
A peek of some of Gwynnie Bee's offerings
What do you do when you want to feel beautiful today – not when you fit into half your closet? How do you "test drive" certain brands and styles when you live hours from a decent mall? Where can one find stylish and flattering clothing for women over a size 10? Where can you shop when you're on the cusp between standard and plus sizing? What to do when you want to spice up your wardrobe without spending a bundle? The answer to all of these is
Gwynnie Bee
.
Gwynnie Bee's motto is "Clothing Without Commitment." It's like Netflix for fashion sizes 10-24. You sign up for a subscription service and pick out clothing from Gwynnie Bee's collection for your virtual closet. Gwynnie Bee will quickly ship pieces to you – when you return one (postage already paid, shipping materials provided), they'll send another your way. You have a constantly updated wardrobe of quality brands who specialize in fitting and flattering plus size women (and "on the cusp" folks like me!).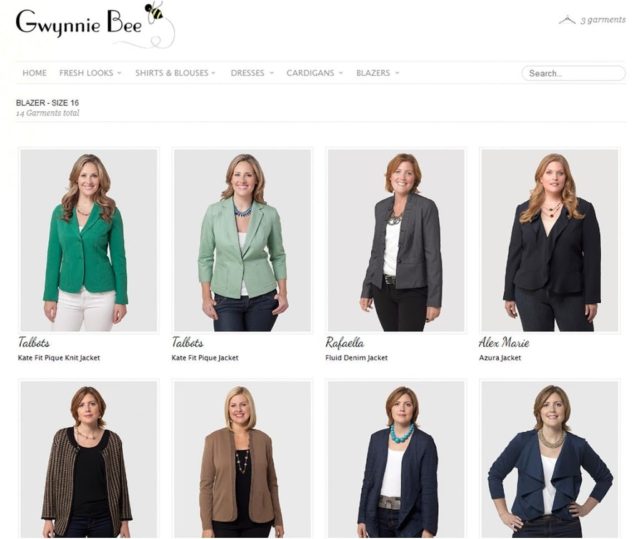 Not just fun tops and dresses, Gwynnie Bee also offers pieces like blazers to update your work wardrobe.
No longer do you have to feel tied to your size – you can pick clothing from any size at Gwynnie Bee and place them in your virtual closet. They are already working with quality brands like IGIGI, Talbots, Michael Kors, Evans, J. Jill, Sejour, Kiyonna, Ralph Lauren, Calvin Klein, DKNY, and more. Gwynnie Bee's stock is updated around every three weeks, so you always have a fresh selection to choose from.
Gwynnie Bee gave me a free trial membership to try out their program. Last week I went through their selection and added a few pieces to my virtual closet; Friday my first package arrived with one IGIGI dress, a top from Talbots, and a tunic from Soft Surroundings. There was the cutest little message when I opened it, every piece was wrapped carefully in tissue. Each piece had two hang tags – one with laundering instructions, another with the piece's name and a feedback form (Gwynnie Bee really cares about user feedback – what you write helps determine which brands they work with and what styles to offer in the future). In the box were also several shipping bags and return address labels and simple instructions on how to send pieces back.
Each piece looks like new – if they had been worn before I surely can't tell. You can keep each piece as long as you want – if it doesn't look right send it back and you'll have a new garment in less than a week. Gwynnie Bee takes care of laundering – you can wash when you have it to re-wear, but no need to clean to send back.
Gwynnie Bee often shows the same garment on two women of differing sizes and shapes so you can get a better idea of how the piece will look on you.
Gwynnie Bee
hopes they can help women discover new brands and styles with less commitment. Plus size fashion options are limited and often hard to access if you're not in a metropolitan area – Gwynnie Bee makes great brands easy to access and fashion fun!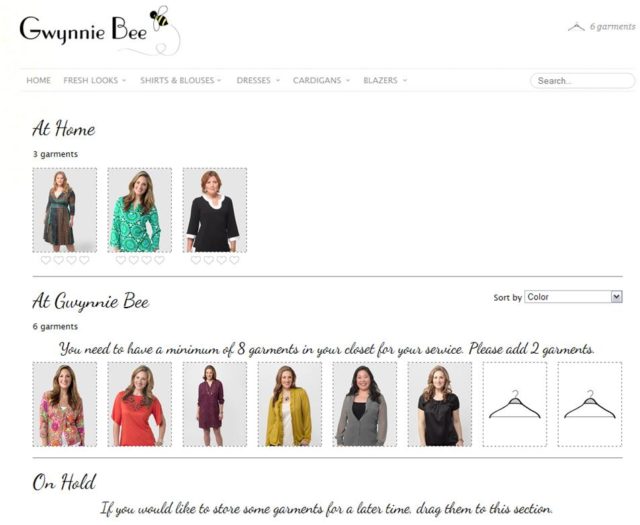 A peek of my virtual closet – what I have at home and will be featuring on the blog soon, and what will be arriving.
Yes, I have a free trial membership, and yes I will get a commission if any of you sign up and mention me, but after experiencing Gwynnie Bee, I would recommend it even if I didn't have these perks. The average American woman is a size 12, yet it is so hard to find fun, flattering, and well-made clothing when you are that size or larger. Gwynnie Bee knows that you likely have the black pants, the simple cardigan, the wardrobe staples. They are offering those pieces women don't have the nerve to buy but are willing to try. I opened up my first box and thought how wonderful Gwynnie Bee would be for the woman planning a European vacation, attending her high school reunion, or packing for her honeymoon. That woman who is in the same place I was three years ago – wanting to dress her changing body well but can't afford to invest in a whole new wardrobe. I feel for my friends and coworkers who have been hearing me babble non-stop since last week about Gwynnie Bee – how brilliant the program is, and how glad I am it is on the scene.
Want to know more? Visit their Facebook page or their site. Also feel free to ask any questions in the comments – I will answer them completely honestly. I don't promote on this blog that which I don't love and believe in, and I believe in Gwynnie Bee.
Follow Me | Twitter | Facebook