This article may contain affiliate links; if you click on a shopping link and make a purchase I may receive a commission. As an Amazon Associate, I earn from qualifying purchases. 
When writing this post, I could NOT get this jingle out of my head, but with the revised lyrics, "style like a pump, looks like a sneaker." For it's true, this spring sneakers have become THE hot shoe and their purpose goes way past the gym or tennis court.
The street sneaker trend started last year with the return of Vans and Chucks and variations of these shoes in fun textures and fabrics. Well the trend has only improved, offering more silhouettes, fabrications, and options to fit most any foot or personal style. While high-tops, lace-ups, and slip-ons are all en vogue, I am only featuring lower-profile shoes in this post because I find them more flattering and more versatile. A low shoe that can be worn without socks (or with Peds or socks like these which hide from view) can be paired with ankle pants, flared jeans (which are also back in style this spring), wide-leg trousers, midi skirts, pencil skirts (yes, seriously!), sundresses, and shorts of every length. This is a great shoe choice for travel as you can spend all day on your feet but still look on trend and style it with most everything in your suitcase.
This is not your gardening sneaker, and this is not your Keds or Tretorns of yore. This is a shoe that can easily replace your sandals on weekends, but also your heels for a night out or your slingbacks with a summer dress. Treat them as well as you would your leather pumps, and realize to have the style and comfort you deserve, you'll likely have to pay more than expected for athletic shoes. Choosing a unique material, pattern, or metallic is actually more versatile than a neutral; let your shoes this spring be an accent piece like a statement necklace or a colorful silk scarf. Don't match, complement or contrast with purpose.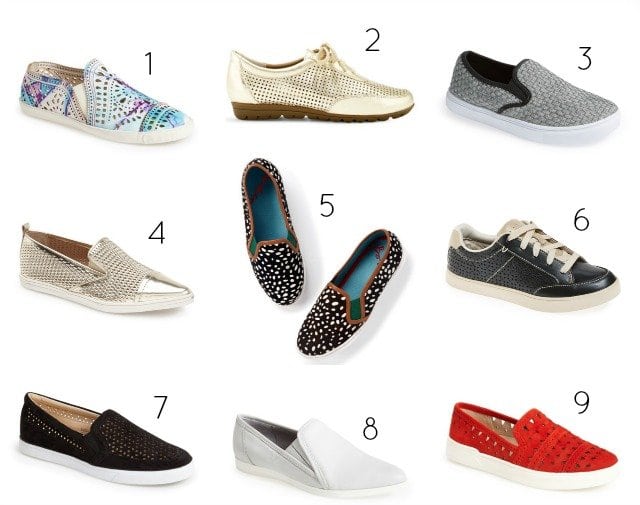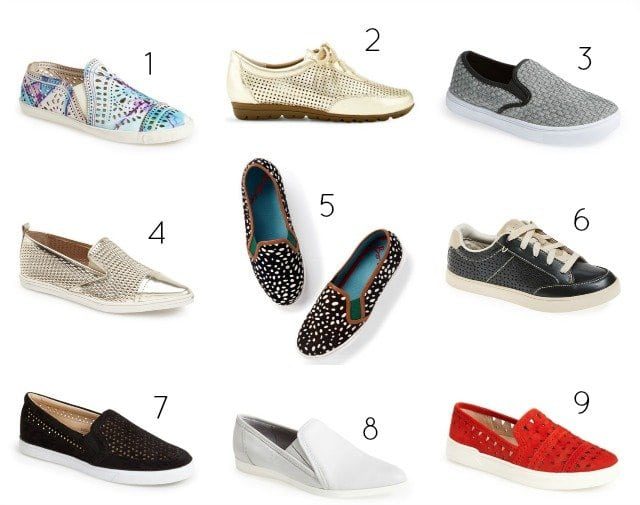 Consider this your cue to drop the beat-up elastic-backed ballet flats or the frumpy "comfort sandal" for an upgrade that's high on style but still comfortable. A few styles I've been admiring, and how to style them for spring:
1. Aerin 'Liza' Slip-on: While available in stone and white calf leather, I chose to feature these shoes in Azalea Multi because it's proof of what I wrote earlier about a unique pattern can be more versatile than a neutral. Pair with jeans and a Breton tee for the weekend, or style with a midi-length boho sundress for the farmer's market. Style with white jeans and a silk tank for drinks with the girls, or gray ankle pants and a crisp white shirt for a more relaxed workplace. The perforations keep you cool on a warm day and the ultra-slim profile makes these more like a loafer than a clunky sneaker. Aerin (as in Lauder, granddaughter of Esteé ) makes beautiful footwear that is classic with a touch of elegance and this slip-on is a perfect example of her aesthetic.
2. Chico's 'Agatha' Champagne Sneaker Flats: Sometimes a lace-up is a necessity, and sometimes it's a sartorial preference. I fell for this lace-up "sneaker flat" because it has such a great sole for pounding the pavement, but an elegant low profile that would look great dressed up. Pair with a tee shirt dress and denim jacket for a day at the museums, style with a midi skirt and a large-brimmed sunhat for an afternoon at the winery or flea market, with ankle jeans and a tee shirt for running errands, with wide-leg ivory trousers and a silk blouse for a creative or more casual workplace. This shoe can easily hide a pair of Peds for additional comfort.
3. bernie mev. 'Verona' Slip-on Sneaker: I bought a pair of bernie mev. shoes last spring and adore them. Super cushy insoles, and the body of the shoe is made of elastic strips woven together in a basket pattern. This makes the shoe stretch and give with your foot and movement, but also provides support and a bit of ventilation. I had a hard time choosing which color of this shoe to put in the collage as there are so many great options. While the Leopard and the Black Patent/Silver combos are pretty awesome, the Pewter (pictured) is a good basic that would look great with a black midi skirt or white boyfriend jeans and be comfortable enough for all the sight-seeing on your spring and summer calendar.
4. Rachel Zoe 'Chandler' Pointy-toe Sneaker: One of the best variations on last year's sneaker trend is this year's elongated, slim, and pointy-toe versions. A big problem with sneakers is that they can make a foot look blocky, which is tough to carry off if you're petite or have larger legs and ankles. The slimmer and longer toeboxes on sneakers work like pointed-toe pumps and flats to elongate the leg and balance the figure. Available in black leather and ivory (which is more like a champagne) metallic, this pointed-toe sneaker will look amazing paired with any pant or skirt in your wardrobe. This is a statement shoe that will dress up a simple look of boyfriend jeans and a band tee, or look at home peeking out of tropical wool trousers or paired with a shirtdress.
5. Boden Slip-on Trainer: Boden is my go-to when trying to find casual shoes that look great with dresses or a more feminine wardrobe. Available in five different fun prints, this slip-on has a slim profile that will look great with casual cuffed ankle jeans or paired with a floral circle skirt. The Black and White Spot Pony is a brilliant choice; a calfhair finish adds interest, the brown trim ensures the shoe will go with most everything in your wardrobe, and the green elastic adds a bit of whimsy and humor to what could become your go-to shoe for the next two seasons.
6. Dr. Scholl's 'Sterling' Sneaker: The bowling-inspired sneakers are coming back in style (the '90s are back baby, whether you like it or not), and it's a great trend if you need a supportive comfortable shoe that still has style. The retro mix of cream and black will look great with denim or paired with a striped knit dress and can even be styled nicely with cream wide-leg trousers. This is a shoe that can accommodate an orthotic and sock without sacrificing style.
7. Nine West 'Banter' Perforated Suede Slip-on: The low profile and choice of suede upper makes this sneaker downright elegant. This is a sneaker you could pair with a silk midi skirt or shirt dress without looking confused, but it can also pair nicely with your favorite denim, shorts, or cotton dress. Pair with a black pantsuit to add a modern touch.
8. Trouvé 'Evans' Leather Slip-on: Available in black and a very pale gray, this streamlined leather sneaker is downright elegant in its minimalism. This is a shoe that can replace your Keds, your loafers, and your ballet flats! Gray (pictured above) is more wearable than true white, looking great with everything from a pastel pleated maxi skirt to a pair of khaki Bermudas. The black version is crisp and modern and would look great with everything from a modern art-inspired printed shift dress to vintage denim and a slouchy knit top.
9. Via Spiga 'Gingi' Leather Slip-on Sneaker: Available in four leather and suede options, this slip-on sneaker is a great alternative to canvas versions. While the other options available are quite lovely (I'm partial to the black leather), the Red Pepper Suede is my favorite because it's that perfect pop of red that goes with most everything. Like a bold lip or glossy tomato nails, a hint of red is an elegant addition to a wardrobe of neutrals, a denim-based ensemble, or a look incorporating leopard or another animal print.
Inspired by this post, I ordered the 'Brenna' Slip-on sneaker from Banana Republic in Super Silver. Last summer I wore the heck out of my shiny silver Birkenstocks but wish I had something more substantial to wear for Casual Fridays and crowd situations where I wanted my toes protected. I'll be sure to report back in a future post on what I think of them – they'll either be featured in an upcoming post or rated a "fail" in a shopping recap!
Shop the Looks Featured in this Post: